February 25, 2016
If you want to include 3 accent colors in your wardrobe, this is for you!
Please note that, although there are a lot of accent colors here, I've tried to keep them all in the same range of intensity and saturation, so that they will all "behave" in the same way when paired with neutrals. It's a hard concept to explain, but I find that it makes a lot of different in keeping things versatile and harmonious.(yes, there are 4 accent colors shown here, in keeping with the original request. I didn't have a lot of luck finding the raspberry color…)
Many of these steps will look painfully familiar, as I build a base of neutral colors upon which you can use accents as the embellishment. I know I harp on this a lot, but it's hard to overestimate the degree to which a solid core of neutral pieces will make your "getting dressed" life easier.
Here's where the fun starts! Introducing a new "top" into your wardrobe, in the same color intensity and the same general "cut" as one of your favorites, is an easy way to know that your purchase will be useful. Realistically, it wouldn't be crazy to buy 4 tee shirts, one in each of your accent colors…
Cardigans can be more difficult to find, so if you find one at the same time that you're purchasing your tee shirt(s), grab them. You may never wear them together, as a twinset, but it doesn't hurt to have that option! Plus, any accessories that you find to go with one item will immediately work with both?
While this might not be your kind of tee shirt, I like to include things like this from time to time, just to show the possibilities for a garment to bring some whimsy to your wardrobe!
If a cashmere cardigan isn't in your budget, or you can't wear wool, or you can't stand the idea of anything "fluffy" in the hot weather, look for a nice cotton cardigan.
Including a couple of different silhouettes of cardigans in your wardrobe can give you a feeling of variety, even though you're sticking pretty closely to a uniform of "cardigan, tee, pants or skirt." If anybody comments that you wear cardigans a lot, compliment them on their observational skills, and then help them find a hobby…
THIS is the reason that you're careful to always carry swatches (or pieces of embroidery floss) in "your colors" with you. When you see something like this, your heart says YES, but your brain says "are you sure?"And, in fact, you are sure! This tee is almost a perfect match for the cardigan we just added to this wardrobe…
For me, personally, this wardrobe still needs a navy tee shirt… but this still gives you a ton of options, and a lot of ways to indulge your preference for pretty accent colors. On days when you need or want to dress more soberly, you can do that, too!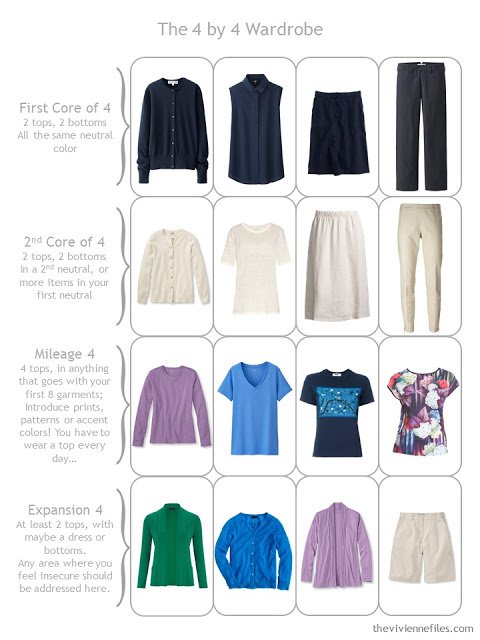 The browns are up next, and I'm going to tack the concept of putting accessories, 1 piece at a time, with some of these wardrobes. Cross your fingers that I don't get too confused…
love,
Janice