January 11, 2016
Back to the real world….This happens a lot in large cities – when the hotels become less expensive over the weekend, people from the suburbs come into "the city." They come in by train on Saturday morning to spend the day in town, have a nice dinner, maybe see a sporting event or a show, stay over, have a lovely brunch, and get back home before darkness falls on Sunday.
When I said I was going to create the smallest possible travel capsule wardrobe, THIS is what I was thinking of! (I'm so sorry, I have a hunch that I've really disappointed some of you.)
I see these people every weekend, and it seems that they are often hauling about a lot more "stuff" than they might need. This might not be a problem if you're able to get into your hotel room immediately when you arrive downtown, but if you wanted to lunch, or go to a museum, or do something BEFORE you check in, having a big suitcase is a drag, literally.
How about this:
Note that 2 really pivotal parts of this whole look are (1) a coat that will work day and night, and (2) a pair of trousers that are simple and classic enough to play an understated role in a variety of ensembles.
If you've managed to streamline your personal care products to a sensible minimum, this is all you'll need to pack:
You can go a great many places with a beautiful blouse, nice jewelry, and a change of shoes. Moderate heeled boots can be exactly the same height as a kitten-heel pump…
And the next morning, your cardigan and trousers look very different when accented with a soft blush in place of the minty green of yesterday.
(I assume you can manage the pajamas and lingerie without my assistance…)
What got me started thinking about tote bags? The fact that I have more of them than I need! The beauty pictured below was a gift from the digital staff at Neiman Marcus; I'm not really sure how I deserved a gift from them for the holidays, but bless their hearts, they gave this to me. But I TRULY don't need it, and so I'm giving it to one of you.
Leave me a comment – if only to tell me how disappointed you are to see today's post – and you will have a chance to win this lovely bag. I have no idea what it's made of, but if it's got a Neiman Marcus label on it, it's got to be pretty nice, eh?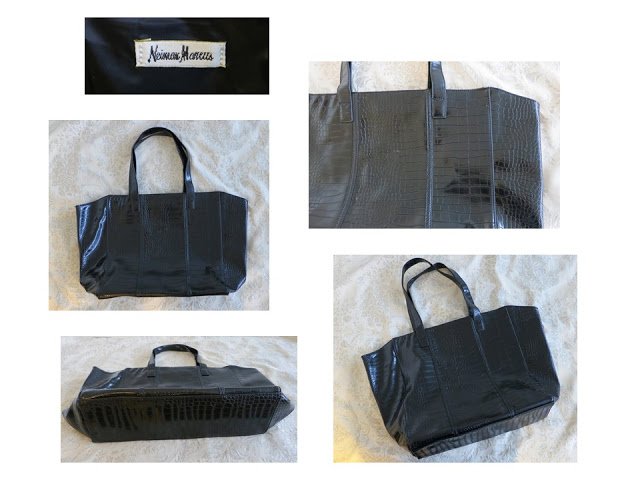 love,
Janice