January 12, 2016
Today's capsule wardrobe is a bit more casual, with a bit of influence from the aesthetics of the figurine; these kinds of things have to be approached carefully, because I don't want to do any egregious cultural appropriation! It's sort of like when people would visit Ireland (when I lived there) and dress all in green, and walk around saying "top of the mornin' to ya…." So I took notes from the fluidity of the figure for some more draped and/or wrapped garments, shamelessly grabbed some pearls, tossed in a really amazing brooch, and included a very origami tote bag. This would be a great addition to the earlier wardrobe – most of these pieces would blend seamlessly with the other garments. Having a unifying "theme" or inspiration makes shopping and getting dressed SO much easier!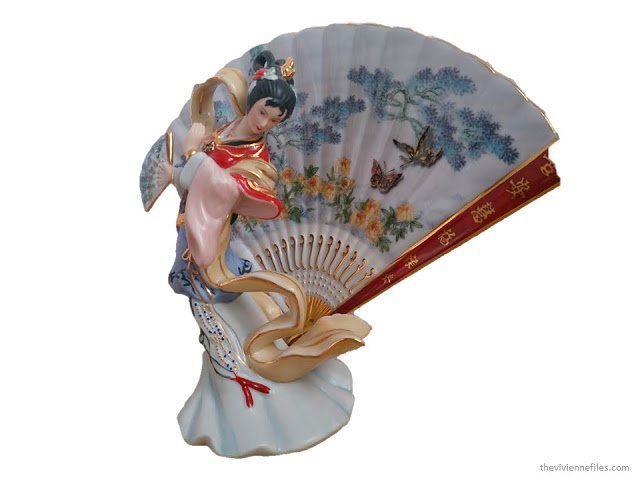 In keeping with the swirl and the flow of the figuring, I chose the softer accent colors this time:
I kept the original trousers and skirt (I love a good pleated skirt – talk about swish!), but substituted a cuddly cardigan and a draped top for the more strict blazer and sweater from before.
No need for a 2nd skirt, so jeans! Another fluid cardigan, and a simple wrapped tee shirt.
A basic white top is still here, but much more unstructured than a button-front shirt. I LOVE the blush top with the strange waistline – I can so easily imagine this coming from a Japanese designer! The sweater has gorgeous texture, and another pretty pink top is never wrong.
This steps includes one more pretty, somewhat dressy, top, a nice basic navy tee – long enough to wear as a tunic, a great long cardigan, and an unstructured dress. Even though this is indeed a dress, with opaque grey tights and short grey boots, it's far from stuffy.
The blank template, just in case you want to see it again.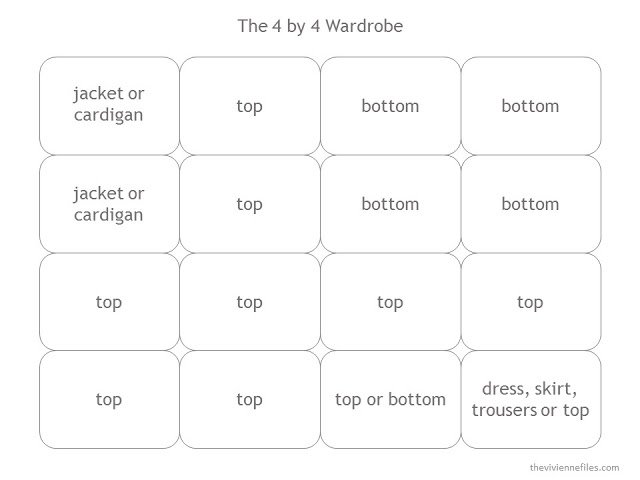 I'm already liking the looks of this one: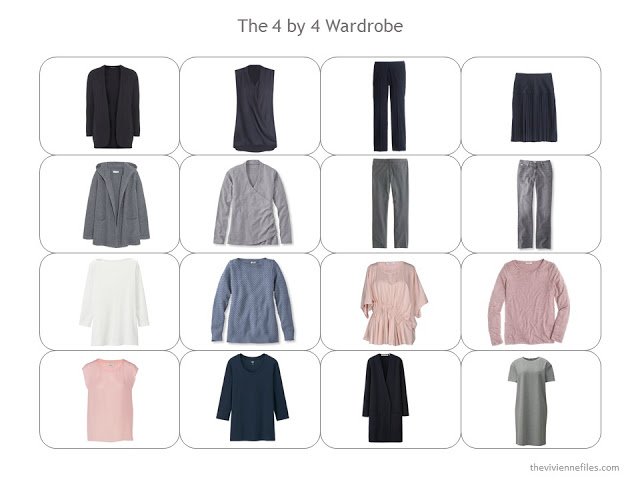 Just as I did before, I started with the outfits – four weeks worth – and then chose accessories to "finish" the looks. I deliberately tried to keep a few of the accessories from the first version of a wardrobe with this figurine, because I like to show that simple, classic pieces have a lot of versatility.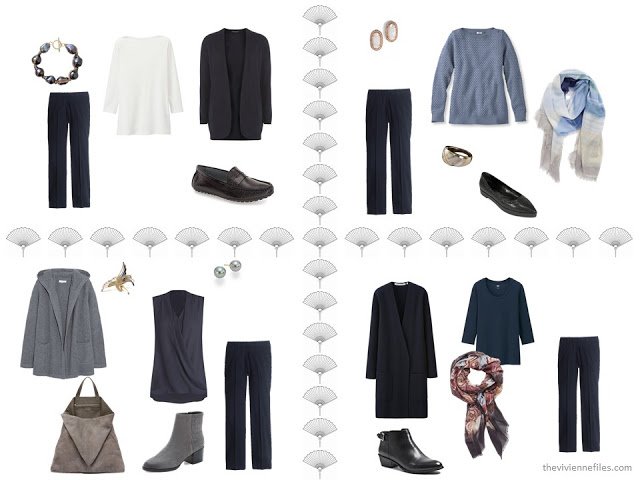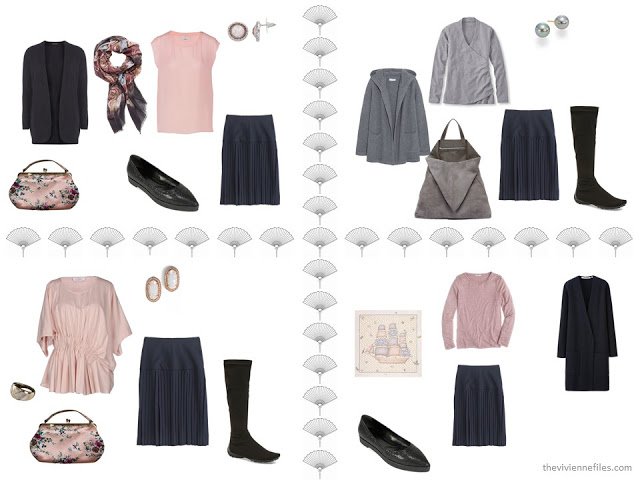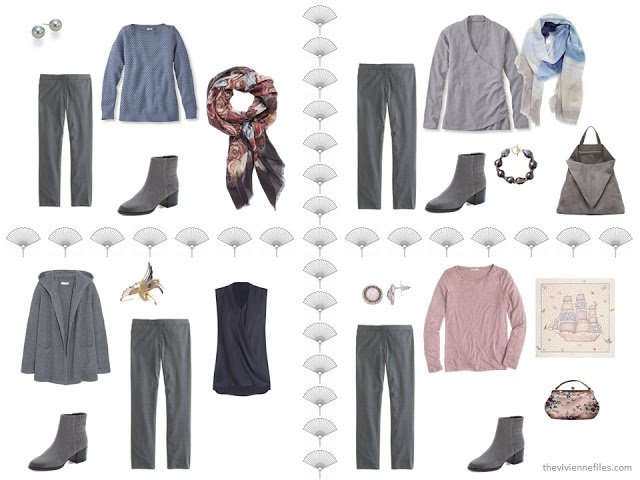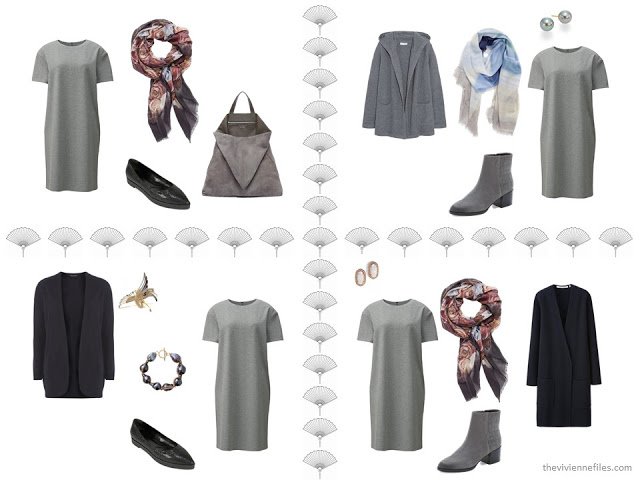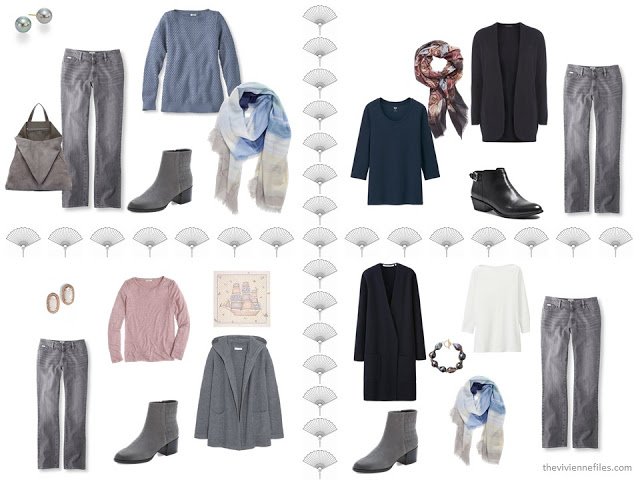 (I hope you noticed that the very work-ish computers from the first post have been replaced by lovely fans; these sorts of details are the things in which I delight!)
All together, with everything. Wear one of these outfits, pack the rest, and you're set for almost anything!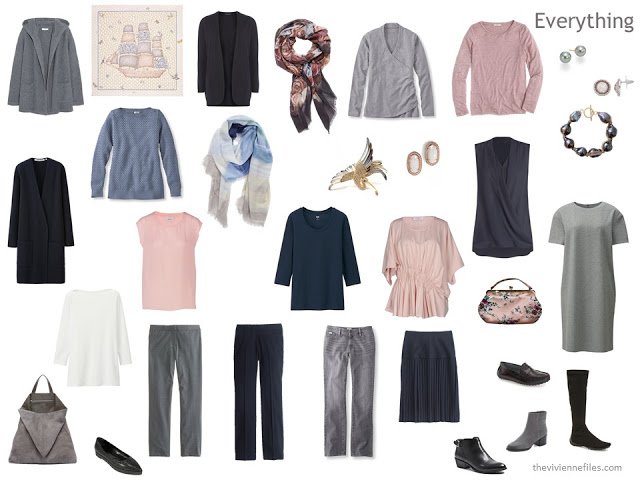 Just for my own delight, I think I'm going to take a look at this year's Pantone colors, and source out some lovely accessories…. When the weather is this cold (at least in Chicago), and you know that you don't really need new clothes, a pretty accessory is a nice indulgence!
love,
Janice