January 9, 2016
Part of this request was rather standard – someone returning to the workforce, and wanting a 4 by 4 capsule wardrobe based on a navy suit, with grey accents. Very sensible, and something that many of us can find useful, or at least fun to admire.But the real zinger: She drew her inspiration for the colors from a figurine in her bedroom! This clearly means something very special to her, eh?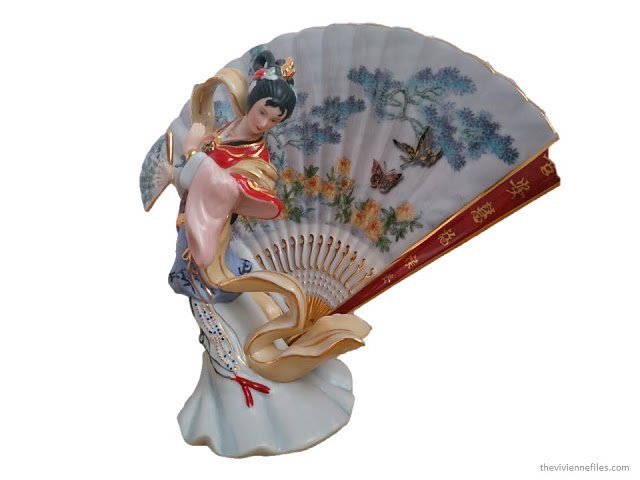 I stuck with the color scheme she suggested – a lot of navy, accents of the deep red/burgundy, and gray, shading to soft blue: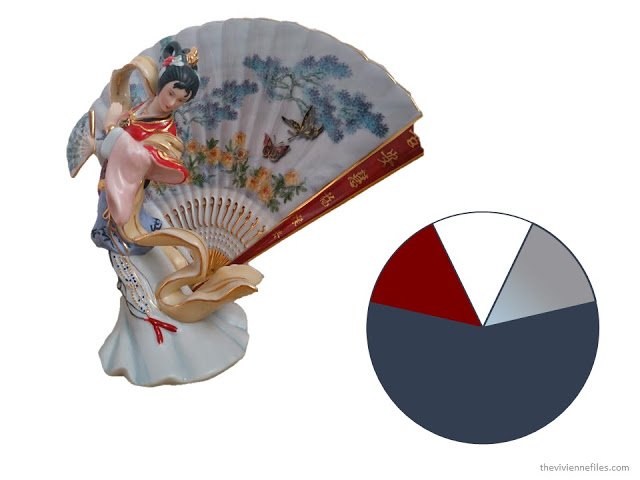 While many jobs no longer require a suit, it's worth remember that there are still places that REQUIRE them. In order to get the most mileage possible from purchases, I found (after quite a bit of searching) a suit that included both pants and a skirt, as well as a dress that will shop up in Step 4.
The First Core of Four
The 3-piece suit, with a sweater (also from the same store, in the hope that the navy tones will match or at least blend well). Even if you never wore these in a serious or formal way, there are a LOT of possibilities with neutral pieces like this.
The Second Core of Four
I took the formality down a notch, but kept things covered, with a cashmere twinset, a nice soft skirt, and classic pants. With these eight pieces, your options are already clear; lots of things already in one's closet would play nicely in a mix with these classic wardrobe staples.
The Mileage Four
This is the step in which you find enough blouses, shirts and sweaters to get some real mileage out of the neutral items you chose in the first two steps. Unless specifically asked to avoid white, I would always include some sort of classic which shirt or blouse here. This is also the place where accent colors begin to show up, as well as prints. Although a great many people could start with the same first 8 garments, NOBODY will have the same wardrobe once these four tops have been chosen!
The Expansion Four
Now, you fill in what you think you most need. I felt like another accent top was a good idea, as well as a change from the navy sweater. Another cardigan helps with air-conditioned offices, as well as that desire to have two layers above the waist – a look that lends a sort of authority. And it would be a big mistake to miss the chance to buy a dress that matches your blazer – even if you only wear it that way occasionally, it's a great back-up dressy outfit.
Just to refresh everyone's memory, this is what the 4 by 4 Wardrobe template looks like: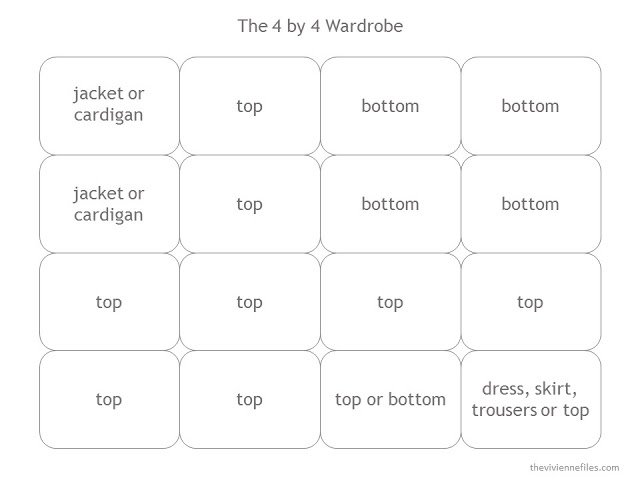 And this is how it looks with the clothes!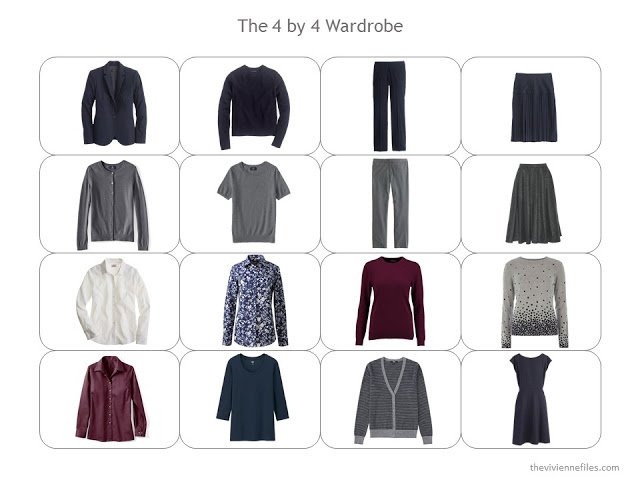 Okay, there are no accessories yet! I took a different approach to accessorizing this capsule wardrobe, in that I put together 20 outfits (enough, obviously, for 4 weeks of work), and then I went back to the outfits and chose just enough accessories to make things look complete.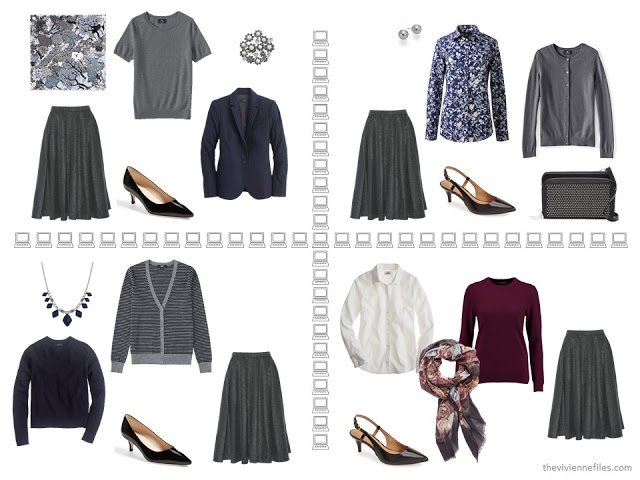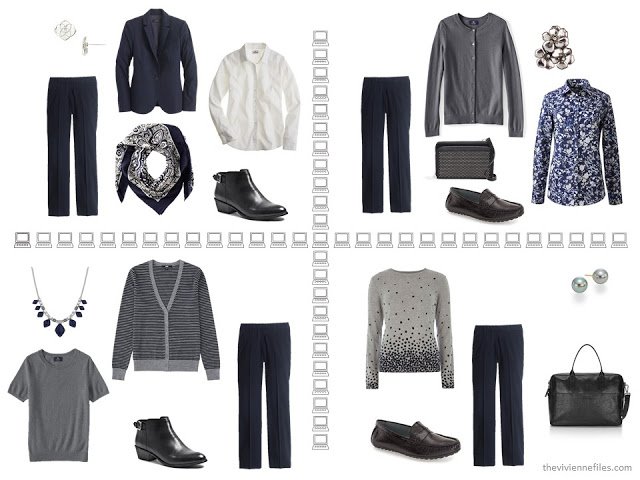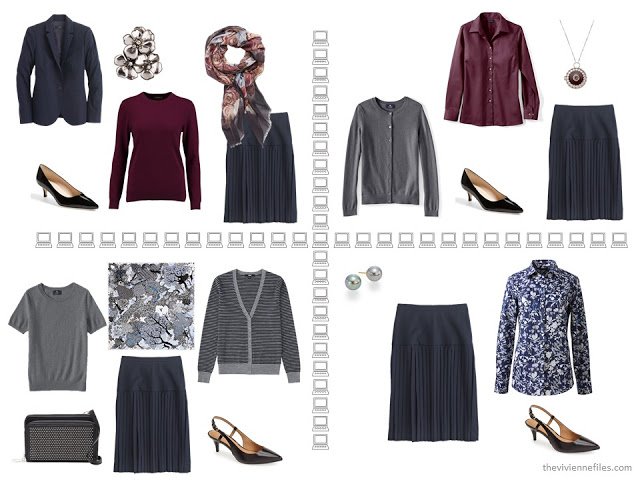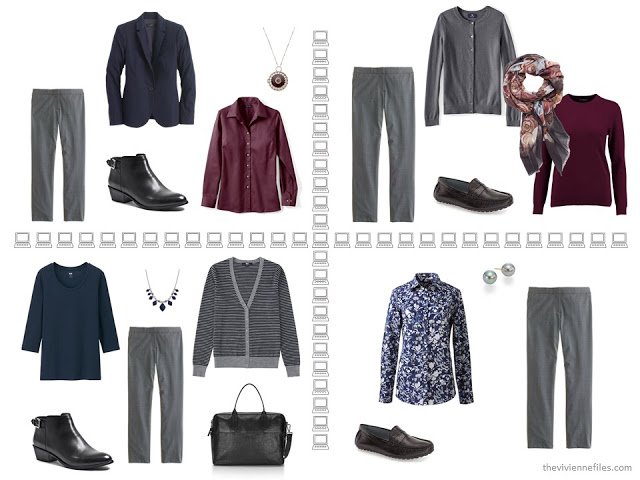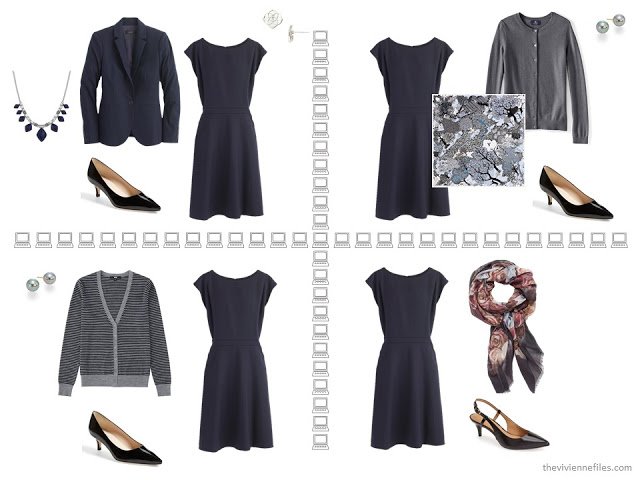 The Integration Four+
I tried to really hold back from piling on TONS of accessories. Most women embarking on this kind of life change will probably have at least a few things in their existing wardrobe that will work well with their new work attire, so this should be the easiest step.
This is what it all looks like piled together – you can see lots of options that I didn't show! While you probably wouldn't go more than a couple of months with a wardrobe this small, there's really no pressing need to add much of anything in a hurry! That feeling of having "just enough" can be very liberating…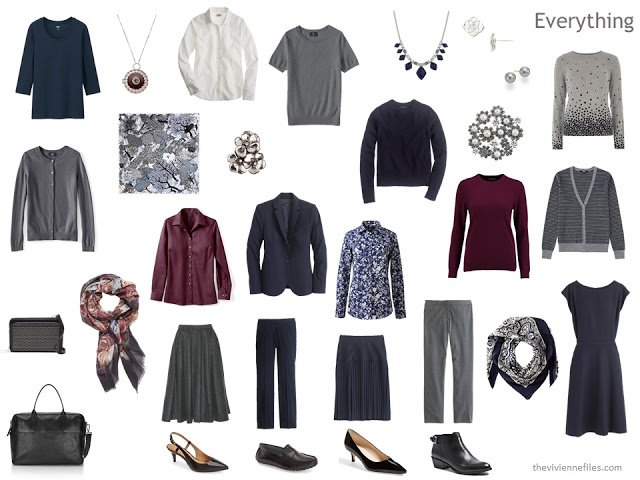 I've got another give-away coming up, and I'm going to show you the smallest possible travel wardrobe, too!
love,
Janice