January 8, 2016
Someone sent this to me ages ago, and I can't believe it's taken me this long to get to this gorgeous piece…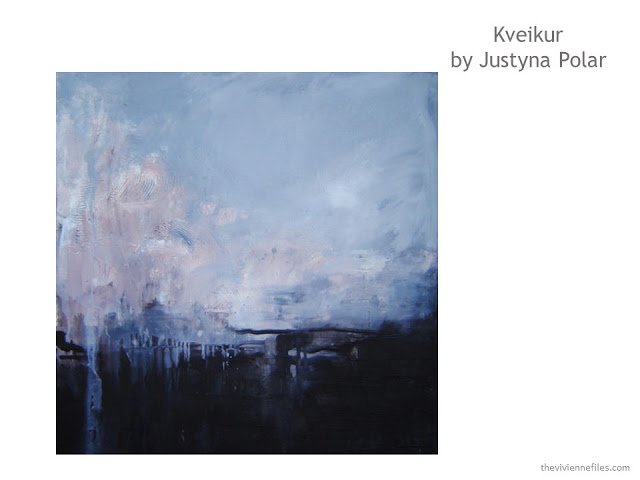 This suggests the most lovely color scheme, which is both timeless and seasonless: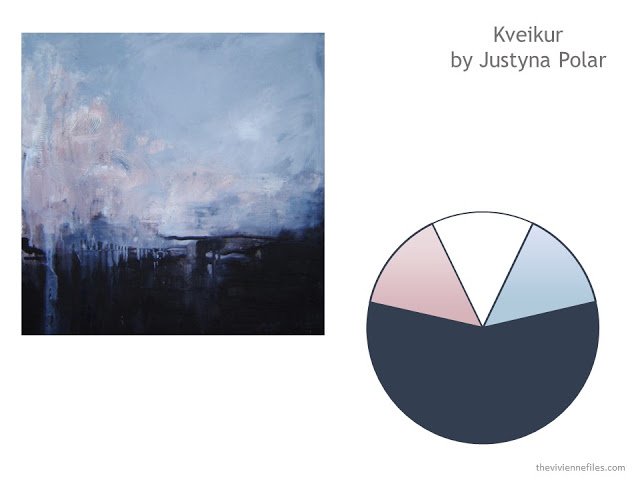 I've also received lots of requests for travel suggestions for longer trips – that 3 to 6 week trip that includes a few meetings, maybe some teaching, maybe some sightseeing, maybe some time in an office, and almost certainly some casual outdoor activities.
The trips that have been submitted to me for packing advice had a few things in common:
They are all more than 2 weeks, some as long as 6 weeks. This doesn't
automatically require more than 12-15 pieces of clothing, but if you're
going to be in one place for the entire time, a few more choices might
make you, plain and simply, happier. And having 8 or 9 "tops" means that you only need to do laundry once a week!
A range of activities are included, but generally nothing super-dressy. Virtually nobody has mentioned that they'll need a skirt, but a nice pair of pants are definitely important.
Weather is uncertain, be it the Alps, or Florida in February. Warm days and cool evenings, with intermittent chilly days, seemed to be the general trend.
So, as some bright reader suggested, I "built out" the Whatever's Clean for All Occasions, and added some very useful space for any "special" garments needed.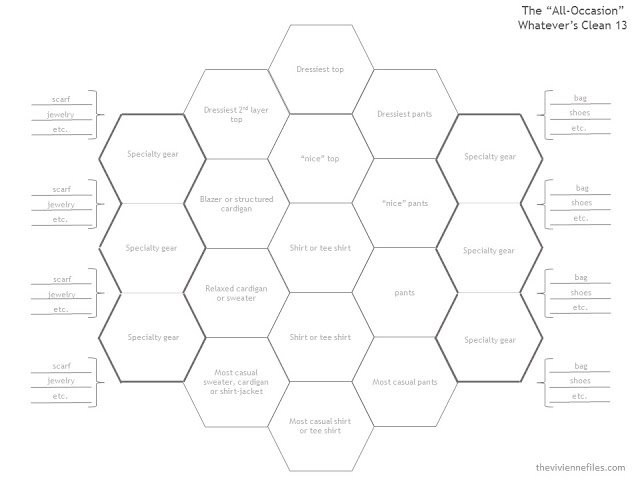 This is still only 18 pieces of clothing, so while it might look a bit daunting, approaching it systematically will make filling it in a piece of cake. Or sticky toffee pudding… (mmm….)
If you're planning a trip for which you have a range of activities planned, it might make sense to choose a prevailing color scheme for your travel capsule wardrobe, and then work "outfit by outfit" to see how things accumulate. As always, I start with the travel outfit; this one is quite a bit more casual than I normally show, but still pretty and pulled-together.
(Of course you can wear athletic shoes when you travel. Just try to look as if you didn't get dressed with your eyes closed! I'm VERY sympathetic to those among us with mobility issues, and wearing your bulkiest/most comfortable shoes just makes sense sometimes…)
For most of us, the clothes that would concern us the most would be the things needed for business or meetings – the dressier end of the spectrum, for a trip like this. So choose your two favorite combinations and put them in your staging area. Yes, these use the same pair of pants – there's no reason you have to have an endless assortment of clothing with you for the entertainment of your companions!
I recently listened to a podcast in which a women mentioned that she bought a particular ring for a trip she was taking, as sort of a pledge to herself about how she wanted to conduct herself while traveling. That seemed pretty genius to me – a pretty, constant reminder to be more _______, while on your trip. And I'm not going to tell you that the pink ring below is not expensive…
Next up, you'll need clothes for the day-to-day activities that are the "meat and potatoes" of your trip – teaching, researching, whatever it is that you're going to be doing. A pair of nice jeans, a pair of capris or a 2nd pair of pants, and a few tops that can be layered are what you'll really want here. Don't forget some accessories!
And finally, you will want a warm leisure outfit, and a cool leisure outfit. Note how many of these pieces could intermingle happily with the more "everyday" parts of your wardrobe. Heading out to class and the wind has turned chill? Your pink sweatshirt is a valid option to pull over a tee shirt and jeans, just as much as either of your cardigans, or your navy jacket! And pink….
Here's where I chose to toss in three additional tee shirts, in the neutral, one of the accents, and the always-useful white. Space permitting, a long-sleeved tee, or another sleeveless, probably wouldn't be a waste of space.
Now we take all of these carefully chosen pieces, and plug them into the template: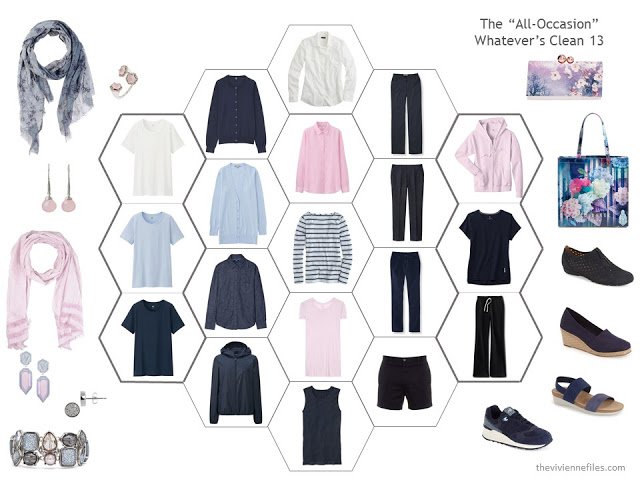 Theoretically, there are at least 200 different ways to wear these pieces – you just have to look at the template to see plenty of possibilities! (If you're particularly clever, your light blue tee and cardigan will go together well…)
I hope this proves to be useful, and a big fun, for all of you embarking on long trips. You obviously can substitute colors as you prefer – if you like aqua more than pink, feel free! (yes, teacher going to the Alps, I'm thinking of you here!) If your neutral is brown, you could use peach and mint green accents. Etc. Etc.
But I'm always happy to show more examples; is there a combination that you struggle to picture? Let me know and I'll work on it!
love,
Janicep.s. Readers in the Miami area – can you provide any insights into how someone might pack for a business conference being held there in late January? I've not been there for over 10 years… Thanks!