November 10, 2015
We're back to visit our friend who made the long train trip!
This was her inspiration – the soft colors, and the strong sense of the grid patterns in the ceiling of the train station. Very beautiful!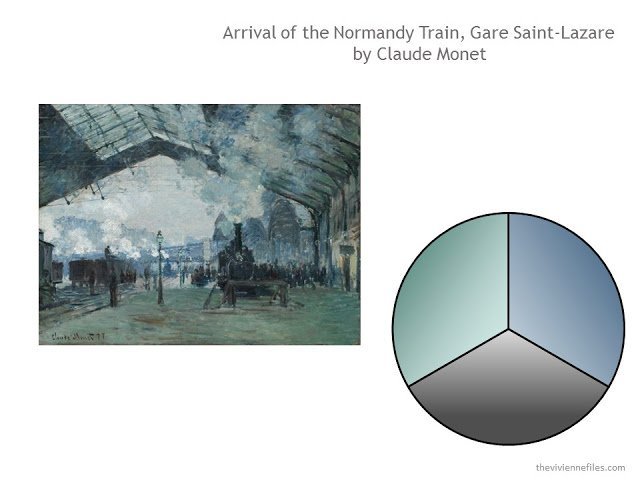 She DID have to do some shopping when she was on the road! It was bound to rain, but it wasn't bound to stop her…
And these were the clothes that she took with her on her trip. It was a wonderful trip – well planned, and thoroughly enjoyed. If only her return to "real life" had been so pleasant…
Utter Chaos Reigns…
She returned to a madhouse. Drinking at lunch, crying in the bathrooms, shouting in the halls – it had all of the elements of a bad soap opera, without the romance…
So she decided that it was finally time to take over. She'd considered it before, but wasn't really all that interested in management. But when she saw how absolutely miserable her co-workers were, she started to plan.
She knew exactly how she could start, gradually, imperceptibly (to the management) taking control of the functions of the office. The staff would notice immediately, and that's what mattered most.
Her self-presentation would need to be sharpened up, just a notch or two. Gradually, subtly, but unmistakably. In a couple of weeks, she needed to look like what she was going to be – the manager.
Step 1 – no more denim, and nothing "snuggly." She's not getting rid of these clothes; she's moving them out of the office rotation.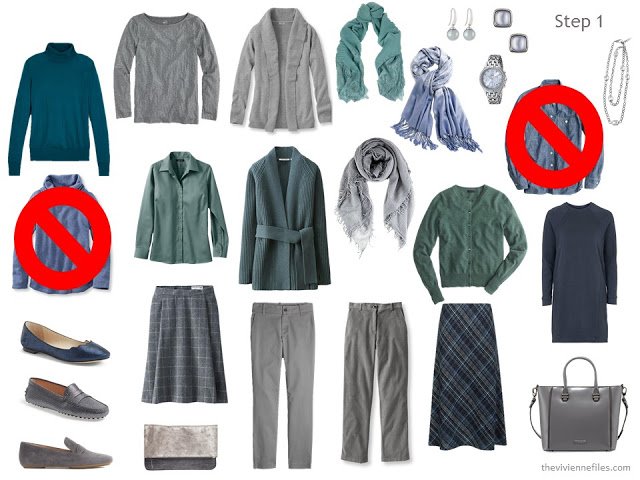 And in their place, a similar "collared" shirt, and a sweater in the same blue. But a bit more tailored, and more serious, business-appropriate fabrics.
This is where week 1 finds her – she's allowing no more liquid lunches for the staff, and this is her wardrobe. Nobody will ever notice a change…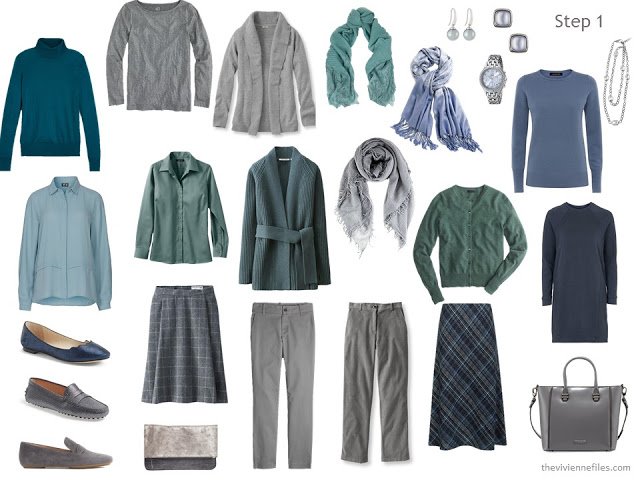 Step2 – baggy trousers and too-casual loafers are leaving the fold…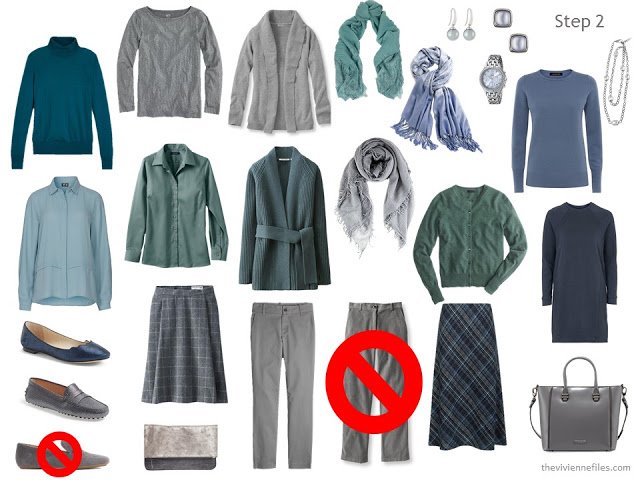 When the Home Office people finally show up, wearing a skirt is going to be important. They are just shallow enough that this sort of thing impresses them.
No more shouting, effective immediately. She used a combination of embarrassment and out-and-out threats to stop that nonsense. There's no place for that kind of airing of grievances in an office; frustrations are mostly with people who aren't even in this time zone…. don't yell at your allies!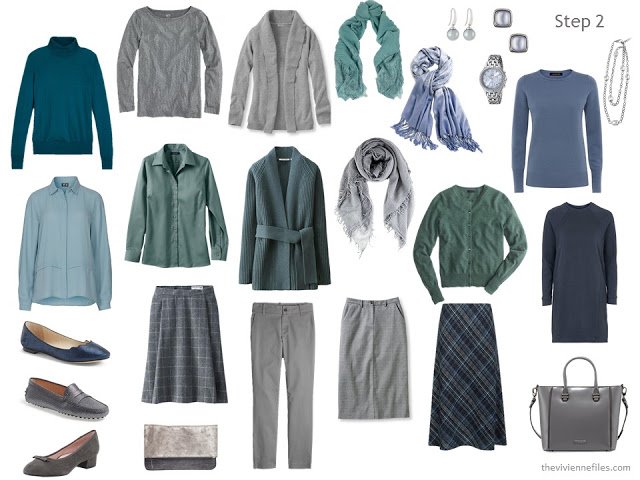 Step 3- she loves her grey cashmere cardigan, but it lacks shape, and suffers from the dreaded "cuddliness"… and her grey trousers are a bit more casual than she thinks appropriate. At this stage, she expects superiors to show up any day, and she needs to be dressed for the meetings that will immediately occur.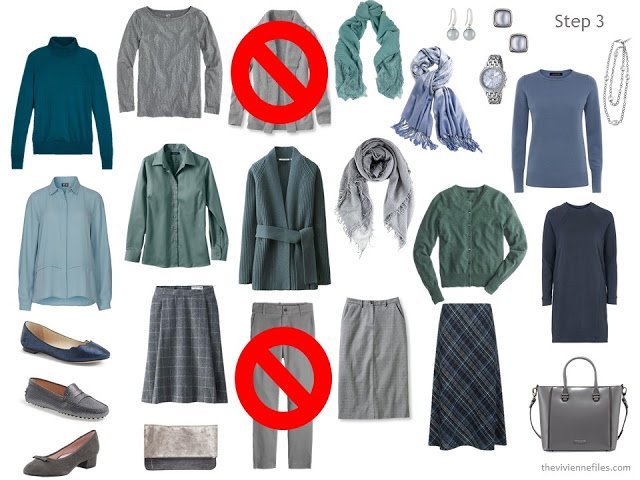 It's still a cardigan, but the lapel and buttons change everything. And wool dress trousers can be worn in any business situation:
The crying in the bathroom had stopped… A little bit of organization, and a sense of purpose, had given everybody a better frame of mind with which to approach the tasks at hand.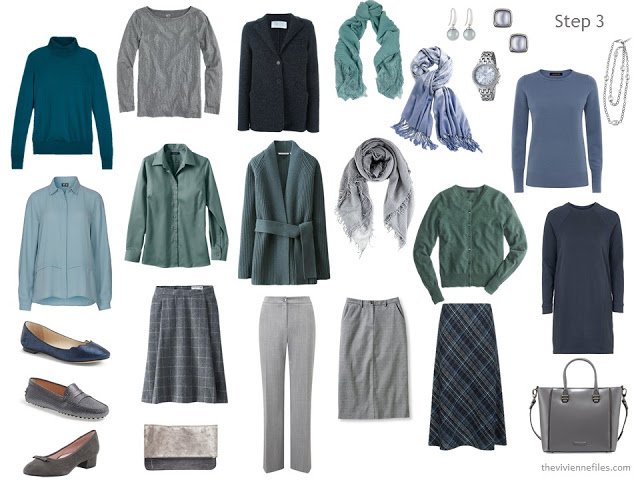 Step 4 – she rarely wore her dress, but it IS sweatshirt fabric, so maybe it needs to step aside for something a little bit more tailored. And driving moccasins are great shoes, but she now doesn't have any real need for them in her daily wardrobe – they go into the weekend stash.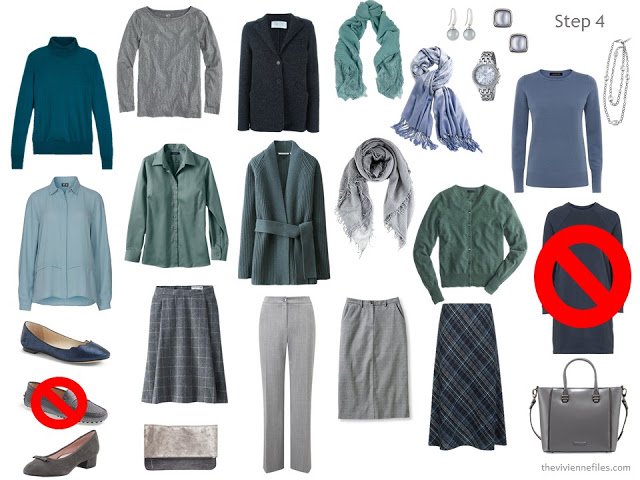 There's nothing intimidating or hard-nosed about this dress, nor these shoes, but she looks just a bit more… important… when she wears them.
She's worked like a demon for the last 4 weeks, and shopped every weekend. But the office is under control, and her wardrobe looks just a touch more authoritative than it did a month ago!
And as always, lots of options for how to pull together outfits.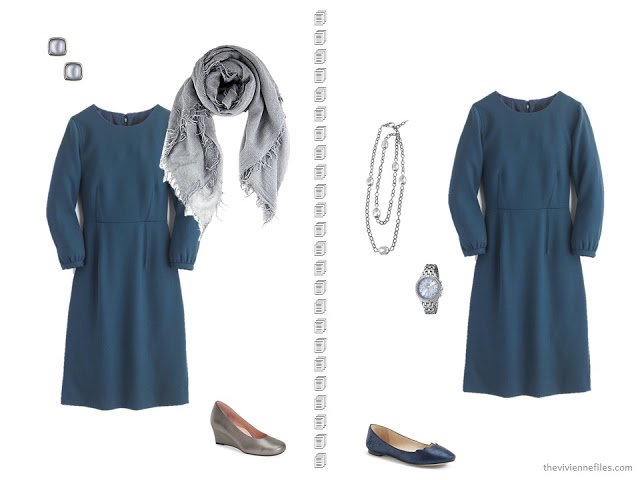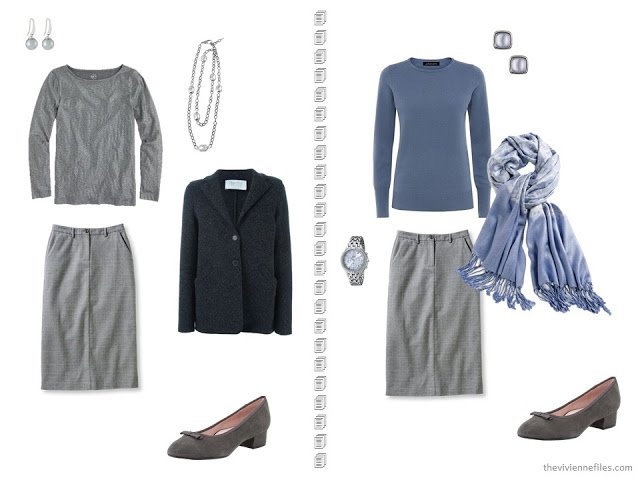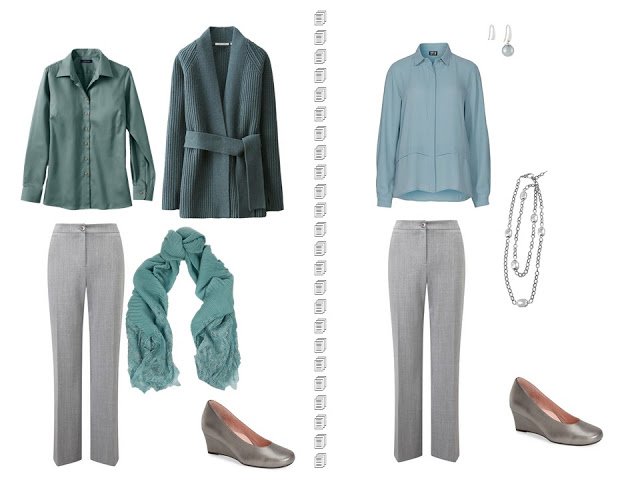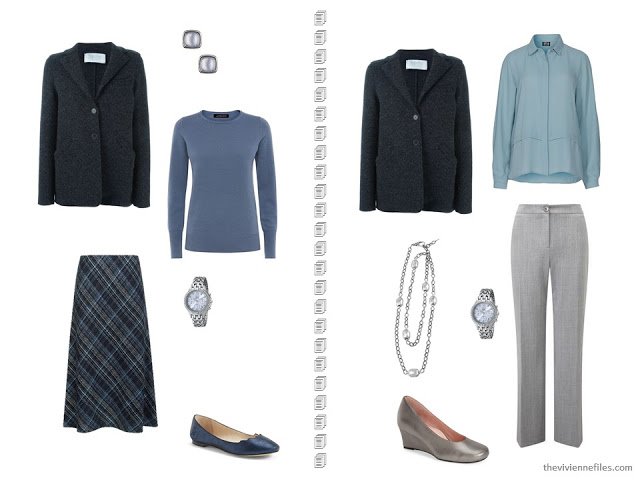 If the Home Office people have any brains, they'll just give her the promotion and raise, make a couple of quiet phone calls to remove a couple of staff members, and leave well enough alone. But Home Office people rarely have brains….
love,
Janice