November 11, 2015
If I ever catch any of you pining away like this, I'll give you a very stern talking-to, and then a hug…
But it's so beautiful, in that lush, opulently colored way that the Pre-Raphaelites made so appealing. I have, in fact, another color scheme in mind for this same painting, so don't wander away in the next week or two…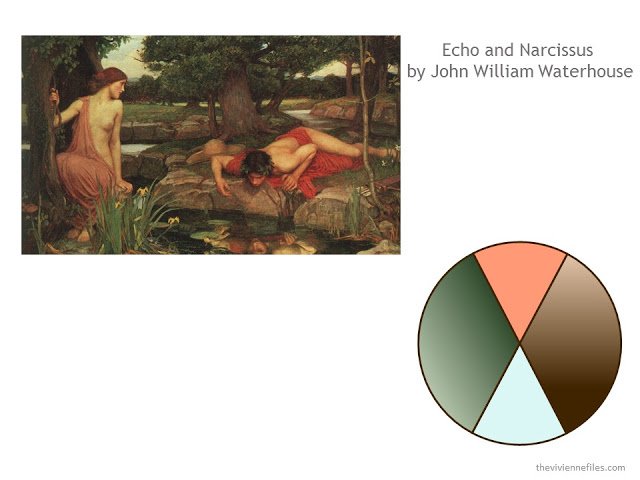 Recently, I've been asked about the nuts and bolts of putting together a Whatever's Clean Wardrobe – where to start, and how to choose what to include. I'll try to explain my thought process through this one, in the hope that I can clarify how you can easily do this yourself when you're packing, or just when you want to build a small collection of clothes that will see you through your life without a lot of stress and clutter!
Big important note – I'm assuming that you've chosen a color scheme! In this case, your scheme includes two neutrals and two accents, but those numbers can easily be adjusted…
STEP 1
Using your first neutral, find a 3-piece outfit. This doesn't necessarily have to be a suit, nor does it have to include a cardigan, as I so often do. For this particular wardrobe, I'm going to include two pieces of legitimate outerwear – the kind of thing that you need to pull on to run to the store, the school, the office, the gym, etc etc…
Oh heavens, I want that turtleneck…If this is all you can do for a few weeks (if you're shopping for all of these pieces, for example), that's fine. At least you have a great outfit that you can wear to a lot of places, and you have some new and important building blocks that probably will look great with things you already own.
It's important to remember that NOBODY, EVER has the "Perfect Wardrobe." I don't – I've got some gaps where I've lost weight, and some serious "overages" of things that don't fit. The only thing that matters is that you have confidence that you can get dressed without making a big deal about it. There are more important things to freak out about…
STEP 2
Same thing, with your other neutral color.
Here, you want to remember to refer back to your first 3 pieces and make certain that your necklines, lengths etc. are all compatible. Another short jacket might not be best choice, for example, because some days you're going to want a jacket long enough to come down past your waist and keep drafts from whooshing up your back. A little variety is good.
That said, if there are cuts or styles that are distinctively you, run with it! Here I grabbed 2 turtlenecks first thing, because I'm a big fan of turtlenecks… Your get to make these kinds of signature choices within the guidelines of this wardrobe plan – it's easy to personalize this to make it uniquely your own.
As before, if you have to stop shopping for a while, that's not a problem. This is a process that can be very gradual.And some of this shopping can be done in your closet! I'd strongly suggest looking for a few accessories at this point…
STEP 3
Let's include a scarf that goes with both neutrals (and makes it possible to combine the 2 neutrals in 1 outfit with a unifying element), a piece of jewelry, and a pair of shoes or boots in the darker of your 2 neutrals. You can now combine your six pieces of clothing into 8 ensembles. (I love the number elements of these exercises!)
STEP 4
Here's another step in which you should start at home, before you break out a credit card! Both of your accent colors are represented by a shirt, sweater or blouse. This is where I always consider either a light neutral top, or a printed/textured top that combines some of the colors of the overall scheme.
This is also the point where it makes a lot of sense to look for things that tie your accent colors into your neutrals – the best example humanly possible might be this necklace, which includes EVERY color in the original color scheme, without fading into nothingness. I looked for HOURS for this one… (and it turns out that there are a couple of necklaces, bracelets, and a pair of earrings in these stones…)
STEP 5
After stocking up on tops in the last step, it's time to fill in the "bottoms" part of our scheme. You certainly don't have to ever include a skirt, but I grabbed a longer one; in cooler weather, with tall boots, this is dressy enough for almost anything happening in most of our lives!
There's a spot for 1 last shirt or sweater in the Whatever's Clean, and it's a good time to consider a print or pattern, if you haven't included one yet. I particularly liked this because it picked up the very leafy outdoor feeling of our original painting.
This is a good time for us all to remember that we don't want to lose sight of the mood and sensibility of our original painting – very outdoors, very soft, very organic. I don't think anything chosen so far has gone awry, but it's always good to keep checking.
STEP 6
The Whatever's Clean 13 require one last pair of pants, and since the brown pants we chose are technically jeans, I'm grabbing a pair of corduroy pants to finish things off. I'm really pretty smitten with corduroy – it's a ton dressier than denim, it's soft, and it's available in gorgeous colors!
And somewhere in this step I would make sure that you have a second footwear choice – since I got us a skirt in Step 5, I'd look for tall boots to wear with it, as well as any of the trousers. And let's finish up with a gorgeous but not outrageous handbag, eh?
This is what the collective whole looks like – you can see how versatile this would be, can't you?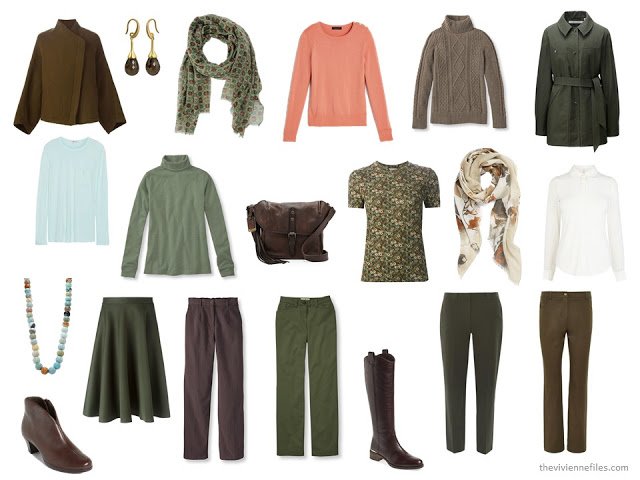 And just to prove that we had a plan all along, here's the "Whatever's Clean 13" template, showing the items that we chose. You'd have options from the very soft blue top with a skirt, boots and jewelry to a very bundly warm sweater with jeans and a jacket. This would make a great packing template…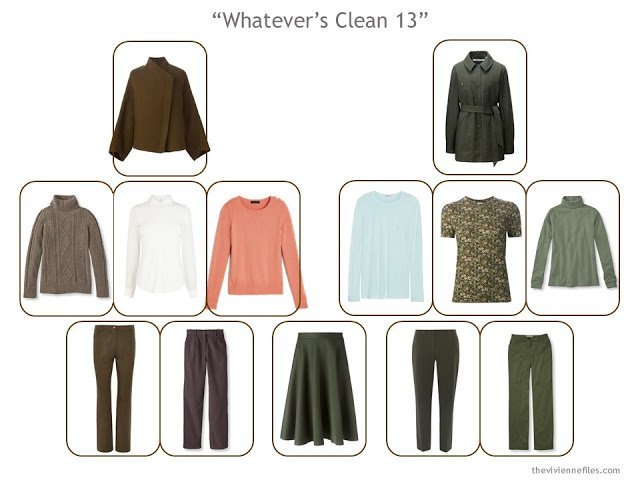 In a few days I want to revisit this idea, and this painting, with different accent colors that I see in the painting. Are you interested?
love,
Janice