August 7, 2015
So now that THAT is settled, let's move on to the really fun stuff – adding to and dressing up (or down) A Common Wardrobe.Just for reference, or if you still haven't printed it, this is the template from which I worked for my 12-piece Common Wardrobe.
And these are the core garments with which I'm working: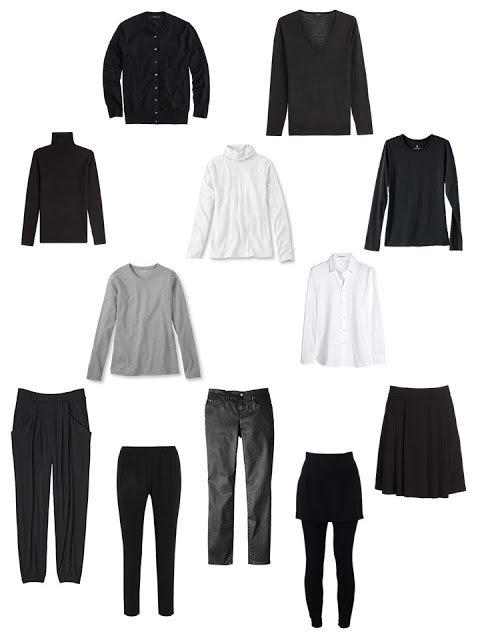 black pleated skirt – Eileen Fisher
These aren't all of my accessories, but they give us a good starting point:
pearl stud earrings – Majorica
, silver knot earrings – Nancy B.,
grey pearl bracelet – Majorica
, 3-strand necklace – Majorica, black and pearl
bracelet – Majorica;
black and white scarf – Julie Egli
; Maltese Cross brooch – Kenneth Jay Lane; pearls – Majorica; pearl and chain necklace – Majorica;
grey pearl studs – Majorica
; gold knot earrings – The Black Bow; pyramid earrings – Judith Jack; silver cross brooch – vintage; silver star earrings – Adriana de Gadea; bracelet – Kenneth Jay Lane; silver and black multi-strand necklace – Silpada; patchwork scarf – Metropolitan Museum of Art; puffy silver star brooch – Tiffany, silver hoop earrings – Vintage; silver chain necklace – Wayan Asman; black and white wristlet – Tumi; black and white scarf – Hermes Cliquitis; black and red scarf – Hermes Les Clefs; floral scarf – Gucci; black bag – Agnes B.; athletic shoes – Munro; boots – Eddie Bauer; short boots – Munro; loafers – French Connection; grey scarf – Hermes Les
Jardins des Metamorphoses; ballet flats – Thierry Rabotin
Going into this autumn, my foremost wardrobe goal, such as it is, is to get more use out of two of my most treasured scarves. The top one is from Etro, and I bought it for our honeymoon. It was, in fact, the leitmotif from which my pink, white and black color scheme was drawn.
And then 2nd scarf is an Hermes that Belovedest gave me for my birthday 3 or 4 years ago. Really, these both need to be out and about more frequently…
So, in order to get these scarves out and about, I bought a pink v-neck sweater (mine is 2nd hand, from Peck and Peck!!! I worked for them when I was in graduate school…), a "thistle" tee shirt from Eileen Fisher (this is what I did with my Nordstrom gift card); and a pink cardigan – also 2nd hand. It's a Ballantyne cashmere, which I never see in the US. The Eileen Fisher tee shirt comes in six colors, has 3/4 sleeves, and is just about perfect. It also comes in a cabernet shade, which is tres au courant this fall.
And, the red dress. I saw it, I knew that I wear red with great joy, and I grabbed it. It's from J. Jill; I knew that it would fit perfectly. Also used…
The 5th item? Not a clue right now. Maybe a brooch? Or a pair of earrings? I just don't have a strong yearning for anything, right now. Eventually, something will have whappage, and I will have a free space in my plan to buy.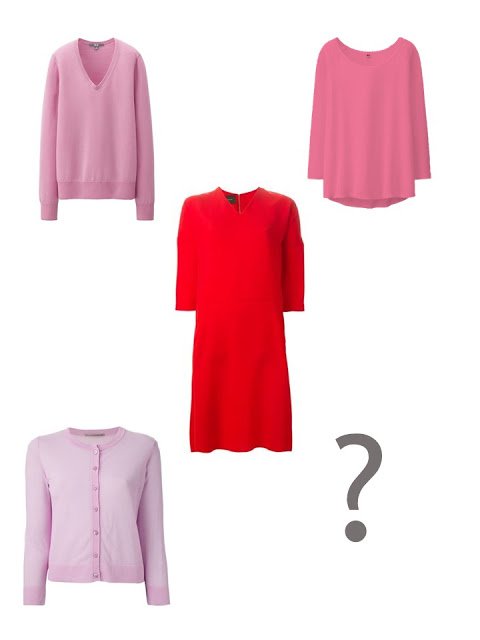 V-neck sweater – Uniqlo; tee shirt – Eileen Fisher; dress – Cedric Charlier;
cardigan – Ermanno Scervino
How will I wear these goodies? I have an abundance of options, just with the limited shoes and accessories that I've shown with my Common Wardrobe.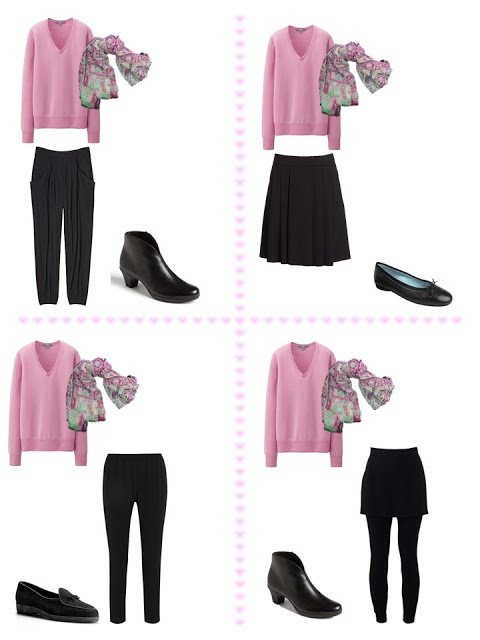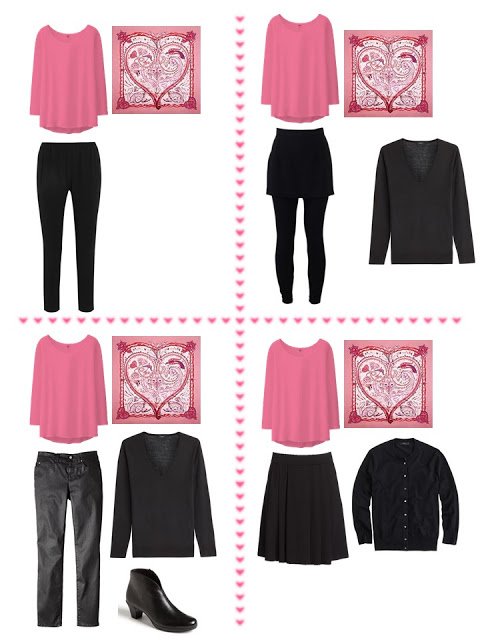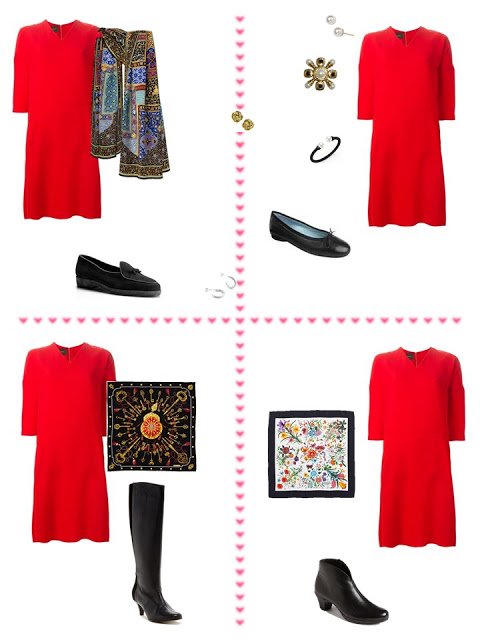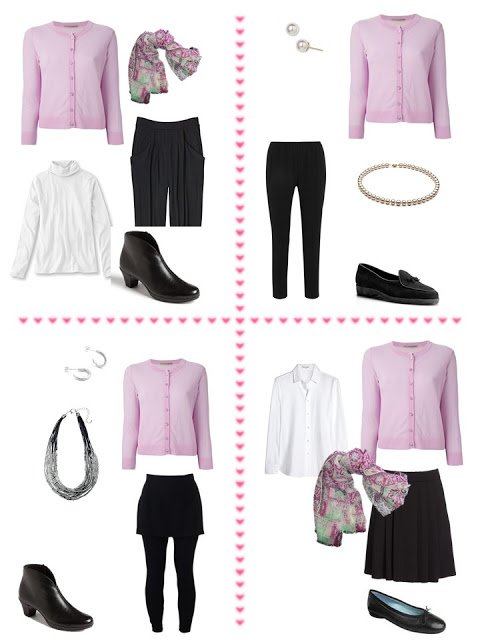 This bundle of stuff – 16 garments total, would make a GREAT travel wardrobe for a cool-weather destination, if you're a dressy lass like me. Just enough accent garments to pick things up, but still plenty of monochromatic outfit options for days when one feels like making less of a statement.
I never dreamed that I would be buying pink as an accent. Have you experienced a radical shift of accent preferences?
love,
Janice