August 6, 2015
Among the most popular, and among the most misunderstood, posts that I've ever written for The Vivienne Files have to be the ones about A Common Wardrobe.
I used to work in advertising. I used to travel a lot, and I used to be privileged to meet some of the most intelligent, creative, eccentric and downright weird people you could imagine. But one thing that I noticed, time and time again, was that no matter how unusual their appearance might have seemed, their clothes would invariably include at least one or two elements that were pretty normal. In fact, when I looked over large rooms full of these people, you could see a common theme of a lot of jeans, khakis, and black trousers, a lot of white shirts, a lot of black tee shirts etc.
Note that only on rare occasions was someone wearing ENTIRELY clothes from this list – there was a lot of bizarre jacket stuff happening, some really outrageous and/or gorgeous blouses and shirts, some skirts that were… hard to describe, and enough leather jeans to give a vegetarian heartburn…
As much as I'm not part of that crowd anymore, I still believe in the useful efficacy of having a core of a dozen garments, around which you can weave your own personal stylistic magic.
Thus, for the upcoming cold weather, I have determined that I'm probably going to be seeing quite a lot of the following items:
There's not much really to be said about plain cardigans, sweater and shirts – I try to get good quality and a classic cut. Yes, cotton turtlenecks are inherently pretty casual, but in bitter cold weather I find that I wear them frequently.
For me, picking pants and skirts took a bit more time, but I'm finally happy with my choices; my slouch pants are soft and comfortable, but somewhat less casual than sweats. My trousers from Eddie Bauer have only a side zip and button, otherwise completely flat front and back and a bit of stretch. These pants travel really REALLY well. Jeans are jeans, skirted leggings are like wearing a skirt and then putting leggings under them (really, these are just a fast way to put on 2 garments at once), and my pleated skirt speaks to the little kid in me…
Here's a template of what I did. You should be able to "right click" on this baby and print it. If not, send me a note at [email protected], and I'll send you a PDF.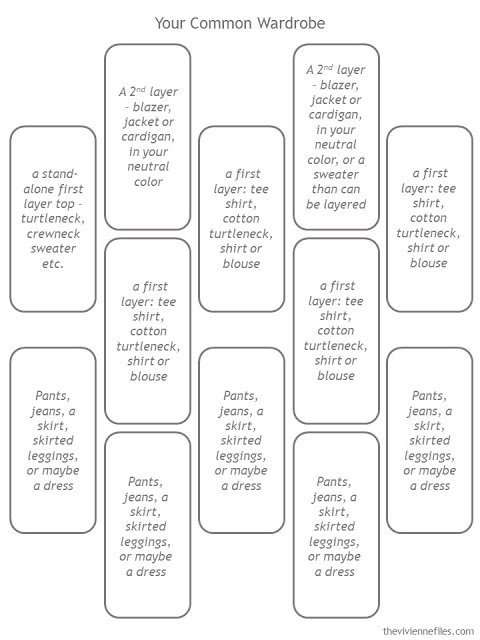 Of course, the only way a wardrobe like this will work is to include some (maybe a LOT!) of accessories.
While this is far from the entirety of my insane scarf collection, it's a good representative sample. And I do have a few more pairs of shoes than this, but I think for 5 "bottoms," 5 pairs of shoes give us a good sense of how this will come together.
And so here's how I could dress for the six months between October and March. Yes, it's not amazingly full of variety. But if someone were to come to me tomorrow and tell me that (pick your fantasy – your children's tuition will be paid, your mortgage will be paid…) I could live in Paris for those six winter months, if I would agree to wear ONLY these outfits, I'd be off like a shot the last day of September!
Optimal? Maybe not for everyone. But a very workable base upon which to build? Absolutely!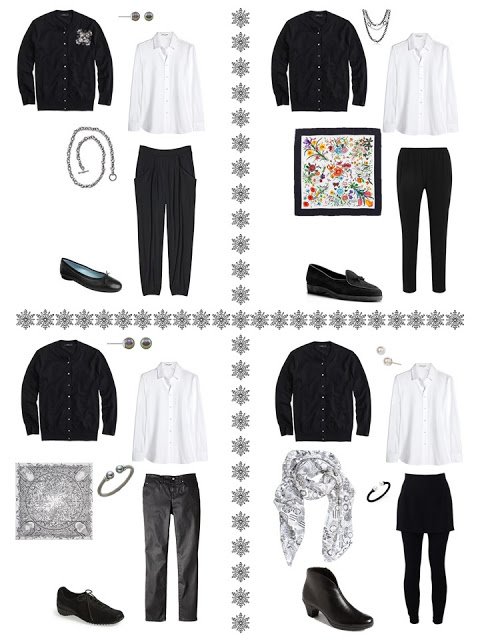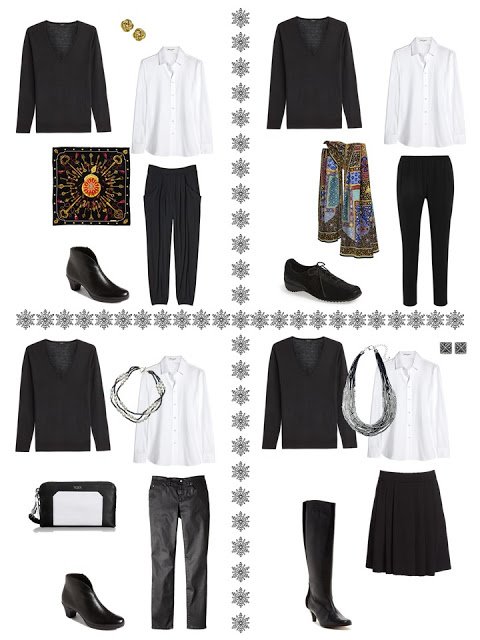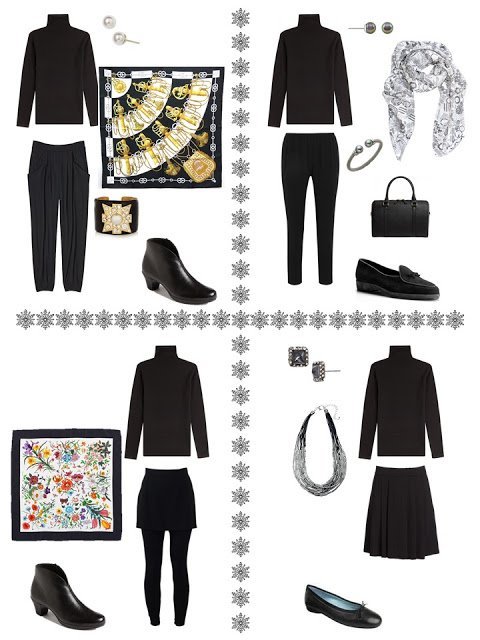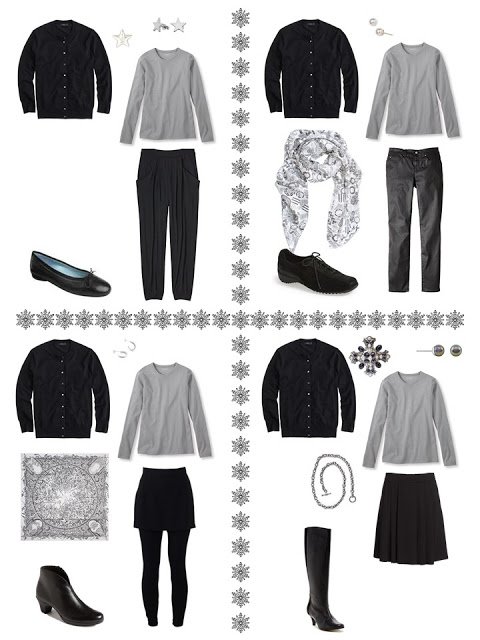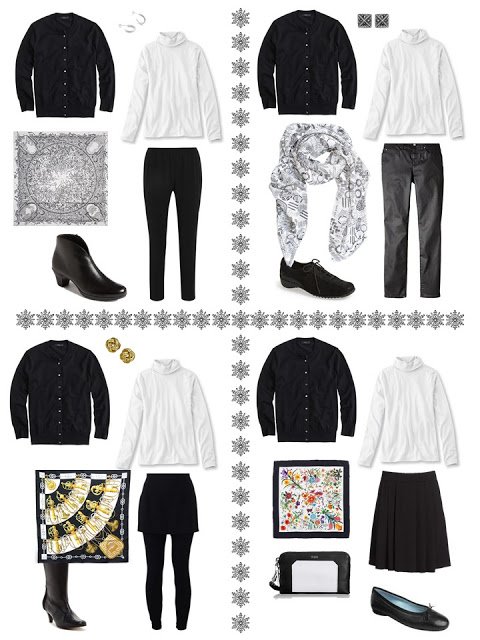 Tomorrow, I'm going to start thinking about my 5-Piece French Wardrobe for fall and winter. Since I'm trying to buy only used things this year, this is a challenge, but I already have 2 pieces ready to roll!
Does anyone in the world love snow as much as I do? In addition to using a snowflake motif on my outfits, my computers all have snowflake or snow scene wallpaper, themes, desktops etc. It's a bit nutty…
love,
Janice
PS – For more inspiration on this topic, visit my page about the Common Wardrobe.