May 14, 2015
A local scarf maker – she travels, takes the photographs, makes the scarf, writes the story behind the scarf, and shares it with all of us! You must visit her site…
I've used shades of brown, a warm beige, and that divine red:
This is a Four by Four wardrobe meant to break rules – starting with a printed skirt! This isn't always something I'd recommend, but in this case, the skirt was irresistible, and it didn't interfere with the versatility and the options inherent in this capsule wardrobe.
And I'm working with two shades of the 2nd neutral. This is also a variance from my usual pretty strict adherence to one color, but as with the printed skirt, these two shades work together with sufficient seamlessness that you don't lose any versatility.
At this point, I committed firmly to the idea of quite a dressy capsule. A metallic tee shirt? Leather skirt? Heck yes! Pretend that you're packing this for a few days in a very beautiful big city, for a very romantic and delightful holiday…
Or wouldn't this be an incredible business travel wardrobe for someone like an advertising executive? She could CRUSH everyone around her, just by looking so gorgeous.
"You don't wear gold pumps to business meetings? I'm not surprised…"
I could easily have found four red tops to pull into this wardrobe, but I felt like that was going to be too much "red top with neutral outfit", so I chose instead to grab this gorgeous cardigan (always useful for cool evenings), and a simple but luxurious sweater.
Shoes were where I went a bit nutty – red boots! and TWO pair of gold shoes! Maybe you'll be known as the exotic, glamorous woman in your hotel. There are worse things!
I really love these items together:
And you REALLY have lots of options – from simple, monochromatic outfits with a touch of jewelry, to a bare red top and dazzling skirt, with gold pumps…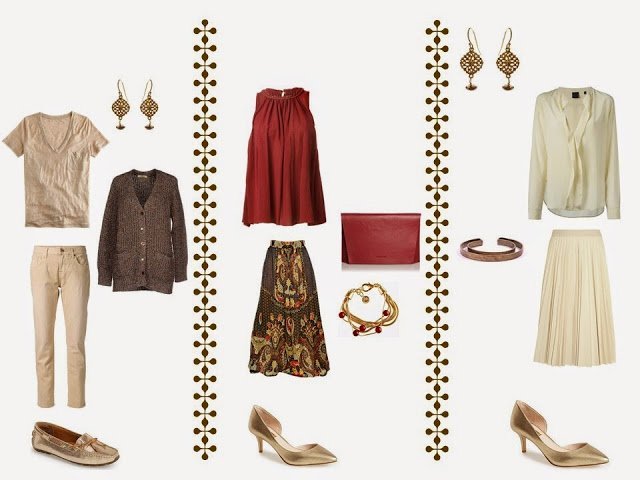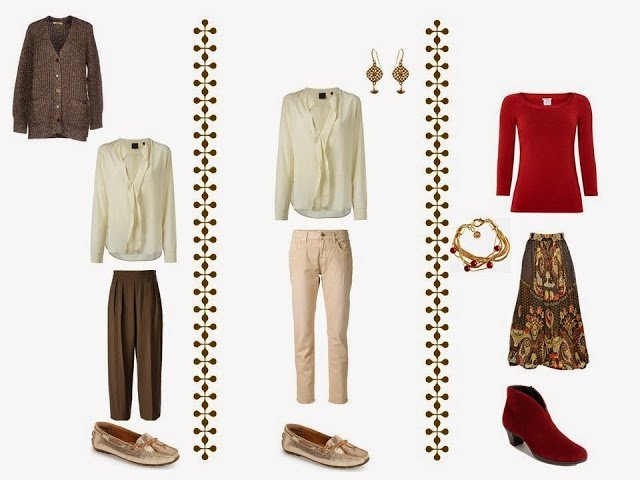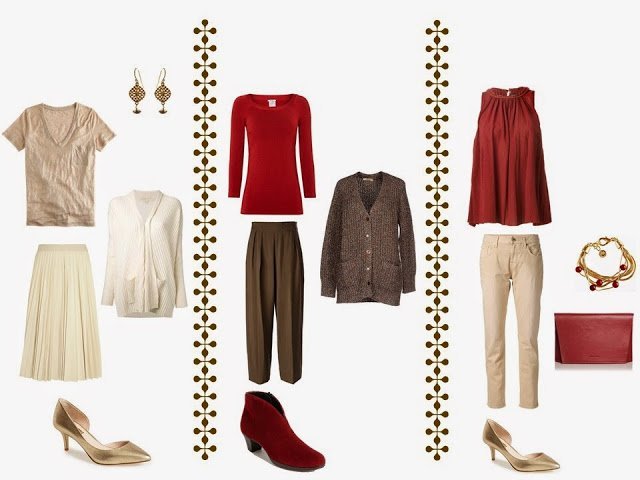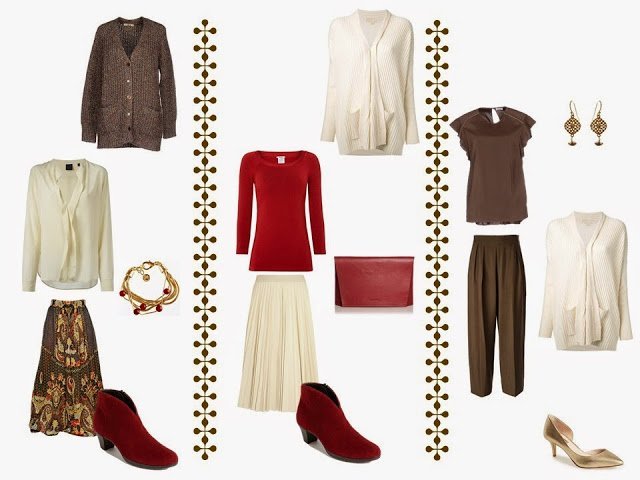 I want to be that advertising woman, sometimes…
love,
Janice
Looking Back:


2014: The smartest post I've ever written, maybe: How to get "stress dressed"…
2013: Red, black, white and two Hermes scarves; another travel six-pack
2012: A Bonus fours…