May 13, 2015
It's never too late to pull out a scarf that you've owned for years and recommit yourself to building around it, and wearing it more! One of you has been living with, and loving, this scarf (a cashmere and silk blend wrap) for quite a while, but feel like there's more to be done with this lovely thing.
My first move with any scarf is to take a good look at it, from a distance, with my eyes squinting, and see what neutral colors seem prominent to me. I then look for colors that "jump out" – those are accents. This is the color scheme that I saw in this scarf. Bear in mind that I could easily find more colors – there's no one "correct" color scheme here!
I'm thinking of this scarf for travel in the spring – an annoyingly unpredictable mix of warm and cool, so I'm picking a mix of skirts, trousers, shorts, tank tops, a cashmere cardigan – a wide variety, to give us abundant layering choices so that we're prepared for all kinds of weather.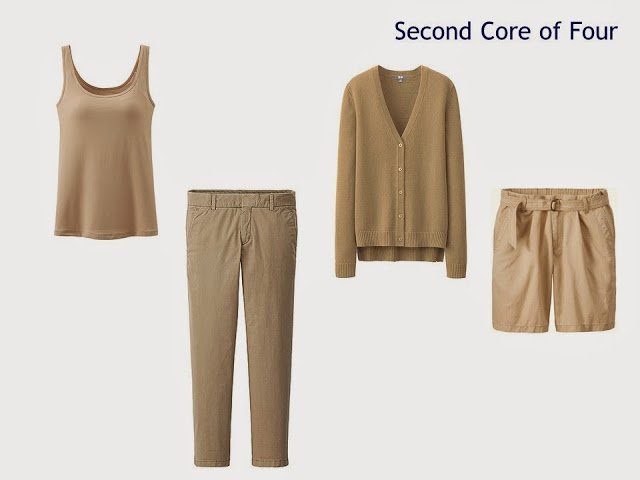 Tank, chinos, cardigan and shorts – Uniqlo
The accent colors are always where the real fun starts! I picked just one piece in each of the three bright colors, and added another beige top because I wanted something with a bit more coverage than the tank top. You'll be surprised how much you can do with just one orange cardigan, or purple tee shirt!
If I were going to buy just one garment that would make it easier to wear my beautiful scarf more often, I'd grab an orange cardigan…
Since I'm looking upon this as a travel wardrobe, I kept the shoe selection small – beige sandals that will be perfect with your shorts or trousers, and a pair of navy flats that are equally at home with pants or your skirt. Some bright jewelry pick up your accent colors, while a couple of pair of gold earrings give you finish and shine when you're wearing neutrals. A lightweight nylon navy tote, and you're ready to go!
This is everything you'll have with you – a really solid base of neutrals, with a few punches of color to keep things lively.
Lots of possibilities – this is a far-from-exhaustive sampling of outfits: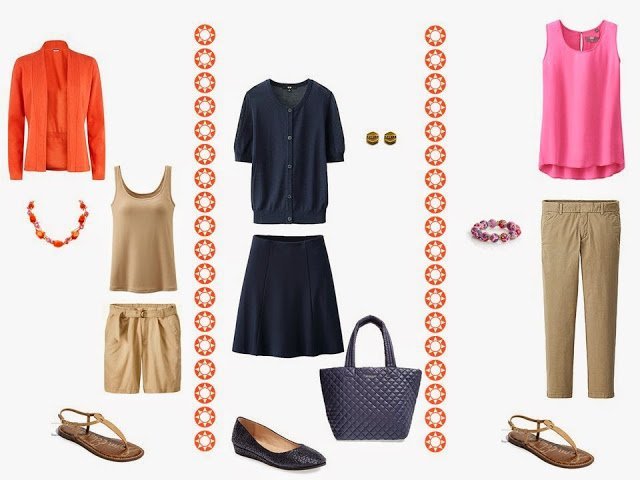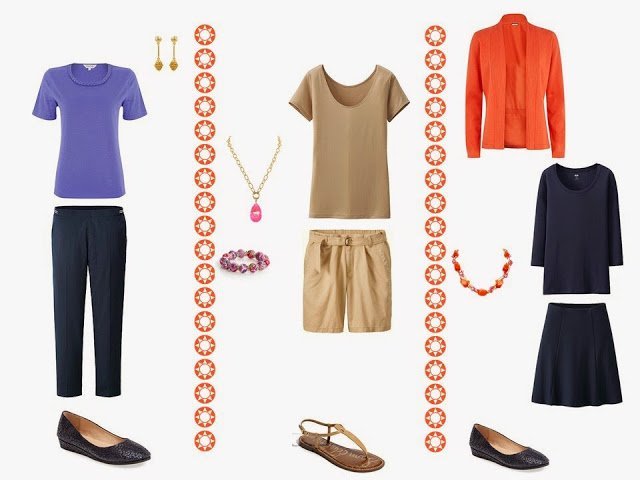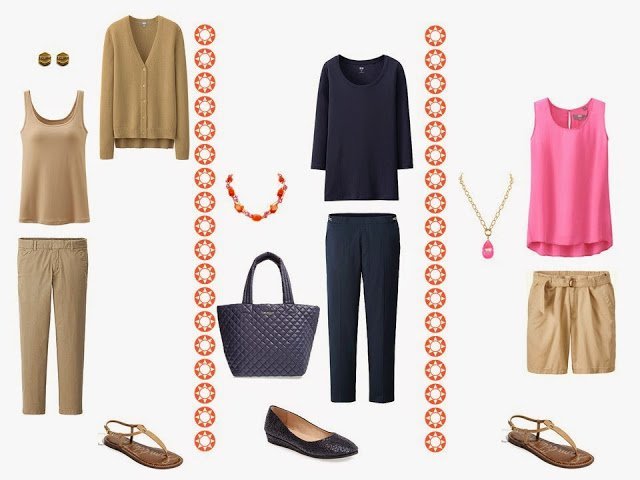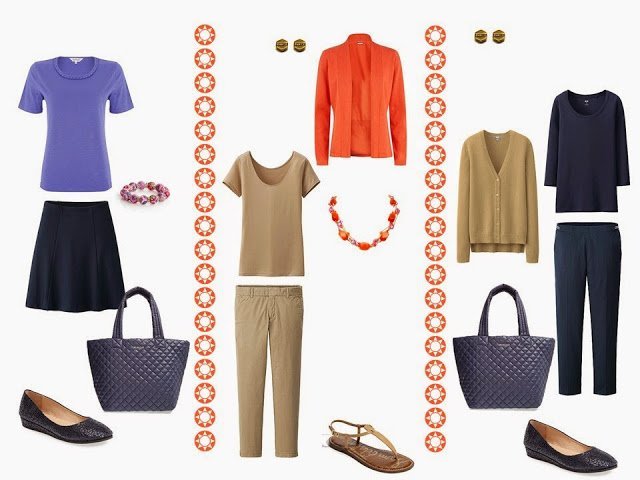 And remember, any of these outfits could include the gorgeous scarf if it's cool, or if the air conditioning is out of control.
love,
Janice
Looking Back:


2014: Start with Art: The Girl with a Pearl Earring by Johannes Vermeer (a great painting, and some beautiful clothes!)
2013: Packing for a warm-weather vacation, in red and navy – how to pack light, when there's a strict weight limit for luggage