Despite the fact that I don't report in regularly on my progress, I do keep track of what I wear, and what's getting appropriate usage, and what's wasting closet space. As much as I always get compliments when I wear blue, I never really feel quite myself when I'm wearing it… except denim…
And, as I always have, I'm drawn to red. Always… So when I did my readjustments for Project 333 starting Monday, I added in both a red tee shirt and a red sweater. They're from L.L.Bean (those people NEVER give me any credit for promoting their clothes, the silly louts), they're festive, and I love them. Also, I'm replacing the non-existent blue jeans with my beloved black velvet skirt! My paisley pants are too cropped, and too cotton, to make it through the coldest weather, so I've pulled in my grey cashmere sweatshirt (hurrah!!!). And finally, my short-sleeved dress I bought in Paris just isn't going to be worn in the coldest weather, as much as I keep thinking I'll wear it with a black cardigan. It just hasn't happened…
My Project 333 Clothes beginning December 2014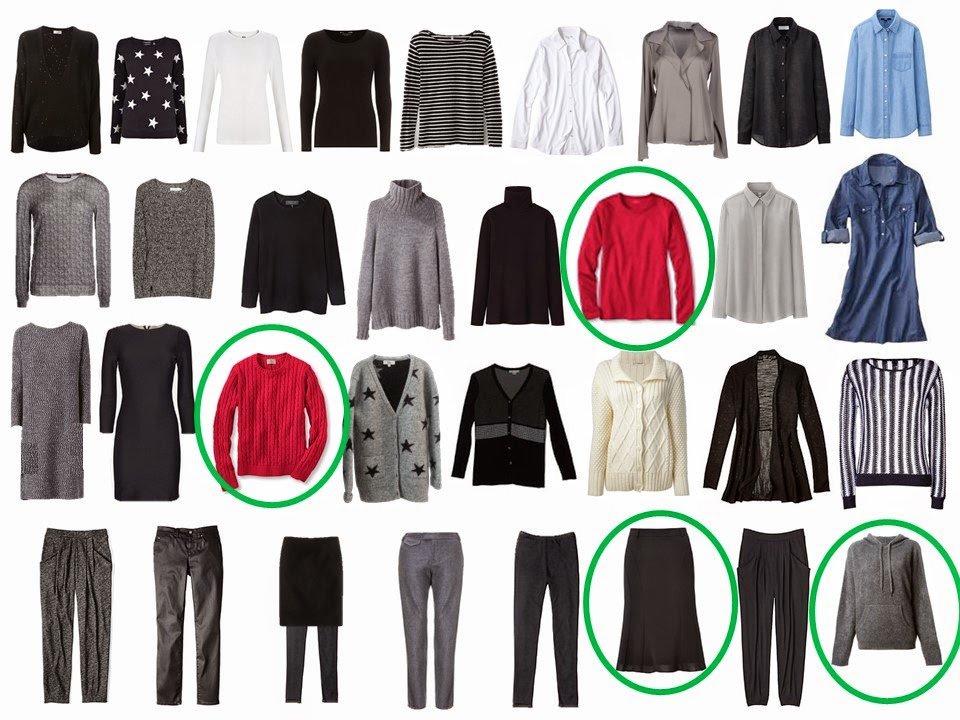 My Project 333 Clothes for autumn 2014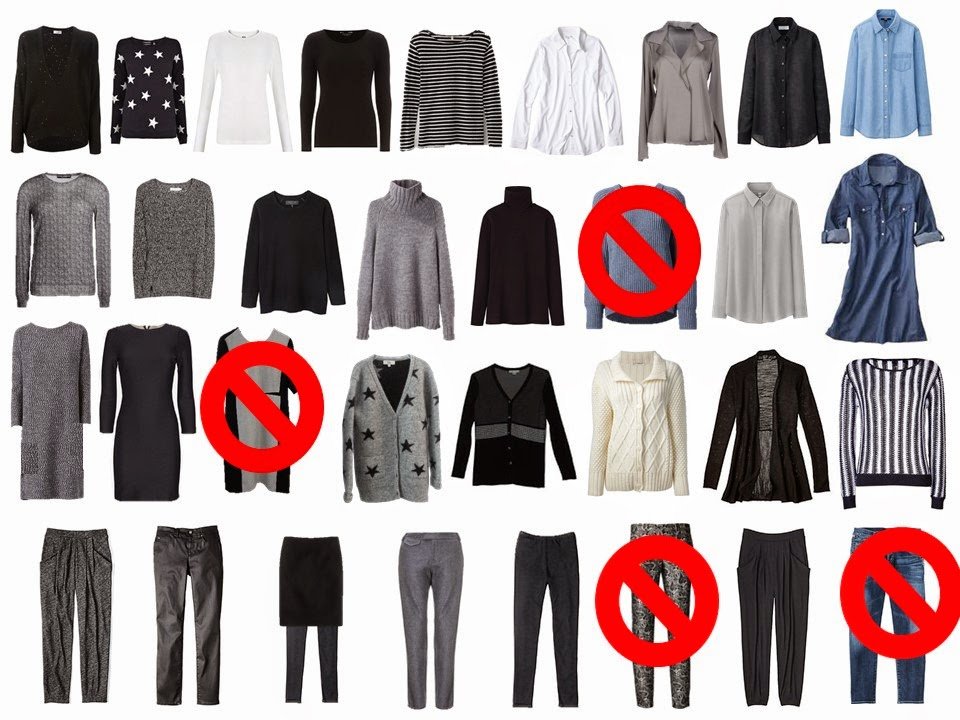 My Project 333 Jewelry, Bag and Shoes
I have a few new pieces of jewelry, most notable my teeny star stud earrings (purchased in Amsterdam, at the same store from whom I bought my star cardigan), and the star brooch.
One thing that I always own is a pair of shoes – essentially athletic shoes – in a dark neutral color. I wear these shoes a ton, because they're as comfortable as big puffy white marshmallow shoes, but they look much sleeker and more appropriate for a wider variety of activities. My old shoes finally wore out, and I replaced them with a pair from Munro. My 2nd pair of ankle boots are also from Munro – I'm starting to be a big fan of their shoes. They come in a variety of widths, and are comfortable right out of the box.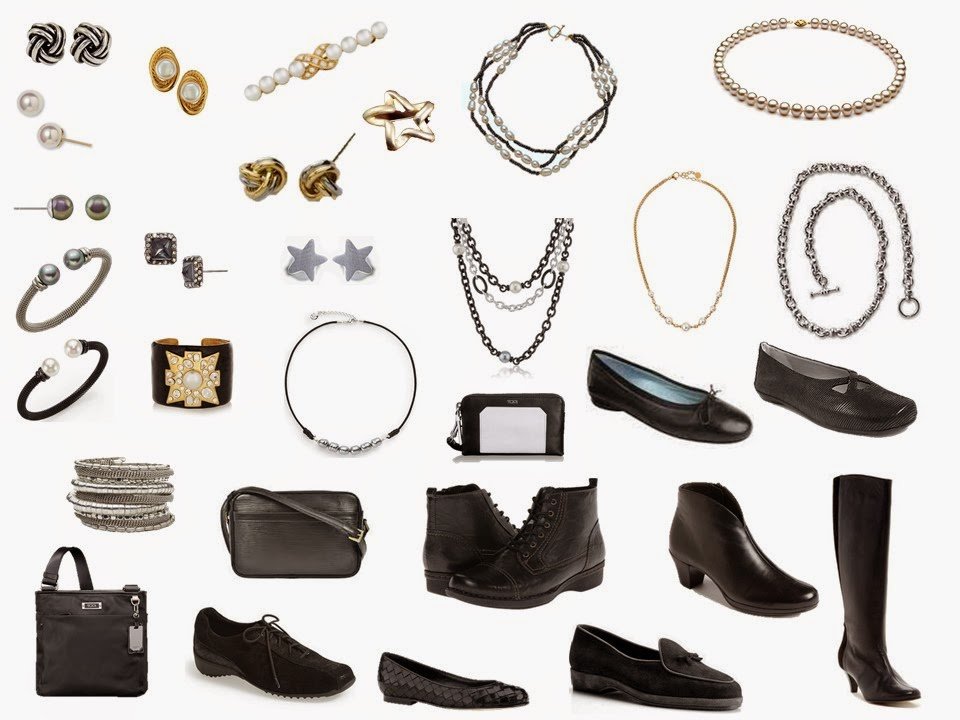 Maybe the thing that most convinced me that I needed to get back to red as a focal color for me was the way that I am always more interested in a red scarf than in any other color. I think it's important for us to focus on, and learn from, our most fundamental instincts and preferences. Somewhere inside of you, you know what's right for you – it just might take a lot of introspection and listening to figure out what's deeply right for you.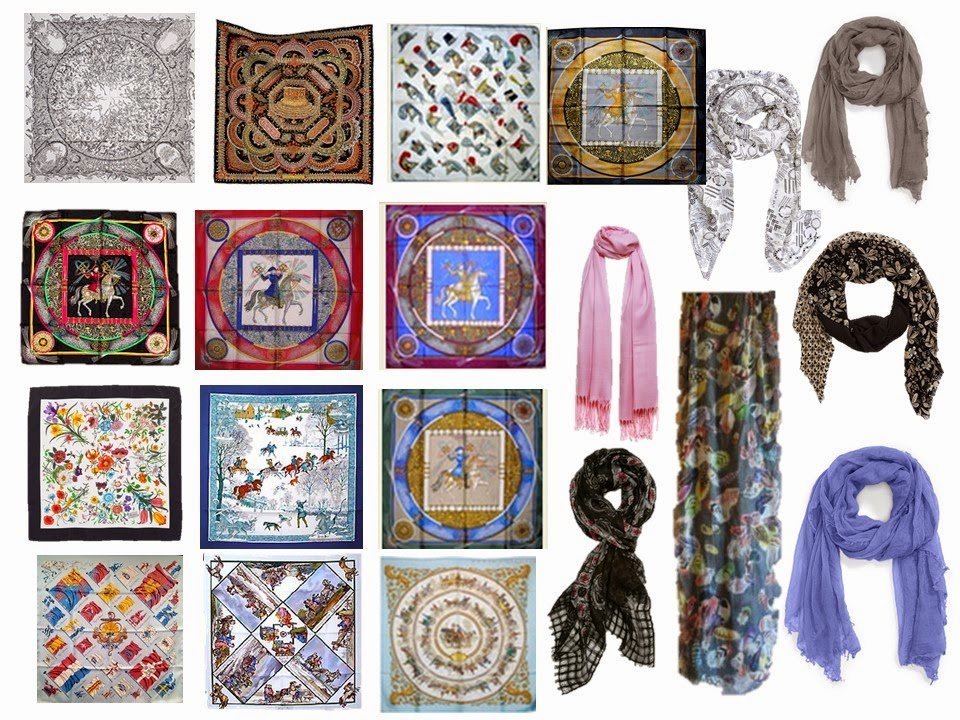 New Outfits that I have in my repertoire, for Project 333
Lots of possibilities, as is always true with a well-chosen Project 333!