November 28, 2014
Jewelry is the most obvious, and the easiest, way to dress up basic garments. If you look around at some of the less "expected" stores, you can find things that you've never before seen – nobody at your event will be wearing an identical item! These items can easily be worn with a number of different Starting From Scratch Capsule Wardrobes, and many of these pieces could be used during the day, as well.
And don't forget that the Starting From Scratch Wardrobes already had quite a few pieces of jewelry in them – many of those pieces are well-suited for evening wear, just as many of the pieces shown below could be worn during the day.
I've opted to include brooches instead of necklaces, just because brooches are so doggone UNCOMMON. If you're wearing a brooch, you might very well be the only person in the room wearing one. And they're really easy to wear – once they're pinned in place, you can forget about them!
And let's bear in mind that part of getting dressed up is to FEEL more dressy. I find that an earring with any sort of size or movement completely changes the way I feel when I move my head. I'm aware of my earrings in a way that never happens during a normal work day, and that awareness translates into an overall sense of occasion. And the ultimate goal, really, is for you to feel festive and in the mood for a party; if you appearance is a bit more suited to the event, all the better!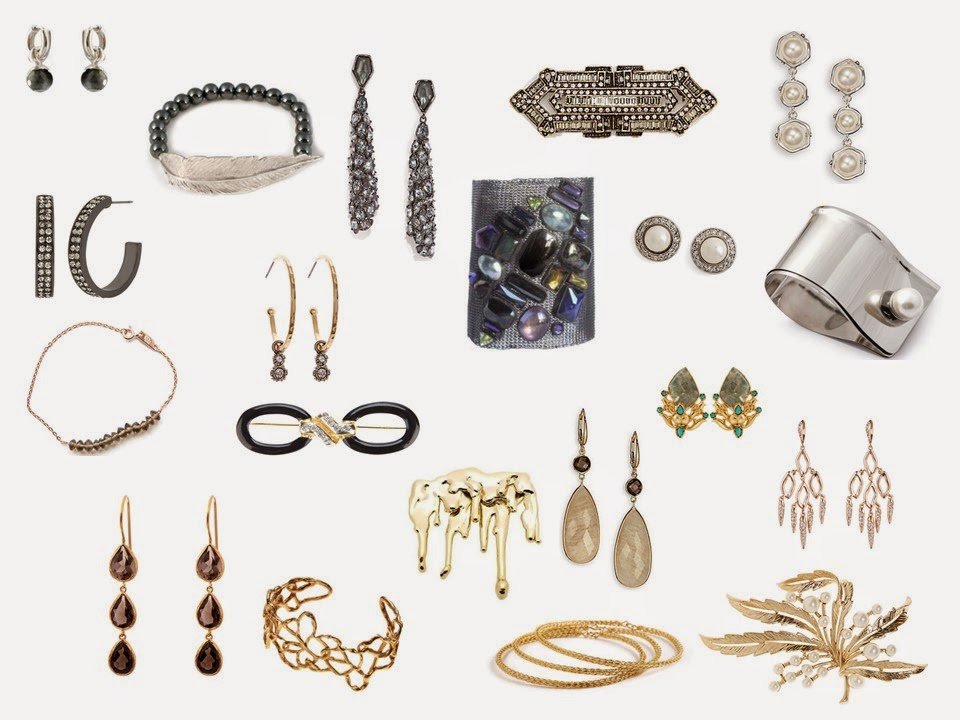 Grey moonstone earrings – Vivien Frank Designs, hematite and feather bracelet – Leivankash, grey crystal covered hoops – Worthington, crystal drop earrings – Alexis Bittar, encrusted oxidized brass cuff – Milena Zu, crystal deco brooch – Heidi Daus, three pearl earrings – Majorica, pave pearl stud earrings – Brook Brothers, silver cuff with pearl – Flake, smoky quartz bracelet – Lennebelle,
gold hoop earring with crystal charms – Brooks Brothers, three stone smoky quartz earrings – toosis, black link brooch – Mila Schon, rose gold abstract leaf bracelet – Alicia Marilyn Designs, rose gold and crystal dangling spike earrings – Alexis Bittar, dripping gold brooch – Jung ee eun, Feldspar and smoky quartz drop earrings – SFA, agate and turquoise earrings – Kasturjewels, three crocheted
bangles – Yoola, foliage brooch – Brooks Brothers
The Brown and Beige Starting From Scratch Wardrobe
Just a touch of gold, and a bit of the translucent beauty of smoky quartz! The feldspar in the second pair of earrings complements the beige in your wardrobe perfectly.
The Navy and Beige Starting From Scratch Wardrobe
A single brooch, in a memorable design, is often all you need. But the power of an earring with a bit of movement shouldn't be discounted, either!
The Black and Grey Starting From Scratch Wardrobe
Many of these pieces of jewelry were already in this wardrobe – but sparkly hoops, or dangly ones, or a simple hoop with a stone pendant – who could resist?
The Caramel and Black Starting From Scratch Wardrobe
Smoky quartz is also a perfect semi-precious stone for this wardrobe. Just make sure that you find some that has the golden warmth that's characteristic of your caramel neutral.
The Grey and Navy Starting From Scratch Wardrobe
Larger earrings that move when you do are ALWAYS dressy! and the bracelets… oh my goodness, the bracelets…
I would seriously wear two of those silver cuffs with the pearl cufflinks – how much fun is that?
The Khaki and Olive Starting From Scratch Wardrobe
A little bit of turquoise in some gorgeous earrings is perfect for these outfits – especially the turquoise silk shirt! And a brooch on your cardigan – why not? Nobody else ever does! And sometimes, a simple dress, a pretty necklace, and eye-catching earrings are all you need to look perfect for the party!
Links to all of the clothes and shoes (which may or may not work – they are old links) can be found HERE.