February 15, 2014
Start With Art posts are among my most popular, and certainly ones that I love to do, but I've recently received some emails that expressed concern about how to actually get started with implementing a focused wardrobe based upon a work of art. So this is one possible approach…
This beautiful work is Abstract, by Nicolas de Stael, and these cool, subtle colors are amazing for the upcoming summer. If you're comfortable wearing white, or if you have a good relationship with your dry cleaner, I would start with the crisp clarity of white for the initial four summer garments. Sandals that pair white with silver, and some silver loafers, might be all the change you need to update your existing wardrobe in this direction.
If you're nervous about wearing this much white, substitute the deepest petrol blue…
If you've got budget and ambition to add to this summer wardrobe, look to the cool greyish blues for your next "pod" of garments. A lightweight sweater is useful for many of us even in the heat of summer – yours might need to be short-sleeved. A couple of tee shirts, and a skirt which echoes both the colors and the serene horizontals of our painting. Deep teal sandals, and a matte silver bracelet are your next wave of accessories.
Maybe by late summer you're ready to hit the sales and round out this wardrobe – one more tee shirt is always useful. A cotton tunic can always be nice as a swimsuit cover-up or when the weather cools a bit. Add two more "bottoms" in petrol and khaki (note the touch of tan in the painting) and you've got a good balance of tops to bottoms, and lots of choices. A pair of silver earrings, and a silver and white scarf go perfectly with everything else you've purchased this season.
Wouldn't this be a great travel wardrobe?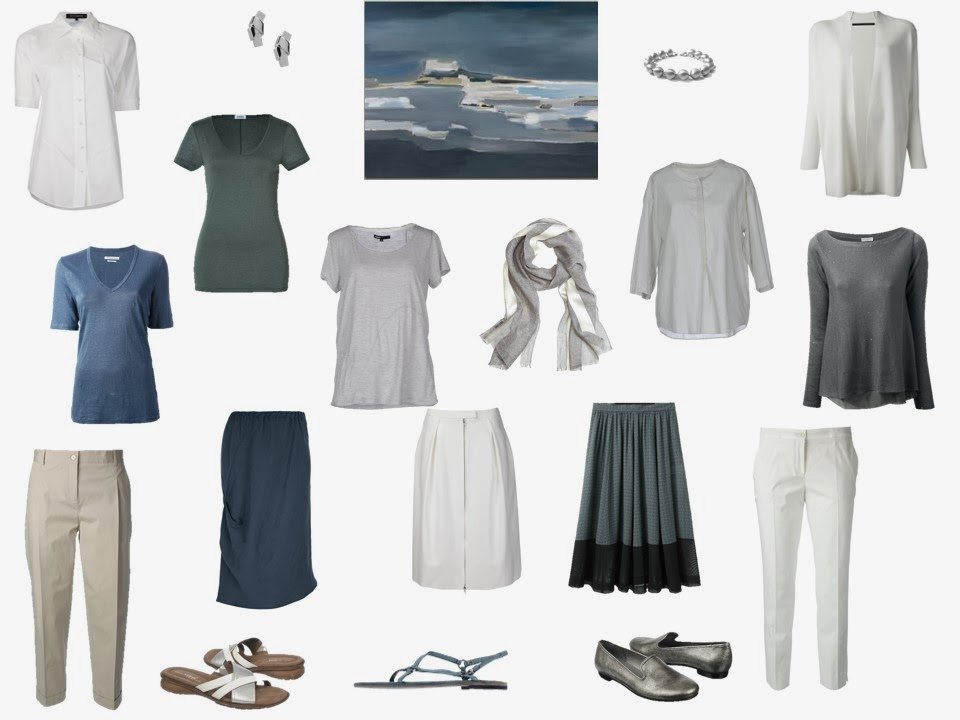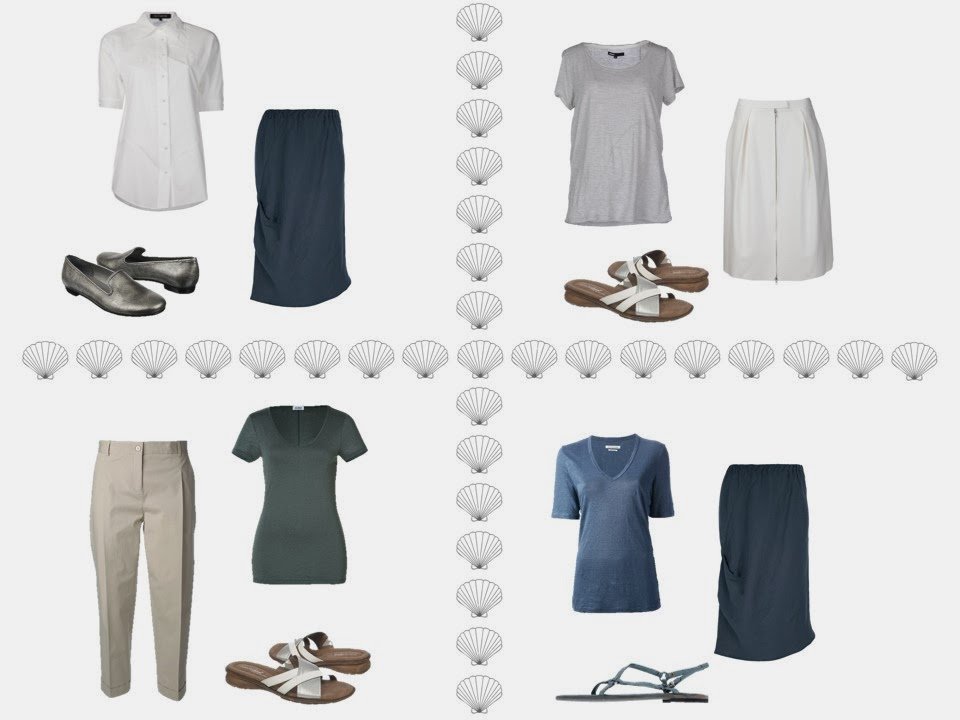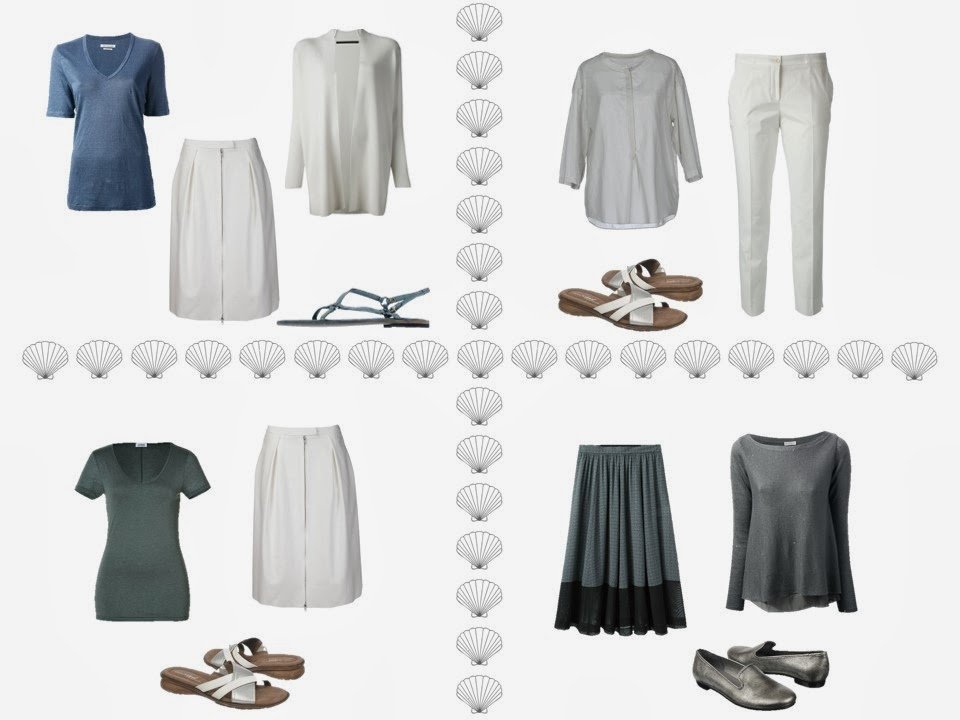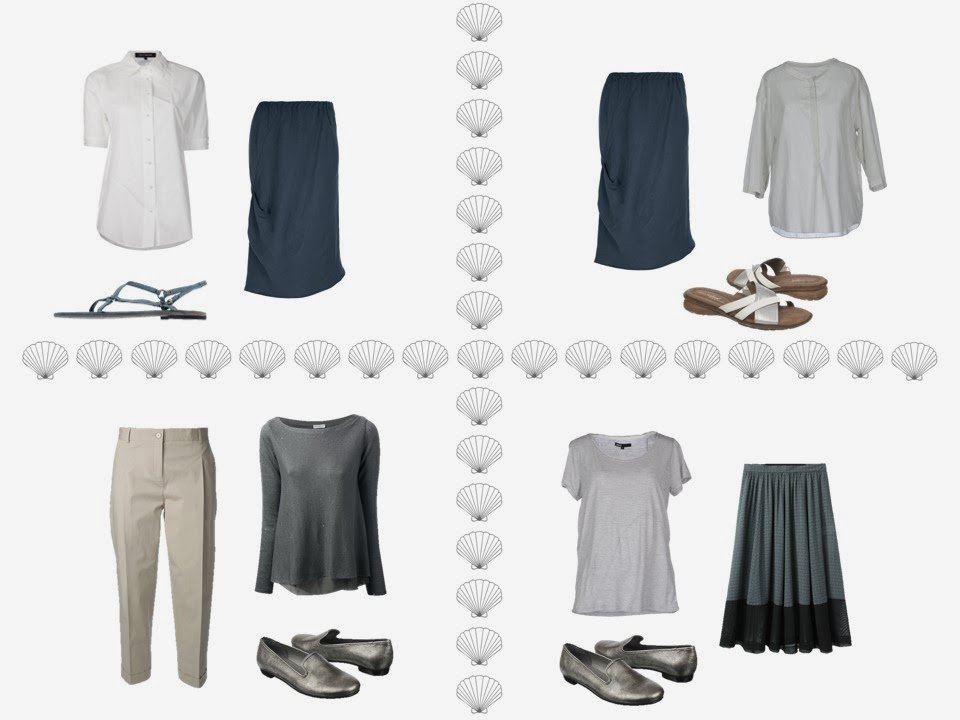 love,
Janice