February 14, 2014
Lucky me – I'm going to New York for a few days next week! Belovedest has to go to a series of meetings there, and we had a free plane ticket, and so…
But this is a particularly dicey time of year to travel – there's no telling what I'm going to find for weather. So the first thing we have to always plan is what the "drop dead" plan is for cancellations, i.e., at what point do we go back home after a number of delays. But once that's settled, I also have to face that fact that I'm not going to be happy slopping around Manhattan unless I have serious footwear – specifically, my Bogs. And they're… bulky… really, really bulky…
I could wear them on the plane, but I'm going to assume that I don't have to, and that I can pack them rather than wear them in transit. So I'll still be bundling up for my trip – cozy turtleneck, with a cardigan, a scarf, knit trousers and my favorite athletic shoes. These shoes don't look like marshmallows, and I can walk in them for hours….
My Bogs are going to take about 20% of my bag capacity, and I'm absolutely determined to carry my smallest possible bag, so I'm going to be limited to just a few garments – a six-pack. I'm really trying to avoid taking a bag with wheels, because there's nothing worse than rolling a bag through slush…
Theoretically I could survive with even fewer garments, if I remind myself that I'm going to be spending almost all of my time wearing my coat! So this is what I'm thinking I will pack – giving myself a few choices for evenings at dinner, if in fact we have conditions that permit leaving the hotel:
Wednesday I'm going to do a lot of retail due diligence, and then eat room service. Thursday, the plan is to meet a friend to go to the Frick, and then out to dinner with Belovedest.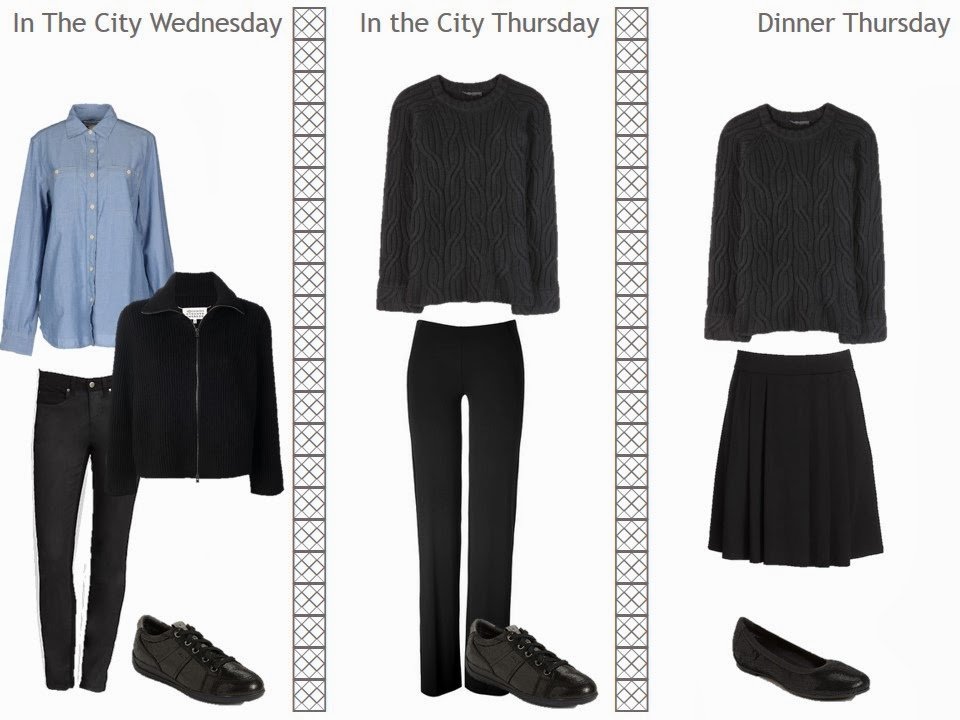 Friday I get to spend all day with B, and then we'll maybe go out to dinner. Saturday, we will meet friends for breakfast and then head to the airport.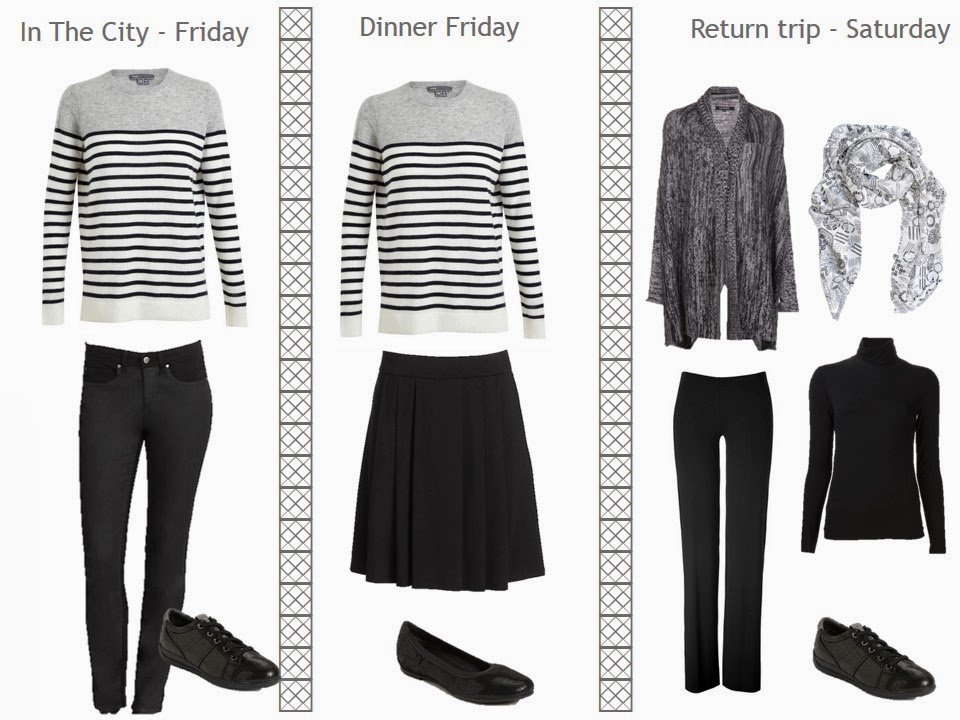 I'm very happy with these choices – I can carry this bag for hours with no problems, and I'll be well-dressed for anything I expect…
love,
Janice