February 13, 2014
I've been thinking a lot about how to plan a wardrobe that gives you options for a wide variety of accent colors. There are other way to go about this, and I'm going to figure them out, but my very first thought was the following. Here's what your summer wardrobe will look like, after we've worked out way through the steps.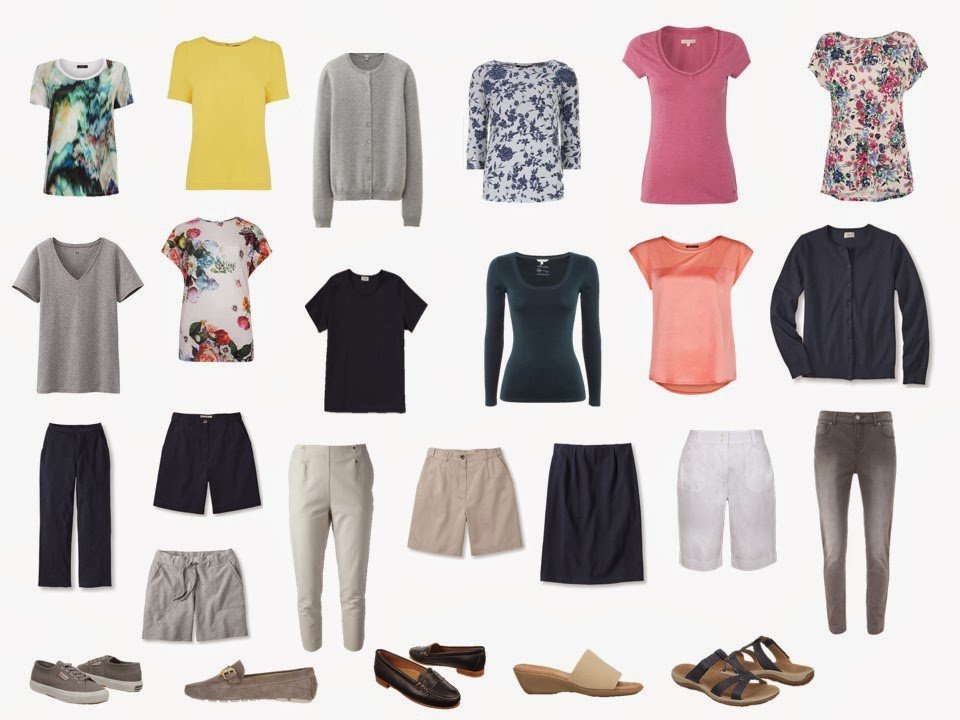 Assuming that you're going to be carrying over a few garments from your cold weather wardrobe, I've pulled together this core of four in grey. I'm also including neutral footwear – canvas sneakers, and a simple pair of suede loafers.
As much as I know that the point of this is to introduce lots of accents, I think it's pretty important that we start this wardrobe with a grounding of neutrals. So I'm introducing a summer-weight core of four in navy, as well as a pair of simple loafers, and versatile sandals. You do of course understand that this can be done with any two neutrals – I've shown lots of neutral options
here
.
Now the fun starts – four tee shirts – choose from any colors that you can comfortably wear with either navy or grey.
At this point, you have all of these options to get you through the spring: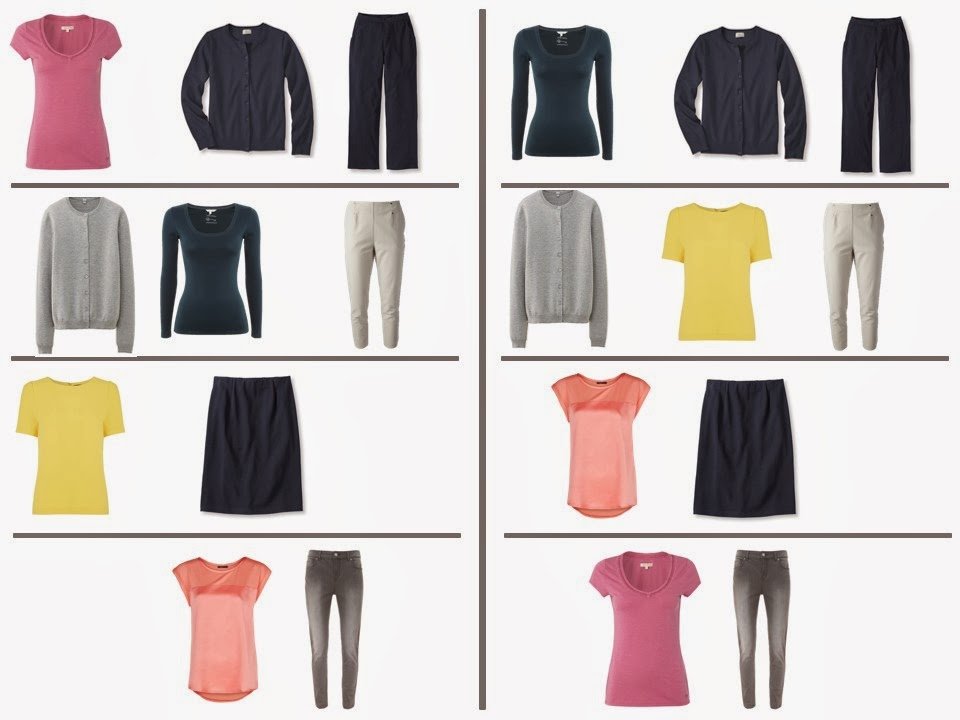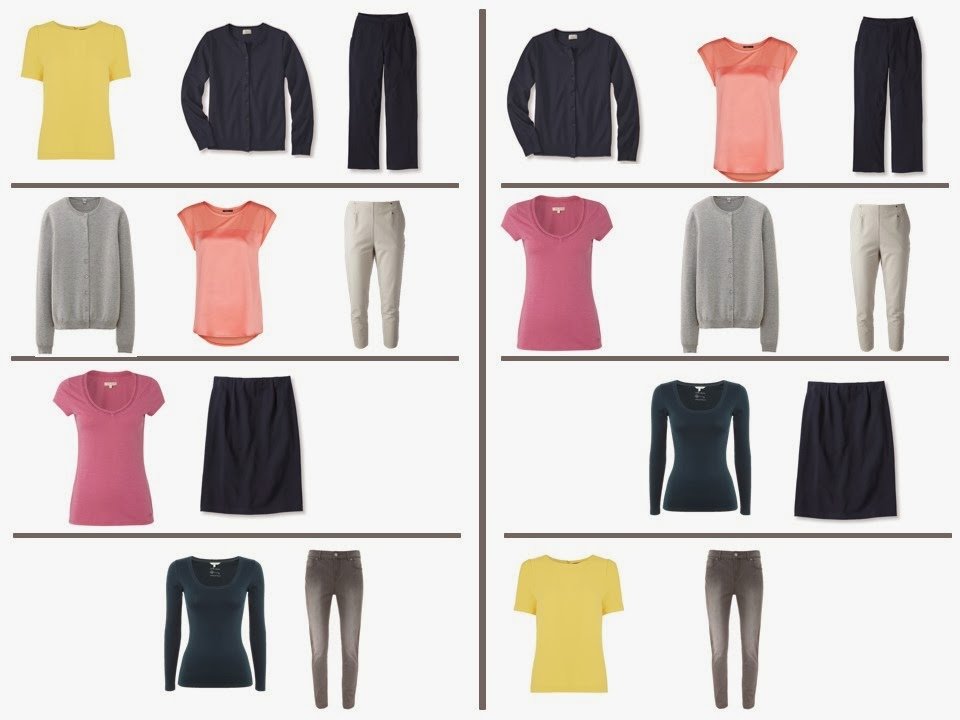 Maybe you're one of the fortunate ones who have great legs, and who can wear shorts all summer long. So your next four garments are neutral shorts – navy and grey, of course, but also white, and another easy to maneuver neutral – stone. I think everybody can use a pair of sandals that are basically as close in color as possible to your feet – your skin color is the ultimate versatile basic.
Just adding these four pair of shorts gives you 16 outfits with the tee shirts – literally any combination is wearable. And don't forget that you have both navy and grey tee shirts too, and a pair of navy sandals…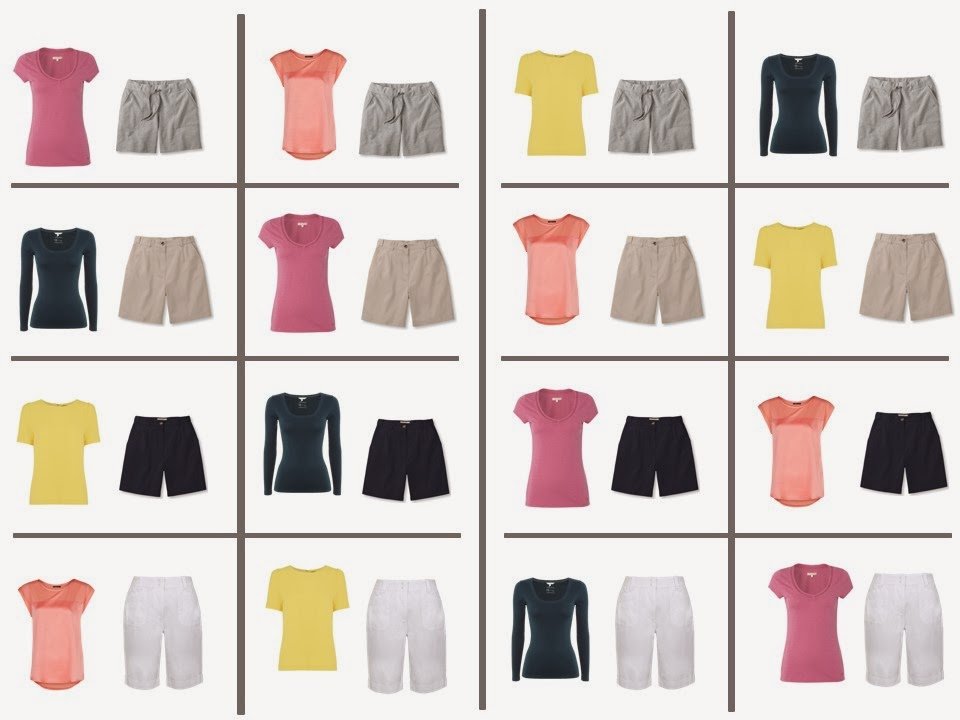 Now you're well-poised to really break out for tee shirts – maybe for 2014 you're going to go wild with floral prints. Bearing in mind the generally cool color family of all of your neutrals, you can stack up tee shirts in monochrome prints, abstracts, or old-fashioned bouquets.
NOW, you've got options!
20 garments – over 100 outfits, easily. Ensembles that could go to a business meeting, or to the beach… These garments would almost certainly all fit into a medium suitcase, eh?
Note that I've pushed the usual 80/20 neutral to accent ration to a much more aggressive 60/40…
love,
Janice