November 17, 2023
Suddenly, there are a whole bunch of new Echo 100 scarves!
For no good reason I can offer, this one really sparked my imagination – SO pretty, but also a wide range of color possibilities…
This scarf seemed like an obvious candidate for a core of denim, or ivory, or olive… But what if I just worked with the five visible colors in (more or less) equal quantities?
The Library Will be Open For the Holiday Weekend!
The library at the gardens are seldom open, and when they are, you have to have reservations, and an assigned desk, and you need to tell the Preservation Society what you're going to be studying. It's a serious thing!
She's going! She loves working with heritage flowering plants in her landscape design work, and she's going to find some new and wonderful ones. What a great job…
Yes, her tote bag matches her new scarf pretty closely! You can't do that every day…
All of the researchers will be staying at the Garden Guest House, so she won't need to be outdoors a whole lot; the buildings are close, and the Guest House will provide their meals. She needs only to concentrate on the Elizabethan Era garden diagrams that will be available to view and study – she will be more than happy!
Many of the other visitors will be historians, or medical professionals looking for new possibilities in the world of herbal treatments… None of them will be well-dressed, particularly. It's a special crowd, for sure!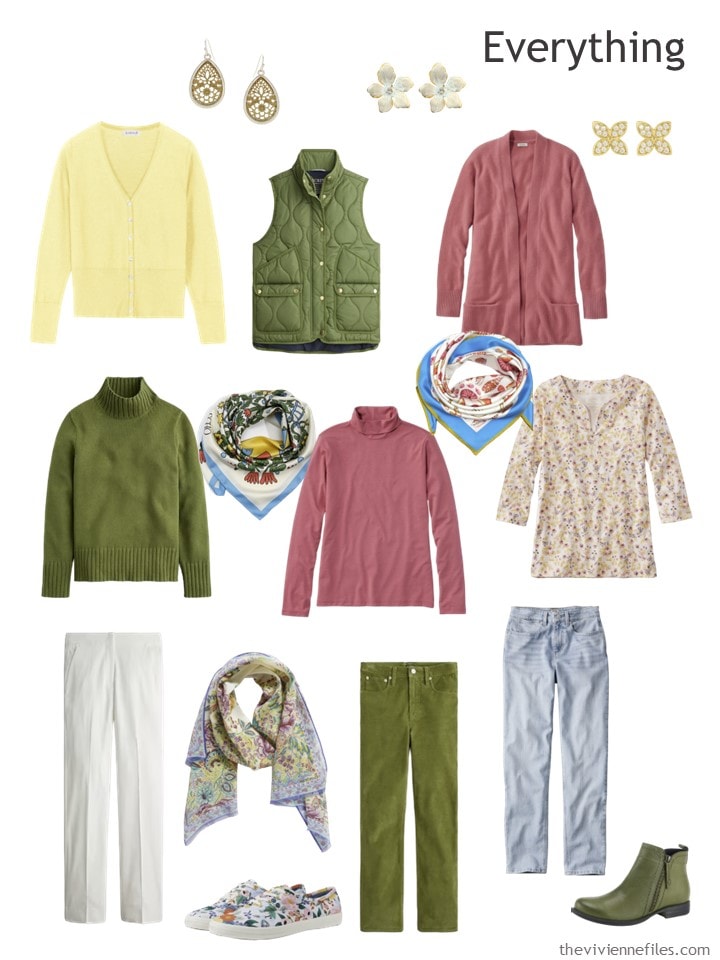 Our heroine has gone 100% floral themed for the long weekend – it's easy for her, since floral motifs of any sort have long been her trademark.
With just a tote bag of casual garments, she's set to dress for changes in temperature, unexpected spills, or a whim that strikes her: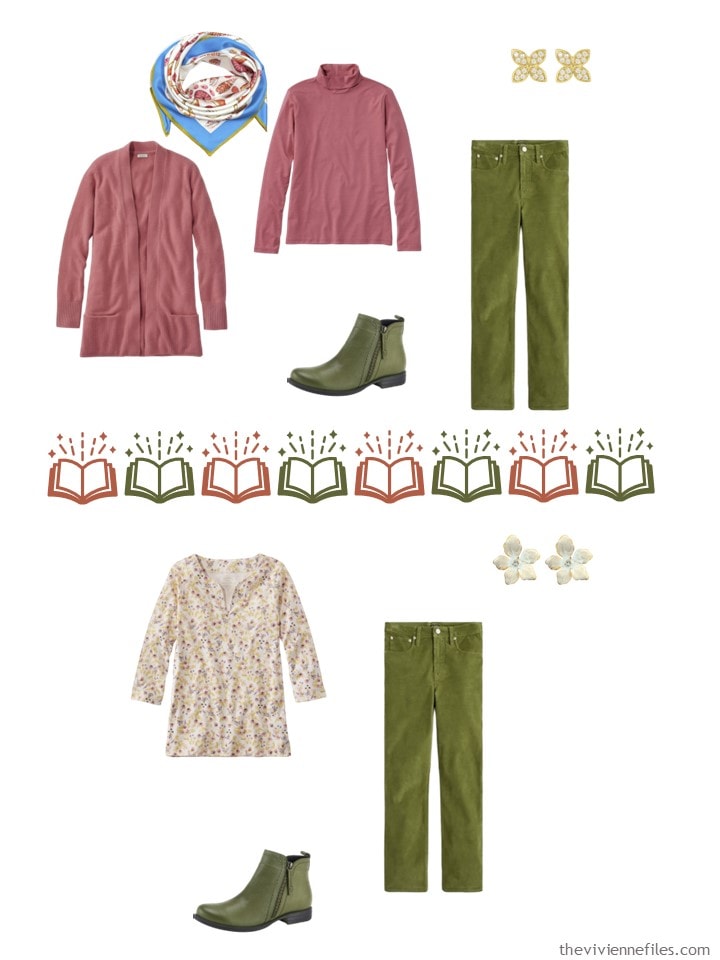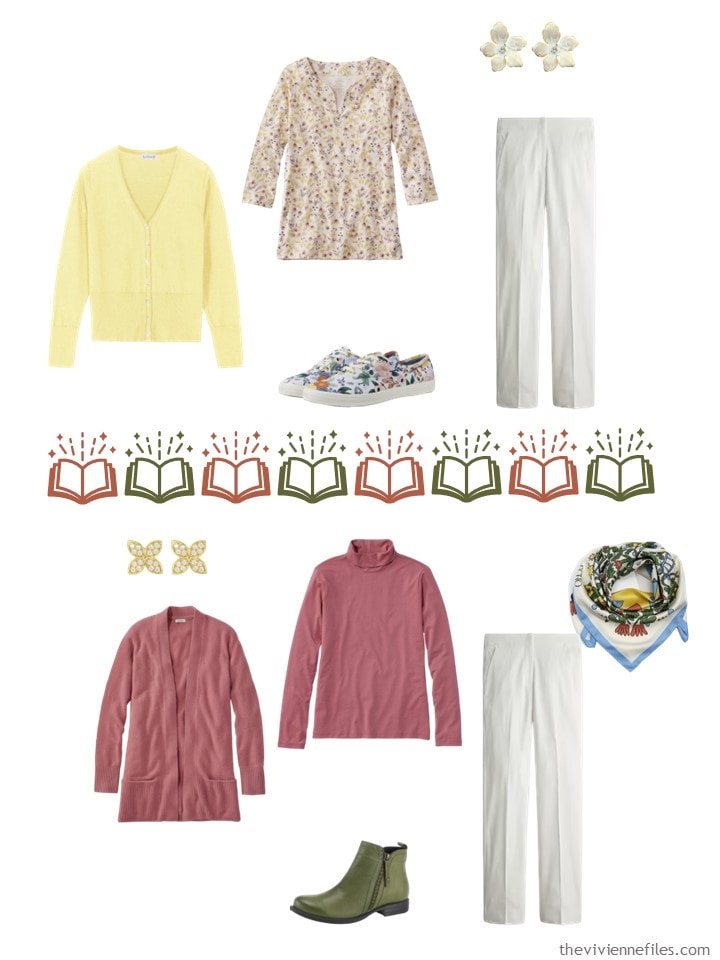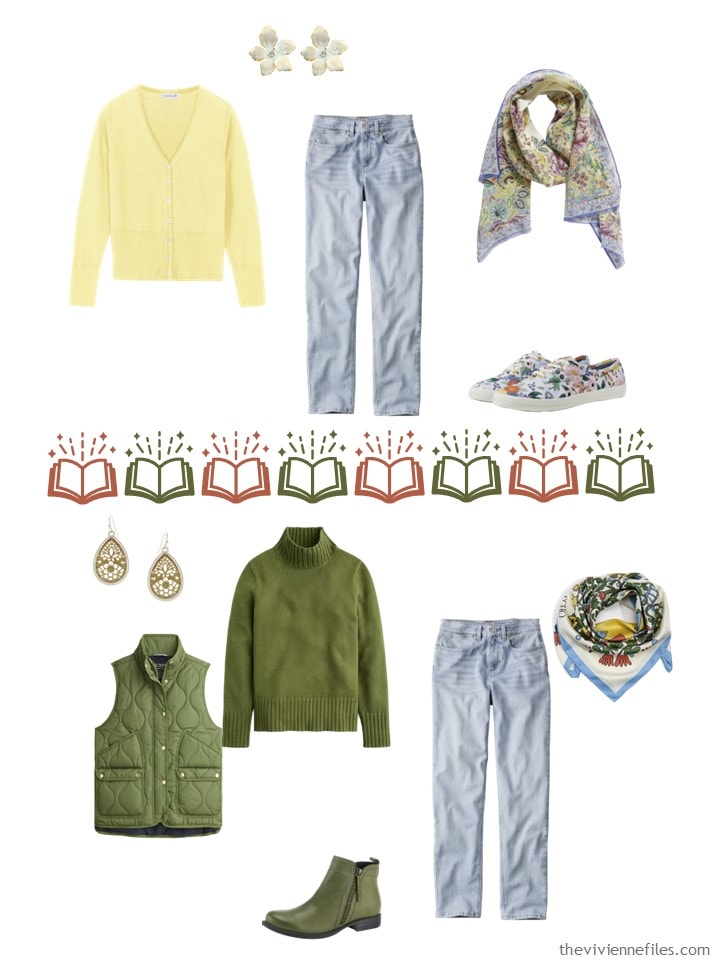 But what if you don't want to dress like a flower every day? This scarf has lots of possibilities; use black or navy as a neutral and use the five "scarf colors" as accents…
Or use ivory and/or olive as neutrals, and the remaining colors as accents – there are always possibilities!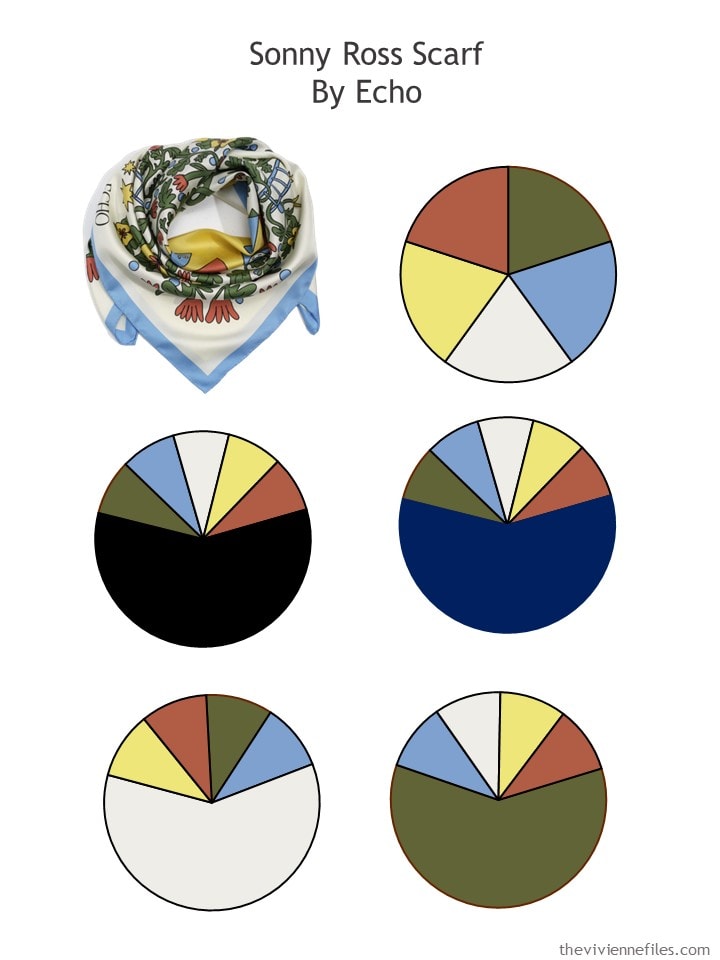 So MANY possibilities…
love,
Janice
p.s. A mere three years ago, our heroine was headed to the Cabin, where broadband internet is being installed! She might just live out the entire pandemic there…