August 2, 2023
My favorite work every month! This, to me, is the closest The Vivienne Files can get to showing how a real wardrobe might grow, month by month. If we all (I mean ALL) carefully planned our purchases to be versatile AND to endure, we could eliminate a lot of waste in the world. At least we should try, eh?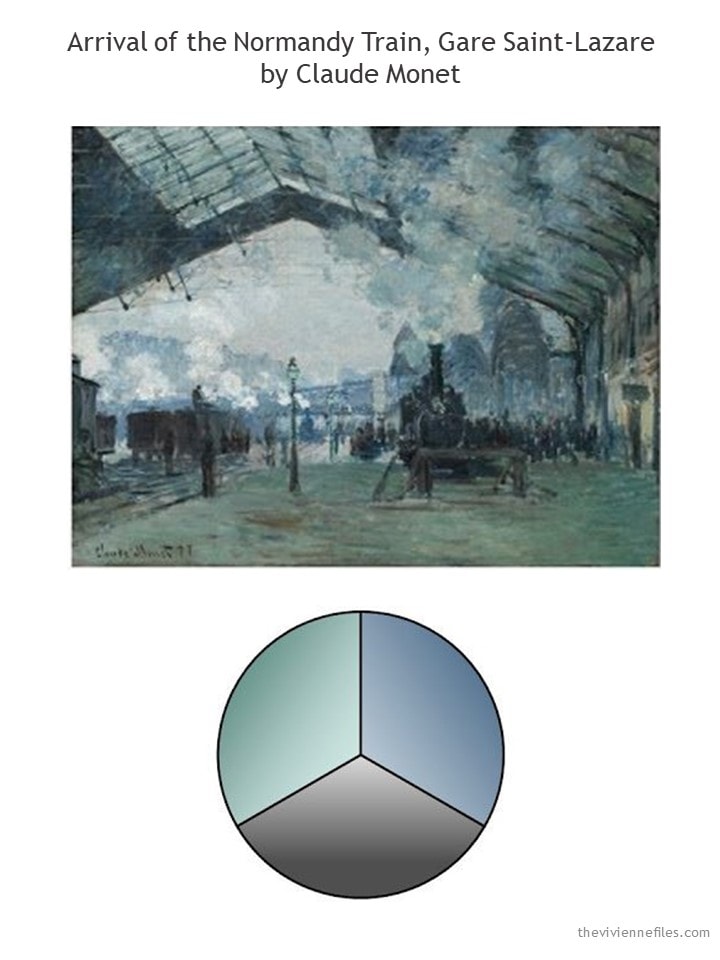 Last month, we left our heroine with a wardrobe of 23 garments; it's pretty well balanced, except she might be challenged to wear her dress in cooler weather.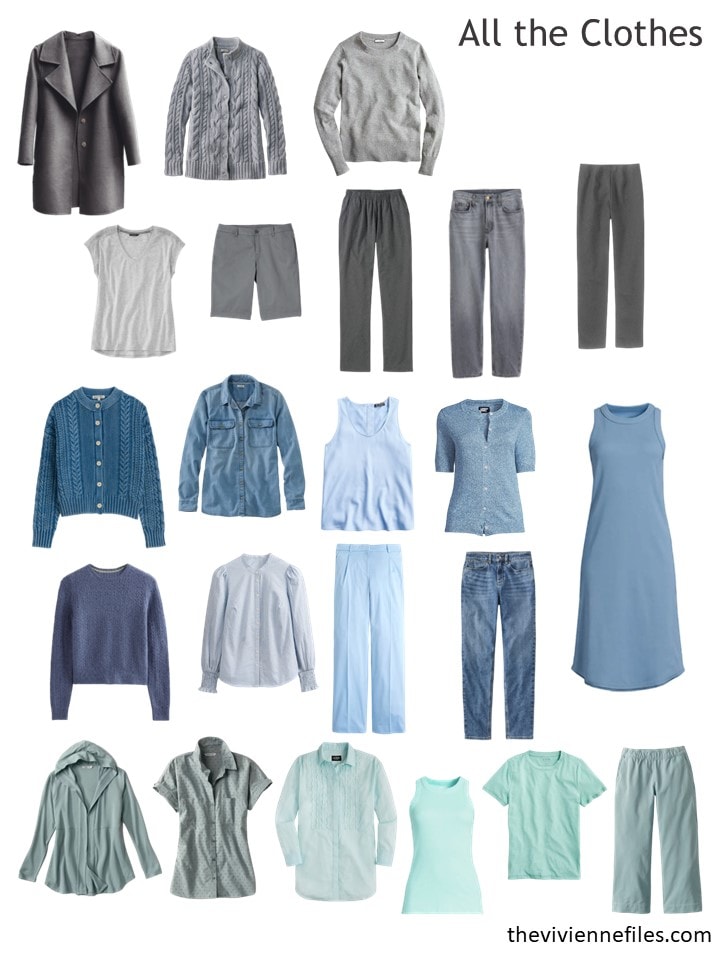 Tights and a sweater will get her through, of course, but maybe a skirt would be useful…
This heroine added another grey tee shirt to her wardrobe; the shirt she has is pretty sporty, and she thought a more classic one would be useful. And she doesn't have a green sweater yet, so this one was irresistible…
Now, her wardrobe looks like this: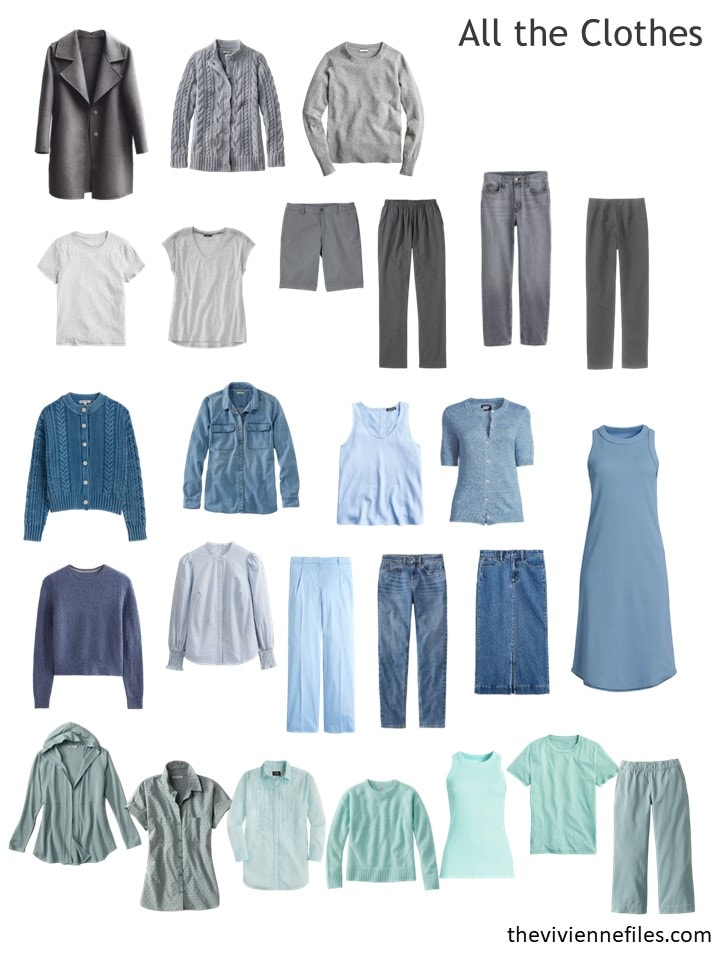 And her accessories continue to be wonderful…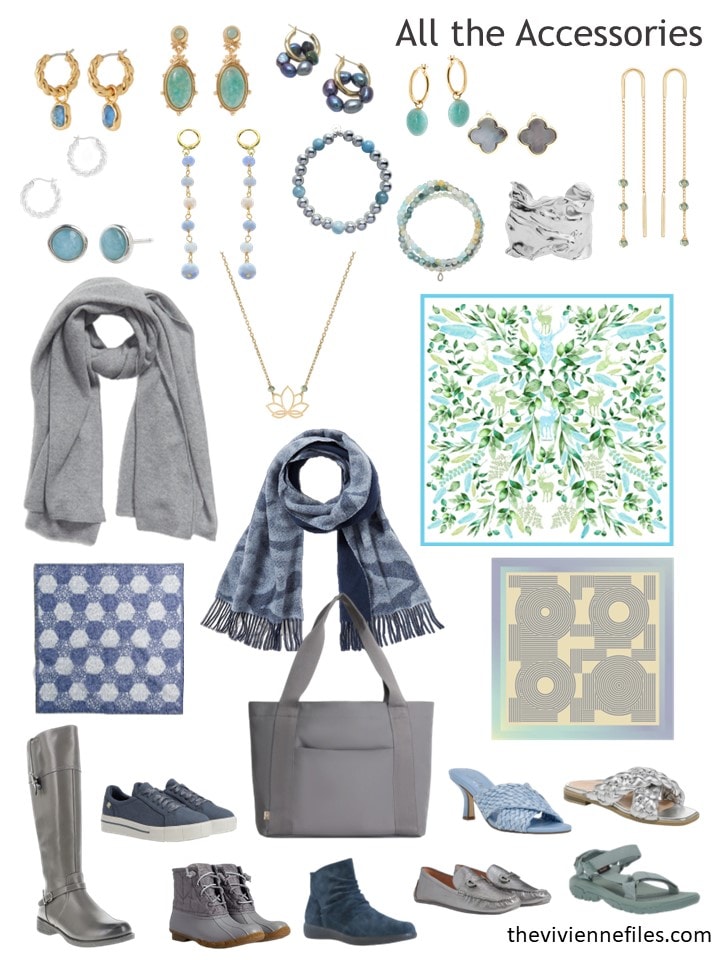 It's easy to assume that she will get good use out of her purchases, but a wise woman will assemble these outfits and try them out before making the decision to keep each garment. We all really must quit buying things we don't wear!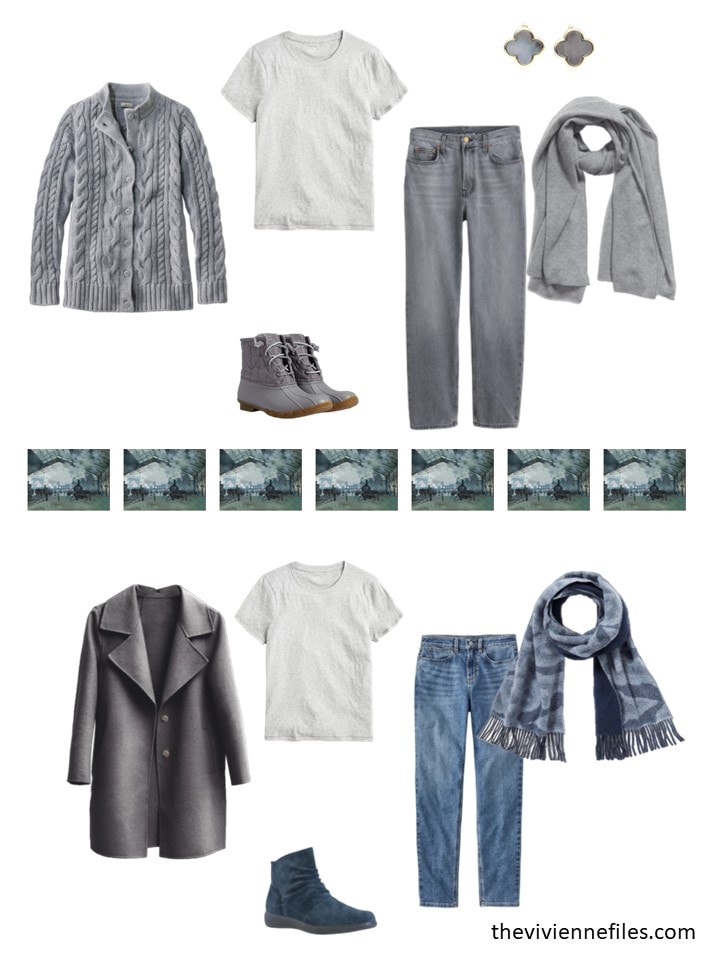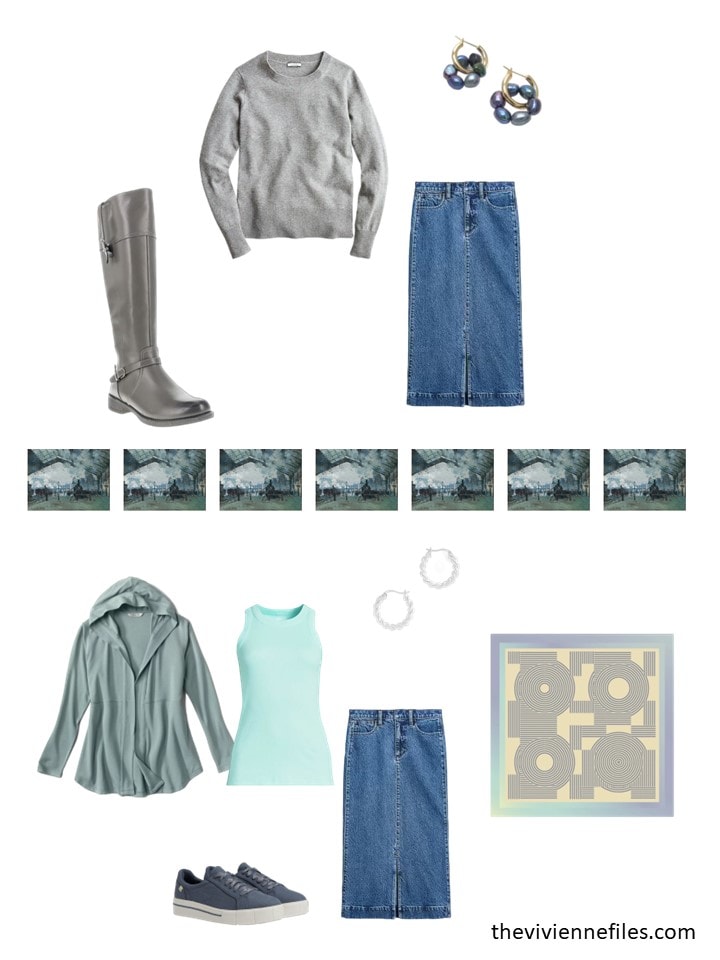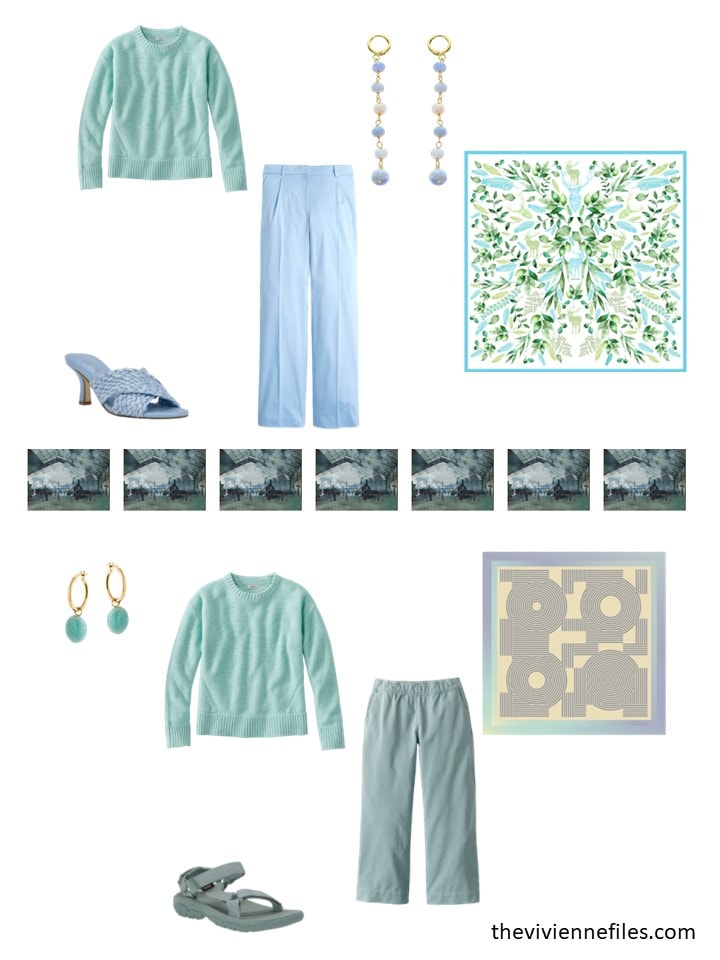 I have a confession: If I were starting a wardrobe entirely from scratch, I think I would replicate this next wardrobe in all of the shades of brown! Yes, I would probably want to quit putting purple highlights in my hair, but it might be worth it…
That's how smitten I am!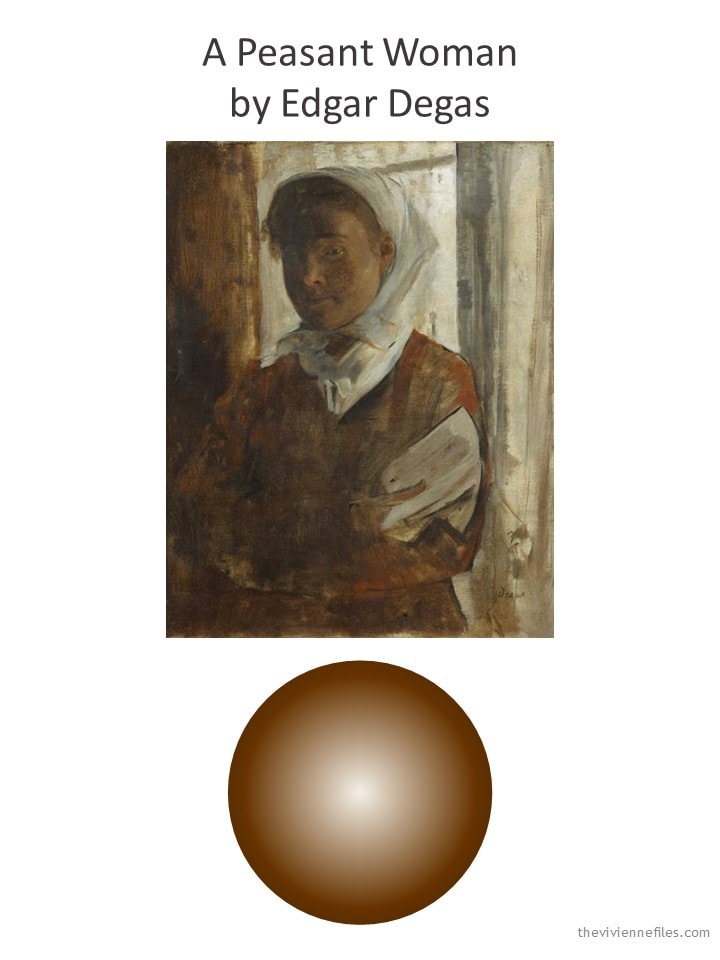 Her 23-piece wardrobe that she had at the end of July could get her through a lot of adult life: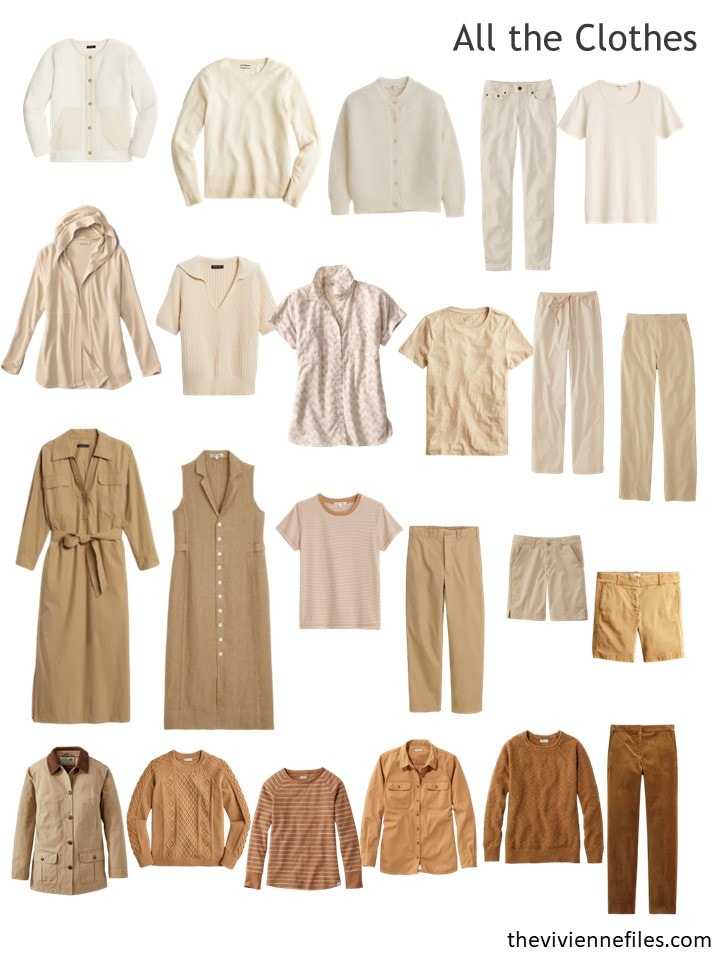 Her camel shirtdress is great to wear for most of the year, but she would like a skirt. A button-front shirt to wear under sweaters, or on its own, is also on her list, and she's keeping her eyes open (always!) for a beautiful sweater in another shade of brown…
It's such fun to integrate new garments into this wardrobe; nothing really changes, but with each addition her options increase: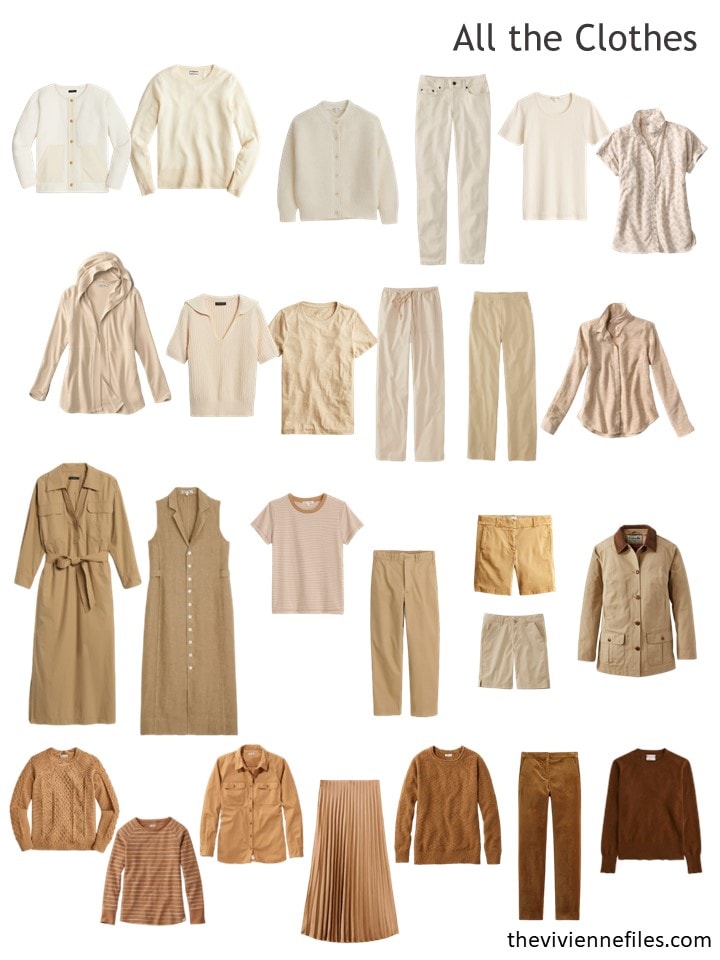 And her accessories are a rich, warm, and beautiful collection!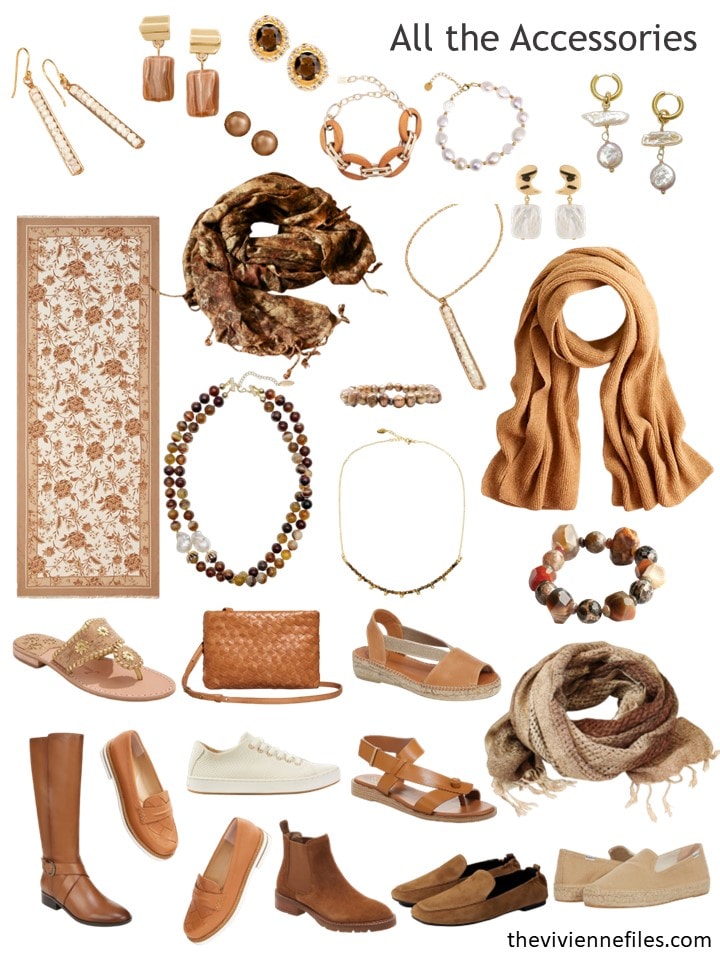 Once again, our wise heroine is going to see what her new outfits look like. This wardrobe is very close to being a "dress in the dark" masterpiece, but it's always good to be certain!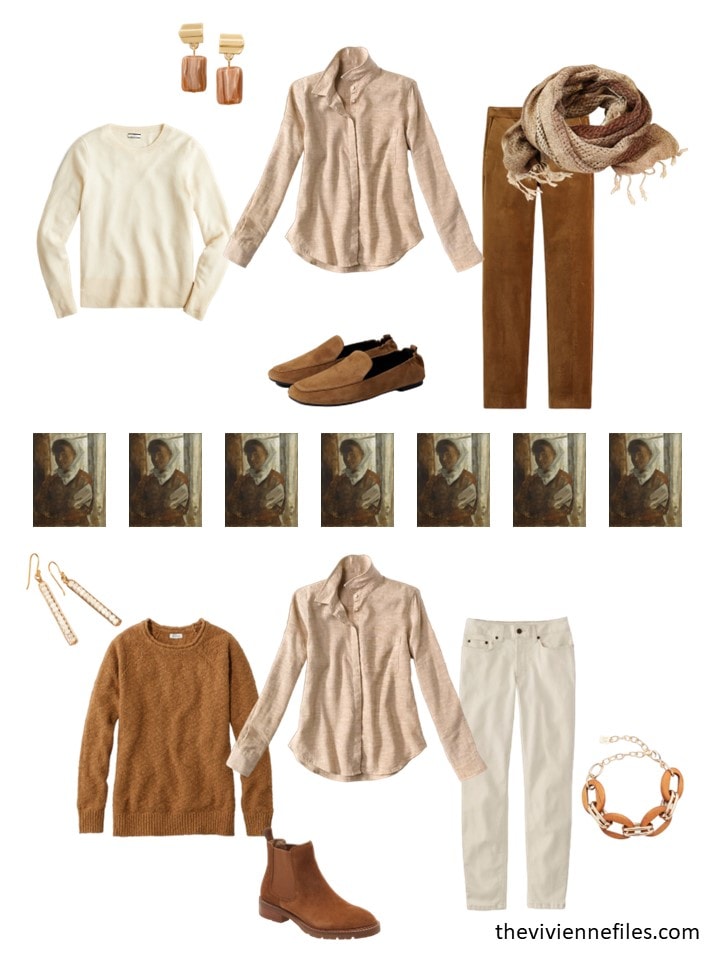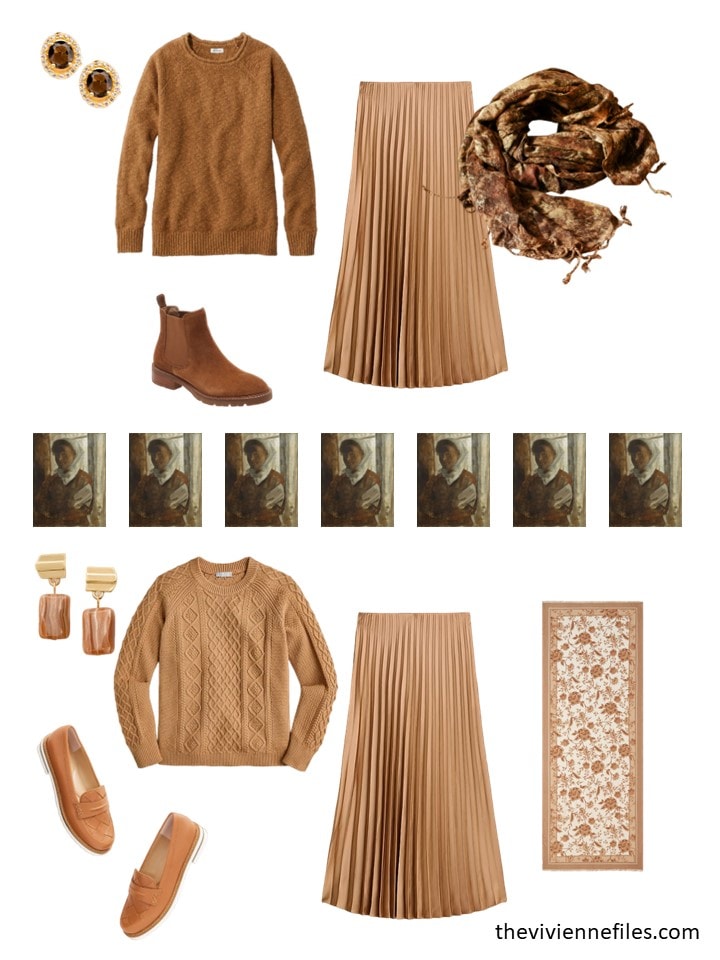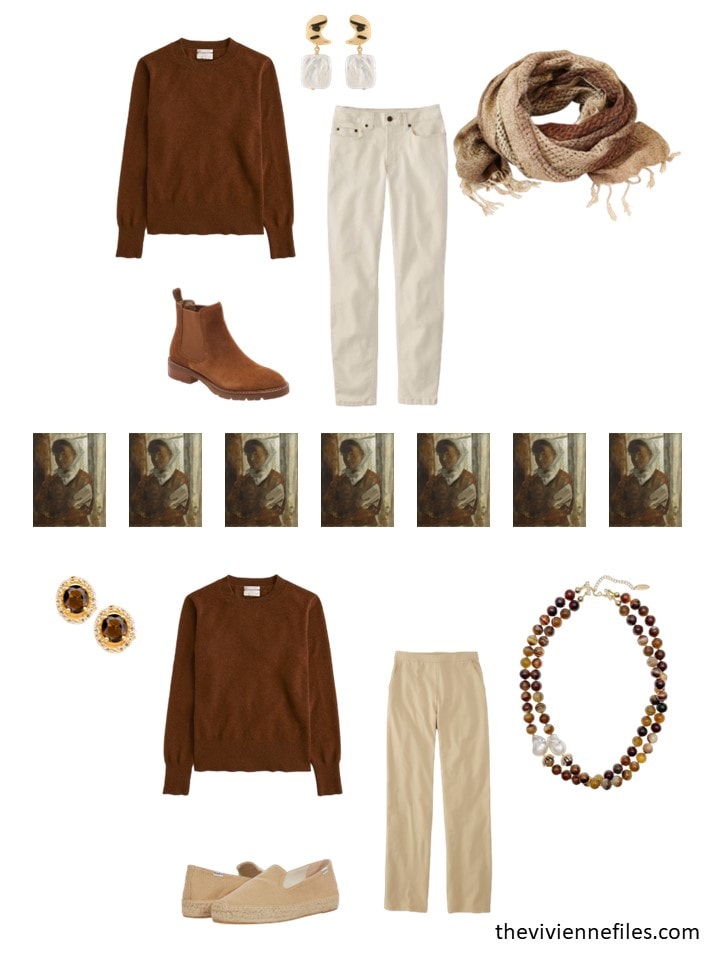 Today's last heroine wears pastels – I could picture dressing this way if you lived somewhere that was warm to hot all year… And if you look glorious in pastels!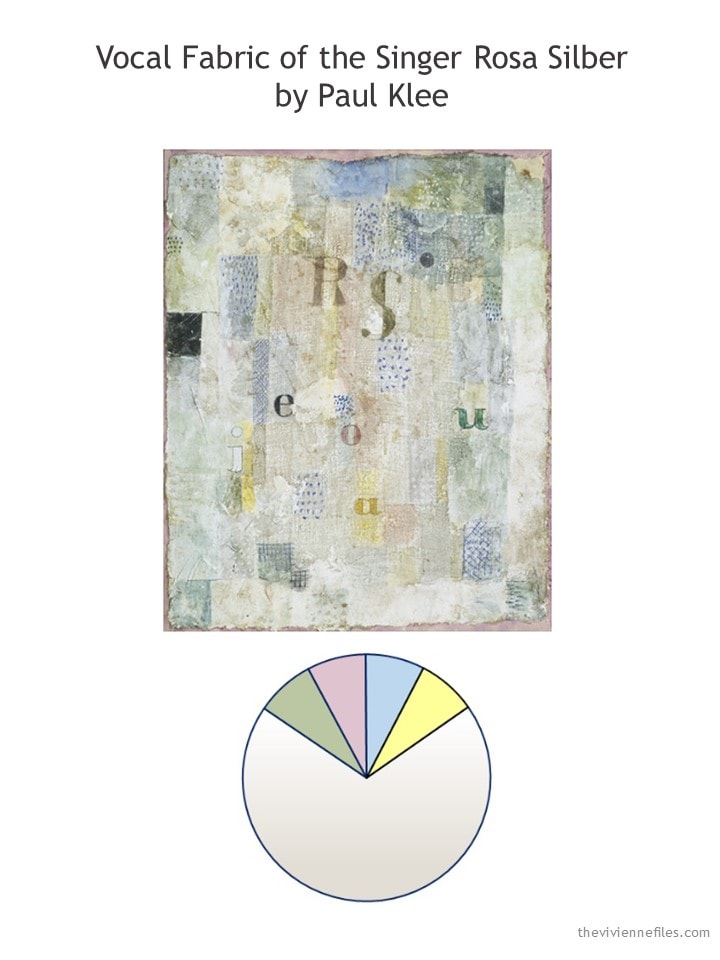 This heroine's wardrobe is pretty. There's just not a better word I can find…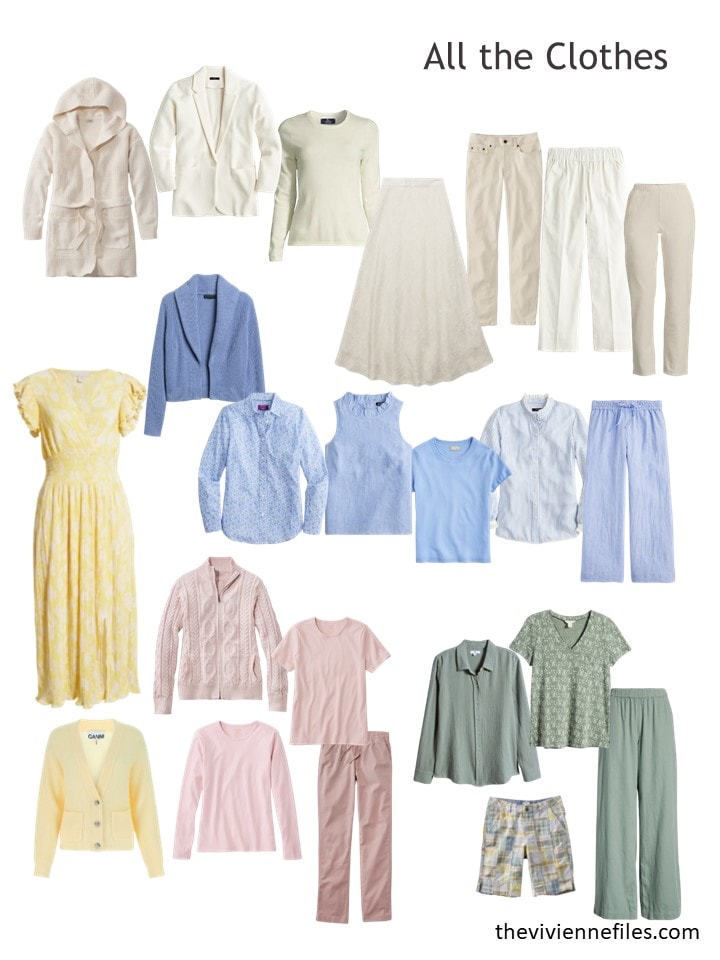 This heroine is the obvious woman to own an ivory silk blouse! And she only has the one skirt – maybe another would be helpful. Since cooler weather is coming (somewhere, eventually!), she realizes that she doesn't have a pink sweater…
Her wardrobe looks essentially identical, which is kind of how it should be; new purchases shouldn't make your wardrobe take on a new and unfamiliar feeling, should they?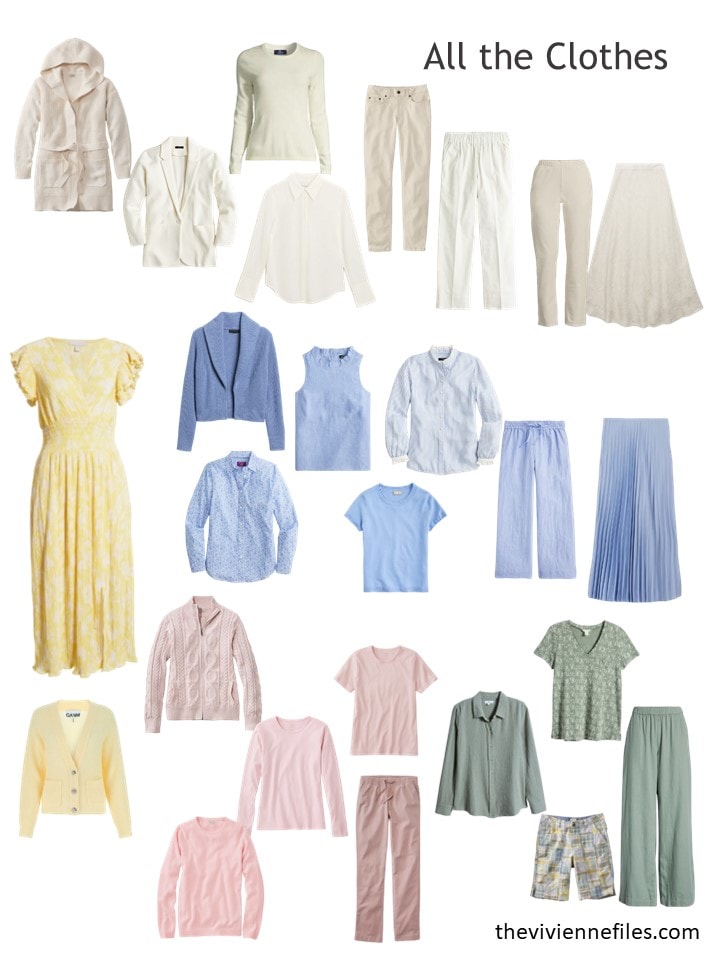 But she made what might be considered a mistake – she now has TWO pairs of light blue ballet flats! But maybe this isn't crazy – ballet flats wear out quickly, and finding this shade of blue isn't easy…
Still, these accessories are so pretty… feminine and graceful. Except maybe her sneakers!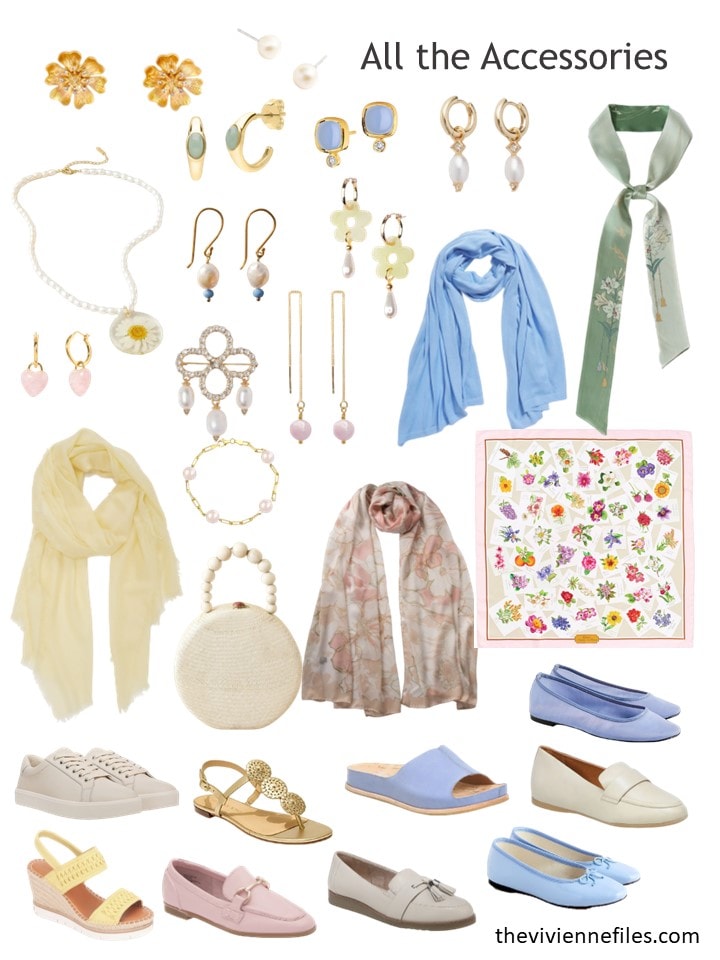 Her new purchases work – of course they do! She planned it that way…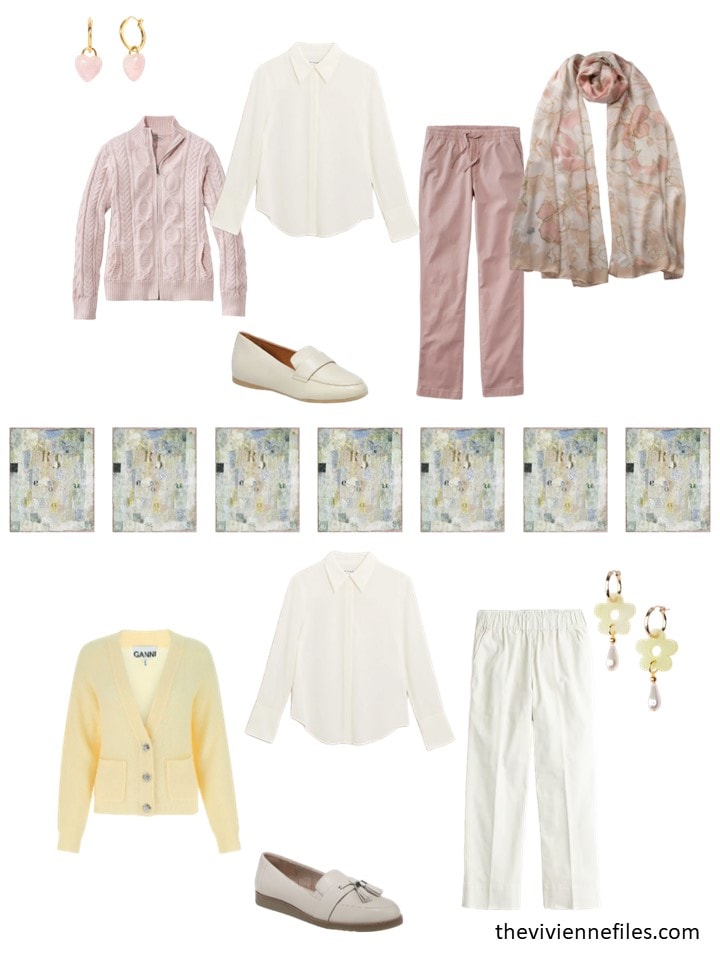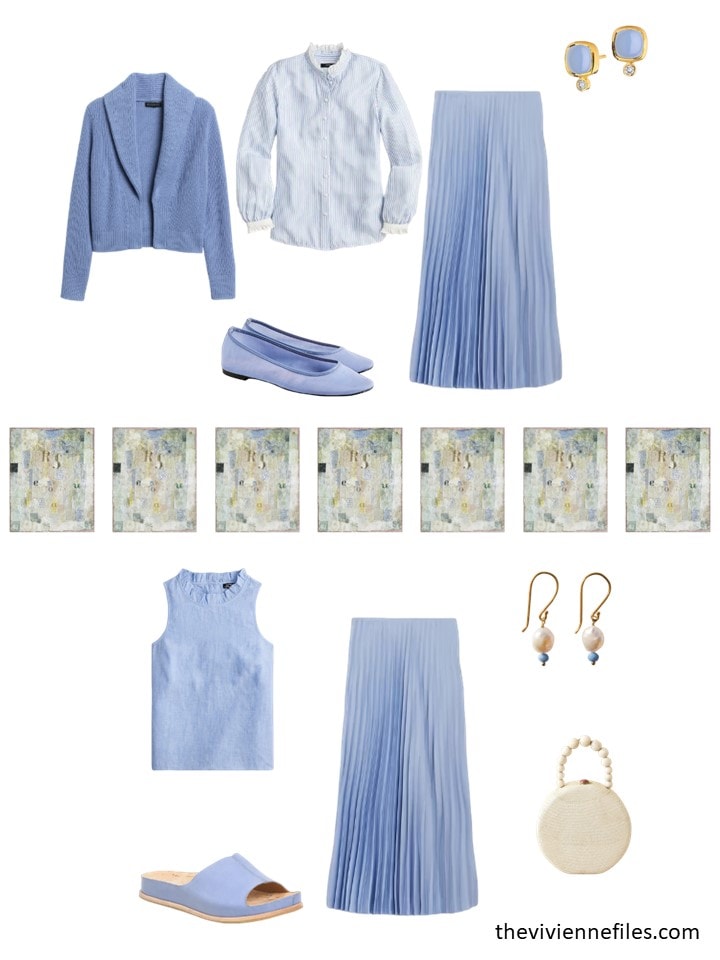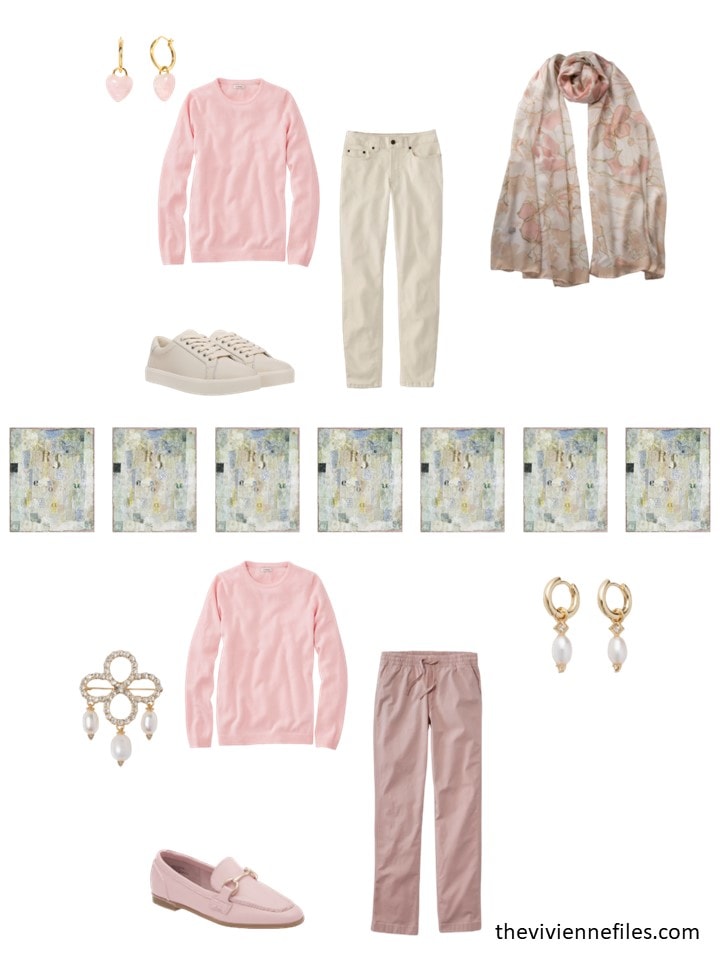 Do you like our heroines' new purchases? Do they change your preferences? I am shocked at how much the Degas wardrobe appeals to me…
love,
Janice
p.s. Seven years ago, we were inspired by John Everett Millais to dress our inner heroine, even if she lives a very different life from our own!
p.p.s. I know that I've suggested this to you before, but if you need a fabric shaver, THIS IS WHAT YOU WANT. This is, literally, a wee gizmo that should last you the rest of your life. It recharges, it's sturdy, it does a great job, and it's actually worth your money. I love mine…
p.p.p.s. Have you ever read a book that clearly defined your life into "before I read it, and after I read it?" This is how I feel about The Omnivore's Dilemma by Michael Pollan, which I finished last night. I will not change my diet much right now, but I will look at and think about food differently… Plus he's a glorious writer!