August 4, 2023
Let's see what our other 3 heroines have going on in their wardrobes…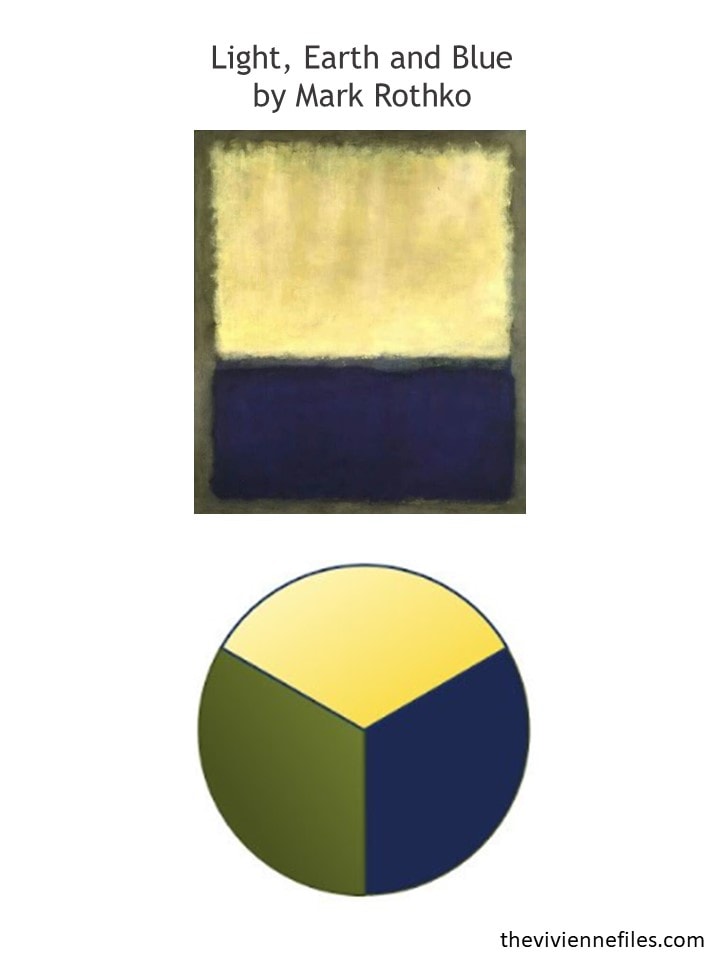 Our first heroine's wardrobe from last month was 23 pieces that gave her a good range of options…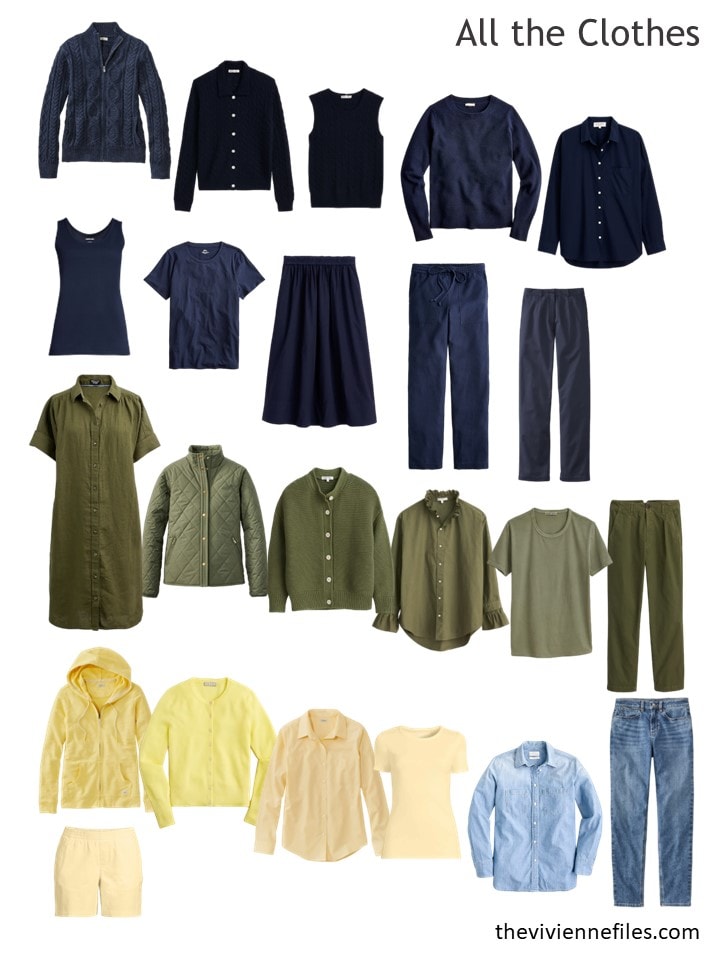 This heroine was thinking of another skirt; as much as she loves her navy one, she would like one in olive! And while she's at it, she just wants to fill in some more olive in her wardrobe.
And she knows that if she wants olive tall boots, she'd better get on it!
I know that it seems really early to look at tall boots, but if you need a pair, don't delay! You'd be amazed at how many pairs of boots I almost added to these wardrobes, only to find that they're already sold out in a lot of sizes… sheesh!
This is what our heroine shops for this month:
Yes, the earrings are a bit dressy when shown with this outfit, but she doesn't necessarily plan to wear all of these things together…
Her wardrobe isn't really different now – just a bit more balanced for colors, and offering more options: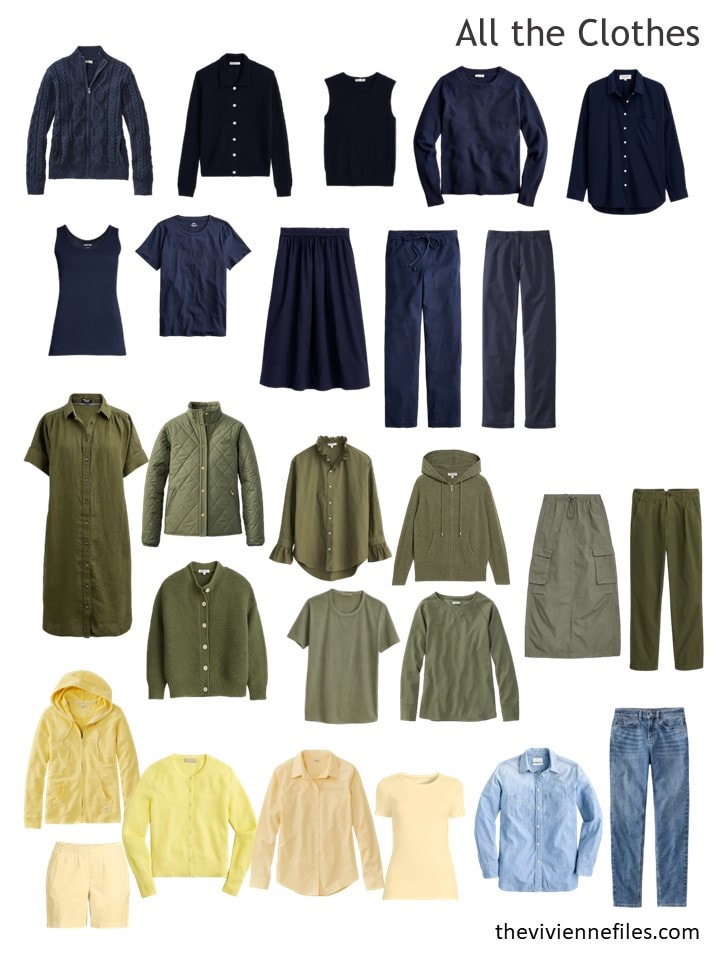 And these accessories might tempt one to re-do their entire wardrobe!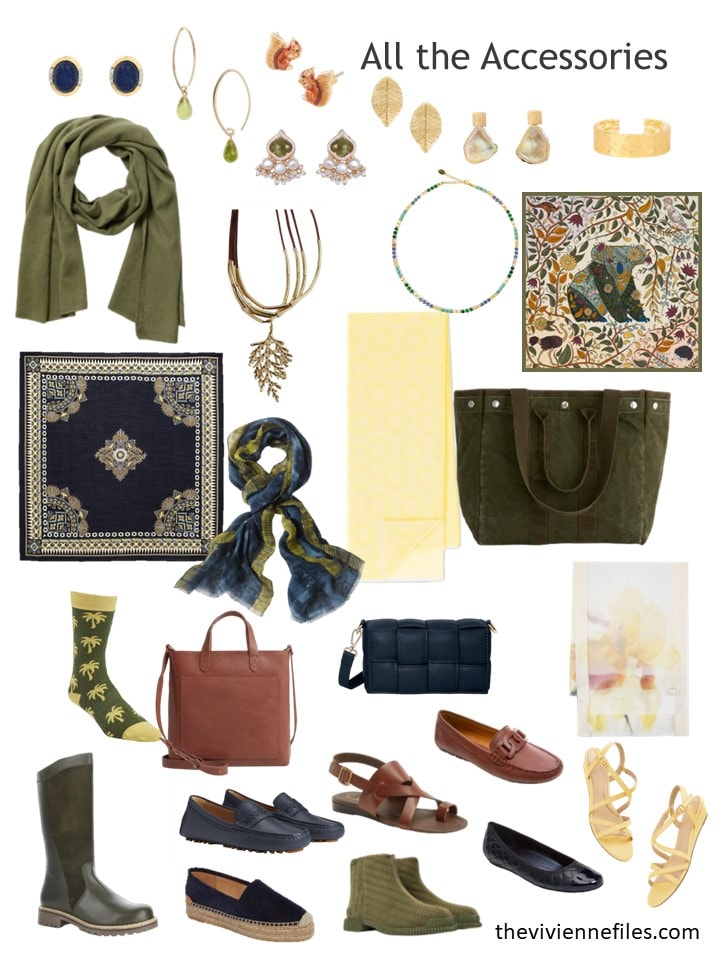 Being a practical sort of woman, she gets her new clothes home and IMMEDIATELY tries on new outfits…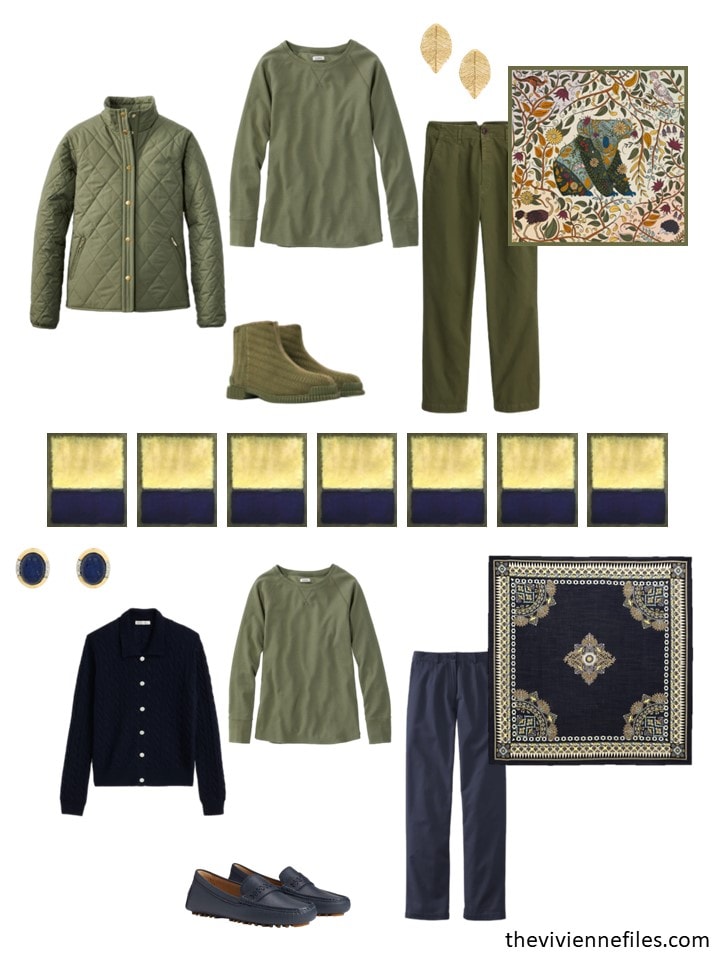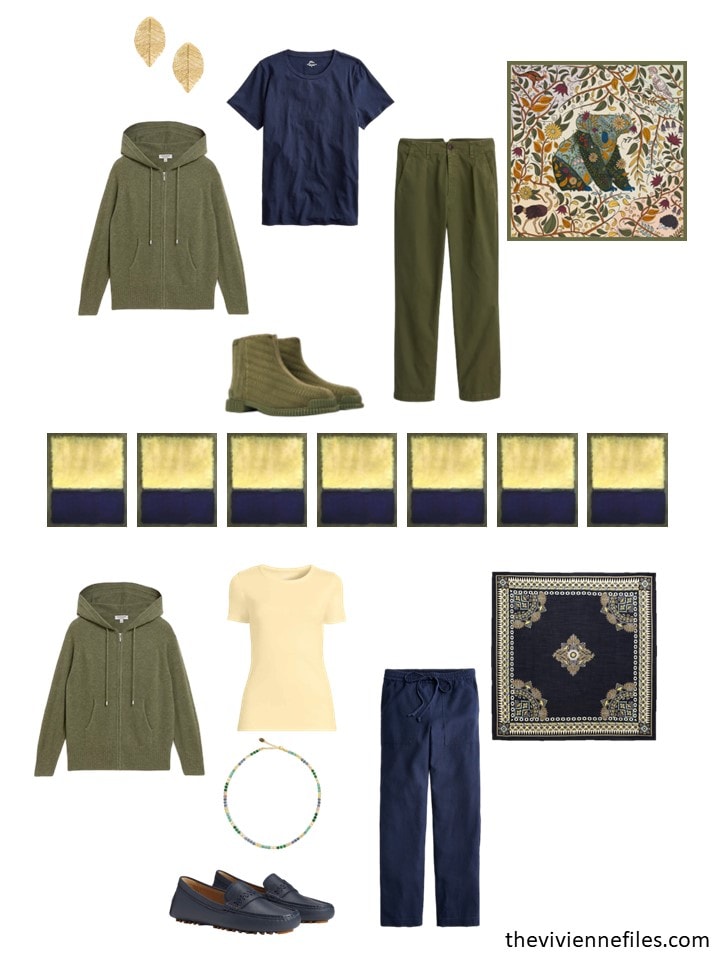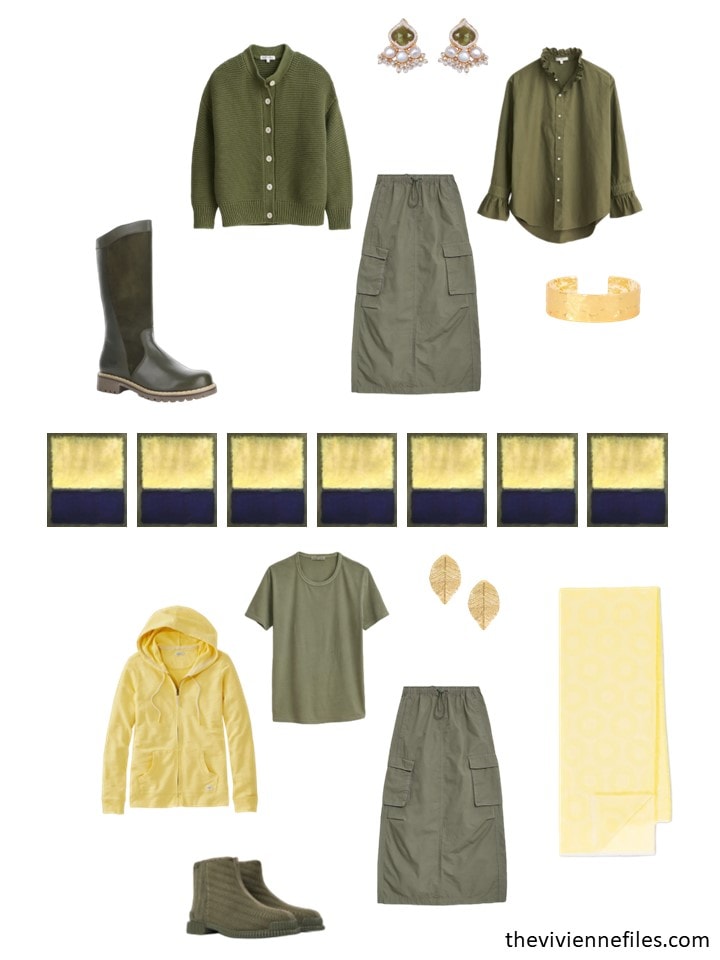 Next up is our very autumn-hued painting; I'm still always forgetting that this is Renoir, because it's not what I expect from him. Shows what I know about art, eh?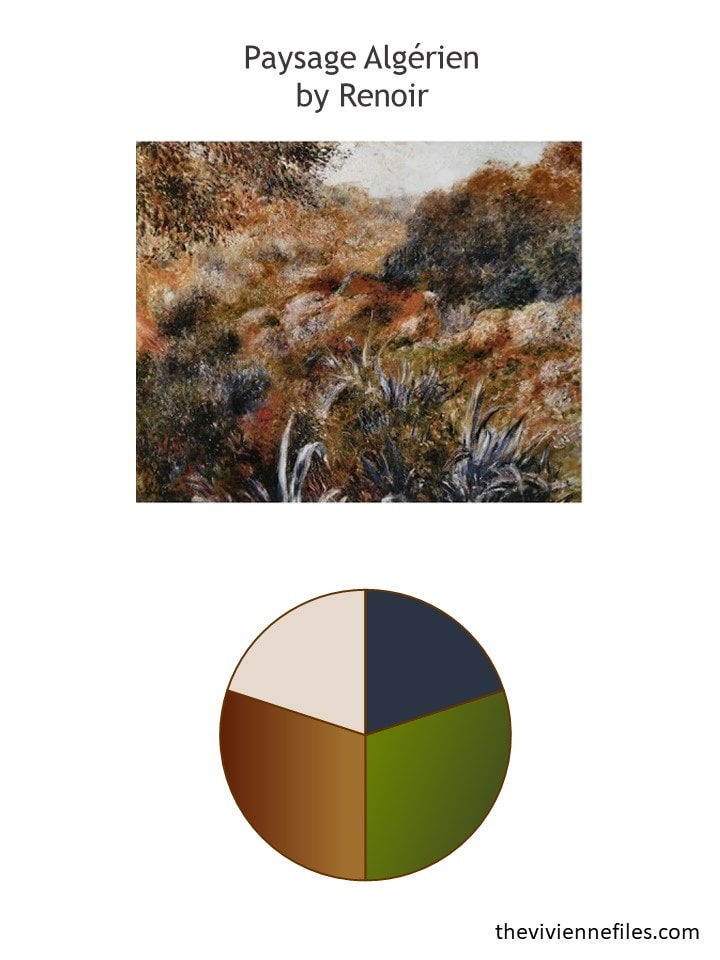 This is such an interesting color palette – our heroine could concentrate on navy for dressy/office clothes, and green for leisure… There are lots of ways to make this work!
Her wardrobe last month is lovely, but doesn't have a real core in any color.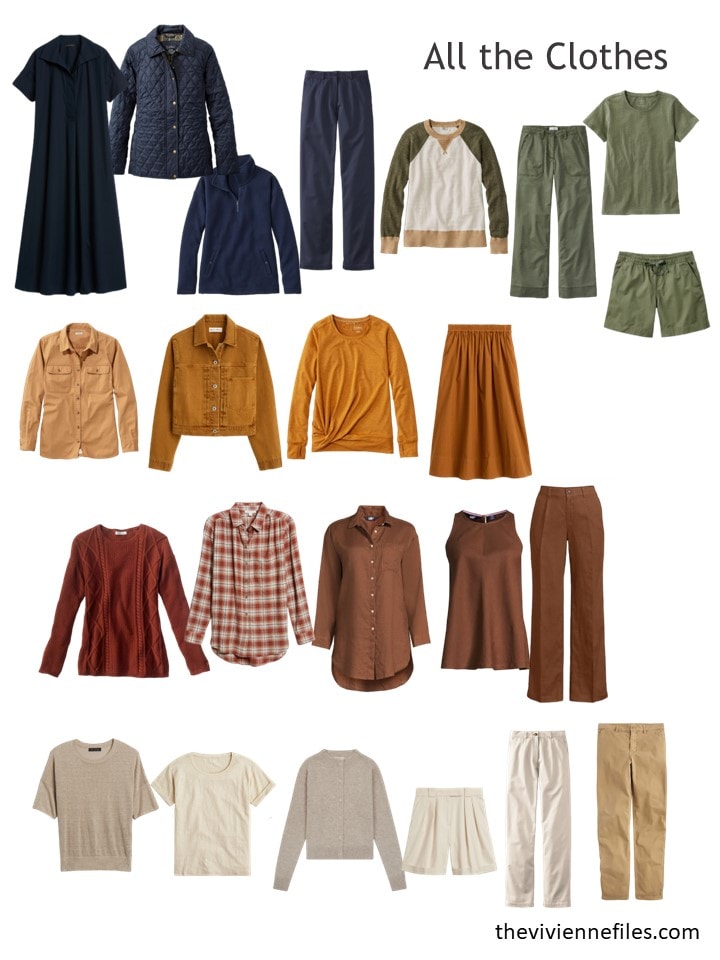 While navy would be the easiest color to find in stores, our heroine decides to look first for some brown, and an ivory top…
Wow! The 2 additional brown garments suddenly make this a very "brown and beige" wardrobe…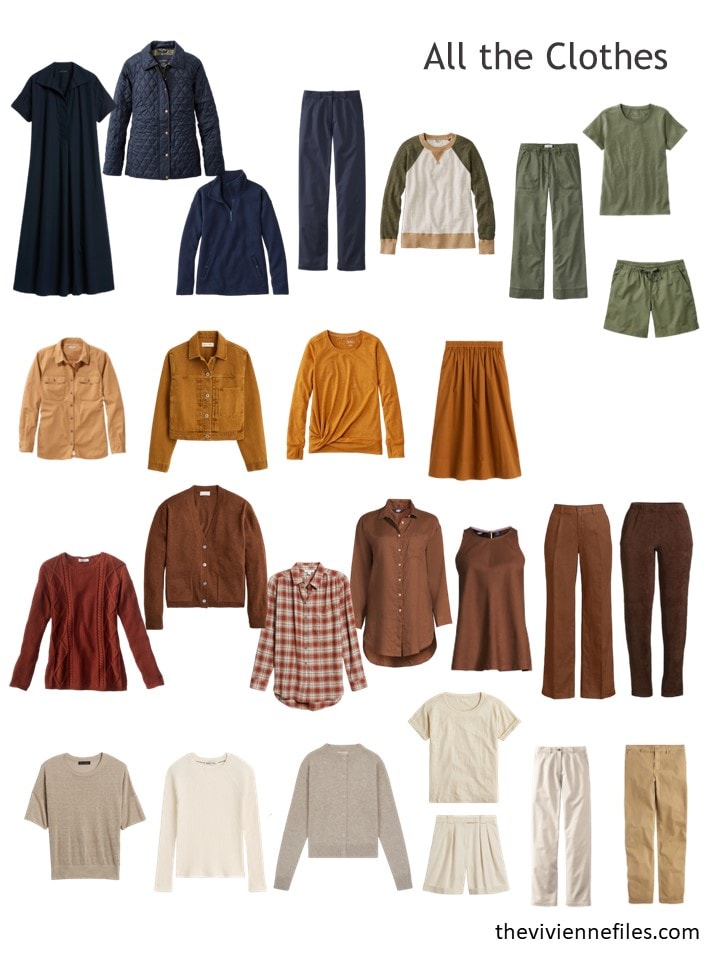 Her accessories could use a little bit more focus too… That takes time!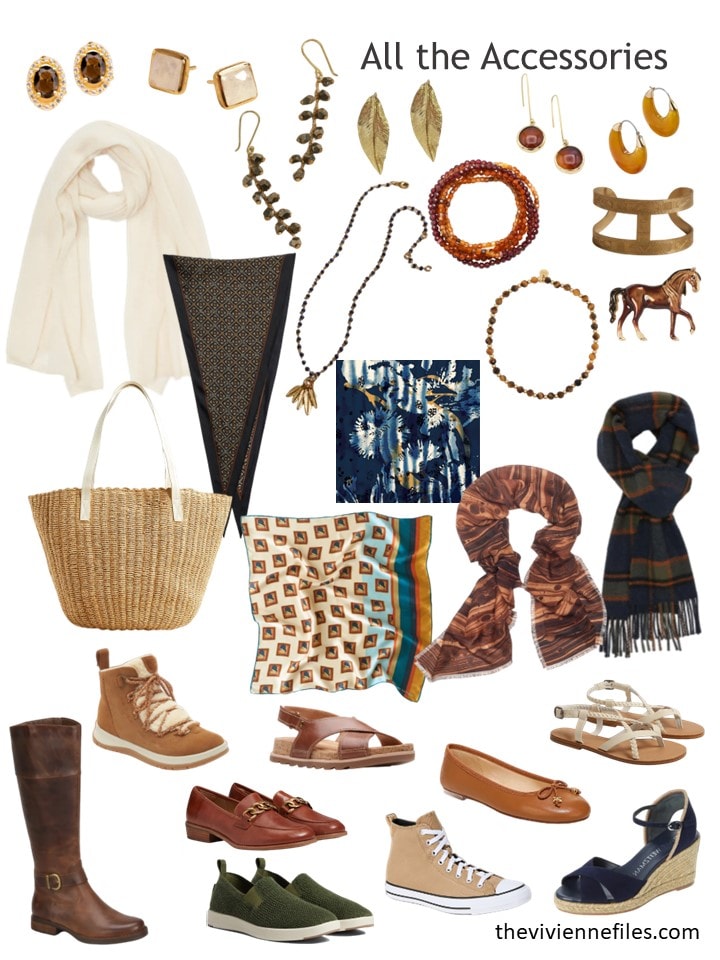 Putting her new clothes in outfits is a little bit challenging, given the wide range of colors in her wardrobe. Shoes are kind of tricky…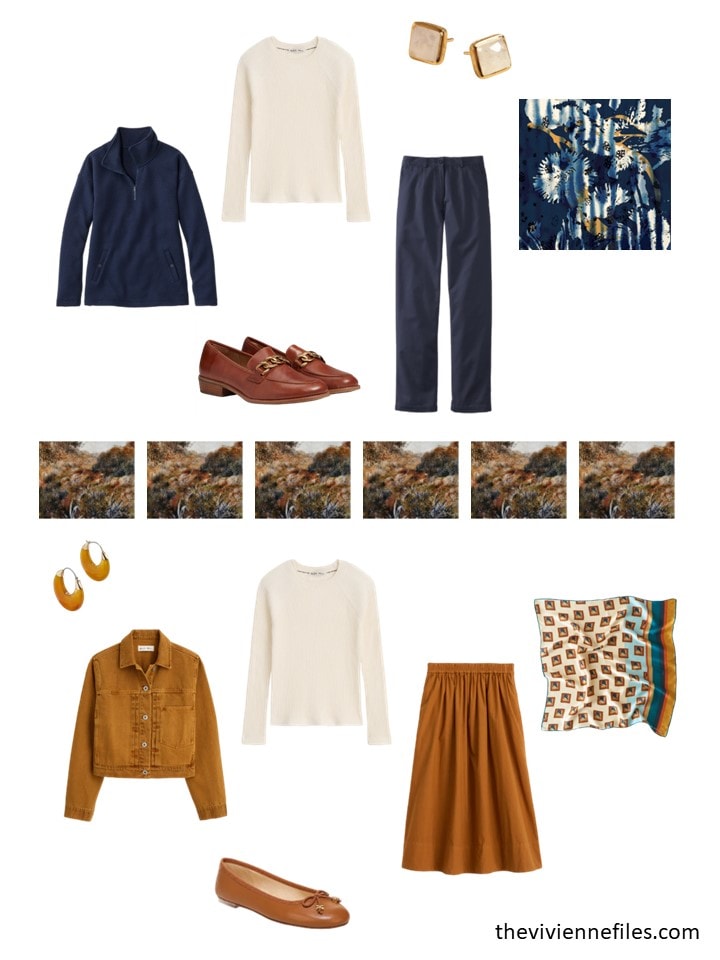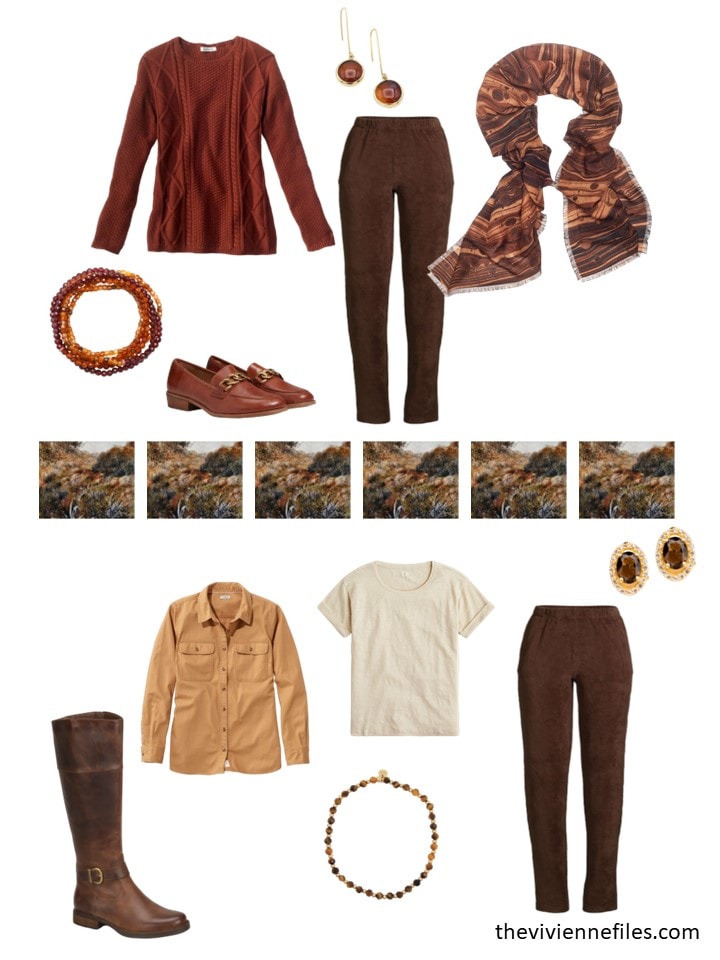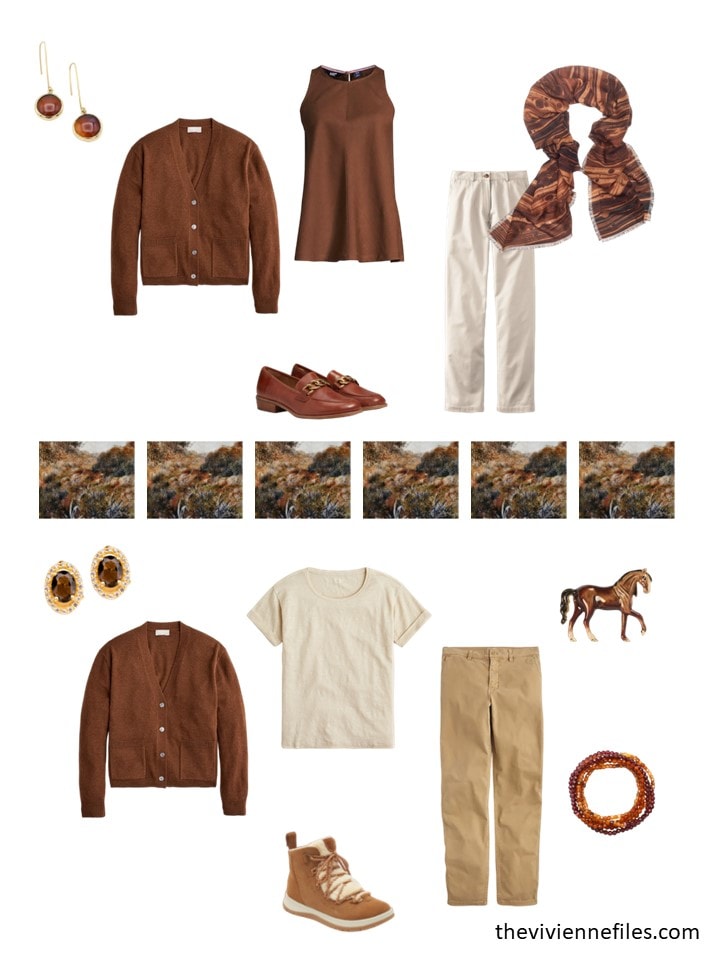 Last, let's visit our vibrant friend with the black-based wardrobe: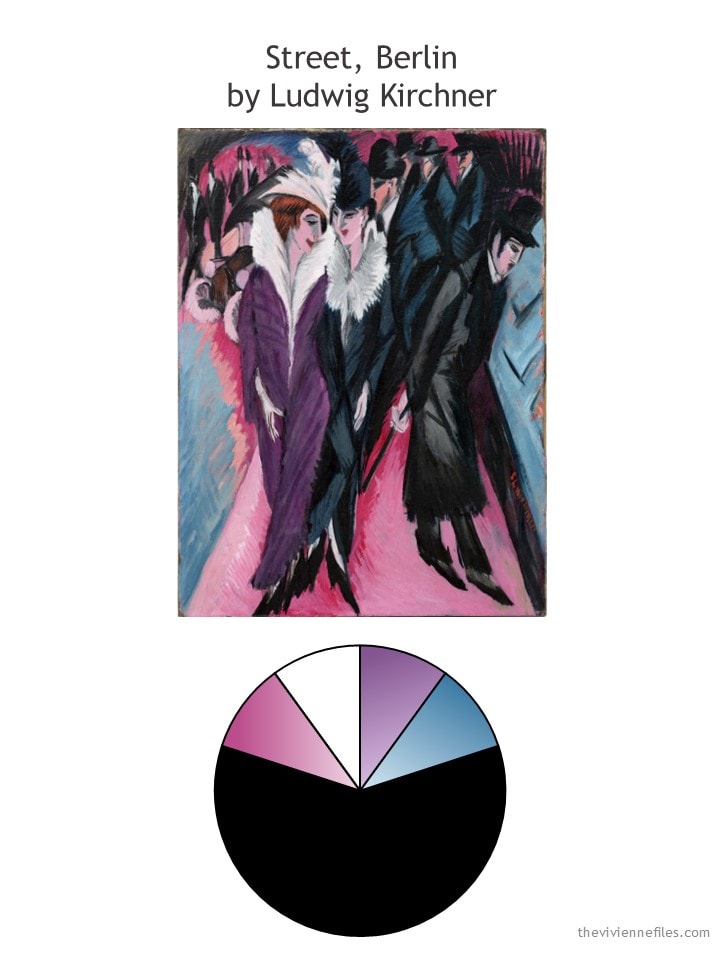 When this heroine looked into her closet at the end of July, she found that she has plenty to wear, if she's happy wearing pink A LOT. And frankly, she's feeling just a little bit Barbie, which is fine, but not what she wants long-term.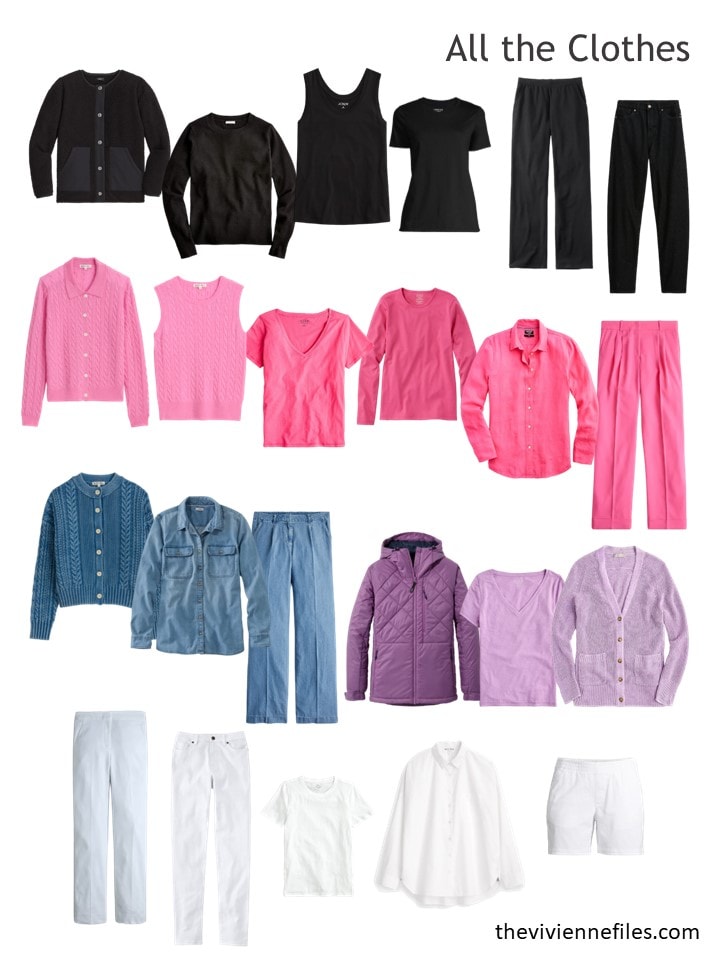 She realizes that she could REALLY use some black classics…
Her updated wardrobe looks more like she actually HAS a neutral base…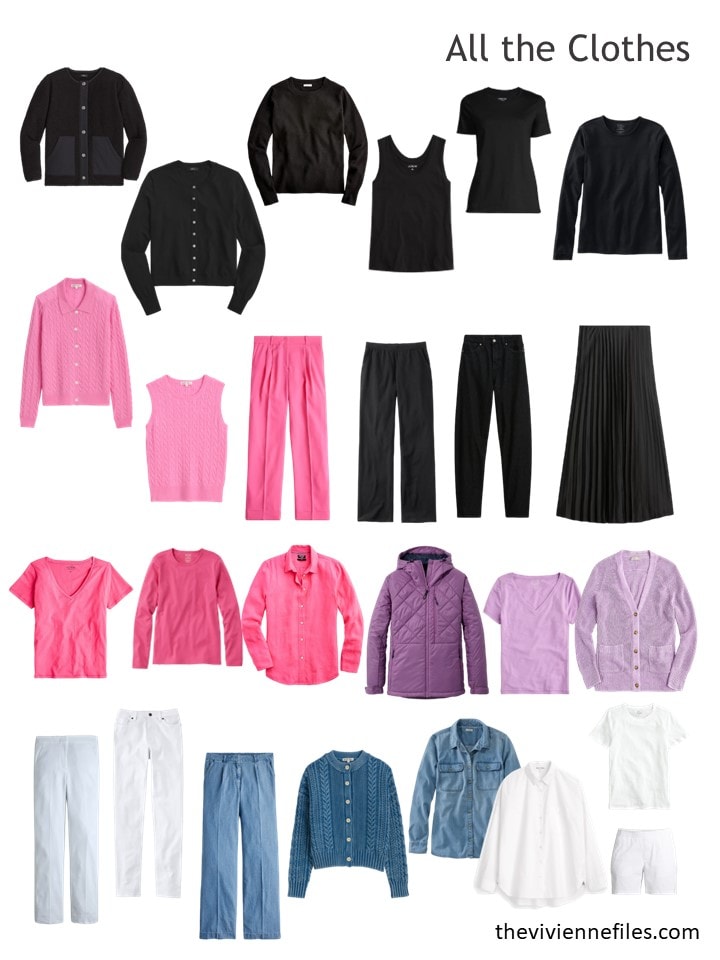 I wouldn't mind if each and every one of these accessories showed up on my doorstep! Except the whole storage space issue…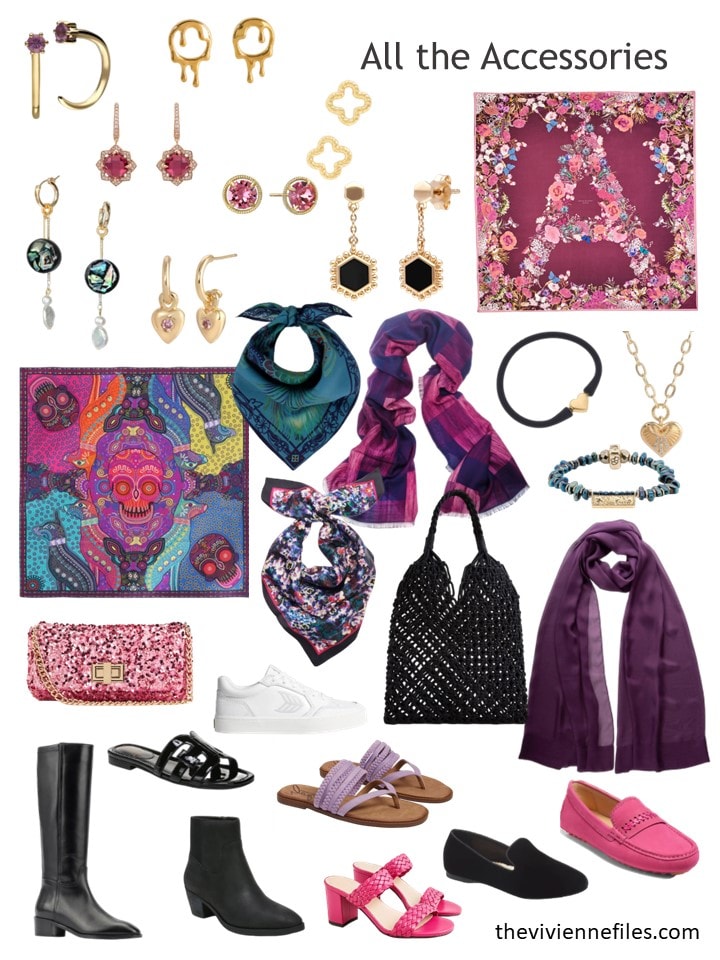 Even though she feels confident that she hasn't put a foot wrong in this shopping spree, she still comes home to make certain that everything hangs together in the way that she images. Sometimes things don't look the way you think they will, and you want to know that before you're 5 minutes from heading out the door!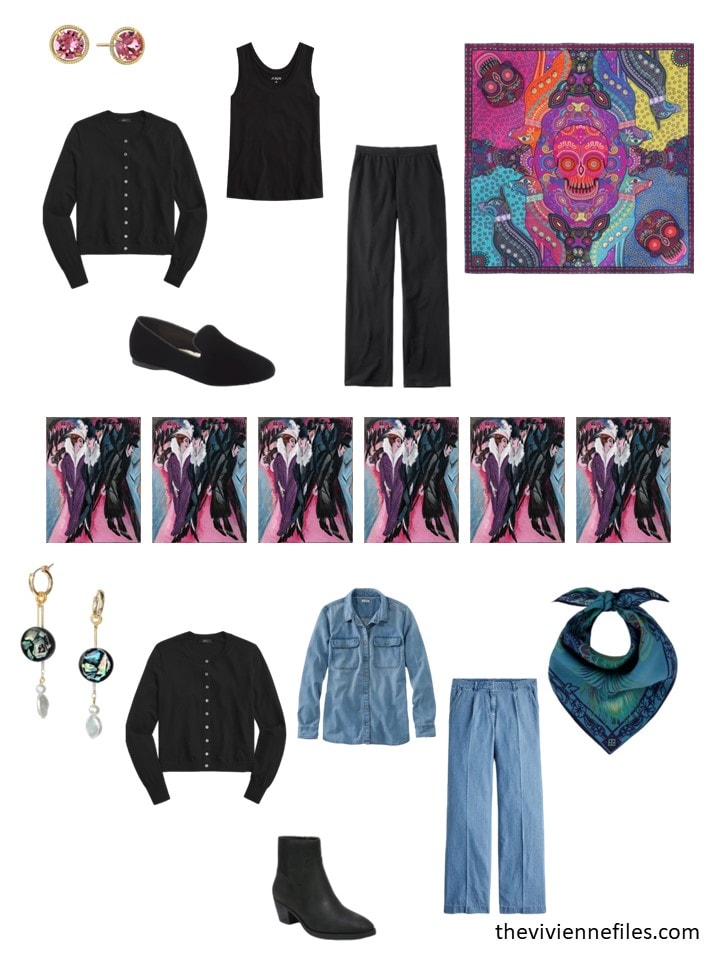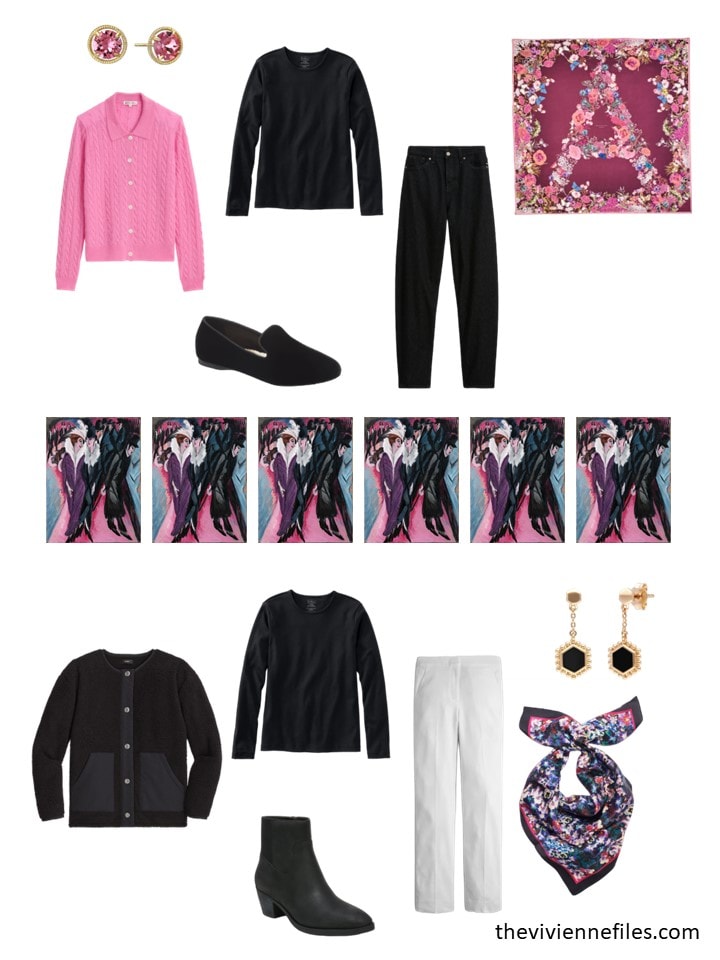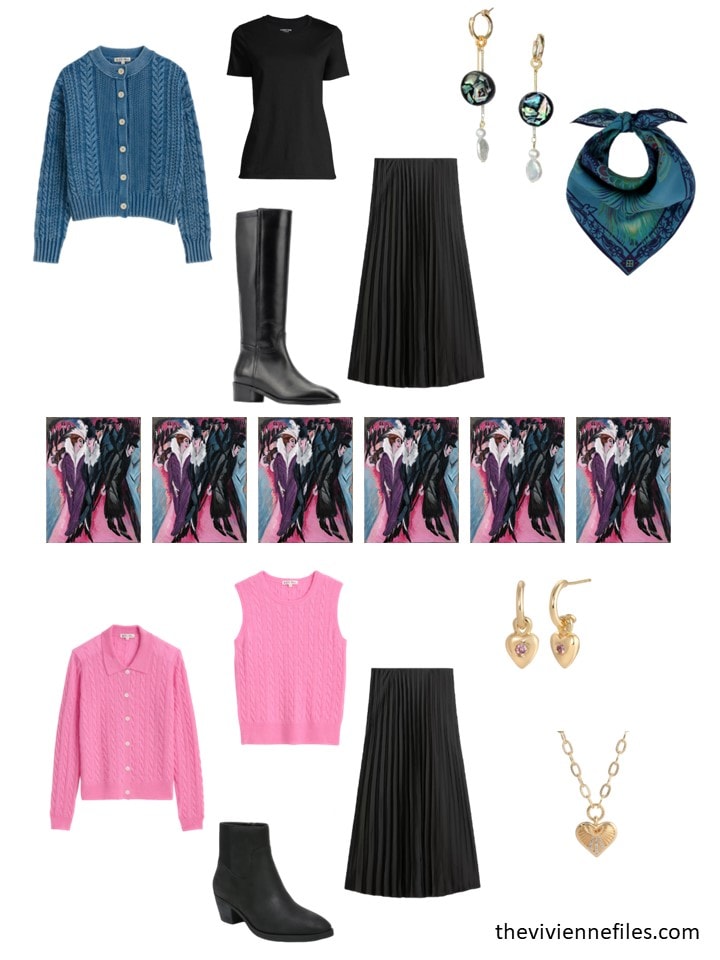 Now that these are wrapped up, I have to admit that the last wardrobe is very much like my own (only with a LOT less black!).
But I could still be tempted into the all-brown wardrobe, if I had to start from scratch!
love,
Janice
p.s. Four years ago, we based 6 wardrobes on 6 Hermes scarves, and I nagged you about checking the condition of your boots!
But seriously, I remember a winter in which I looked high and low for boots (I wasn't living in Chicago at the time, and it was in the days before the internet!) and found that so many of them were sold out in my size. It wasn't fun…