July 17, 2023
Please note – there is NO WAY that I can include truly seasonal clothes right now, since they're all marked down, and sizes are limited, colors are sold out etc. etc. Retail seasons do NOT correspond to the world…
The only thing she's sure of – she's going to pack these bracelets! Other than that, she's not sure, yet…
Her favorite neutral is navy… Navy goes well with both of these accent colors! The bracelets have grey in them, but she doesn't wear grey…
But white goes with everything, and she loves to wear navy and white together! Maybe she has her color palette?
She's not worried about getting dirty, since they're driving. And she really LOVES her hooded cardigan – if the air conditioning in the car is too cold, she just covers up!
So, if one wears a navy cardigan, navy pants are logical to pack.
And if one wears white pants, a white shirt, or jacket, or sweater, just makes sense!
And that leaves her 4 more garments to pack… 2 in each of her accent colors is an obvious thing to choose.
Assemble some outfits, add the necessary and lovely accessories, and you're ready to go!
She started out feeling pretty uncertain about what she was doing, but now that she looks at her travel capsule wardrobe, hanging on her clothes drying rack, she's delighted: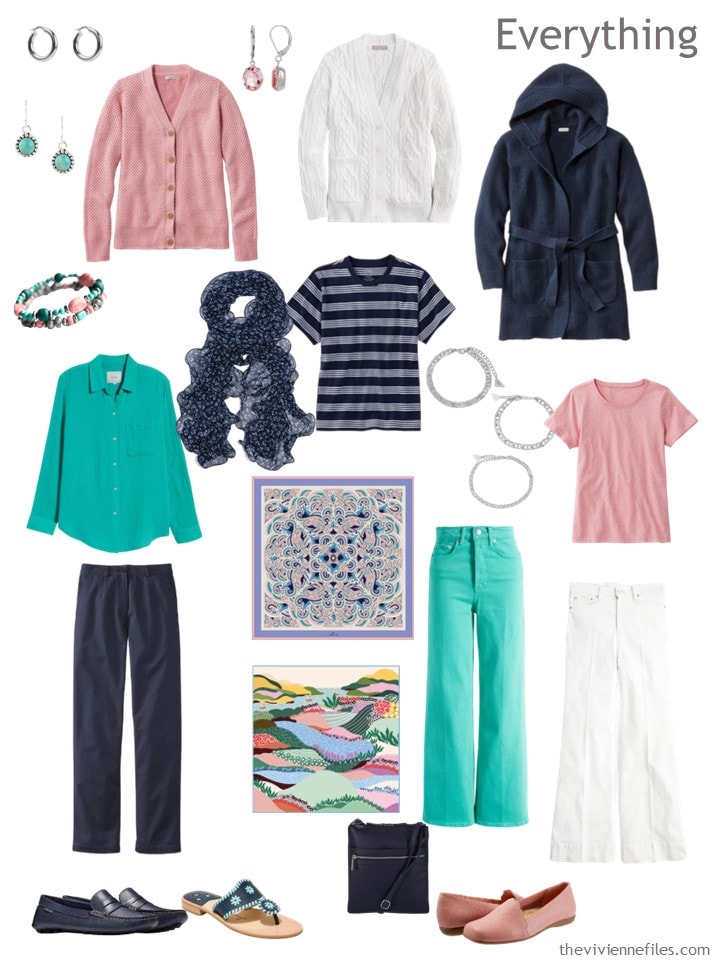 But just in case, she works her way through six outfits; she might be in the mood to wear navy and white a lot. She might want to wear lots of pink. And she might feel like head-to-toe green (turquoise, teal, whatever this color is called) is just right. She leaves herself lots of choices, so she can wear what feels right to her when she wakes up each morning…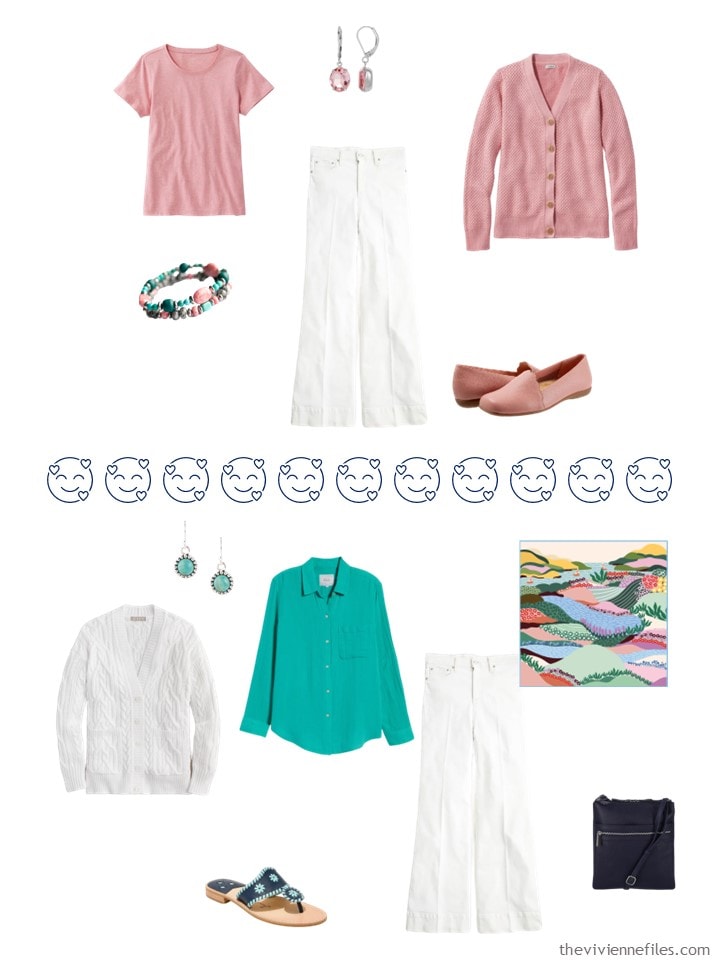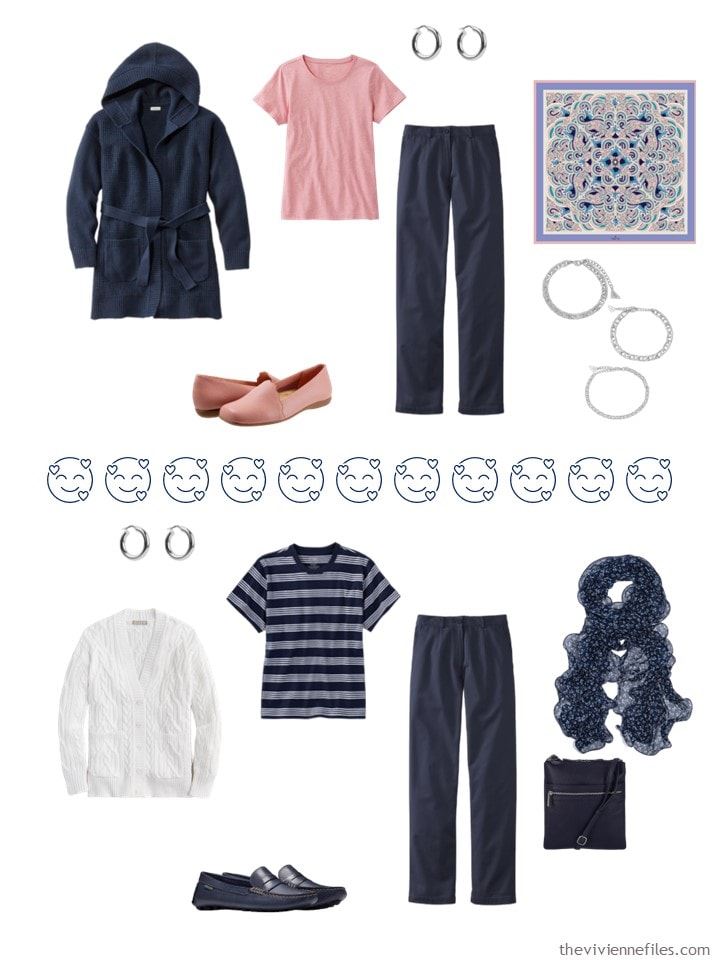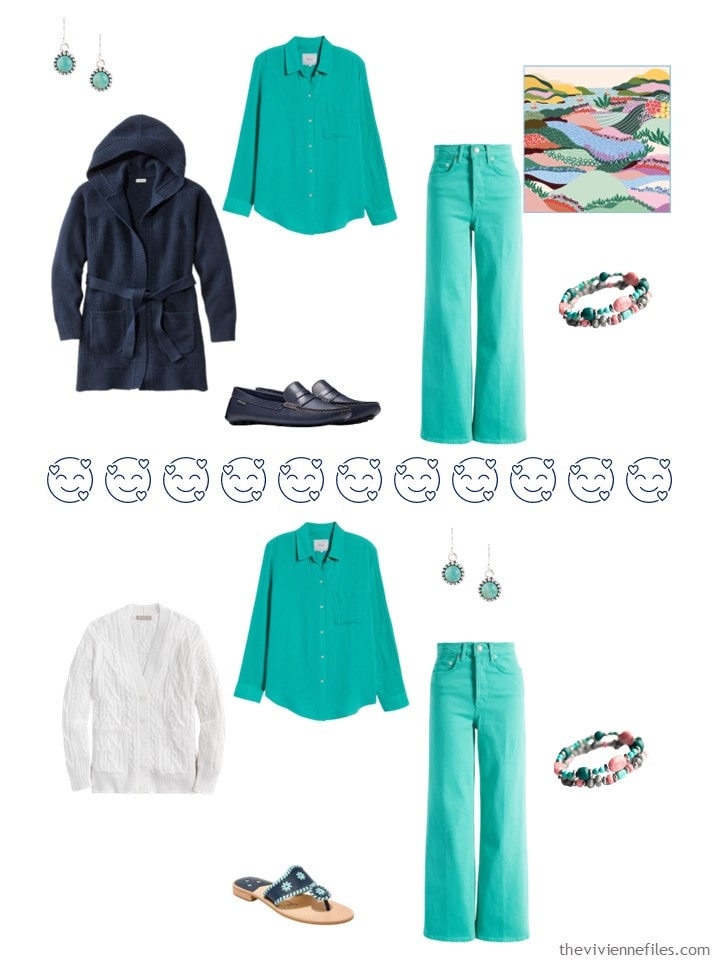 It makes sense to pack enough to give yourself options that make you happy and comfortable. This is possible without actually bringing your entire closet with you, isn't it?
love,
Janice
p.s. Eight years ago, I was pondering what to buy at the Nordstrom Anniversary Sale… If you're interested in browsing this year's version of the sale (and you don't mind if I get a commission!) you can start here, with something that appeals to me…