October 16, 2017
I've received some requests for wardrobes that address the desire to return to the workforce without completely sacrificing personal expression. Of course, this is going to depend entirely on the nature of the office in which you find yourself – some are still pretty strict, while other will let you wear pretty much anything that gets you into the office without getting arrested!
But let's assume that you need to start out pretty cautiously; all of the internet "chat" about the office talks about their very old-school image, in the eyes of the public. Once you're in, and find your niche, you can branch out a bit.
This photograph was on that amazingly fun site Design Seeds – I thought that these colors would be a good starting point, since it includes good old corporate navy and grey, while introducing some really lovely accent colors…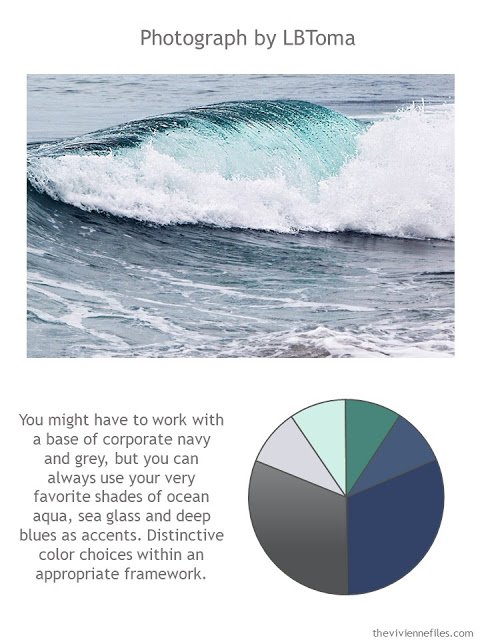 For the first 2 interviews, I've kept things pretty conservative, without being absolutely "cookie-cutter" bland… And I made a point of finding a navy suit that also has pants available – having all three pieces in the same fabric opens up all kinds of options…
(I'm putting general guidelines onto these images, thinking that I'm going to replicate this general idea tomorrow in a completely different palette, with a less dressy feeling…)
For her first wave of wardrobe additions, the clothes are all going to stick to really basic pieces, in the 2 neutrals. Hallelujah for tweed, which gives you at least a little bit of interest! (Ideally, there would be a skirt that matched the jacket shown above – THAT would be helpful…)
I'm sticking with black leather goods for now; men wear black leather with both navy and grey, so it's not something that can offend someone. Navy might be more fun, if you can find things that delight you.
And the first glimpses of accent colors are making an appearance…
This isn't abundant, but it would make an absolutely foolproof travel wardrobe for work, and it's completely inoffensive and classic…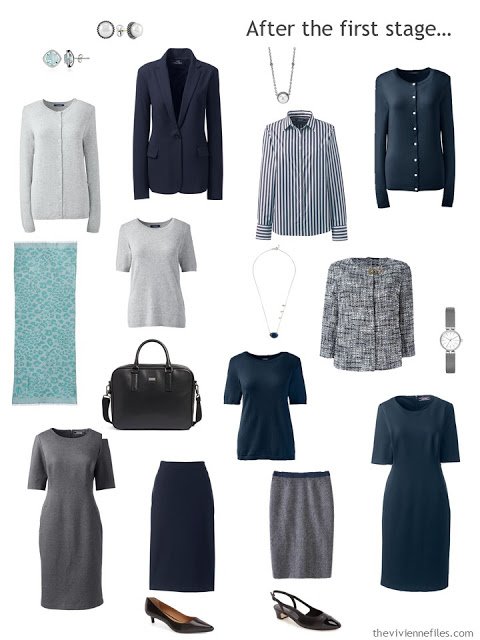 Not a million options, but at least you can get dressed for the first weeks of work! Wait for that first paycheck…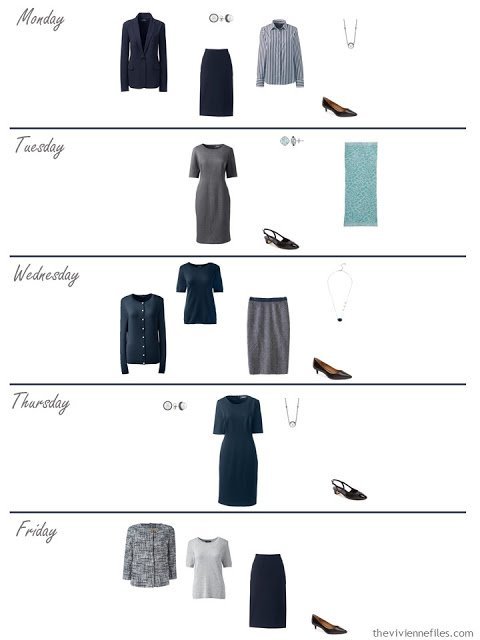 I've been just dying to get this cardigan in here! I love the audacity of the stripes, and the colors… sigh…
If you're truly in a strict environment, you might need to buy a grey suit instead of a cardigan and pants, and your cardigan might be a subtle nubbly tweed rather than these exuberant stripes; it's important to actually get on the ground in an office and see what's being worn by the "powers that be."
(I'm not telling you that this amazing scarf costs a FRACTION of the price of an Hermes…) And yes, those loafers aren't quite navy… The nerve!
This is starting to look a little bit more generous, and slightly more varied. If you had a LONG business trip in front of you, this wouldn't be the worst way to go…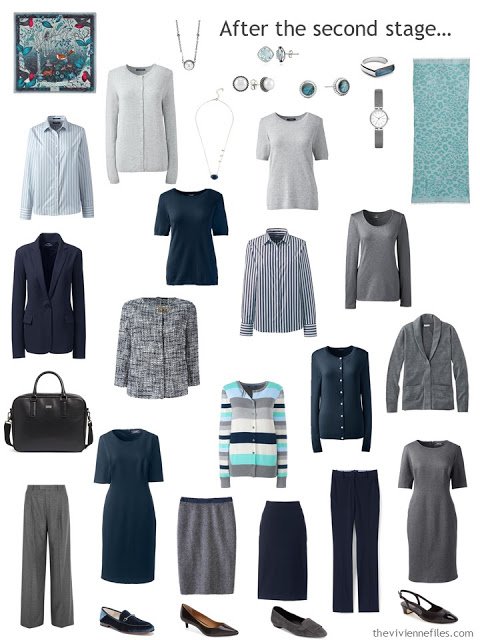 Each new piece now fits into your existing wardrobe in a variety of ways, which keeps you from getting bored with a limited wardrobe. It also offers you all sorts of possibilities from very formal to much more relaxed…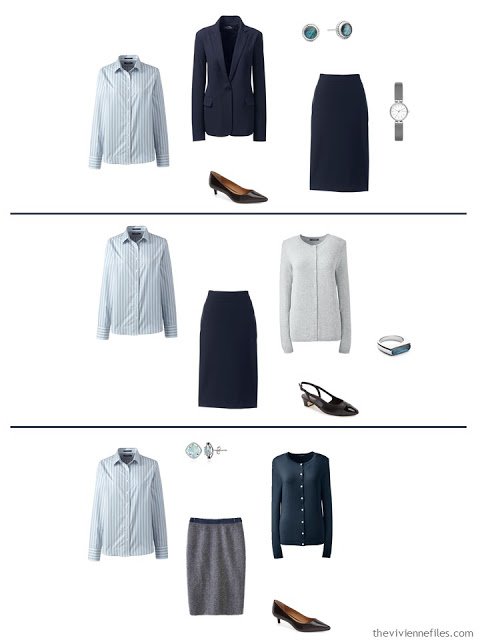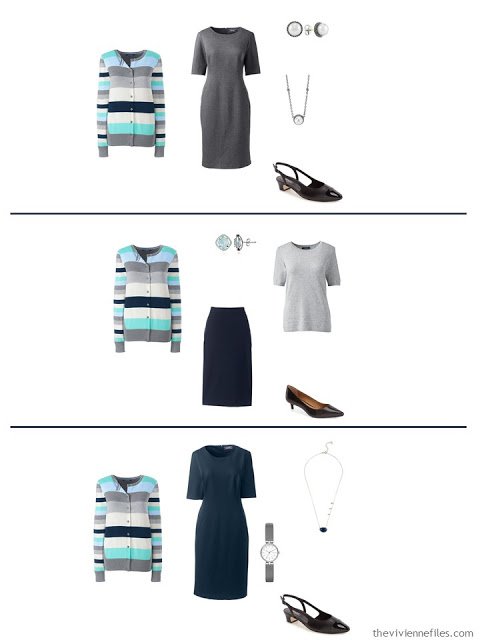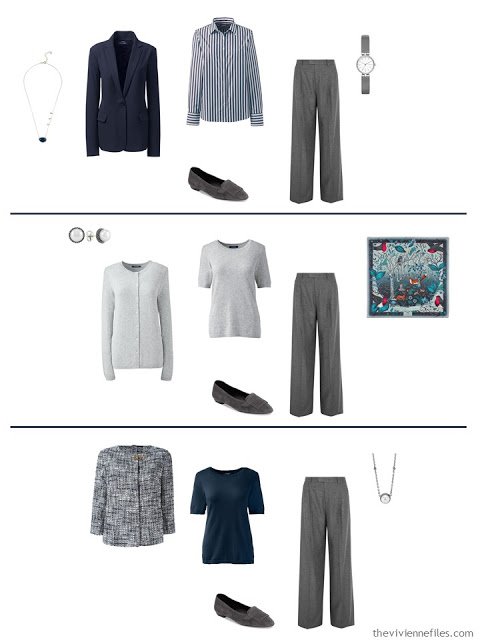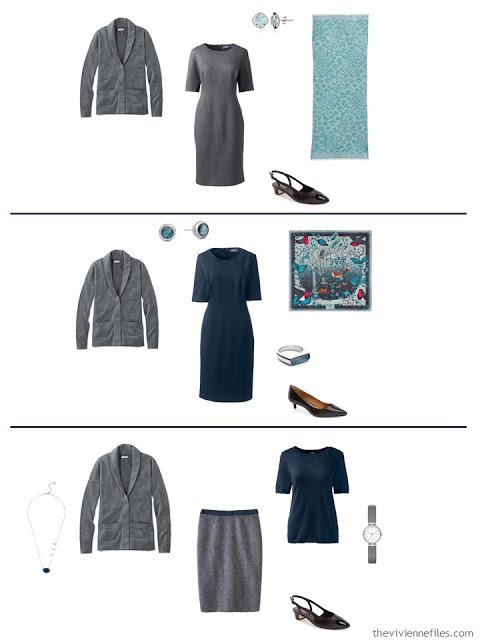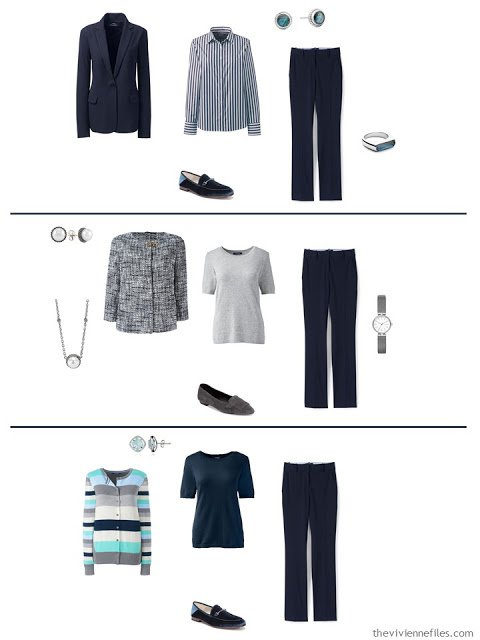 Okay, let's hypothesize that our heroine's office turns out to be… moderately conservative, but not fanatic. No bare legs, no exposed knees nor armpits, but a bit of color and pattern is okay. So she/I start shopping around…
THEN… I saw these teal pieces at Harvey Nichols. I think our heroine would throw all caution to the wind and stock up! (there's even a trench coat…)
Now the completely wardrobe has a decided point of view! She still has plenty of options for events and occasions that require a quite strict appearance, but on days when she's her own mistress, she can live it up in her favorite colors!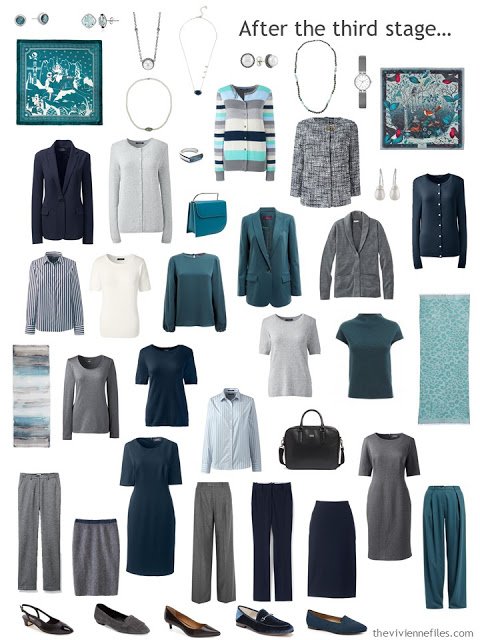 And as before, the new pieces give her lots of additional outfit options: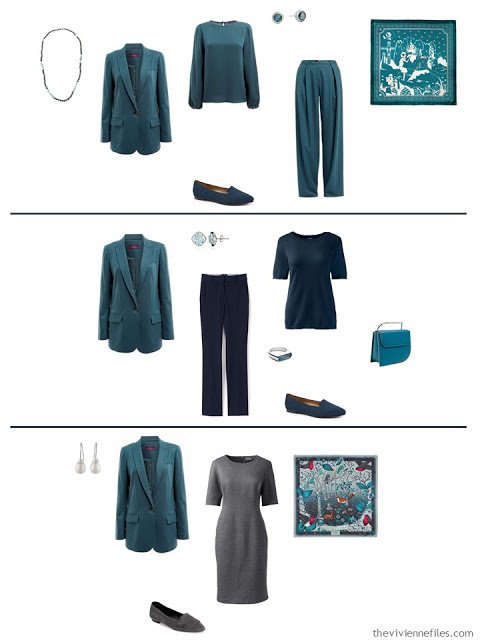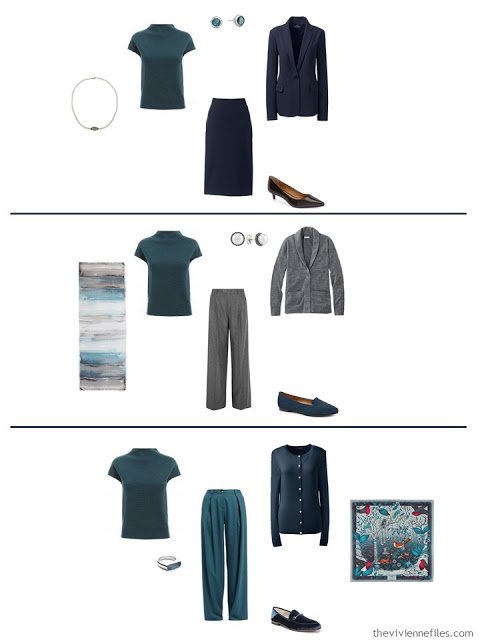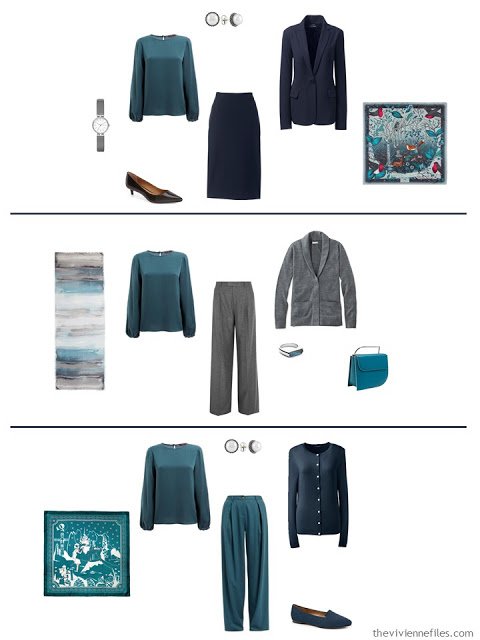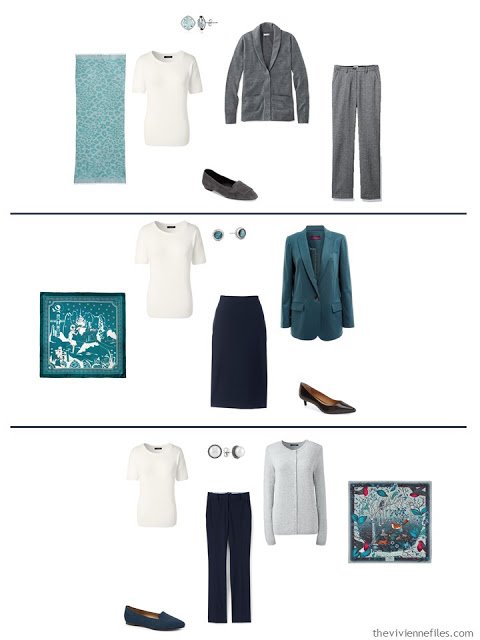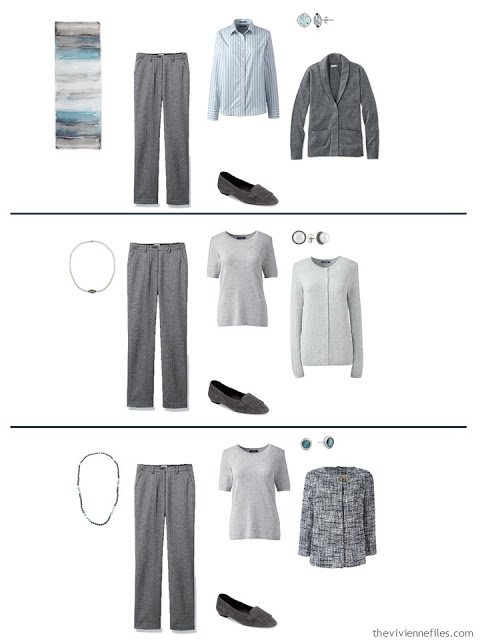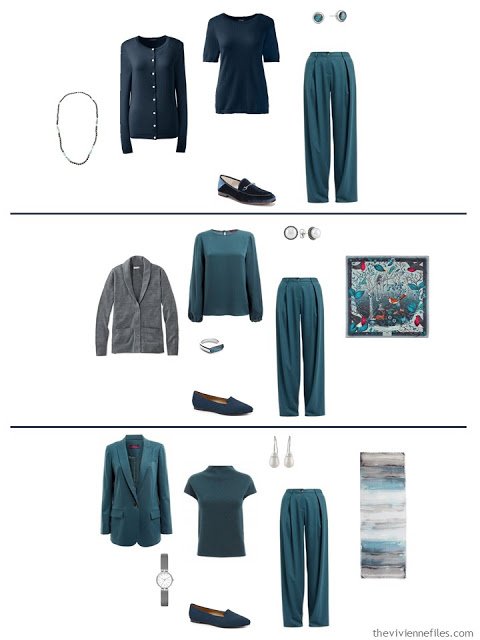 I think I'm going to try this tomorrow with autumn and earth colors, and a rather less conservative work environment…
love,
Janice