May 3, 2023
Regardless of your feeling about royalty, or coronations, let's suspend judgment and enjoy this beautiful scarf!
Shamrocks, daffodils, roses and thistles!
And you KNOW how nice the scarves are from PJ Studio Accessories…
I decided that our heroine is going to use navy as her packing neutral, and draw all of her accents from her lovely scarf:
A Dilemma, of Sorts…
Our heroine's still not sure how long she will be able to travel for the Coronation – at this point, she may only be able to be away for 1 night!
And we don't have to assume that she's going to London – there will be lots of places where she could meet up with friends, watch a lot of festivities on television, and then celebrate around town!
Okay, let's see what she has planned…
For the evening that she's there, she will wear her pink sweaters with her navy pants, with pink flats… And then to go home the next day she will wear an all-navy outfit with her wonderful Coronation scarf!
Yes, I forgot to show her scarf in this bag! Maybe she's carrying it in her handbag, to show her friends…
And you've seen these pink sweaters before – I'm really smitten with them.
Here's what she will have with her for her overnight trip: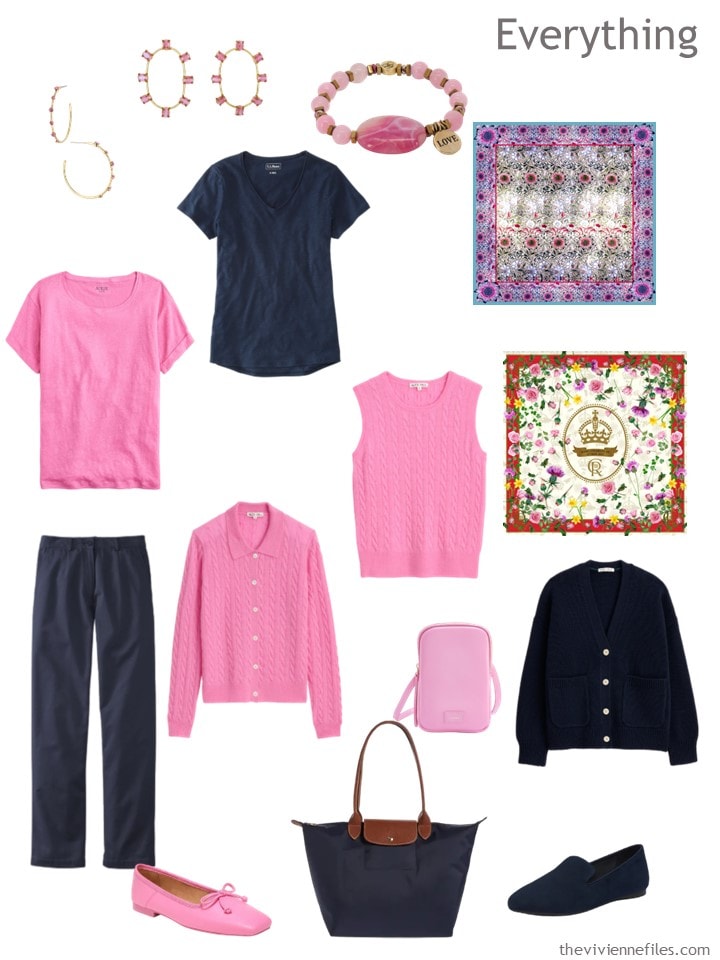 Just as she's getting mentally settled with this trip, she finds out that she might be able to stay for a long weekend! Time to add some things to her tote bag…
This gives her a 6-Pack – 6 pieces of packed clothing, as well as the 3 garments that she wears while she is traveling: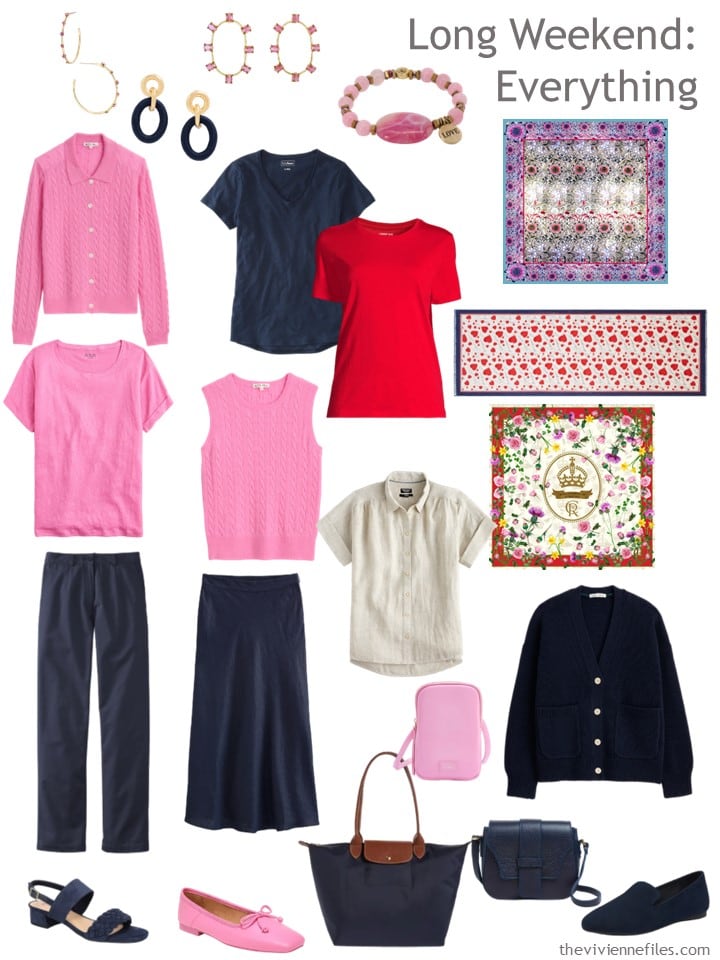 Just as she zips up her bag and considers herself truly ready to travel, the phone rings…
Yep. A week! Someone found hotel rooms for them all, that don't cost a fortune. How can she say no?
But she realizes that she needs to pack a LOT more – she wants to have options, and colors, and accessories…
Not everybody would pack a 4 by 4 Wardrobe – 16 garments! – for a week, but she doesn't really care what anybody else does…
Here's what she will have with her for the long vacation: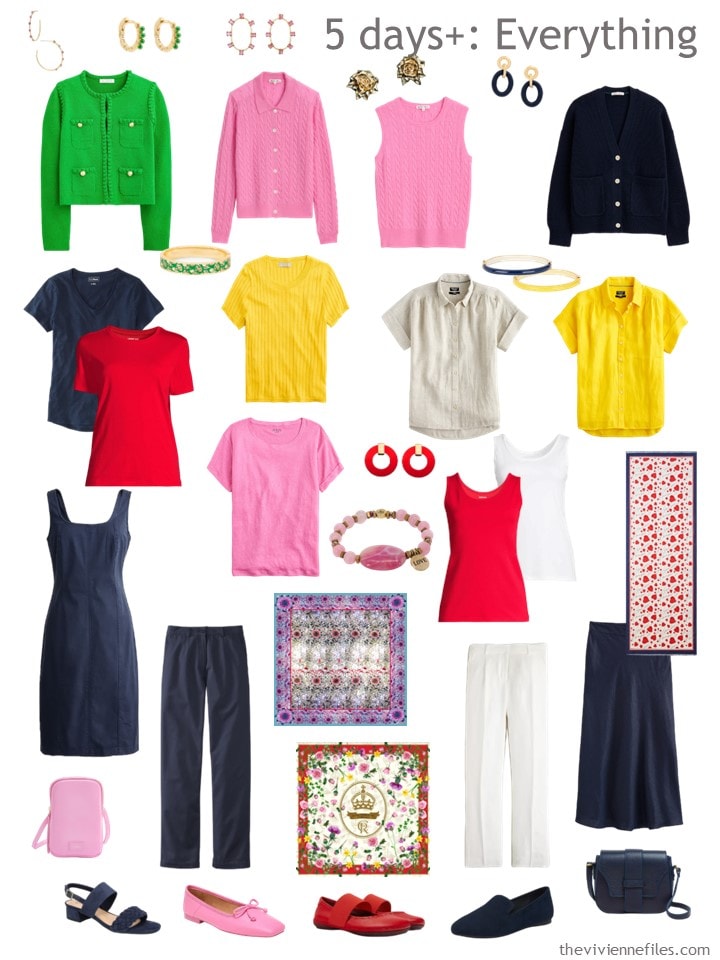 She finally decides that she'd better look at what her outfit options are, just in case she's gone awry somewhere: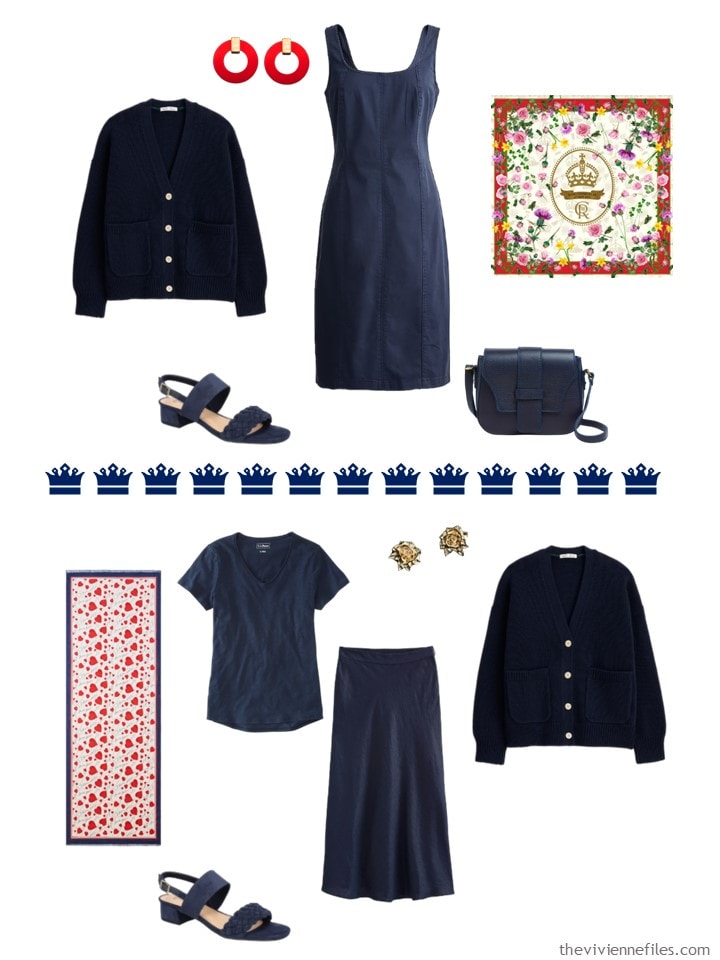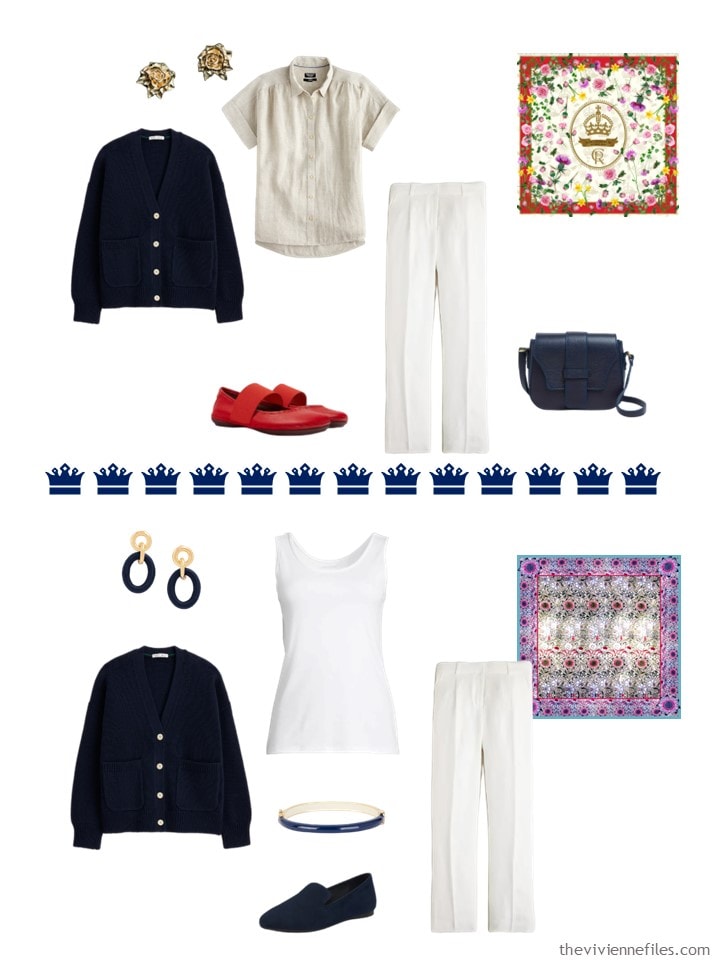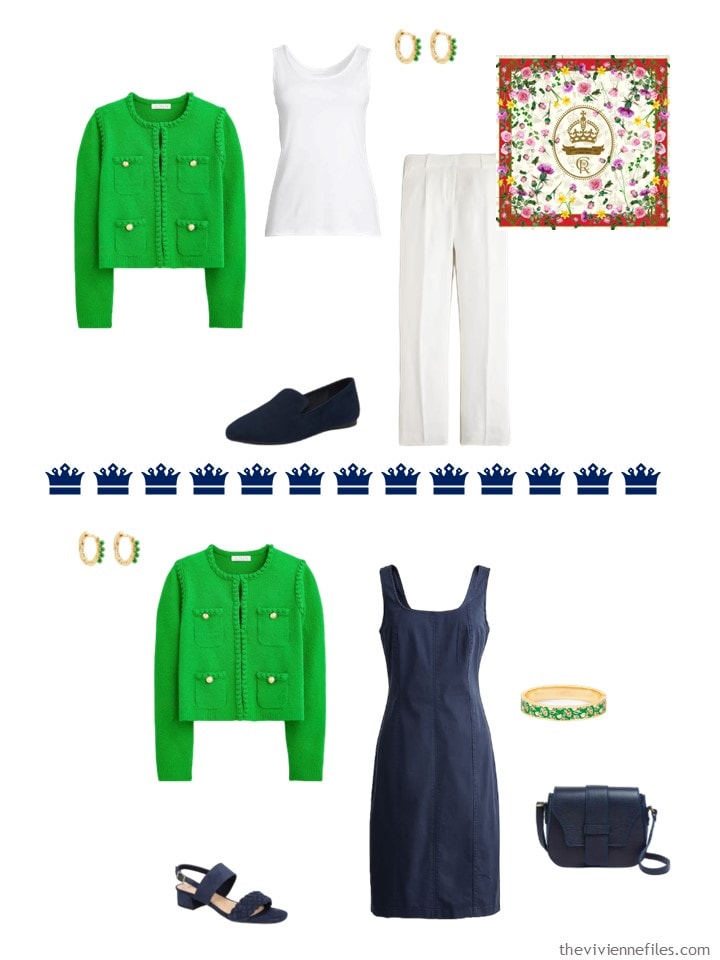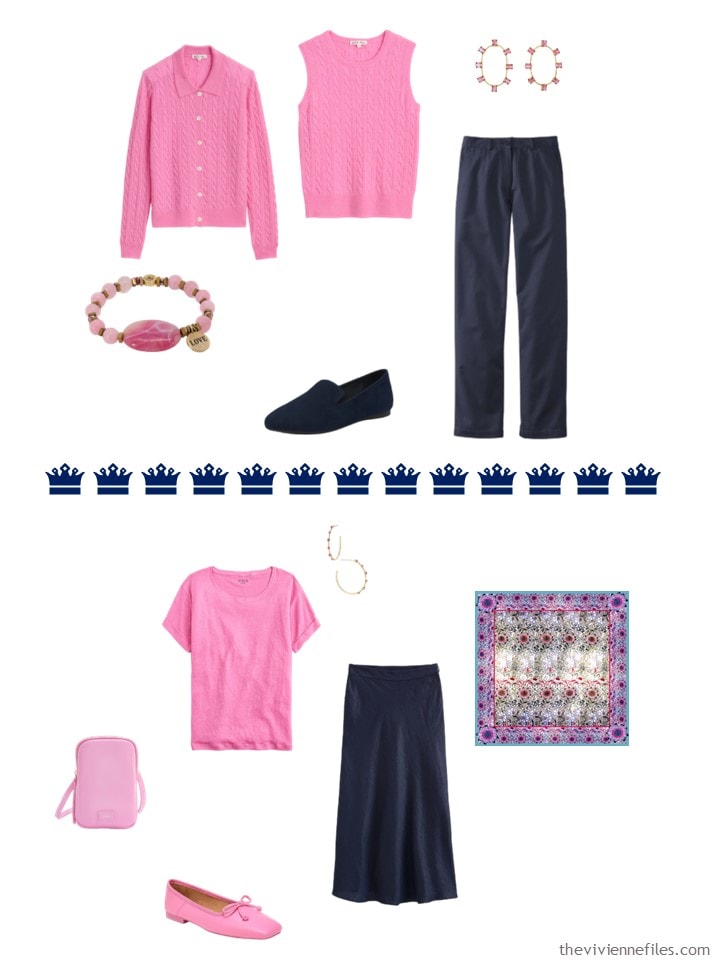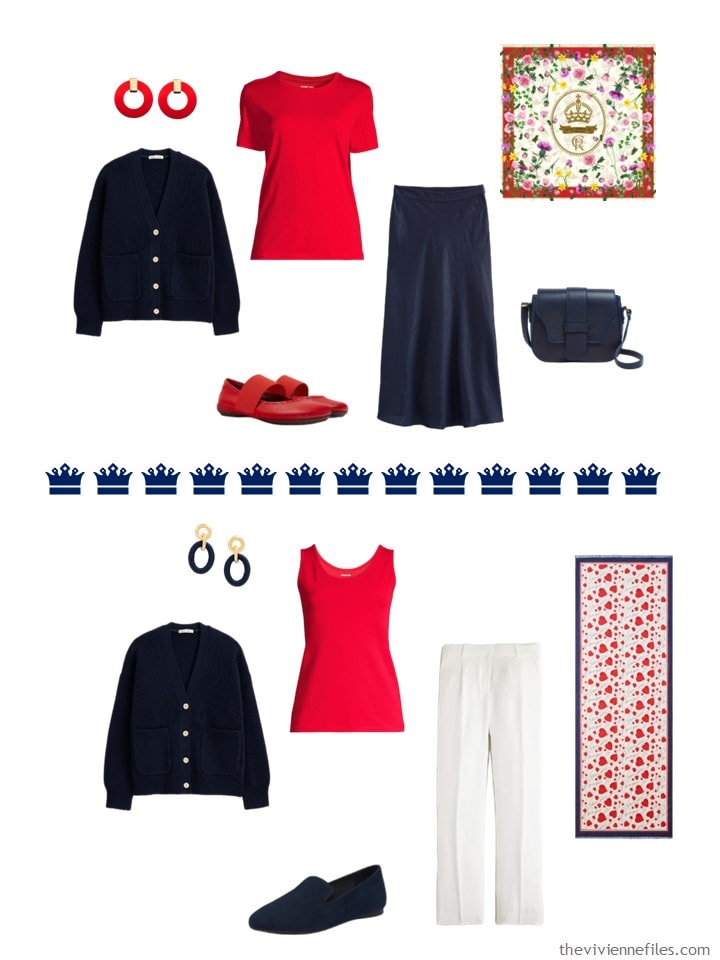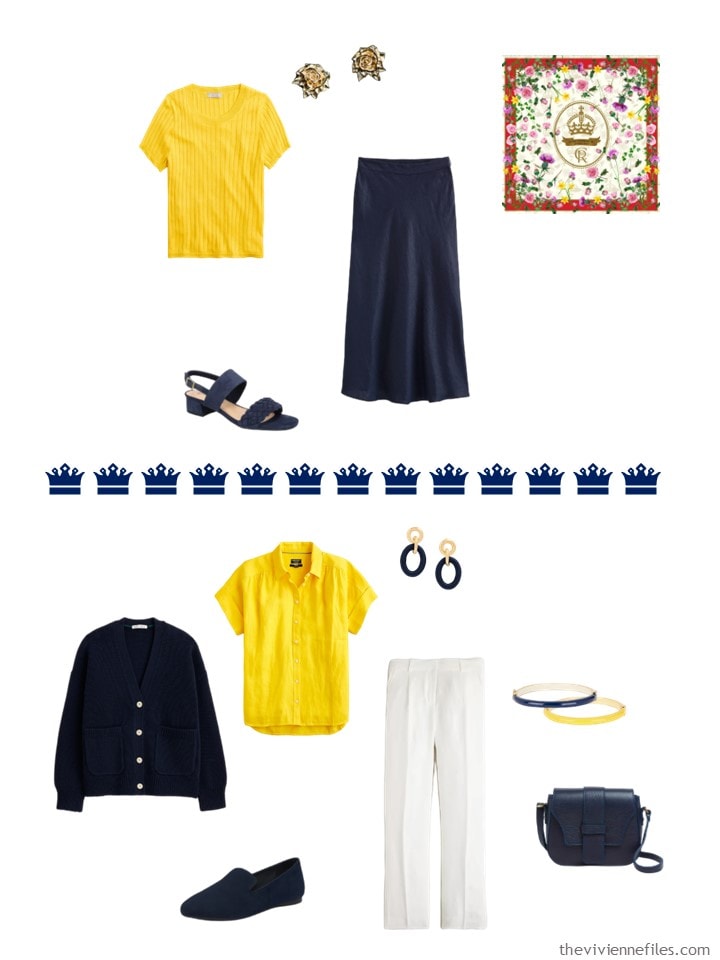 She can, of course, wear her Coronation Scarf with any of her outfits…
I like this kind of planning – sort of "3 garments per day" up to the 5th day, adding 1 extra piece (like a dress) to get you to a 4 by 4 Wardrobe. For longer trips, you can still probably be just fine with 16 pieces…
I'm ready to pack this and go!
love,
Janice
p.s. Six years ago, six "scarf-based" wardrobes got shorts, tank tops, cardigans and some accessories added to them!