February 20, 2023
Let's revisit the friend who has lost her wardrobe; she wants to start to rebuild with this scarf as her inspiration:
For reference – this was the Weekly Timeless Wardrobe 13 garments that she is wearing for Spring:
And these are the bonus garments that will round out her wardrobe:
But accessories! She still has a pair of sandals, and her sunglasses, as well as the earrings she was wearing when they were away and their house was destroyed…
I don't have a clear plan – I'm going to assemble 10 typical outfits from this wardrobe and make certain that she can wear those outfits with appropriate extras. Most important are certainly shoes and a bag or two, in my thinking…
First up, a spring bag, comfortable sandals, and an accent pendant that seems to be perfect with her "light blue radiance" tee shirt:
Depending on how dressy she wants to be, she could wear the sandals above with her pink dress. I'm going to add in a nice pair of dressy sandals for her though; if anybody deserves to dress up and go out for a nice evening, it's our friend!
Since her "core" scarf is from Talbots, I thought it would make sense to look for another scarf from there, to bring a touch of accent color to a simple navy and white outfit.
And why NOT a pink rhinestone bracelet?
If you've been considering a pair of Birdies shoes – I highly recommend them! My beige loafers feel like bedroom slippers…
All heroines need a good tote bag! And these Keds are just a bit dressier than their usual… Classic earrings go with everything!
In a situation like this, I think it's important to find all of your essentials, but also to include a few accessories that exist ONLY to bring you delight! J.Crew has stacks of cool, brightly-color rings right now…
A simple dress is the easiest way to get dressed!
Once our heroine has a good core of accessories, finishing off any outfit with a bit of delight will be easy!
Even on cooler days, you can look at your sweater, and your ring, and smile…
I think we have everything she needs, for now…
No matter what outfit she assembles, she won't struggle to find a few accessories to add a wee bit of pizzazz…
All of her accessories will easily fit into her tote bag – assuming she's wearing a pair of shoes: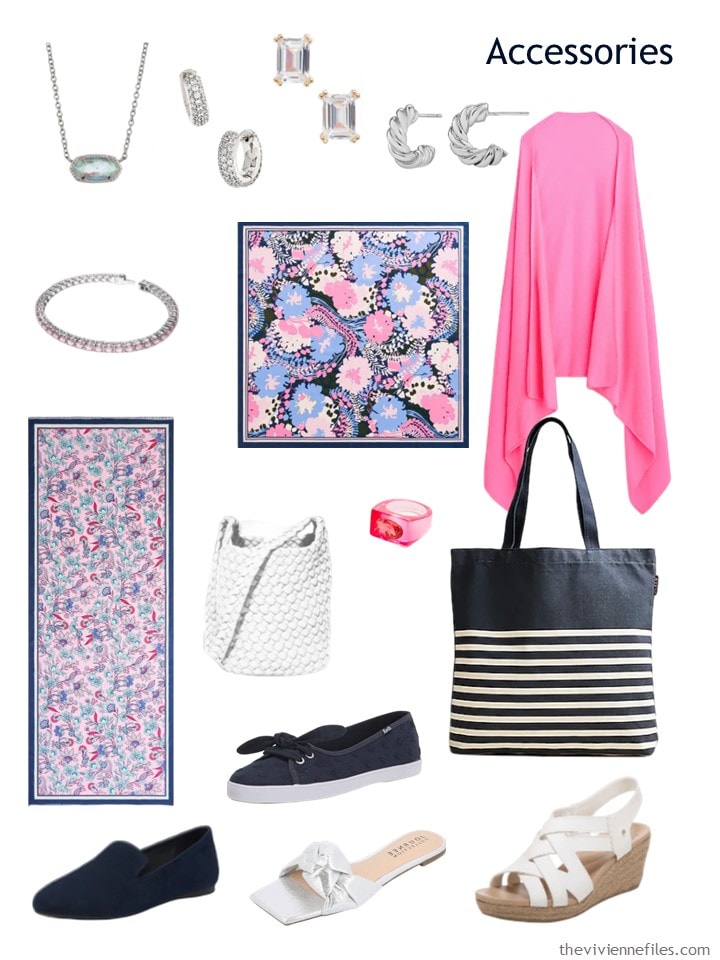 I hope, for now, that our heroine will be able to get dressed every day without too much angst. It can't be easy…
We will indeed revisit this heroine in about 3 months, to make sure that she has enough clothes for warm weather. Swimsuits maybe, and summery dresses…
love,
Janice
p.s. Nine years ago, I added a pink French 5-Piece Wardrobe to a navy and grey Common Wardrobe. So many of these things would be useful today for our heroine!