September 5, 2022
Has anyone else read Ruskin's "Stones of Venice?" I own a gorgeous antique set of the FULL THREE VOLUME painfully thorough books… They're beautifully bound in green leather, with gold tooling, and they're sized to be packed when going on the Grand Tour of Europe.
I confess that I took 1 volume with me a couple of times I traveled to Venice; it was amazing how little has changed there since Ruskin's time…
So, odd as he was, I'm a fan!
This heroine saw her friend's new blue garments, and was inspired to go back to her "source scarf" and take another look. Sure enough, she could easily incorporate more blue into her wardrobe, too!
And she found earrings that included "her" blue and olive green – those kinds of finds are such fun…
Her new purchases bring a stronger presence of blue to her wardrobe, but they don't clash at all: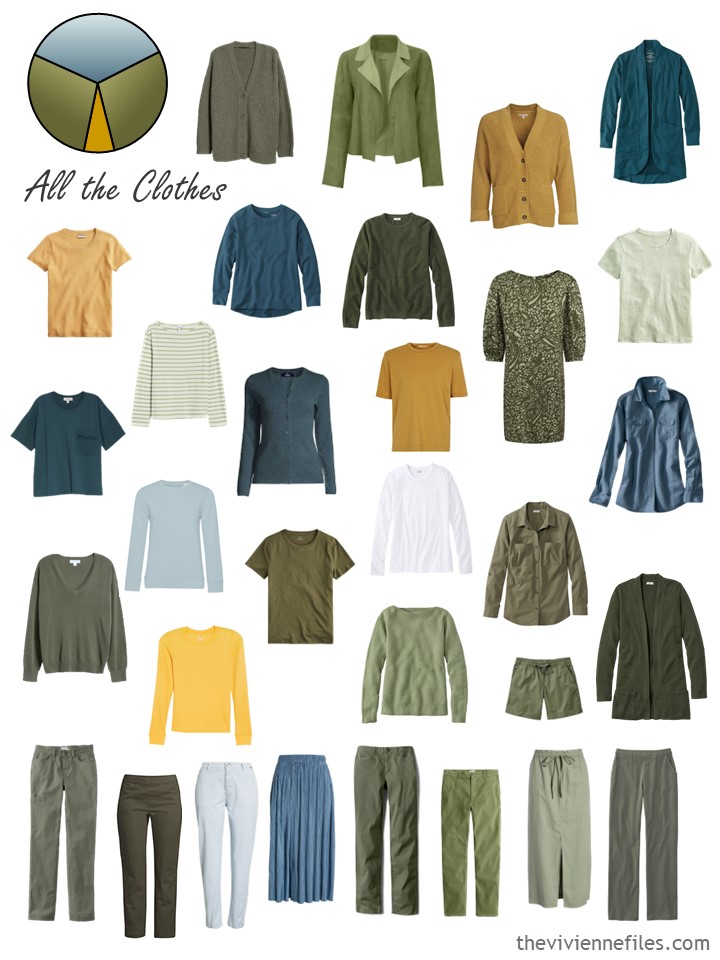 And her accessories keep getting better and better! Those blue shoes are a real change of pace for her…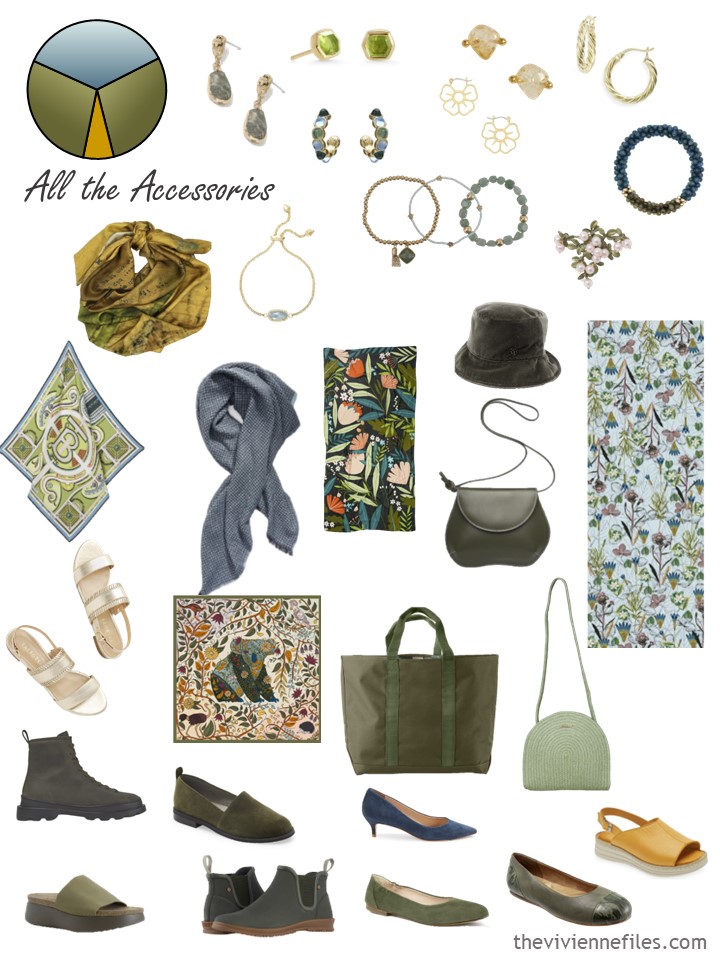 Her new slate blue purchases are the same intensity as much of her olive green neutrals, so they look just right together…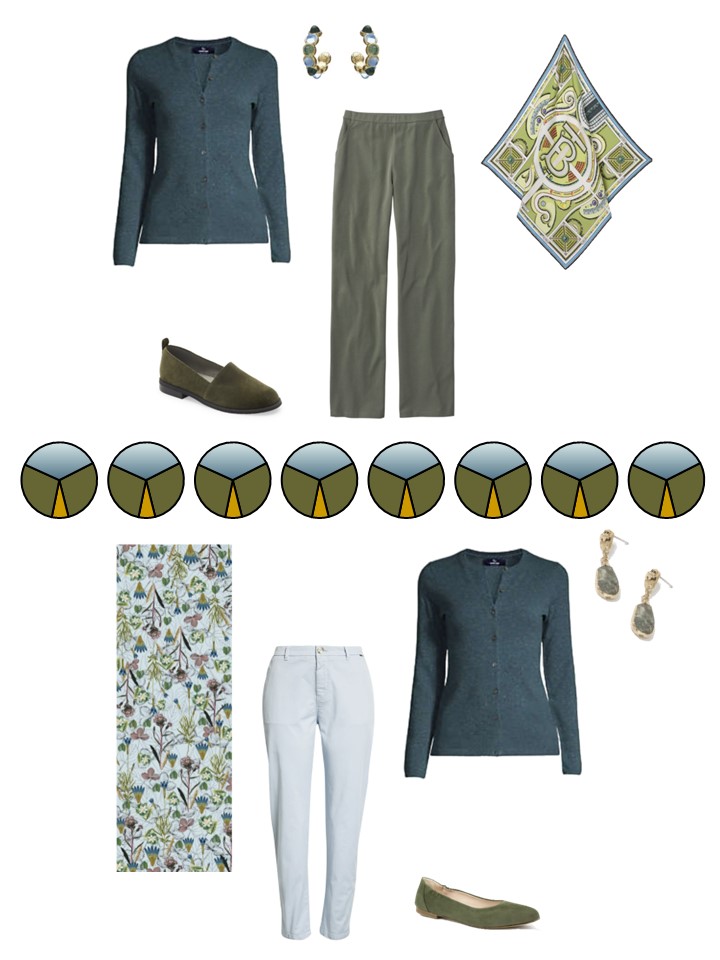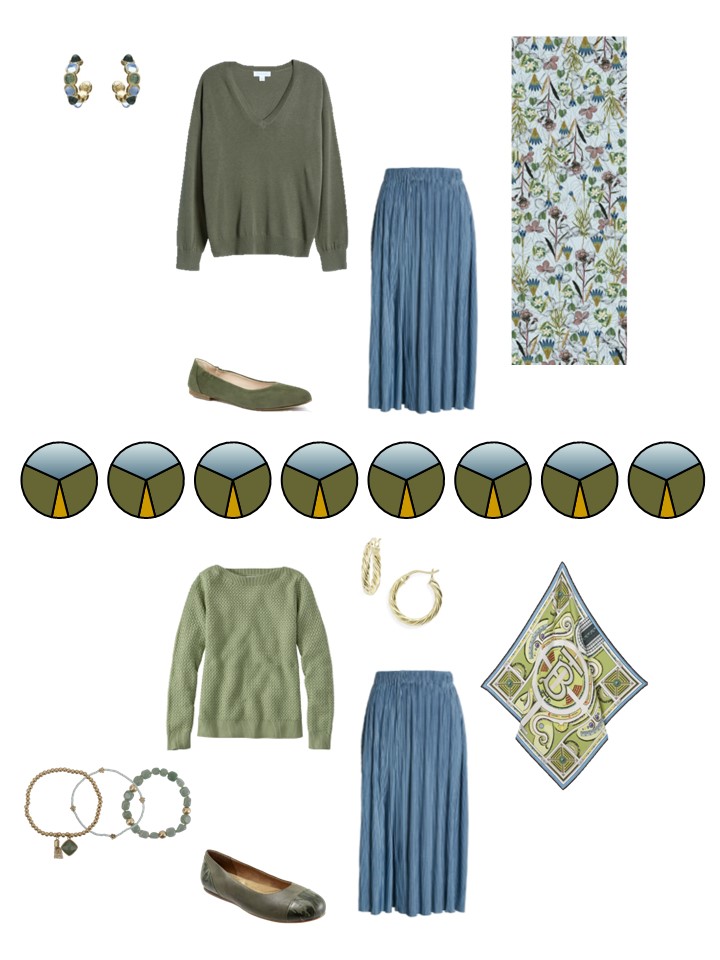 Having a blue shirt is a nice way to break up an olive "suit."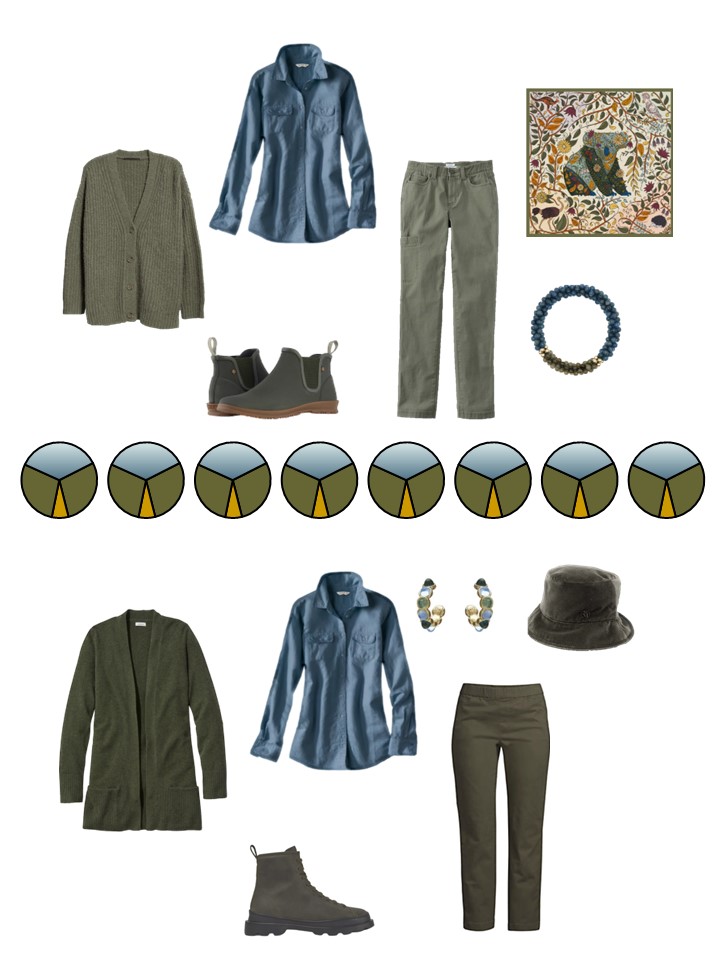 We're starting to see just a few leaves this shade of yellow, in Chicago… There will be more soon!
Our heroine really wanted a cashmere turtleneck – she was delighted to find one in a lovely chocolate brown! With classic brown chinos, she now has a solid column of brown upon which she can wear all KINDS of things…
And a corduroy shirt – nothing spells autumn like corduroy:
please note that the bottom scarf here is described as being grey, and the loafers are "black amethyst." What in the WORLD they really look like is hard to know!
Her wardrobe grows gradually, but never changes the overall mood and feeling: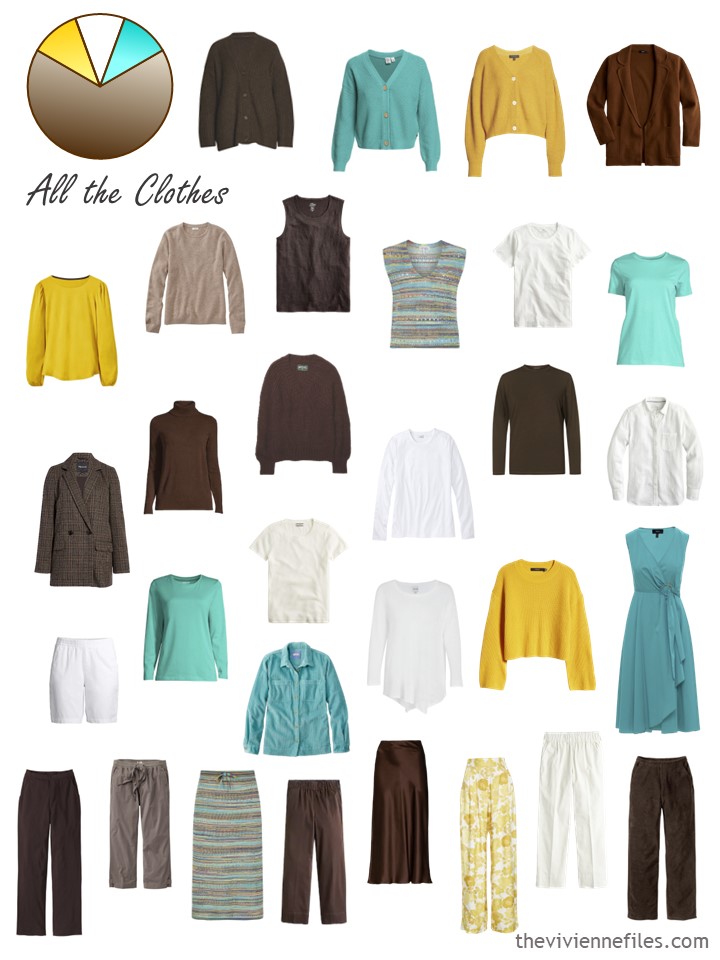 I love these accessories – I can't explain why, but these are my favorites!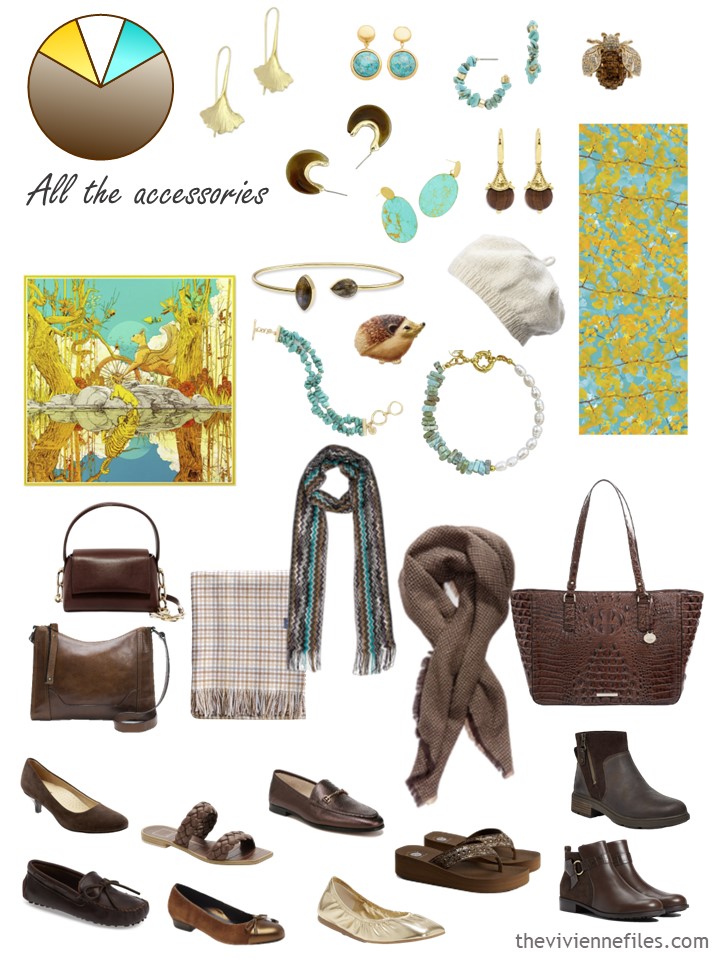 With so many scarves, and lovely jewelry, wearing a solid column of color is far from boring: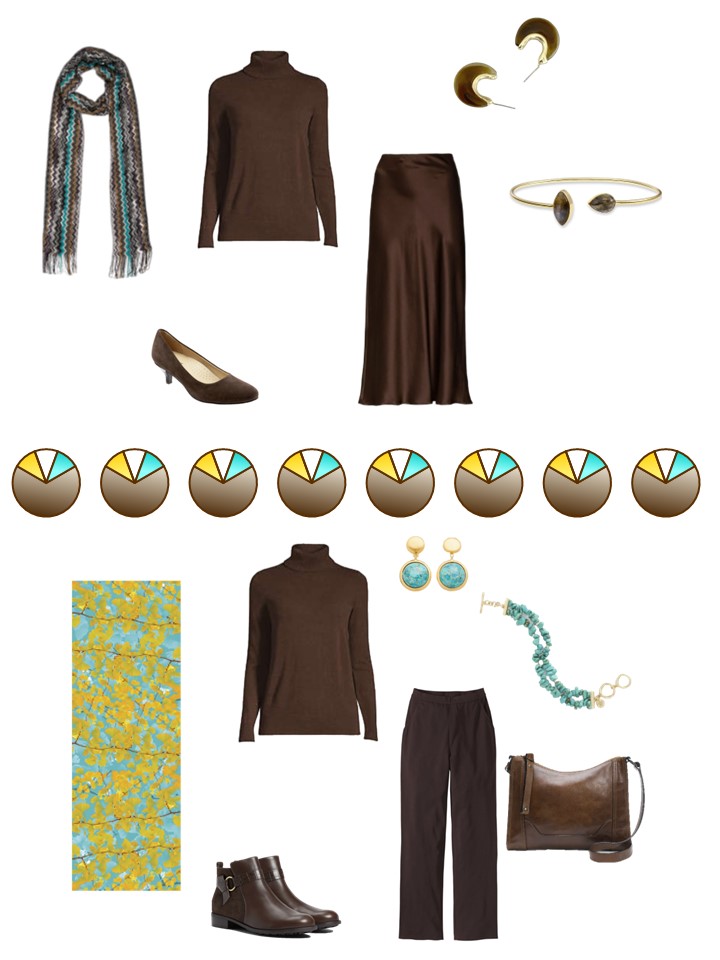 I love the monochromatic textural beauty of this 2nd outfit: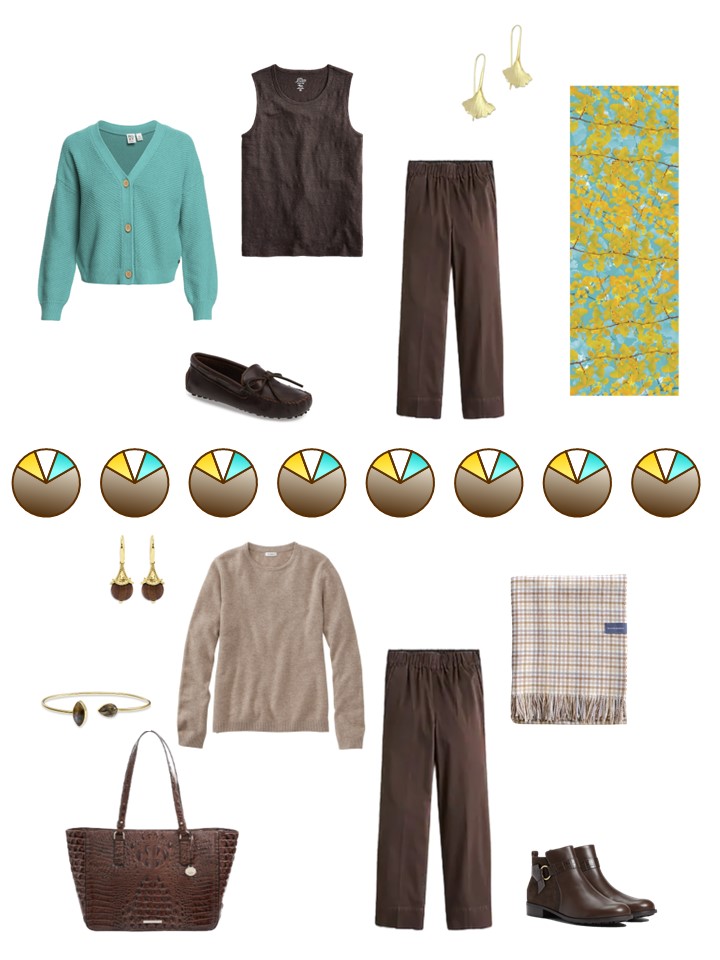 The corduroy shirt completely changes the feel of the textured top, and takes simple white clothes into fall…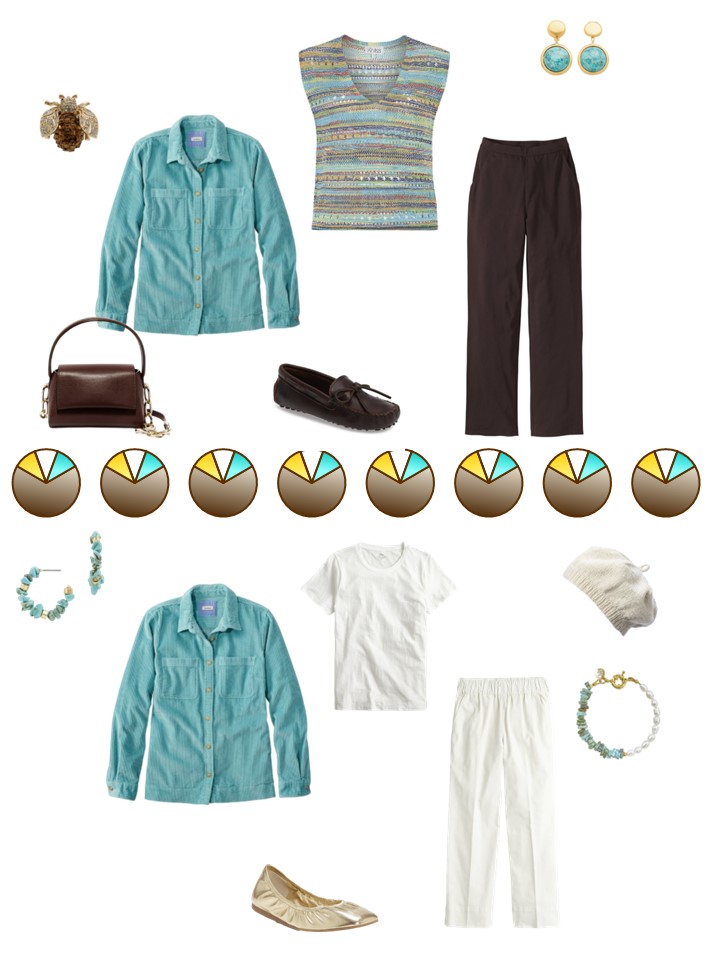 Is there a garment, or fabric, that really expresses the change of season for you? For me, it might be corduroy pants, or a cashmere sweater…
love,
Janice
p.s. TEN YEARS AGO (holy handbags of Buddha!) I introduced the original Common Wardrobe. It was the core uniform of the advertising world, back then; it served as the neutral background for a range of expressive and sometimes outrageous garments!