July 4, 2022
My emails tend to come in waves, topic-wise. Recently, it seems that a great many people are concerned about having to return to "real life," be that an office, or lunch dates that used to be regularly scheduled, or other social gatherings that have been cancelled for the last 2 years.
So this month I think that our heroines are going to all look for a dressy-ish outfit that resembles either a suit or includes a skirt… Good for work, good for social events, good for worship services…
First up, if you have to go to an office, you can pretend that you're wearing a suit, if your pants and shirt-jacket are made of the same fabric!
Our heroine now has a 25-piece wardrobe, which makes getting dressed pretty simple:
I'm pretty smitten with her accessories…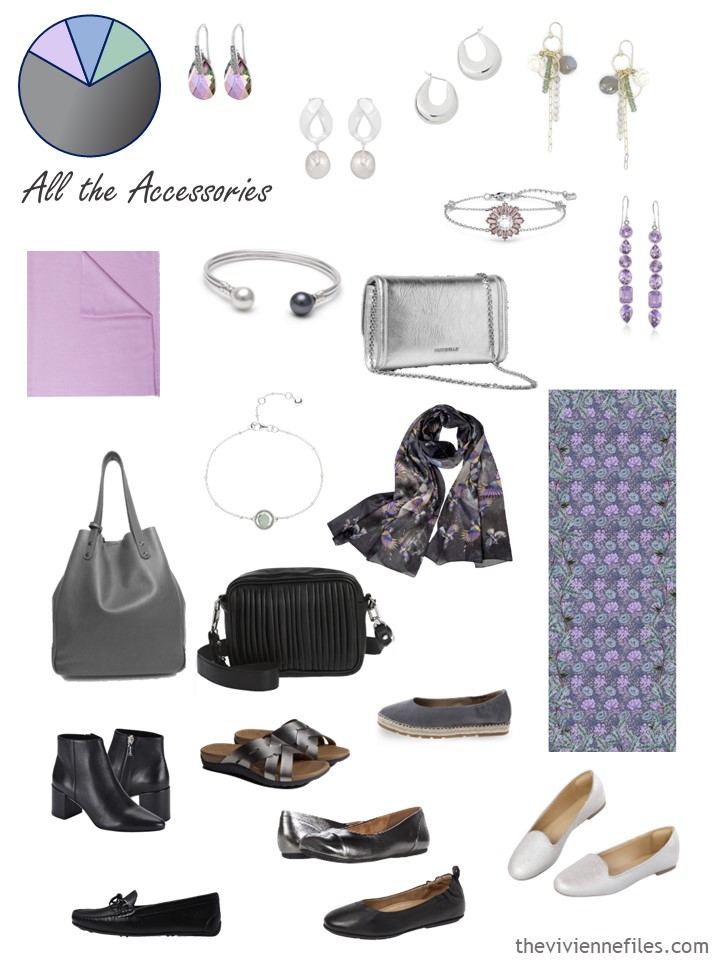 As always, 3 new garments should give a smart heroine at LEAST 6 new outfits…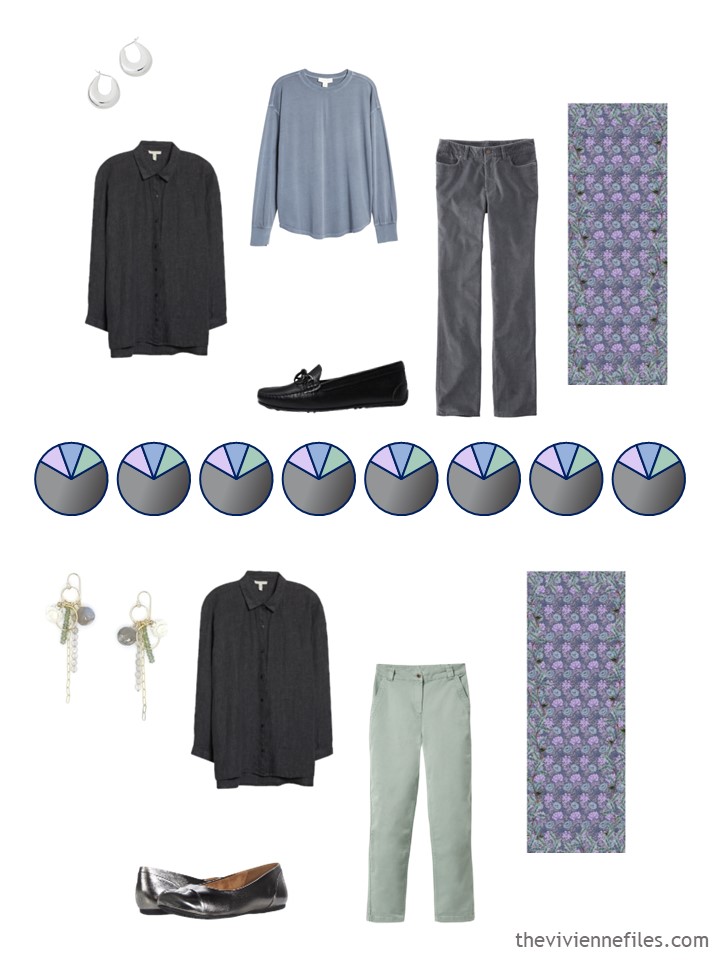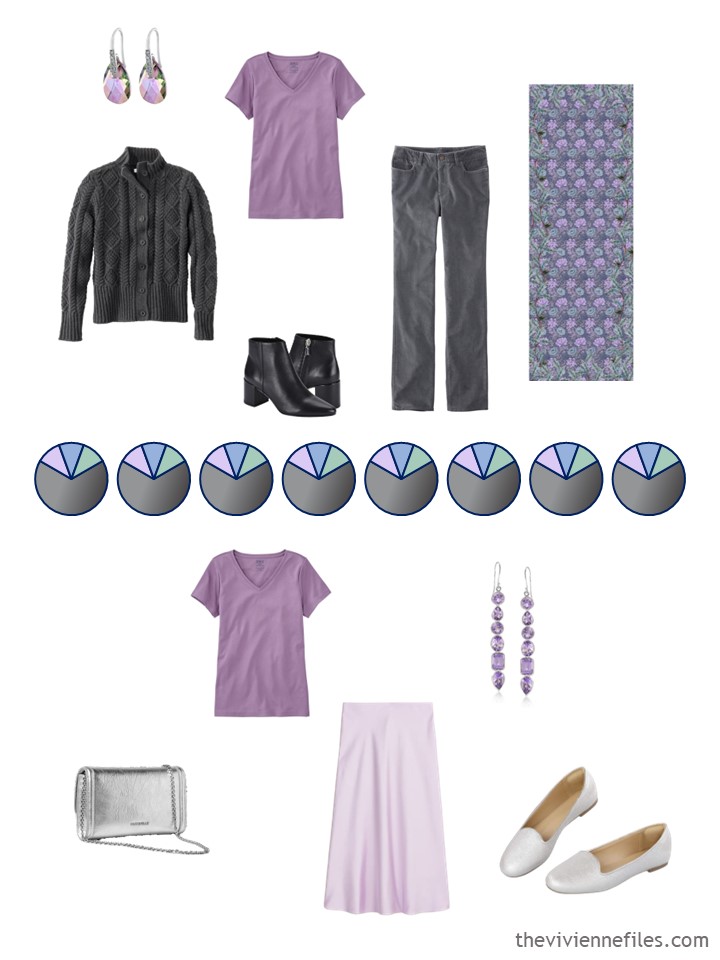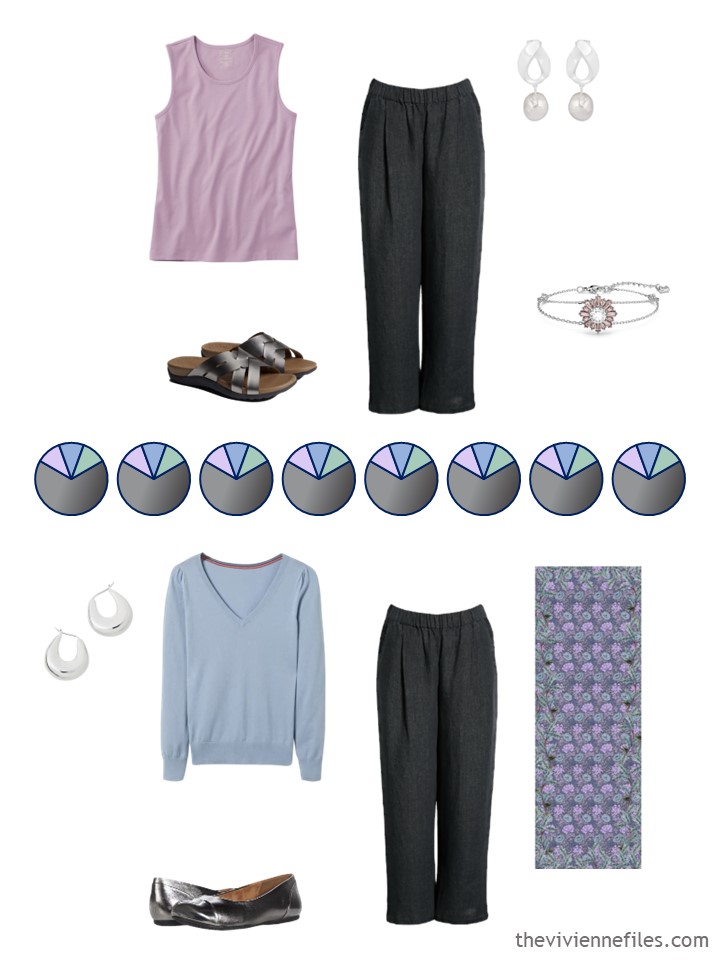 Our heroine who loves green is next…
She found an AMAZING suede jacket, and then struggled patiently for ages to put together a perfect outfit!
Her new clothes bring a bright new shade of green into her life: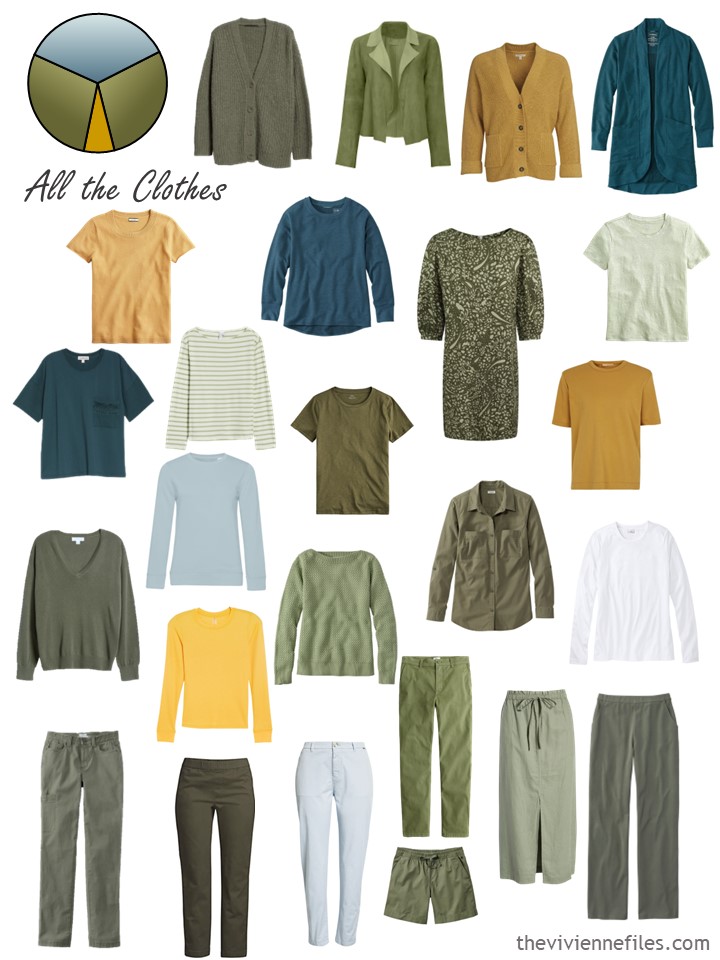 And her accessories just keep looking better every month!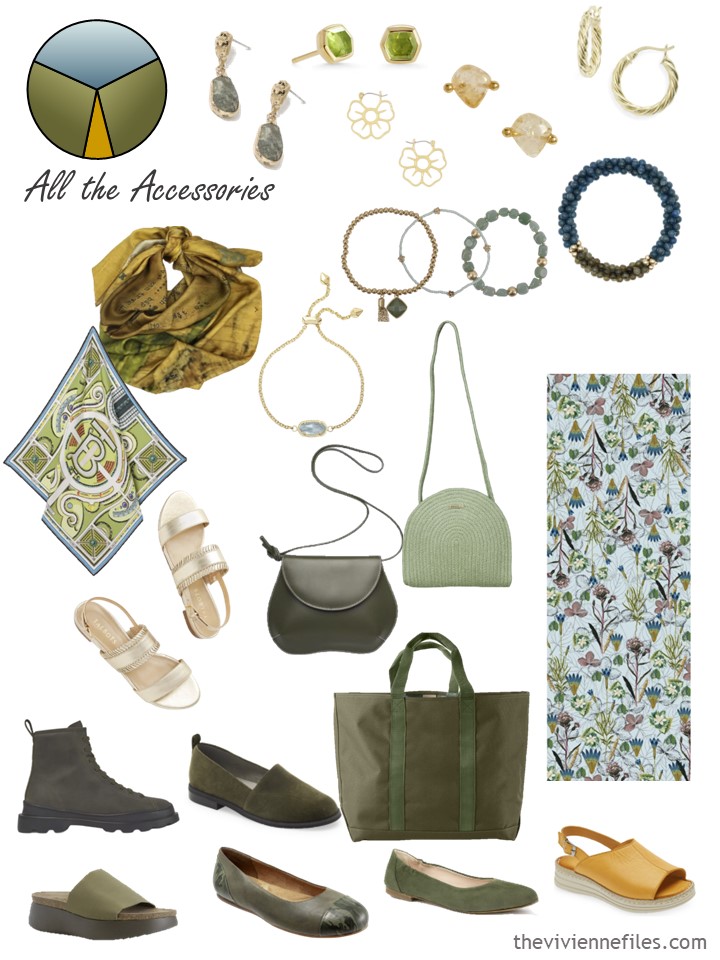 This wardrobe really only works for someone who likes to mix shades of green. These people exist!
digression: does anyone remember a book from childhood that included a teacher named Miss Moss? She always dressed in green? I can't track it down, but I remember the character clearly because of her monochromatic wardrobe…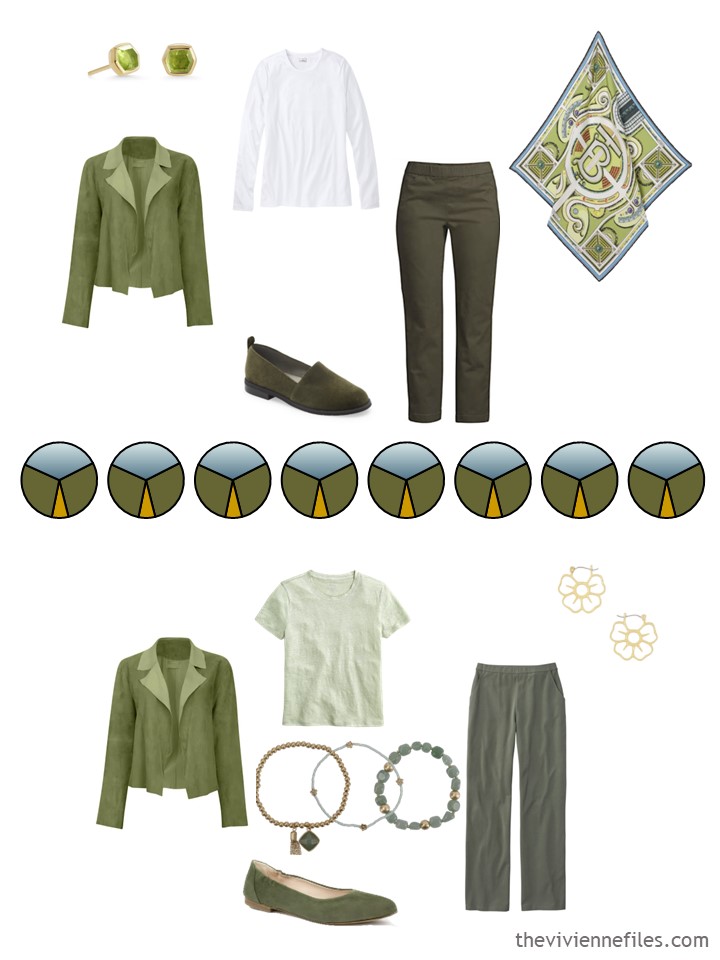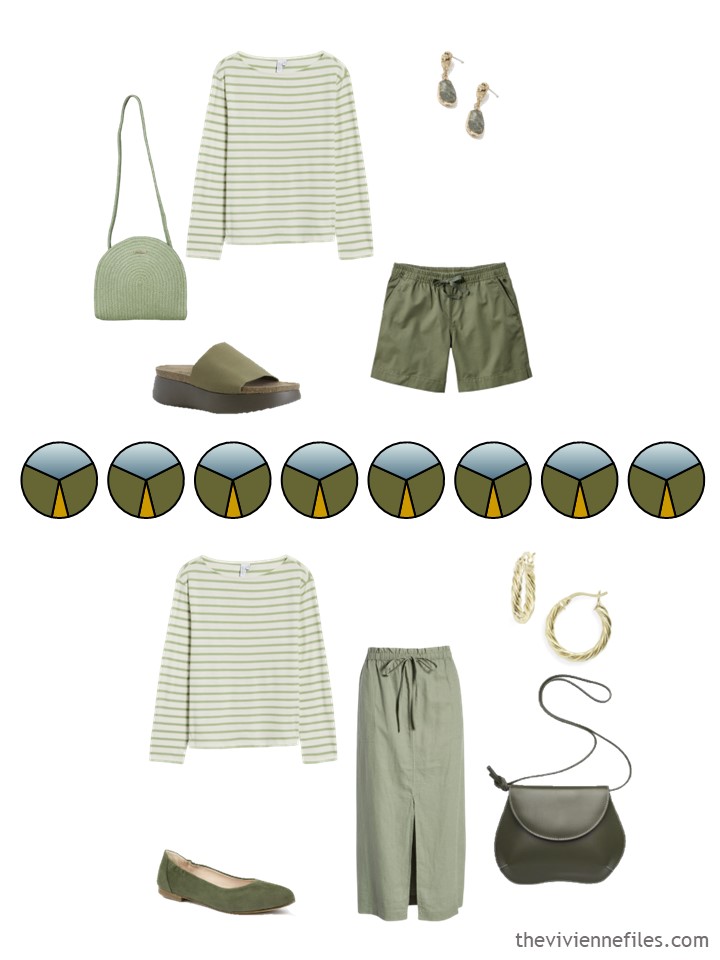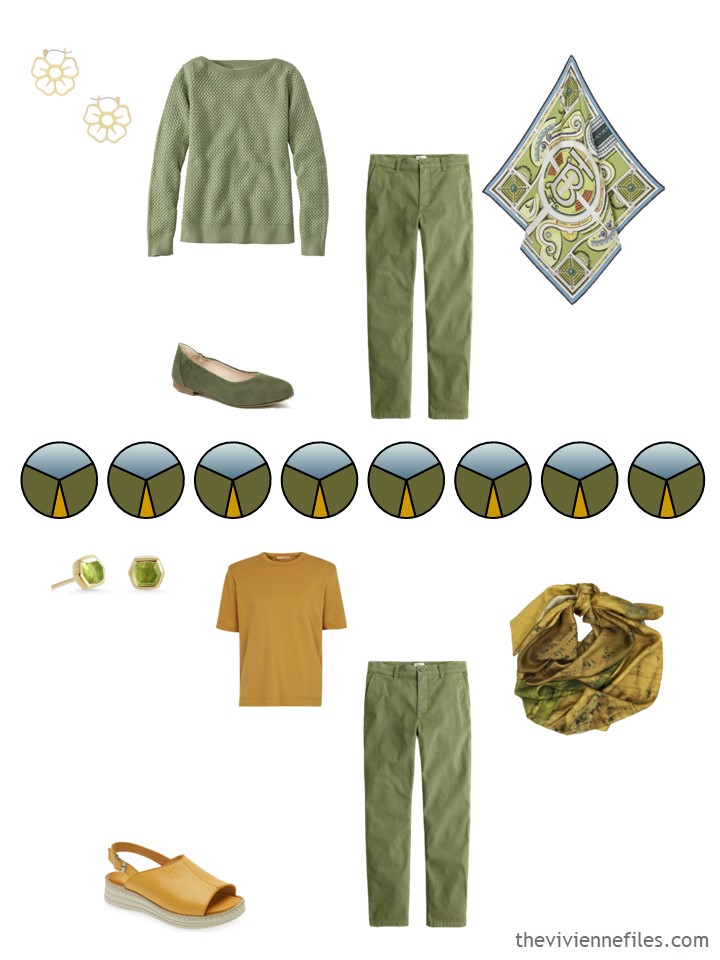 I'm always thinking of this next scarf, because Chicago is in "full hydrangea" mode these days… Such lovely shades of blue and purple!
This heroine feels like someone who MUST go into their office, and who has decided to mix up some prints (and quilted shoes!), in the world's smallest rebellion against authority…
Her wardrobe will certainly see her through office visits twice a week…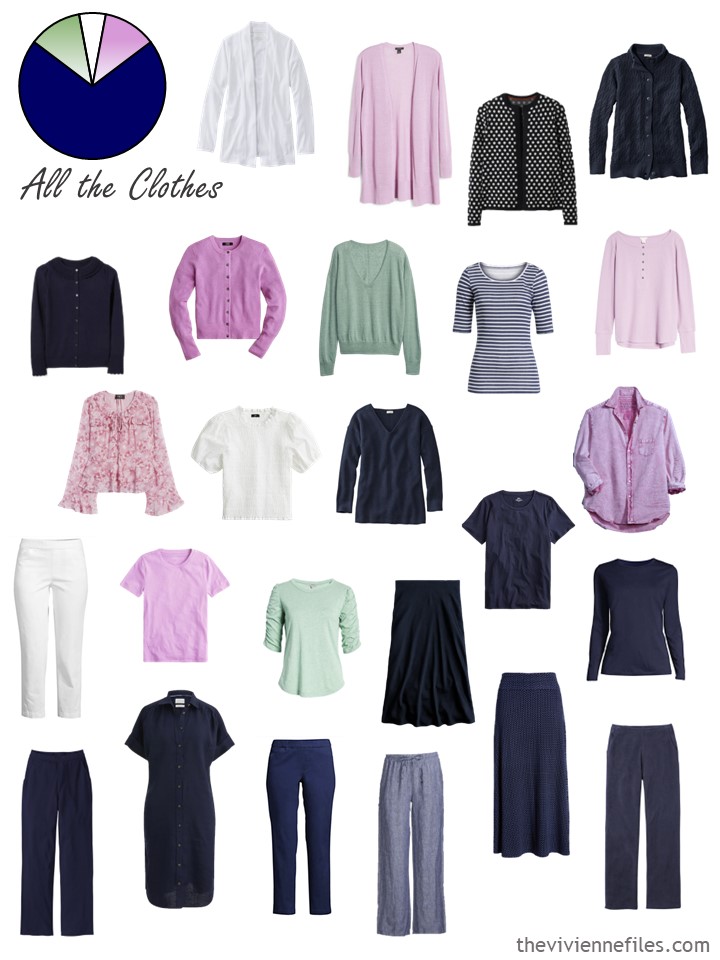 More accessories with which I am smitten…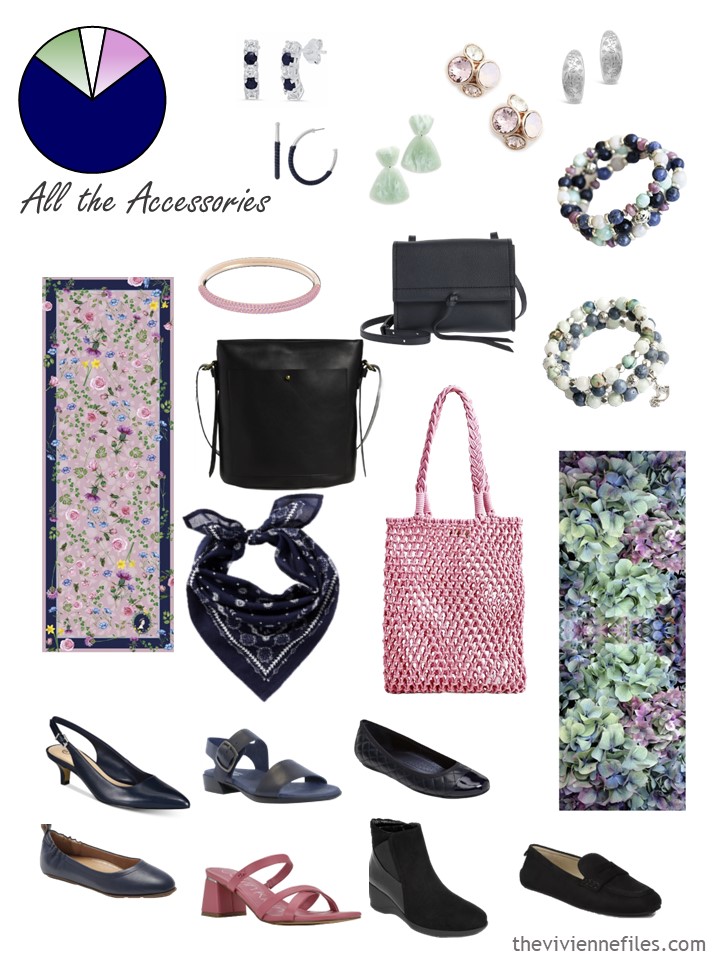 This heroine won't have any trouble dressing appropriately for public life, at least through the end of the summer!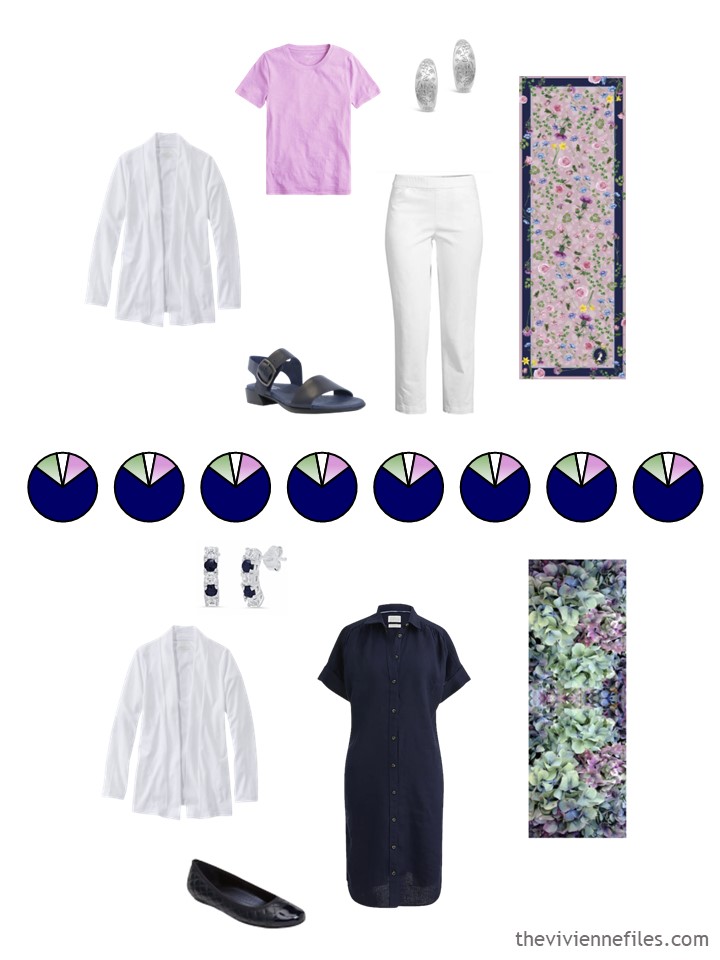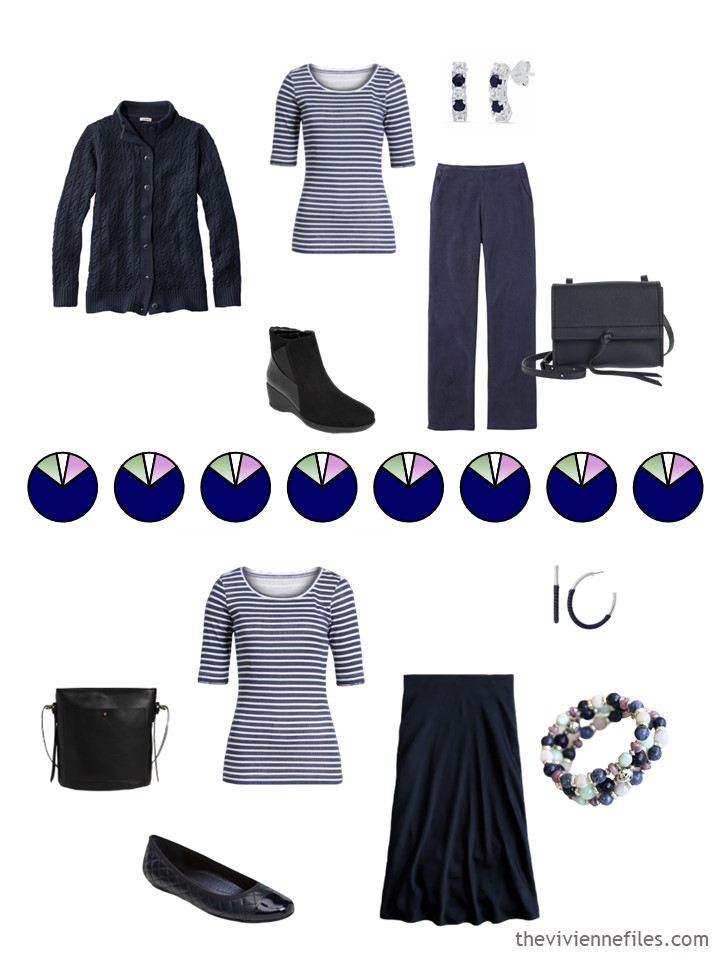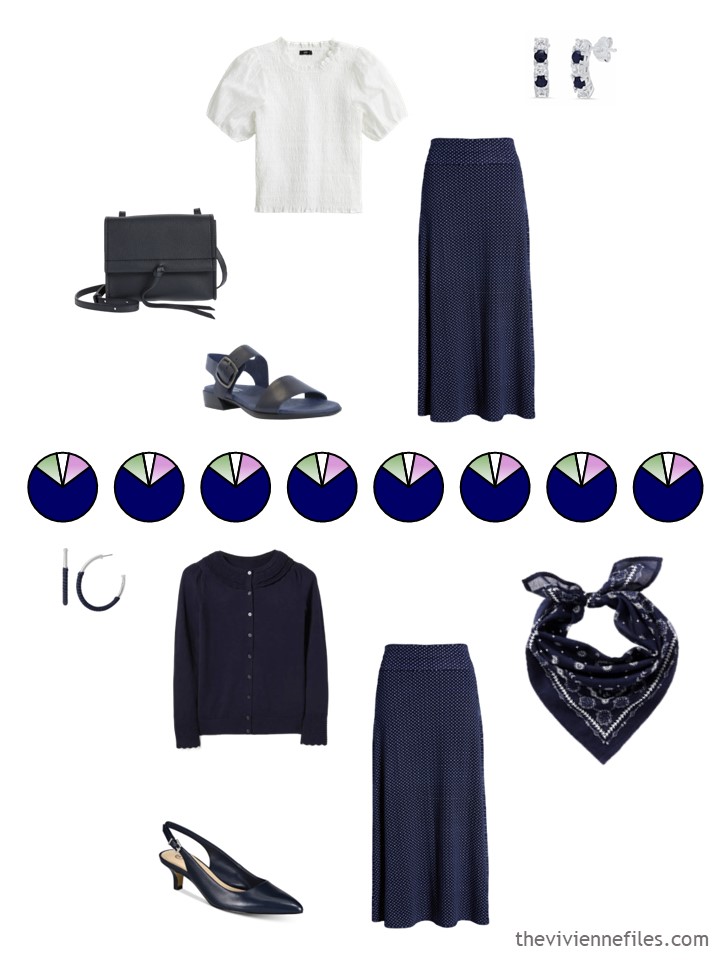 I'm growing to REALLY love turquoise and brown together…
This heroine found THE BEST 2-piece dress imaginable, but she's still pretty prickly about being required to go into her office… Does the hedgehog deliver the message!
I can vouch for the brooch – these are nicely made!
For someone who wears brown a lot, this heroine does NOT have a dark or drab wardrobe: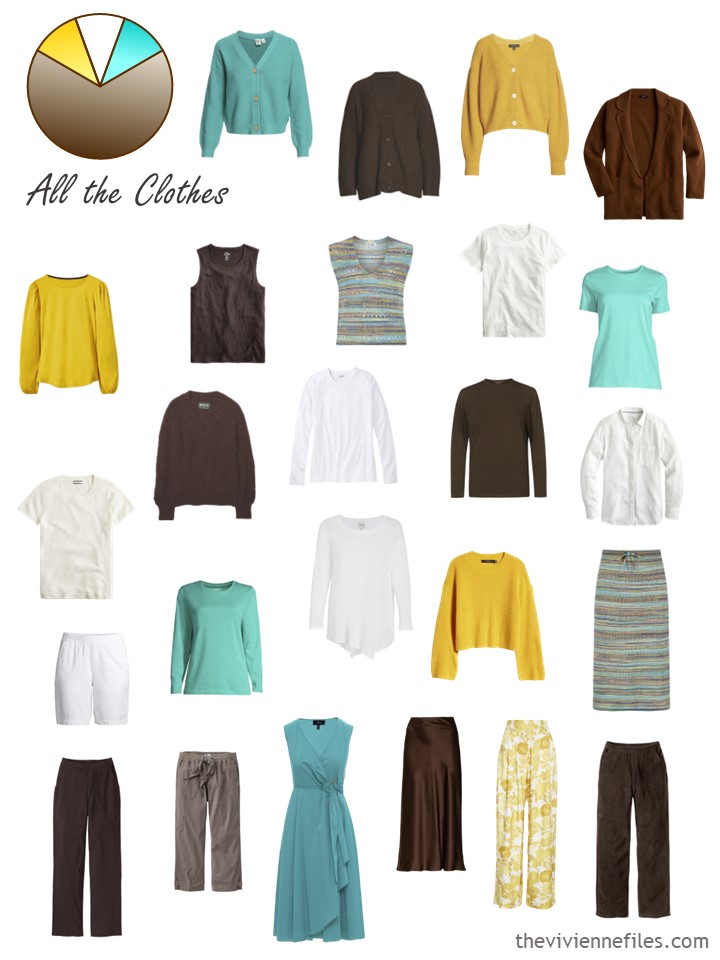 And she has the BEST accessories… sigh…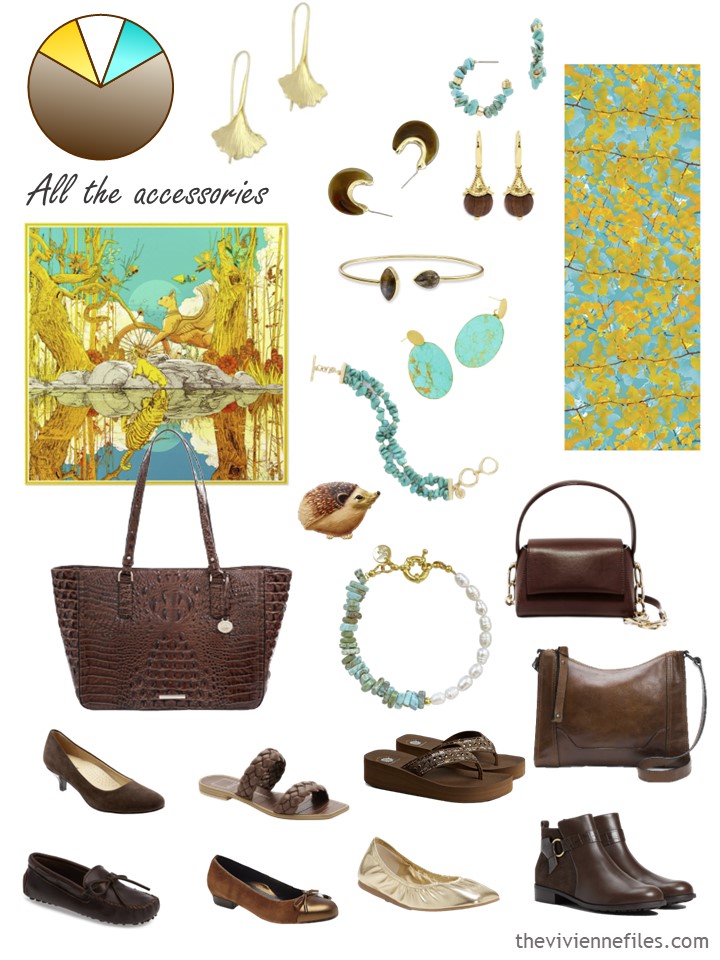 Happily, her new clothes work well with what she already owns. In all fairness, one could make a good case for buying this 2-piece dress even if it didn't go with much of anything else. That happens sometimes…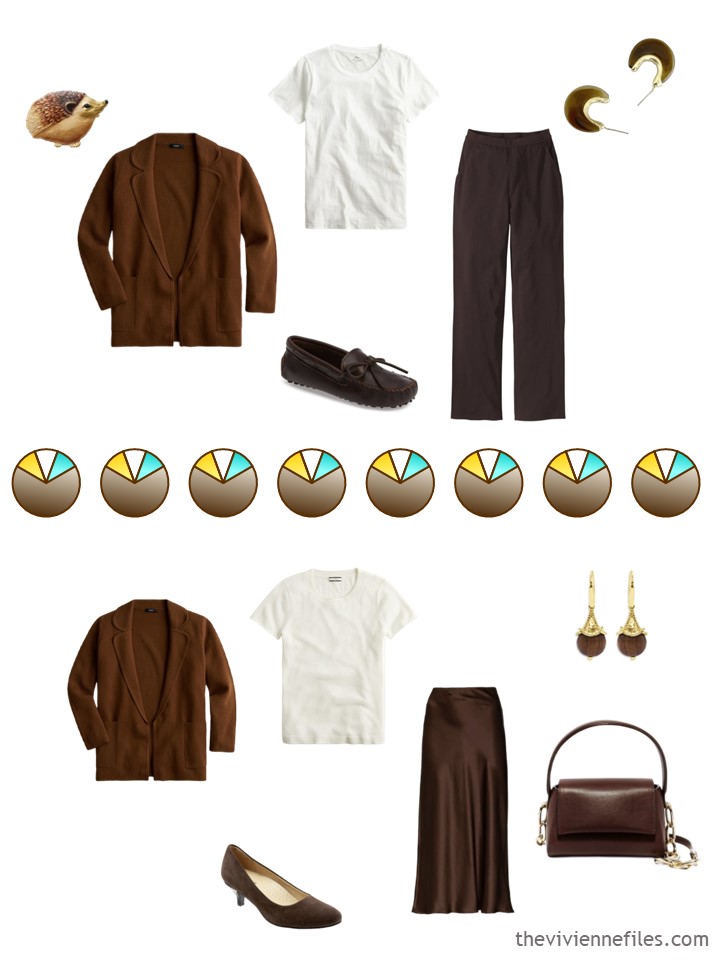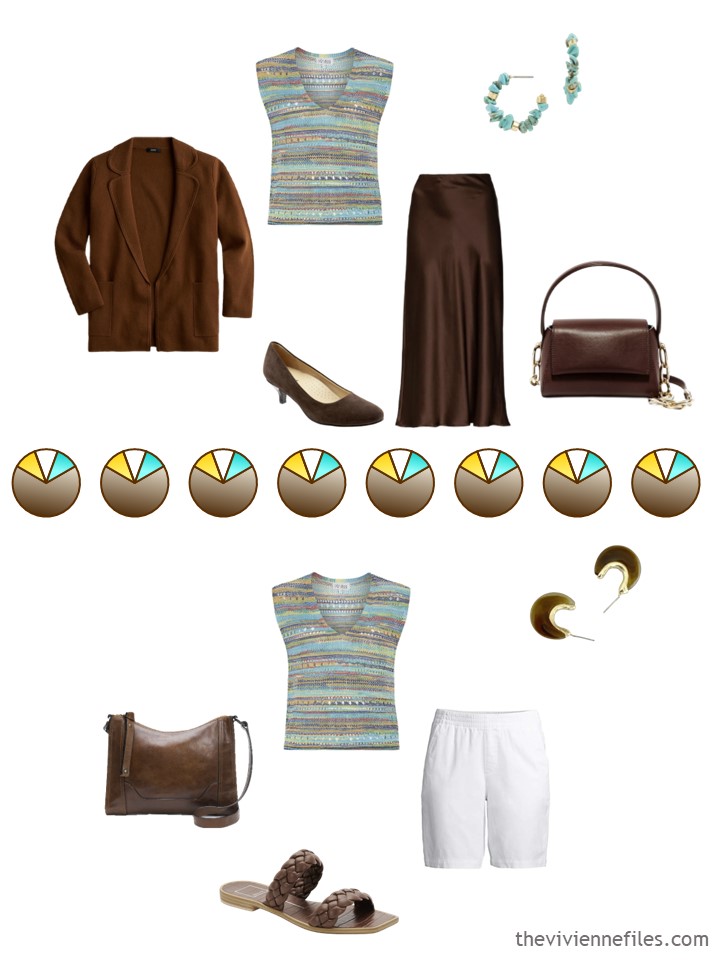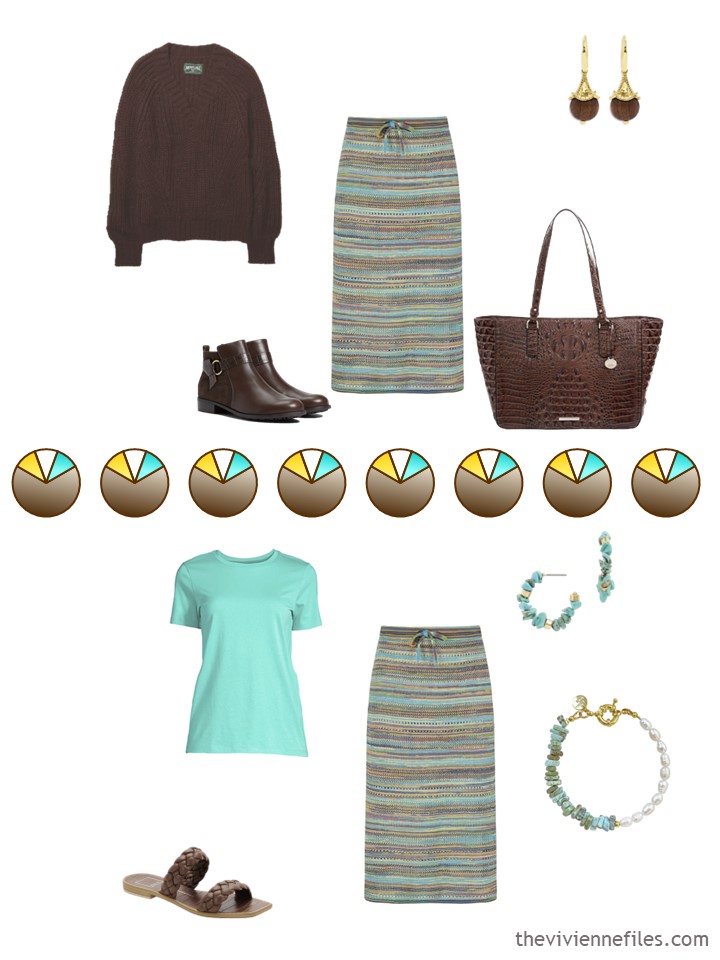 Did I tell you that the lovely people at PJ Studio Accessories gave me a Tree of Life scarf? It's much more lovely in person than it is in photographs, but I think that's often true of scarves…
And wool and silk together in a scarf? A beautiful texture, not wooly and scratchy, nor slippery and hard to tie…
This heroine doesn't yet have ANY camel in her wardrobe… Time to rectify THAT situation!
These 3 pieces are going to make a lot of difference in this wardrobe!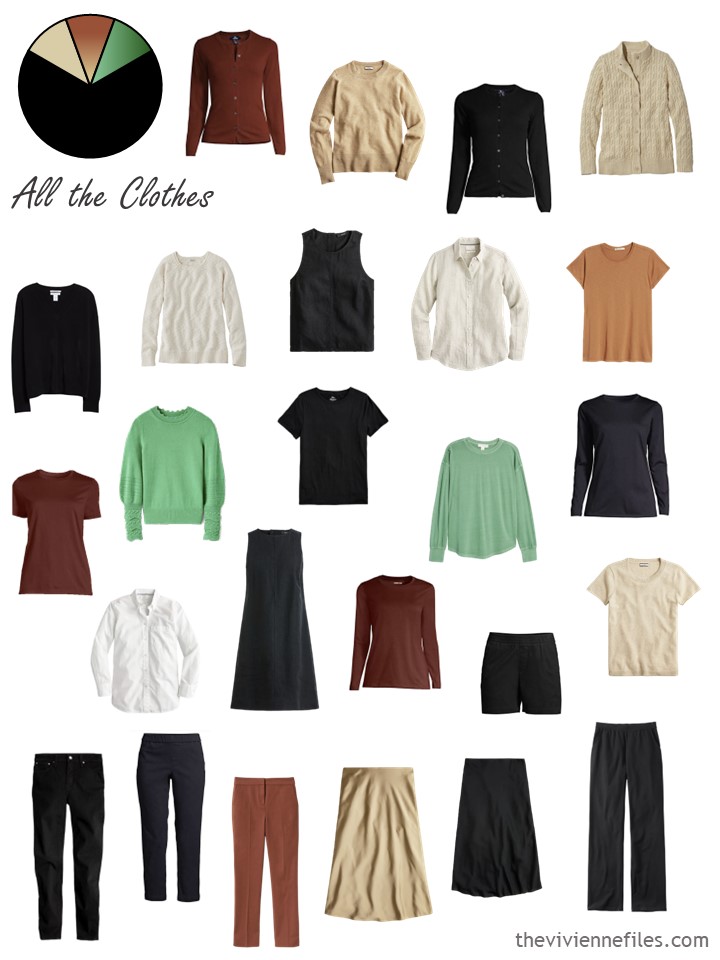 Even the accessories seem to have a lighter feel: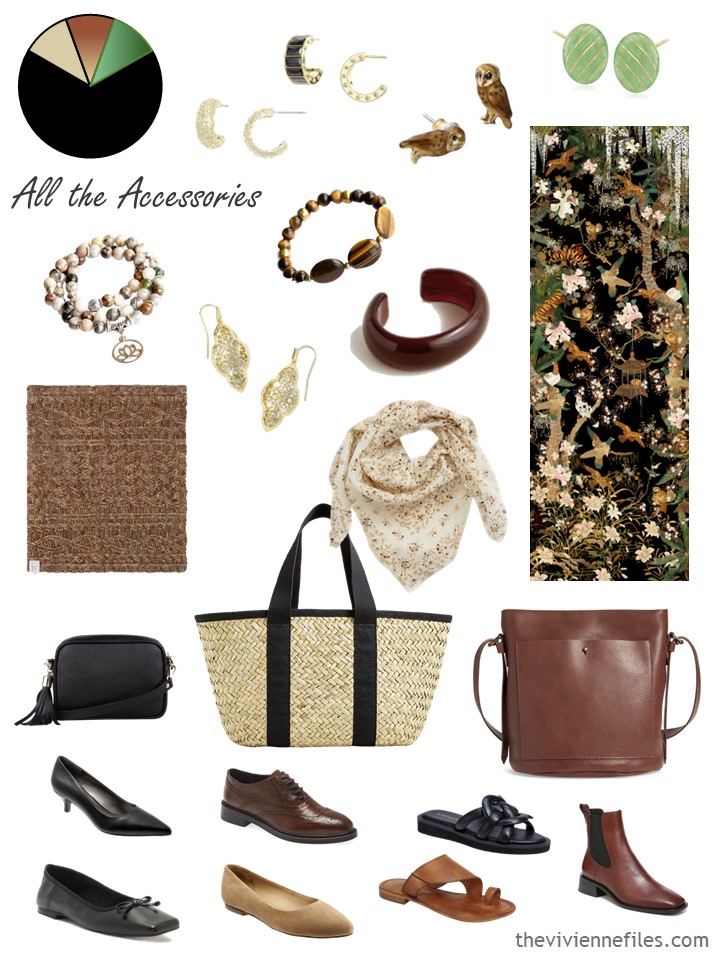 Yes, cashmere in July. If you've ever worked in an office, you know that sweaters are 12 month garments in high-rise air conditioning!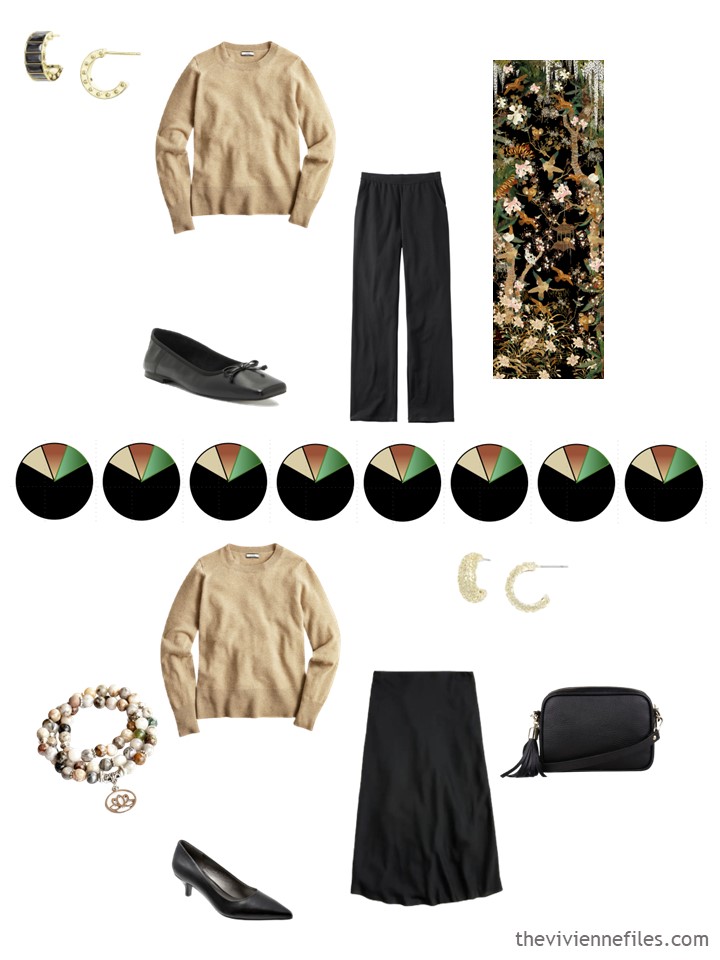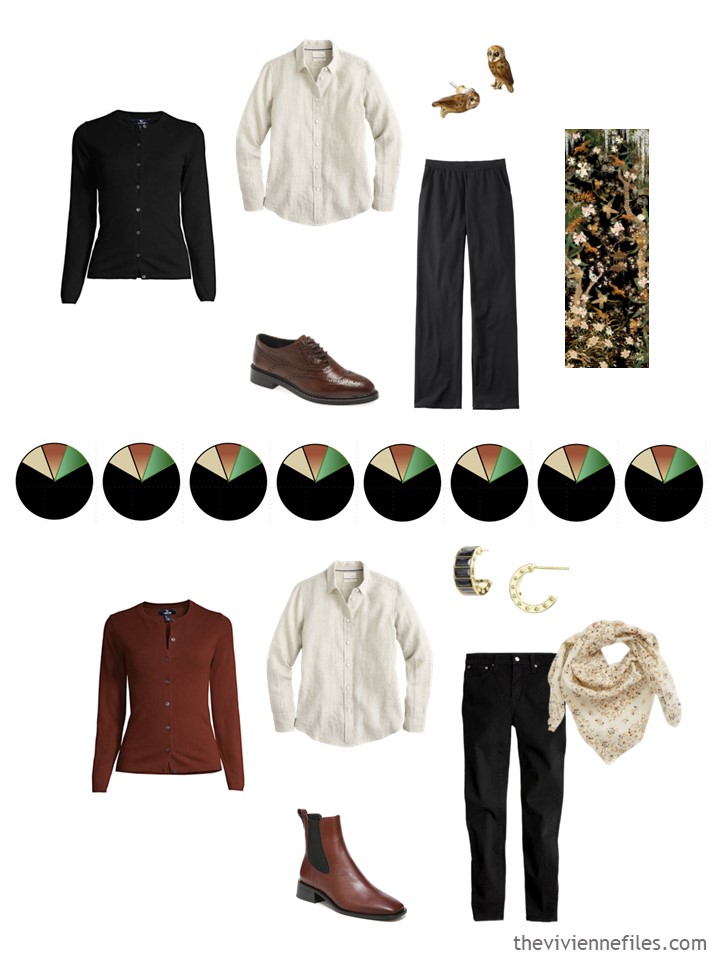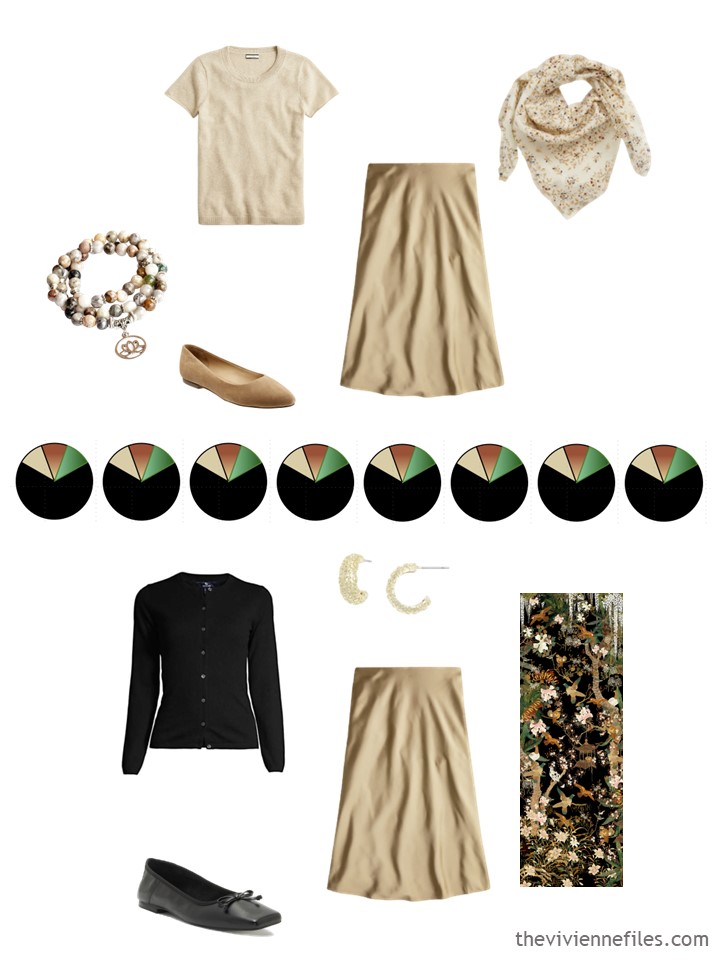 Last but never least, our essence of summer wardrobe!
This heroine needs some new things to wear when going out with friends – something cheery… and yes, she would absolutely wear white moccasins with a skirt, if she just wasn't in the mood for sandals or ballet flats…
I have to feel like this heroine doesn't live someplace where there's a lot of snow…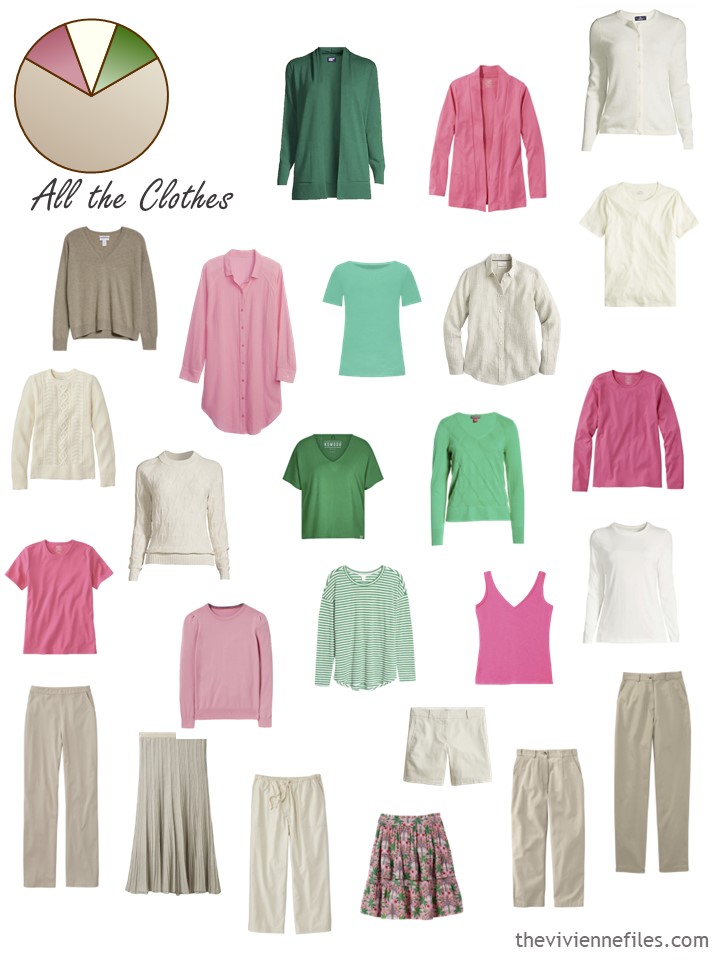 When in doubt about what color leather goods to wear, don't forget the possibilities of metallics. This heroine would be at a loss without gold shoes!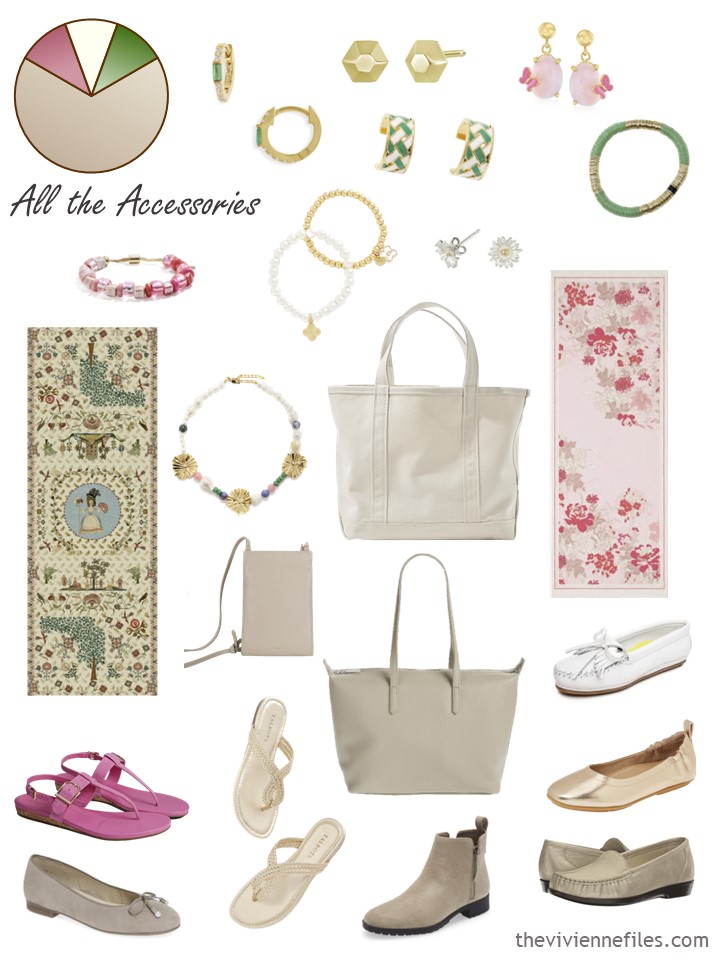 She's able to wear her new clothes in all sorts of ways, which is as it should be…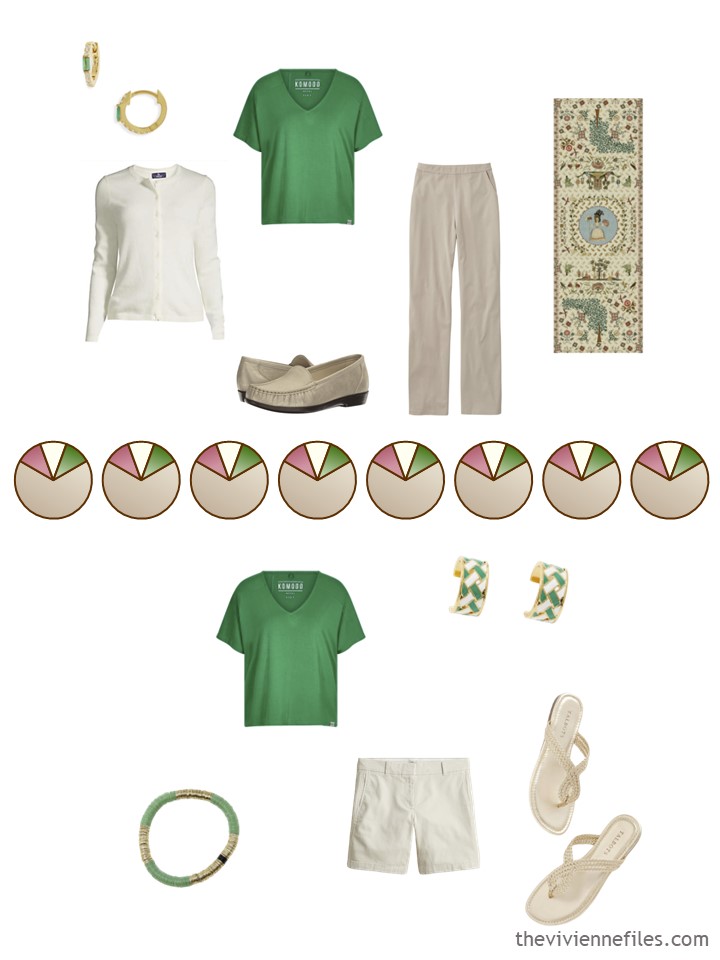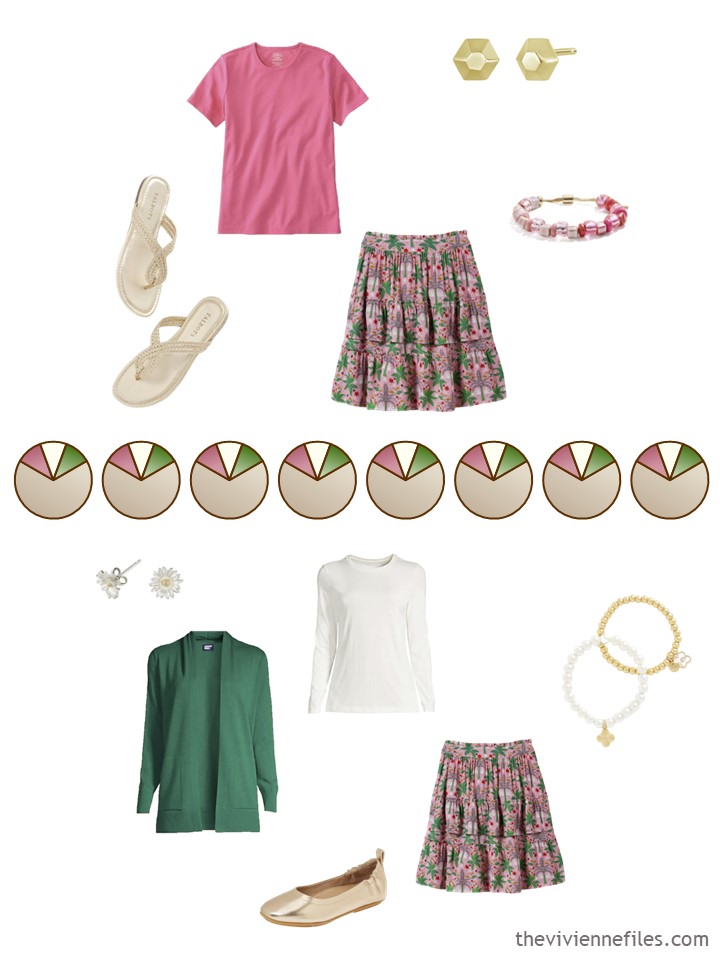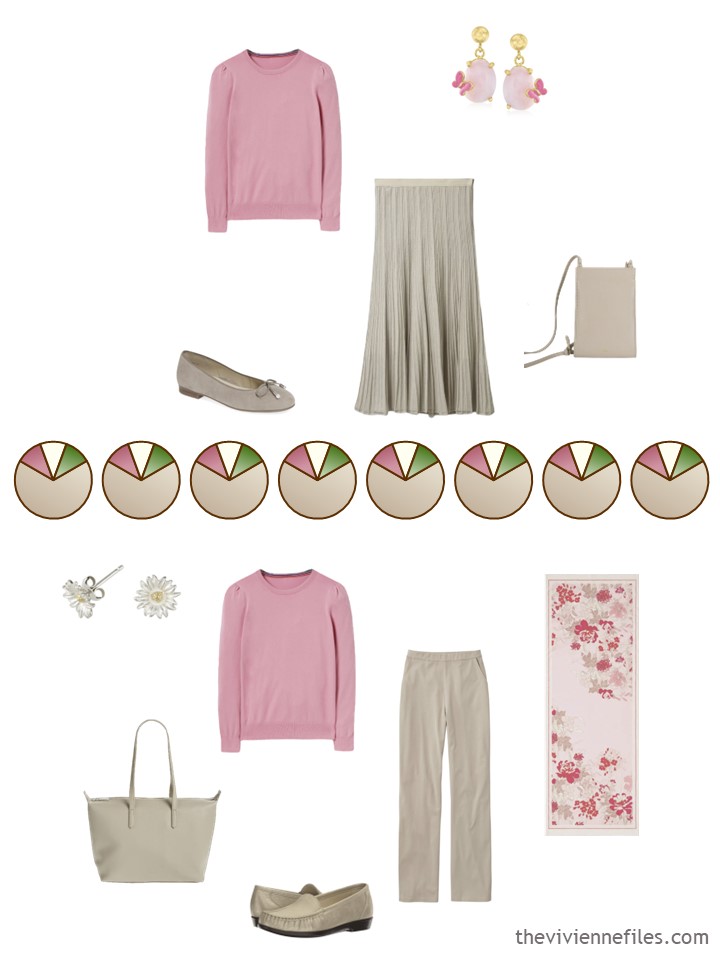 I think I should warn you that if you need anything for summer, you'd better get shopping for it RIGHT NOW!
We are already being inundated with autumn things – lots and lots of boots (clogs are going to be a big thing this year…), plenty of winter clothes, TONS of wool scarves are already available…
If you're hard to fit – any part of your body – and there's something you want for colder weather, NOW IS THE TIME TO LOOK!
I'm getting new wool pants, and maybe a coat…
And yes, I'm probably still most fond of the navy wardrobe, although thank heavens I don't have to choose!
love,
Janice
p.s. Six years ago, I was back from a trip to Florida, and eager to share my thoughts about packing and travel…