June 29, 2022
Today's my birthday – I'm 62!!! The only certain treat today is a yellow cake with maple frosting, from Sweet Mandy B's…
Sadly, I will NOT be able to have a blog post ready for Friday; between my birthday and other utterly unrelated errands I have to run on Thursday, it's just not possible! I will of course be back on Monday…
But on to more practical things – clearing out a wardrobe that's just plain and simply too full. More clothing than you need is confusing, distracting clutter, and clothing that you can donate could be a wonderful gift to a total stranger…
Here's our starting point:
I'm working (gradually and haltingly!) toward Project 333 for myself, and I'm trying to be sensible, by keeping clothing in the 33 that I wear a lot. That only makes sense, right?
So these are my guidelines for this version. I'm using all of these L.L.Bean clothes to standing in for my (much more monochromatic) wardrobe: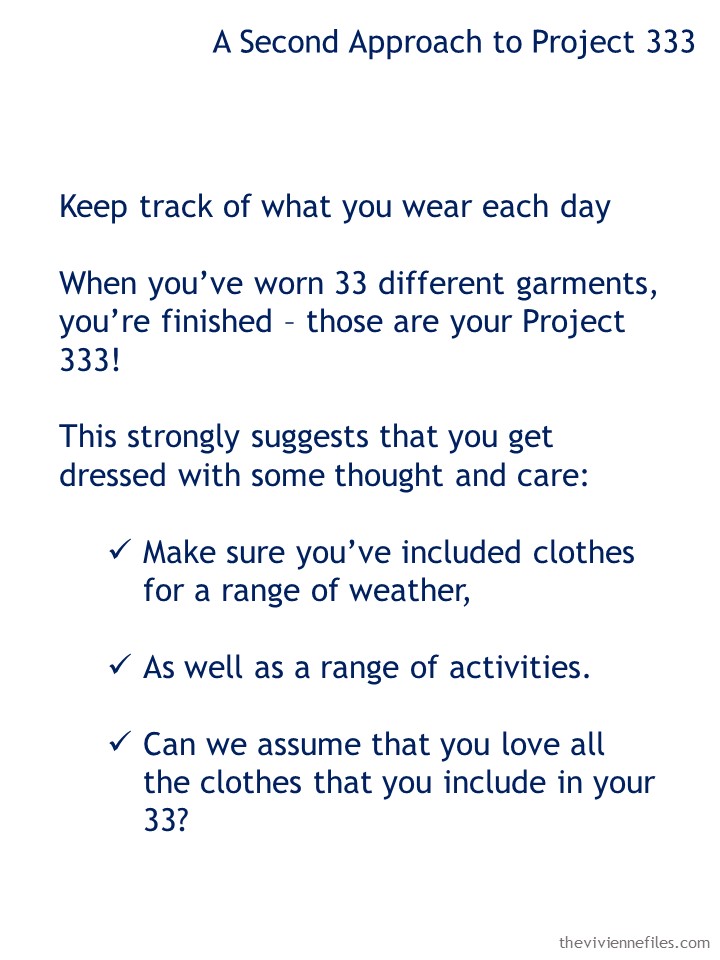 For our heroine, this project started out REALLY easy – her favorite handful of clothing is always in the laundry, and then in the front of her closet:
For her next half-dozen garments, she finds that she chooses one 3-piece outfit, 1 2-piece outfit, and her favorite dress:
And here is where she lost focus, and much momentum!
Our heroine tends to wear the same pants or shorts with a whole range of tops – trying to put together outfits of 3 pieces doesn't reflect the way she actually WEAR my clothes…
One way to work yourself out of a wardrobe impasse is to sort things by color. This doesn't work all that well for me – I'm more likely to sort by fabric – but for our heroine, this could be useful…
My first insight is that she has almost a balance between cool and warm colors, but the clothes that she wears most often are shades of blue.
Is she really committed to wearing blue? (one could, legitimately and beautifully, wear blue every day), or
Does she just wander into blue clothing because they're easy to find and easy to wear?
So our mythical heroine makes the decision that she's committed to blue – it's where her eye is always drawn when she shops, and she always feel beautiful and more like herself in blue…
Wearing mostly blue for 3 months should give her a really clear insight into her feelings about blue clothes – a signature that she adores, or an easy fall-back position that needs a 2nd neutral?
She adds some more tops to her Project 333 Wardrobe, as well as another dress:
This is her first 18 garments; with the addition of a navy cardigan, navy pants and a pair of white shorts, she could probably manage for the entire summer!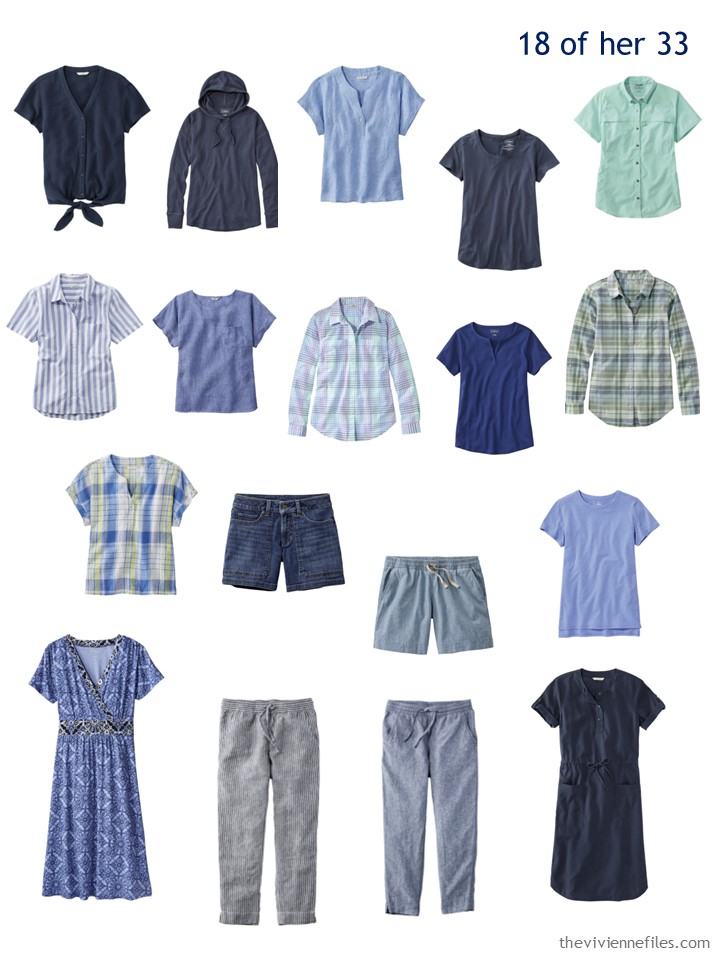 Here's where our heroine runs into a snag, which can teach her something important. She's always been hesitant to buy simple, timeless navy (or white) shorts, capris or pants. So now, when she wants to pull together 3-piece ensembles, she finds that she really doesn't have the bottoms to make it work!
She decides to include most of the rest of her blue clothes – everything that's suitable for warm weather – and see where that takes her:
She now has chosen 27 garments for her Project 333 i.e. she can select six more garments…
Olive green is tempting, but she's already indicated through her earlier choices that she prefers a cooler green – mint or "faded jade"…
And so her only other option for shorts and pants is khaki! I might suggest to this heroine that she branch out from 100% L.L.Bean, eh?
But in the interest of being able to go for a good long time without laundry, she chooses six final garments:
With that decision, she's finished choosing her Project 333 Wardrobe to last her 'til the end of September: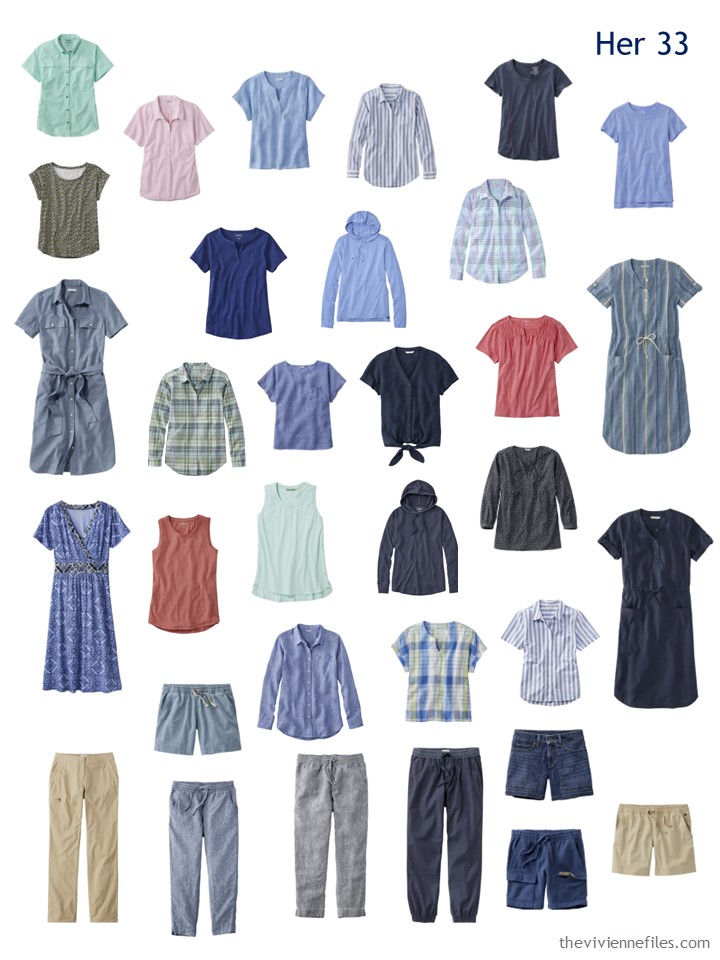 Looking at this wardrobe, I can see 2 clear directions that the heroine could go with her wardrobe plan:
stick with blue, and invest in a handful of classic navy garments, like chinos, cropped pants, twill shorts… Also, if she's inclined toward white in warm weather, a couple of white garments wouldn't go amiss. Or
she could choose a 2nd neutral – khaki, olive, white, stone – anything that you can wear with blue. Once she has committed to a 2nd neutral, she will be able to donate anything that doesn't fit into her plan, and invest in a couple of things in her new 2nd neutral.
It's not that there's anything wrong with this wardrobe, really! Let's look at a few of her options for dressing, in the hot weather: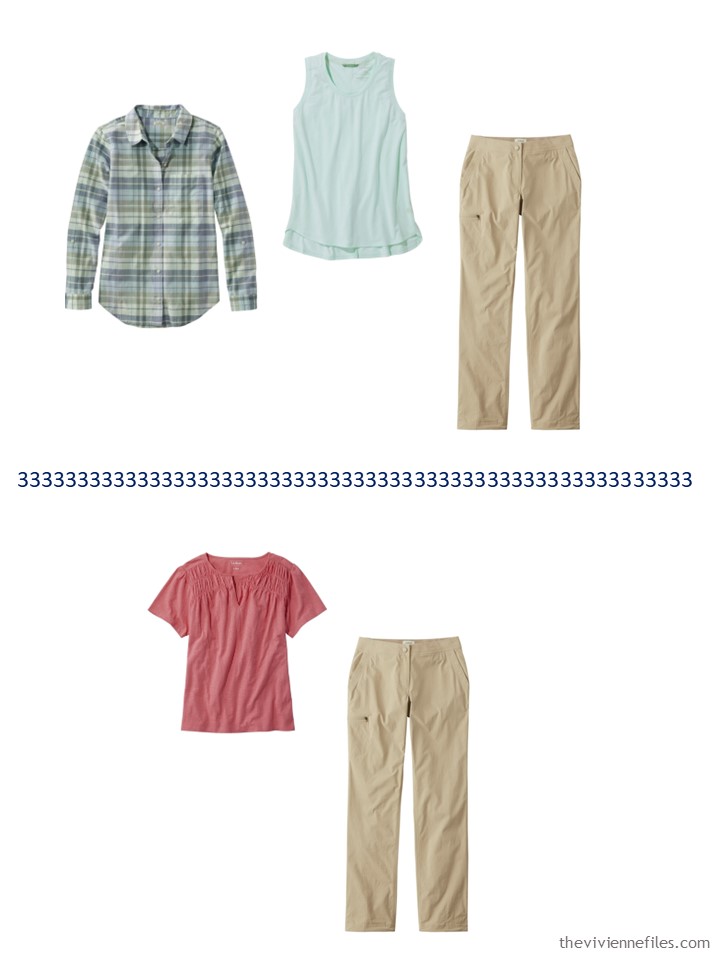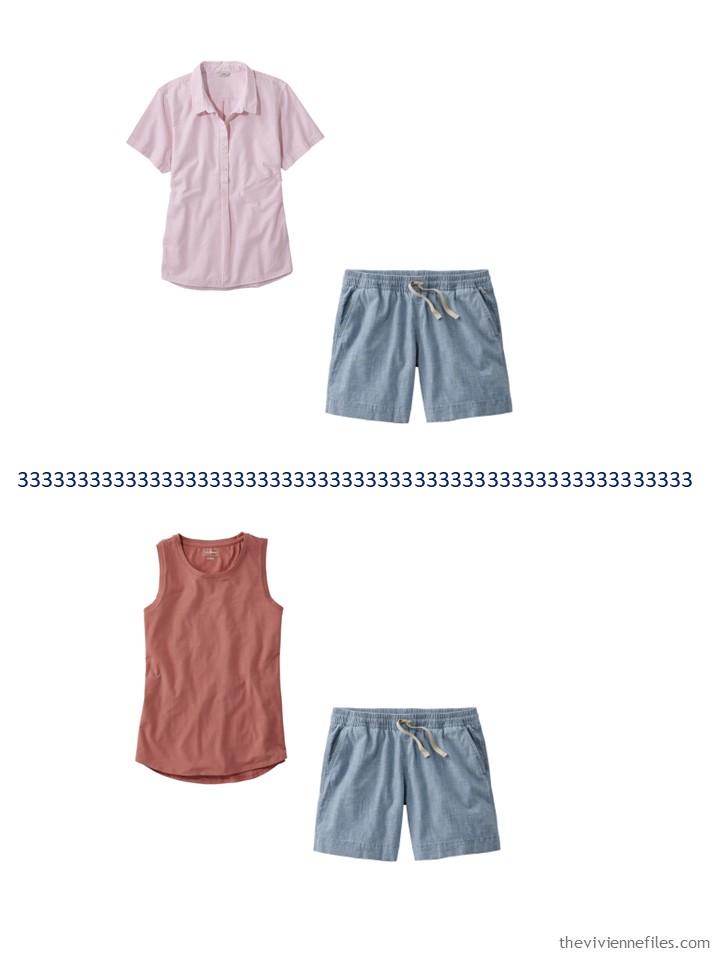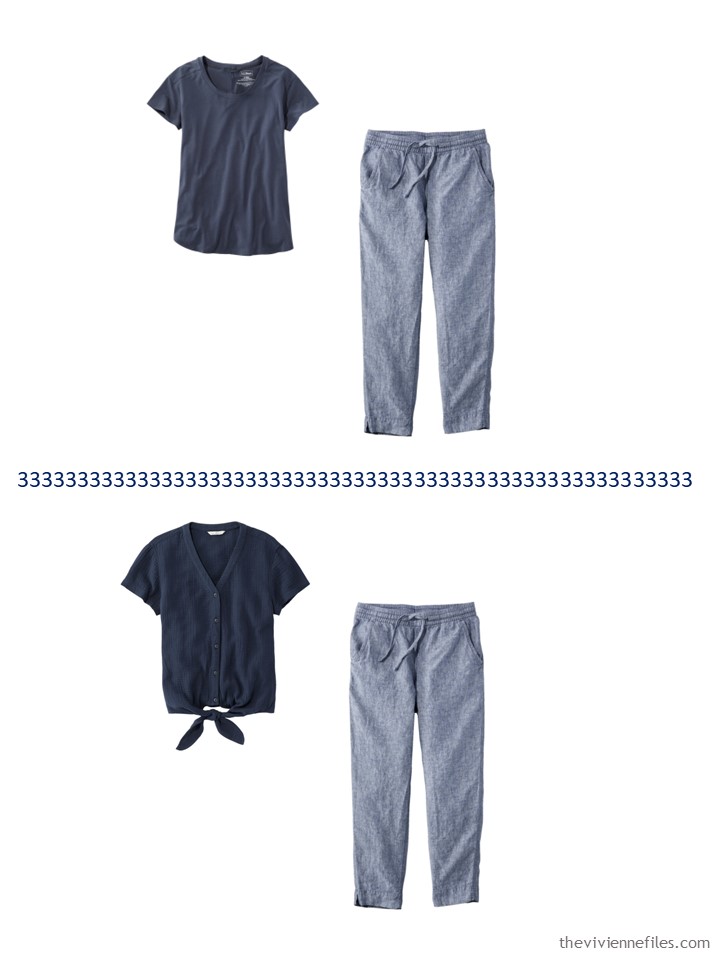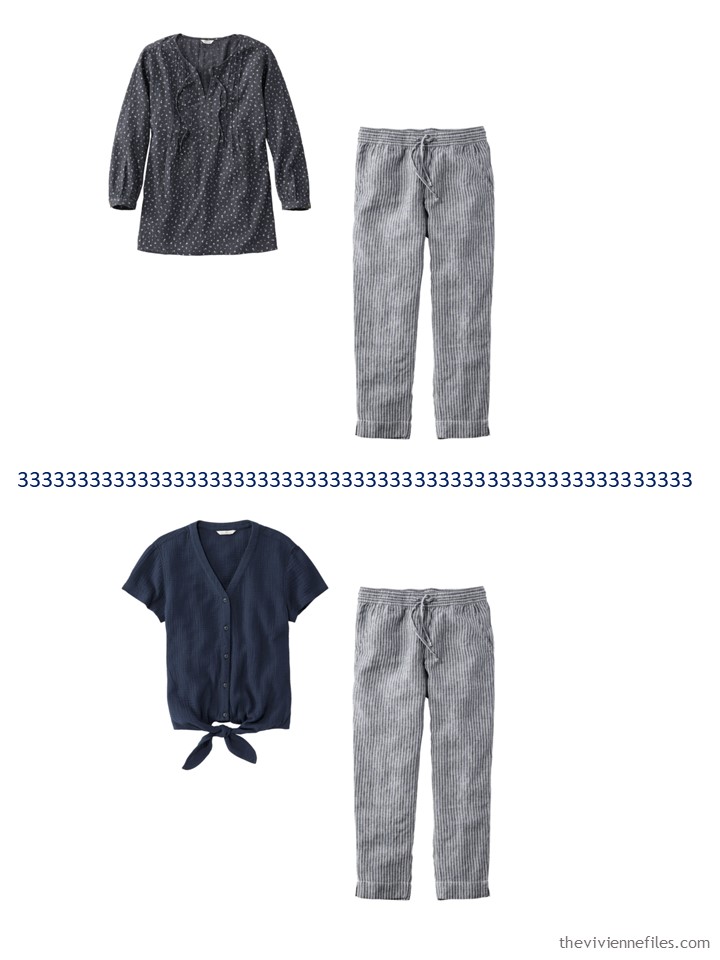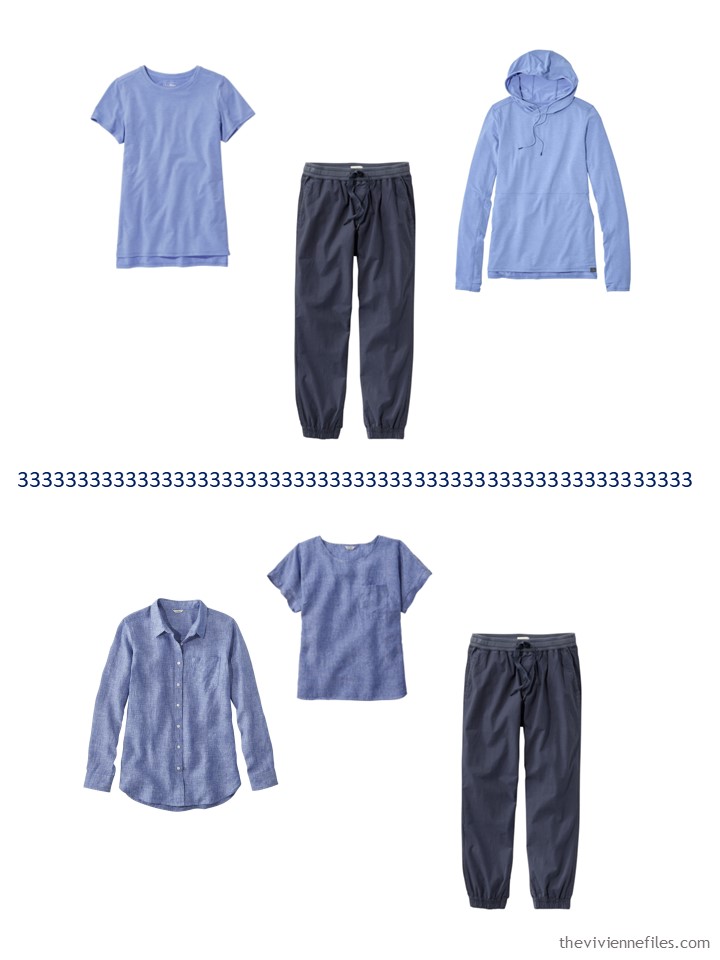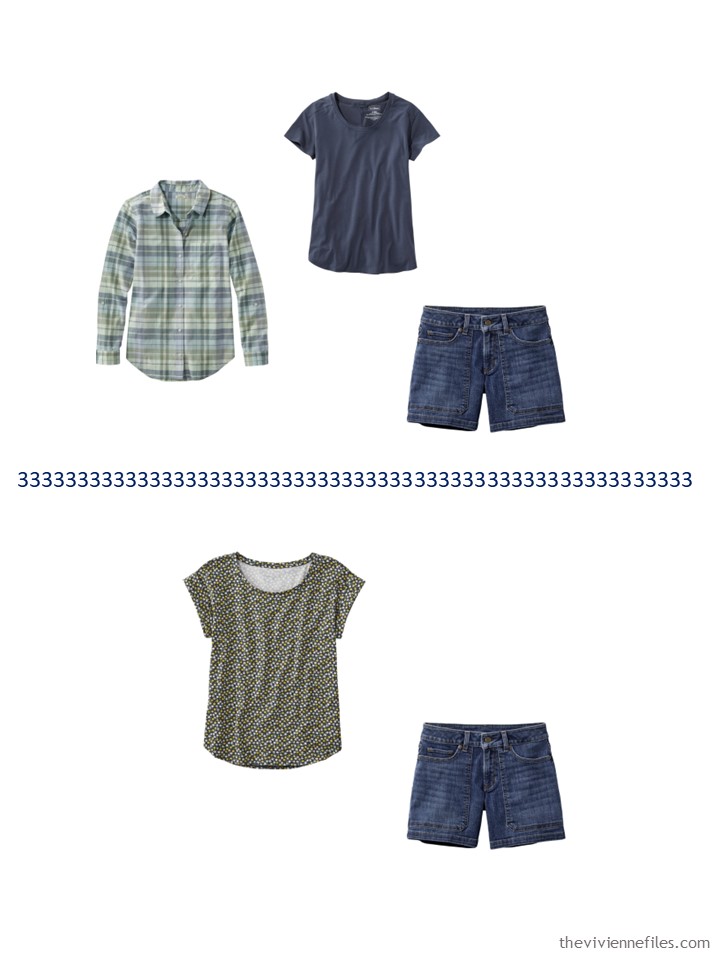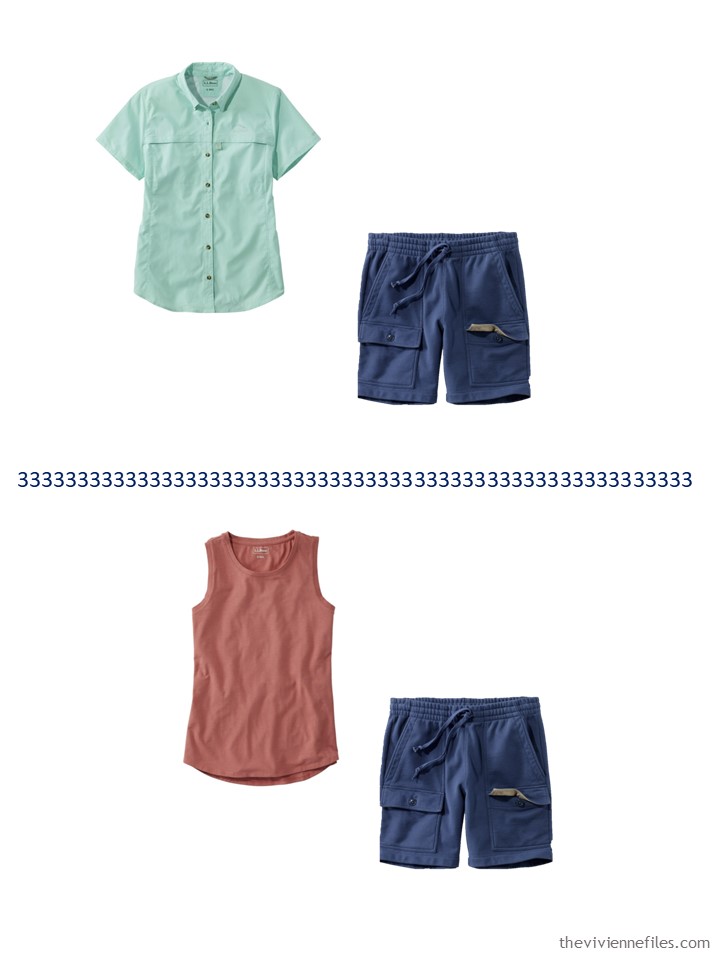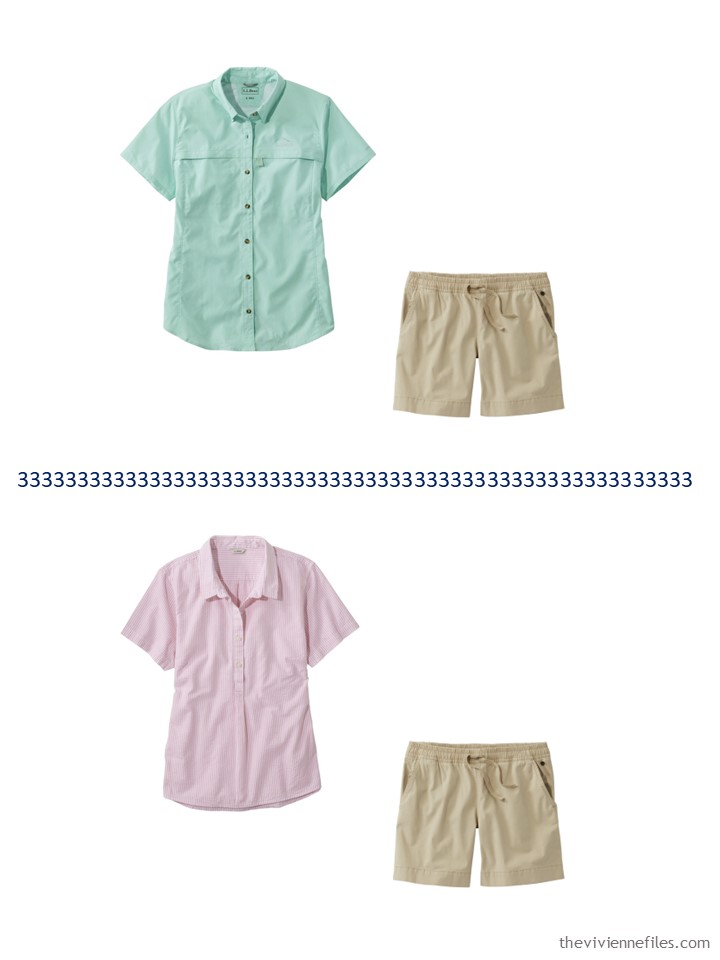 If you have 2 neutrals in your wardrobe, how do you balance them? I've only ever had black (lots and LOTS of black…) so I've never had to do this. Yet.
love,
Janice
p.s. Eight years ago, we paused in the building of a Wardrobe from Scratch, to clarify our preferences. This is an exercise worth thinking about every few years; your tastes may change!