August 5, 2022
I really like doing these monthly wardrobes in 3 posts, rather than 1 REALLY large post. You can imagine how much work goes into getting all six wardrobes ready, and I feel like taking my time over them gives me a chance to do a better job!
What do you think?
So let's look at the glorious hydrangea scarf… I love hydrangeas – the mix of colors in the blossoms delights me! My phone wallpaper is a photograph of mixed pink and blue flowers… sigh…
A navy blazer. It just seems like something that someone who loves navy might want to consider – especially if this heroine likes classic, timeless styles…
And if you're going to buy the blazer, buy the pants (and/or the skirt) while you're at it. Yes, it's a substantial additional expense, but at some point in your life, you might need a "real" suit…
The navy sweater should last for decades, and go with everything. All women who wear sweaters (and who aren't allergic to cashmere) should own a beautiful sweater in their dark neutral!
Yes, the scarf is darker than any others that she owns, but it's a lovely touch if this heroine were to wear the outfit as shown!
This wardrobe just makes me happy… 28 pieces of clothing doesn't seem like very many, until you see them spread out like this!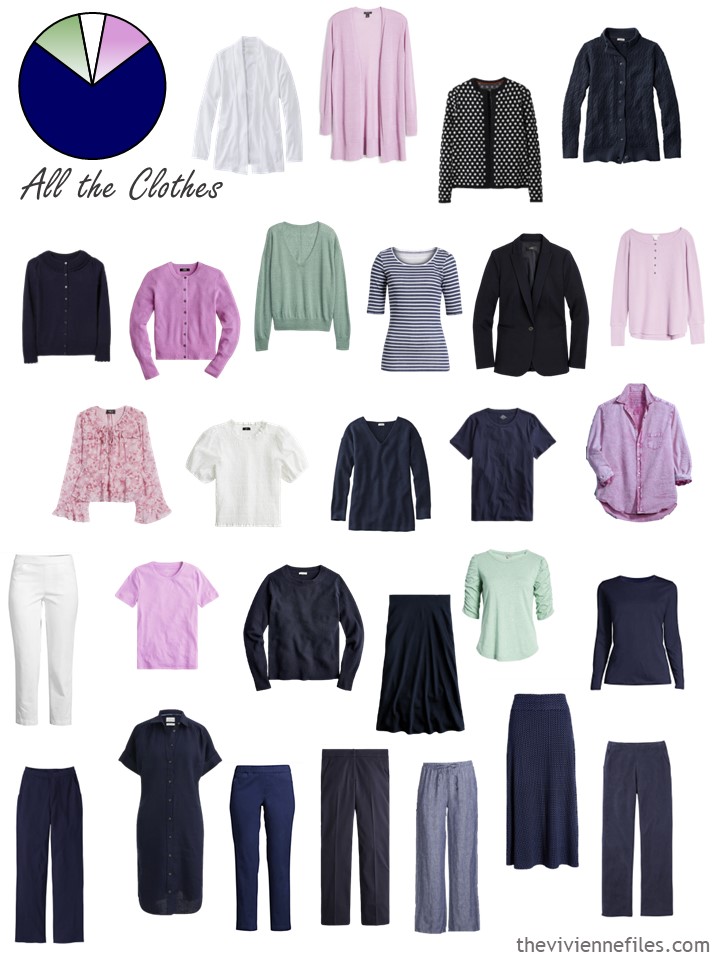 Next month, we MUST get these ladies some necklaces!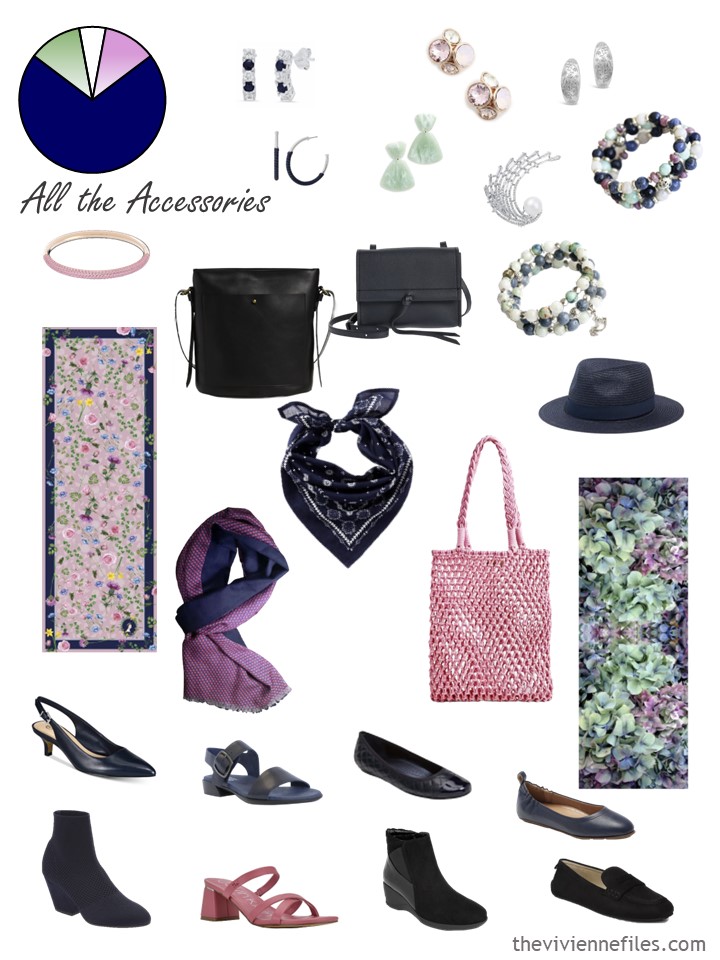 As always, our heroines new clothes are going to be worn a lot!
Maybe she didn't desperately need another pair of navy pants, but when you have the chance to get a true suit, it's worth considering… I'm hearing from quite a few women who are required to re-interview when they get back to their office – not to keep their job, but more to give their employer a chance to make them nervous and remind them who's in charge!
I imagine that our heroine will show up in a beautiful suit, exquisitely accessorized. No intimated works on her…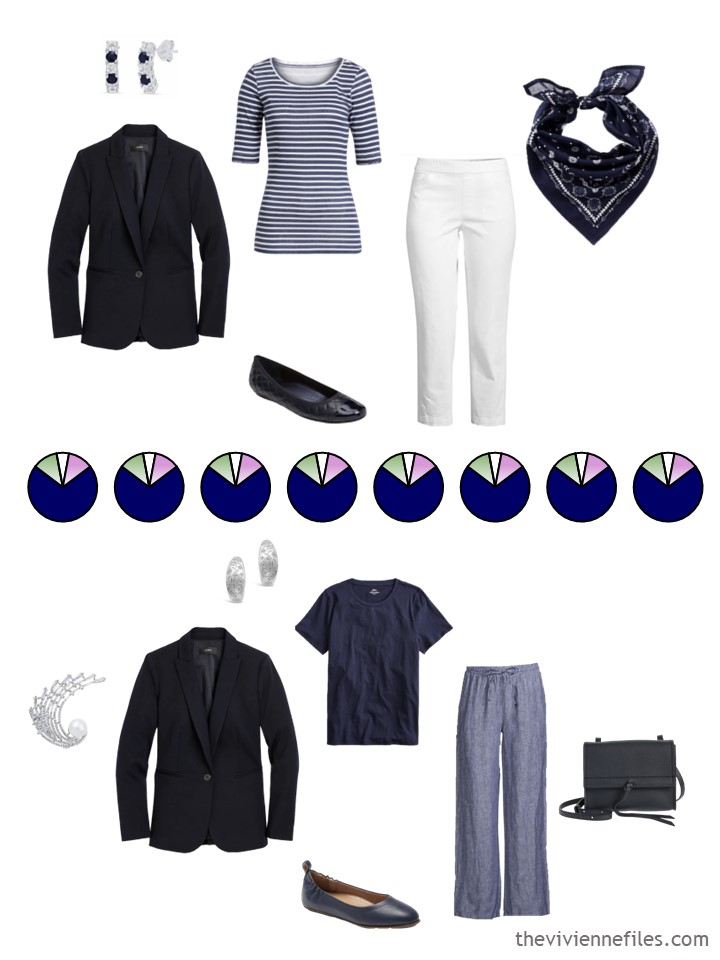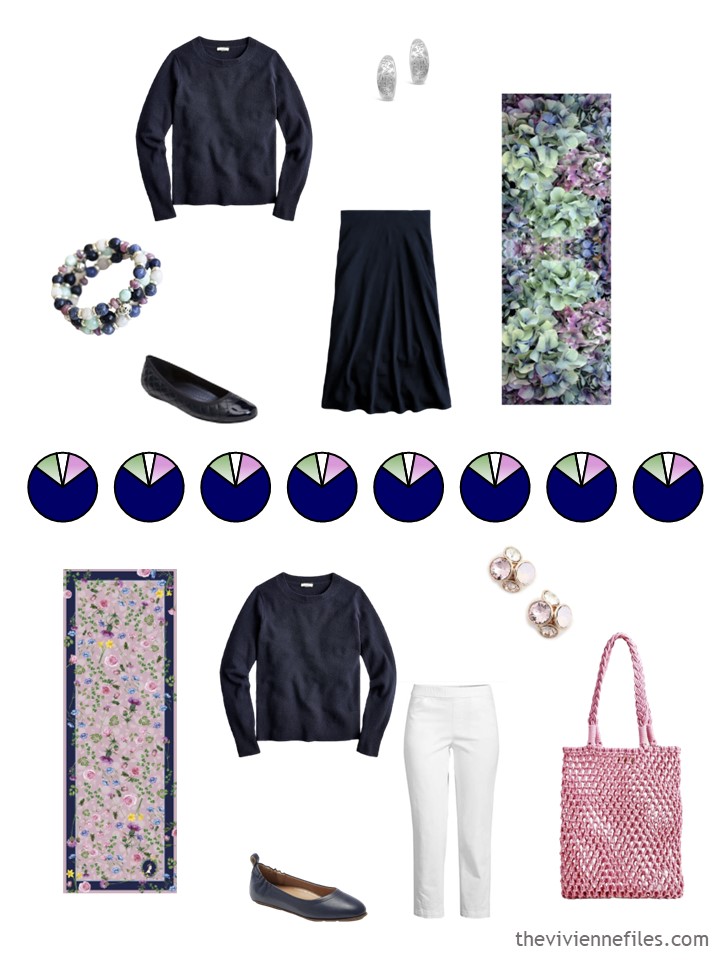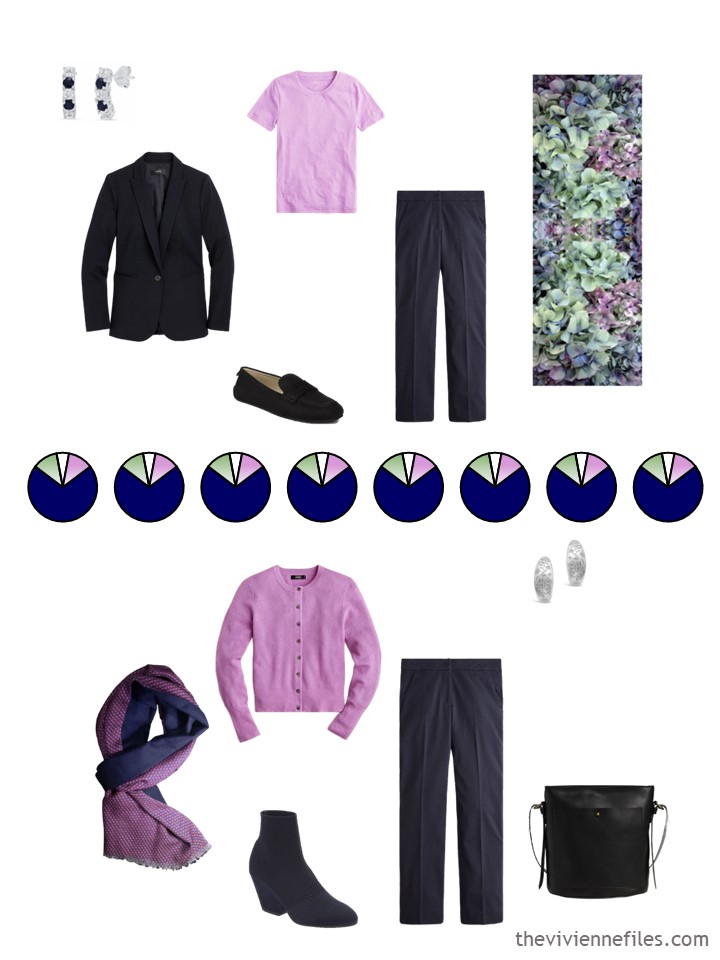 And finally, my treasured Tree of Life scarf. (PJ Studio Accessories GAVE me one – they're a lovely company with which to work!)
This wardrobe has always been a little bit skimpy with the accent green, so this month I was thrilled to find that Marks & Spencer carries a few pieces in this color. When you can find a nice quality cashmere sweater in one of your accent colors, it's time to readjust your budget!
(I was SO tempted to include green jeans in this wardrobe, but I chickened out at the last minute… it could still happen…) M&S calls this color "Spearmint," if you want to search their site for the other garments they carry in this color…
Yes, the scarf is a lifetime investment. Plan now to have it forever…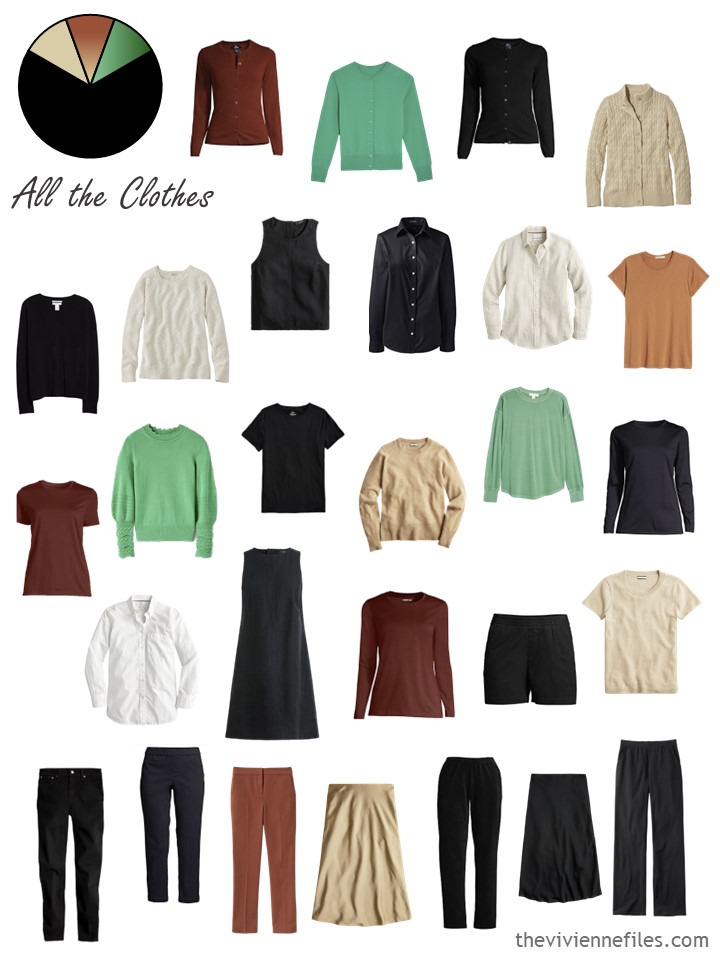 The range of colors in this wardrobe feels to me like more than 28 garments. I think this is what planning carefully gives us – a wardrobe greater than the sum of the parts. Worth the effort, at least for me!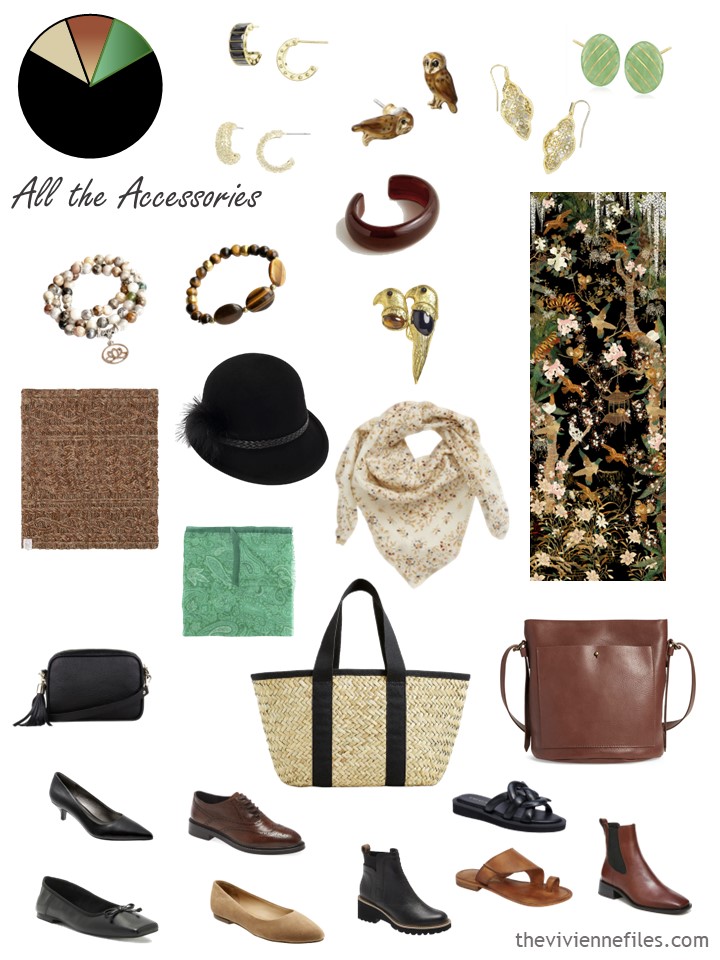 Her hat makes everything else look snazzier!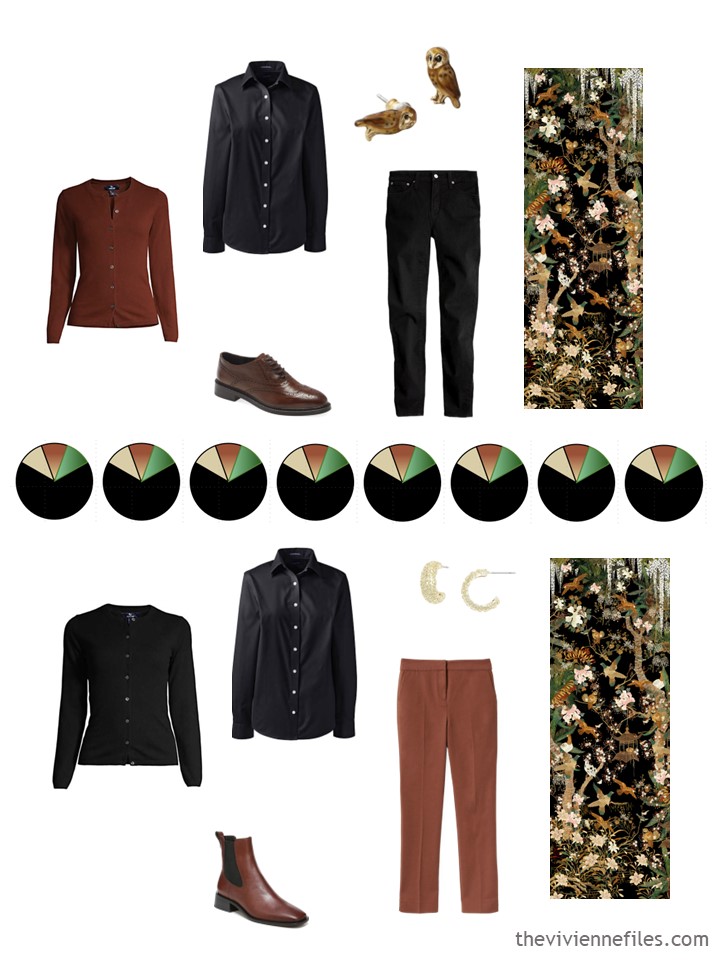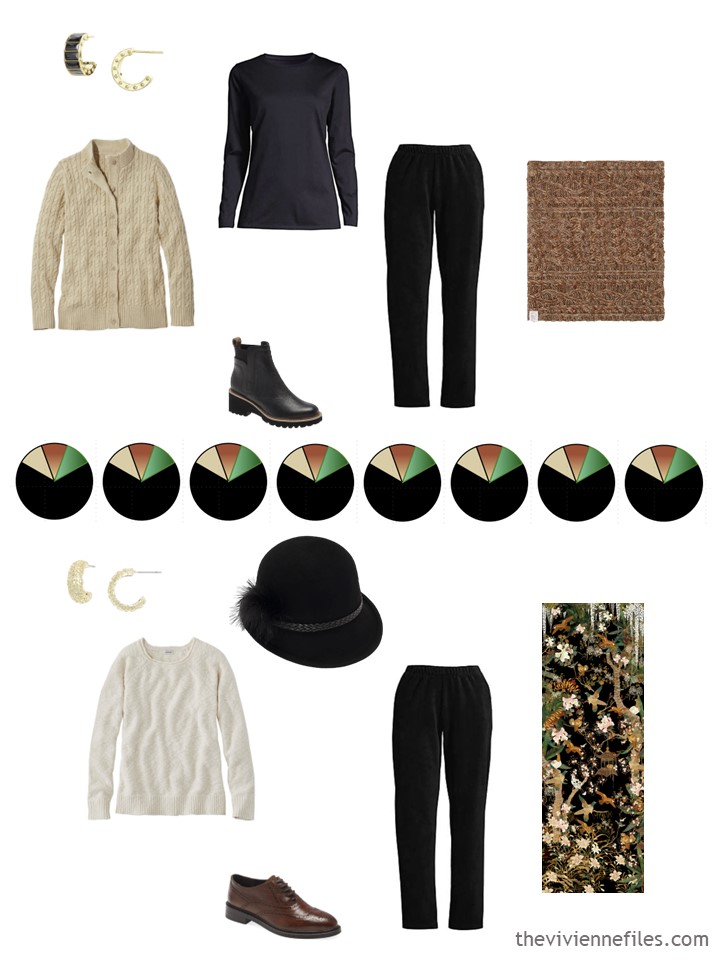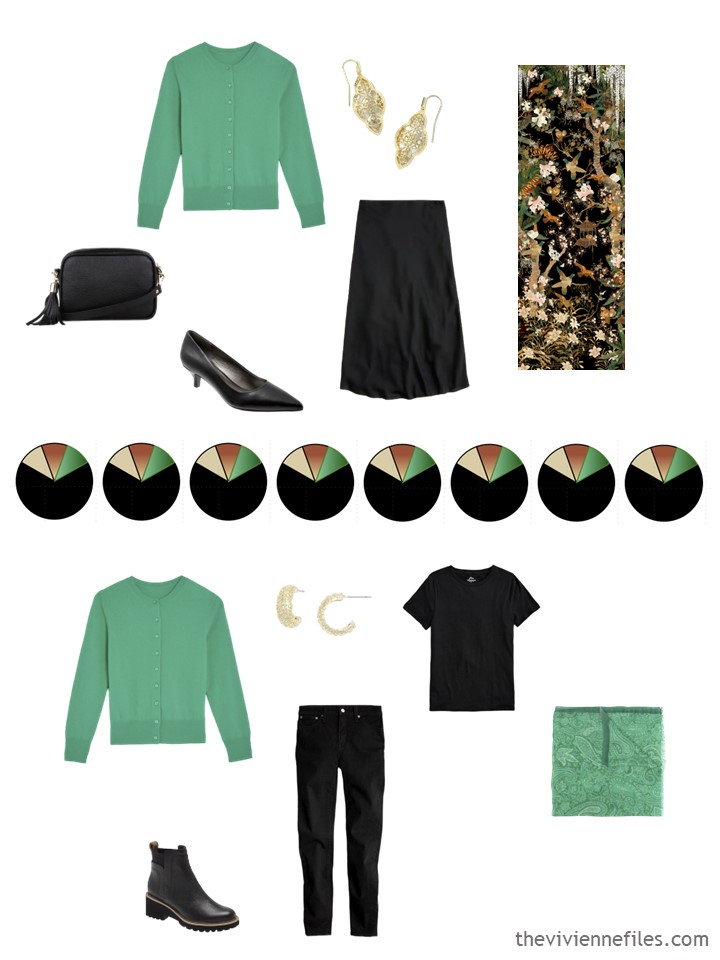 I found that when I was finishing this last wardrobe, I was longing to be able to wear my black corduroy pants…
If I wear my wool dress for 100 days, I will have to wait until mid-December for my cords! And my velvet jeans!
That's part of the goal of the dress project – what do you love, what can you wear every day, what do you miss when you aren't wearing it, what don't you miss AT ALL???
Maybe I should sit down and write out all of the clothes that I can remember that I have stored for autumn and winter. Anything that I don't even REMEMBER might be a good candidate for donation…
love,
Janice
p.s. Four years ago, one of my favorite heroines (the tough negotiator!) has been invited to… something… nobody is sure if it's business or leisure! She's prepared…