August 3, 2022
Have any of you done enough shopping that you can see the trends for this autumn?
I've seen tons of clogs. Literally tons. I know that they're very comfortable for people who work in hospitals, so I would assume that everybody might find them comfortable… Maybe if you need shoes, they are worth trying?
And someone, somewhere, put together a million miles of smocked fabric! Not the traditional smocking, like we used to do on gingham fabrics, where you would join together certain squares in the print with stitching to create beautiful patterns…
Nope – this smocking is machine stitched fabric that is gathered with elastic thread. There's nothing inherently wrong with this fabric, except that you can't swing a dead cat these days without running into racks and racks of tops and dresses (and occasionally skirts) that use it. I'm quite afraid that this stuff is going to look very dated in a couple of years!
So let's stick with more classic garments…
I keep hoping that someone will show up in the retail world with a whole BUNCH of duck egg blue sweaters…
I'm not sure how many among us would wear head-to-toe olive green, or head-to-toe ANY color! But I have to admit that today I saw a striking number of people on the street in Chicago wearing solid black – much more than I normally would.
But investing in a couple of classic cashmere sweaters is a good idea if you live in a place where you can wear them for half the year!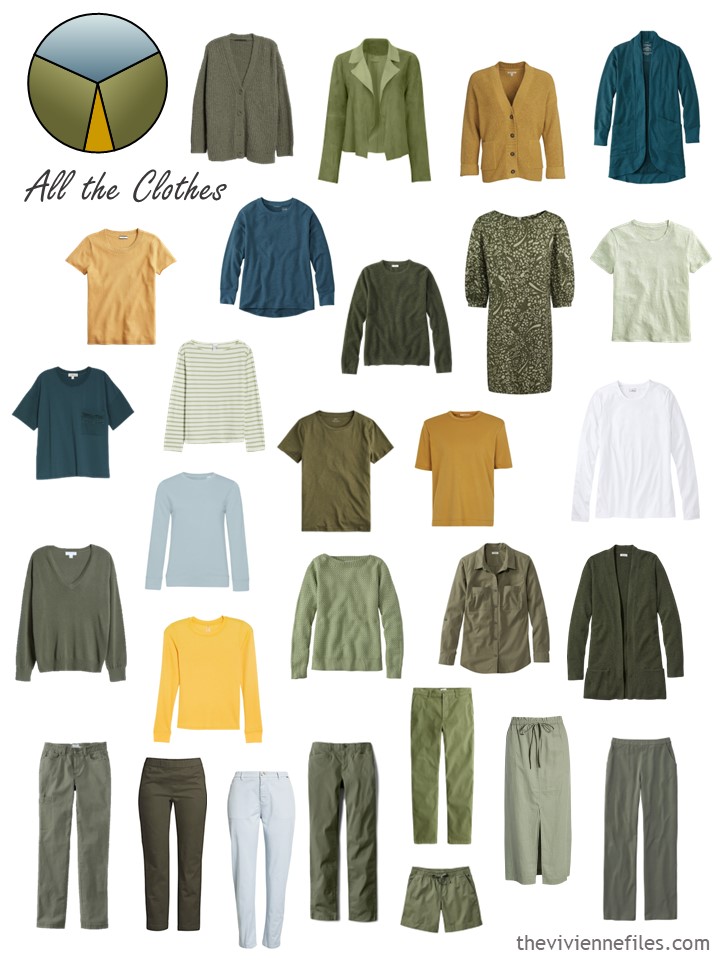 This wardrobe has both variety and coherence!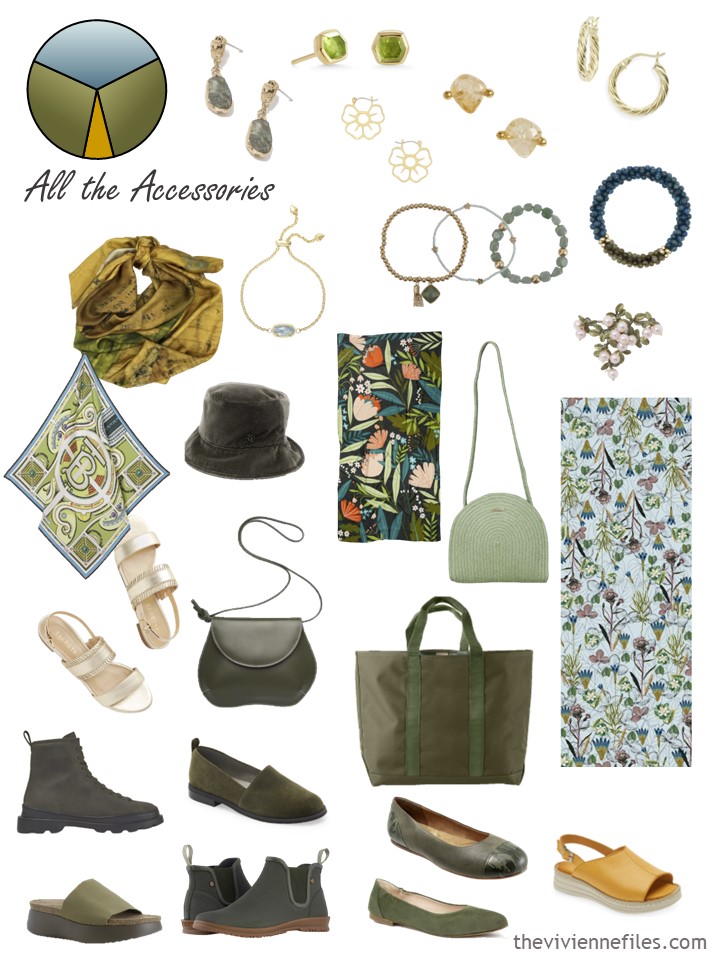 Her new brooch might be surprising – the pink is unexpected – but her new scarf has some almost-pink in it. And of course everything doesn't have to match EVERYTHING else – that would be impossible, and really boring…
A good hat can change everything: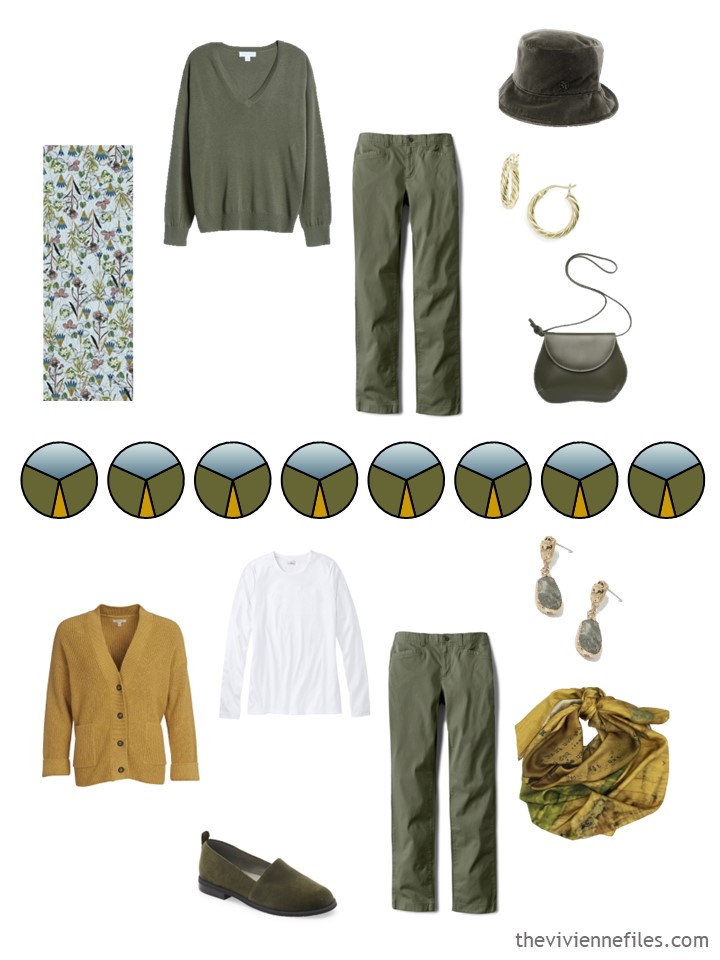 Your pants or skirt can certainly be lighter in color than you sweater, right?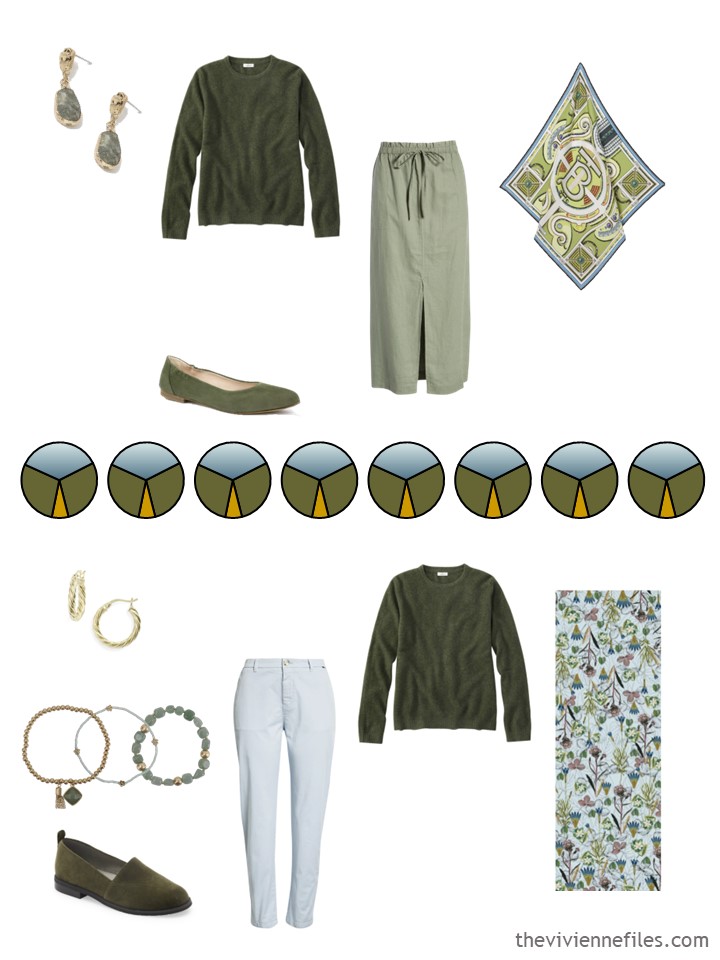 And this cardigan can probably be worn over almost anything in this wardrobe – that's the kind of handy thing that you pack at the past minute, and then end up wearing every day of your trip.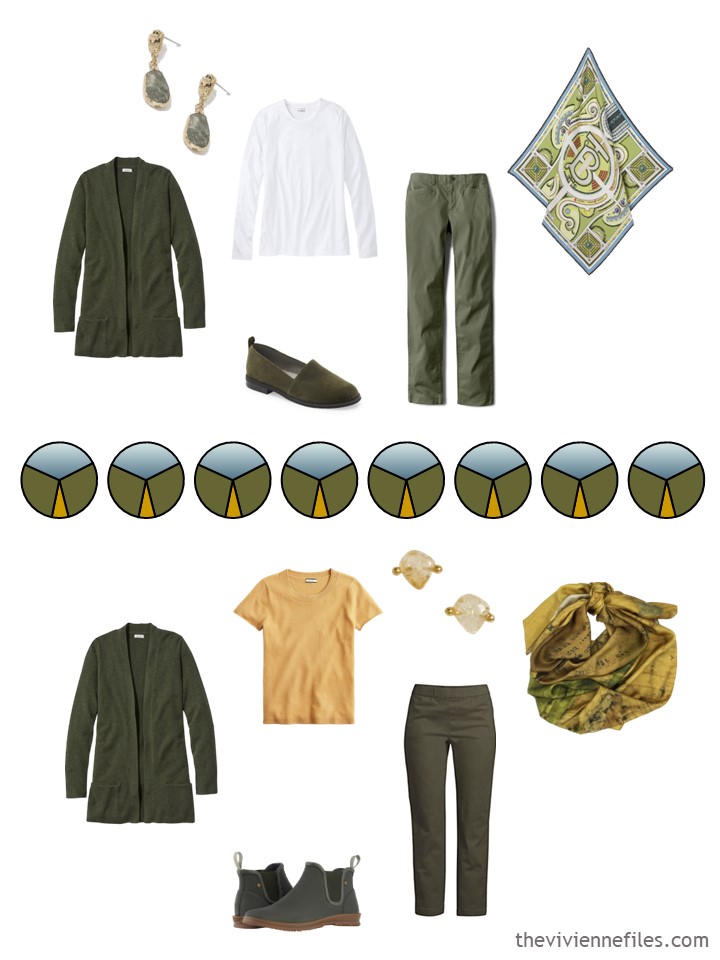 I love this next scarf, although the color palette has proven to be…challenging!
Happily, I was able to find some lovely warm neutrals, with another wonderful beret. A beret is another of those things that makes sense to always pack – you can smash it down until it's about as thick as a piece of cardboard, and if the weather turns cold, you will feel like a genius!
I know that the new additions to a wardrobe fit in when I can't easily pick them out of the full-wardrobe image!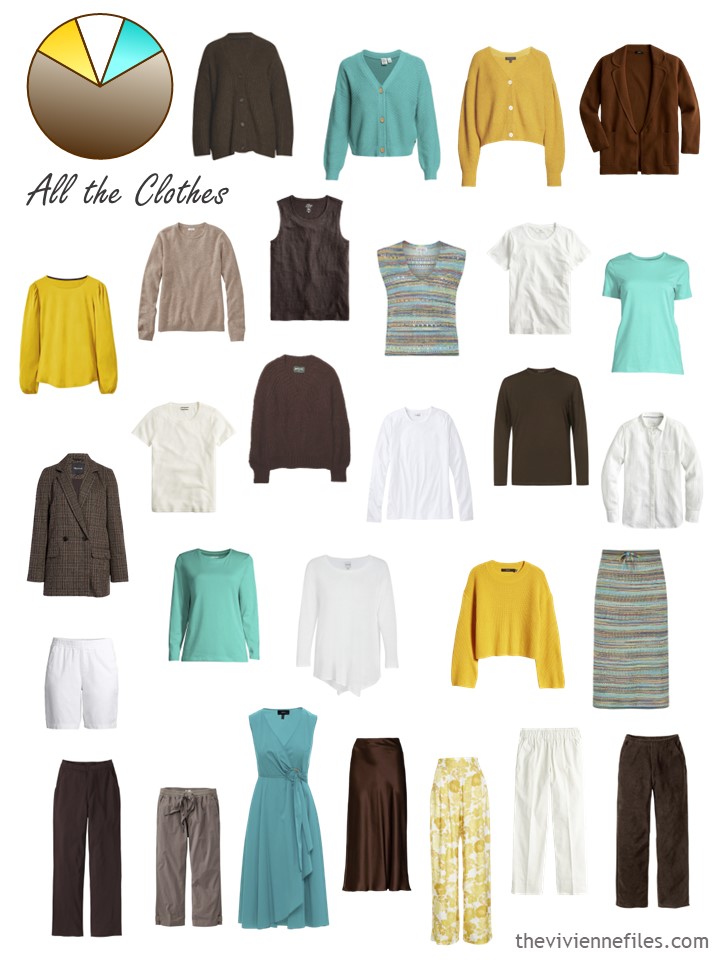 These might be my favorite accessories…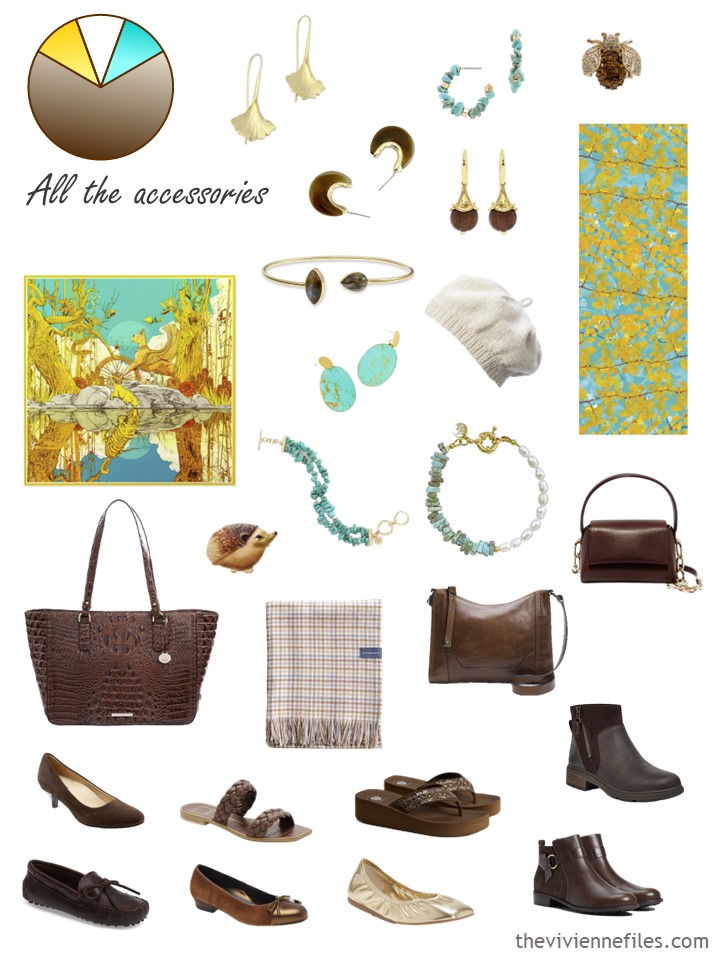 And all 3 new garments bring a lot of new possibilities to this wardrobe; the ivory pants are genius…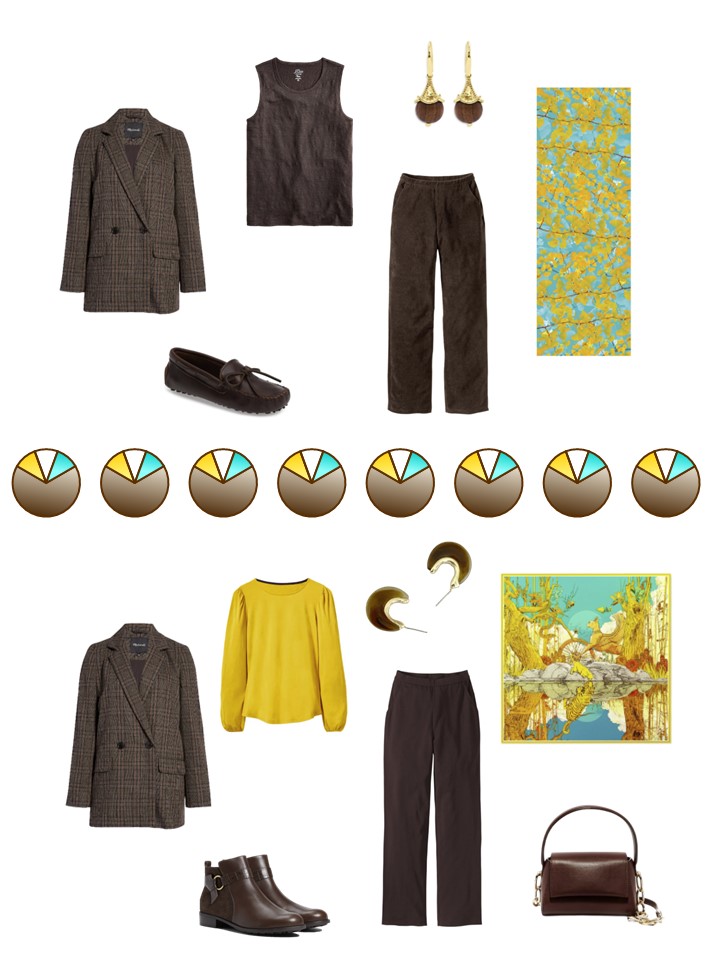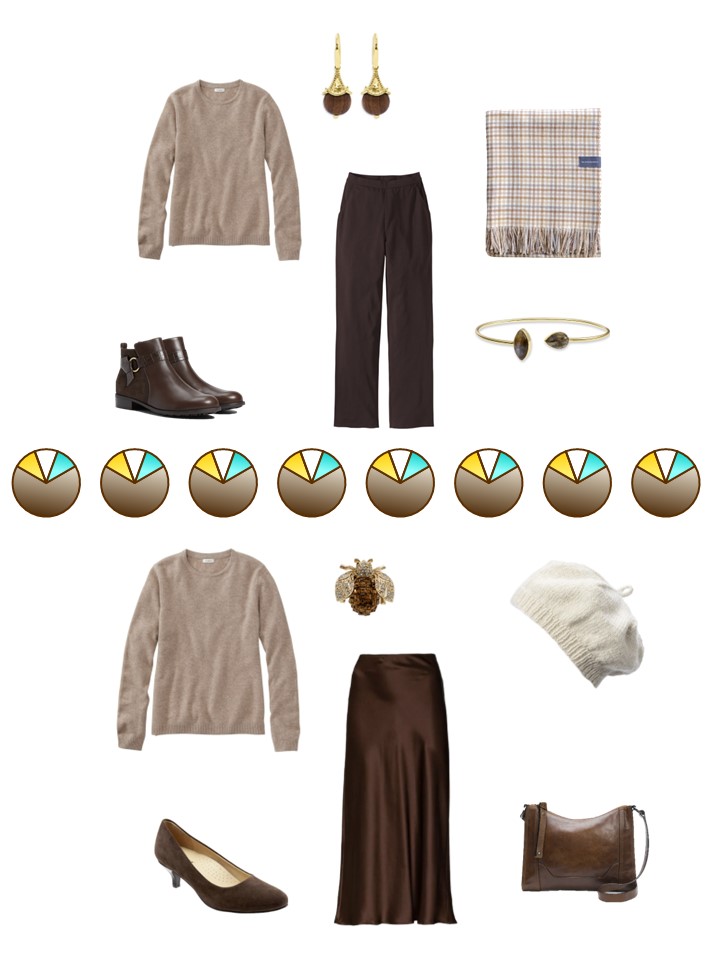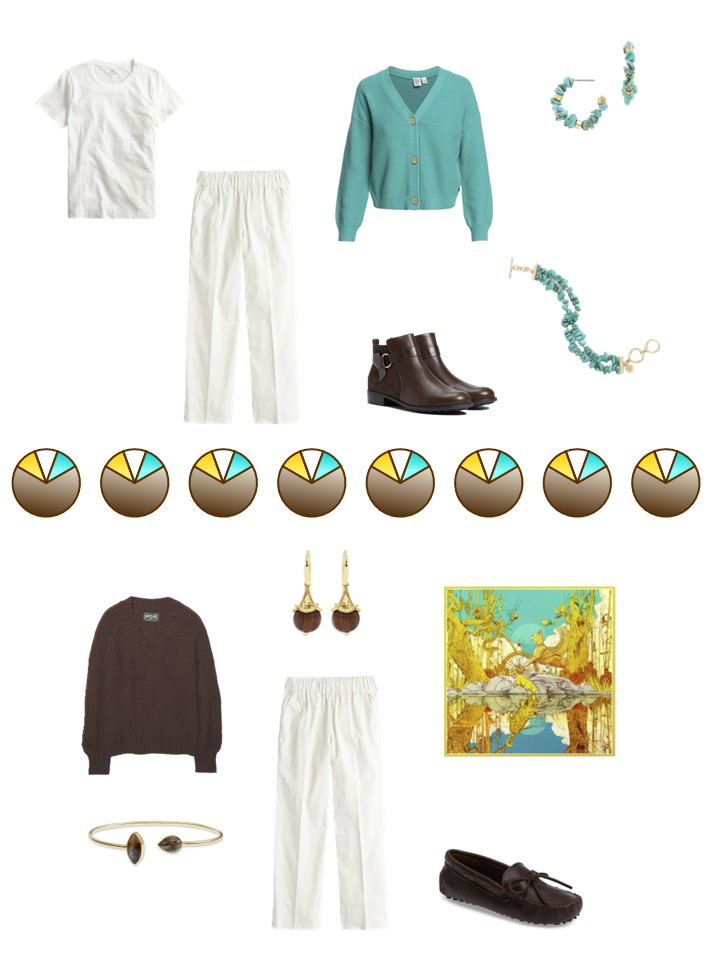 So what is your shopping plan for this autumn/winter? Is anybody buying ONLY accessories? Or maybe just 1 garment? or just 1 color?
I'm buying scarves. It's become an illness, but I keep telling myself that I will wear them with my black dress this fall…
love,
Janice
p.s. Seven years ago, our heroine built a "casual luxe" wardrobe around the colors in her Hermes scarf.