August 1, 2022
We're going to have to do the "Six Scarves, 12 Months" posts in segments this month, because it's just THAT difficult… I hate not finishing in 1 post, but I have to admit when I can't finish in time!
This is a great lesson for how to handle shopping when everything in the marketplace seems to conspire against you.
In a "normal" year, I could easily expect to see piles of cashmere sweaters in 30 colors all OVER the retail world – but not this year…
Websites should be chock-full of cabled sweaters, and corduroy pants, and tweed blazers, and all of the traditional garments of autumn. But not this year!
It might be reluctance to stock merchandise that may not appeal – nobody's really sure how people are going to dress these days! And I know for a fact that part of the issue is intractable problems with supply chains.
SO? We go back to the classics, in the most simple neutrals. Maybe you decide to buy only 1 or 2 things, and to invest in the more expensive "thing" you've wanted for a while…
Before I started looking for clothing for this month, I thought I should sort out the existing wardrobes to see if there are any obvious gaps to fill: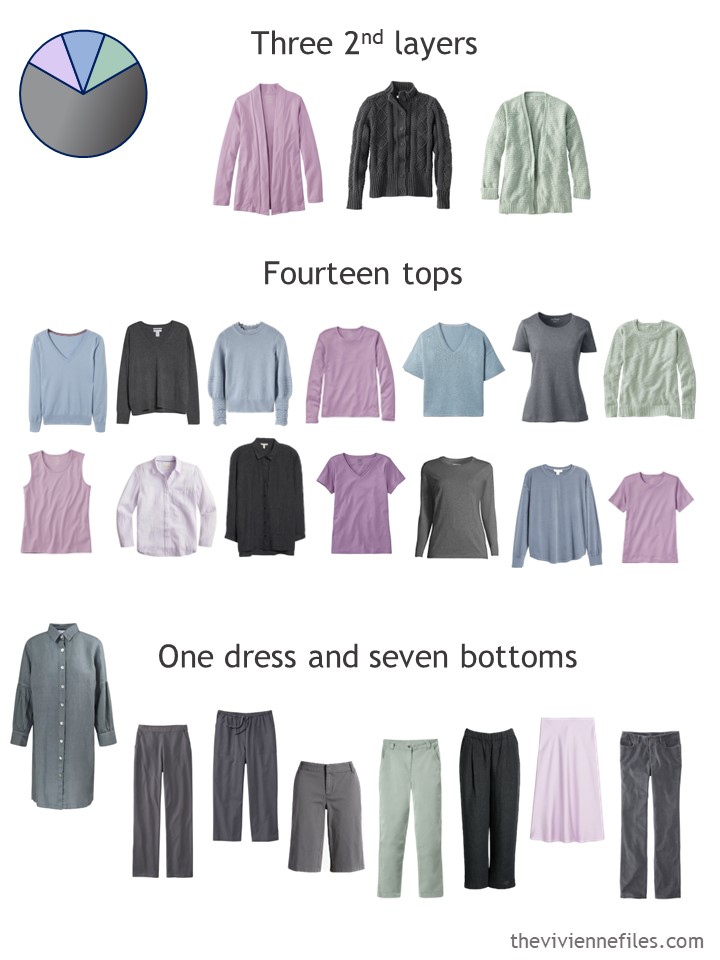 Not a gap, exactly, but I would prefer more 2nd layers for the wardrobes! Yes, some of the tops can double as 2nd layers, so the situation isn't exactly dire…
But here's where I ran into a problem that all disciplined people will eventually encounter – the 3 accent colors that I've chosen for this wardrobe are NOT to be found.
I know where lots of clothes are to be found, but none of the 3 accent colors are readily available! (bear in mind that I'm REALLY picky about how garments are photographed – I'm not interested in anything pinned and primped onto a model…)
So we're going to invest in some beautiful charcoal grey:
This could be your opportunity to treat yourself to a pretty brooch, or an accent cashmere scarf. And do you have a warm hat?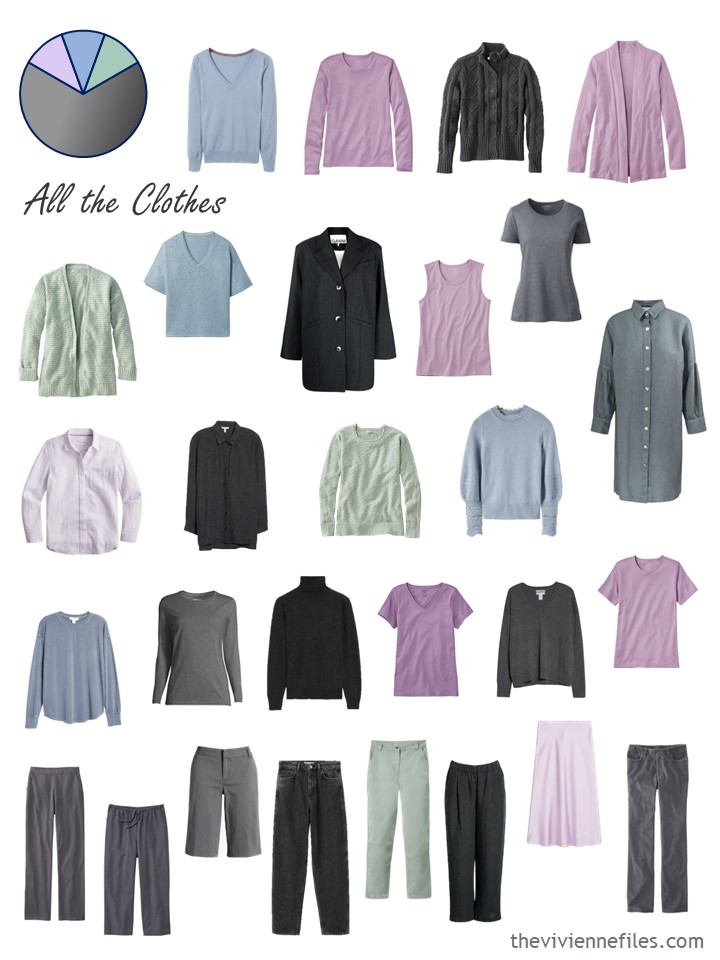 Everything this month looks lovely with this wardrobe – even if you struggle to find just the right things, your wardrobe should never show that effort!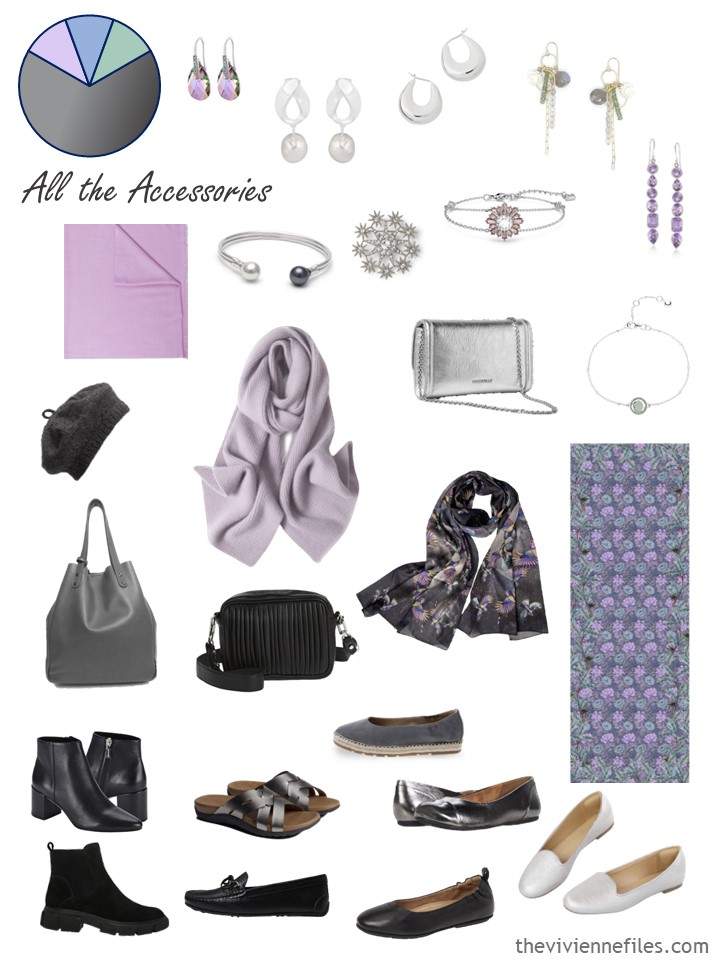 And whatever you buy should ALWAYS blend in beautifully with your existing wardrobe: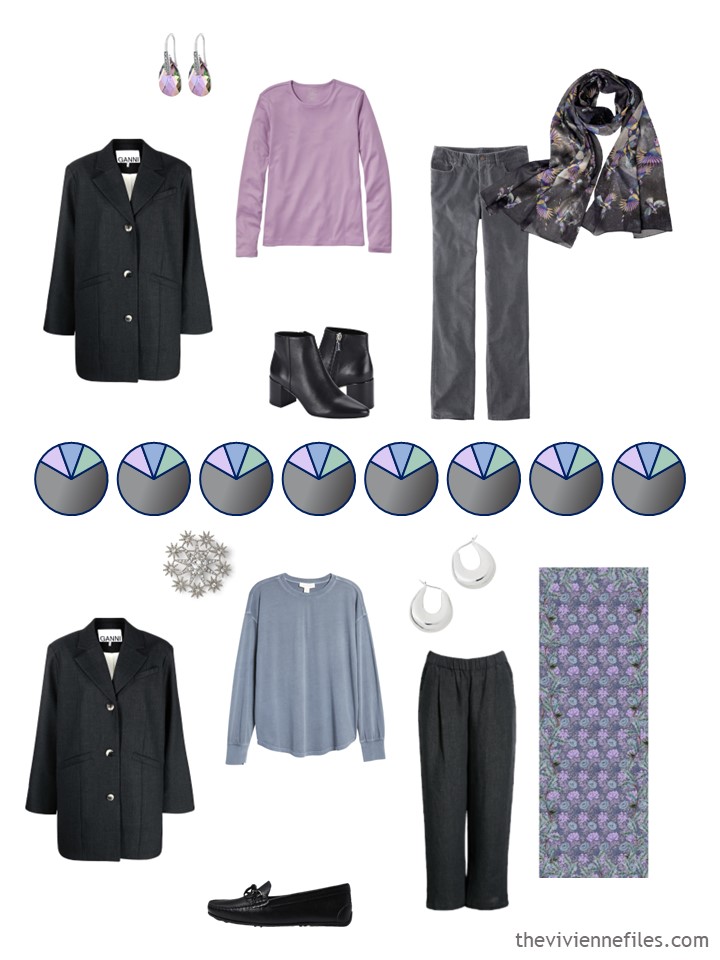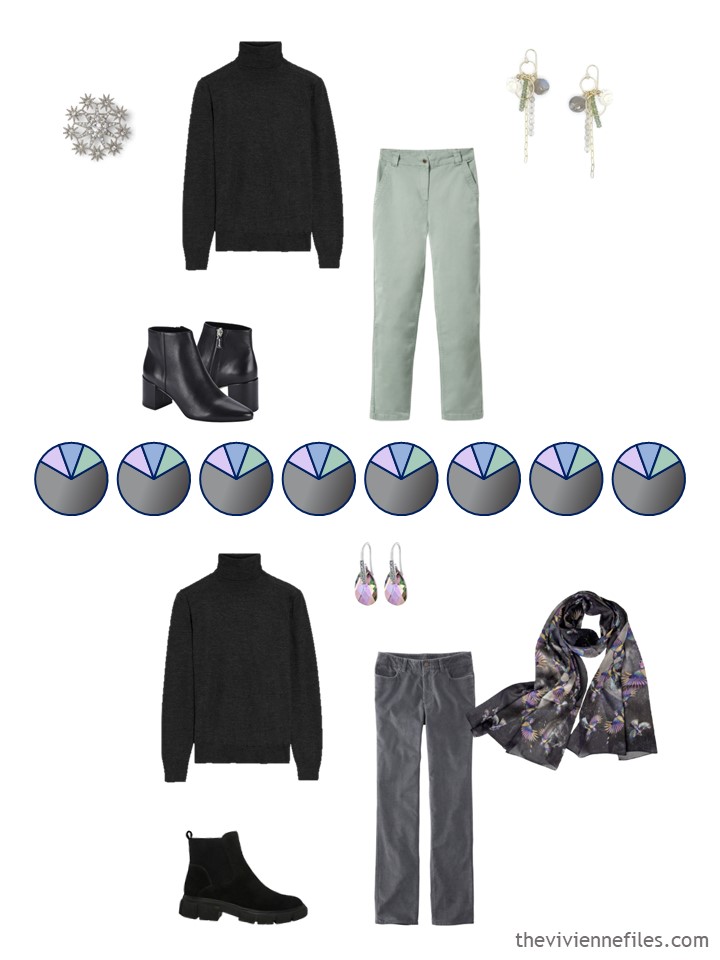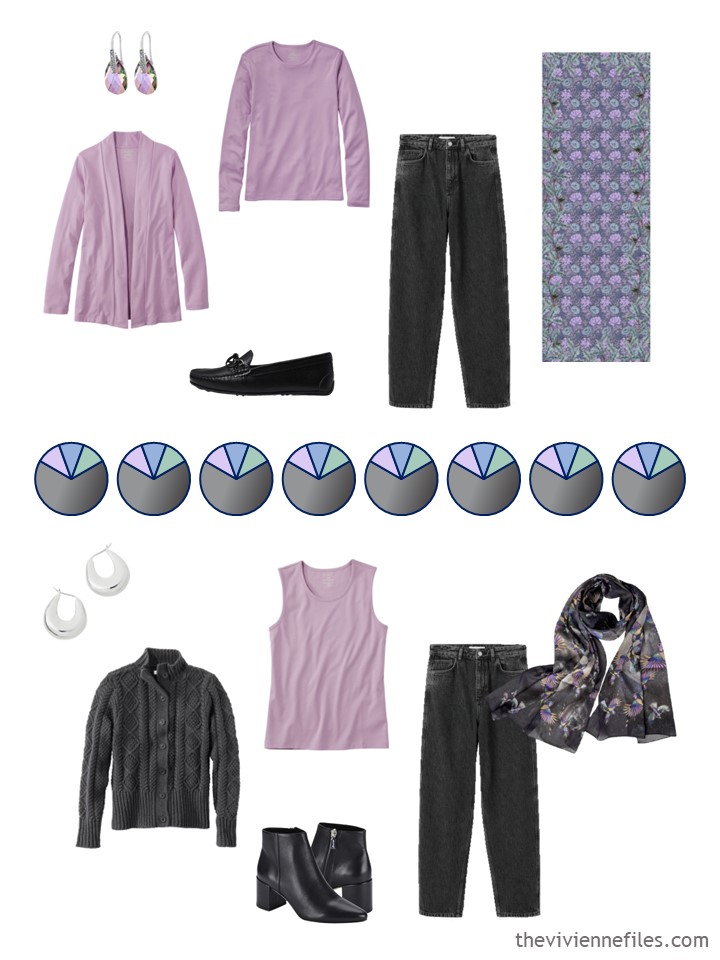 This scarf was so easy to work with in warmer weather – there are always flower pink and leafy greens available through the spring and summer. But for autumn… well, let's just be grateful for beige and ivory, right?
I think it makes sense to make your neutral garments the most luxurious you can justify. A simple ivory turtleneck can be special, with a little bit of stitch detail. And we can all justify owning a wee bunny brooch, I believe…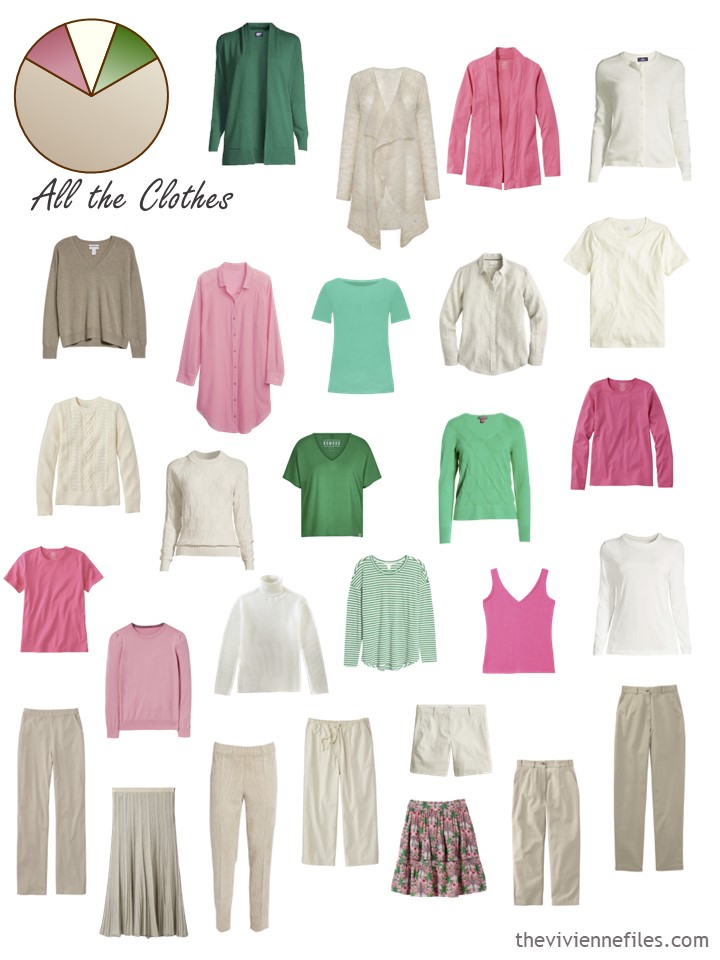 Yes, all of our heroines are picking up a 2nd pair of boots – these are waterproof, and a bit more rugged. Autumn IS coming, they tell me…
But given the difficulty finding things right now, if you see the right boots (hat, sweater, etc.), buy it as soon as possible! So many things are selling out, so quickly..
Still, both of today's heroines are well set for upcoming cool weather…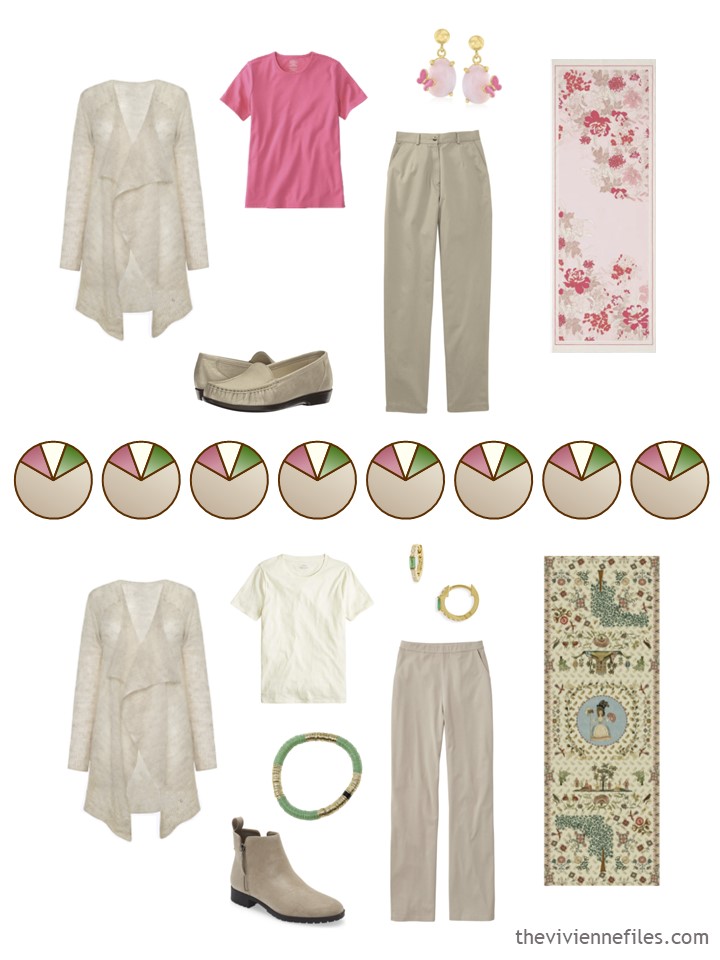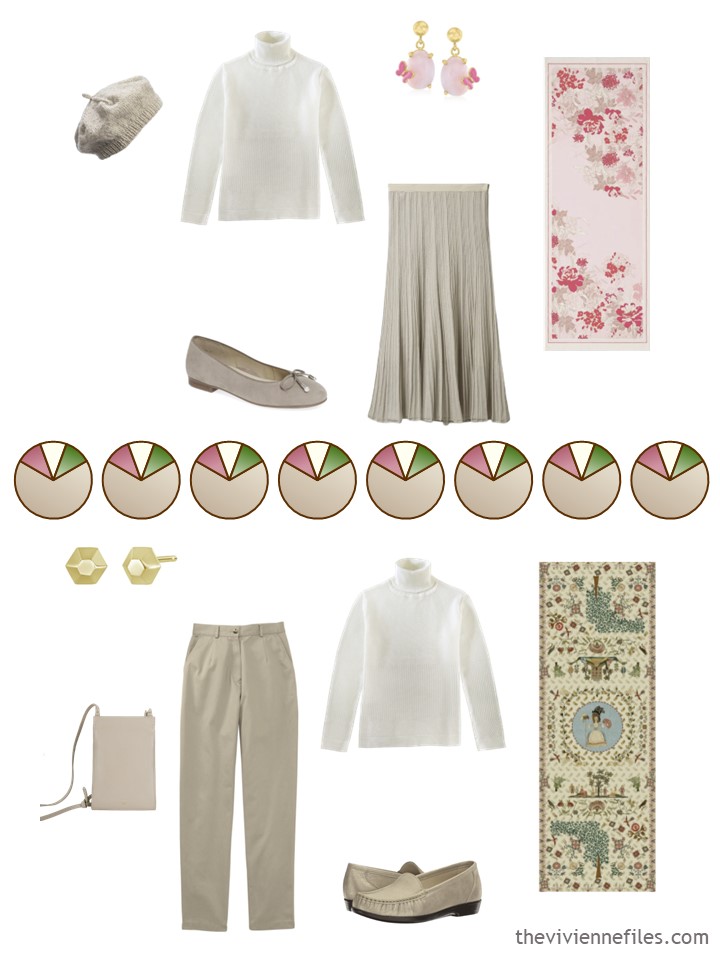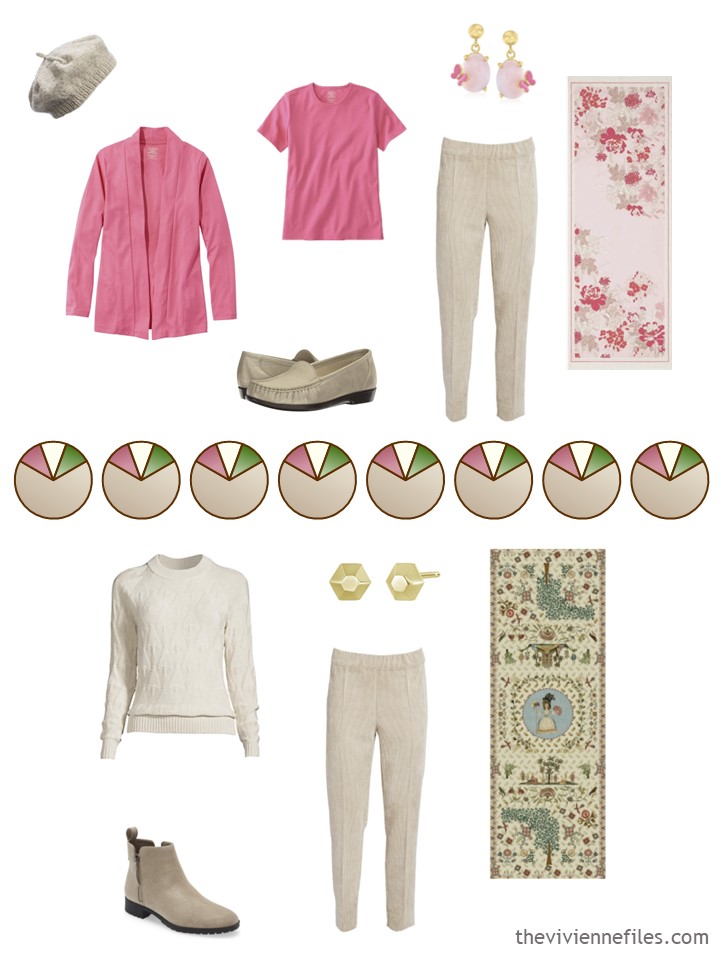 I'm not sure if I will finish this month's "scarf post" with 1 post or with 2. It will all depend on how easily I can find the best garments and accessories for each of our heroines…
Patience might be the most important quality to cling to when assembling a wardrobe!
love,
Janice
p.s. Six years ago, we were looking at six wardrobes based on 6 Hermes scarves – I added a blouse, cardigan and skirt to each wardrobe… Note that autumn clothes were available in a pretty nice range of colors that year!
p.p.s. Have you heard of the "1 Dress, 100 Days" challenge? Stay tuned…