June 17, 2022
If you're not living through record heat where you are, just be patient…
I recently heard from a friend who is just back from a long trip to Italy, and she talked at length about how the heat affected everything on her trip!
And I was once in Paris – relatively early in the spring – and was completely caught off-guard by some unseasonably warm temperatures; I had to scramble and make a couple of purchases!
It can happen anywhere on the planet, I'm afraid…
So what to do?
At a minimum, I think I will probably always pack at least a couple of sleeveless tops for almost any trip; they make great bottom layers when the weather is cold (almost like long underwear!), but of course might save you if the heat cranks up!
It might seem silly to pack a scarf for hot weather, but you may need it for cold, overly air-conditioned places, or for modesty when you go into a church or other place of dignity and respect…
Whatever you do, DON'T bring a synthetic scarf with you – it would be more comfortable to wrap yourself up in a plastic bag… Normal rules don't apply when the temperature is over 90 degree Fahrenheit.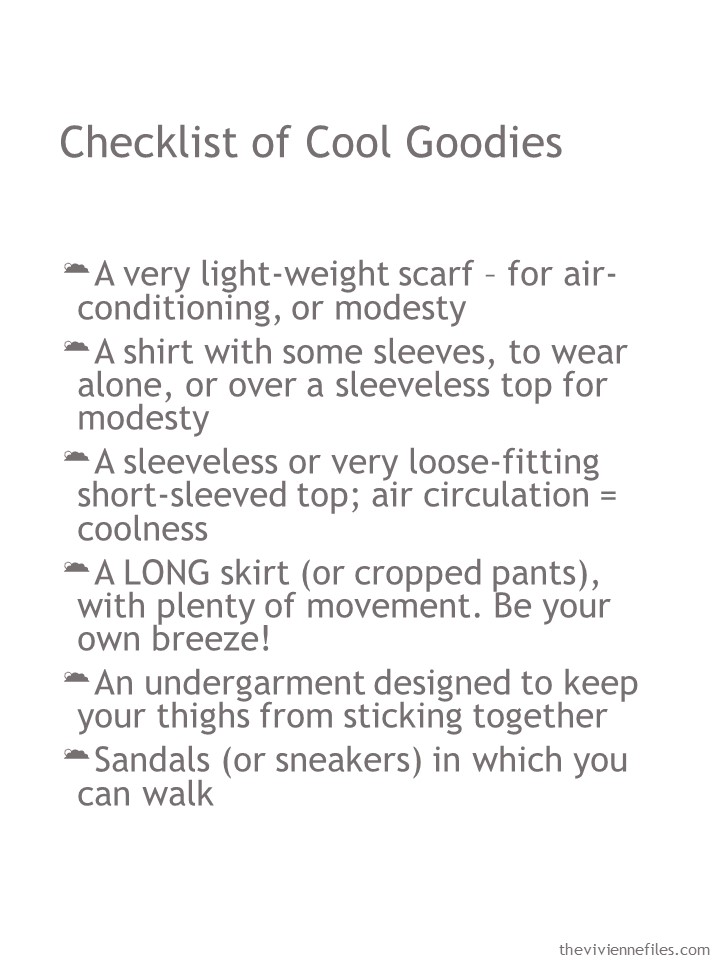 Comfortable sandals are always important, although I understand that Italy was much like Paris in that wearing gym shoes with almost anything is now acceptable. Still, the right pair of sandals will be cooler… just make sure that you can walk in them for a long LONG time!
I didn't include bags in these ensembles, but it's worth mentioning that you're going to want a reasonably large, easy to carry bag for these kinds of days. At a minimum, your scarf will be in the bag! But you also want to be able to put your "shirt with sleeves" in your bag, as well as the essentials of ID and money. AND SUNSCREEN…
AND SUNGLASSES!!!
Normally I wear relatively tiny earrings, but for some reason I feel like wearing big earrings in hot weather. I can't explain…
Don't be afraid to mix patterns in your hot weather gear; stripes and dots always go together!
Why yes, you've seen this scarf a few times before! I think the colors in this are lovely, and would serve as the perfect inspiration for an entire summer of bright accents with chambray…
I have had vacation days that were spent entirely indoors – I believe that's why the Louvre was built! But even then, you have to get to and from a full-day destination, and you're probably going to have to find a meal somewhere…
If you pack a "heat wave cluster," and a "sudden cold-front cluster," you're halfway to being done with your packing!
love,
Janice
p.s. Seven years ago, I was pondering the implications of packing six garments, and wondering just HOW versatile a 9-piece wardrobe could be…