June 17, 2015
Last week, I was going out of town overnight – literally for about 18 hours, and had to pack, even though I wasn't going to be gone long at all. (this was the situation that got me started on the whole thought process of "3×3″…)
I was dressed, getting ready to leave; this is a reasonable facsimile of what I was wearing:
I knew that, since I would be home by 8 a.m. the next morning, all I really needed to pack was a clean top (as well as pajamas, and minimal toiletries), so I envisioned this:
First, I held up the top that I pulled from the closet, and took a close look at both sides of it, to make sure that it would be wearable with my white cardigan and black trousers. And then, because I'm always dreaming of packing, I started thinking of what else I might tuck into my bag, and how it would be worn. Since I'd substituted a top, I thought for a second piece I'd substitute my cardigan for a different one:
And then it was time to ponder what would go into my (imaginary) bag to take the place of my black trousers. A skirt, for me, is obvious:
This is the point in the imaginary packing where one needs to stop and start thinking about another pair of shoes, maybe, and some different accessories DEFINITELY! (even I could get bored with the same scarf day after day…)
And then, to get to the cool "Six Pack" number, and to build a nice, symmetric "3×3", I just ran through the process again. First up, another cardigan.
Yes, the cardigan is the same shade of red as my top – that makes wearing them together easier. If you know for an iron-clad fact what your accent color is, it makes sense to try to buy pieces like this at the same time, or at least from the same company. Even if you don't plan to wear them at the same time, having the option is never a bad idea.
Finally, something that's not a solid color! This top could have been any kind of a pattern, design, texture or print that included at least 2 of our 3 colors.
And to offer a casual option, and tempt the laundry fates, some white jeans:
It all looks like this, when you plug it into the template: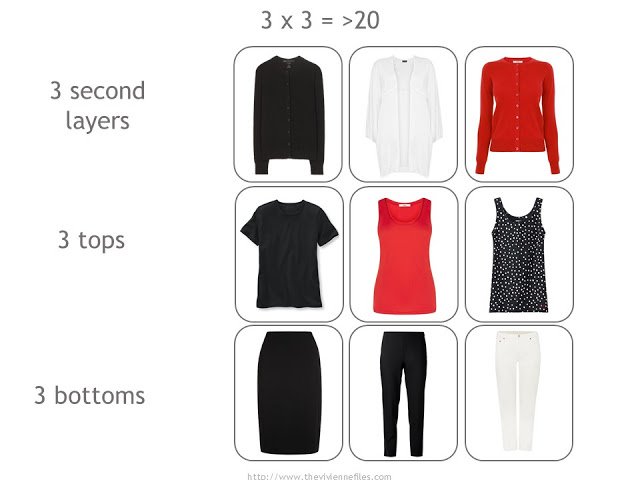 This "3×3" does NOT equal 45, because you can't wear the white cardigan on its own. But I'm pretty sure that only cuts three possible outfits out of your options, so you've probably got 42 different ways to combine these 9 pieces. But I deliberately pictured 20 in my mind, which is more than adequate for most travel.
Does anybody else in the world think about packing as often as I do?
love,
Janice