February 2, 2022
Back to our favorite scarves!
I'm changing up the order of these scarves each month, just to get a fresh look at things…
When we left this heroine back at the first of the year, she had a tidy 7-piece capsule wardrobe that would be great for a short trip, or for having to go into the office once a week:
So what does a heroine need in February? For me, a bit of an accent color would be handy, and something to wear during that 2-day "faux spring" that we always see, when the weather is up above 15, and the sidewalks are dry!
While I might still want a sweater, my ankles want me to wear cropped pants!
And I am always a firm believer that most of us can get a lot of wear from a good, comfortable pair of ballet slippers. They serve as bedroom slippers when we travel, and we can slip them on quickly if we have to dash out of the house for something. And a pedicure is NOT required…
Truly dark brown pants weren't available (that I could find…), so our heroine chose a versatile taupe…
Now, her wardrobe is 10 pieces, and looks like this: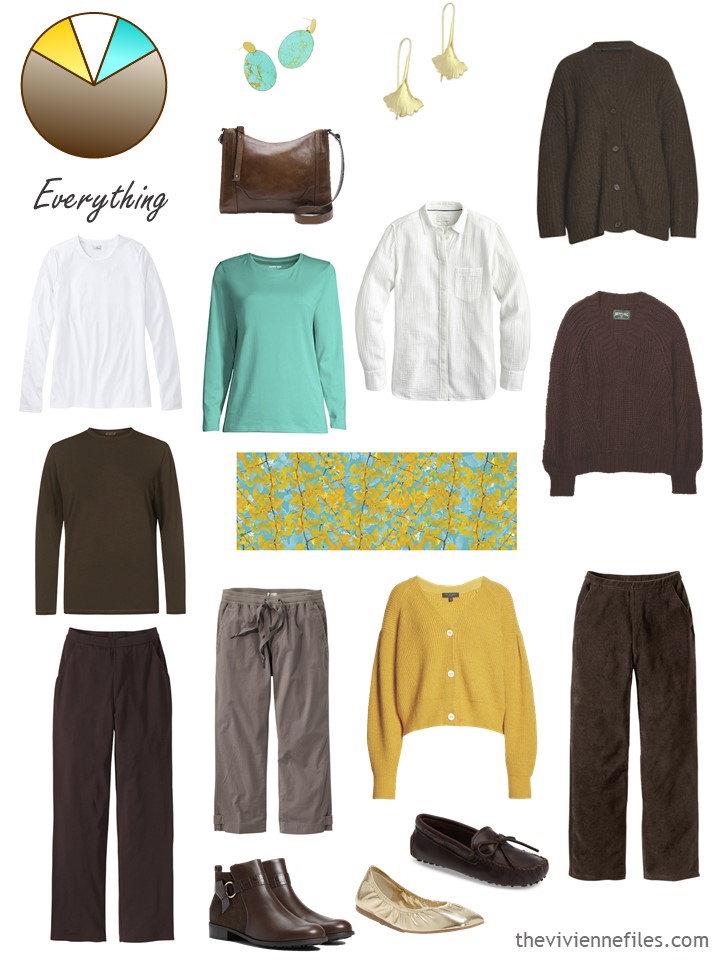 Just that one tee shirt makes a ton of difference, doesn't it?
How can she wear these 3 new garments? I have ideas…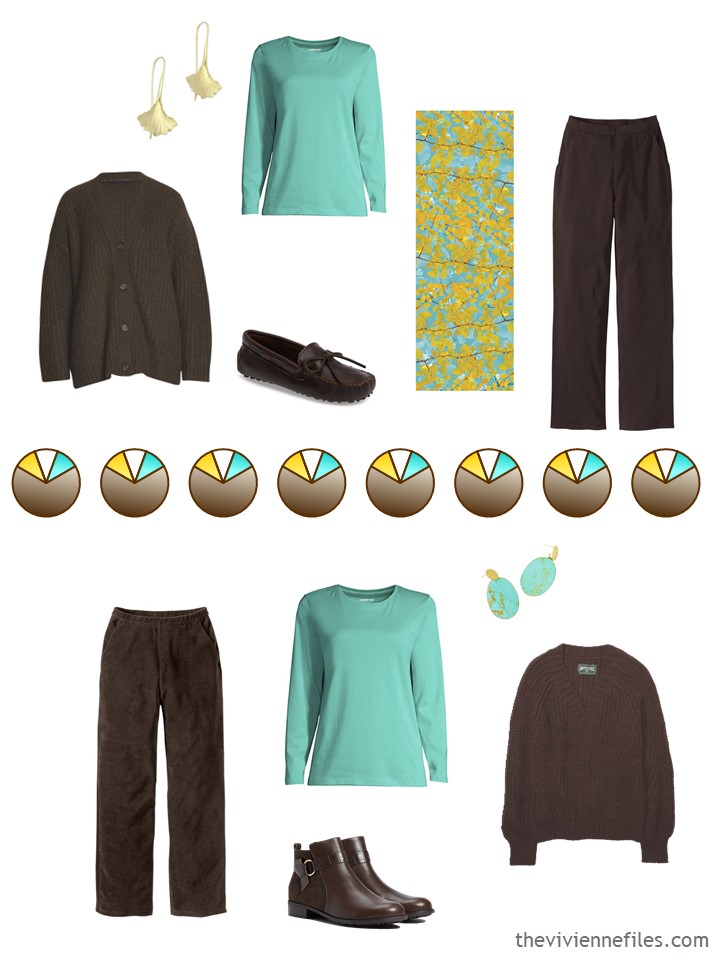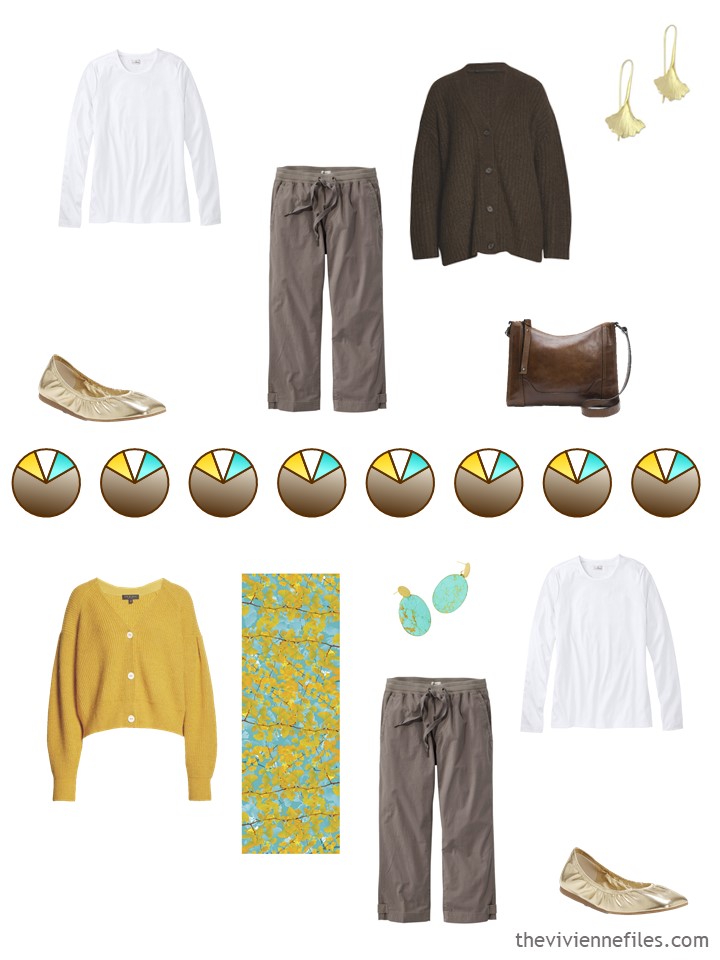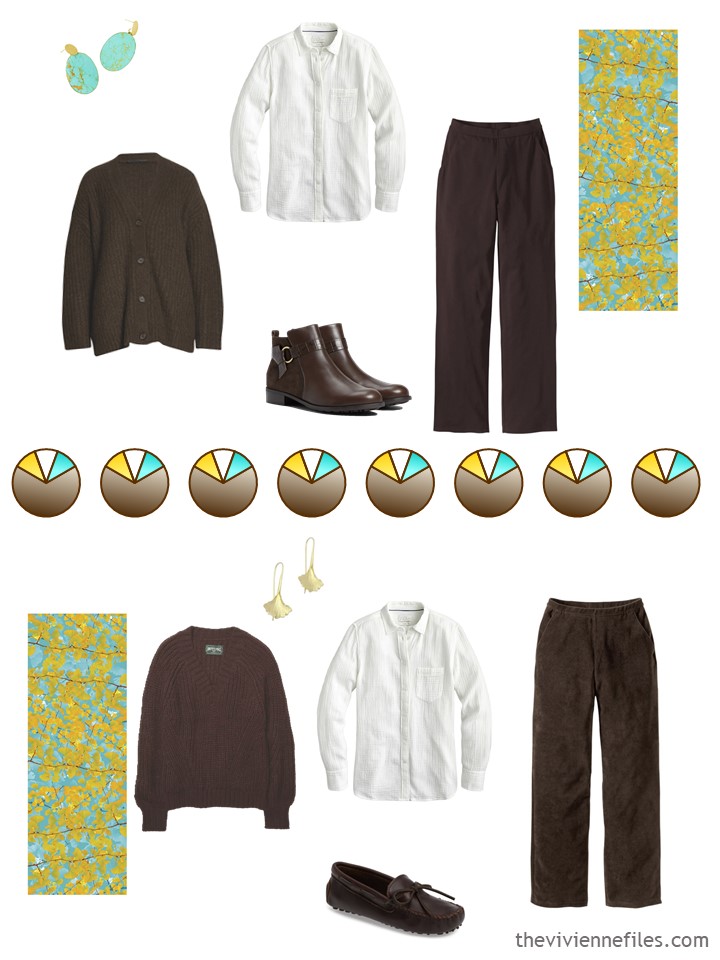 Next, let's visit the wardrobe of the heroine with the Tree of Life scarf!
Her "end of January" wardrobe was very basic, but extremely versatile! I love the brown leather goods…
As much as this heroine could live for a long time with warm rust and black, it's maybe time to introduce her beautiful green accent!
And I'm giving all of the heroines a simple button-front shirt in a light neutral; sometimes nothing looks better than that bit of light collar peeking out of a sweater…
Her 10-piece February wardrobe looks much lighter and brighter!
The new additions to her wardrobe give her plenty of options; my only concern here is that I really felt that her ballet flats needed to be black, rather than brown… Are we going to have "what color should be shoes be conundrums" in the future?
We shall address that later! For now, let's admire the new outfits this heroine has available: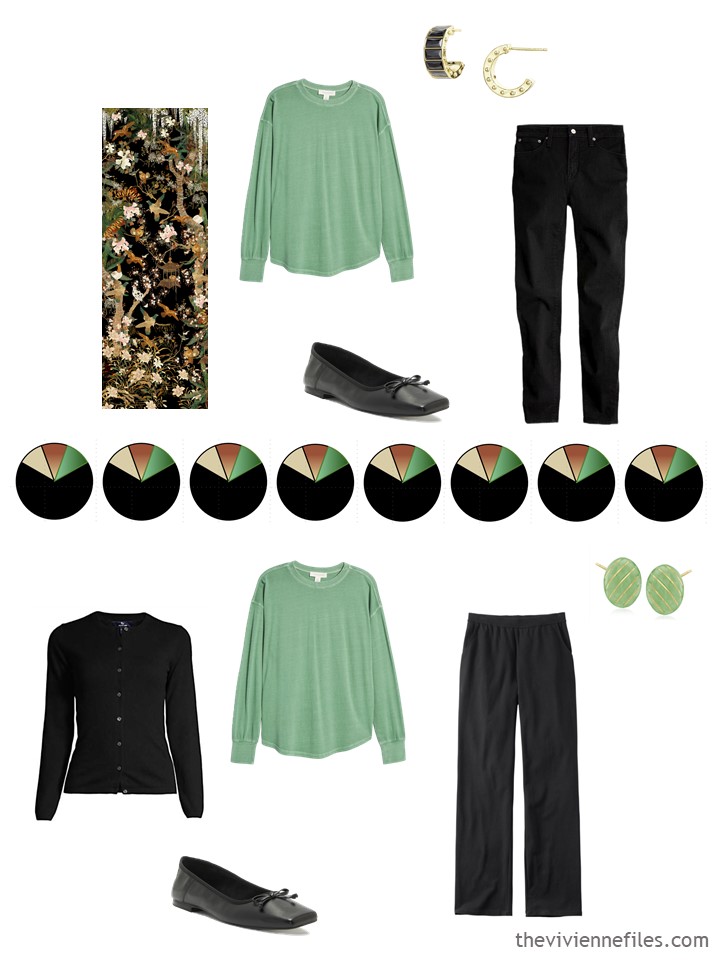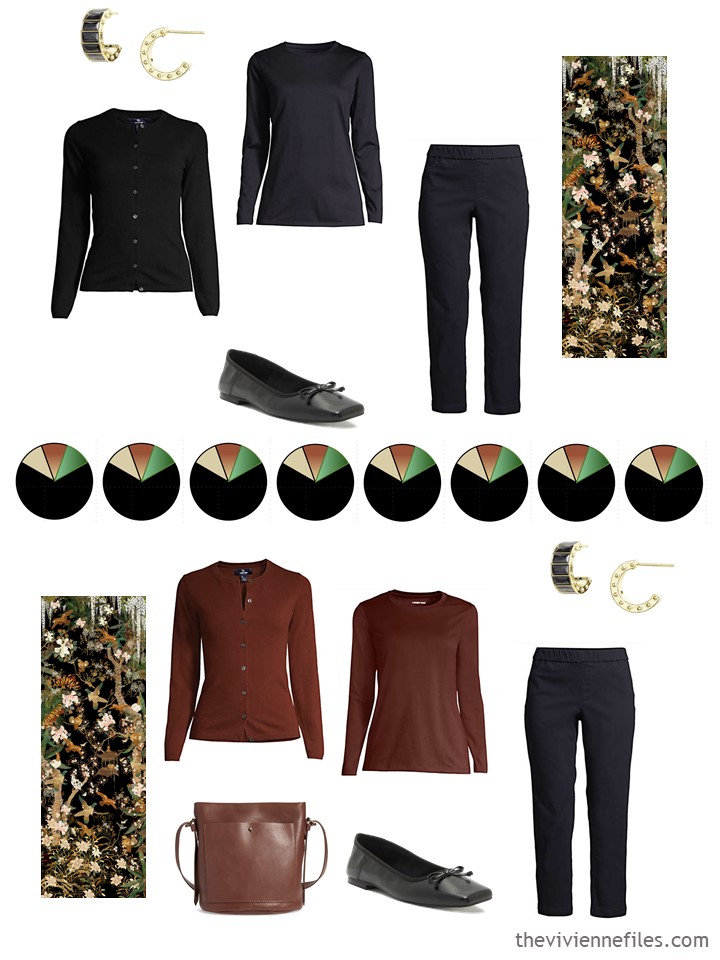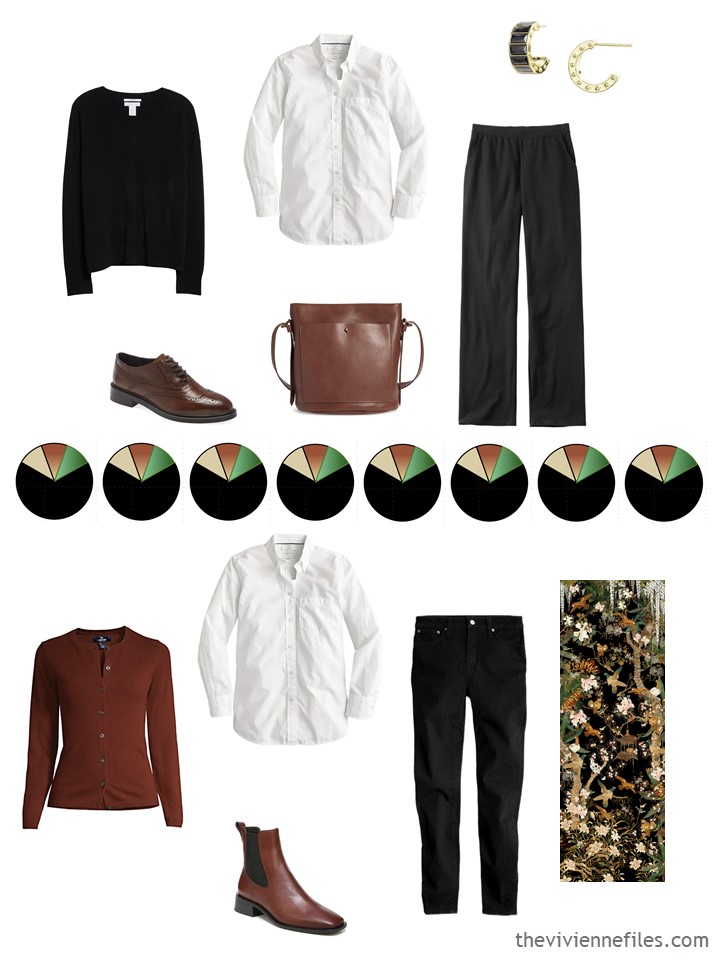 These colors feel like Spring to me…
This heroine's 7-piece capsule wardrobe at the end of January actually included 4 colors – not the normal system! But it was all practical, and versatile:
How could this heroine resist this striped tee shirt? Add in a touch of green in her earrings, and some gold flats – so much fun!
If I had to pack for a spring get-away to a moderately warm climate, I would love having this in my bag, and I NEVER wear beige…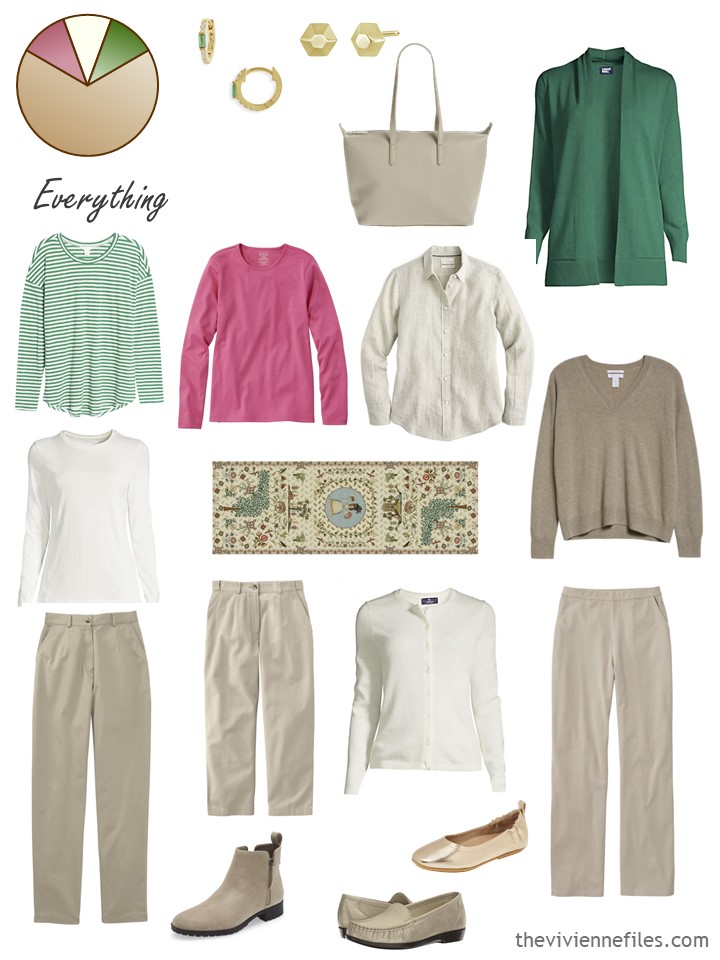 So many ways to wear these simple garments: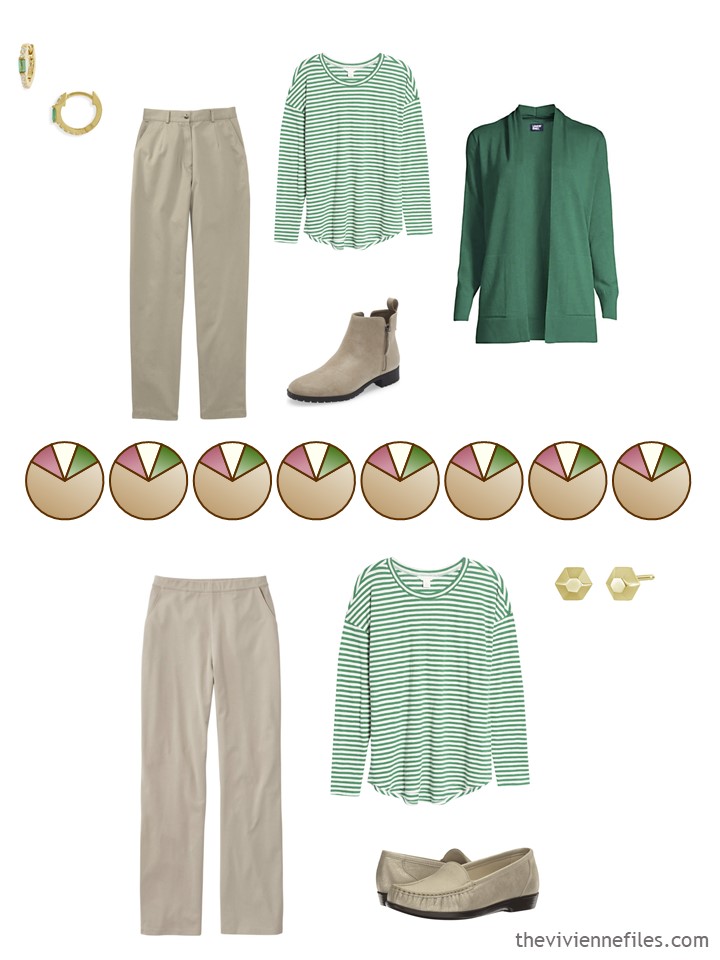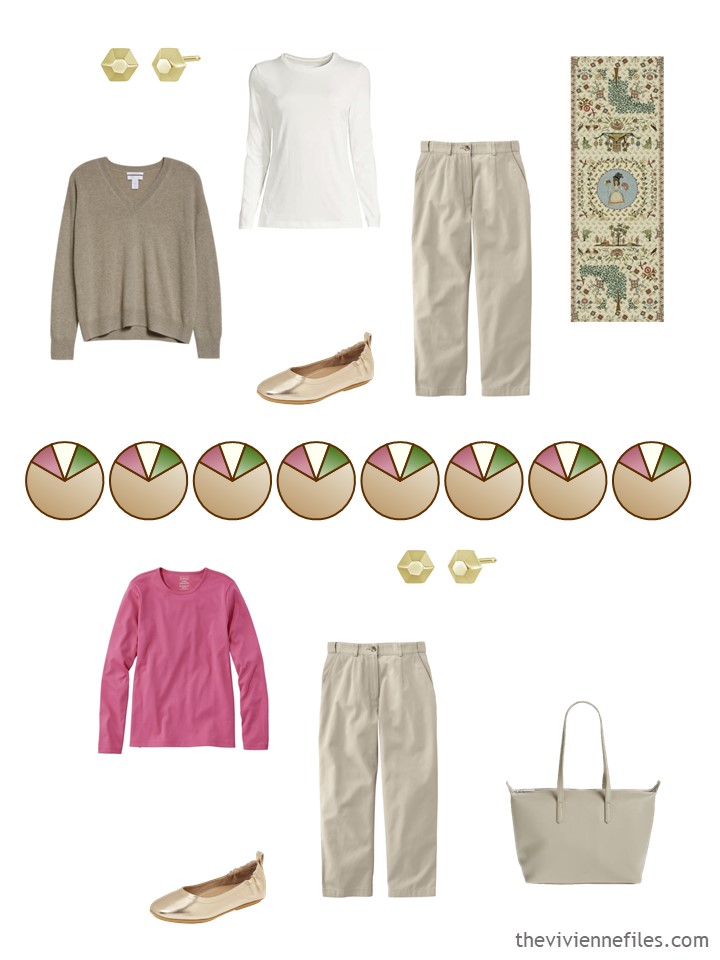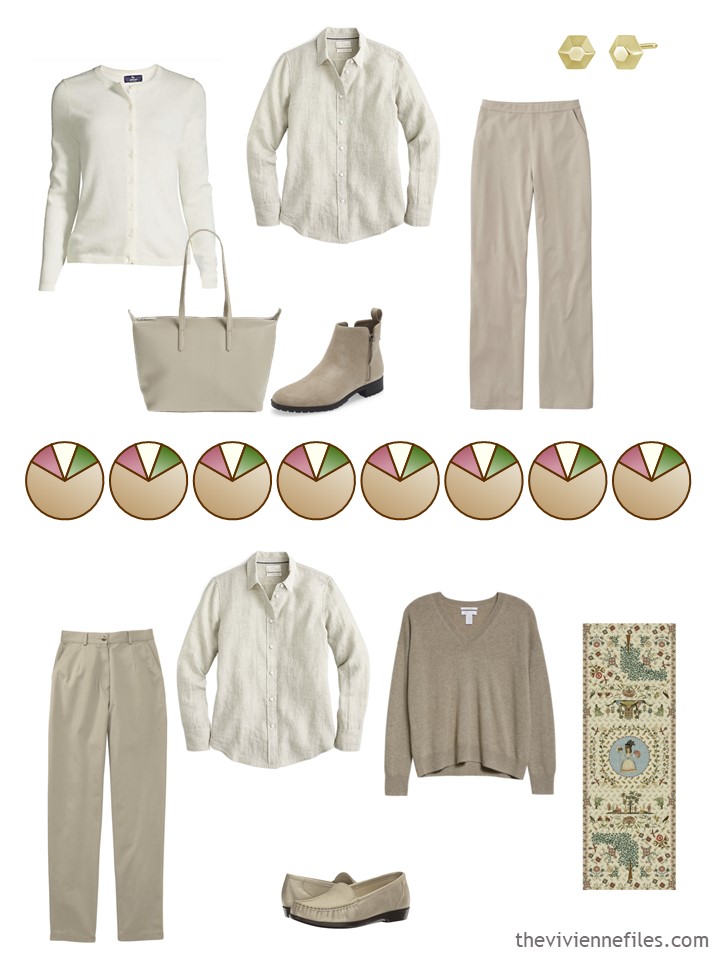 Every year, when I do a grey-based wardrobe, I tell myself that THIS is the direction into which I should be migrating…
In January, this heroine had a good core of charcoal basics, with the easy addition of a twinset in a gorgeous smoky lavender…
Isn't this shirt color perfect for this wardrobe?
This heroine's expanded wardrobe has such pretty accent colors…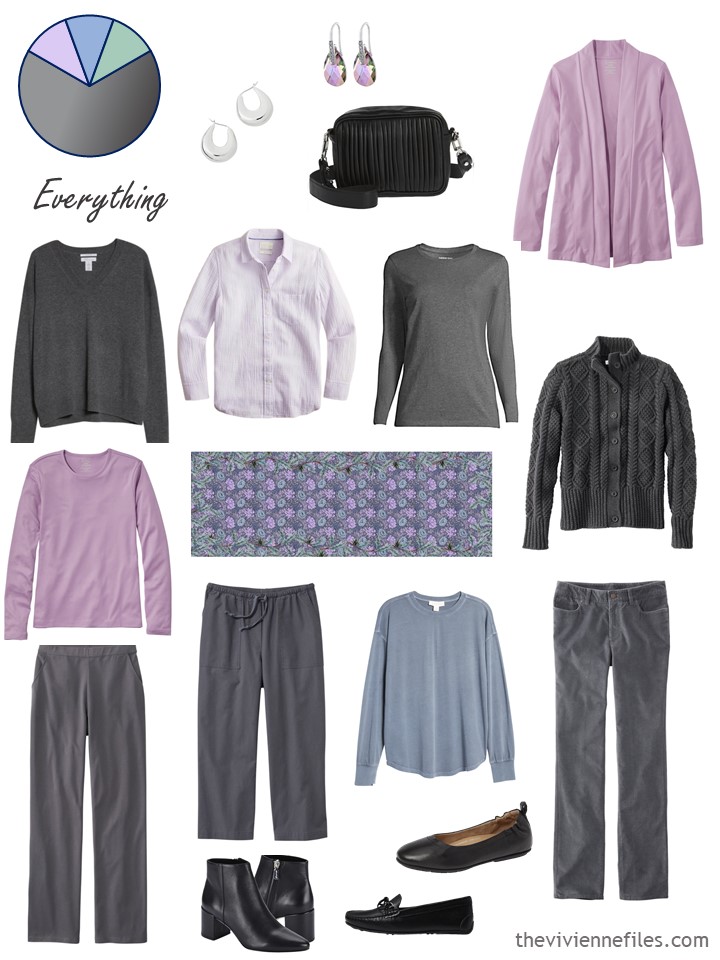 If you had to live with THIS wardrobe for a while, you'd be in good shape!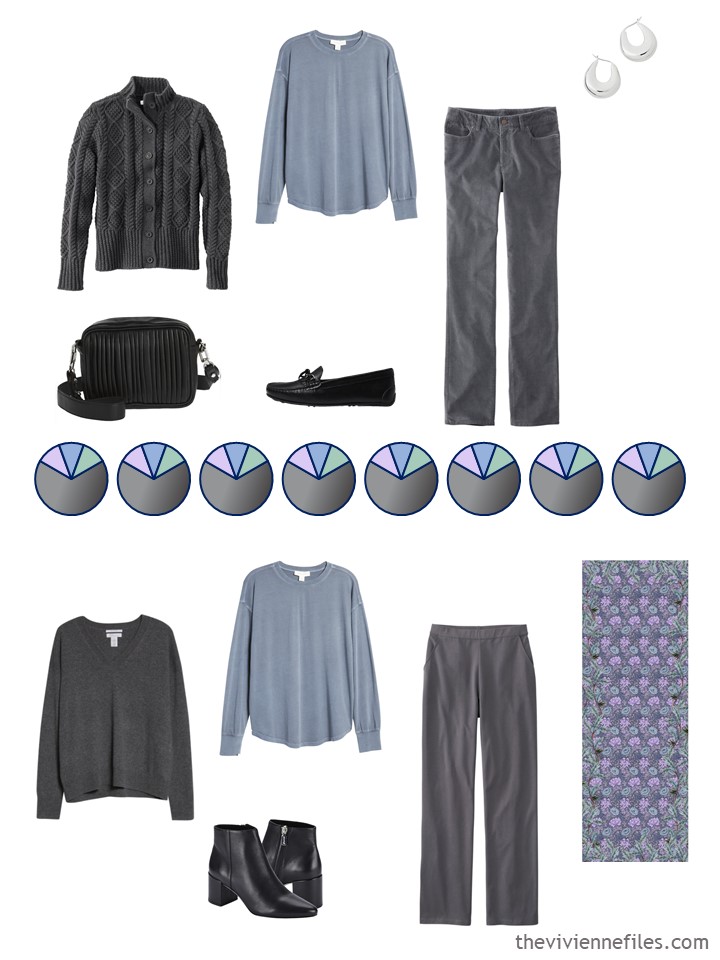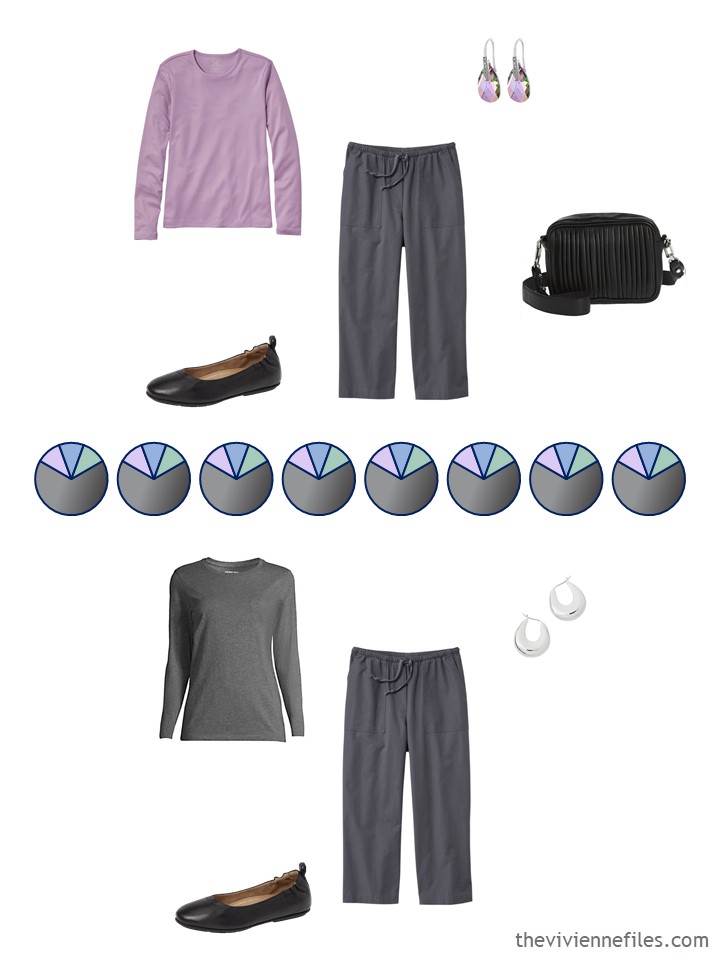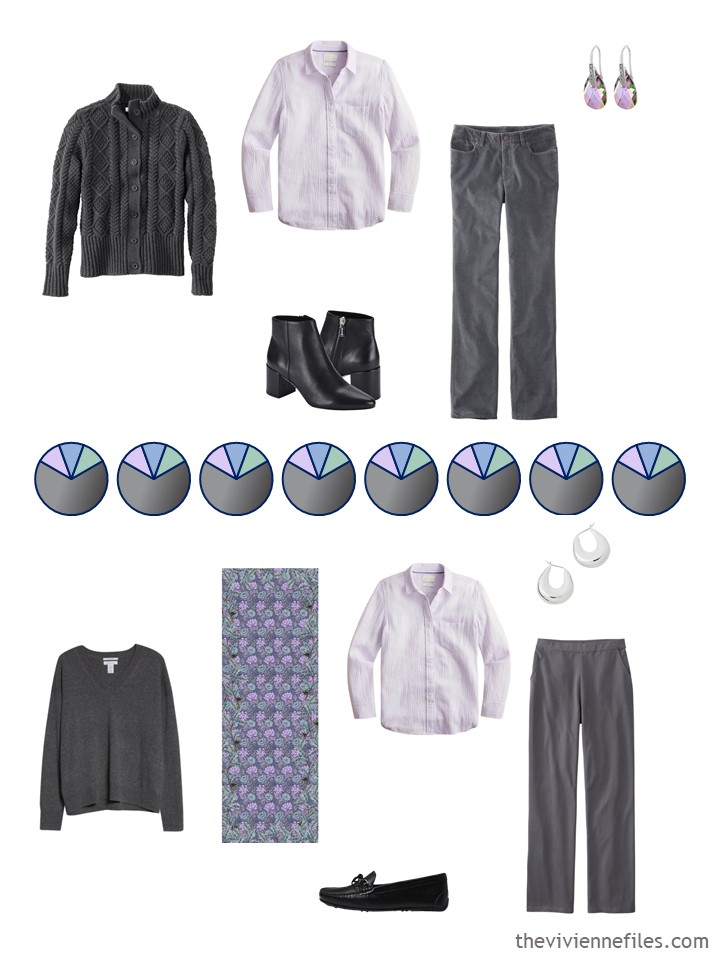 Yep – I changed the color wheel for this scarf, and wardrobe! It's important to remember that NO wardrobe decisions that you make are carved in stone; we are works in progress!
This 7-piece capsule wardrobe is pretty colorful – as 7-piece wardrobes go…
In the best of all possible worlds, this tee shirt will match your blue cardigan! And the earrings are NOT to be resisted….
The overall character of this wardrobe didn't change with the addition of 3 garments, but the core of olive green is better established… Sometimes you build up your basics, and sometimes you get flashy with accents!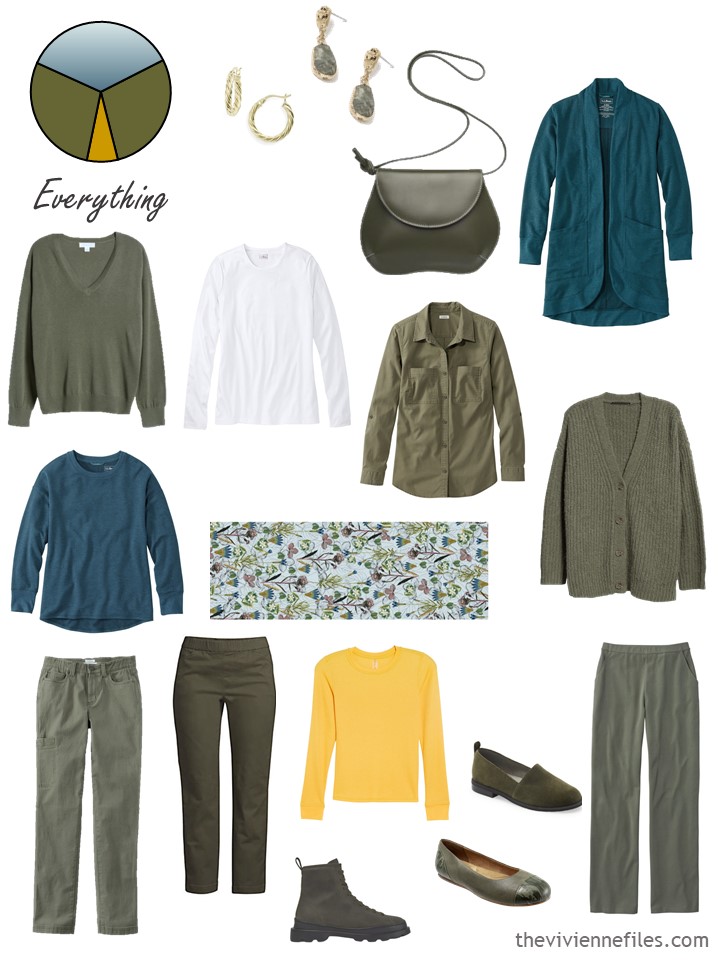 As with any addition to your wardrobe, these new pieces bring fresh options to your "getting dressed" daily project…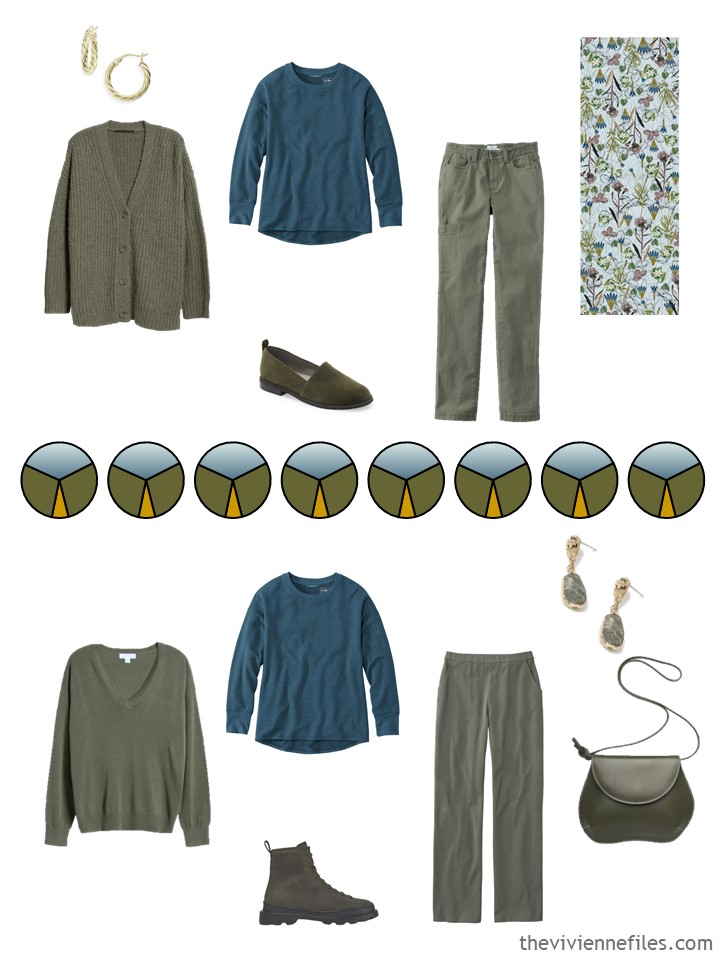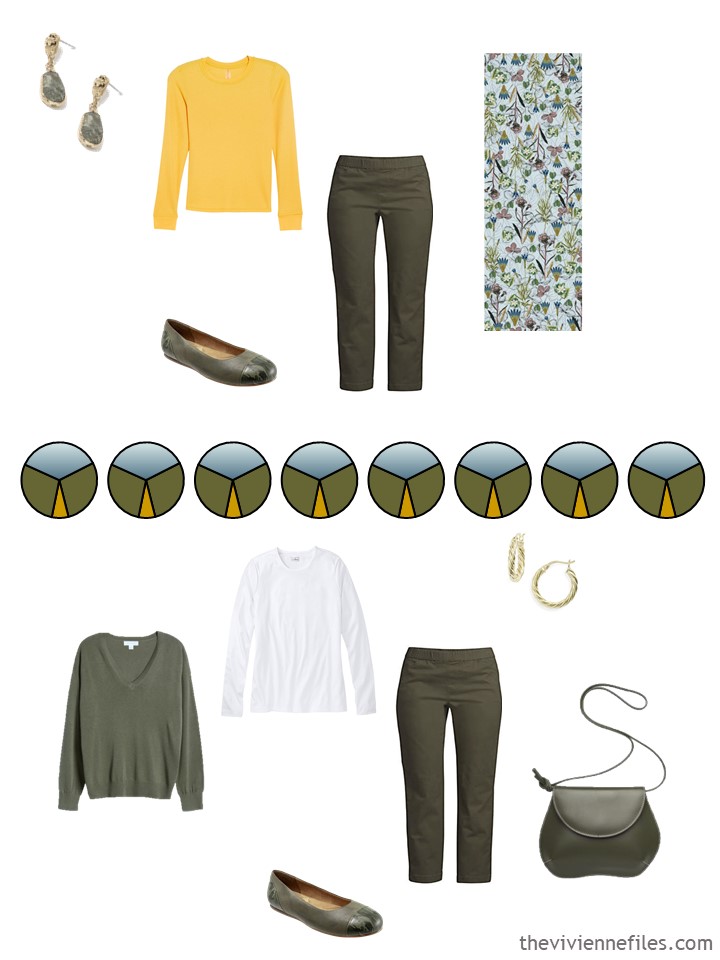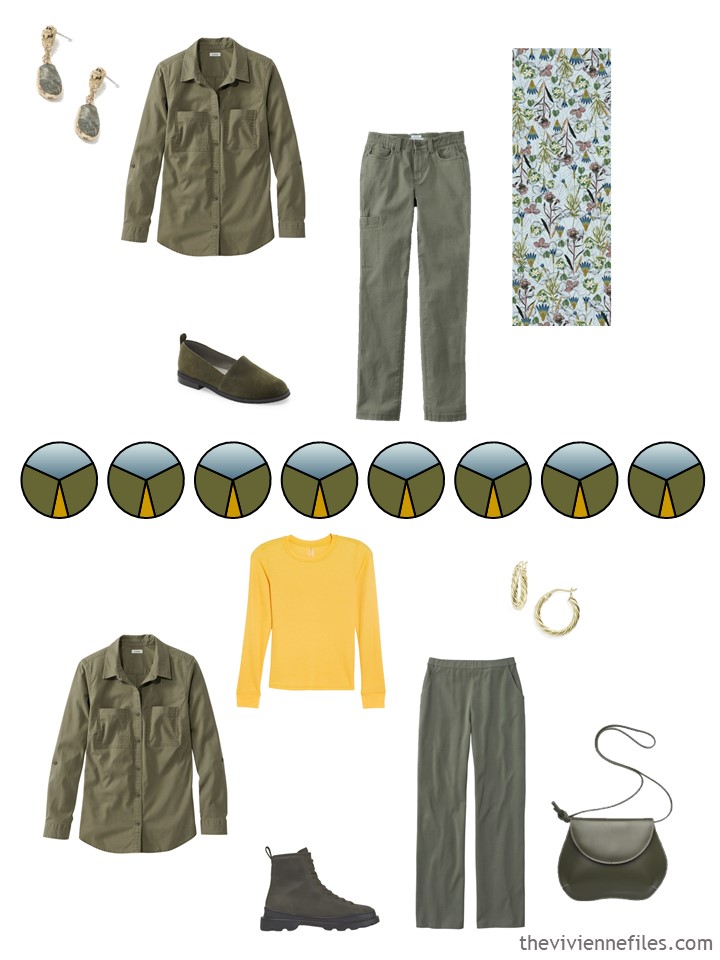 This might be one of the prettiest scarves I've ever seen…
At the end of the January post, this heroine was also left with a solid core of her navy neutral, and 2 pieces in a beautiful shade of pink:
big editorial warning – when I copied the image of this pink denim shirt into my work, it turned GREY. GREY!!!! I've tried to re-color it to look more the way it appears in "real life," but you need to click through to see it… For what it's worth, the shirt is available in TEN colors…
If your wardrobe accent colors are pretty pastels, run with them!
These additions make this wardrobe even prettier!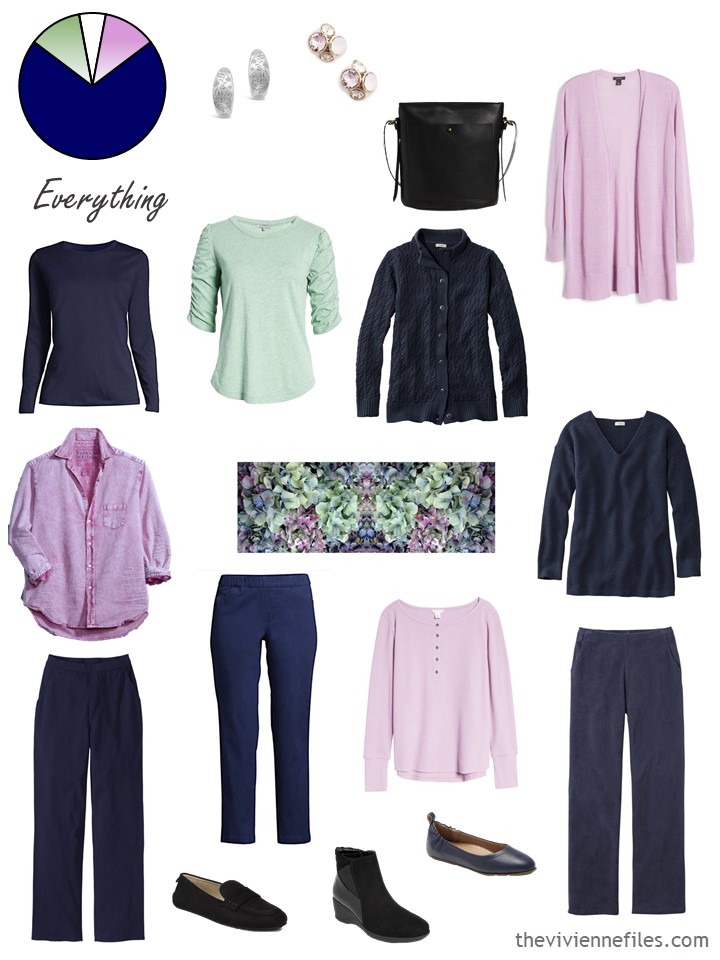 So many things you can do with this wardrobe now: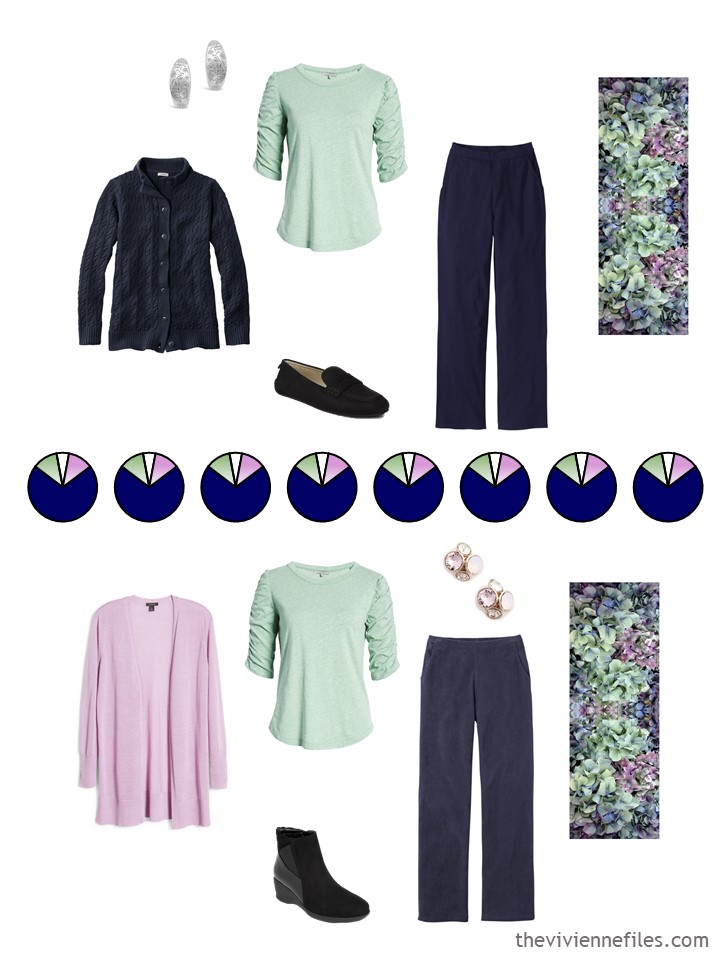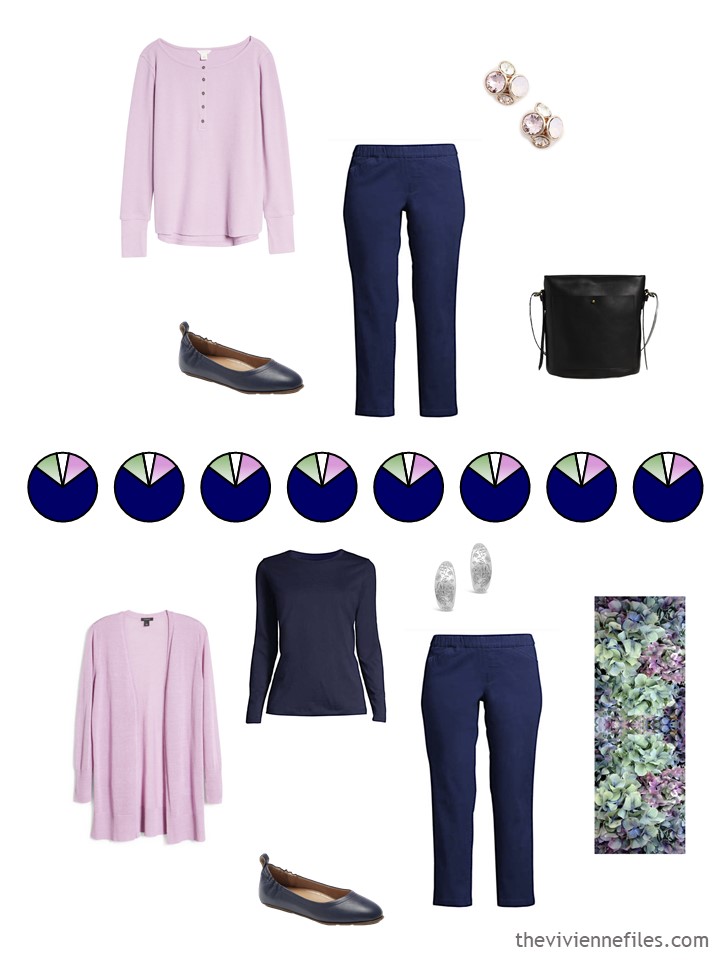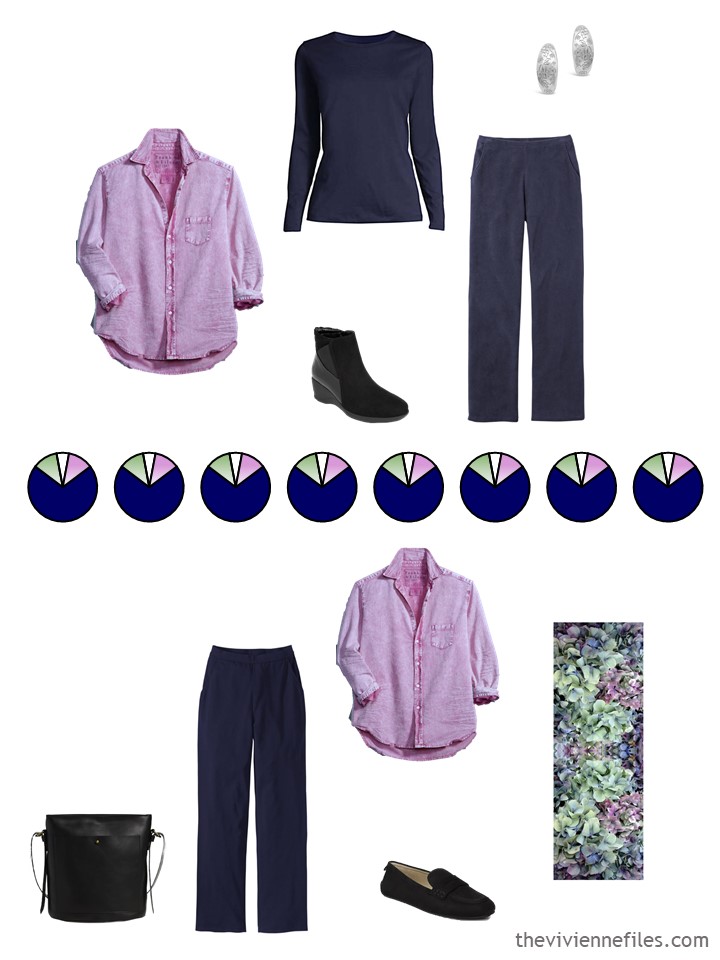 Has your favorite changed since last month? I have to admit that I'd kiss someone I didn't like for that grey wardrobe….
love,
Janice
p.s. Six years ago, I built a wardrobe around an Hermes scarf with a panther on it; the scarf is still lovely, and the wardrobe is timeless!