September 22, 2021
It wasn't a complicated request, but it has someone stumped: "Can I build a small wardrobe for going back to my office, using this sweater as the inspiration?"
My answer to most questions: Heck yes!
First things first – what colors are in this sweater, anyway?
A pretty straightforward color palette!
Let's start with a couple of outfits that our friend had in mind, and then a couple more that I imagined. You know that I'm always going to find a pair of ivory corduroy pants if at all possible:
Our friend very much wanted a light blue shirt – and I was able to find one that seems to be very close to the same shade as found in her sweater!
I love a grey shirt – I can't explain it at all! And once in a while this heroine is going to need to wear a skirt to work, so a sober shirt and classic skirt seems a good choice to balance her sweater:
And our heroine really wanted to include a denim skirt to wear with this sweater. I suspect that many of us have a denim skirt that could get out and about more often!
At this point, our heroine has 9 garments, at least 4 outfits, but really only one 2nd layer. (well yes, she could layer shirts over turtlenecks…)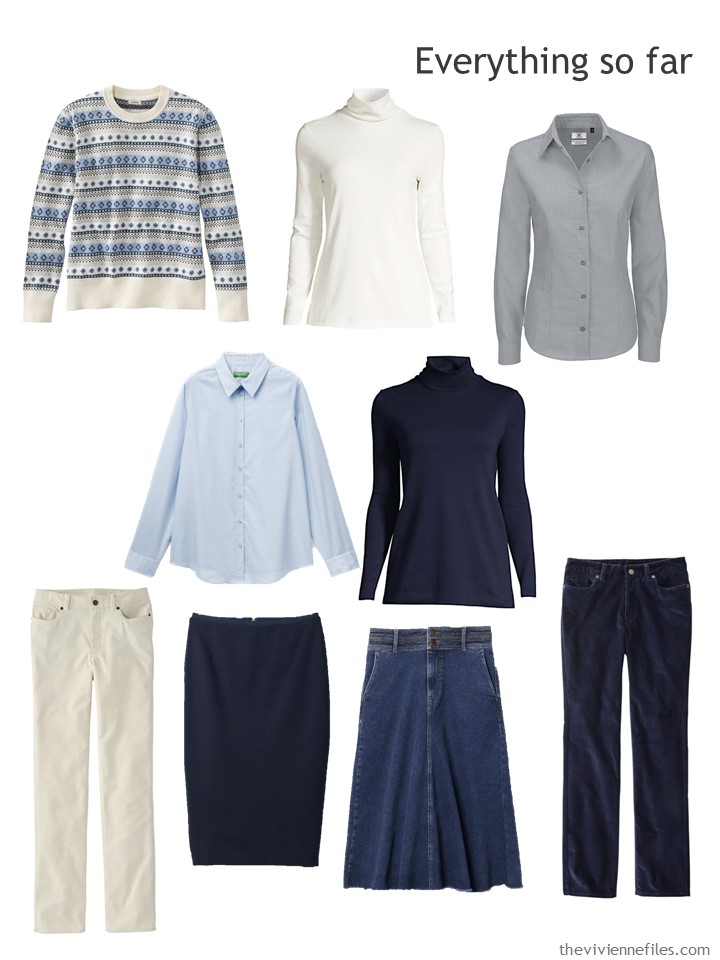 My first thought was that this was a really REALLY good start to a 4 by 4 Wardrobe: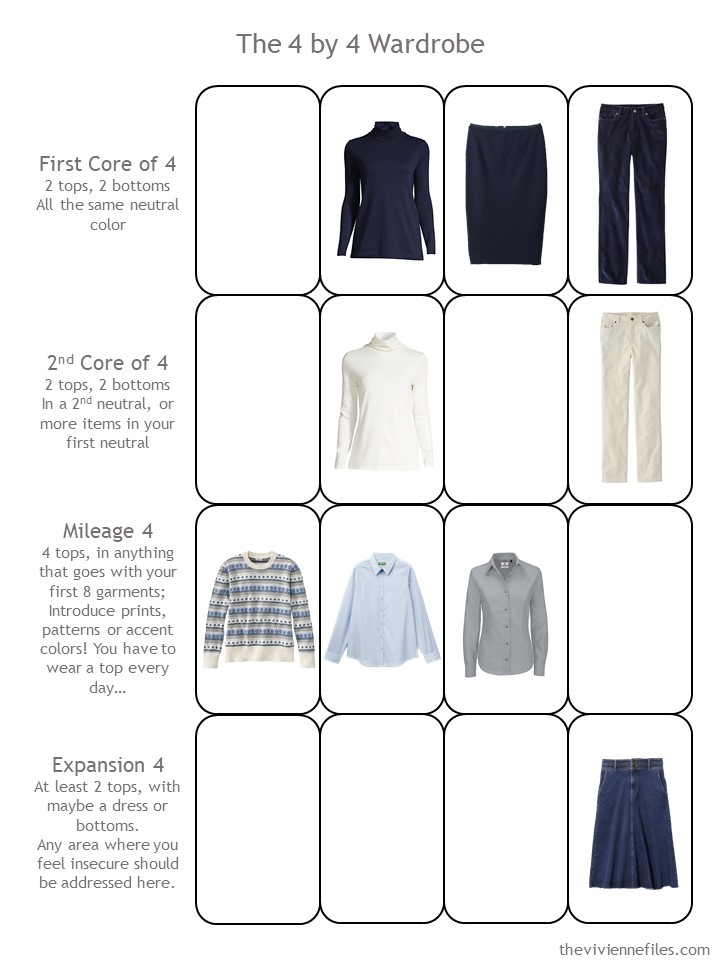 First row – some more navy!
Yes, shades of navy are a pain. There are a few ways around the issue:
buy all of your navy clothes from the same place,
don't layer 2 pieces of navy in an outfit, or
learn to live with slightly differing shades…
For years I was really sensitive to shades of navy in the same outfit, but after seeing men in Dublin wear navy topcoats over navy suits, or navy sweaters with navy pants, I grew more relaxed with the whole "matching navy" thing. You may never get to this point!
Also, the dots in this shirt are almost certainly pure white, rather than the ivory that we are using as one of our neutrals. They're also REALLY tiny, so I think it's not an issue. Again, you may feel uncomfortable with this…
This is already feeling solid. Don't ask me why the word solid came to mind, but it did…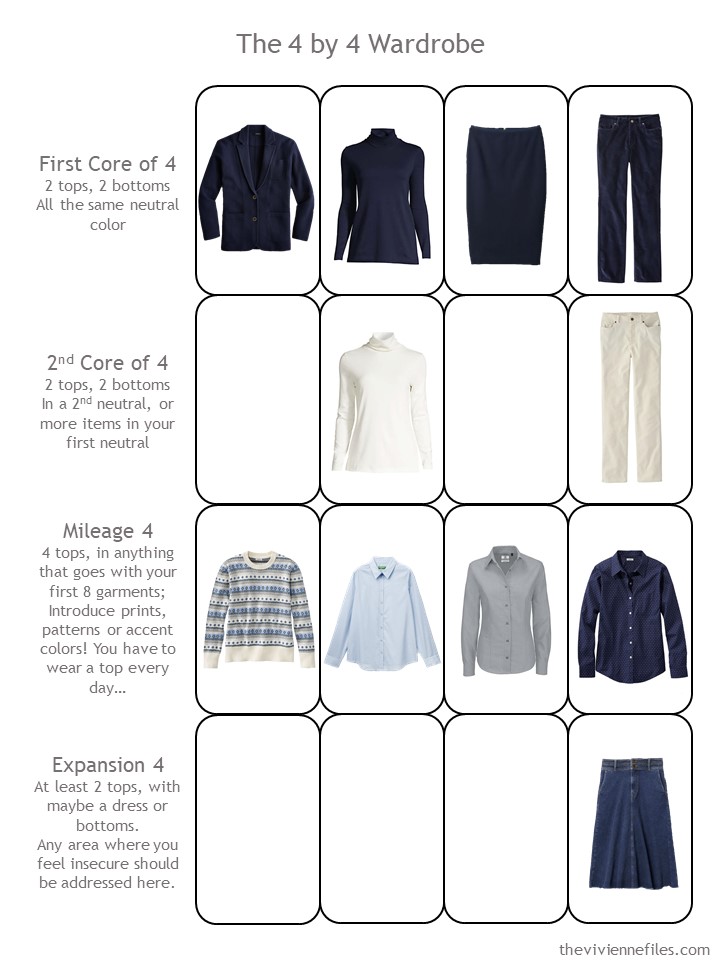 An ivory cashmere cardigan is just SUCH a lovely thing to own. Our heroine can even wear it without something under it… just leave open a button or 2 at the top and let your gold or pearl necklace peek out a bit…
An ivory skirt would be pretty here…
Her 4 by 4 Wardrobe is almost finished – already!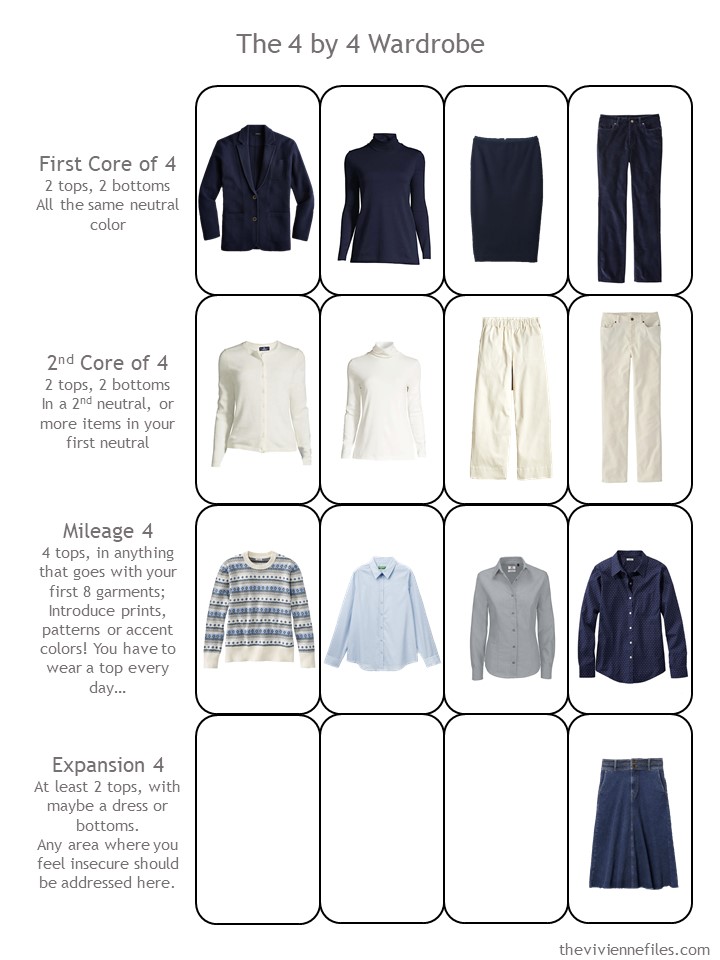 Because the purpose of this wardrobe is primarily to go into an office, I chose classic, simple pieces for her last 3 – although the striped cardigan is kind of fun and zesty!
How does this look? I could go a long way with these pieces…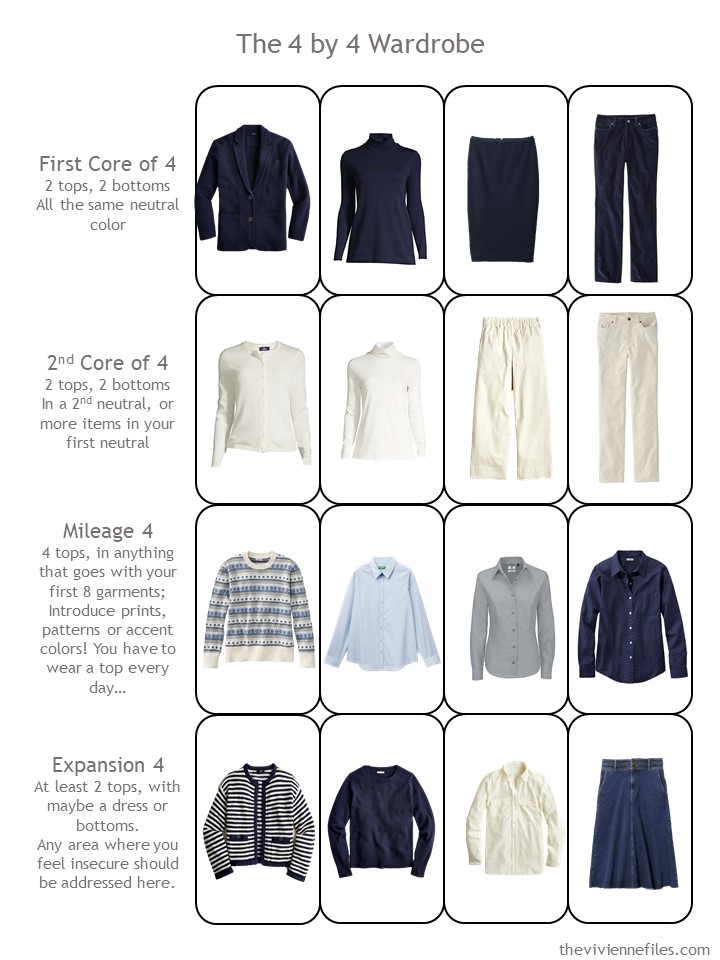 In addition to the 4 original outfits that all included her new sweater, our heroine has (as always!) plenty of options. I think that reviewing the possibilities is an important step in building a capsule wardrobe. You would hate like heck to decide that "in October, I'm going to wear these 16 (or 18, or 21) garments" and then find that you only have 6 or 7 possible outfits. Not to mention having to do laundry every couple of days…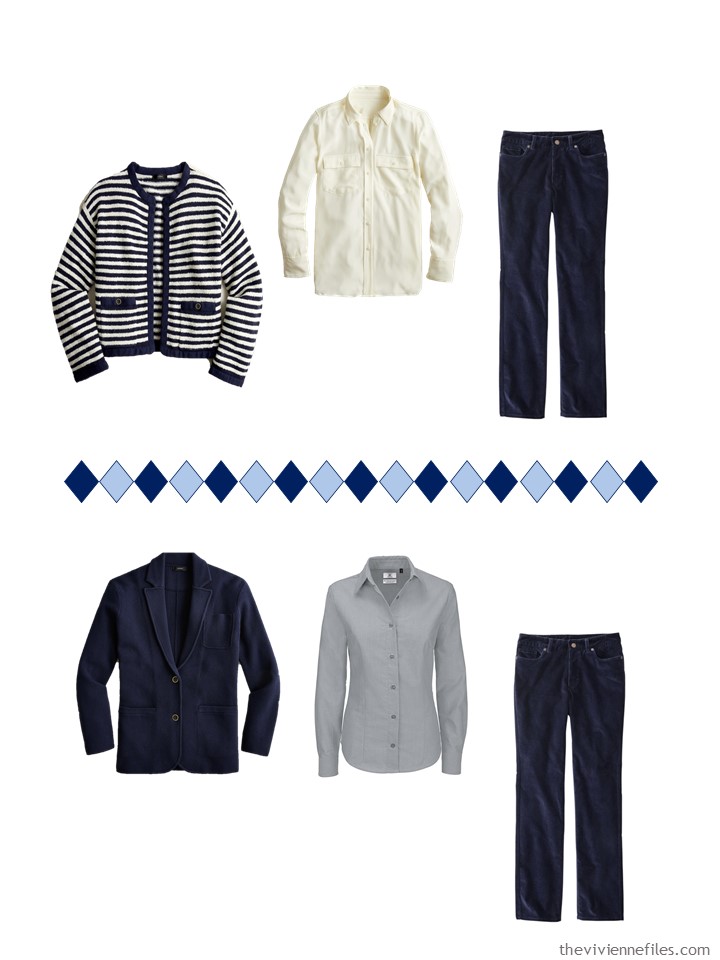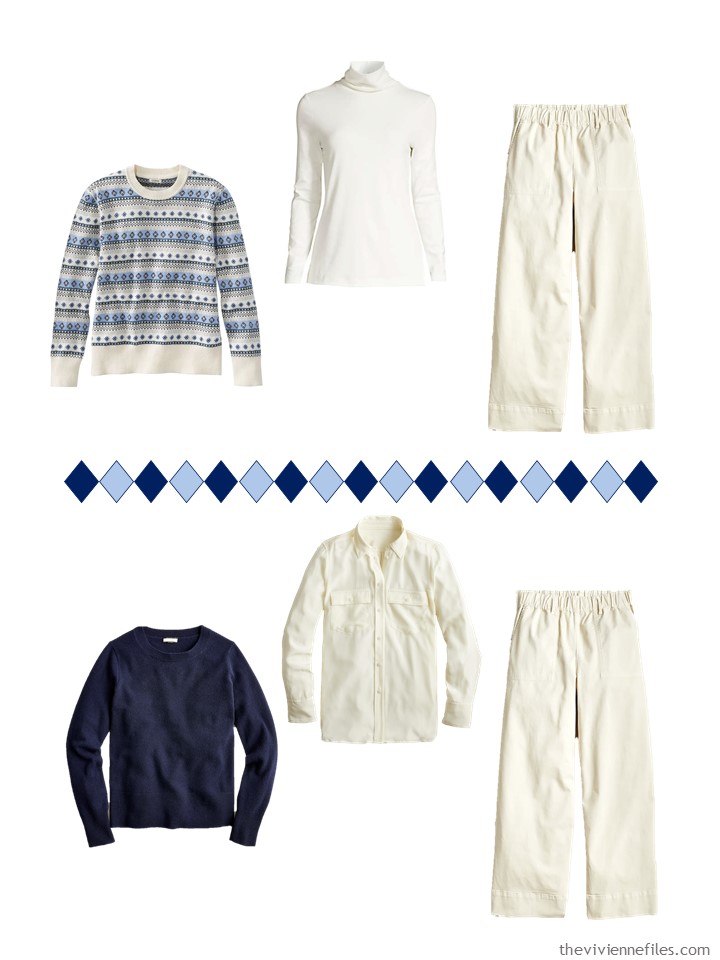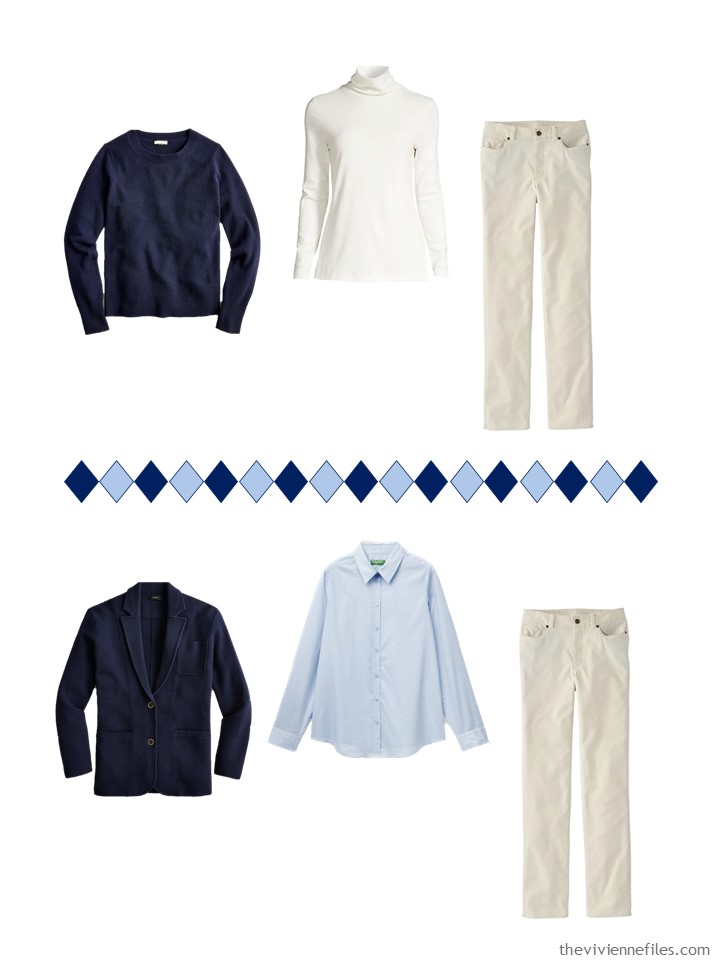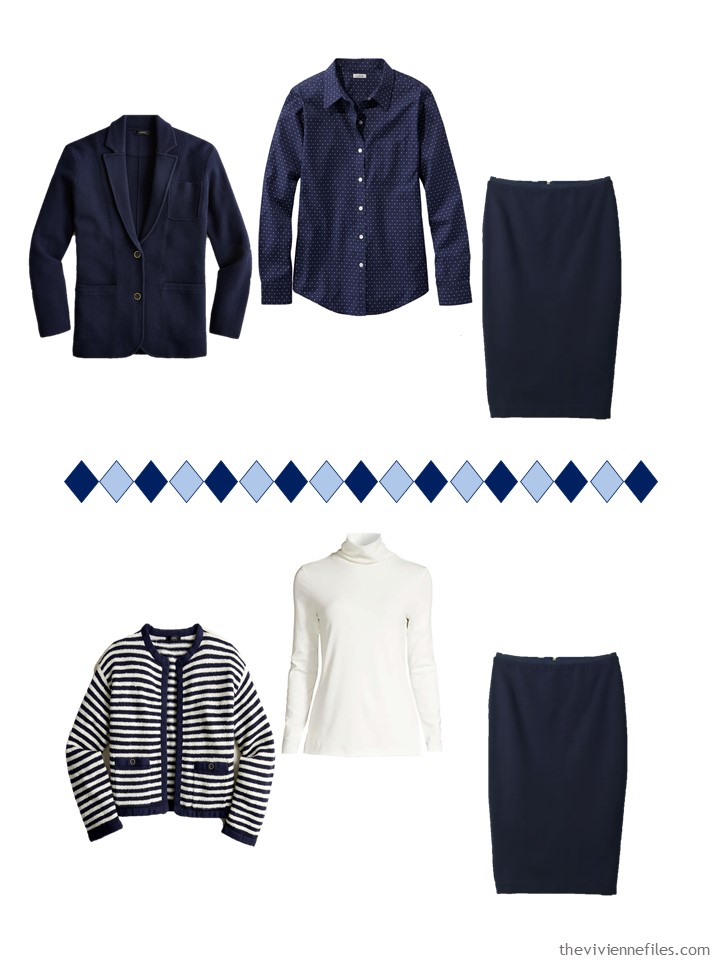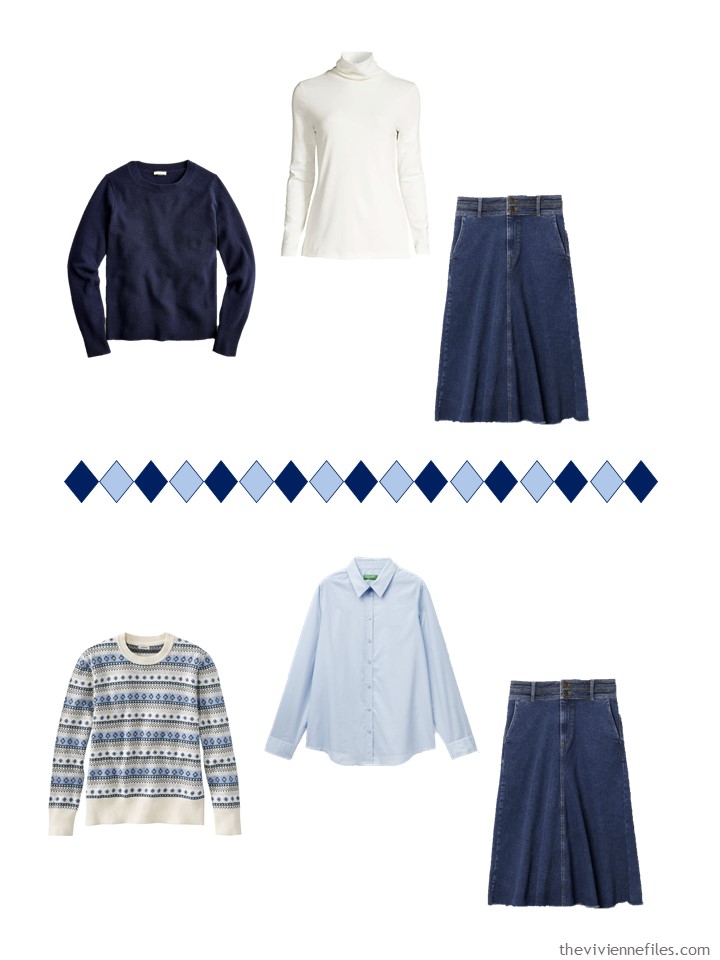 I suppose your co-workers might notice that you're always wearing navy and ivory… Do you care what your co-workers think of your wardrobe? I used to obsess, until I realized that nobody but me was really paying attention…
love,
Janice
p.s. Four years ago, we pondered the possibilities of opals as an accessory to a range of outfits. I LOVE opals…