August 11, 2021
It's nice to know that I'm not the only person around who gets their dates confused and loses track of time!
An Open-Ended Plane Ticket
The settlement was large, as was only fitting. She quit her job the next day, and now she's going to start her roaming where the weather feels like early fall; as soon as the weather gets too cool, she's going to hop a train and head a bit south…
Eventually, she will have to buy clothes. But that's for later…
She knows that she's only packing a carry-on bag. Originally, she planned to limit all of her clothes to navy and grey, but then her bracelets caught the light…
She's going to wear her current favorite outfit on the first leg of her voyage…
And she's packing 2 more outfits. Some long underwear for sleeping, 2 changes of undergarments, and the world's tiniest assortment of personal care products…
This last "outfit" is technically 3 different outfits… but it's only 3 garments, so she feels like she hasn't broken her packing rule! Nor has she overloaded her bag…
A couple of days before she puts EVERYTHING ELSE SHE OWNS into storage, she takes a good long look at her travel wardrobe…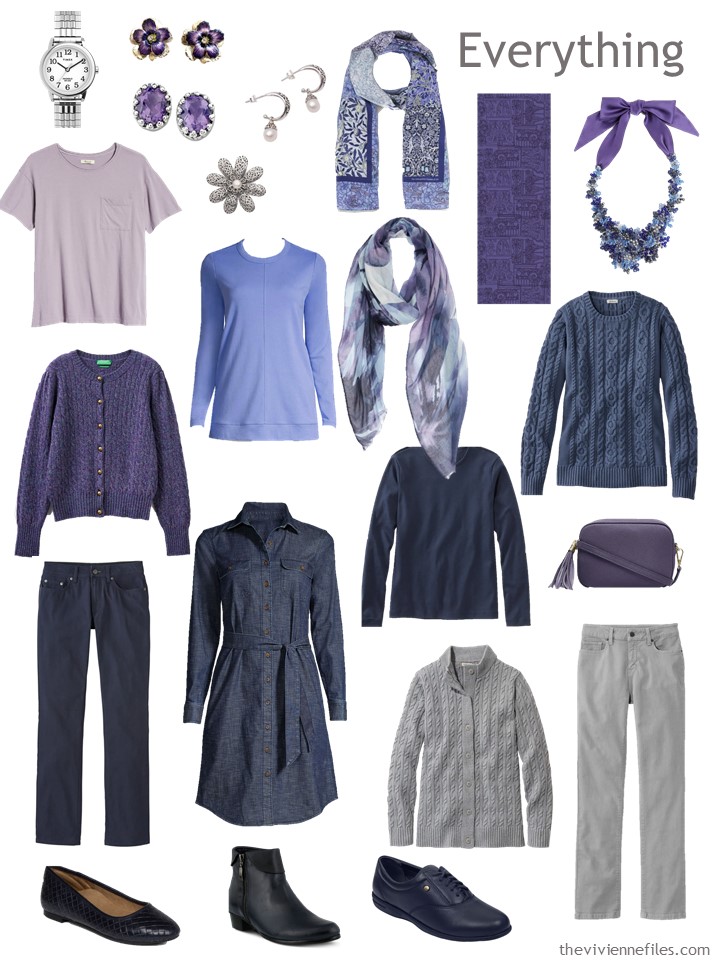 Eventually, she will need a coat, and maybe boots.
Eventually, she will want a couple of new tee shirts.
Eventually, she will see something in these colors that will absolutely HAVE to be purchased…
But for now, she has all of the options she needs!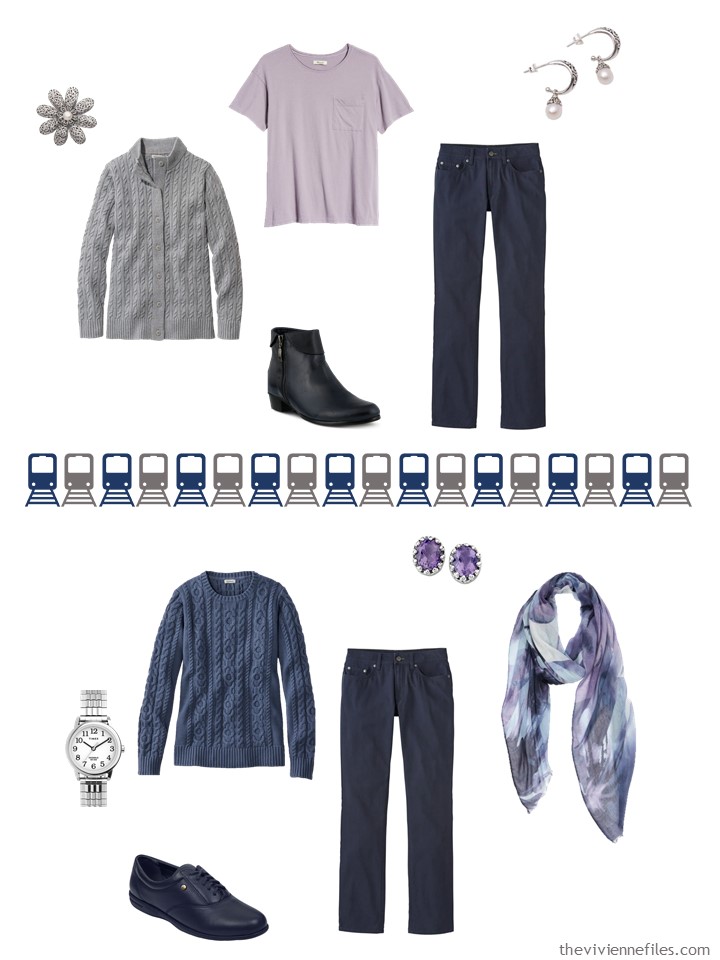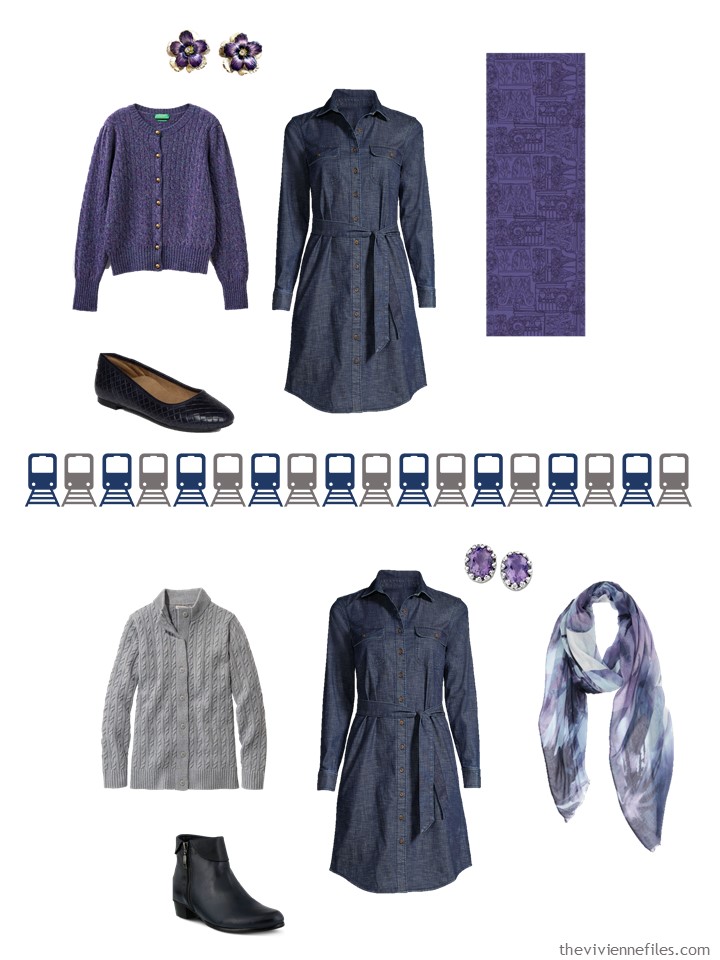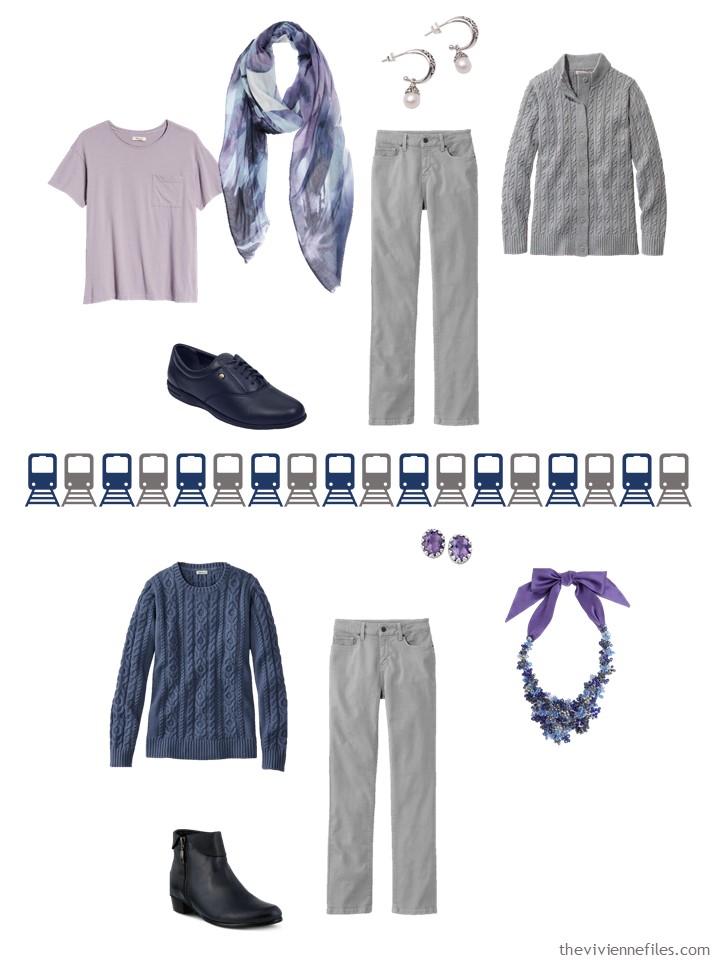 Part of the exploring is all of the new towns and cities that she will visit; part of the exploring will be to see how well and happily she can live with a very small number of possessions with her…
She can't wait to see how it all works!
love,
Janice
p.s. It was only 2 years ago – I started with ONE Romaine Brooks painting, built a wardrobe, and then added a SECOND painting by her to inspire an enlargement of the wardrobe…