September 12, 2018
Class Action Settlement
She had completely forgotten that she was part of this class for the lawsuit – all she had done was fill out a few documents and mail them to the attorneys. So when she received a letter telling her that she was receiving a cash award as part of the settlement, she was delighted!
And then she saw what she was receiving, and she was overwhelmed…
"Take that trip to Paris that you've wanted…" She didn't have to be told twice!
So she started to plan, starting with her favorite scarf:
She's only going to go for a few days, and her primary goal is to do some dining… maybe a few nice lunches in the better restaurants. She's learned that this is a good way to get an excellent meal at a lower price than at dinner, and she has the last part of the day to walk off some of the calories (and alcohol!)
She knows her plan:
Her first project is to assemble her travel outfit. She knows that it will be cold when she catches the train, so she's planning on warm pants, a wool coat, as well as a hat and gloves. Her scarf is perfect with this outfit:
She always travels with jeans, no matter where she's going, or what she's doing, so they get packed first! And she knows that her simple navy dress will be perfect for any restaurant, either for lunch or dinner. And since she's going to be dressing up for meals, she chooses to also include her navy corduroy skirt. Since it's a skirt, it's automatically dressy, but since it's corduroy, it still feels soft and relaxed!
For variety, as well as for unexpected weather fluctuations, she then selects a sweater, a dressy blouse, and a dressy short-sleeved top to round out her wardrobe. A perfect clutch bag, a scarf and a ruana, a single pair of shoes, and 3 pieces of jewelry are all she needs to add to have everything she needs:
She arrays everything in the spare bedroom, the night before she leaves. She thinks it looks great, and she can't see any glaring omissions… (she will be in Paris, if she suddenly finds that she "needs" something!)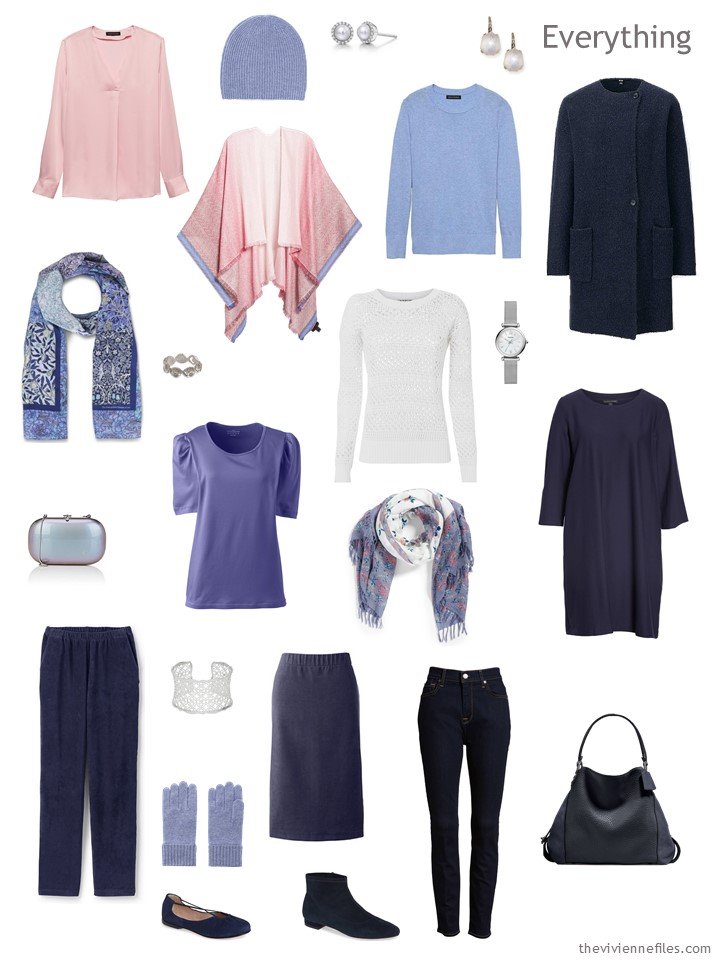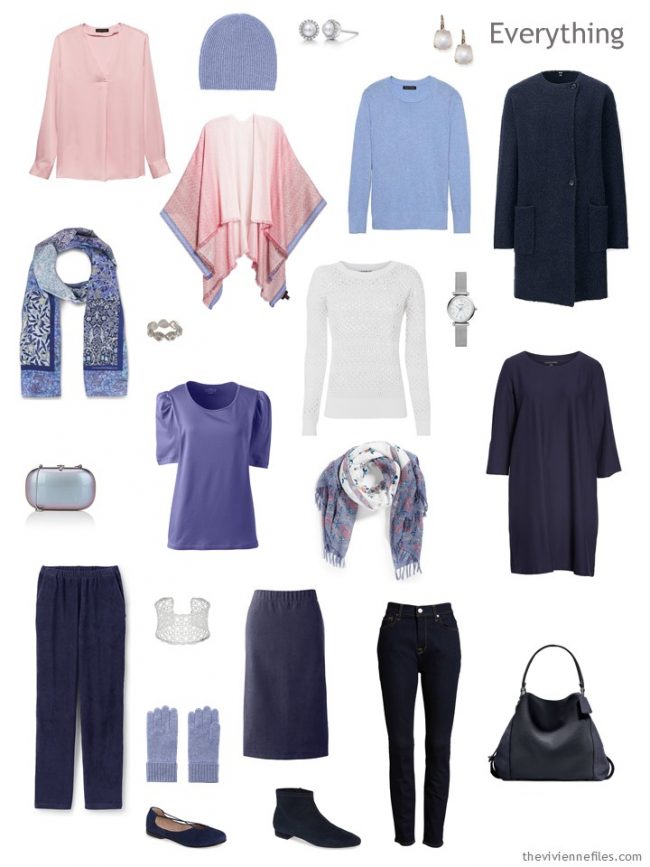 As she is wont to do, she stands by the bed for a few minutes and plots out outfits in her head, just to be sure that she's ready to go. She has far more outfit options than she has days on vacation, but that's good. Weather can be so uncertain!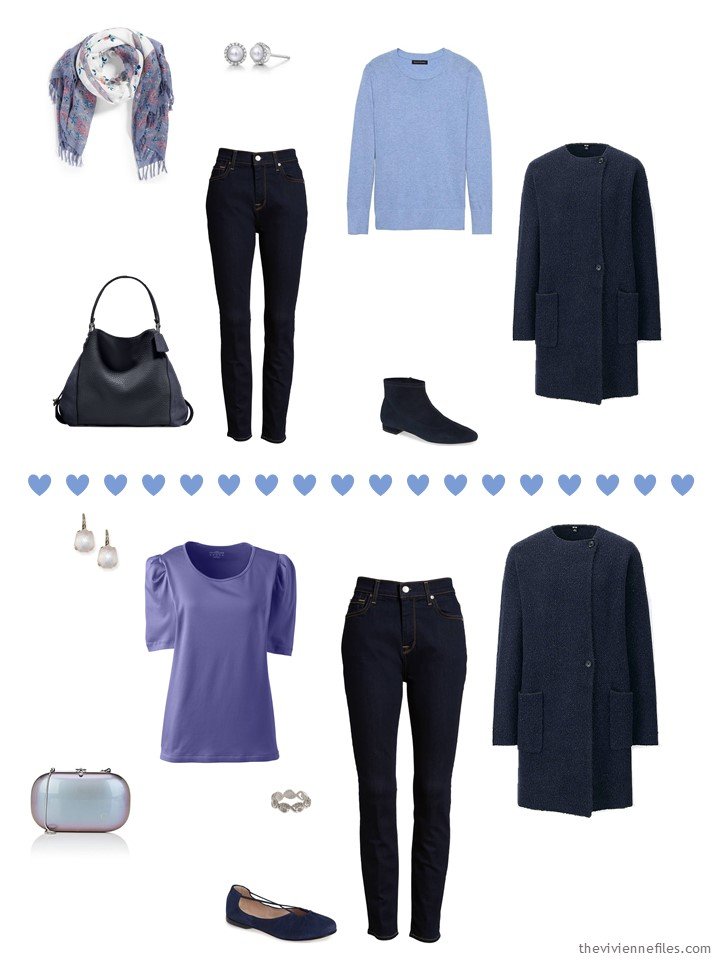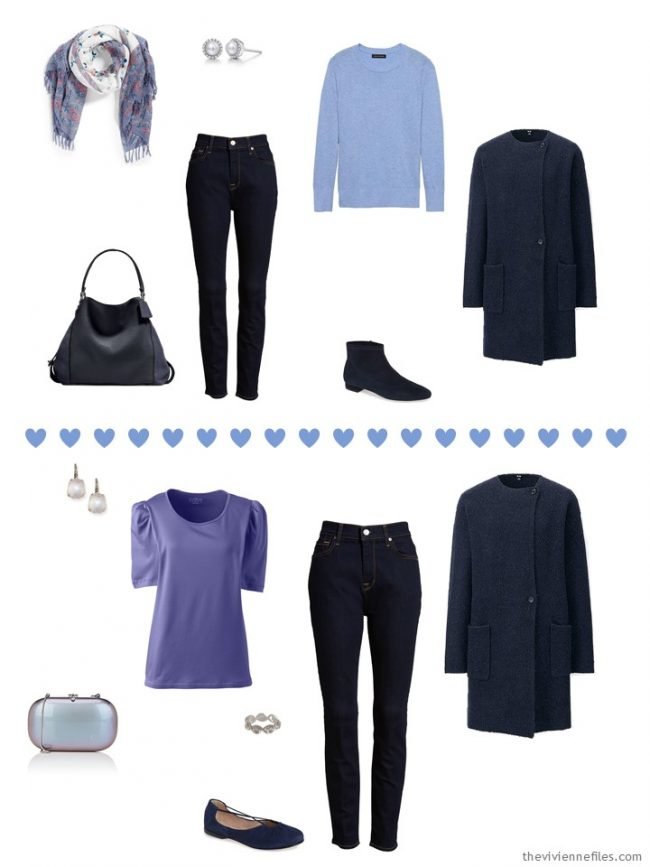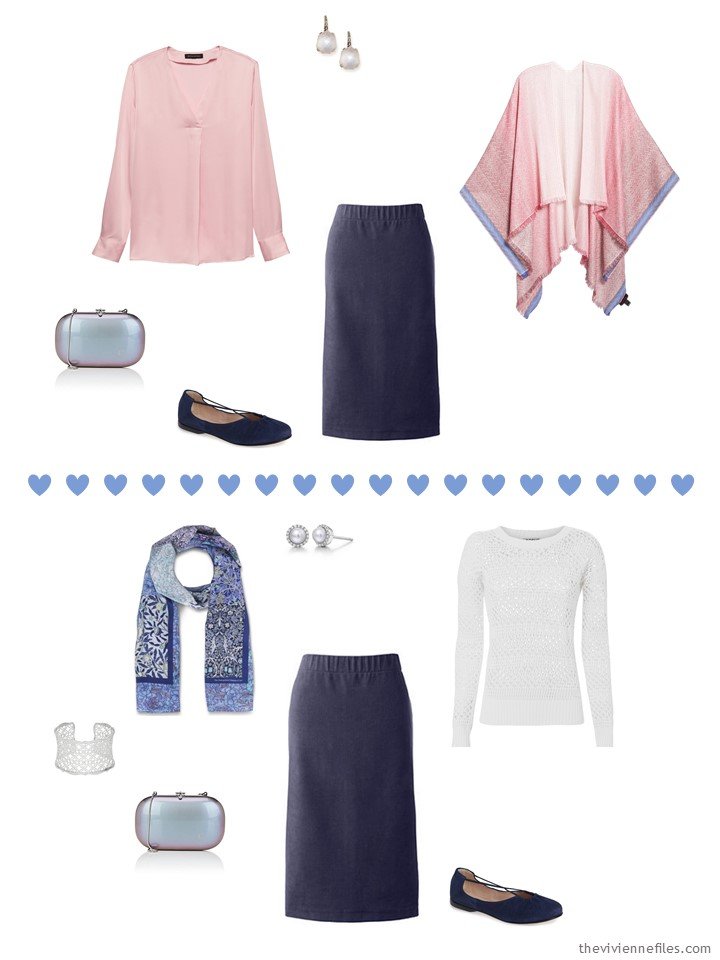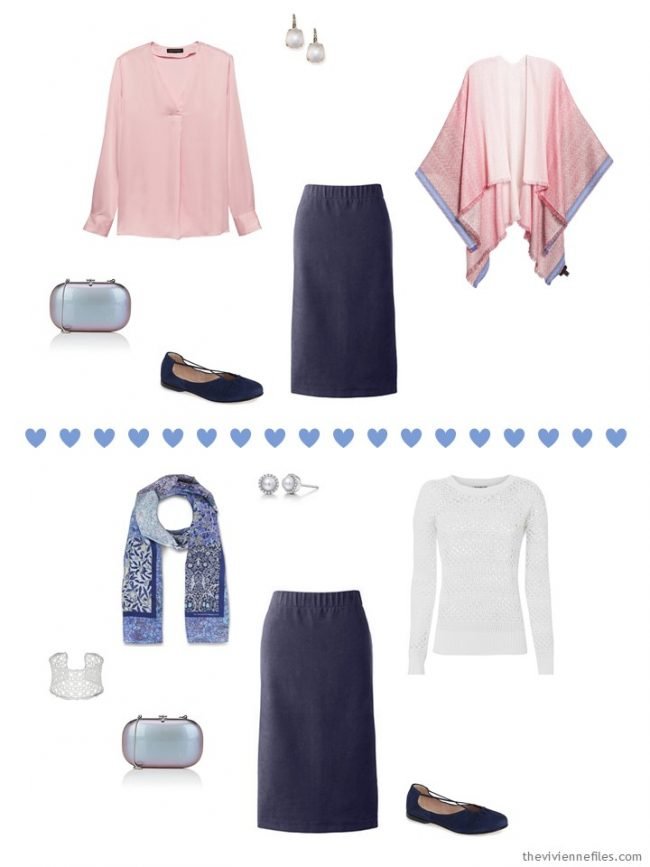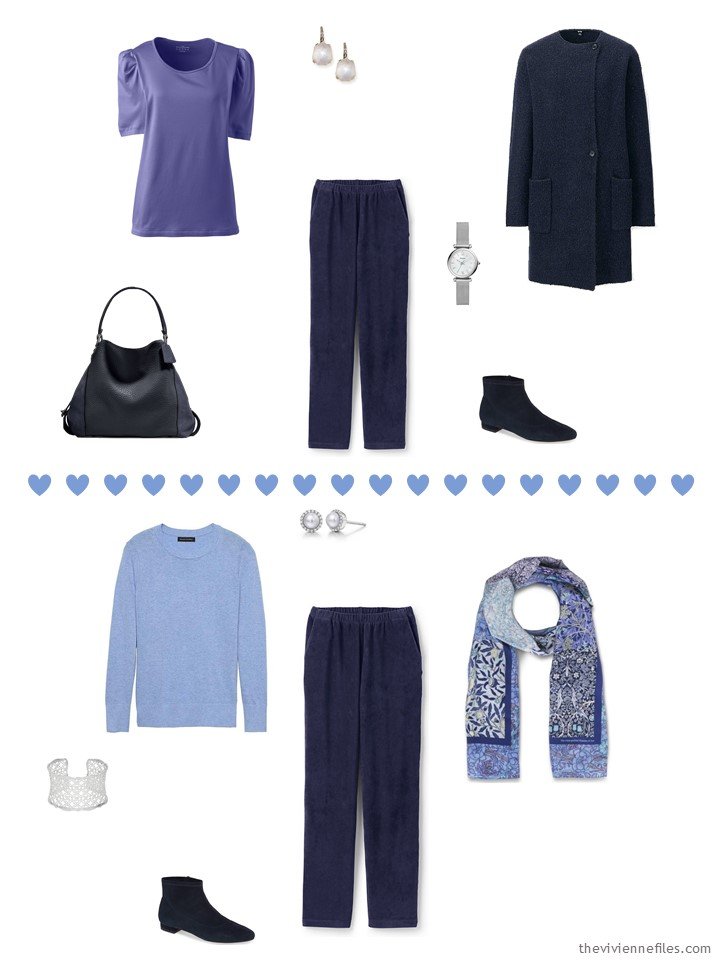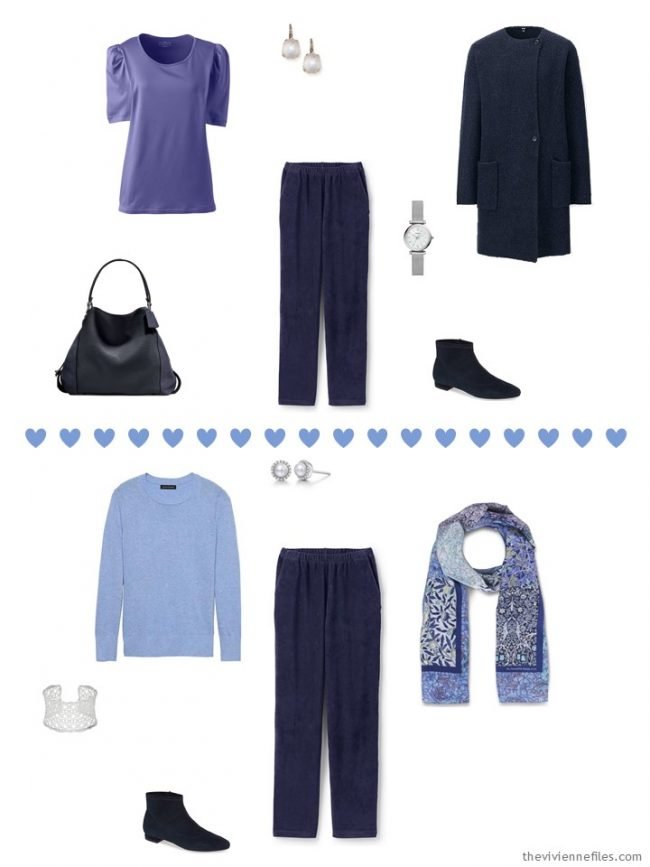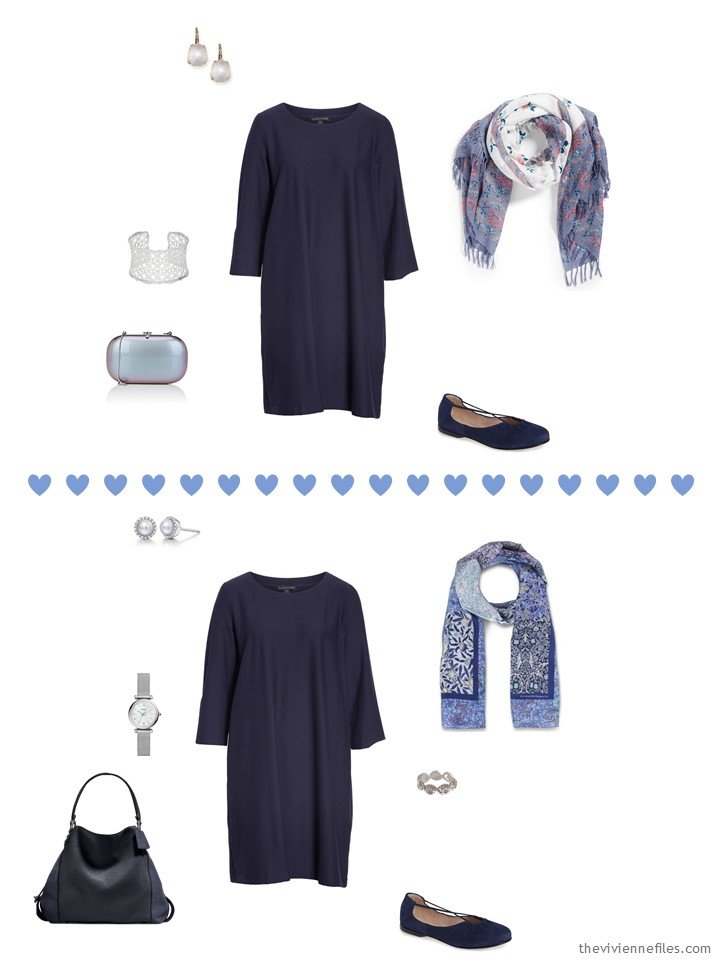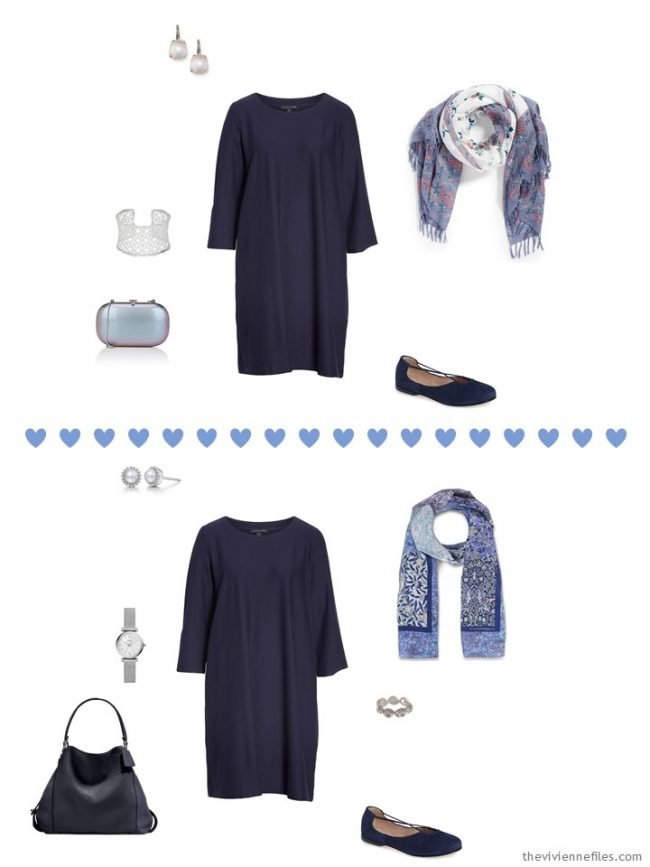 What would you do with a modest windfall? (assuming that you wouldn't be smart and pay bills or invest!) I would, of course, travel. I suspect rugby tickets, and a great meal, would be part of my plans!
love,
Janice
p.s. – Yes, Monday's wardrobe, with accessories, is in the works…