September 10, 2018
Our mythical heroine has her scarf chosen for her Capsule Wardrobe, and she's full of optimism!
And while she wants to keep her wardrobe casual, she's still going to indulge in a few pieces of clothing in more feminine, dressy fabrics…
She goes to her closet and picks the 4 garments that she absolutely, positively wants to include in her wardrobe for the autumn:
In some ways, this is a great start, because these pieces all work seamlessly together – 4 garments = 4 outfits!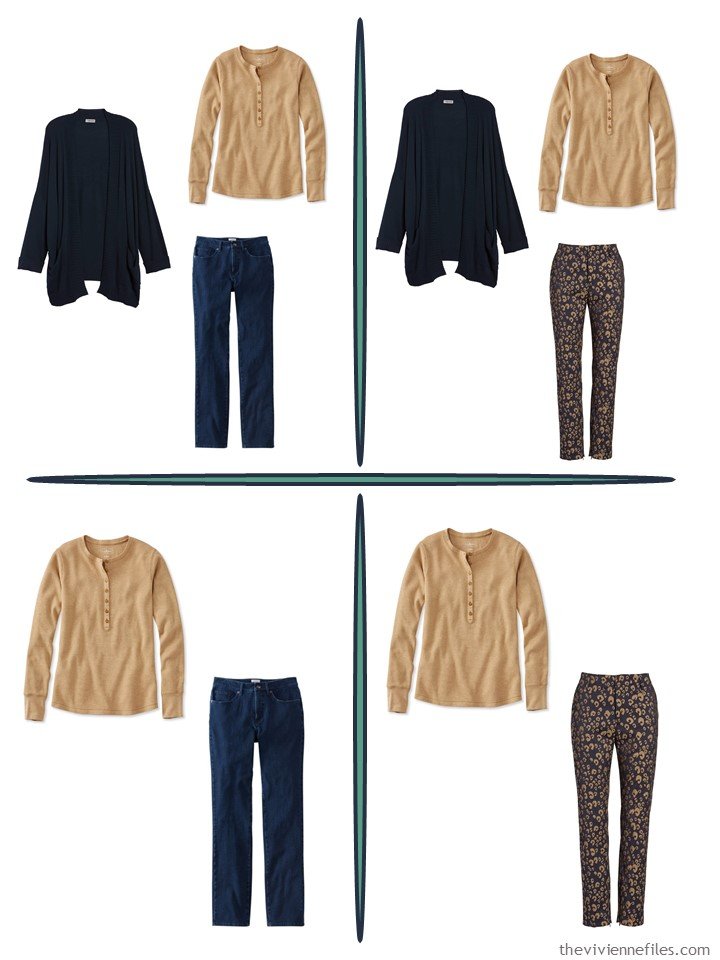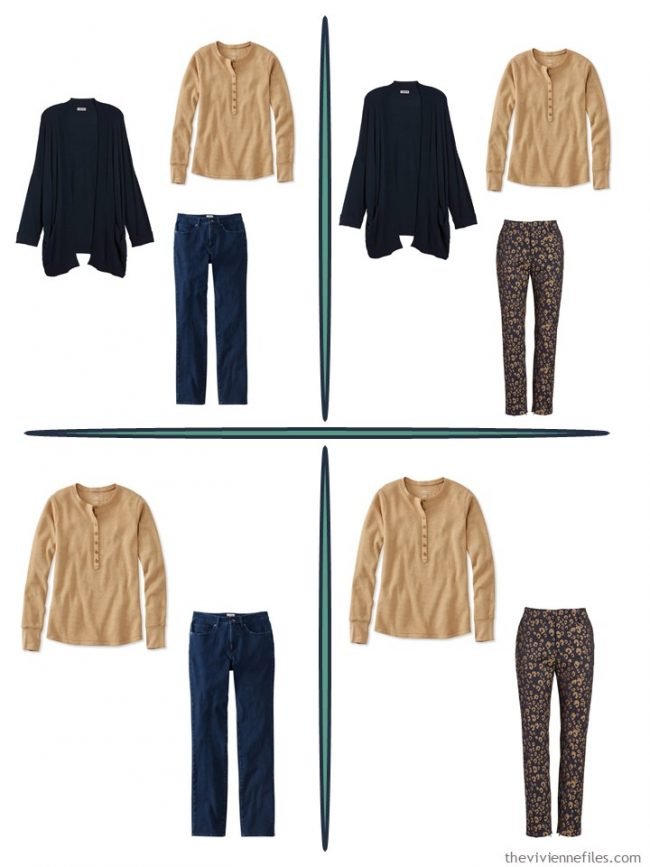 So with her colors and her style inspiration in front of her, she begins to shop. Since it's going to be cooler weather (she hopes!) in the next few months, her first thought is for another shirt – a nice plaid should do the trick! And this one includes just a touch of the green that she so likes:
She knows that she wants to layer something under this flannel shirt, so she starts looking for a green tee shirt in this particularly lovely shade of green…
And she looks…
And she looks…
And she finally decides that it might be more efficient to just get a navy tee shirt, and look for the green in something else!
She branches out, and finally finds a lovely silk shirt in her green accent color. Woo hoo!!!
She takes a look at her things so far and realizes that her only "serious" pants are printed – maybe a pair of navy trousers would be a smart idea?
But THEN she starts thinking about her printed pants, and begins to consider finding another top to pick up the golden color in the print…
And then it dawns on her. She's been picking 1 piece of clothing at a time, without thinking about the larger picture. While she's rigorously stayed within her color palette and her preference for soft fabrics, she really doesn't quite know where she's going with all of this.
Let's put these pieces in a template and see where she finds herself…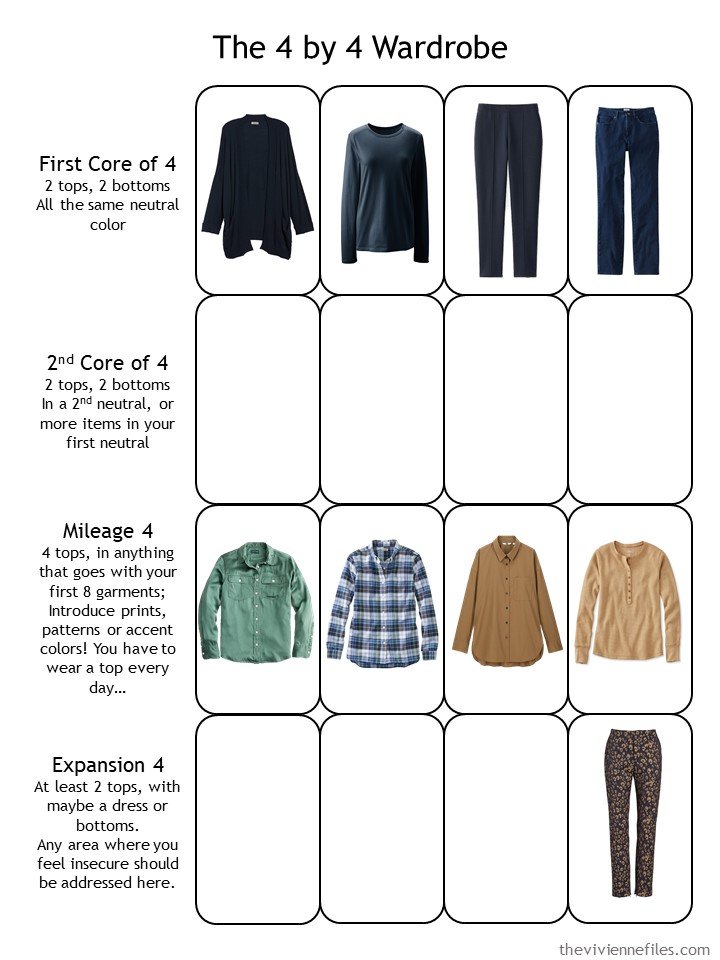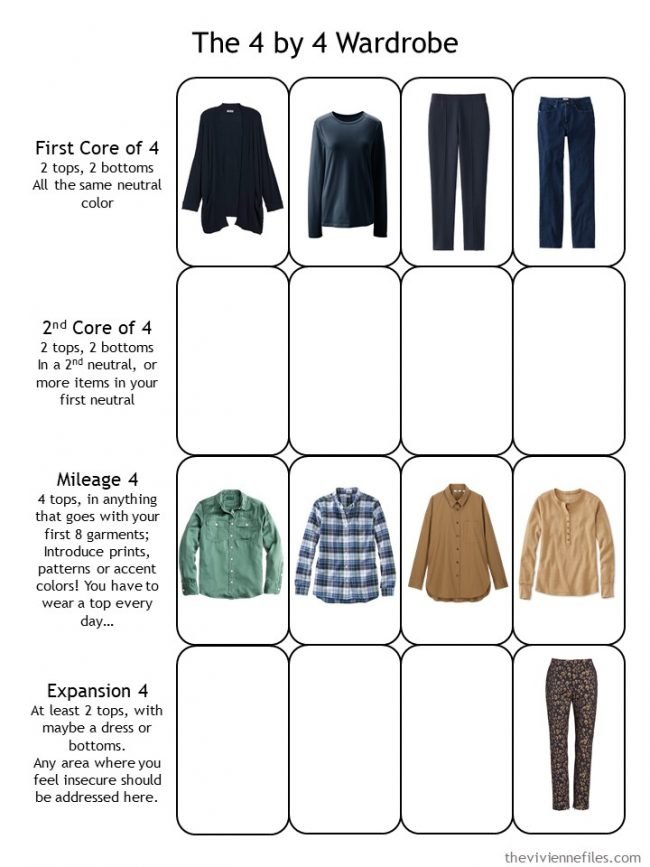 Oh. Dear. The green that was going to be her big accent color is pretty sparse here, and the camel that was barely the borders of her color palette has taken on a life of its own! After some reflection, she realizes that maybe autumn isn't the time of year to chase after soft green garments…
Time for a re-evaluation of the color palette, to reflect the realities of the clothing marketplace leading into colder weather!
We still have green, but our heroine has accepted that the green will be less represented in her wardrobe, and that the camel/caramel color will be more prominent. She pauses for a few days to be certain that she's completely comfortable with this adjustment!
Now she can see that she should focus more on her neutrals. She sees that she has nothing, so far, in ivory, so that's an appropriate place to start:
In order to make certain that she buys all of her "tops" appropriately, she now chooses to get her last pair of pants. (she decided going into the process that she only needs 4 pairs of pants; she won't be dressing out of this capsule on days when she only goes to the gym or works from home!)
She decides to really commit to her navy neutral, and realizes that she only has 1 navy top… That's easily fixed! Maybe a nice snuggly flannel…
She's a bit concerned that she stay within her plan, so she pulls out her template and updates it with her newest capsule wardrobe additions: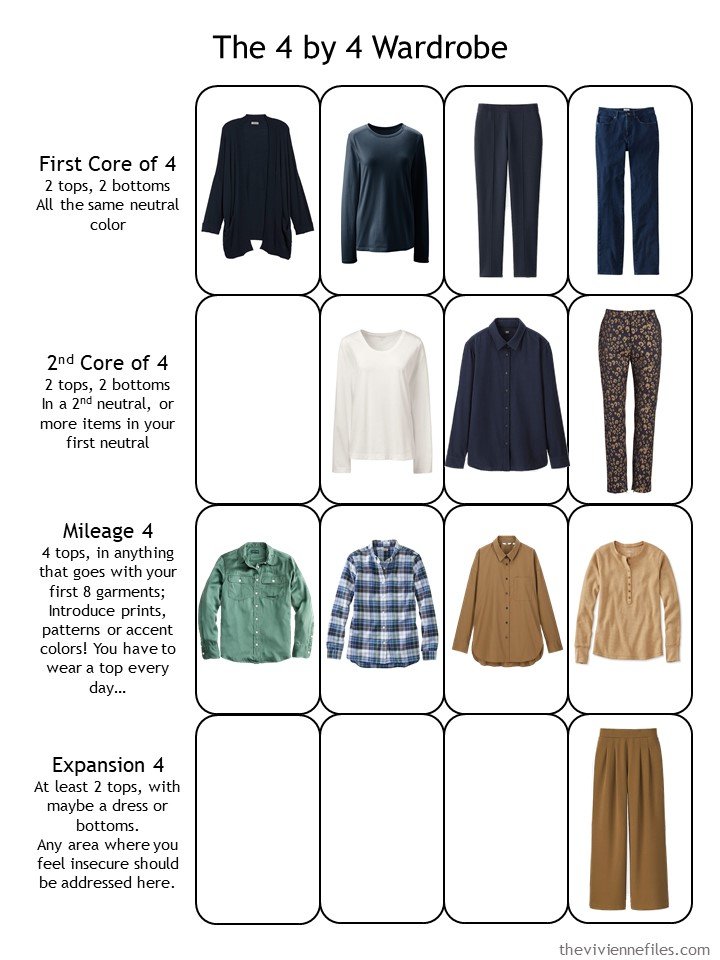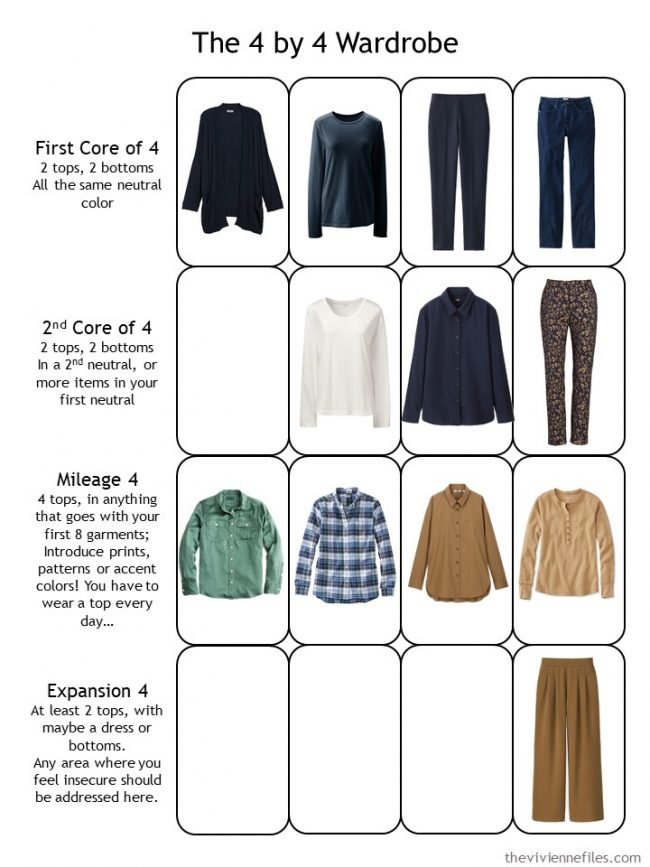 She figures that if she's EVER going to get more leaf green into this wardrobe, she'd better dedicate herself to the hunt! Finally, she finds a really amazing metallic sweater:
Looking over everything now, her biggest concern is that she only has her lone navy cardigan to wear as a 2nd layer. Might be time to find something versatile, that will bridge the gap between her neutral navy and her camel… A jacket? A cardigan? Maybe even a wrap or ruana?
The perfect thing:
Now when she looks at her template, things begin to take shape!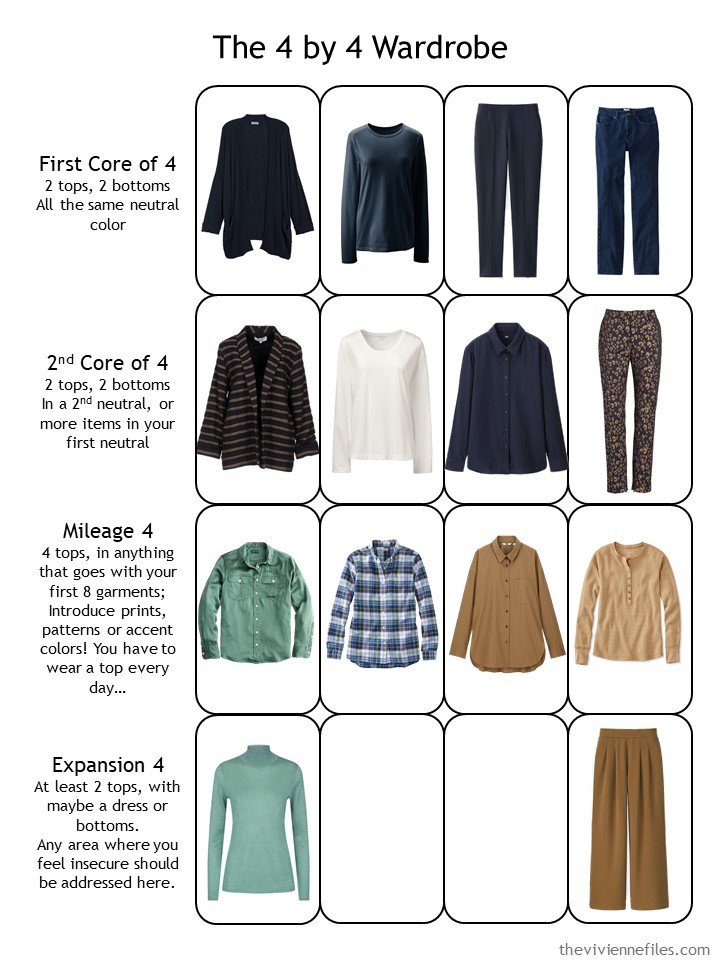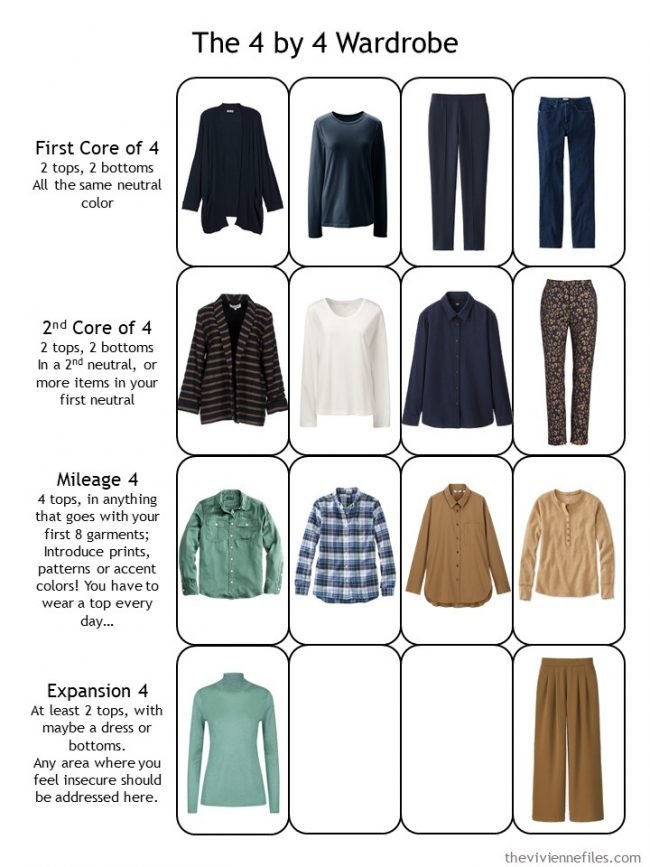 A little bit more ivory would be useful. She opts for a button-front cashmere cardigan, which can be worn over shirts and tee shirts, or on its own if button all the way. (well, maybe a strategic button of 2 might be left open…)
Since she's committed to camel for the upcoming season, she suspects that maybe another piece is in order. A cardigan might be nice, but a simple crew neck sweater is her final choice. It's perfect with shirts, or alone. While it isn't exactly the same color as her other camel garments, she understands that the difference in texture will help her sweater blend with those pieces nicely:
Whew! She's nervous – this wasn't what her original vision was AT ALL… But she regrouped with discipline and a new structure, and she thinks she's done alright: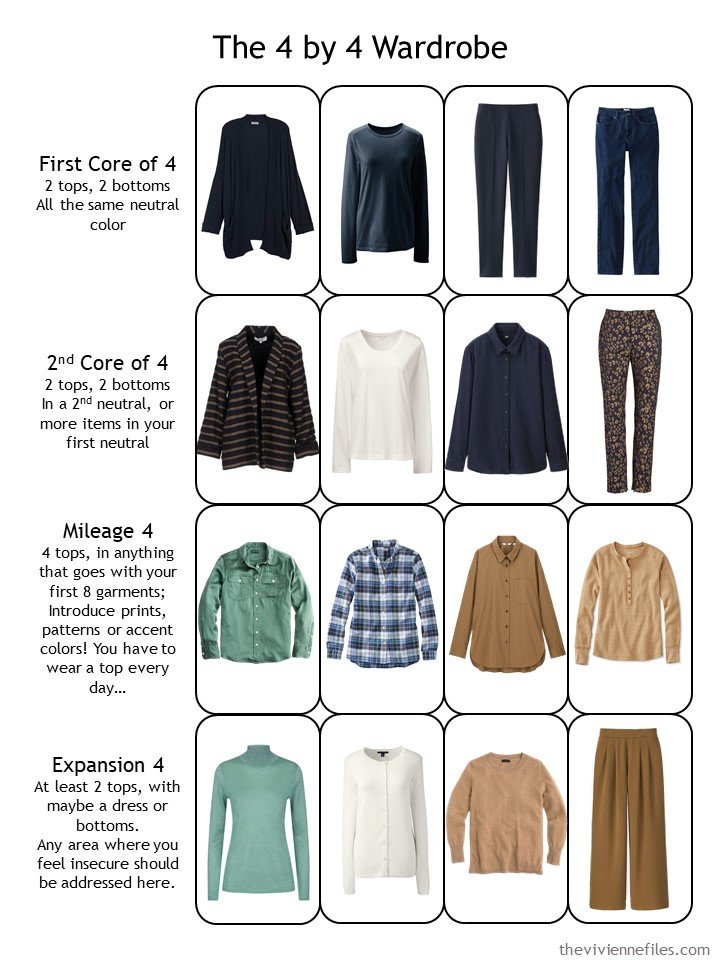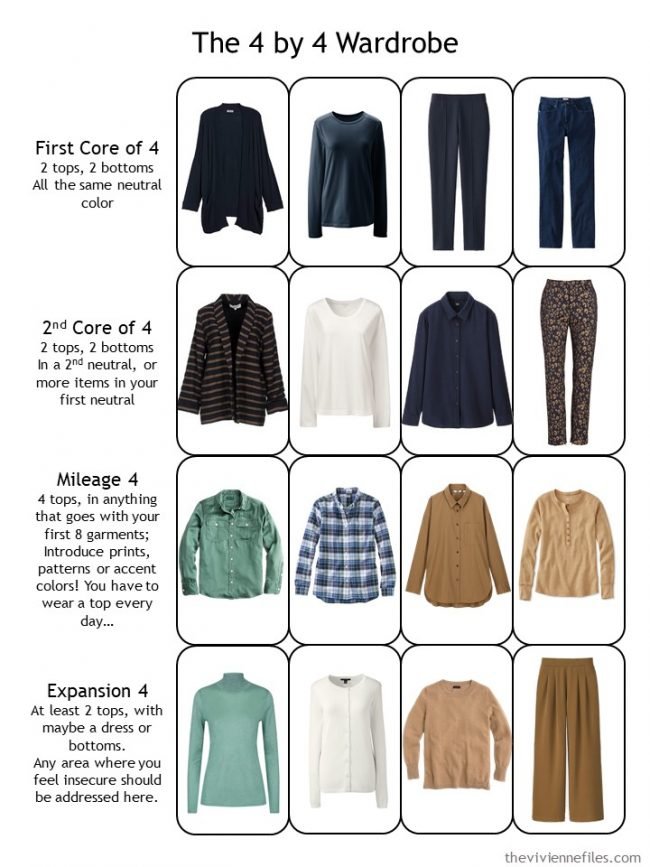 Just to make certain that she's not going to struggle to get dressed through the autumn months, she starts assembling a variety of outfits. It's always good to be sure you have what you need before swimsuits start reappearing in stores in October!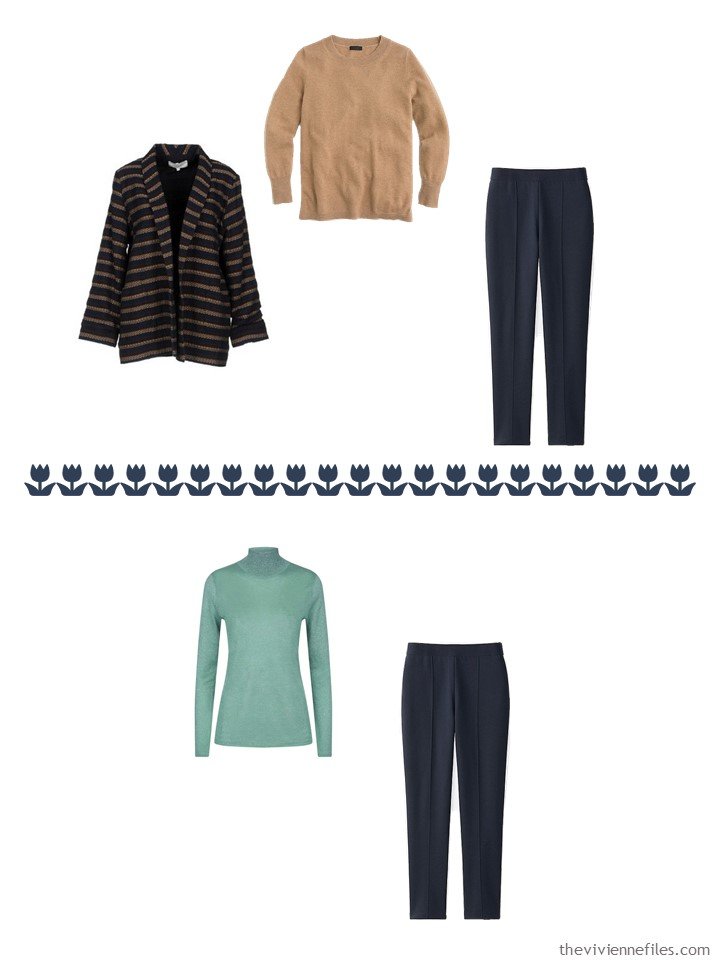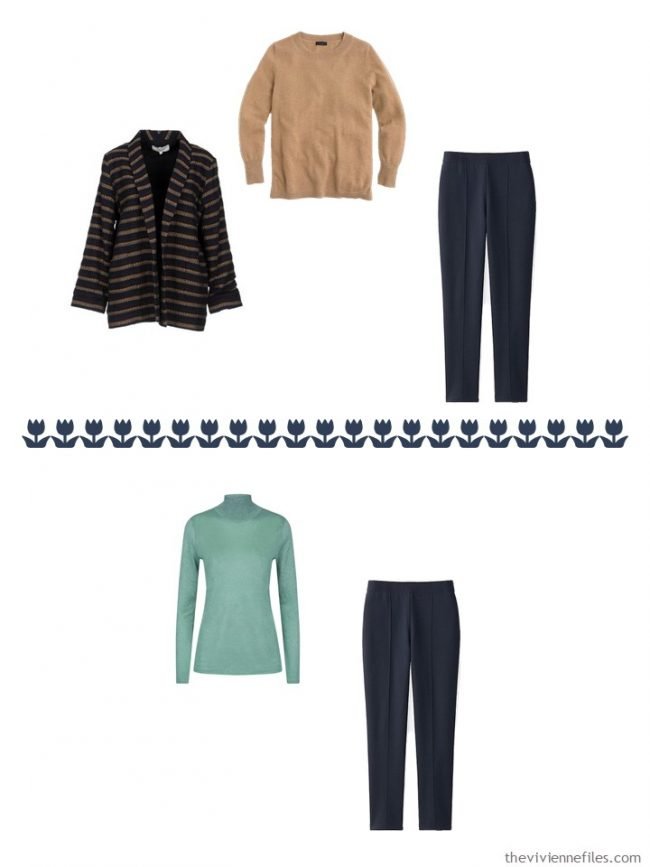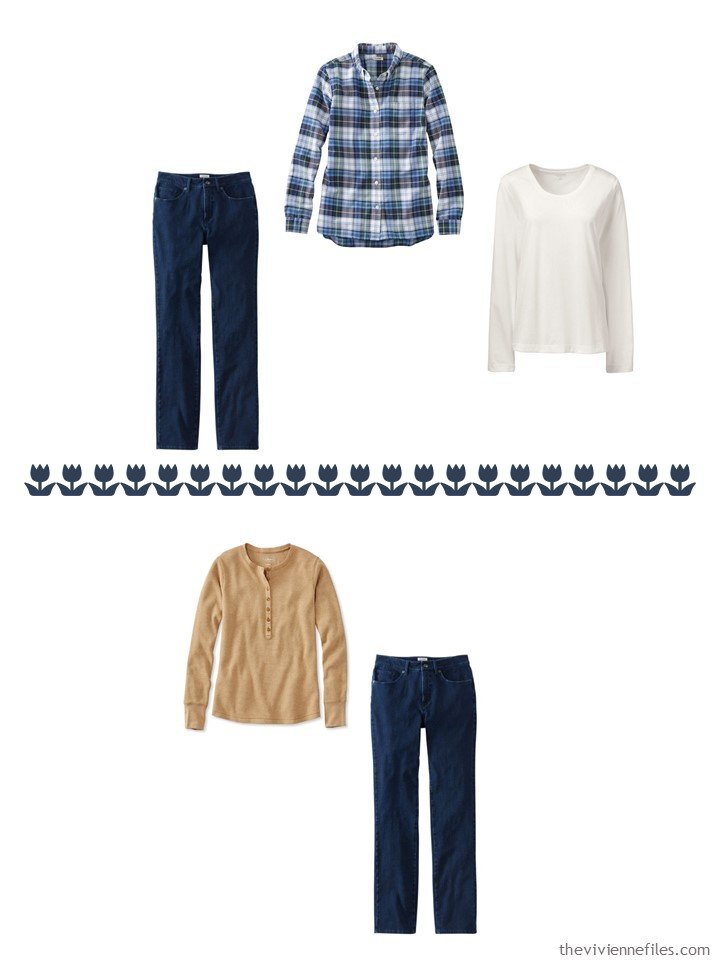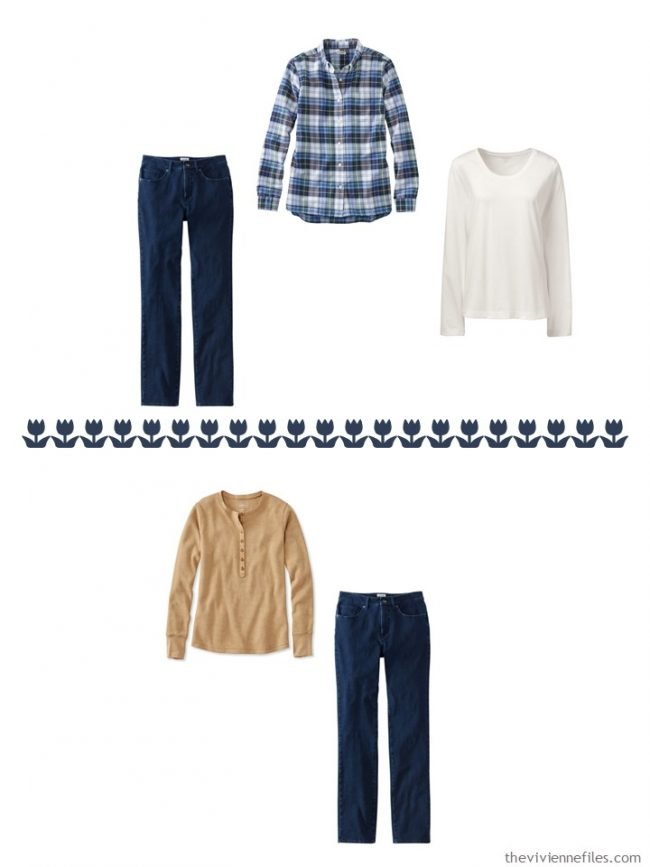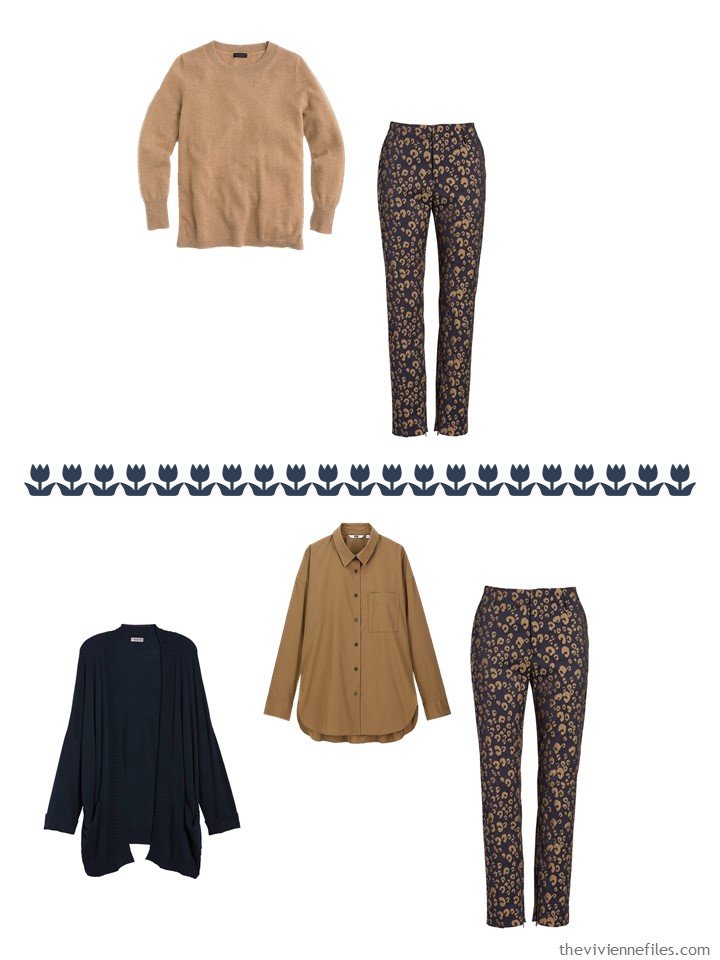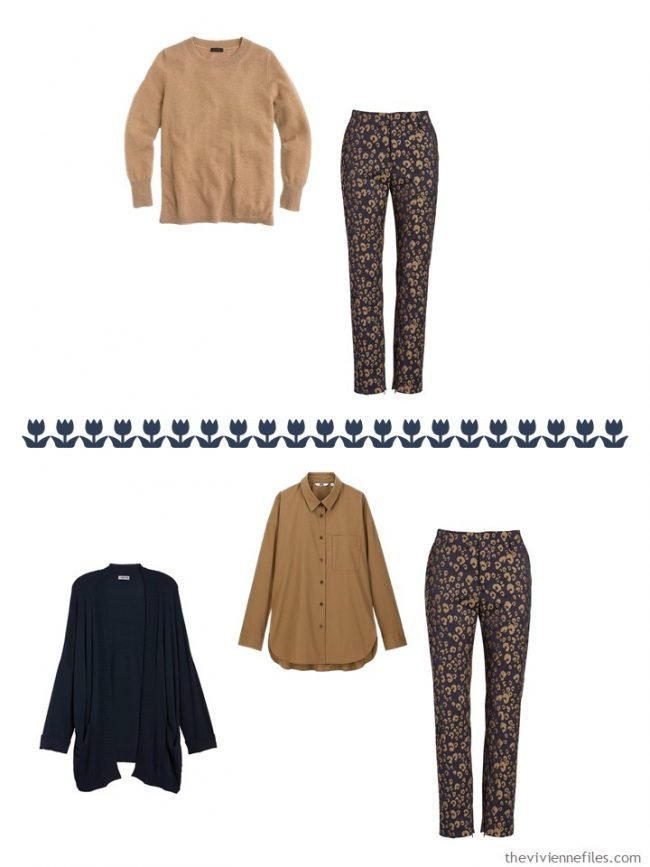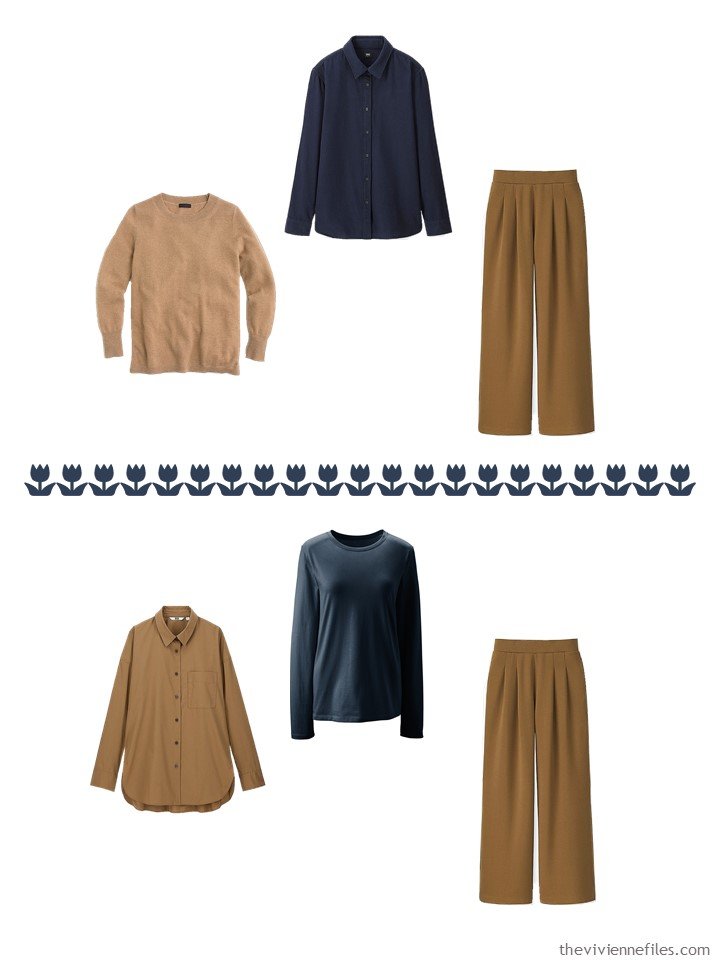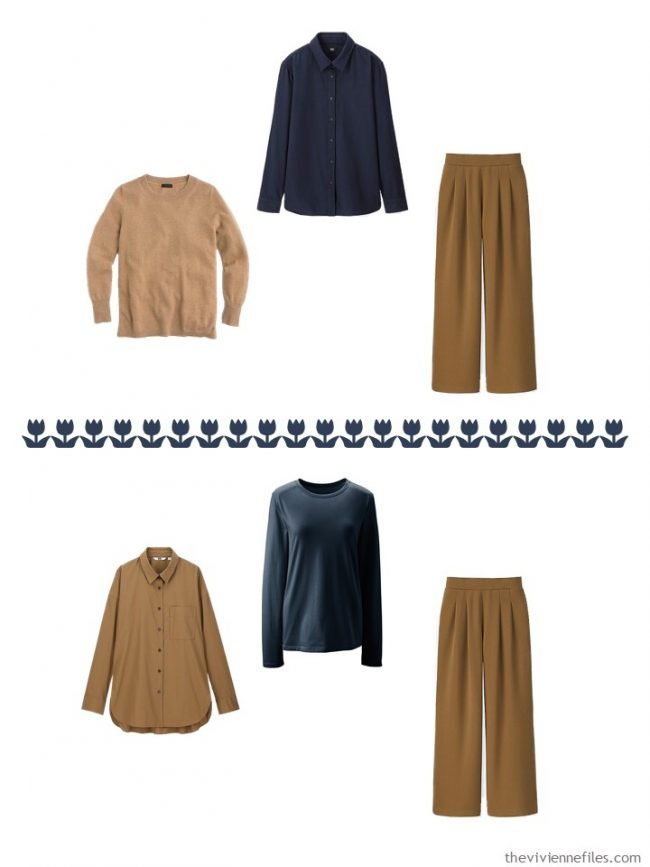 Have you ever started planning a capsule wardrobe (or a travel wardrobe) that ended up very different from what your original idea was? It happens to me often…
love,
Janice