The Echo scarf company was so impressed by how many of you commented on the post on which they gave away a scarf that they have extended a 20% discount to ALL OF US for the next 2 weeks… Use code TVF20 to get 20% off of anything on their site: www.echonewyork.com
I'm sure I can find something I will adore…
August 6, 2021
Better late than never!
I was thinking that we could look at some nice "back to the office" outfits for autumn… but then I started reading my email, and I quickly realized that a lot of people were back in their office LITERALLY once or twice, and are back to working from home!
And they're sort of aghast…
So let's treat ourselves to some soft, comfy, but pretty new sweatshirts and sweatpants, as well as a decent pair of slippers in which we can at least pick up the mail, or walk the dog… Nothing is more demoralizing than ratty slippers!
And heck yes – couldn't many of us use a new pair of earrings?
One reason I'm including earrings is because many of us are back to video meetings; fixing your hair, putting on earrings, and maybe a bit of makeup will help us look a little more alert while onscreen…
Our wardrobes are all up to 22 pieces – one more than Fiona Ferris' "Garde-Robe de la Mois" that we've looked at before. These wardrobes may not work that well for a month, since they cover all SORTS of weather… but it's worth a mention!
And I've reached that point where everything will no longer fit on 1 page, so I've separated out the clothing and the accessories: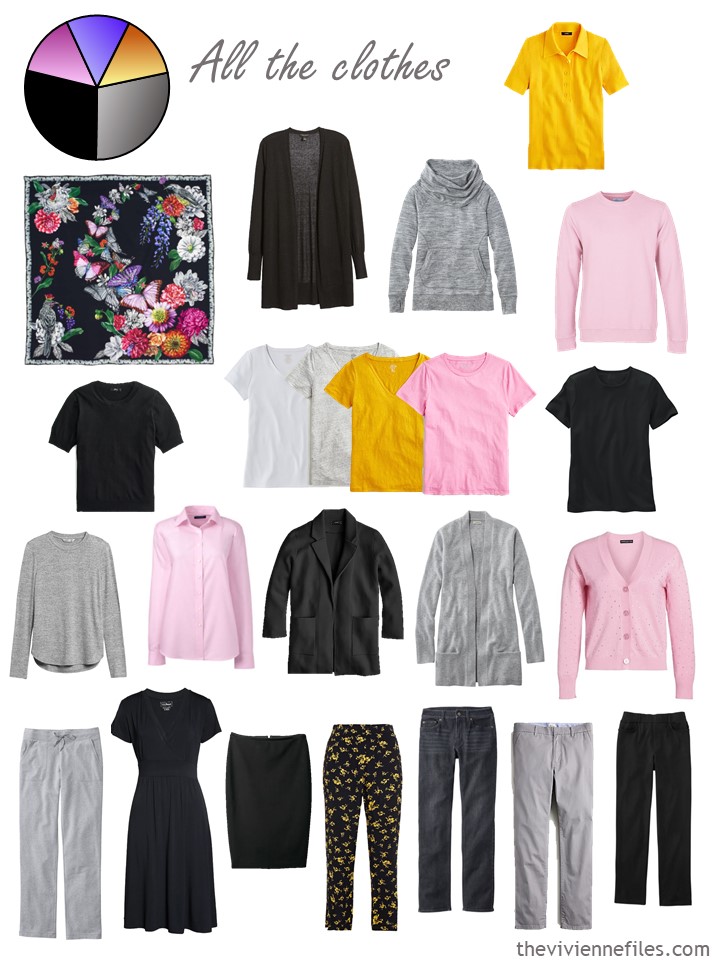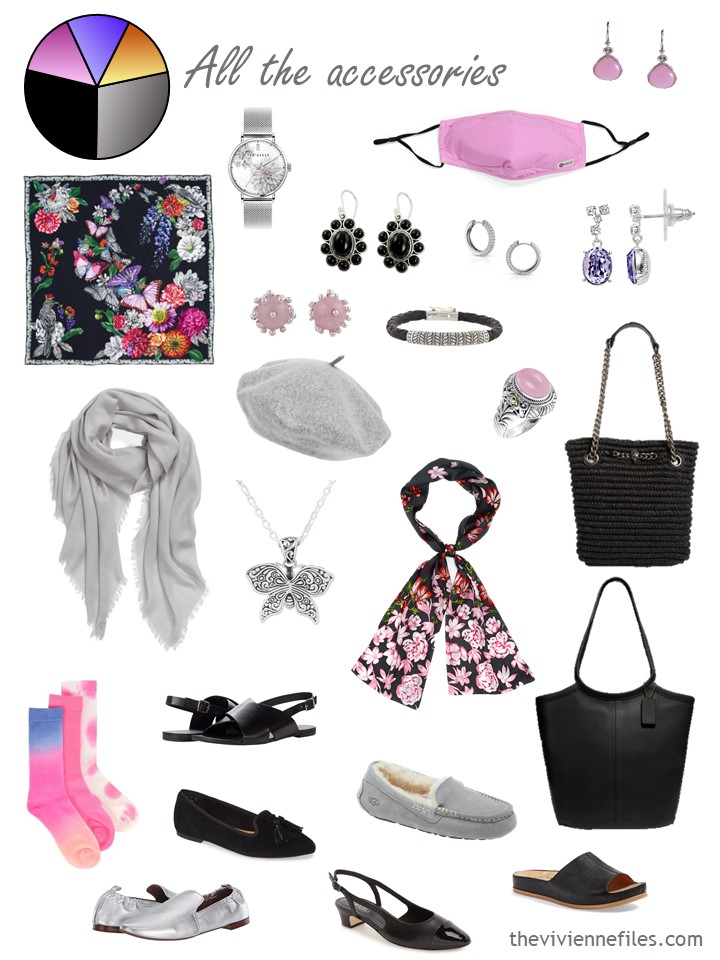 Sweatshirts are pretty versatile, so a couple of new ones do offer some fresh options in your wardrobe. Don't forget that you absolutely CAN wear a scarf, brooch or necklace with a sweatshirt – it's as casual as you allow it to be!
I never tire of this photograph… what style!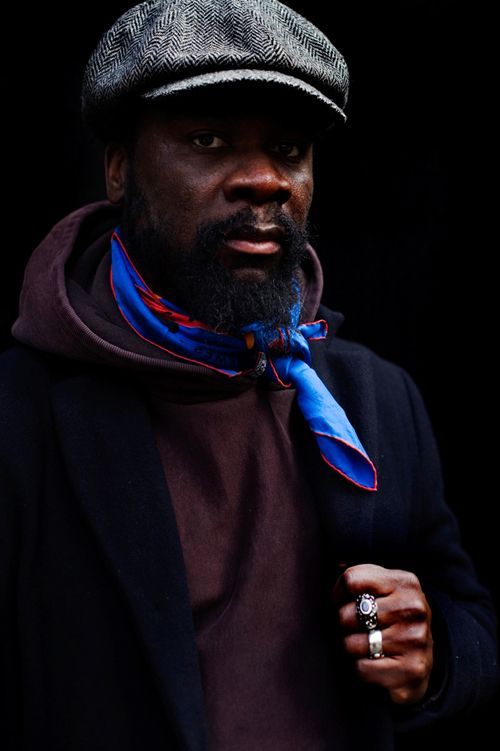 Also, I've tried to find sweatpants that don't have elastic at the ankles. I think that these pants – if the drawstring waist is covered by other clothes – can be worn more often than you may imagine. I once traveled in sweatpants because it was the dead of winter; unless someone touched my leg, I don't think it was evident what I was wearing!
And if they HAD touched my leg, what I was wearing would have been the least of their problems….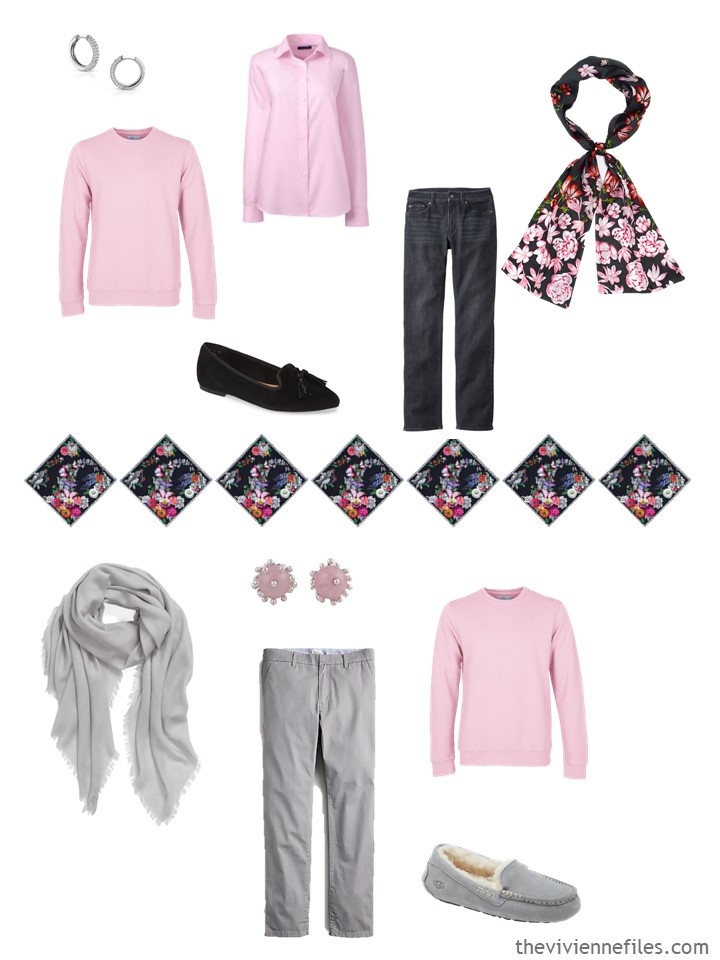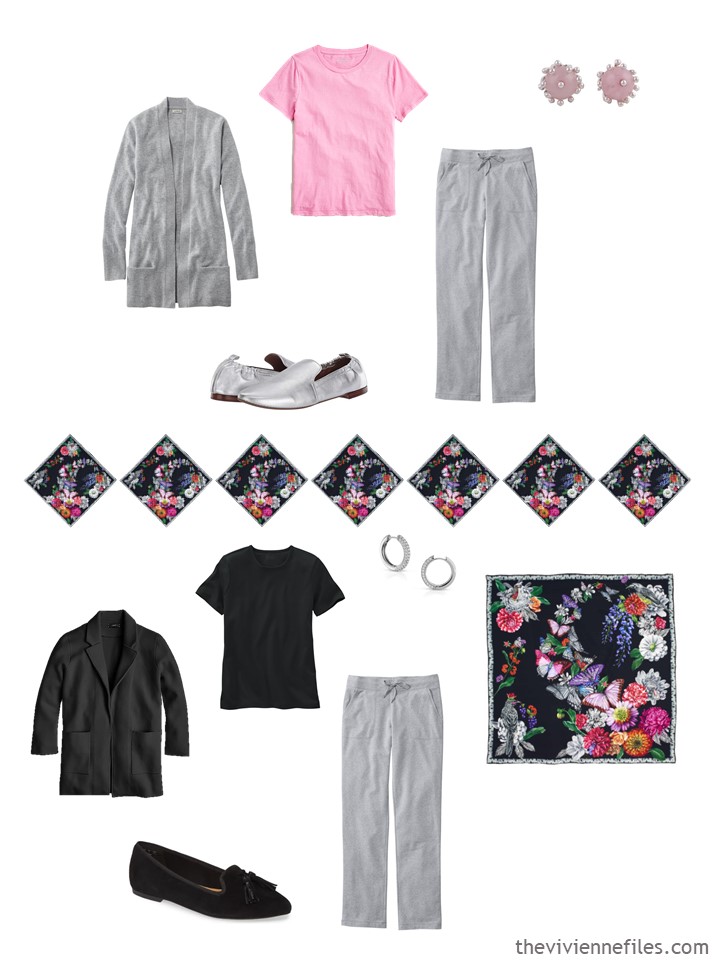 Even though this scarf sings "summer" to me, there are indeed sweatshirts to be found in these colors.
These colors carry summer right into cold weather!
The "burnished barn" sweatshirt seems to match one of the tee shirts rather well, and the aqua sweatshirt is going to be perfect with this heroine's scarf!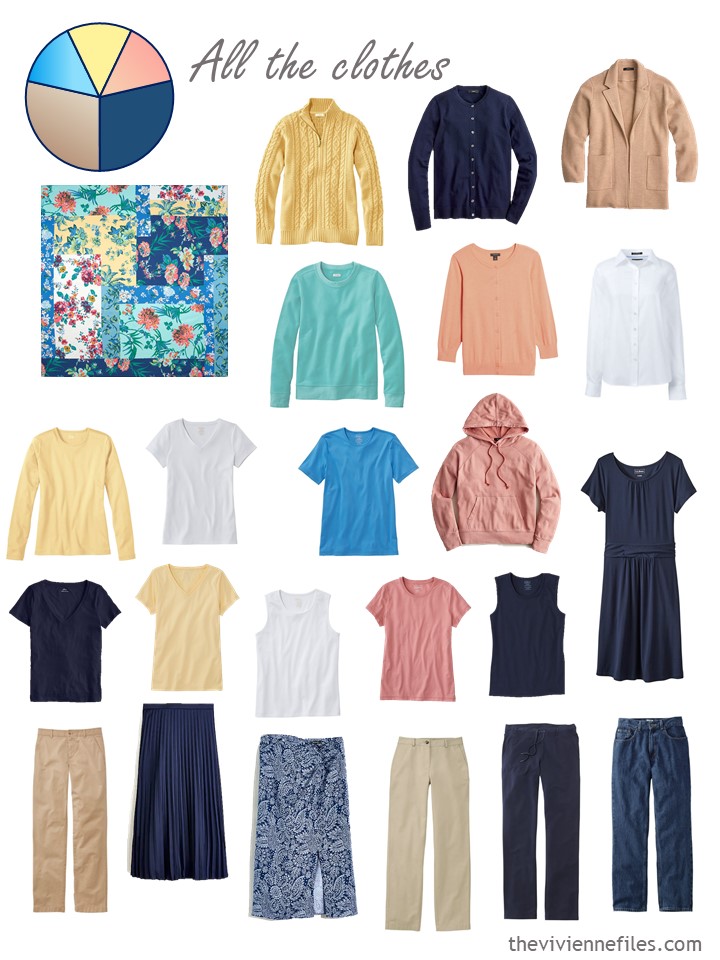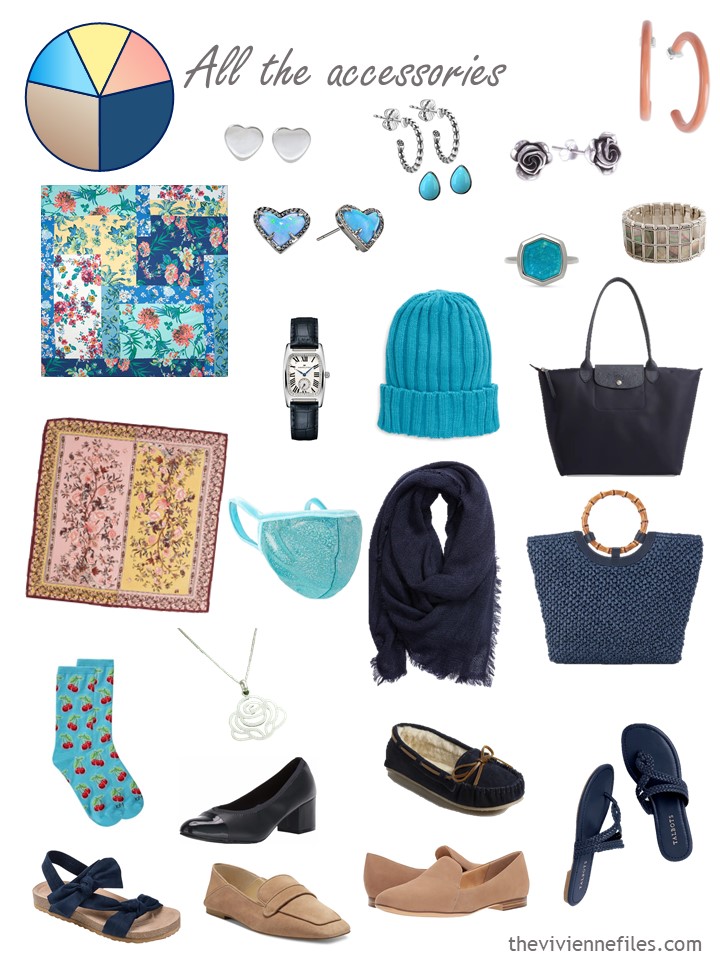 These fit in really well…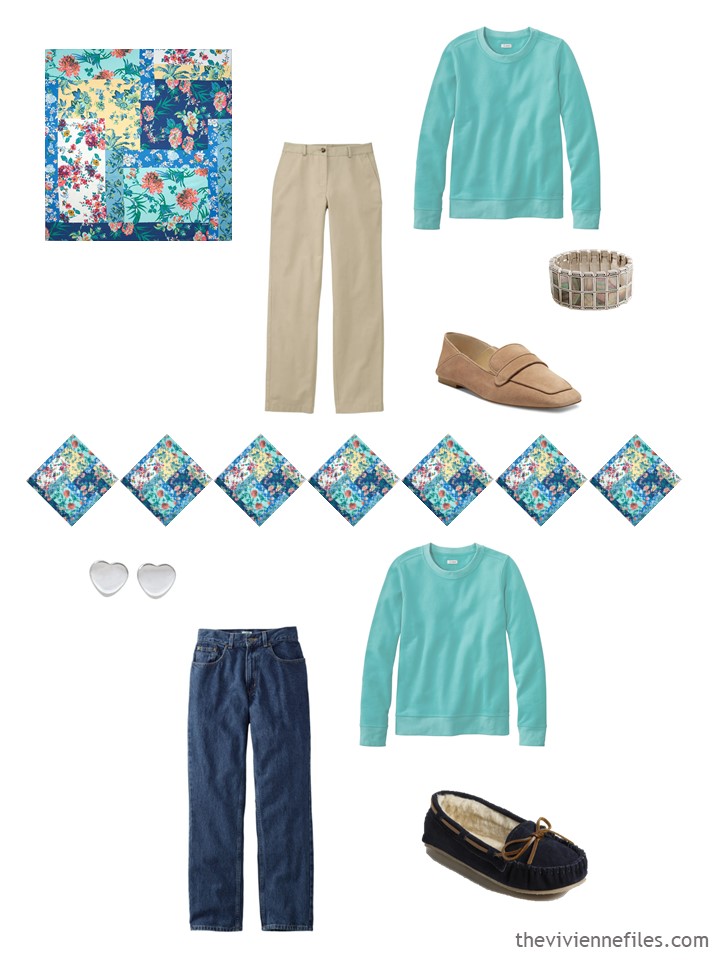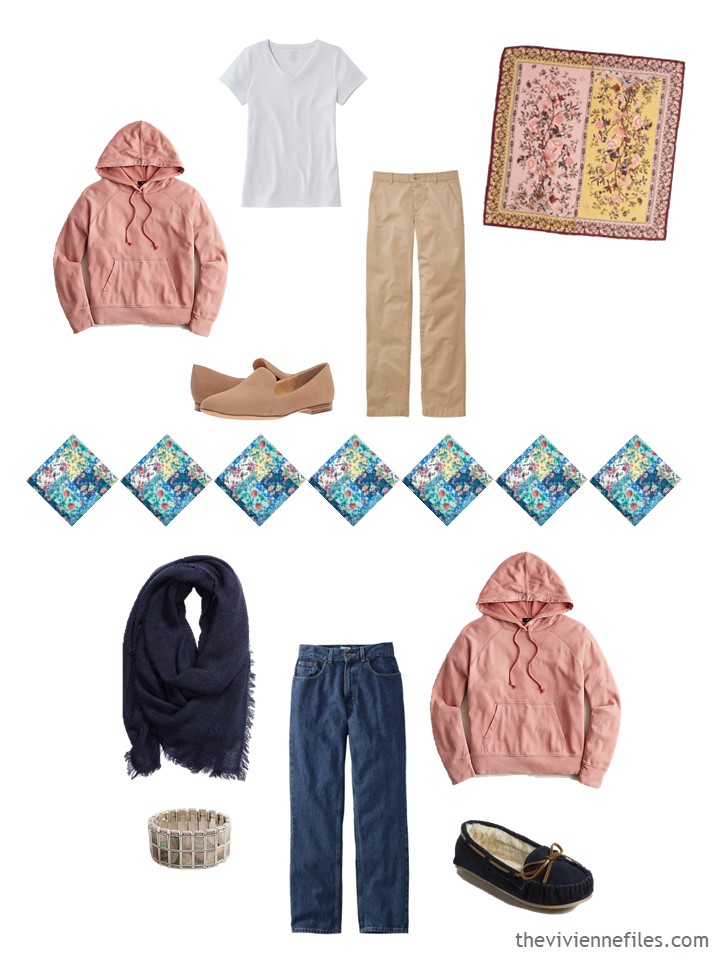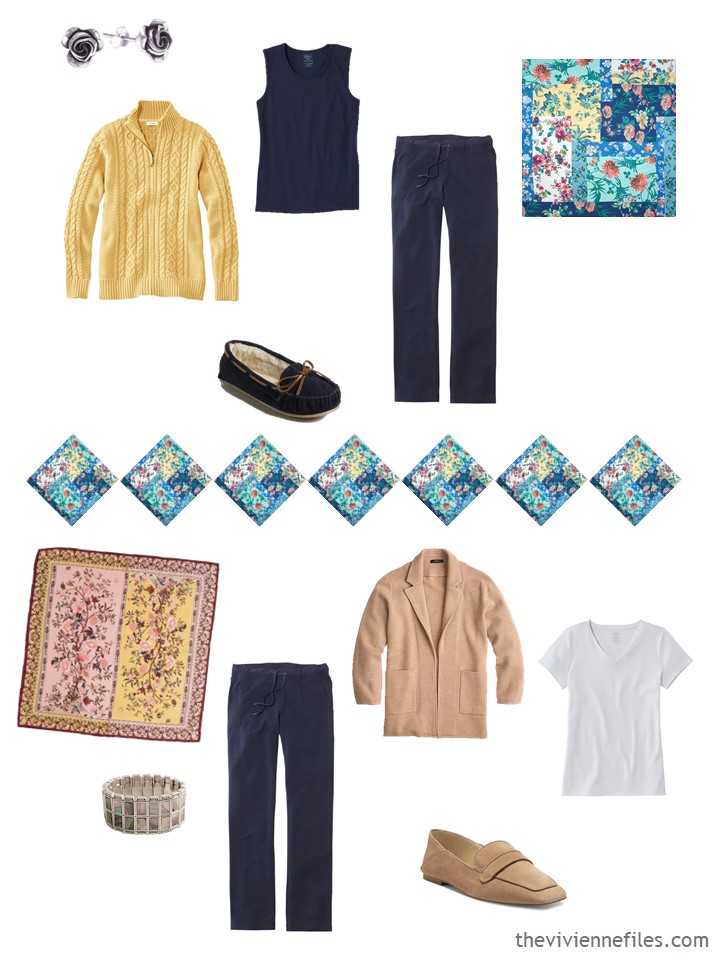 Imagine working away at your desk, wrapped up in your ruana…
Talk about blending in: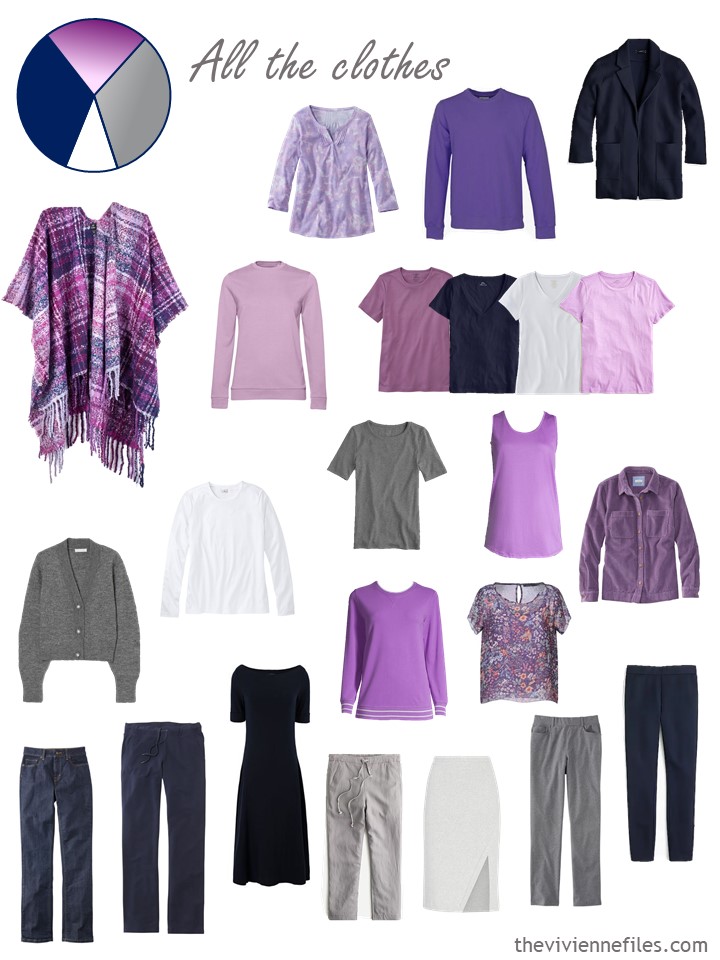 How I managed to get this far into the year without amethyst earrings for this heroine is a mystery…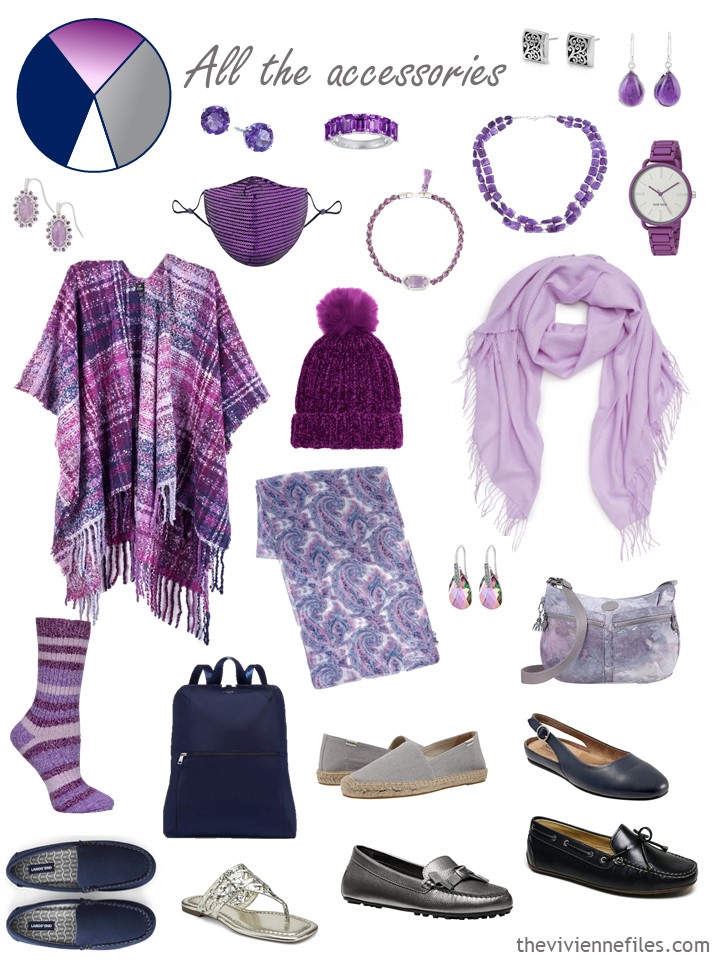 The ruana and the paisley scarf both look great with BOTH sweatshirts – sometimes it all just comes together well!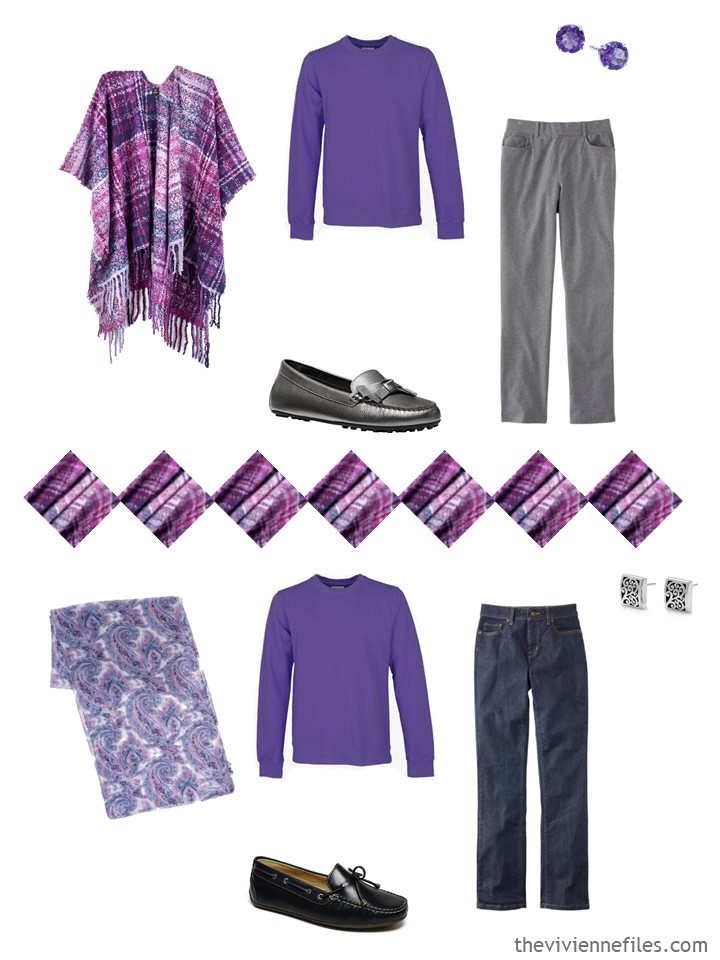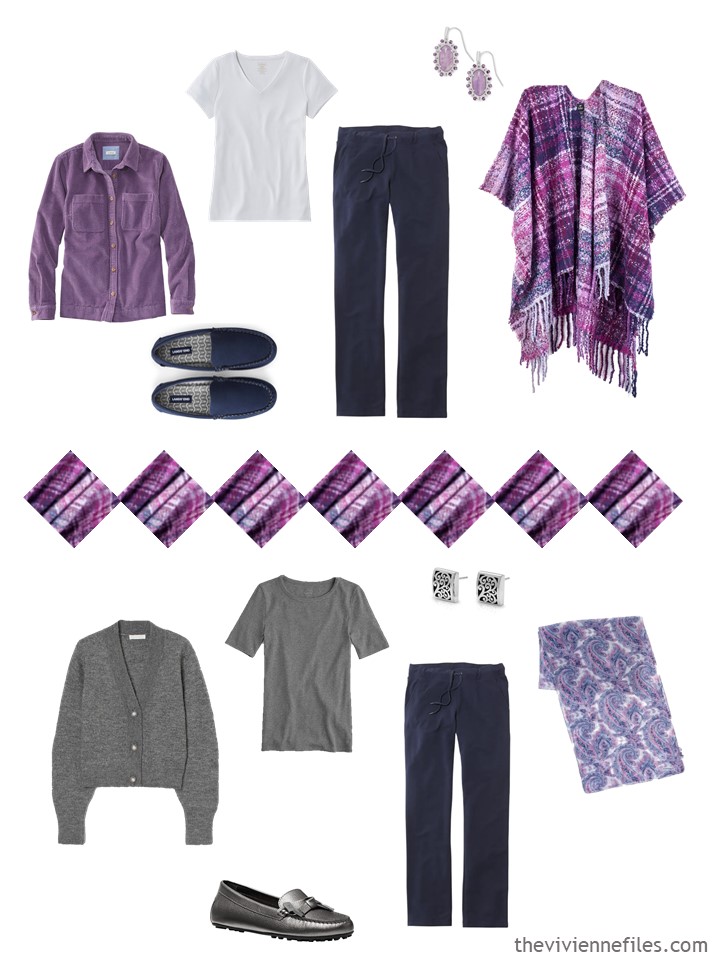 This scarf has a warm feeling about it, that should be perfect with sweaters and sweatshirts:
And I had AMAZING luck finding sweatshirts for this palette:
I wouldn't necessarily look good in this wardrobe, but I could certainly enjoy looking at it hanging in a closet!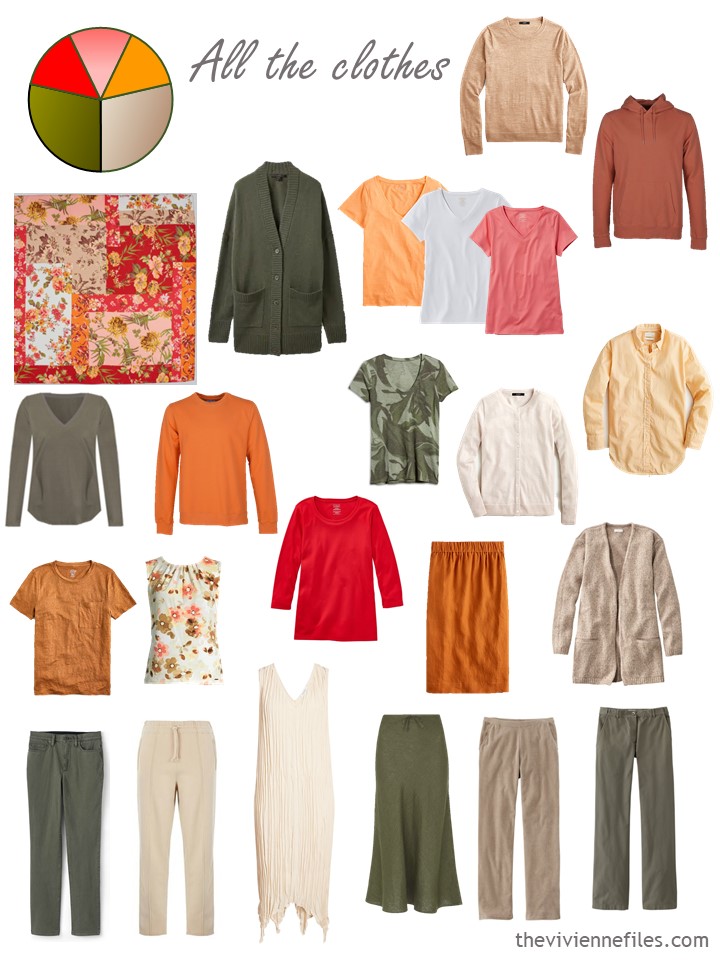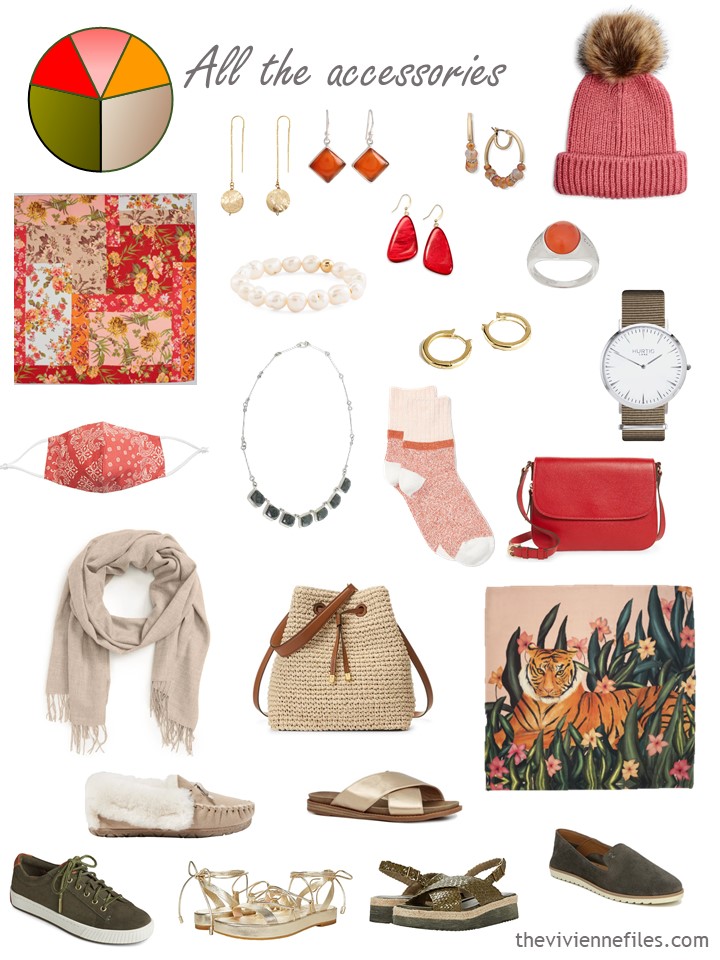 This wardrobe lends itself to some lovely blending of colors: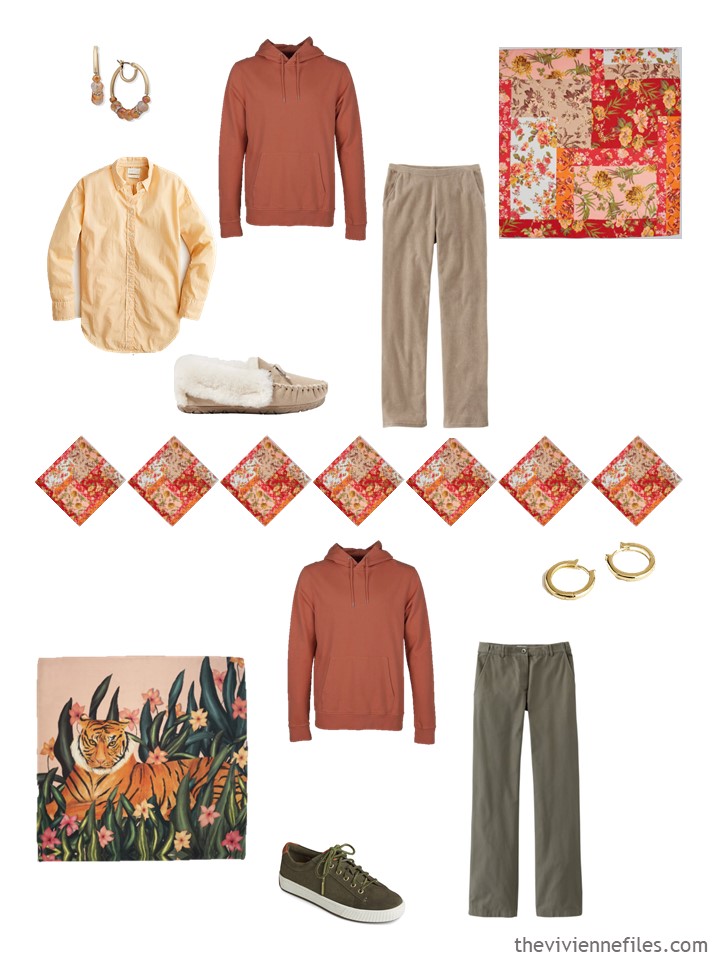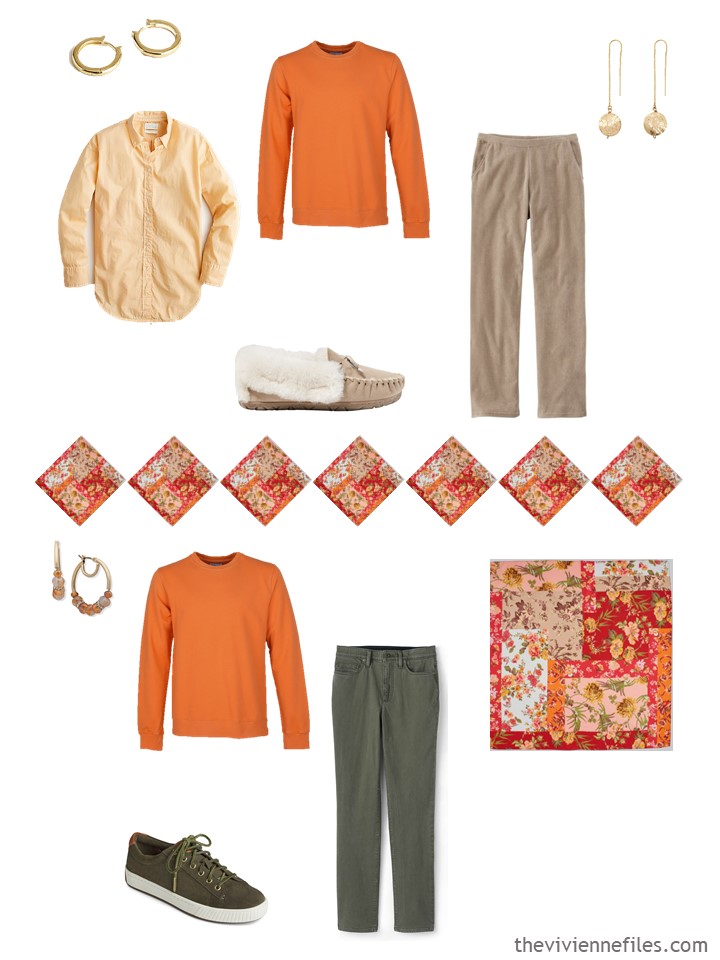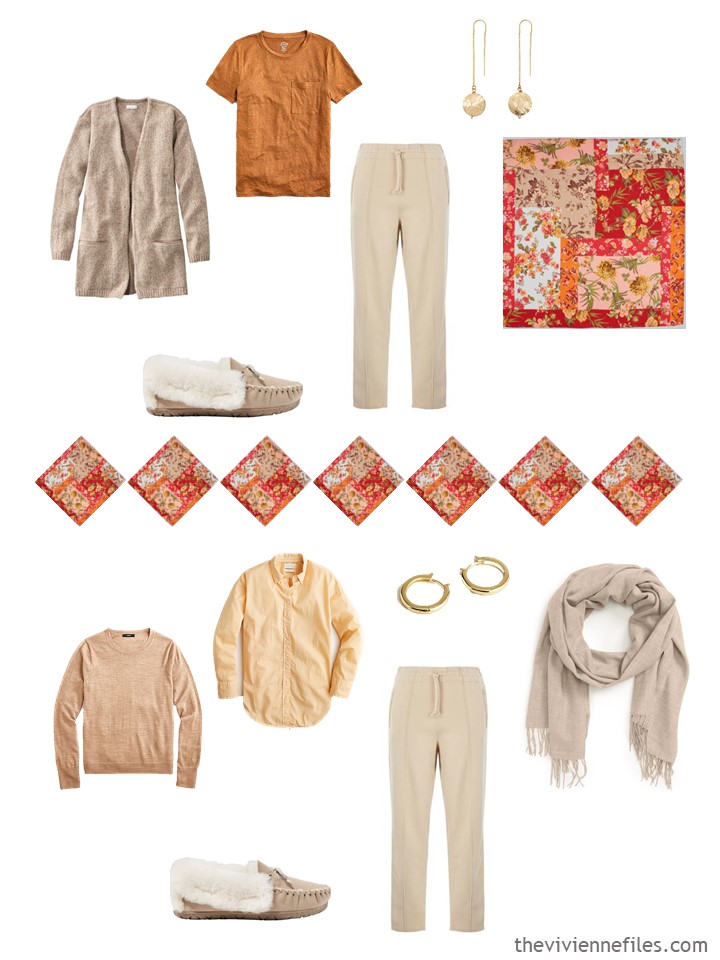 I found a brown sweatshirt! It's rather casual, but still…
But keep an eye on Colorful Standard – I have a hunch that they might bring us a brown sweatshirt as the autumn truly arrives…
Oh dear… this wardrobe still looks sort of awkward to me…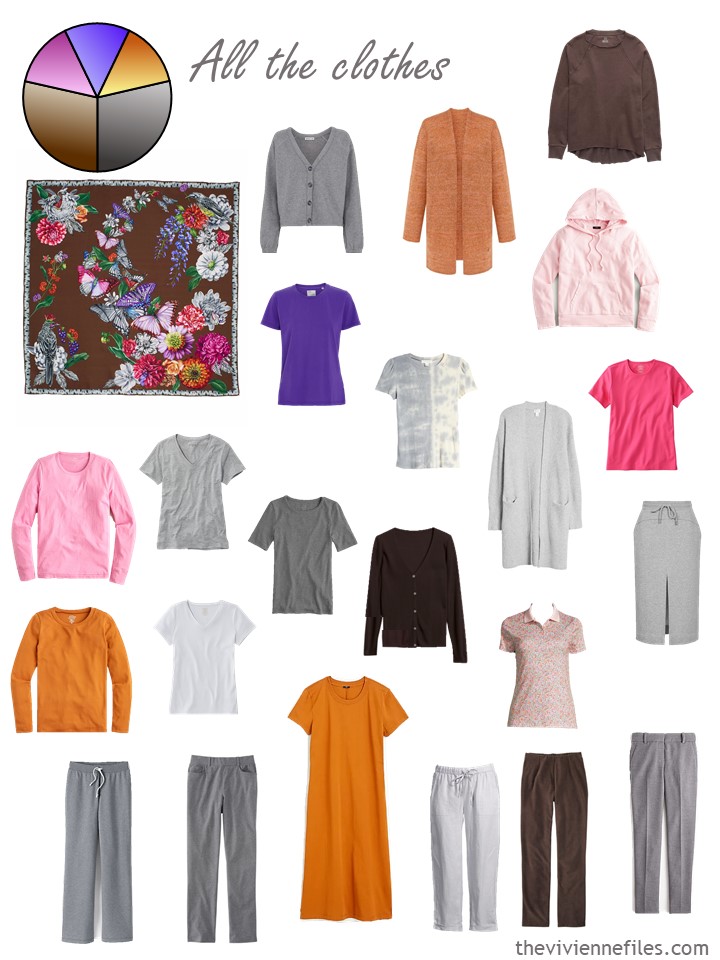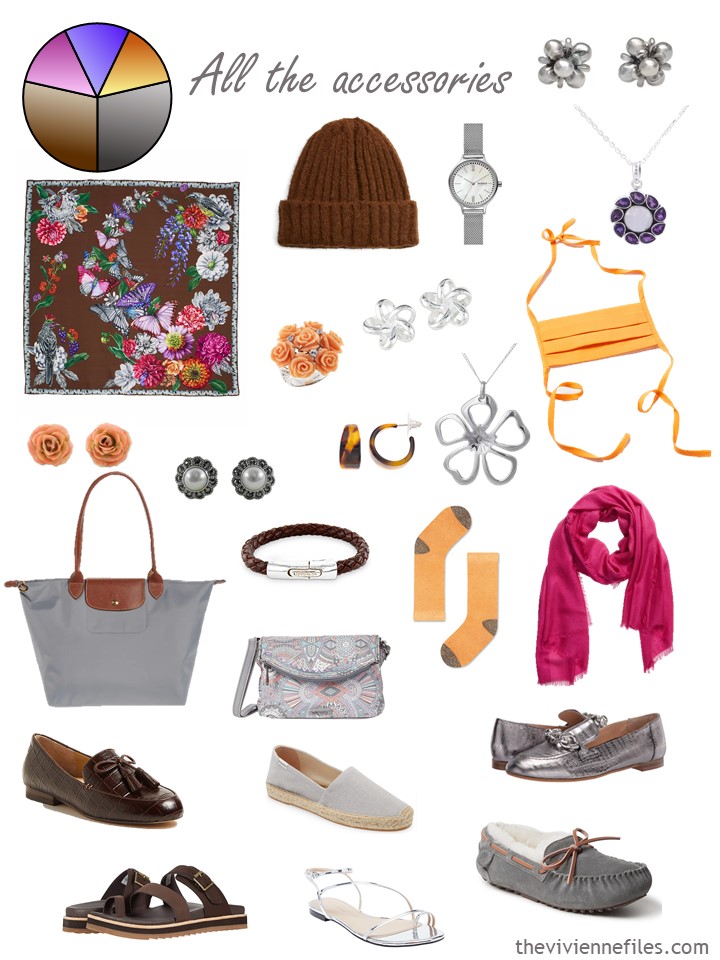 Even with the awkward balance of colors, I was able to pull together some new ensembles for this heroine: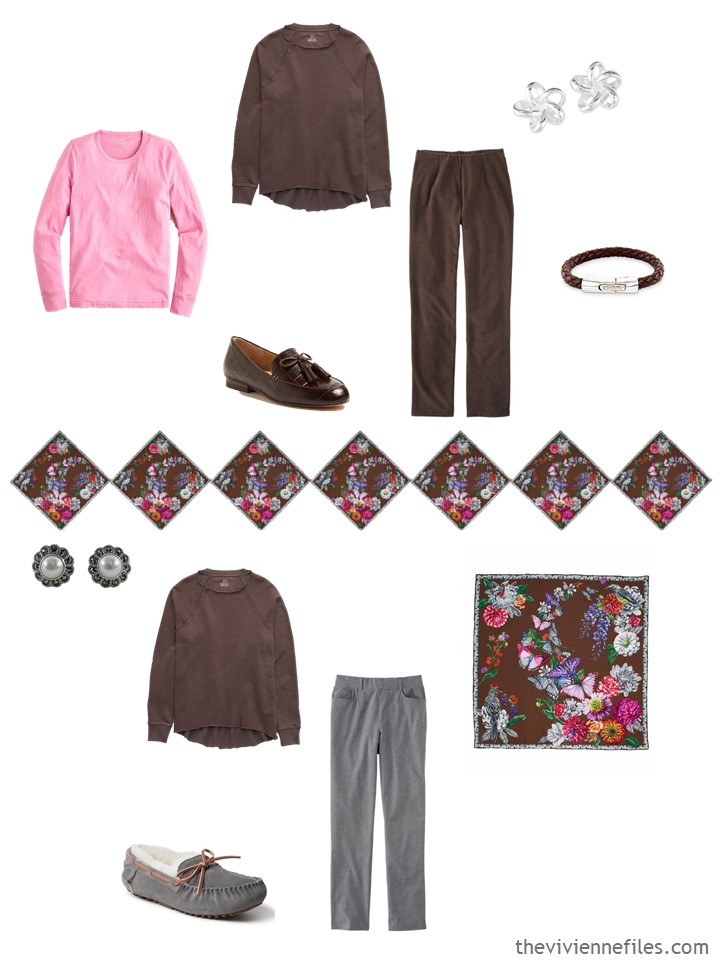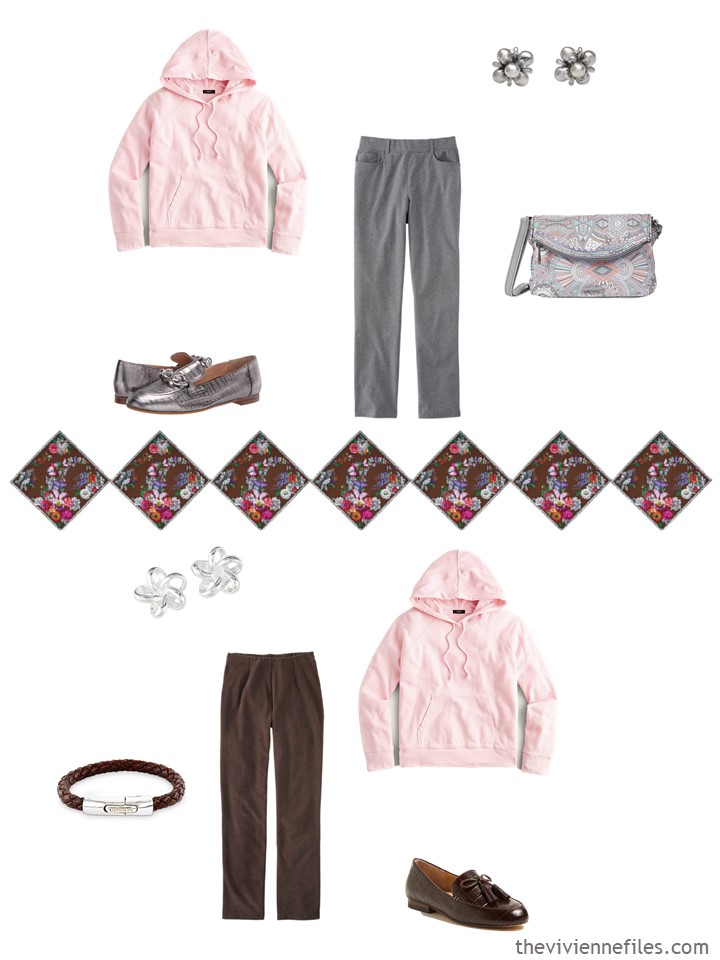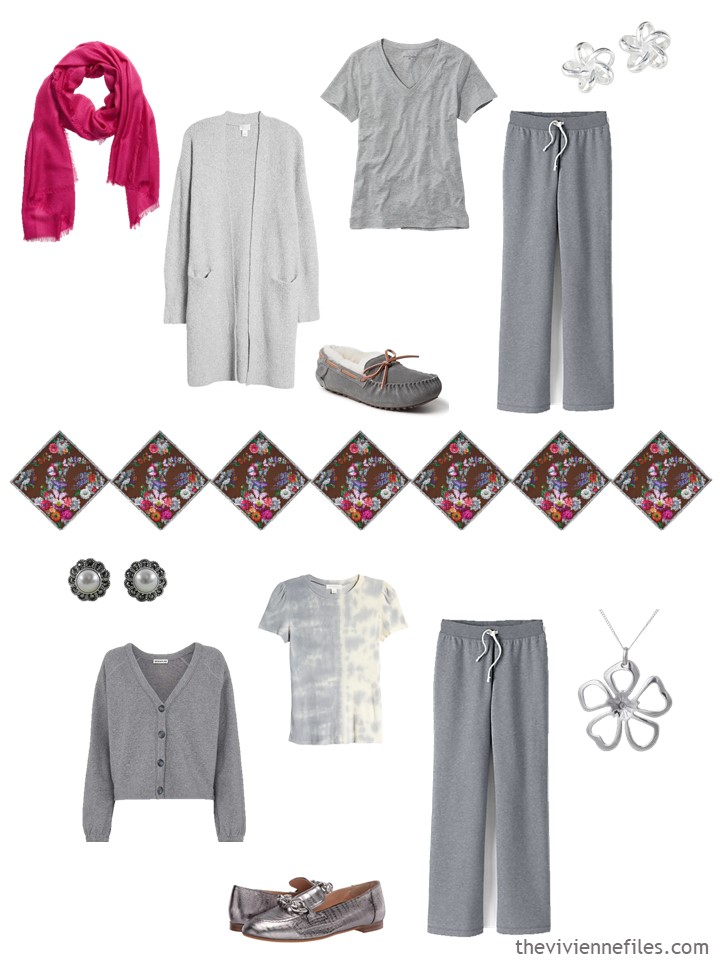 And finally, the lovely wrap that so many of us really admire:
These 2 colors are wonderful – that Petrol Blue is perfect with this scarf!
I feel like I could manage with this wardrobe for quite a long while…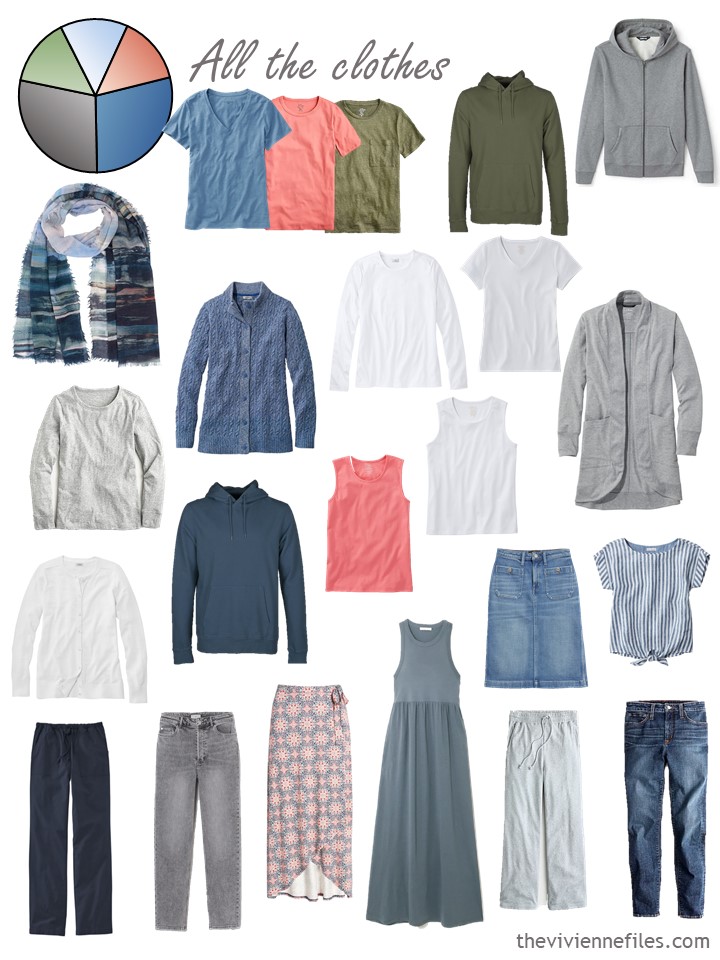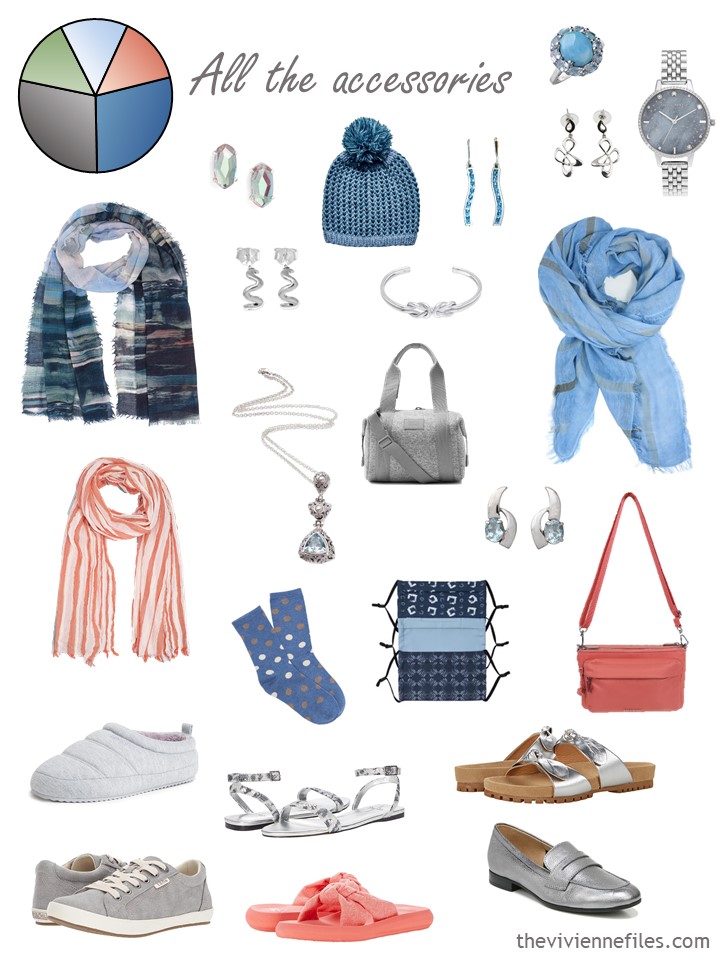 I know that you're astonished to see that these sweatshirts and pants are very useful…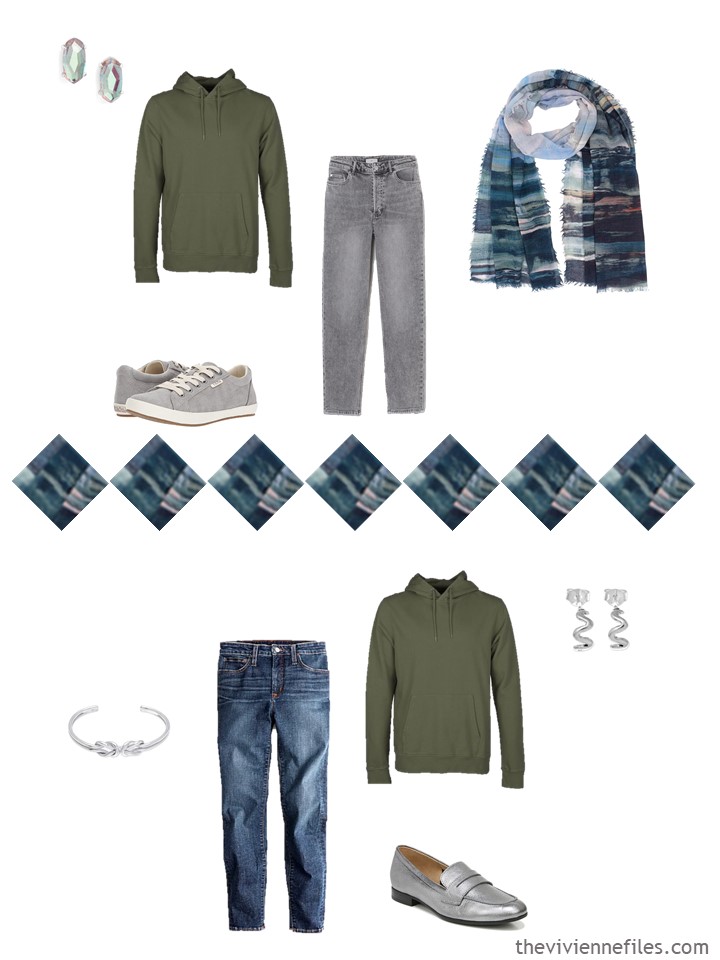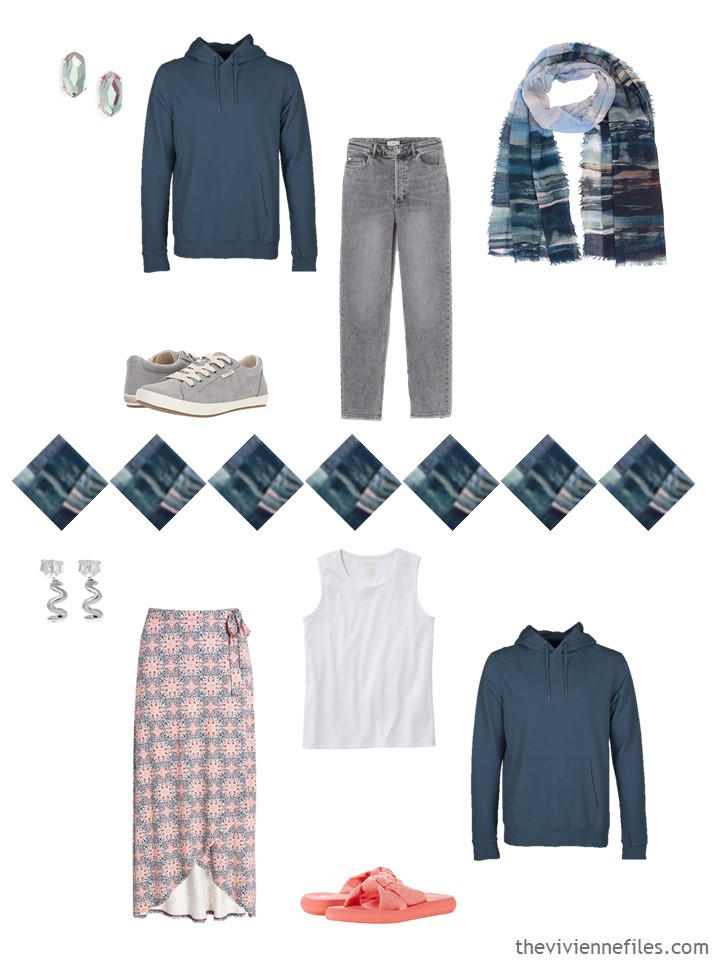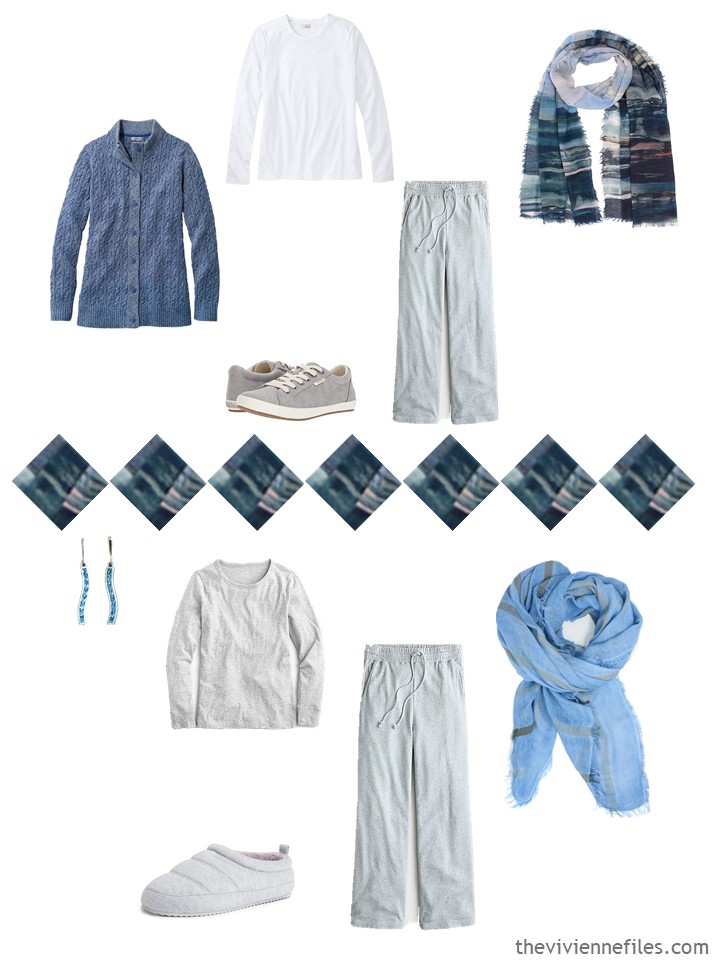 So are you back in the office/school/workplace? I'm still working at my mother's dining table…
love,
Janice

p.s. Five years ago, our travel capsule wardrobe was in navy, hot pink and ivory! It still stands the test of time…