August 5, 2016
Yesterday
's capsule wardrobe really felt like it would be interesting to expand, didn't it? So let's plunge in and see what we can learn from the process!
This is the entire travel capsule wardrobe – the travel outfit and the Six-Pack: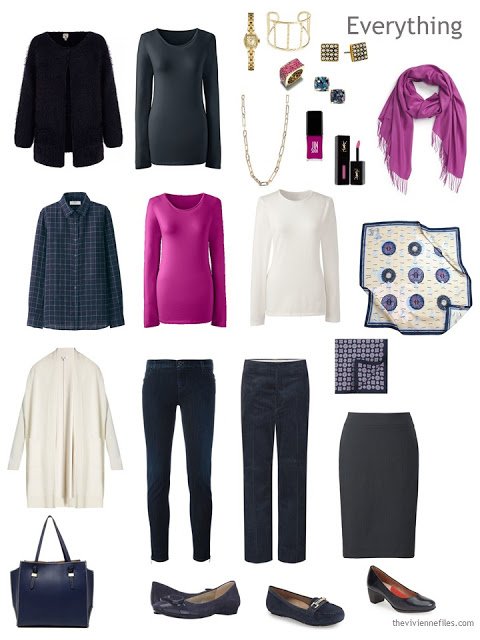 cardigan – Yumi; tees – Lands' End; watch – Bulova; bracelet – Panacea; earrings – Marc Jacobs; ring – Maiko Nagayama; earrings – Kate Spade; necklace – Alexis Bittar; Nail polish – JINsoon; lip stain – Yves Saint Laurent, in Explicit Pink; wrap – Nordstrom; linen shirt – Uniqlo; square scarf – Irene Paris; small scarf – T.M.Lewin; cardigan – Vince; jeans – Armani Jeans; cords – Marni; skirt – Uniqlo; tote – London Fog; flats – Anne Klein; loafers – Vionic; pumps – SoftWalk
The easiest way for me to really look at a group of clothing and find the "gaps" is to plug them into a template – either the "Whatever's Clean" template, or the 4 by 4 Wardrobe. I don't honestly feel like this color scheme is going to be a "Whatever's Clean" possibility; there are 2 accent colors here that might not work together in all cases. (which is fine…)
So I'm going to go from the clothes that we have up to 16 pieces, by filling in the blanks shown here: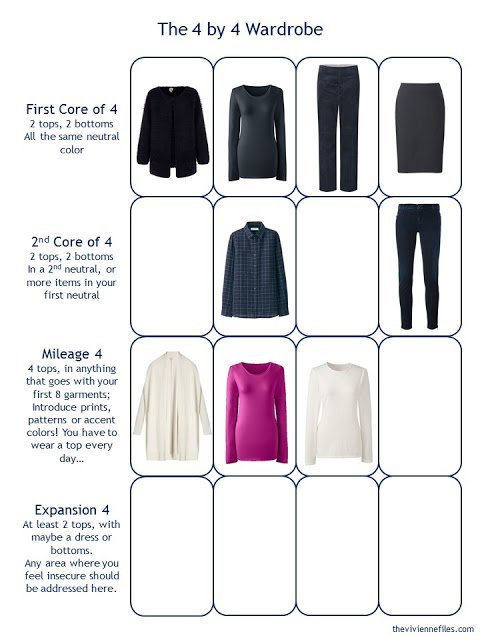 It would be entirely possible, and completely acceptable, to fill in the entire 2nd Core of 4 with navy pieces, but I thought that might be overdoing it. IF, however, you wanted a 2nd navy skirt, in a flared or pleated cut, this would be the perfect place to do it!
But I've been trying to keep this wardrobe pretty casual, and that meant MORE JEANS!!! to me. And I personally love cream-color jeans, and I firmly believe that they can be worn all year. So I'm starting here:
It's important to have a clear idea of how you're going to wear your new purchase before you buy it; that's why I try to show new purchases can be worn with items that are already in the wardrobe…Yes, we already have a luscious, cuddly and soft navy cardigan, but since navy is our key neutral, I thought that a 2nd cardigan in a very different silhouette wouldn't be overdoing it. I particularly like this very long version:
So those 2 simple purchases fill the first two rows of our template, and give us a good solid base of neutral pieces upon which we can build with more accent or stand-alone pieces.
One BIG hole in this wardrobe is the absence of the 2nd accent color! So a classic shirt, with nice straight lines (remember the woman from yesterday who loved tidiness and order…) is a good choice.
If you have something like this and you feel like the white parts of the stripes are just TOO white, consider "tea dying" it. Tea dying is exactly what it sounds like – you make very strong tea, put it into a container, and soak a garment in the tea until it yellows (a little or a lot, depending on your preference), then rise and launder. For those among us who want to prefer to avoid blinding white, it's an interesting, easy option.
For those of you who steer clear of linen, I must share with you that after I laundered my linen capris the 2nd time, they no longer really needed to be ironed! They're never going to be "crispy perfectly creased" pants, but they're more than acceptable now if I just hang them to dry. Woo hoo!!!
Okay, this wardrobe has a "wild card" spot in the Expansion Four, in which another "bottom" can be chosen. For a dressier wardrobe, I'd be turning over rocks trying to find a navy plaid skirt that included hints of my accent colors. Maybe a dark tweed? Or maybe a navy paisley? That's not as square and grid-like as our current theme, but might work, too…
But because we're trying to be casual here, I thought that this would be a chance to include a pair of soft, faded, comfortable jeans. I thought about ivory corduroy pants, or ivory velvet jeans, but couldn't find either… Designers should listen to me more!
So we have all of our bottoms, and we've got the opportunity to choose 3 more tops. This is the time to really start looking for accent colors, in patterns that work well with the overall aesthetic "theme" that you prefer. Because squares were such a big part of our original protagonist's life, I thought more plaid would never be wrong. Plus, going into cooler weather in the Northern Hemisphere, these are SO appropriate…
Rather than trying to visualize all of this yourself, it might be easier to just draw a 4 by 4 grid and sketch your garments into the grid – when you see the entirety of the wardrobe in front of you, it's easy to see that (right now) this wardrobe could use another big dose of pink!
I chose this sweater for 3 reasons:
the pink is the exactly color of our tee shirt
it's got a neckline that can be worn with the plaid shirts underneath it, or on it's own,
and I felt like someone who loves pattern and structure might appreciate beautiful cables on a sweater!
One garment left – let's find the other accent color! This is what I think of as a "stand-alone" garment; you can't really layer it easily, so the range of ways in which it can worn is relatively limited. That said, pretty much any wardrobe is going to include a couple of these pieces. This sweater appealed to me because of the contrast between the heavy, warm structure of it and the softly feminine color. And more cables!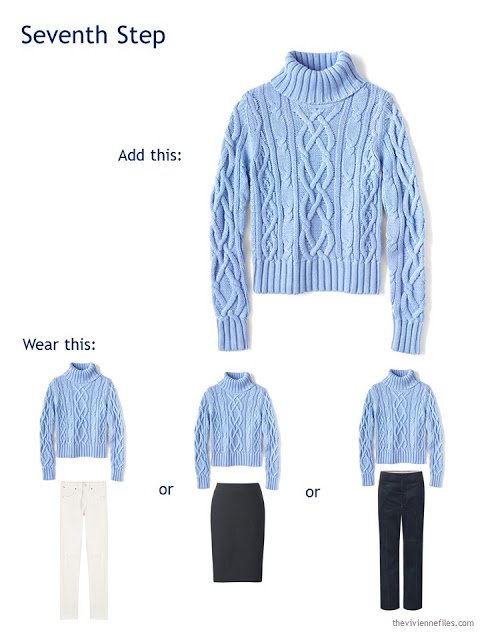 Sweater – Lands' End
With those 7 additions, this wardrobe is now complete, and much more versatile. They keys to building on outfits that you like is to figure out where your gaps are and to fill them in. Continue to refer back to your original outfit or other chosen core, and keep asking yourself WHY you like them and want to use them as your leitmotif.
Then shop, making sure that you're consistently faithful to your color scheme, your preferred cuts/structures, and your signature style elements. Don't buy too much, or go too fast, and make sure that all new pieces get a full and warm introduction into your existing wardrobe!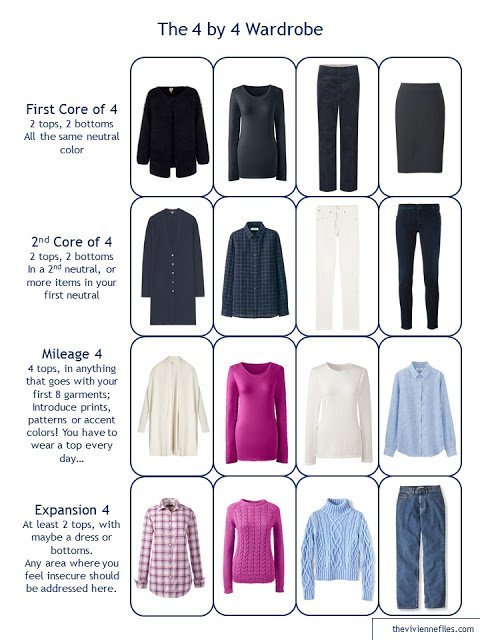 Should I get some more accessories, too?
love,
Janice