August 8, 2016
Even though we're living in front of the fan, and running the air conditioner much more often than I prefer (those things EAT electricity!); I'm still already thinking about what I'm going to wear this winter. (well, I'm also thinking about what I'm going to pack for our trip to Italy next month…)First things first – you can't plan what you're going to buy unless you make a clear and complete inventory of what you already have! It's an amazing thing to read, repeatedly, about how women will buy a garment, only to return home and realize that they ALREADY OWN a very similar item. There's a big planning fail in there…
So I'm starting with my "Whatever's Clean" capsule wardrobe assortment for cool weather: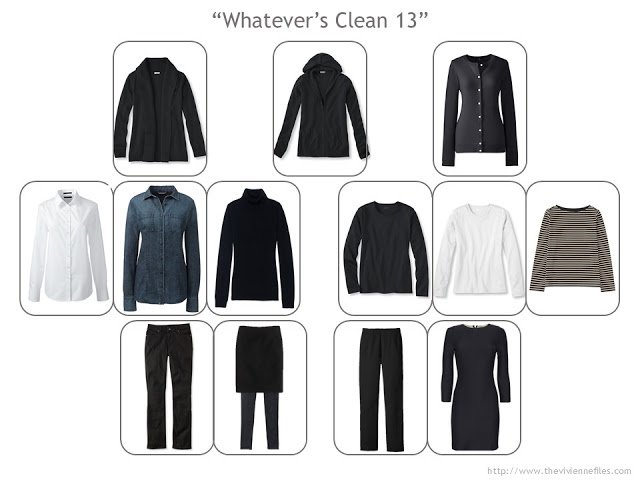 Open cardigan – L.L.Bean; hoodie – L.L.Bean; button cardigan – Lands' End;white shirt – Lands' End; denim shirt – Lands' End; cashmere turtleneck – Lands' End; black tee –
L.L.Bean
; white tee –
L.L.Bean
; striped top – Uniqlo; black jeans – L.L.Bean; skirted leggings – Eileen Fisher; dress pants – Eddie Bauer; dress – Eileen Fisher
This is, in my current circumstance, plenty of clothing, all on its own. On days when I'm not leaving the building (and remember that I have a gym, grocery store, laundry room, dry cleaner etc. IN MY BUILDING, so it's not like I'm a recluse) I can wear gym clothes all day. These 13 pieces, on their own, will get me through most activities in my life….And yes, this looks pretty monotone, as well as monotonous. But remember that I almost always wear a scarf in cooler weather, and that I always wear earrings, usually a bracelet, and so things aren't quite this stark when being worn.
Even though I have enough clothes, I share the very common instinct to want to shop, and to have something new for the upcoming season. So I've been browsing around the internet and organizing my "objects of desire" like this: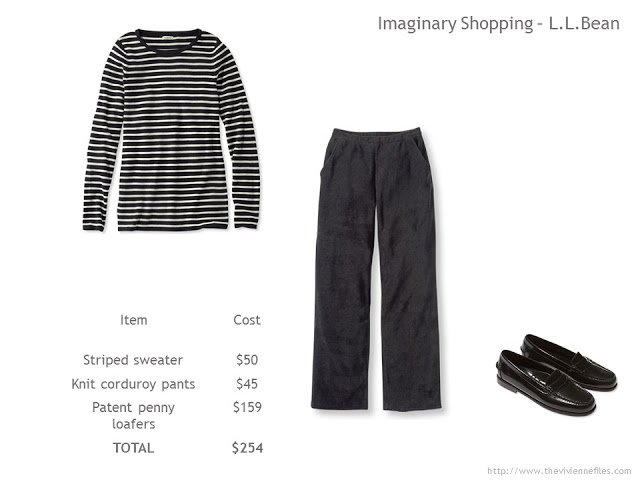 Striped sweater – L.L.Bean; pants – L.L.Bean; loafers – L.L.Bean
I'm going to keep on with this system for a while, just to keep things straight in my mind. This will help me in a few ways that I can immediately see:
I can check to see if any of these items get marked down (although price really shouldn't be the first consideration when shopping – cost per wear is much more important!)
When I'm unpacking my existing winter wardrobe, I plan to have these images RIGHT IN FRONT of me, so that I will realize if I already have one or more of these items. I have a hunch that once I get a good look at my gorgeous grey sweater with black stars, I won't really feel a deep longing for a dotted sweater, too.
Having all of these collected in 1 place makes it possible for me to allocate my spending in a strategic way.
When I see new clothes coming out, I can look back at this "wish list" and realize that I don't HAVE to buy black corduroy pants the first second I see them – they will pretty much always be around in cool weather. This false sense of urgency can be a budget and closet buster…
For me, just the process of copying an image and then pasting it into my PowerPoint file forced me to really consider my fondness for the item. There are a lot of things that I admire, but don't really need to buy! Always remember the Eiffel Tower…
If you don't feel like building a PowerPoint file to keep track of your shopping desires and plans, this is the kind of idea that could easily translate into a blank book or other planner. I would suggest that you try to keep things as compact as possible, so that you can see the entire amount that you might buy, and the entire number/assortment of pieces that you're considering.
Does anyone else have a shopping plan system that you're willing to share?
love,
Janice
p.s. I'm TRYING to get the "reply" option back in the Comments. Google is such a mystery…