cardigan – Yumi; tees – Lands' End; watch – Bulova; bracelet – Panacea; earrings – Marc Jacobs; ring – Maiko Nagayama; earrings – Kate Spade; necklace – Alexis Bittar; Nail polish – JINsoon; lip stain – Yves Saint Laurent, in Explicit Pink; wrap – Nordstrom; linen shirt – Uniqlo; square scarf – Irene Paris; small scarf – T.M.Lewin; cardigan – Vince; jeans – Armani Jeans; cords – Marni; skirt – Uniqlo; tote – London Fog; flats – Anne Klein; loafers – Vionic; pumps – SoftWalk
It would be great if I can figure out an Accessory Template, but right now I'm still pondering how that's going to work; it might take me a few weeks, or months!But I was thinking about the role of accessories in our lives, and I was able to conclude that there are realistically very few that you actually NEED; most of them are for fun.
Of course, if you live in a warm climate, you're not going to need gloves, nor a hat: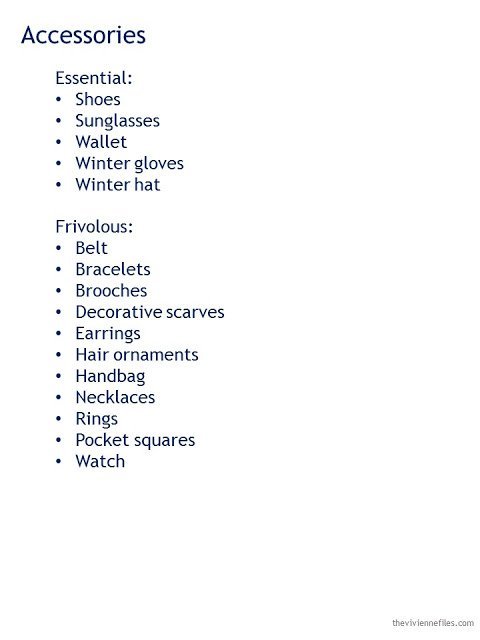 That said, we're still going to add a BUNCH of accessories to this wardrobe! When I was scanning this one, the first thing that really jumped out at me was that I would want a pair of low-heeled short boots. I've found that since I bought mine 3 years ago, I wear them a TON, and would sorely miss them if they weren't in my wardrobe.
Yes, the paisley ones are amazing! I'm not sure that those should be your only pair of short boots, but if you love them enough, why not?
I'm sorry, but I just can't call these "booties." Booties are either the things that babies wear, or it's a very casual term for a body part…
Sunglasses are essential. I'm pretty careless about forgetting to wear mine, but avoiding cataracts makes it worth the trouble to grab them on the way out the door!
Belts are something about which I know very little; I have virtually no place on my body to put one, unless I wrapped it around my wrist a dozen times as a bracelet. But there are lovely belts in the world, and if you wear one regularly, make sure that it's beautiful.
Why not an accent color wallet?
I haven't lost a glove in decades – I'm charmed that way! But I can assure you that when the cold weather hits, these will be the single most important thing you'll want to have; nothing is more painful and sadness-provoking than cold hands.
This style of boot is relatively difficult to find this year – at least so far! There are mountains of short boots, and a fair mess of over-the-knee boots (and I DO mean mess…) A word of caution before you purchase knee-high boots: make absolutely sure that all buckles lay FLAT FLAT FLAT; I have torn the hem out of more than one skirt on the top buckle of my boots! You can possibly ruin your garment – at a minimum it puts a blot on your day.
Many women could get by indefinitely with just a tote bag, but I like to provide the option of a cross-body bag for those days when you're carrying your tote, AND groceries, AND other shopping bags.
A brooch on that gorgeous turtleneck would be a pretty touch, wouldn't it?
There are lots of beautiful brooches sold used; you can often get iconic pieces for a fraction of what they sell for at retail. The necklaces and bracelets are for our old friend who loved all things square. Would it be foolish to buy yourself one new piece every year? Think of the collection you'd have in just a few years!
Here's how things look now, with your additional accessories. I didn't add in any more scarves, because we started with three, and I'm assuming that the hot pink scarf will easily work as a winter scarf. You can see how, while the accessories are small, they provide options for changing up the look and the feel of your entire wardrobe.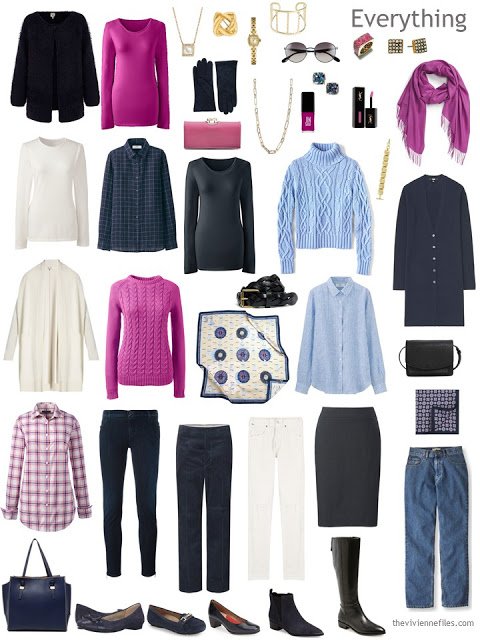 I can easily live with a small wardrobe, so long as I have some lovely accessories to give it my personality…
love,
Janice