June 30, 2021
Yesterday was my birthday, and I had to go shopping…
I had my eye on a linen dress from Eileen Fisher…
When I got to the store at Water Tower Place, the lovely young woman who approached me was wearing the EXACT dress I was looking for, but she was wearing it with a much more "cool weather" feel that I would have imagined. The store was very cold, of course…
This is how she wore the dress:
Okay, you wouldn't wear this out into a blizzard, but this outfit would be more than acceptable in the early autumn, or late spring…
It reminded me of the way that women in Paris wear their summer dresses with sweaters, tights and warm shoes or boots – long past the time of year when most of us would have stashed them in the back of our closets!
It won't work with pastel flowers (probably…), but with darker colors, it's worth considering.
How about these:
seriously, those boots are going to transform any outfit!
If your sweater is scratchy, this last one won't work, but a soft sweater would be lovely – your dress top is more like a camisole now!
After I left the store (with the dress in hand, of course!), I got to thinking more about linen, and I remembered something I wore on a trip years ago: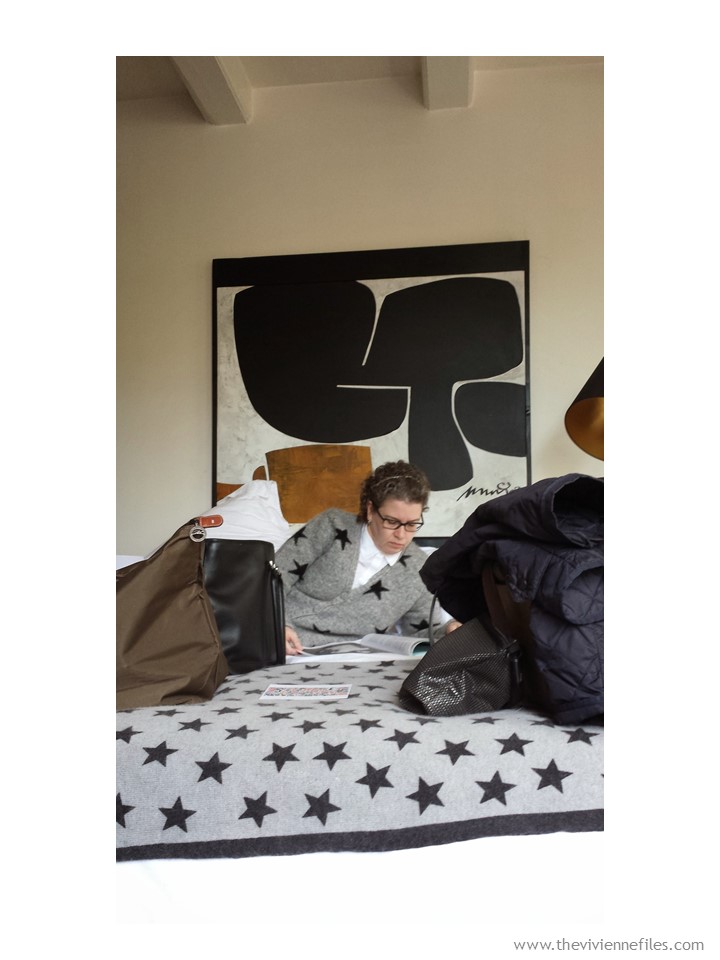 Why yes, my sweater matches the bedding! And I'm wearing my white linen shirt – the same one I still own! I have no idea how old it is…
So why do I think I need to have cotton shirts AND linen shirts?
Hmmm….
While the white shirt is an obvious substitution, a bright summer accent might be just as welcome in cold weather:
And you might be able to find a color, pattern or print in linen that you CAN'T find in any other fabric:
I've always packed linen shirts just in case the weather turns very warm on a trip, but I never translated that into wearing my shirts all year.
What do you think?
love,
Janice
p.s. A serious question from a reader: She must use an assistive device to walk, so she must wear a cross-body strap bag. For an upcoming special event, her bag has a chain strap, and her top is lace!
How can she avoid snagging?
p.p.s. Four years ago, we started with a bracelet and went recklessly, insanely wild building a wardrobe around it!