May 5, 2021
This month, we're finally adding skirts to these wardrobes! (yes, you can easily substitute any other bottom for a skirt if they're not your thing…)
Some wardrobes are getting pretty coherent outfits with the skirt, and for a couple of wardrobes I filled in some blanks and fell prey to prettiness…
This is a pretty somber outfit, but this heroine did not yet have a black tee shirt – that's almost heresy in my world!
Not surprisingly, these garments blend in beautifully: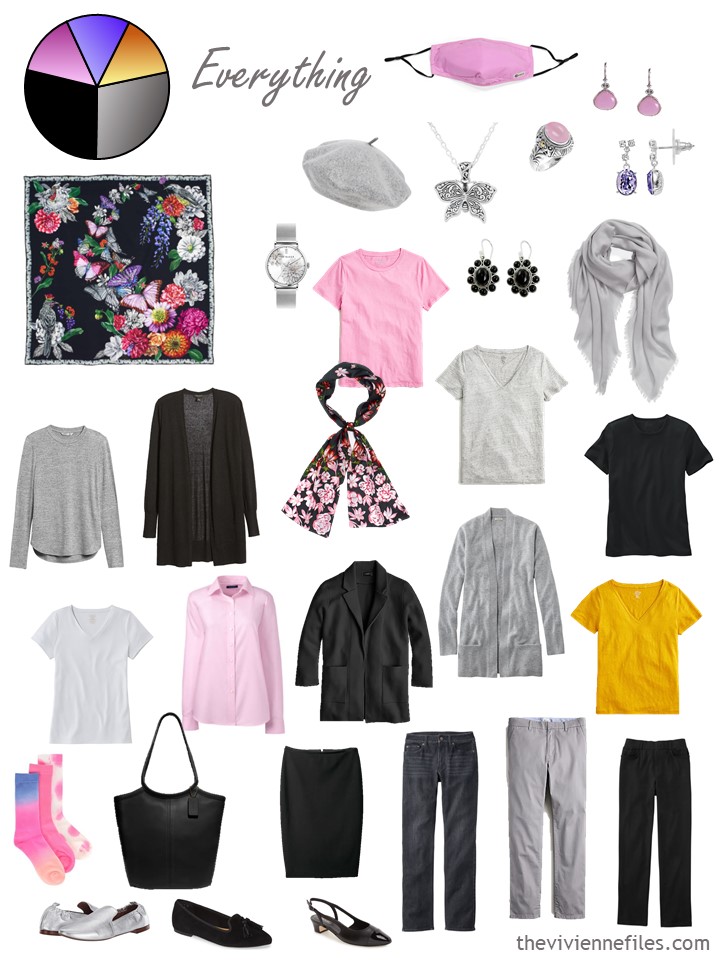 And each new garment lends itself to at least a couple of new outfits – I suspect I could easily find more!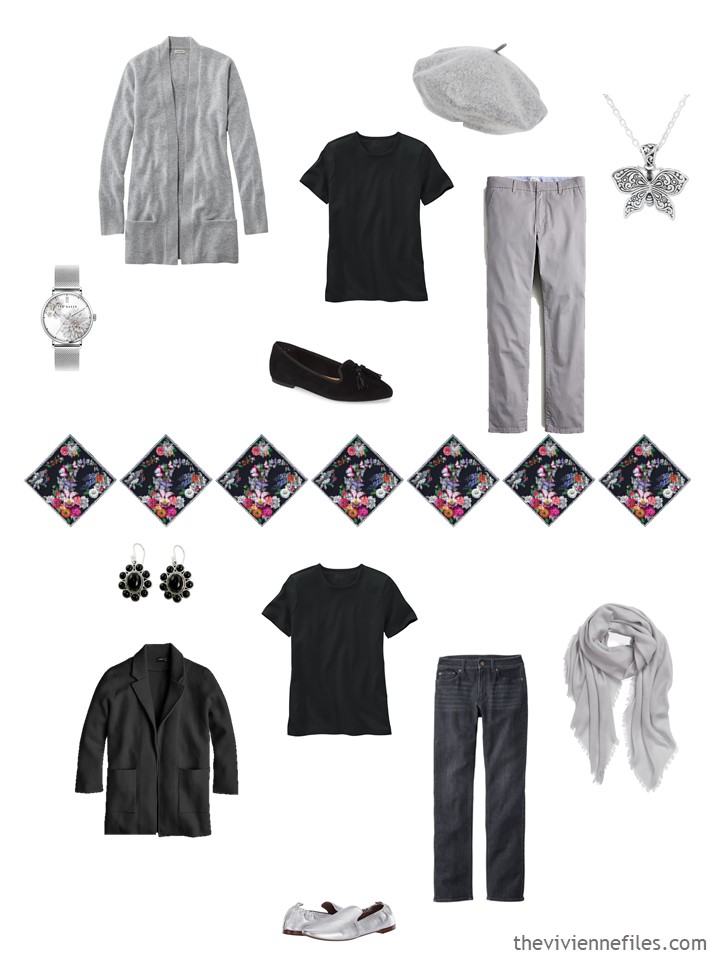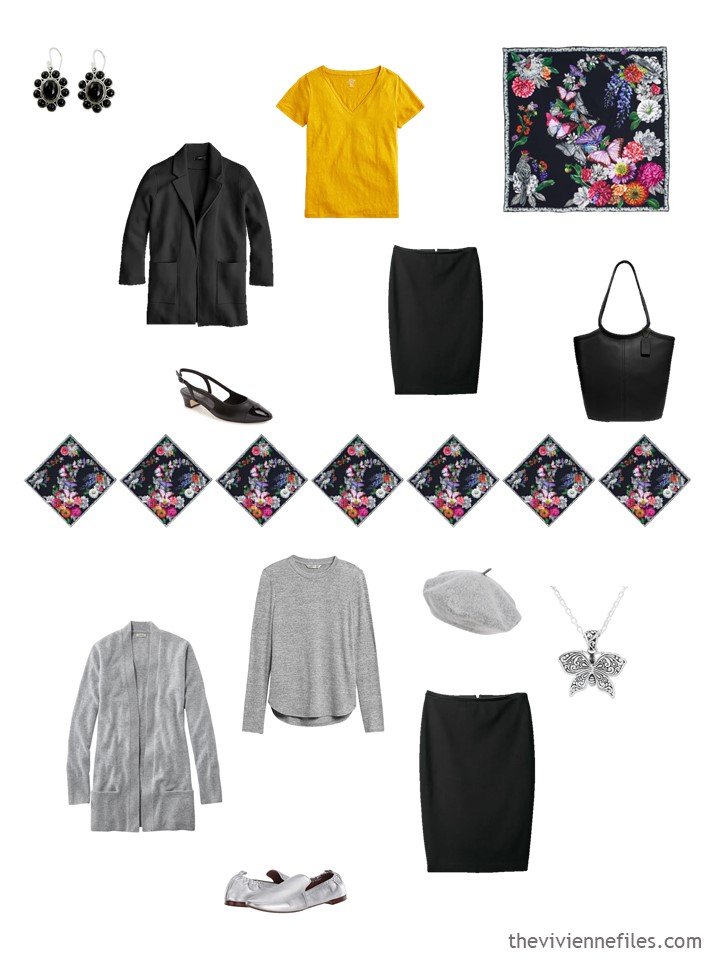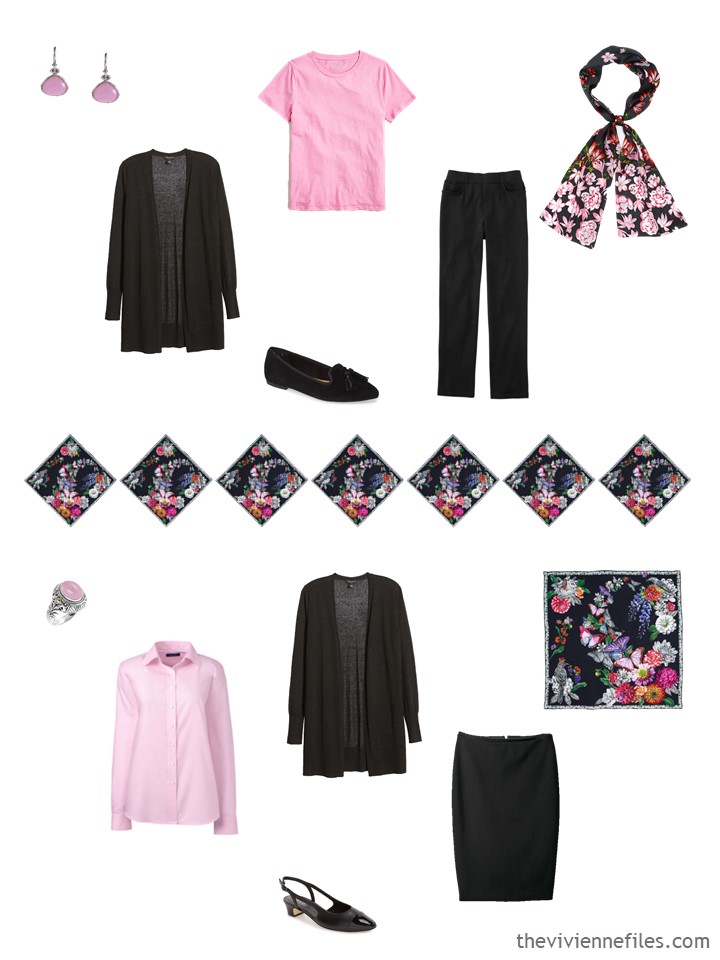 Now, the color palette that just screams Spring – to me at least!
This is a lovely outfit for warming weather – dressy but not fussy…
Two navy garments bring a practical dose of dark neutral to this wardrobe – always handy if you're traveling, or need to look serious for some reason…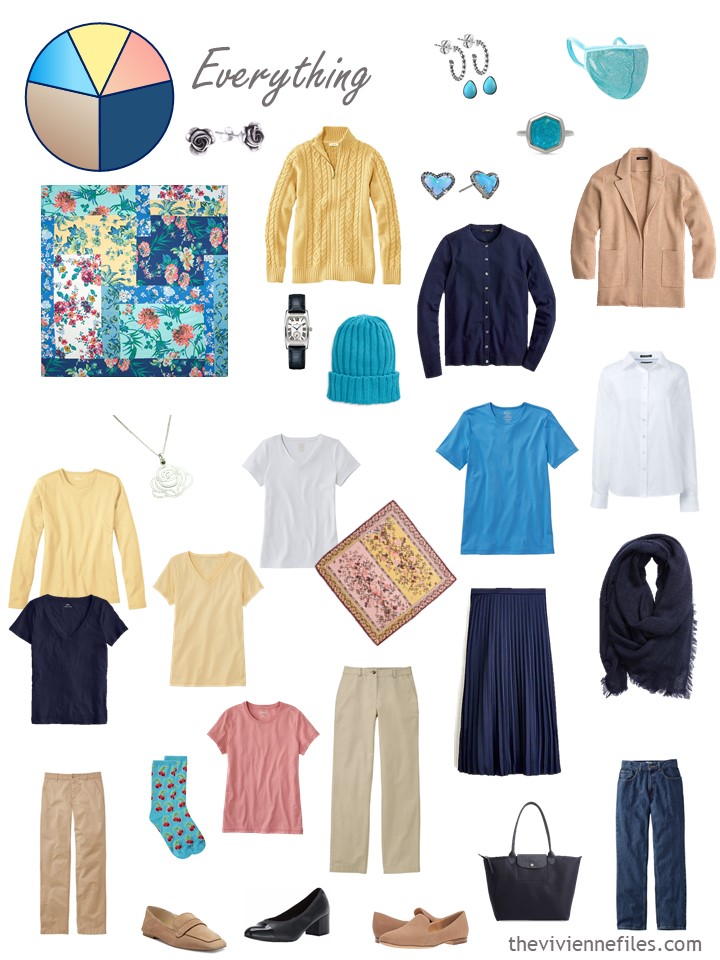 And as before, these new pieces work easily with the existing wardrobe: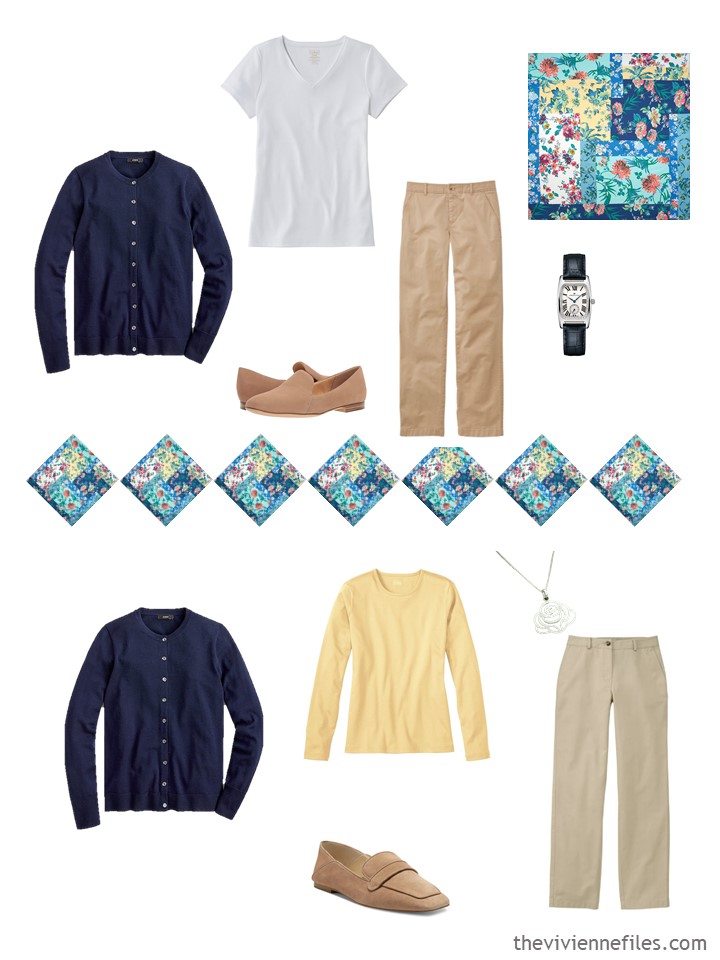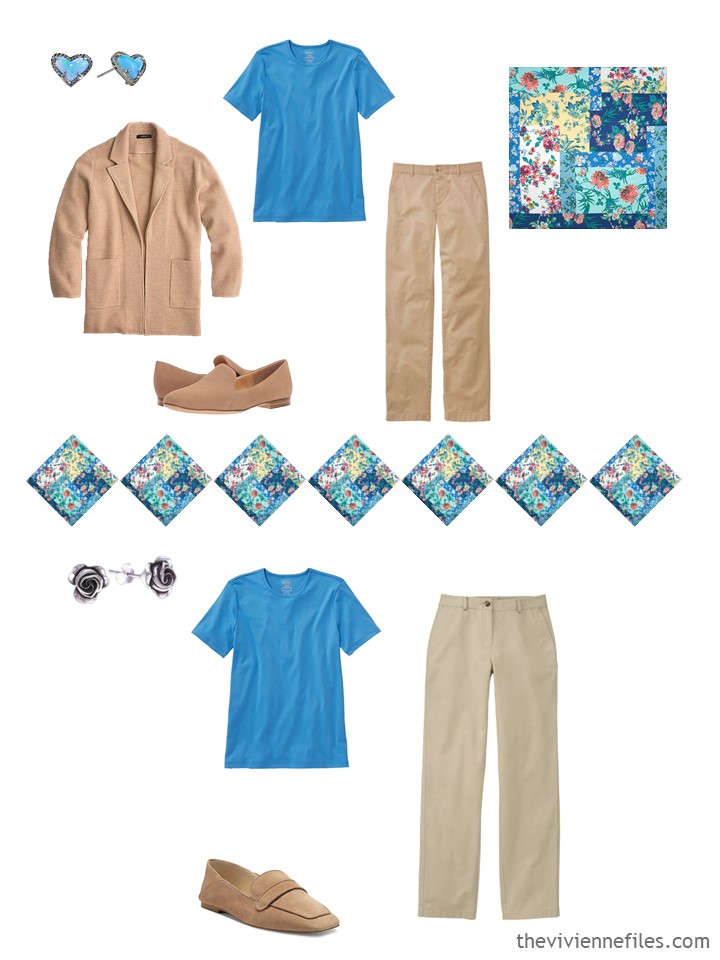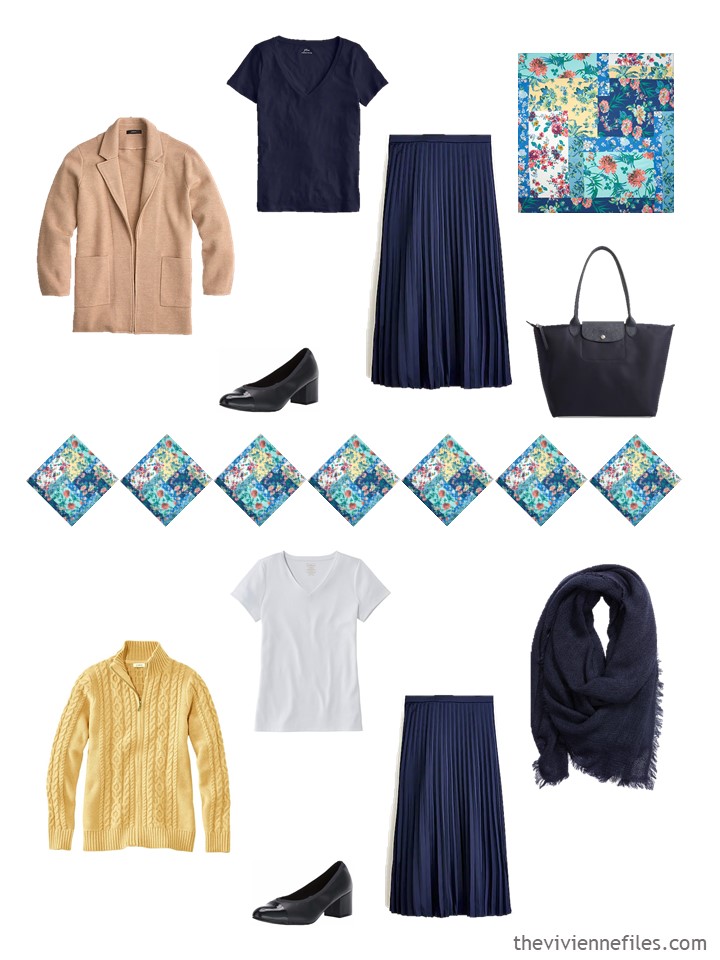 Eventually, a ruana that's warm like this one will be out of season (although I could have worn it today!). But the colors are seasonless…
What a glorious color I found for us!
This wardrobe is going to have every shade of purple I can find, by the end of the year!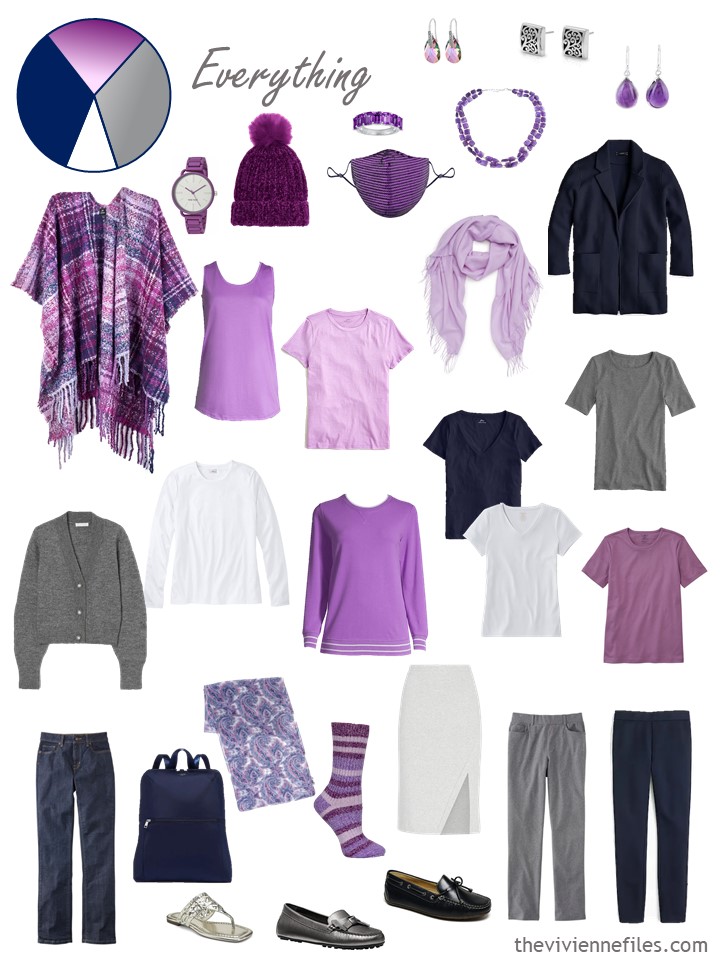 Again, finding new outfits with older garments was easily done!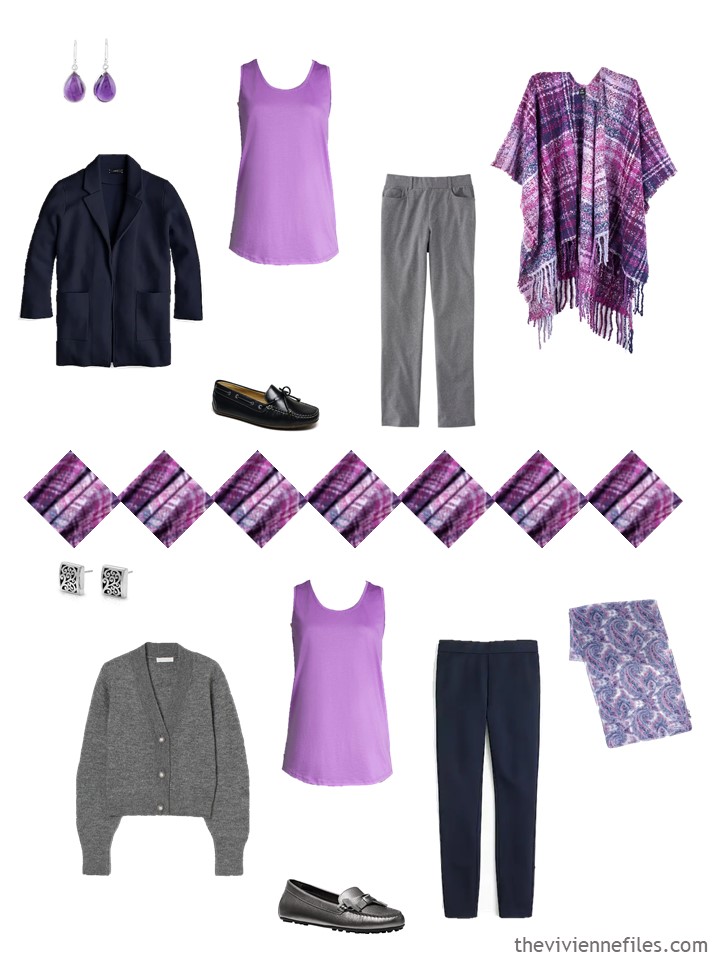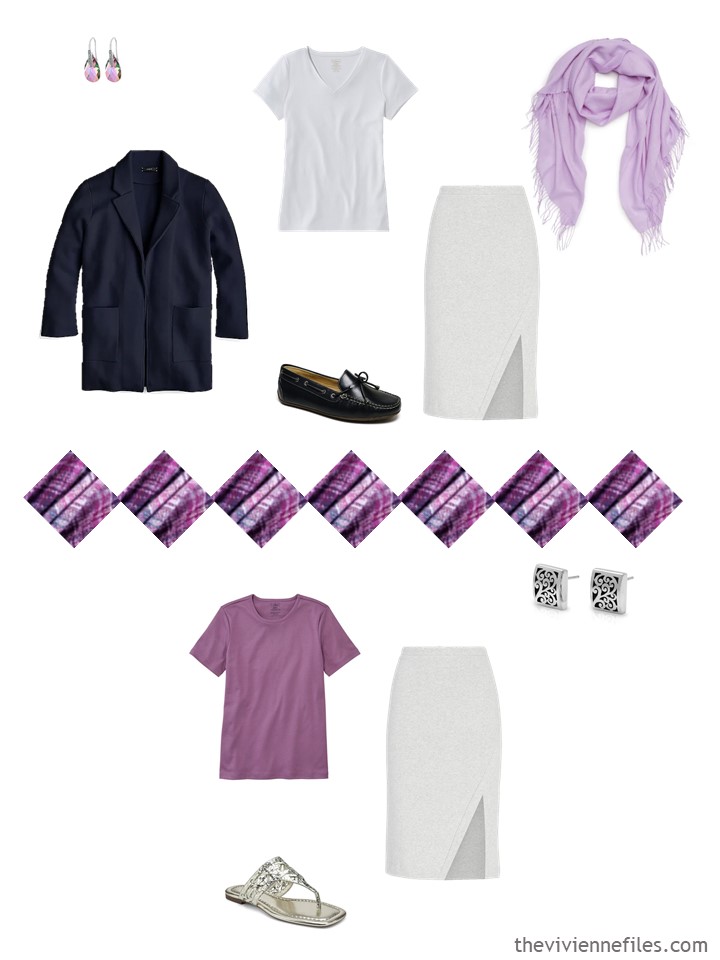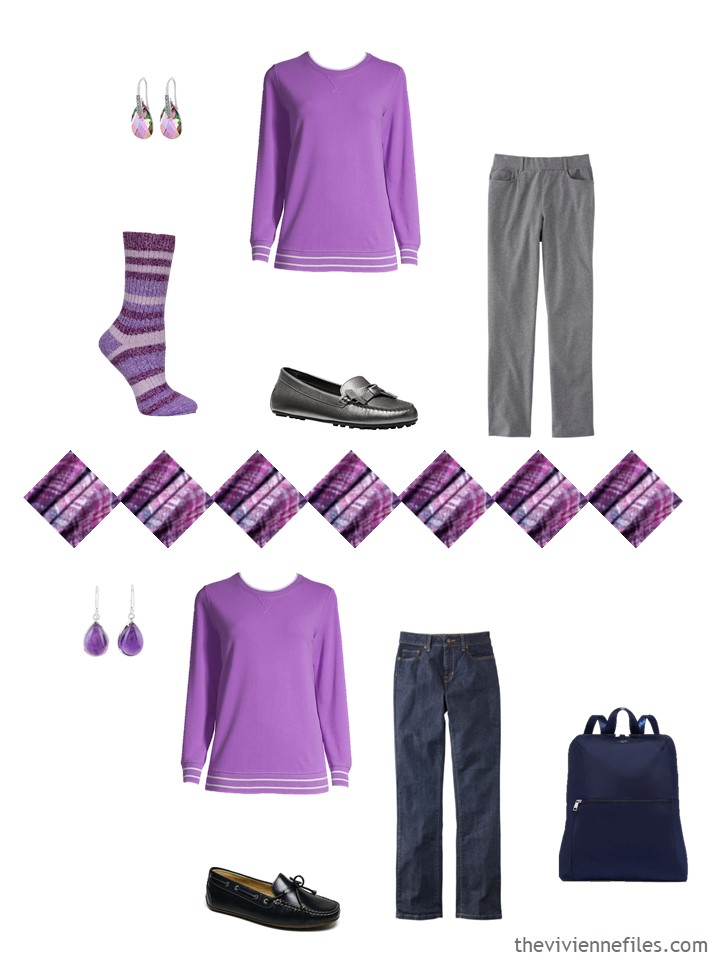 I love the warmth and just plain prettiness of these colors!
This could be an outfit – of course! I wasn't really thinking of it in those terms, and a sweater over a shirt is NOT going to look right with sandals…
But each of these garments just felt right to me, so I jumped in to see what would happen.
Oh, for reddish hair and freckles…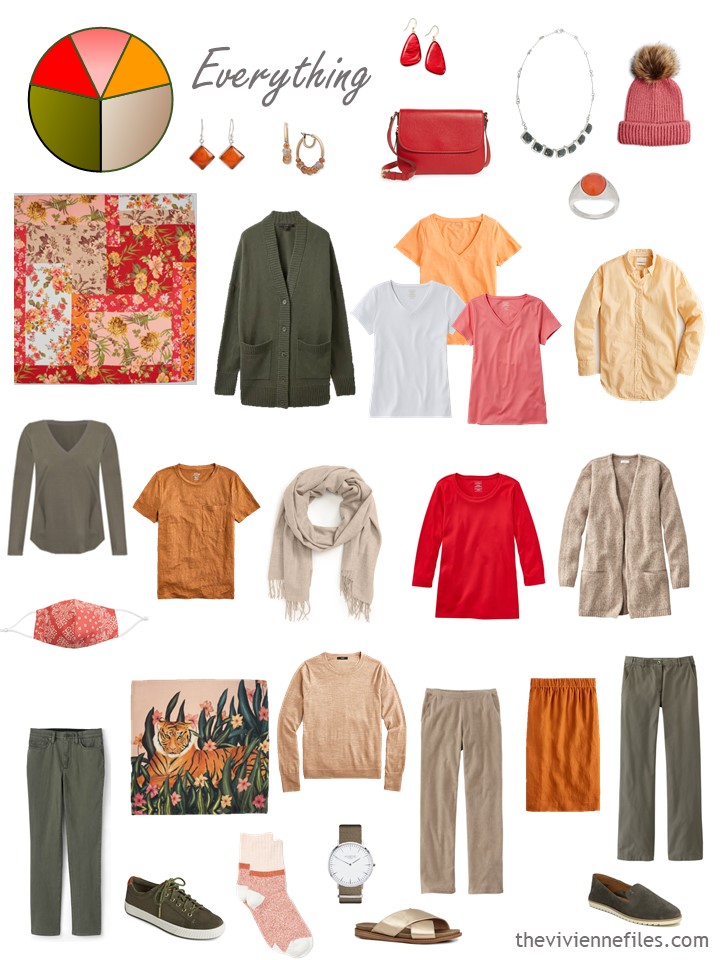 These outfits weren't tough – I chose the skirt specifically because it's supposed to be the same color as the burnished pecan tee shirt; I suspect that "in the fabric," they're closer together in color.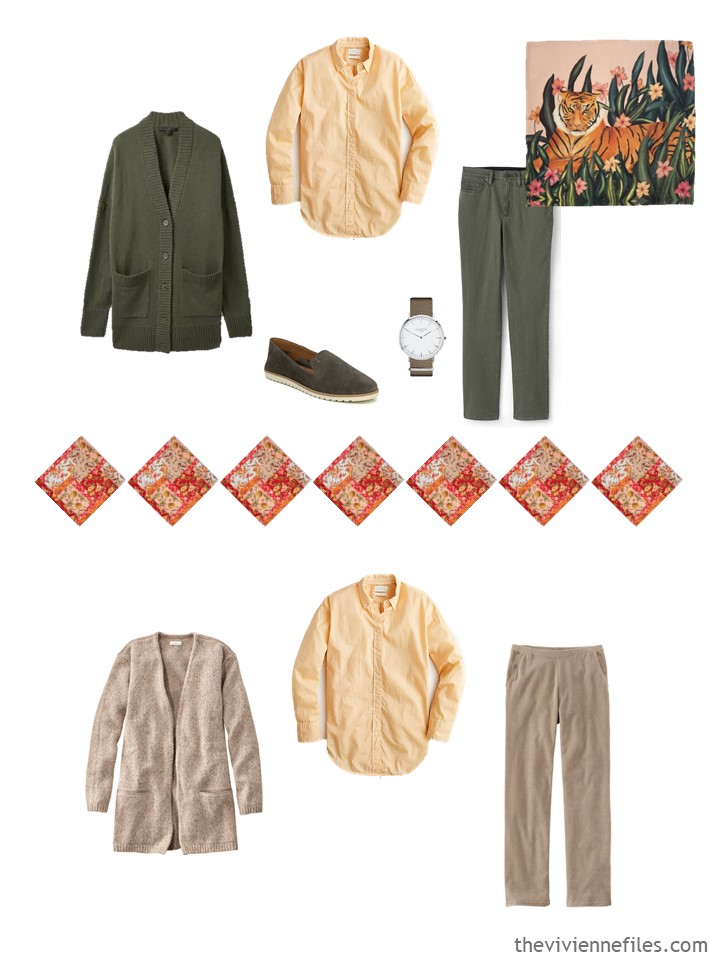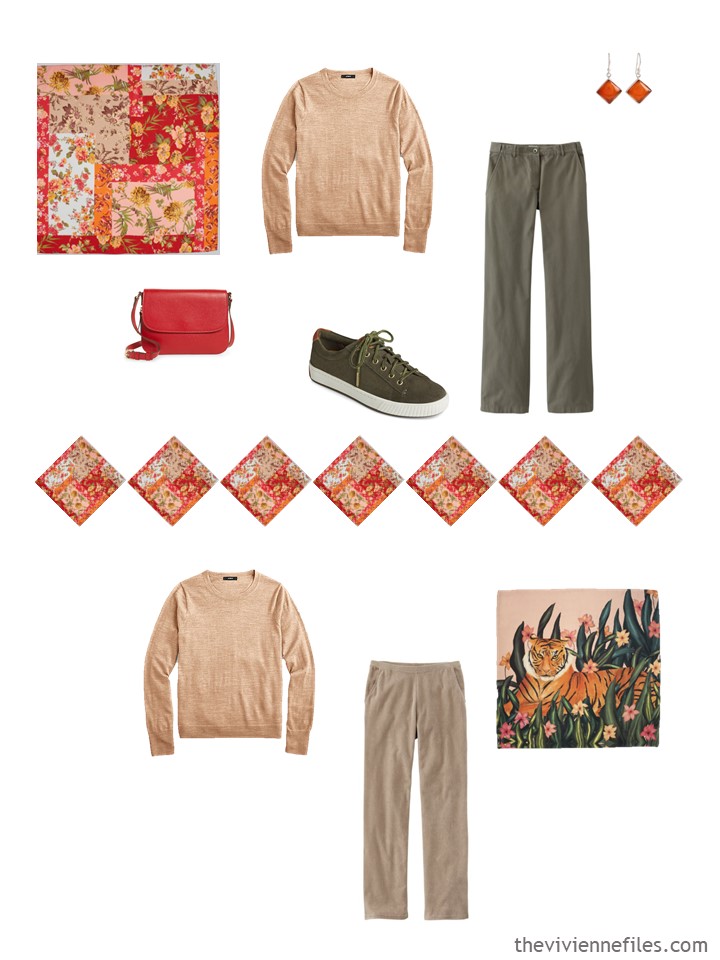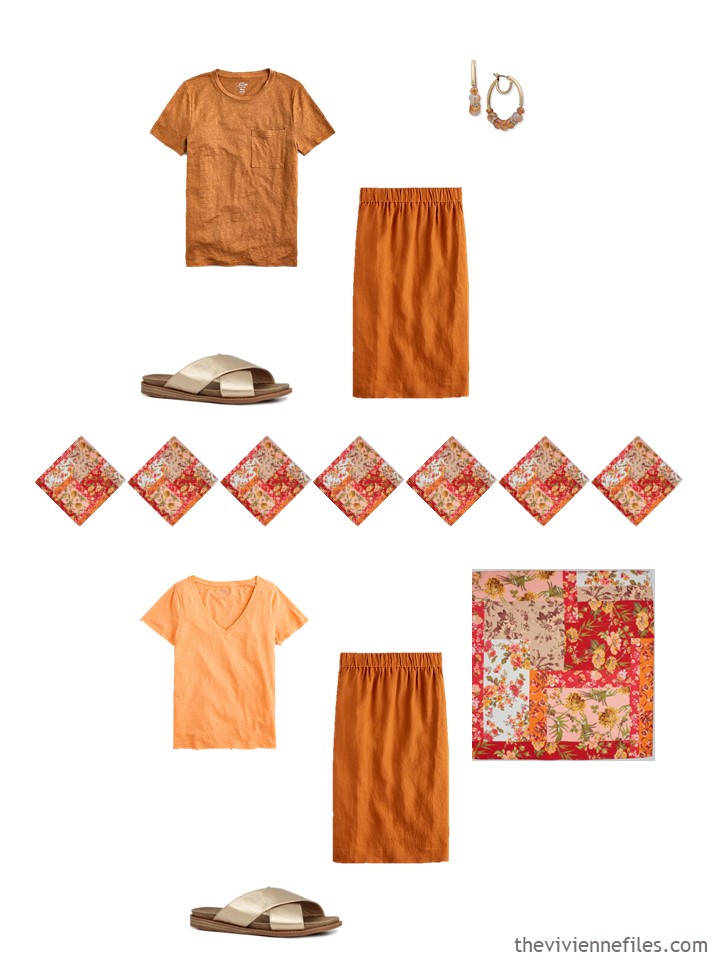 Here's where I've gone COMPLETELY off the rails! I thought that using the same patterned scarf – and the same accent colors – as the first scarf would be an interesting experiment. I wasn't really counting on the degree to which one just can NOT find nice brown clothes…
I searched for brown – I promise! And I ended up using grey…
I am always drawn to the wardrobes that look as if every garment and accessory are singing the same song (so to speak).
This wardrobe is about 80% singing Handel, and a handful of punks in the corner singing The Clash…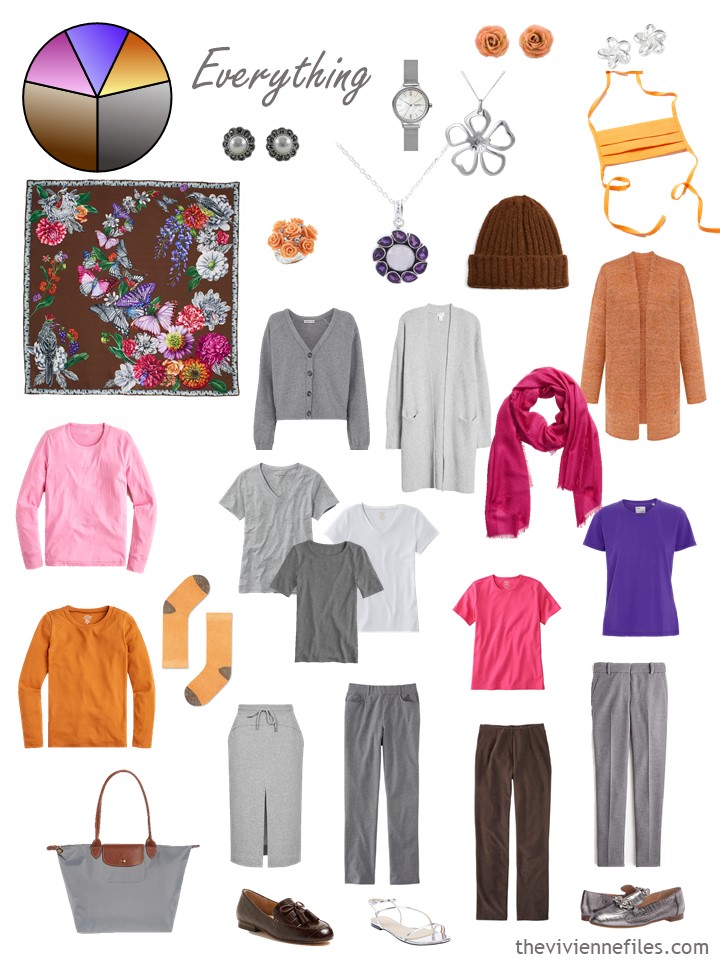 But this happens to most of us – if you experiment with an accent color, or an unusual mix of neutrals, you might find that it simply doesn't work the way you imagined it would.
Maybe in the autumn, I will find enough brown, gold and purple to tie all of this together. Maybe not – I can see it never coming together!
I feel bad about this…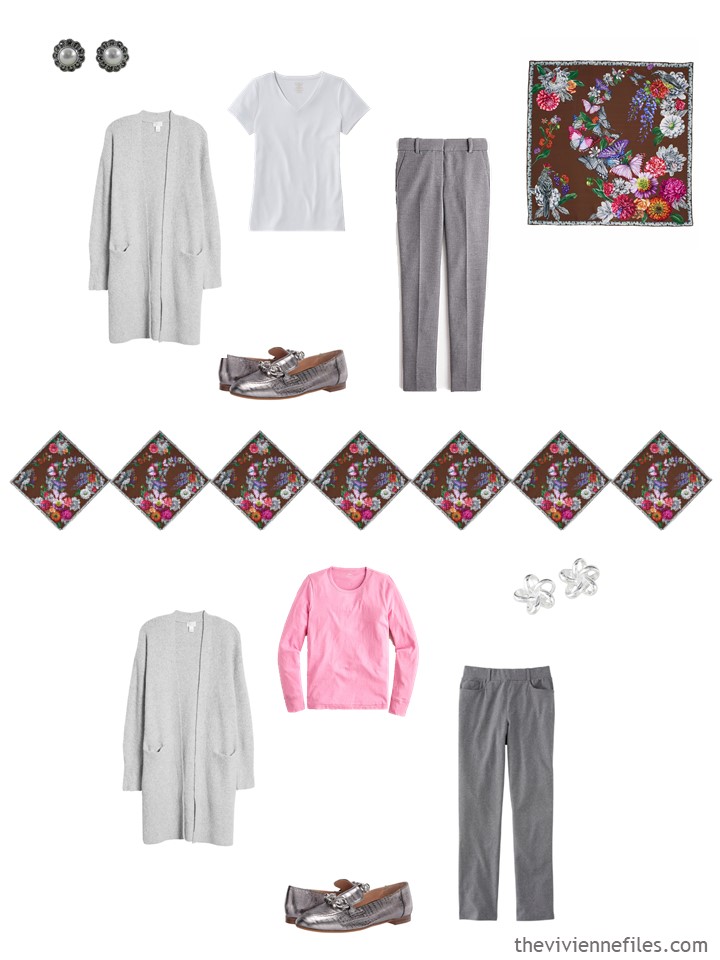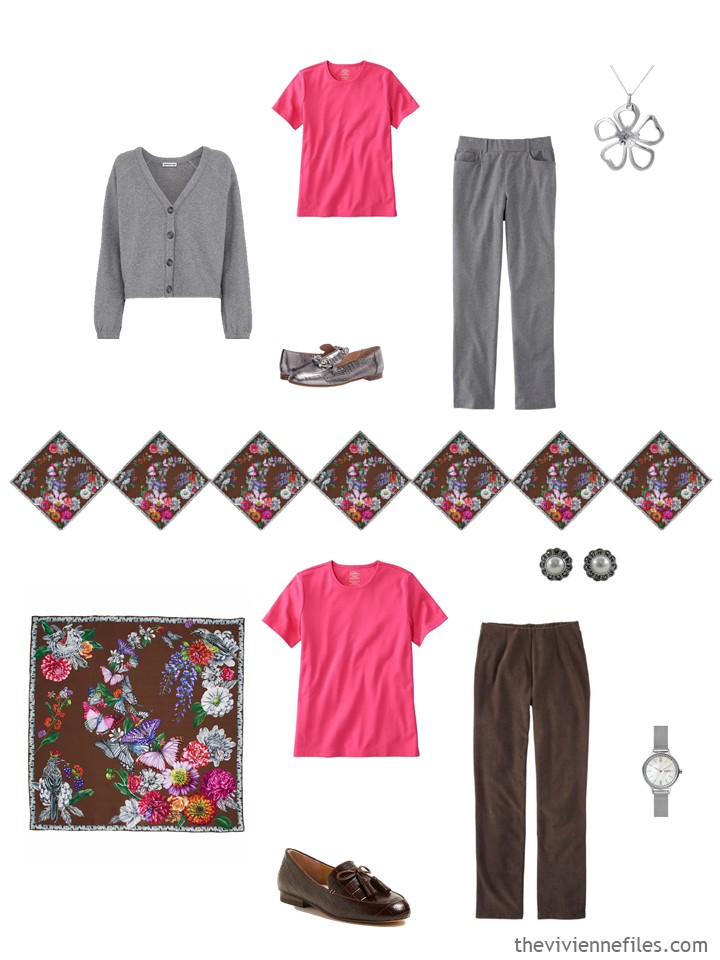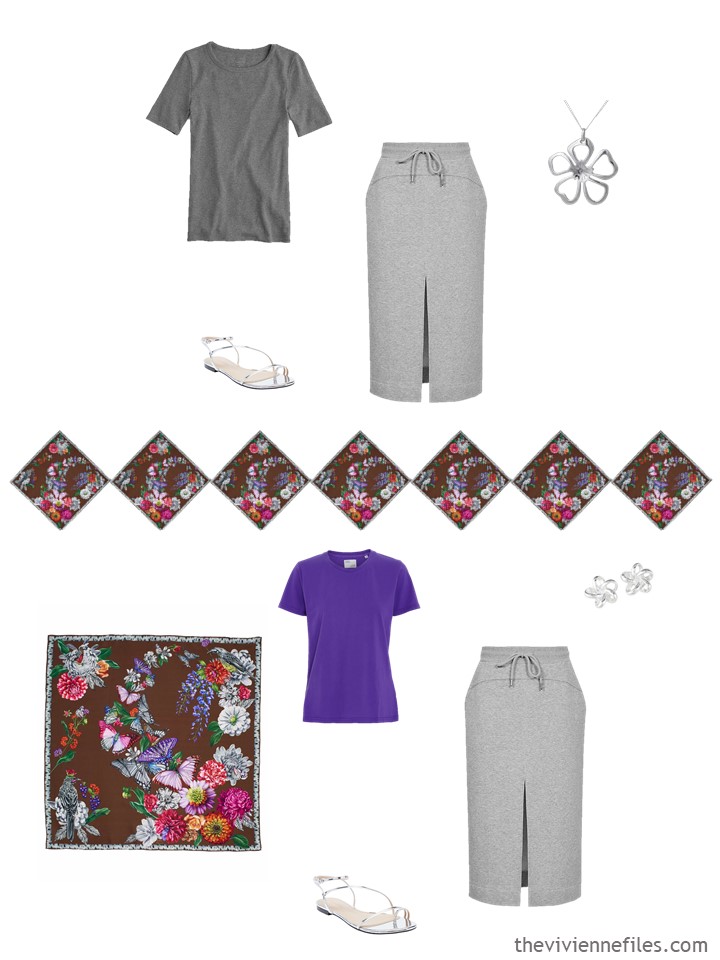 Happily, we close with this lovely, easy, casual, relaxed and just plain GREAT color scheme…
I kept the new outfit very informal, in keeping with the overall feel of things so far:
Yes, sandals might not be great with all of these outfits, but I always feel like you have to grab the good sandals early in the season!
I could live with this wardrobe tomorrow, and it couldn't be more different from my own – it just feels wearable: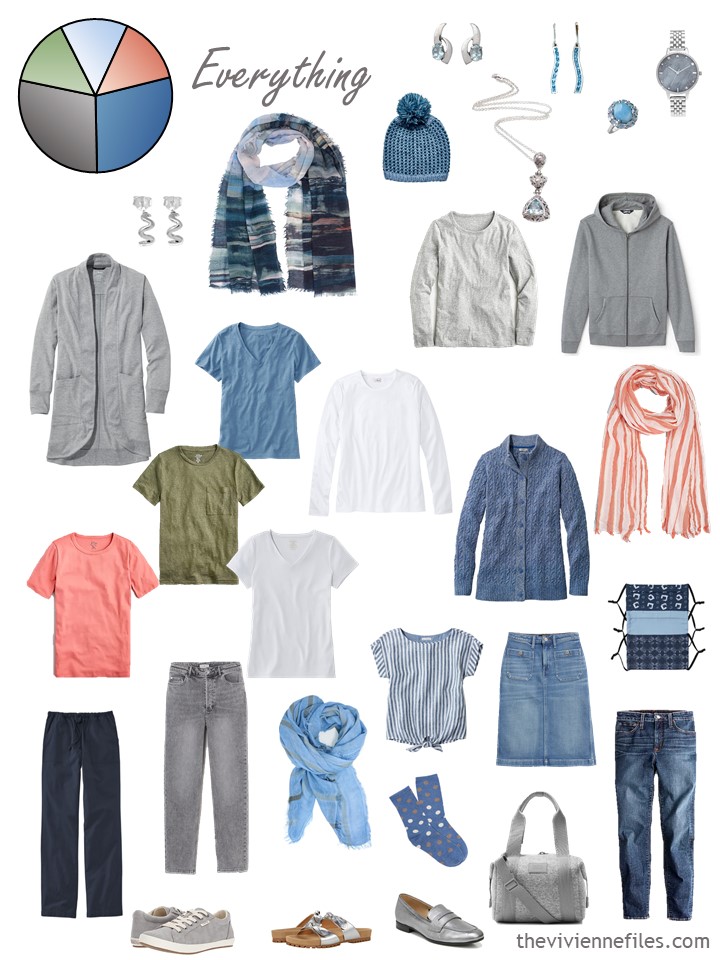 Outfits from this are like falling off a log…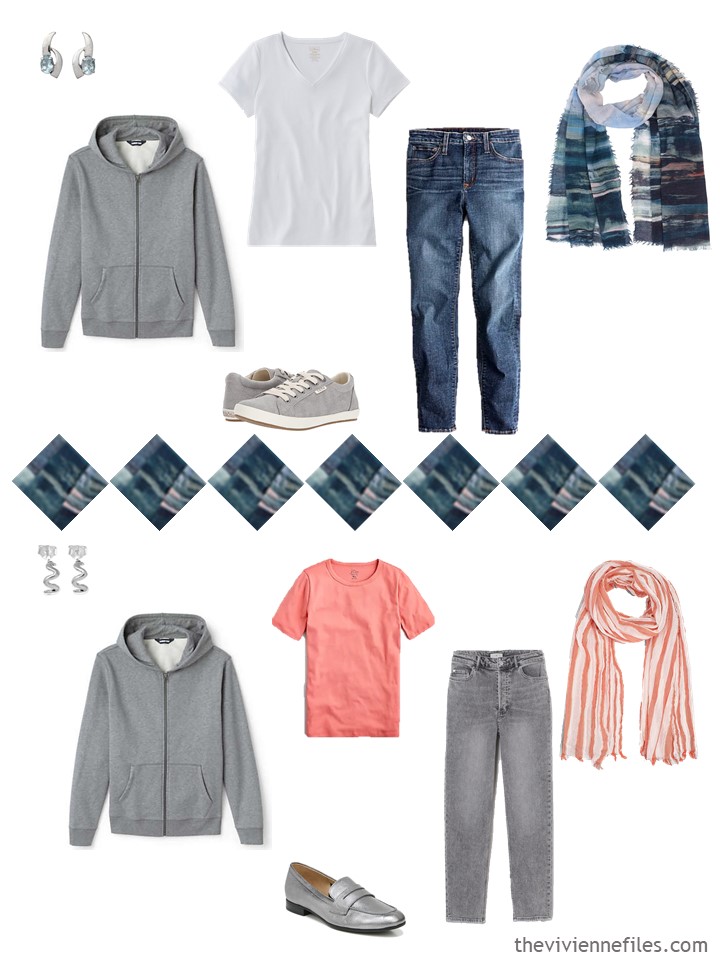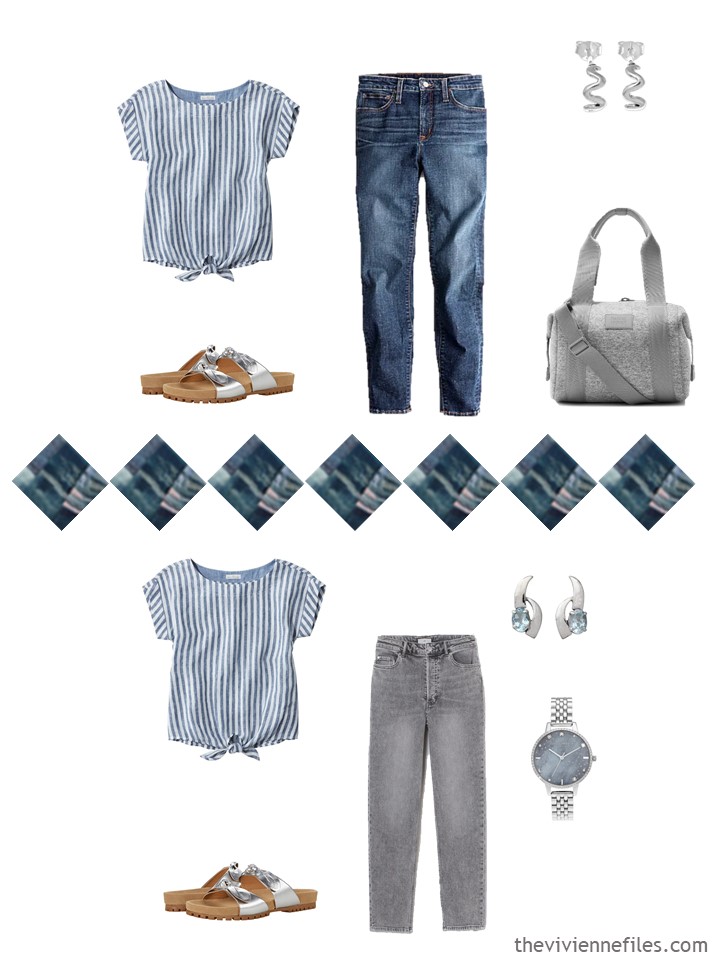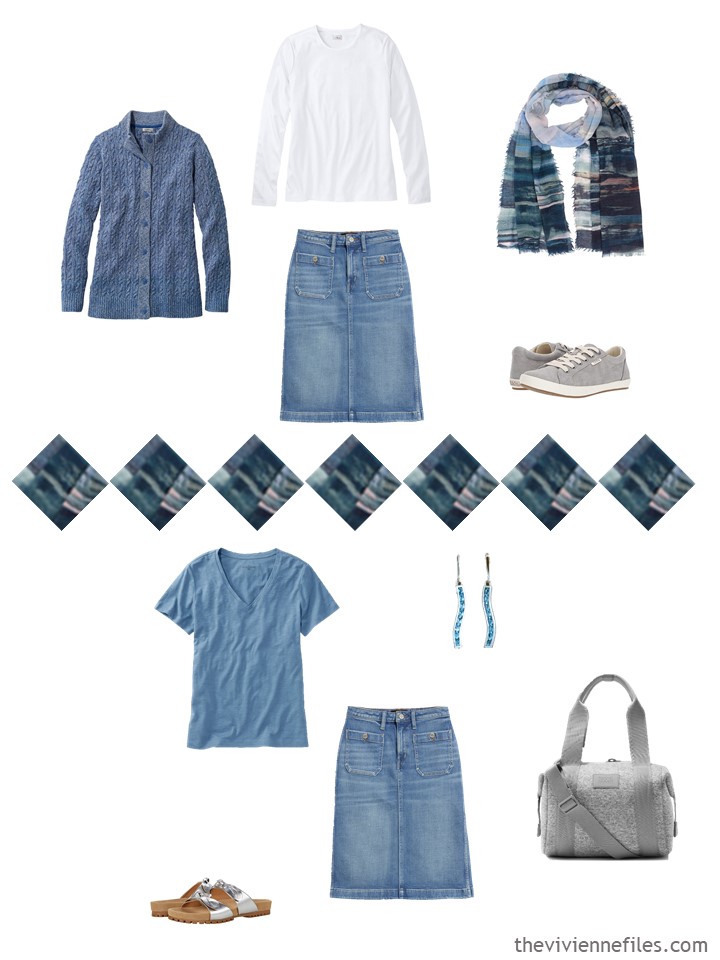 Now that there's a ton of black, I'm back in love with the 1st wardrobe – which is your favorite this month?
love,
Janice
p.s. Seven years, I struggled to assemble a capsule wardrobe based on The Libyan Sibyl by Michelangelo; he was NOT thinking of 21st century clothes when he painted this glorious woman!