April 9, 2021
She's Going to Swim, This Year
On Wednesday, we started with this:
Our very happy heroine's travel capsule wardrobe is this:
But she can't travel – and she certainly can't go to the beach – with only 1 pair of shoes, no sandals, no hat, and no sunglasses!
So let's work our way through getting her travel wardrobe completed!
This is 2 of the most important things to pack; surely by now we all understand the need for covering up from too much sun, right?
If she's outdoors a lot, she may not need a mask constantly, but we're all going to want to have masks with us for the foreseeable future. Of course she wants a towel, and good sandals… I couldn't resist a cover-up too!
Simple earrings, the most obvious 2 colors of nail polish, and simple sandals…
when you click through this nail polish colors, you will be taken to a choice of about a DOZEN blue polishes, and at least 4 or 5 white shades…
She finds that necklaces bother her in hot weather, but she LOVES the look of a bracelet… And it feels natural to look at abalone and other shells for jewelry for a beach vacation, doesn't it?
Keds!
Sparkly jewelry in a colors that matches some of her wardrobe and contrasts with other parts is an easy way to dress up her simple dress and cardigan:
The weather could turn a bit cool – a nice scarf can help with that, and doesn't take much space at all to pack:
This is everything that she will be adding to her suitcase. Yes, it's a LOT of shoes, but everything else should pack easily. Probably it will all fit into her tote?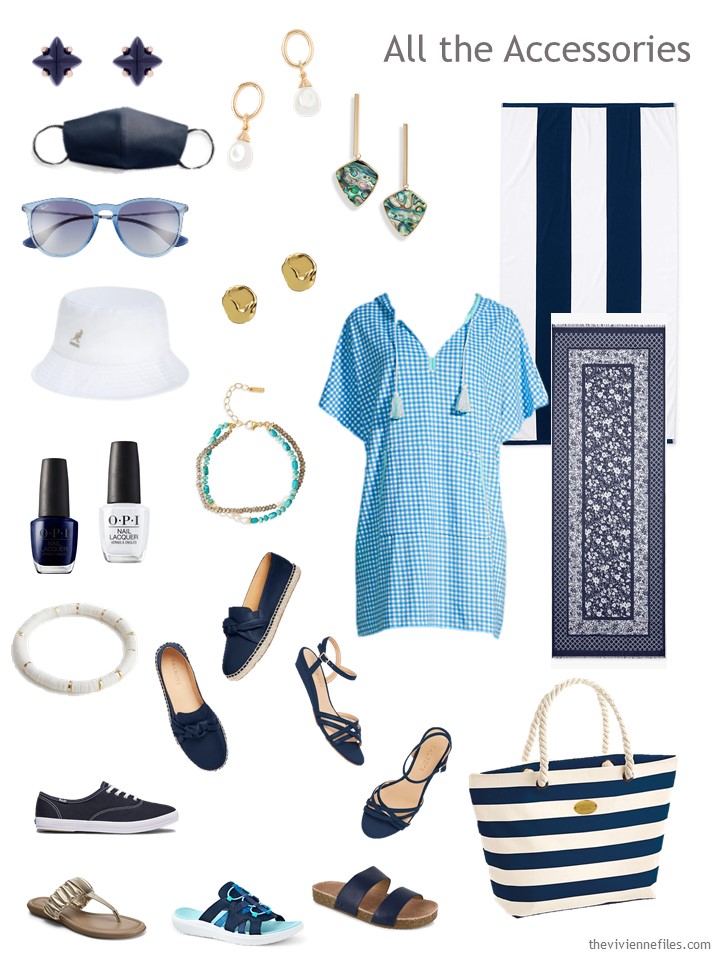 I used to do this kind of massive family beach vacation every year, and I miss it still…
love,
Janice
p.s. Two years ago, we started with Picasso and finished with a travel capsule wardrobe in grey, orange and green!