January 18, 2021
Remember this lovely scarf?
And this 21-piece "Garde-Robe du Mois" (Wardrobe of the Month) that started with 12 black garments, and then to which we added 3 accent garments, in 3 colors:
As great as any wardrobe might be, it will require at least a minimum of accessories – few of us can manage without something on our feet, and it's a rare woman who won't want a bag, or a pair of earrings…
So let's look at a generous sample of outfits from this wardrobe, representing both black and white outfits, and outfits that incorporate the 3 accent colors, and let's add accessories to each of them!
First up, the most classic of outfits is a perfect base for an amazing scarf. Timeless earrings and loafers finish things off without complication or clutter:
This next outfit really uses accessories to balance to introduction of camel… The shoes and bag make the camel cardigan look deliberate, and the lighter shoes balance the lightness above the waist.
And if you've got lapels, you've got a chance to wear a glorious brooch!
Another way to balance camel in an outfit is to include some gold jewelry! This outfit assumes opaque tights, so our heroine is both dressy and warm:
Yes, these are slippers! And yes, I wore mine while walking all over the downtown a few days ago. They're warm and waterproof – why ever not???
Maybe I'm rushing the day a bit, but some heart accents are never a bad idea… We could use a LOT of Valentine's Day vibes this year!
This outfit could include the boots, rather than slingbacks, if the weather is cooler…
A little bit of subtle red makes all of this look balanced and elegant…
I know at least 1 of you hasn't had a haircut in 10 months! For many of us, a snappy headband might be a reasonable indulgence – I know that my curls are getting on my LAST nerve…
A lovely evening bag might be an indulgence, but they never go out of style, and won't wear out! Why not get a gorgeous one? I use mine to carry jewelry when I travel. Remember traveling?
This is truly the easiest outfit in the world… the earrings are just dressy enough to elevate the entire ensemble…
Our heroine loves William Morris scarves – having more than one makes sense!
I really like the look of a lovely necklace in the neckline of a v-neck sweater:
An uncomplicated black outfit is far from boring when you make sure that your ruana has pearls on it, and your headband is striped!
Here are all of our heroine's accessories. Can you imagine traveling for a month (maybe a month-long consulting project in your favorite city?) and having all of these lovelies with you…
sigh…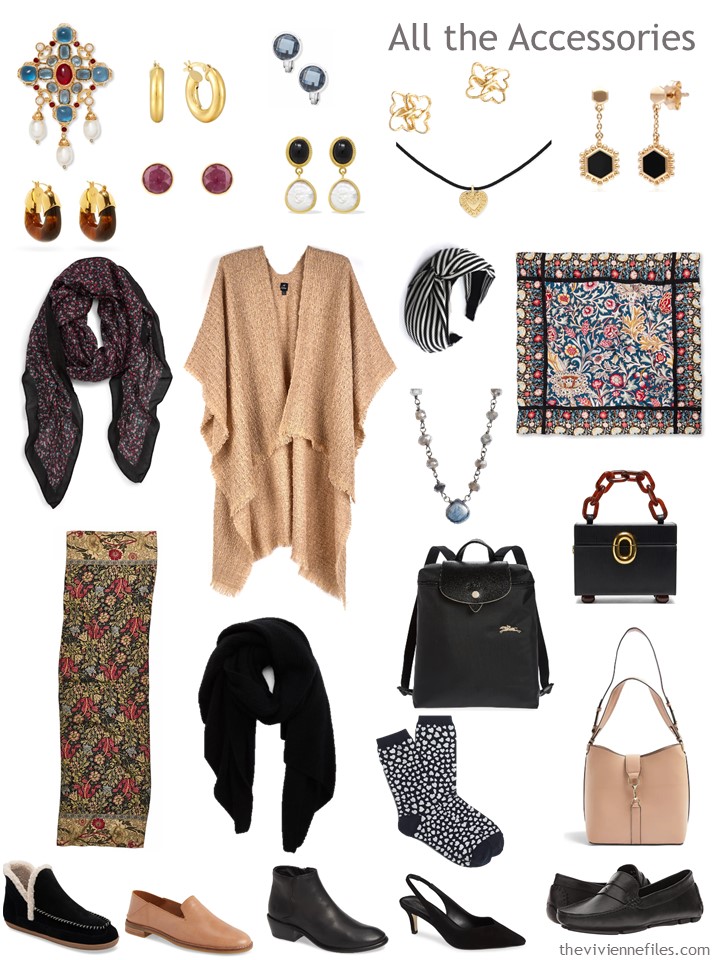 love,
Janice
p.s. Back in 2017, we explored a wonderful Henri Rousseau painting, and a wardrobe of black, ivory, camel and teal…