January 20, 2021
She's decided to plan a Garde-Robe du Mois, based on the clever and very useful suggestion made by Fiona Ferris in her recent book, The Chic Closet. (Fiona is VERY chic…)
She knew she wanted navy and white – they're her favorites! But beyond that, she was stumped! Something warm? Something with a bit of an organic feel, and a sense of radiance, to combat the darkness of deep mid-winter?
She scrolled through all sorts of museum websites, and art websites, and WHAP! – there it was: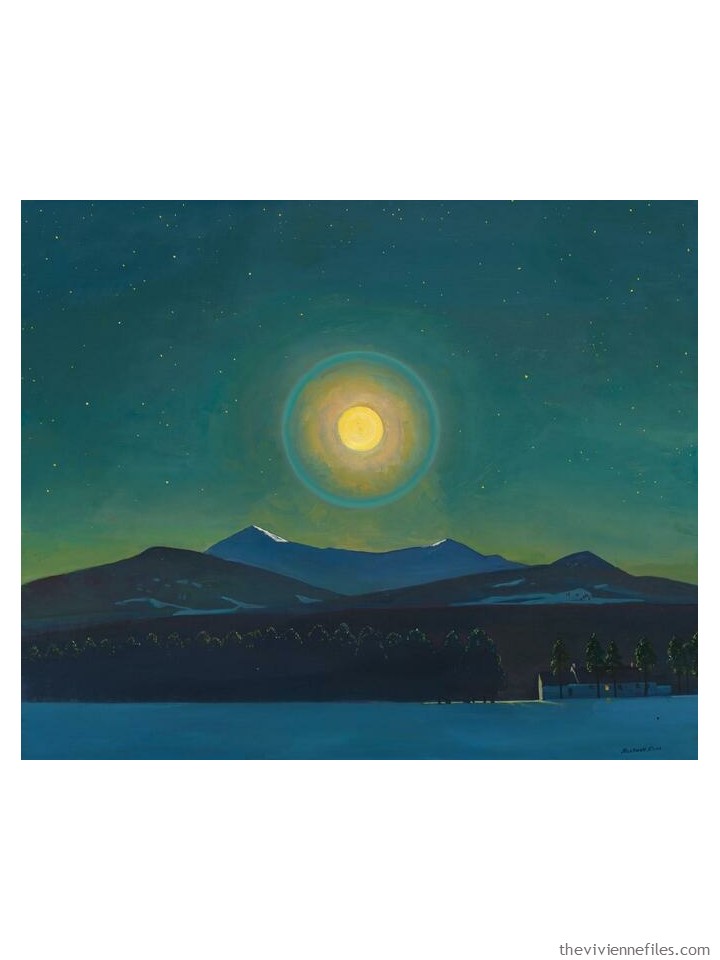 The colors were obvious, if not something that was usual for her: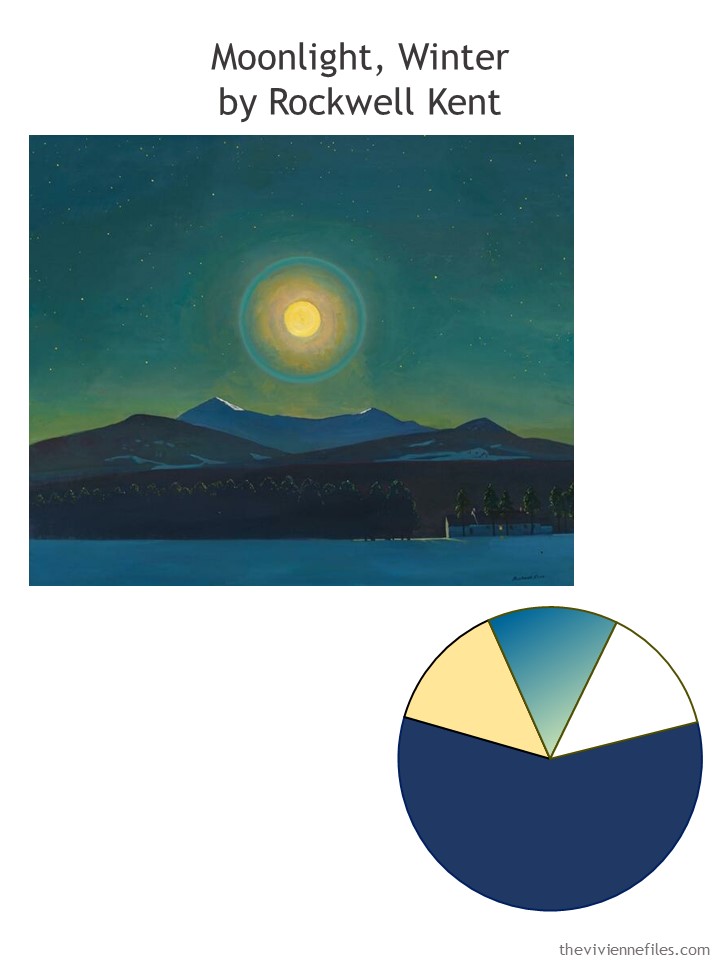 This is going to be a process that takes a few iterations, so she starts slowly – a small, 9-piece Common Wardrobe that includes all of her favorites – a dotted shirt, a striped tee, and her velvet skirt!
She's kept wearing her skirt, at least once a week, for date night at her house…
She's quite eager to choose some accents! L.L.Bean is reliable to have a lovely shade of butter yellow in stock, and then she stumbled upon a really lovely printed tee shirt – these are going to be fun to wear:
But OH, that deep dark blue-ish green color… It feels like deep water, or a thicket of pine trees, or the night sky!
At this point, her 15-piece capsule wardrobe would be excellent for travel…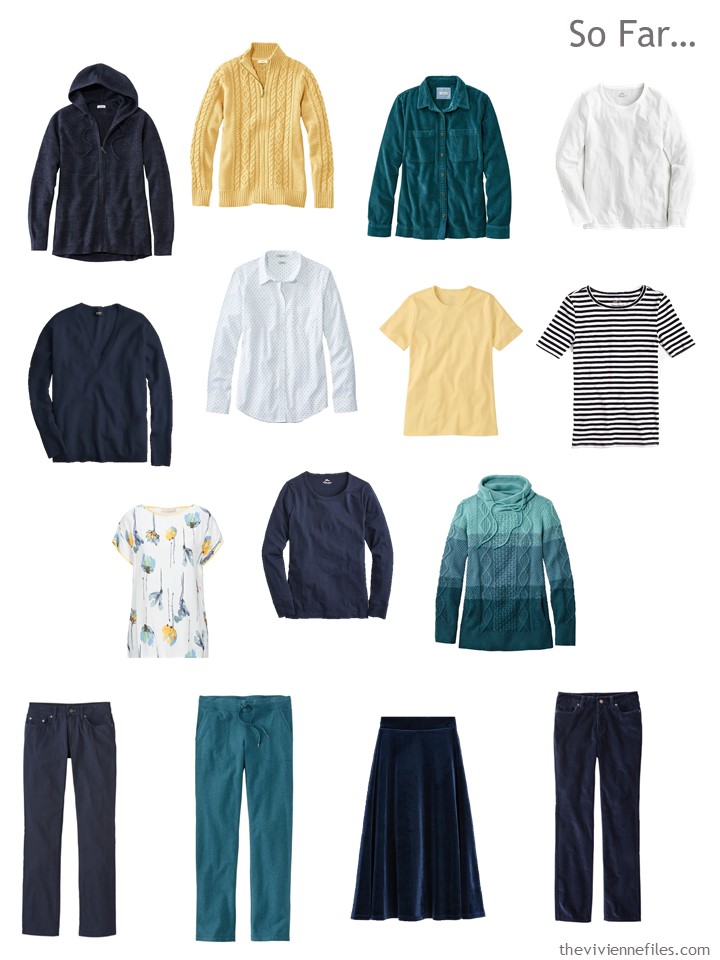 She makes a cup of tea, grabs a bite of something tasty but nutritious (you can choose your wardrobe while eating ice cream, if you're in that mood!), and then takes a look about for her last 6 pieces…
She knows that – unless she wants to do laundry frequently – she should grab a few more tops! And in the dark and cold of January and February, snuggly sweaters could be a uniform:
Almost there! But she take another thoughtful look at what she's chosen:
And she realizes that the cardigan she's been longing for, and a simple pair of jeans, are what she needs!
NOW! She's ready for the next 30 days… possible a few more – she's got no fabulous plans for Valentine's Day, so she might just keep this wardrobe through February: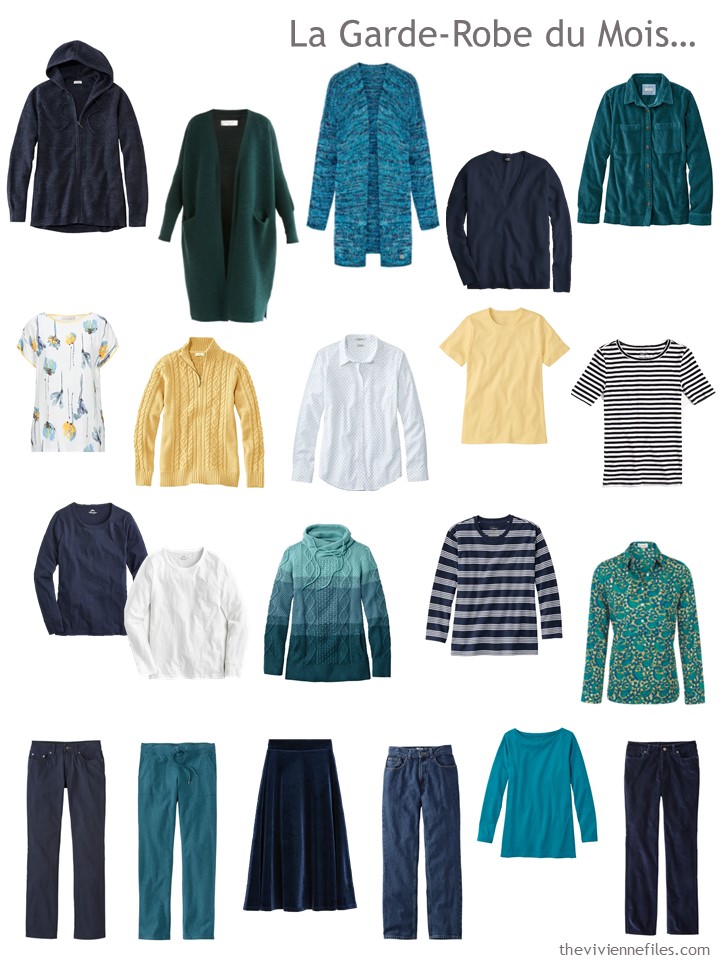 As always, our heroine takes a good look at finding enough outfits to feel secure about her chosen wardrobe: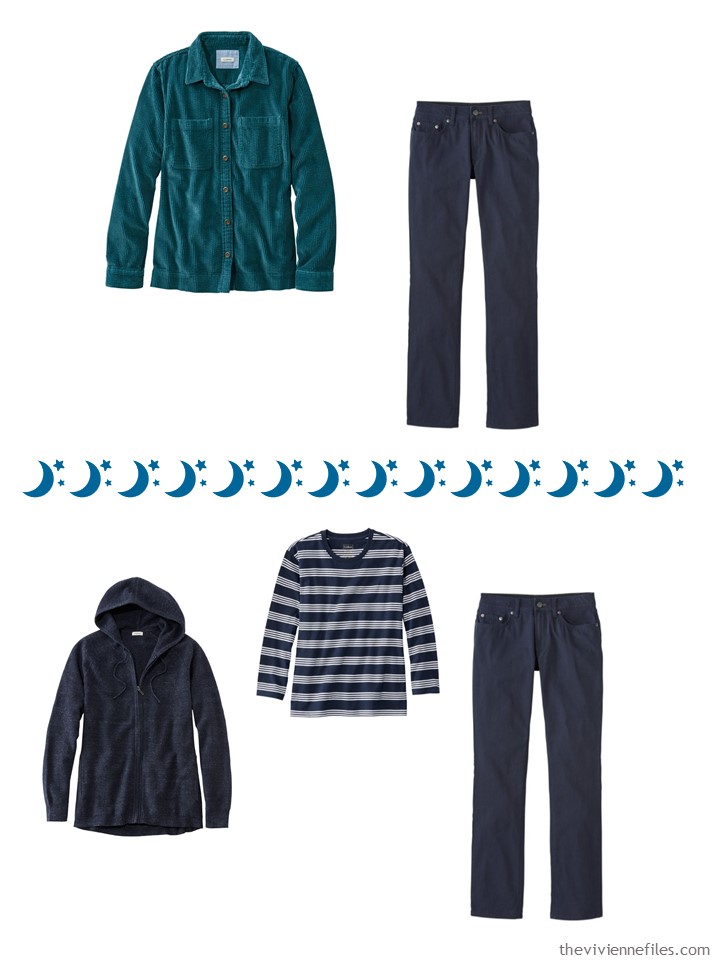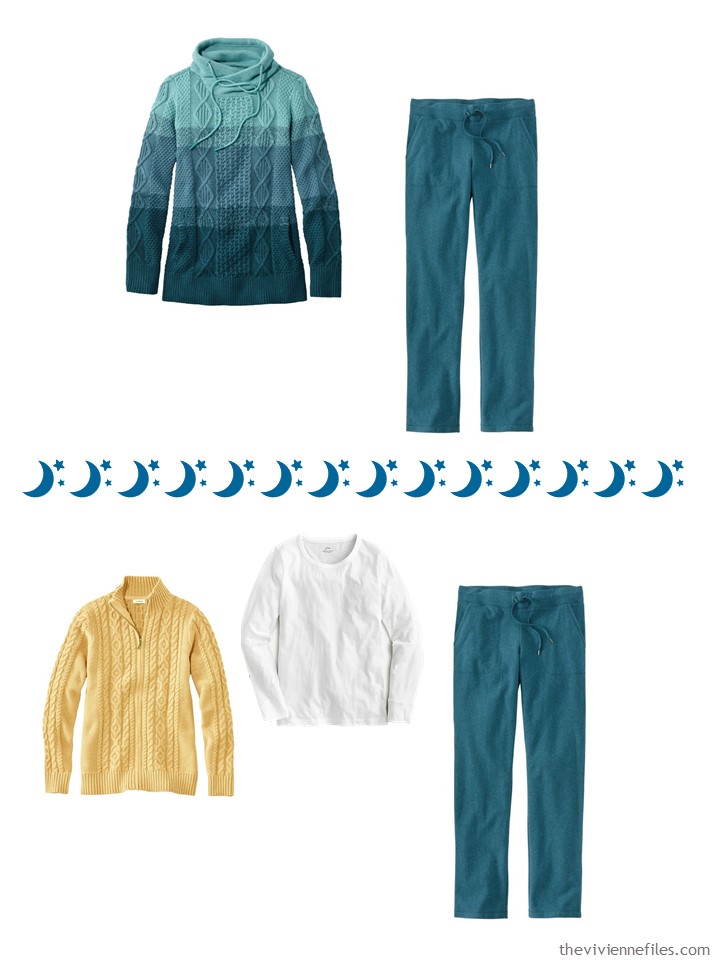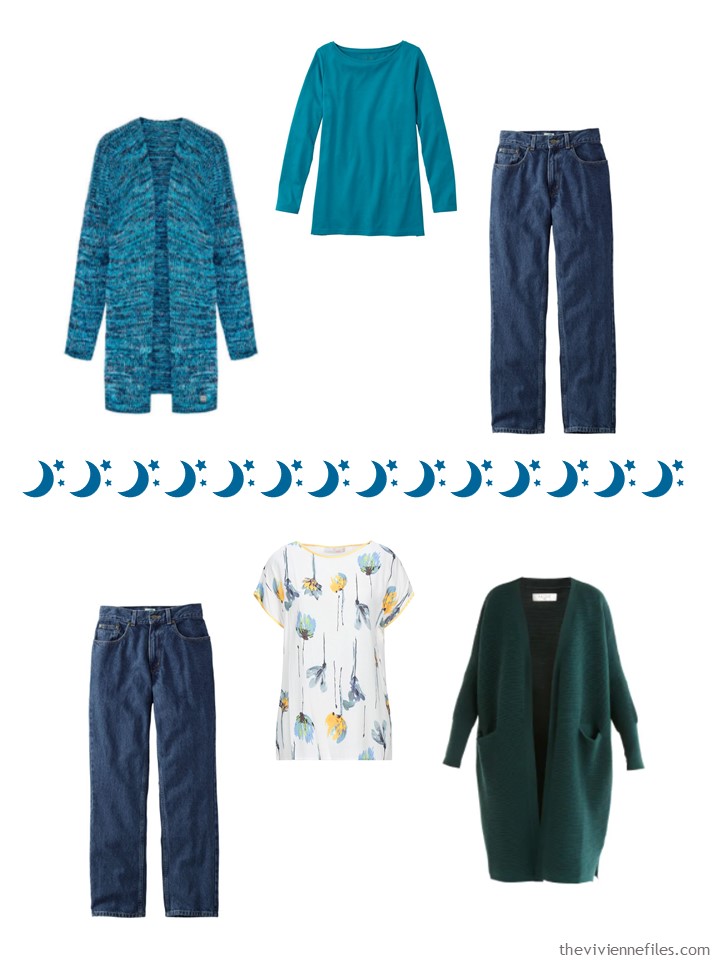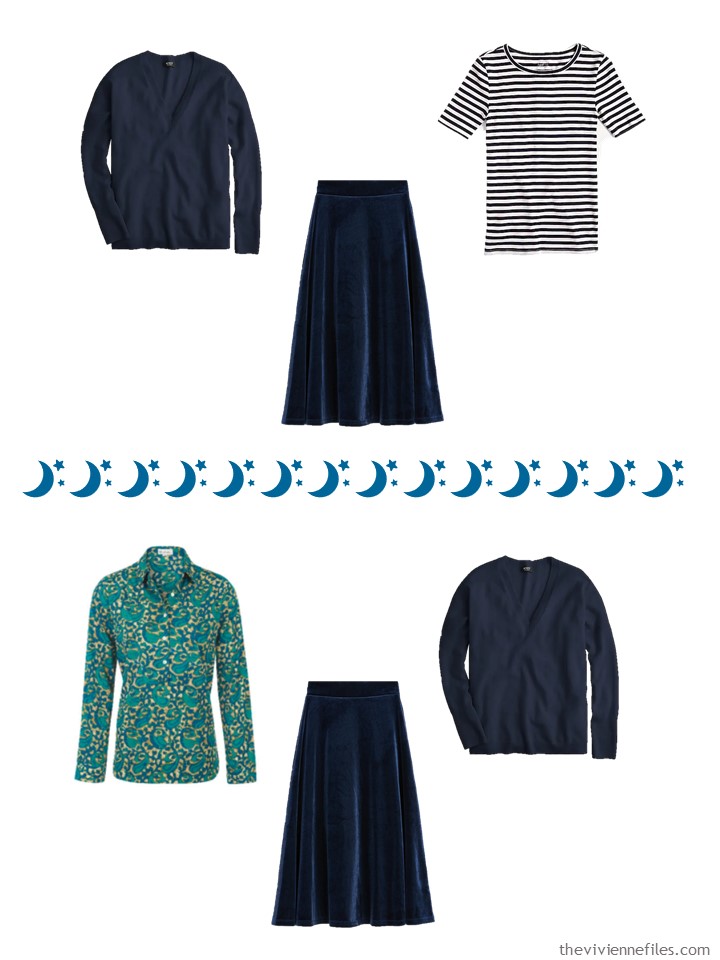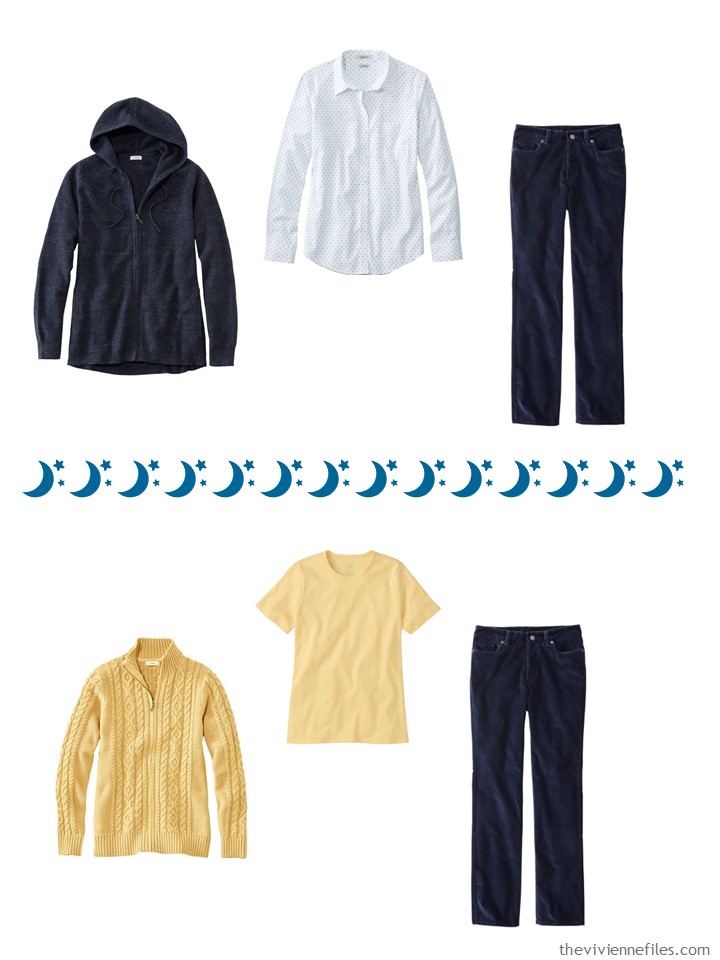 I think I might chart out a new Garde-Robe du Mois for myself starting today!
love,
Janice
p.s. A couple of years ago, one of the Pantone colors was "Lovet Green." I still don't quite know for sure what a lovet IS, but I know that it was pretty with navy…