January 15, 2021
Not sophisticated like swishing around a boudoir in a silk negligee and fluffy maribou-trimmed mules! (is that really sophisticated?)
Sophisticated as in appreciating subtle things. Quiet good taste. Details that set the excellent apart from the everyday…
Stones with soft color gradients, and subtle beaded trim:
The nuances of color are deeply hidden in the stones, revealing themselves only to the attentive observer:
In cold weather, a gentle touch of rose pink is so flattering… The right earrings and mask bring a feminine touch to a classic outfit:
I almost never show vintage pieces here, because only one of you can buy it, but I could NOT resist this most perfect of handbags!
She loves the simplicity of her core of grey garments, lightened and punctuated with just a couple of pretty tops, and some wonderful jewelry and scarves.
For a different trip, she could easily keep her grey pieces and change the pink for… almost any other color!
The afternoon before she leaves, she hangs everything together, and gives it a careful review. There's NOTHING sophisticated about scrambling about in a hotel room for the socks you forgot to pack!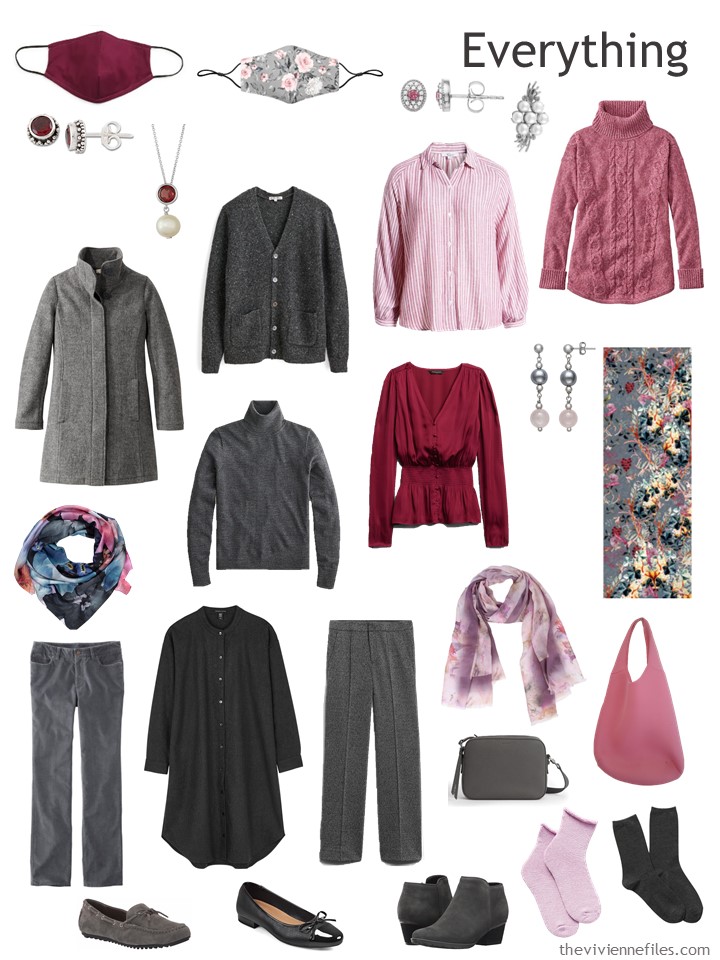 She knows what she's going to do for the next 3 days, so she pauses before she starts folding to think about what she will wear – a meeting, a meal, a long city walk – she's prepared!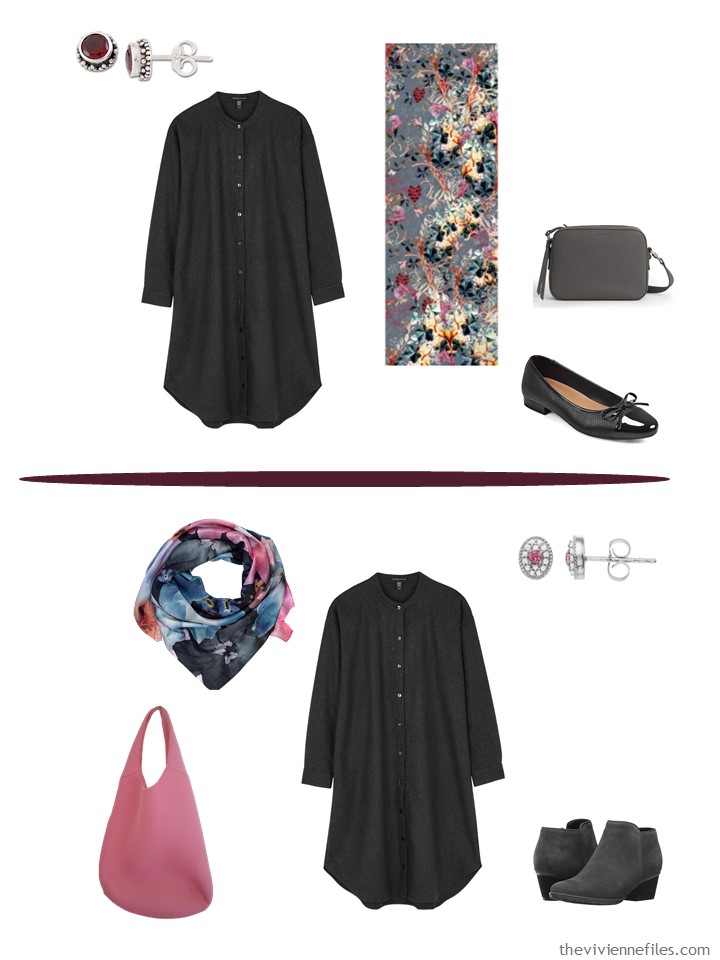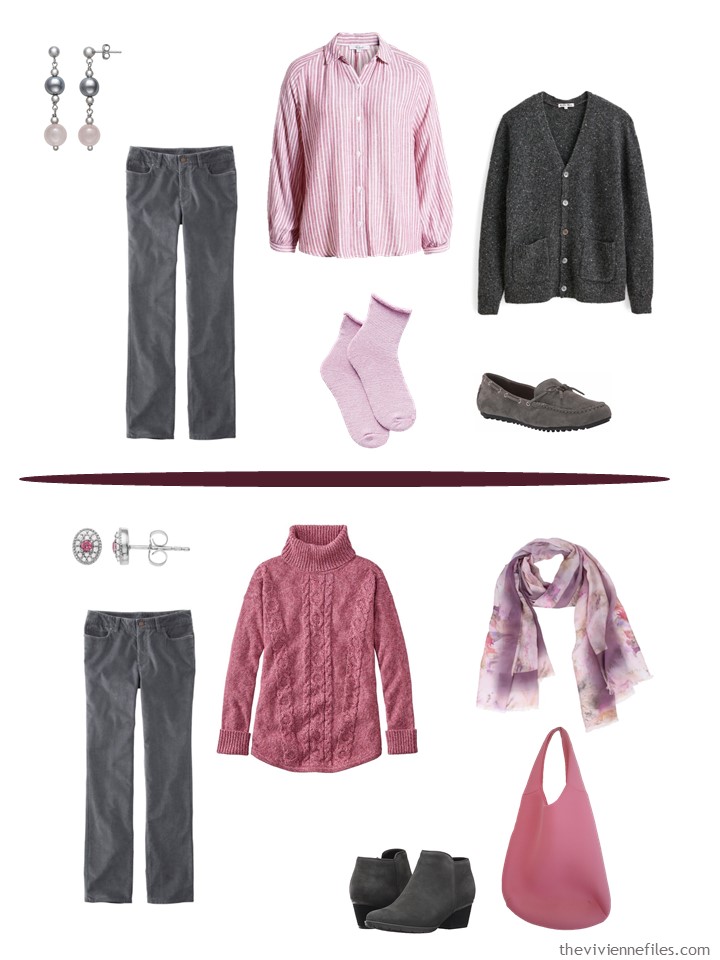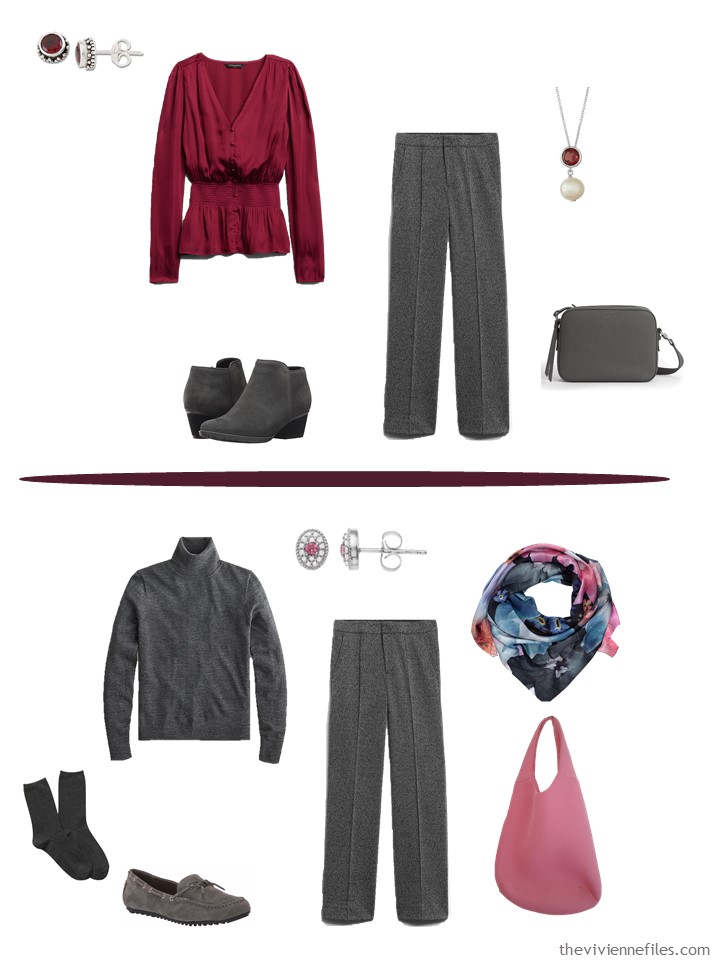 I love to think of this heroine wearing the same grey clothes with… yellow accents? purple? bone?
love,
Janice
p.s. Back in 2014, we looked in some depth at a 4 by 4 Wardrobe in grey, rose and blue… I think today's heroine would have approved!
p.p.s. Have you noticed that sometimes, random garments are labeled "travel"? A perfectly nice dress is suddenly a travel dress! A madly useful solid scarf of a nice generous size is now a "travel wrap"…
I used to fall for that kind of marketing. I wanted to own ALL the travel stuff… Unless there's some very useful travel-specific detail in an item, this is just "ad-speak…" Don't fall for it!