December 2, 2020
It's the end of the year – at least for this project! I will probably re-visit this to analyze these wardrobes when I've had a few days to digest them; if you have any specific requests for analysis please let me know!
Of course this has been an… unusual? year. Thus, I'm finishing off these wardrobes in a pretty "non-festive" way, since the majority of us have no business going to a party!
But we can still look good, and not waste clothing money, right?
Let's hop to it!
I think this first color scheme has been very successful. The neutrals are classic, the accent colors are pretty easy to find, and it all has worked out well. This year, our December additions are going to be (for the most part) warm, cozy and casual but not sloppy!
First, let's look at how everything is going so far: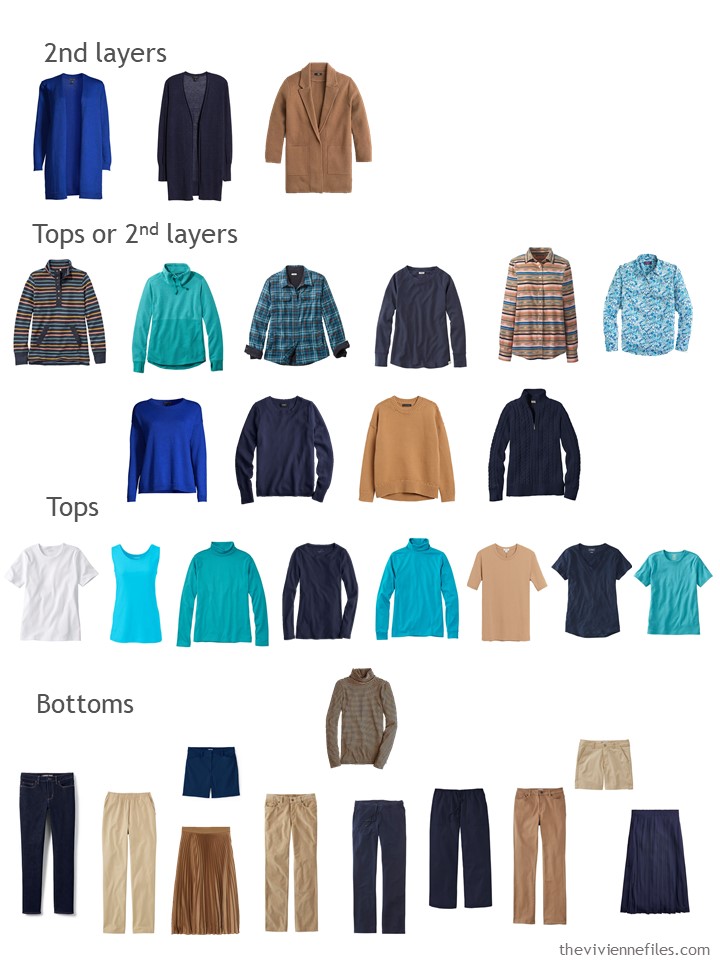 I'm fascinated that – now that we're separating out the "strictly 2nd layer" garments from the "top or 2nd layer" pieces – the versatility of these wardrobes seems to improve. Maybe it's just me?
Except for fresh masks from time to time, I think we're in a good spot for accessories: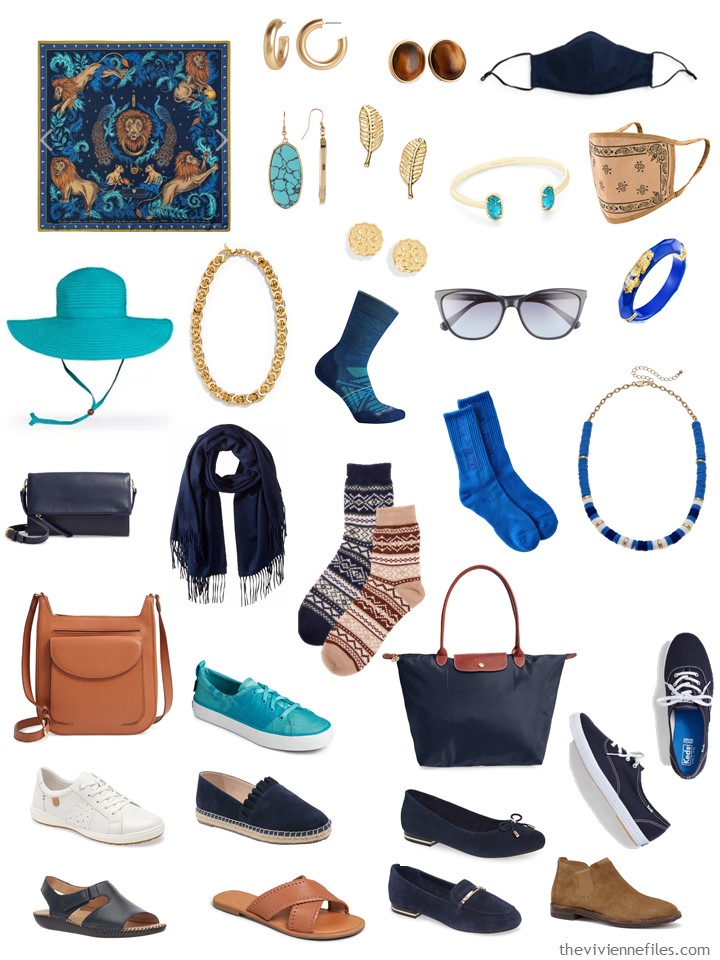 So to finish off the year, and the wardrobe, I'm option for a sweat suit that's a little bit different from the usual, and a very versatile tee shirt:
I like the cowl neckline on the sweatshirt a lot, and sweatpants that don't have tightly cuffed legs can look pretty much like "normal" pants if your top comes down over the drawstring waist!
Do these bring options to this heroine's wardrobe? Heck yes: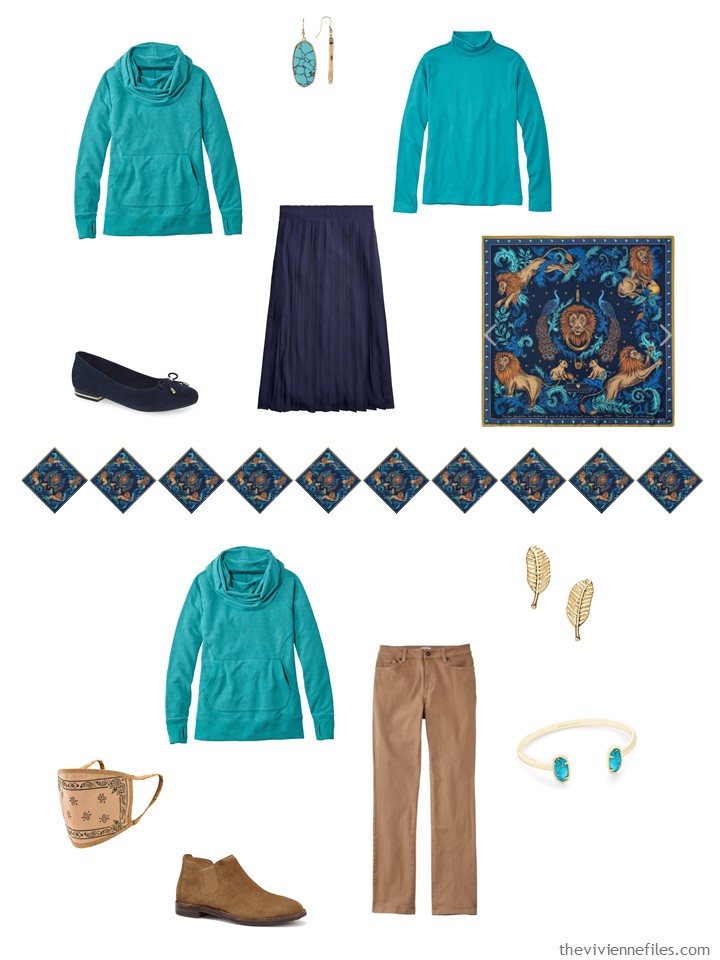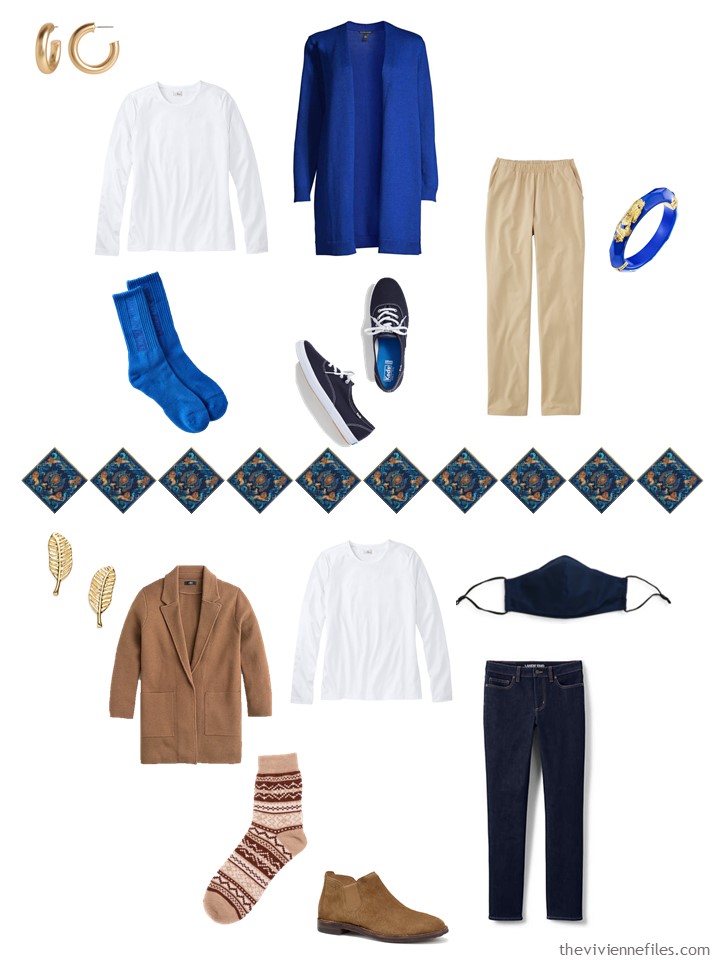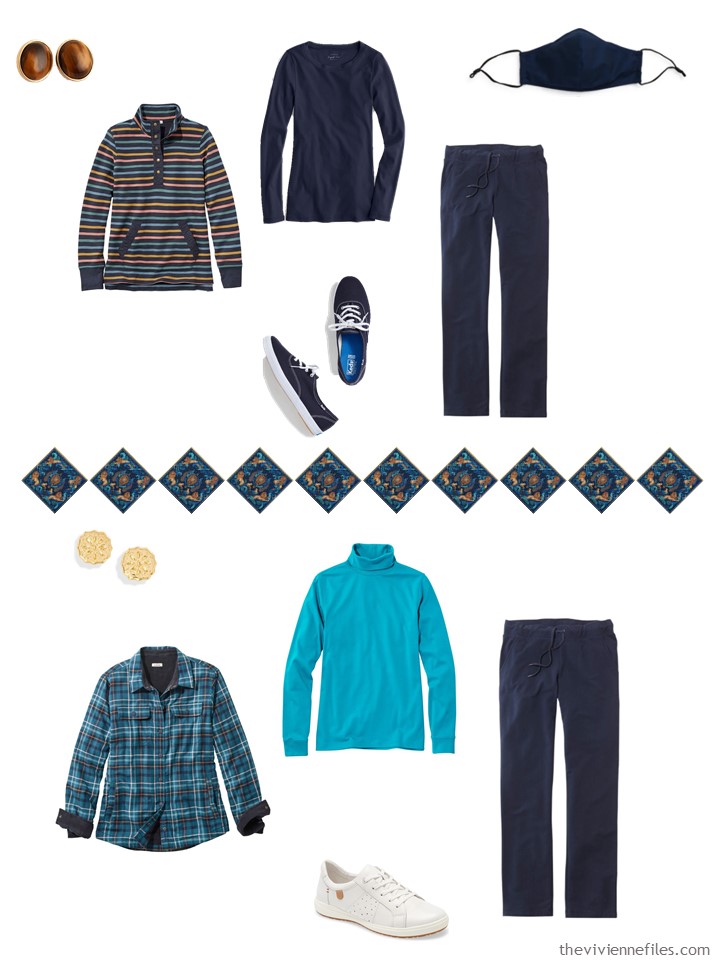 While I love this next scarf and color palette to pieces, this might have benefited from the addition of a darker neutral. If you are happy with wearing mostly light colors, this could be really gorgeous…
This wardrobe is well balanced – any wardrobe that's built on individual outfits is going to have more bottoms than strictly necessary, but after we added tops last month, things aren't wildly out of hand: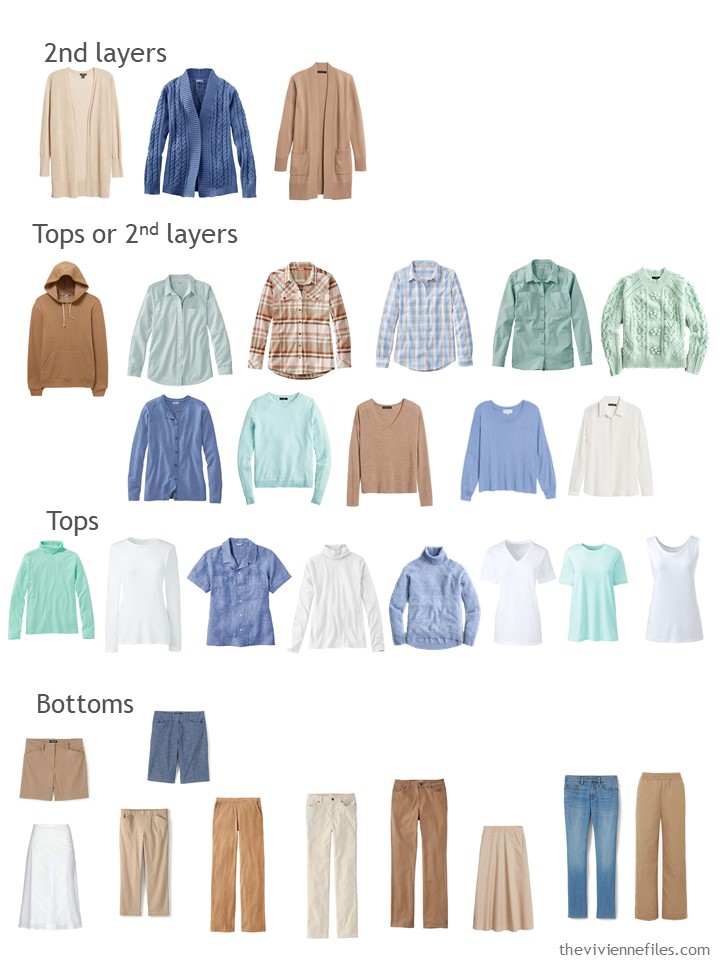 And this heroine has some really lovely accessories…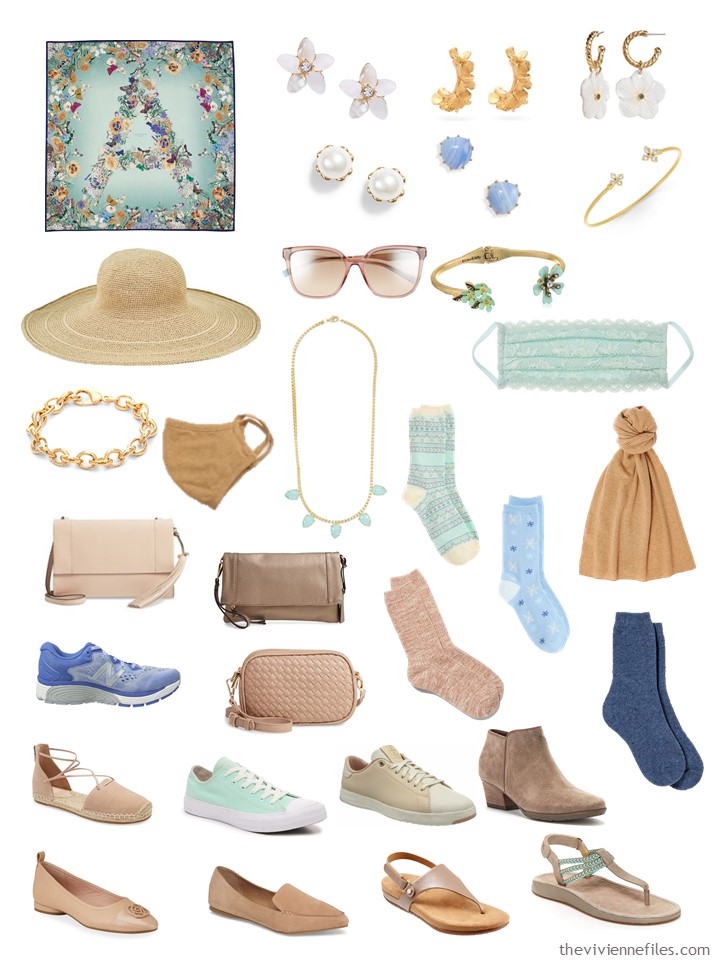 I felt that this wardrobe might benefit from the addition of more blue, so blue it is!
You could certainly wear these 3 garments together, but the addition of them to this wardrobe also provides a bunch of new outfit possibilities: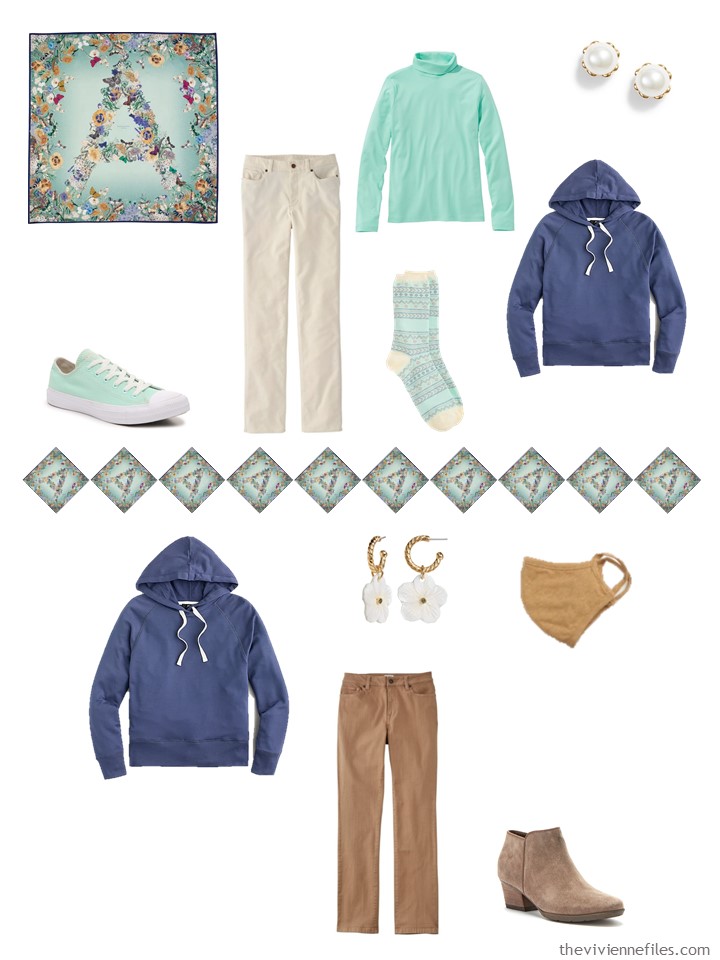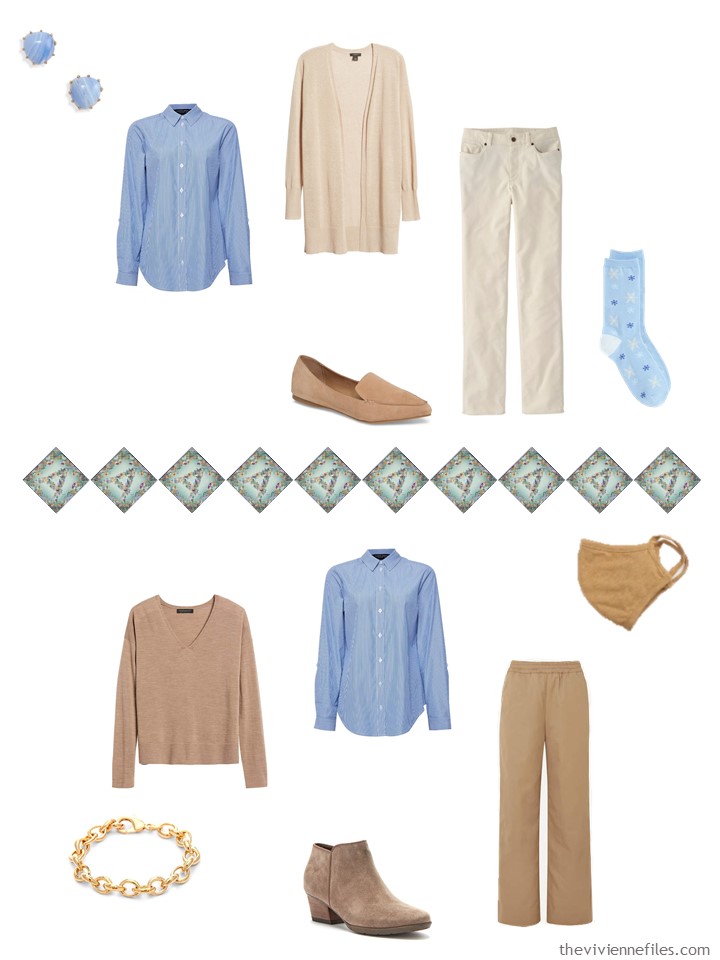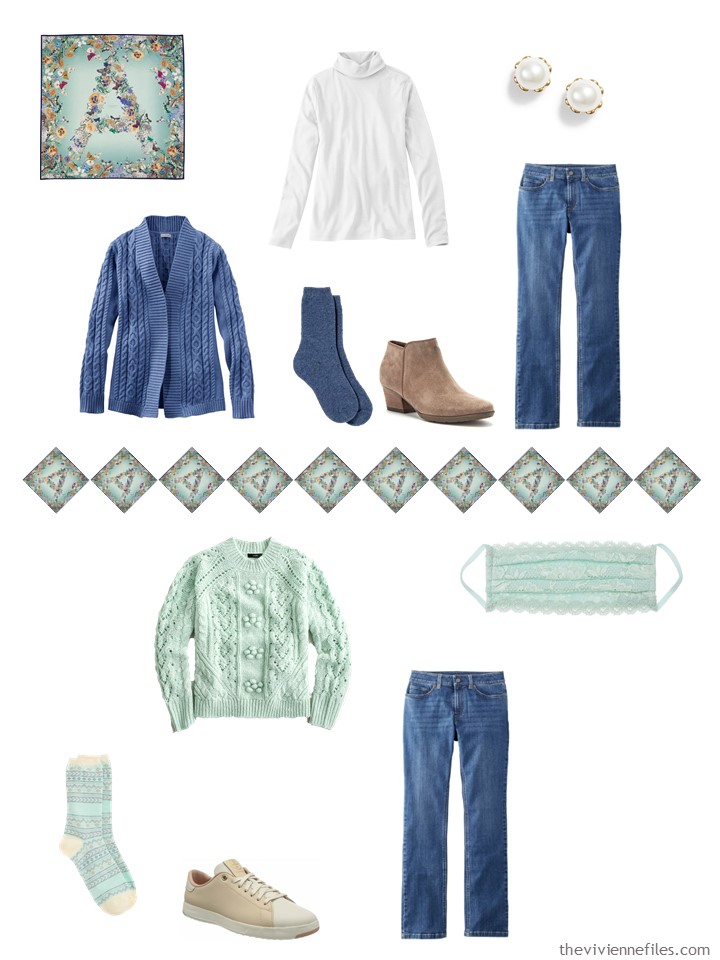 Some months I sort of wished that I hadn't included this scarf in our year-long project, but here in December I think I'm glad we gave it a try. Seeing unusual colors together, or wardrobes that feel odd in some way, might be a way to learn something. I'm not sure WHAT we learn, but we learn…
This really isn't so bad, is it? The pink and mustard aren't going to be worn together by most of us, but this heroine has the choice of strictly neutral (with grey and white) or one of her 2 VERY different accent colors. While this isn't the way to maximize "mixing and matching," it IS a way to give the same neutral garments 2 very different moods: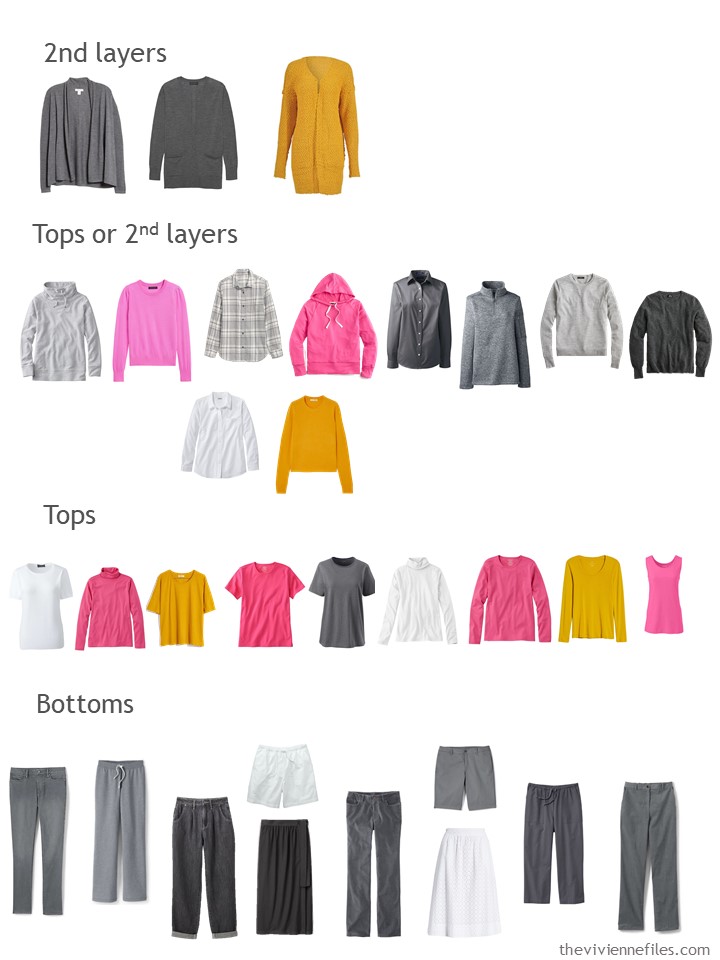 And I do love the range of accessories…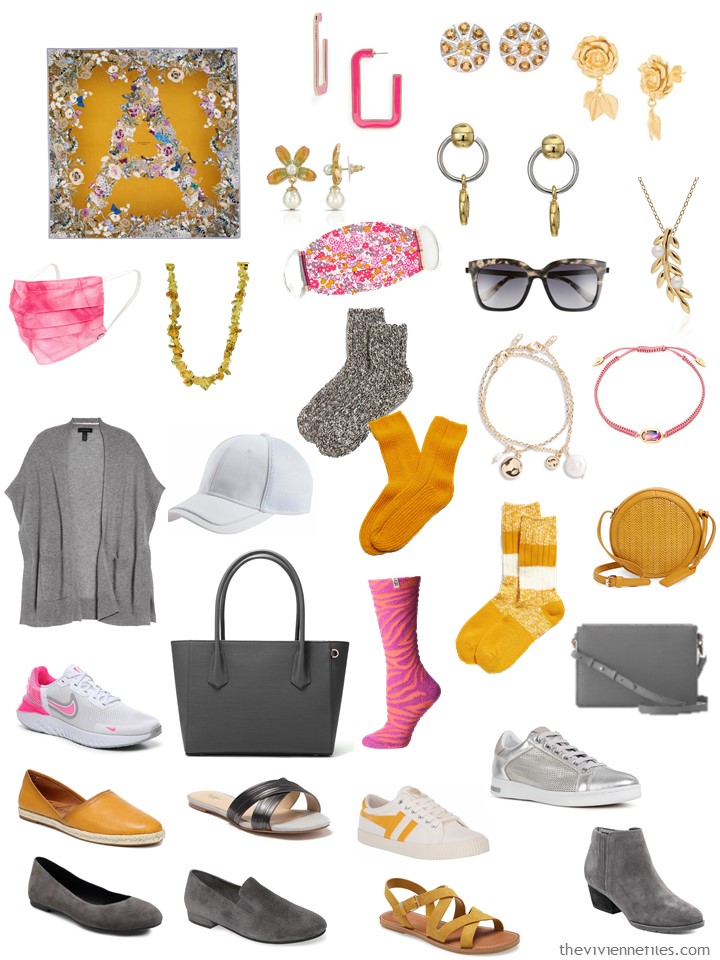 If our heroine is going to be working from home and staying safe through this winter, a velour sweat suit seems like an understandable indulgence!
And of course, these 3 pieces can mix into her existing wardrobe without hesitation: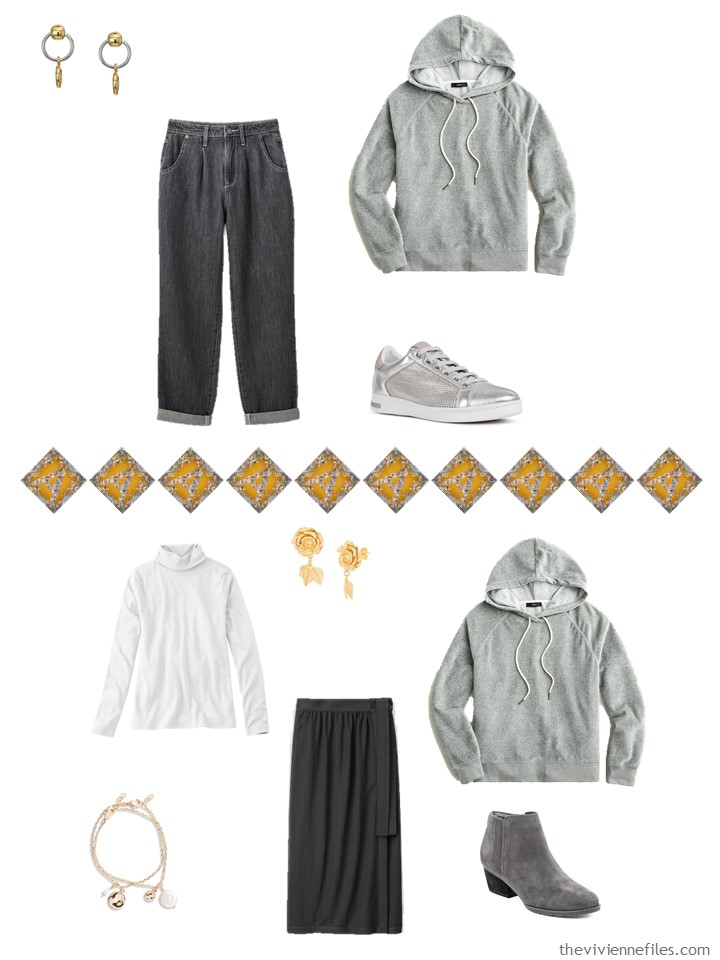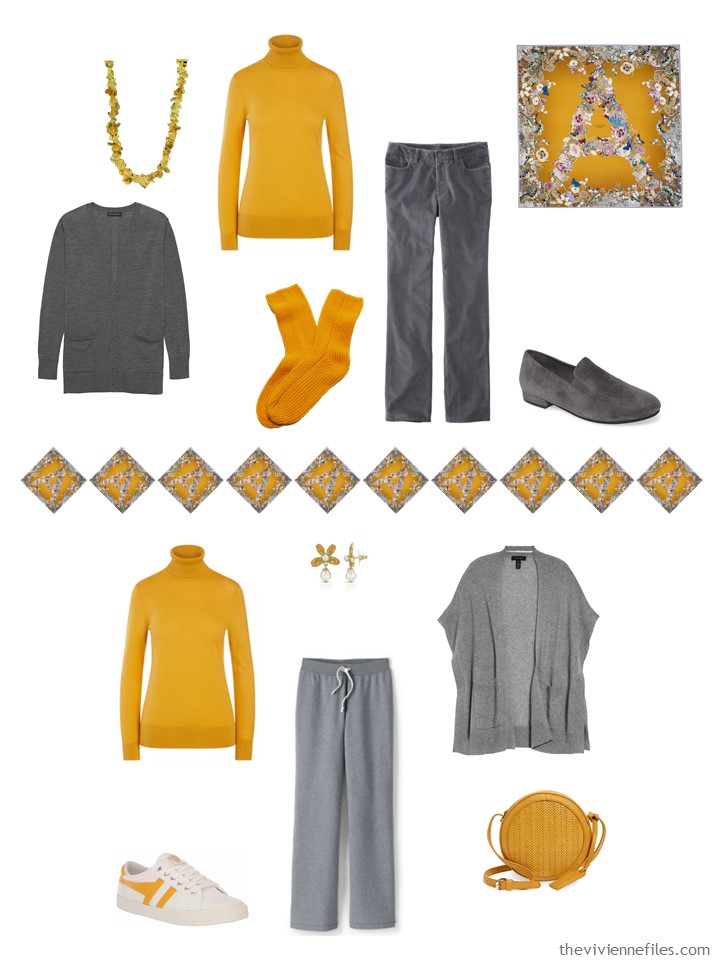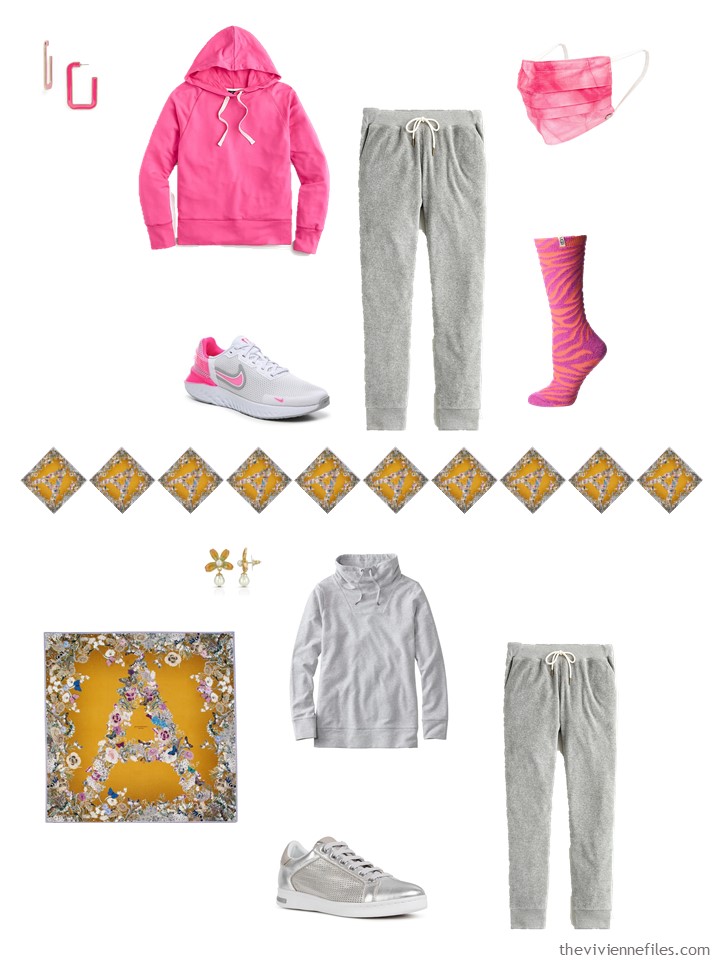 For this next wardrobe, I feel like I went too far into the olive and red direction and didn't include enough beige, but when I look at the entire wardrobe I think I'm crazy…
But everything's balanced; I'm a big fan of balance!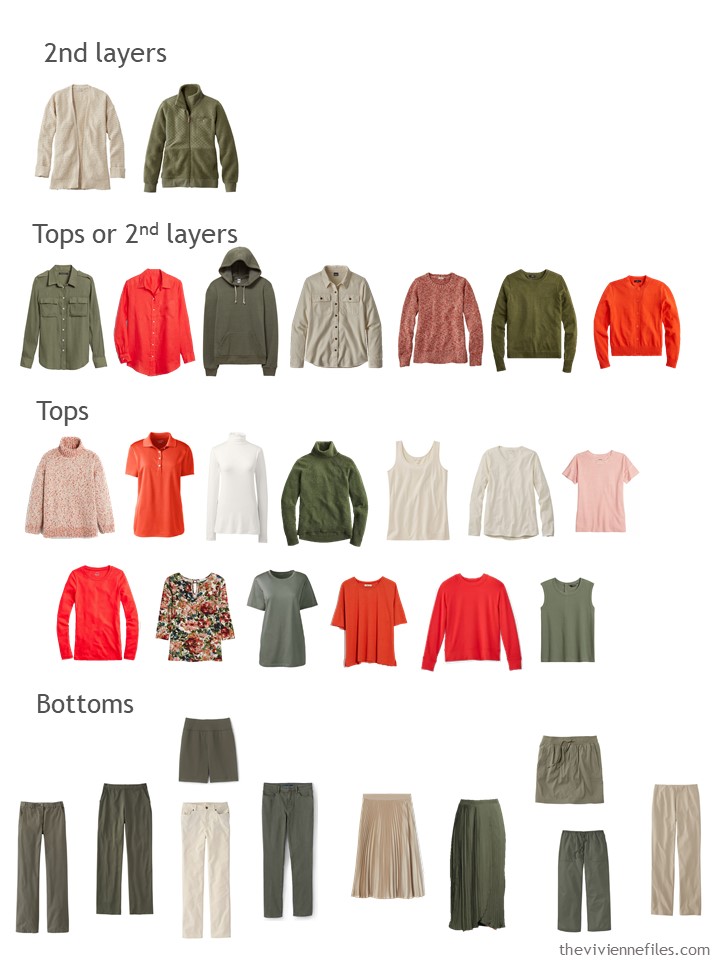 I remain smitten with this plaid cape…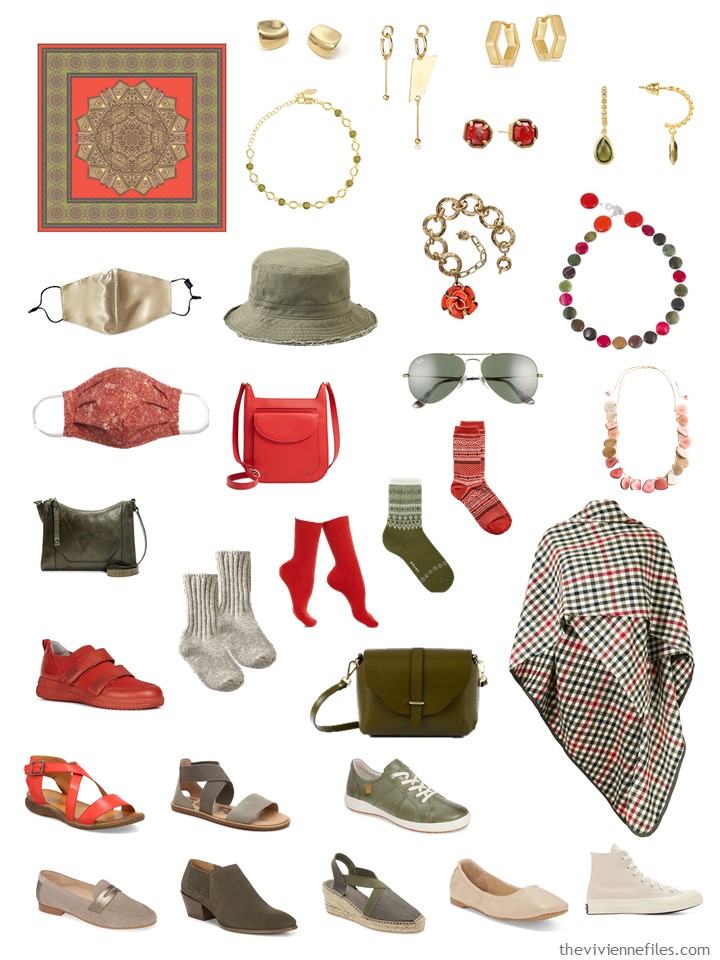 Since this wardrobe was already in good shape, I just added an outfit of versatile separates!
Just to be sure, let's see if I can conjure up some new outfits for this heroine: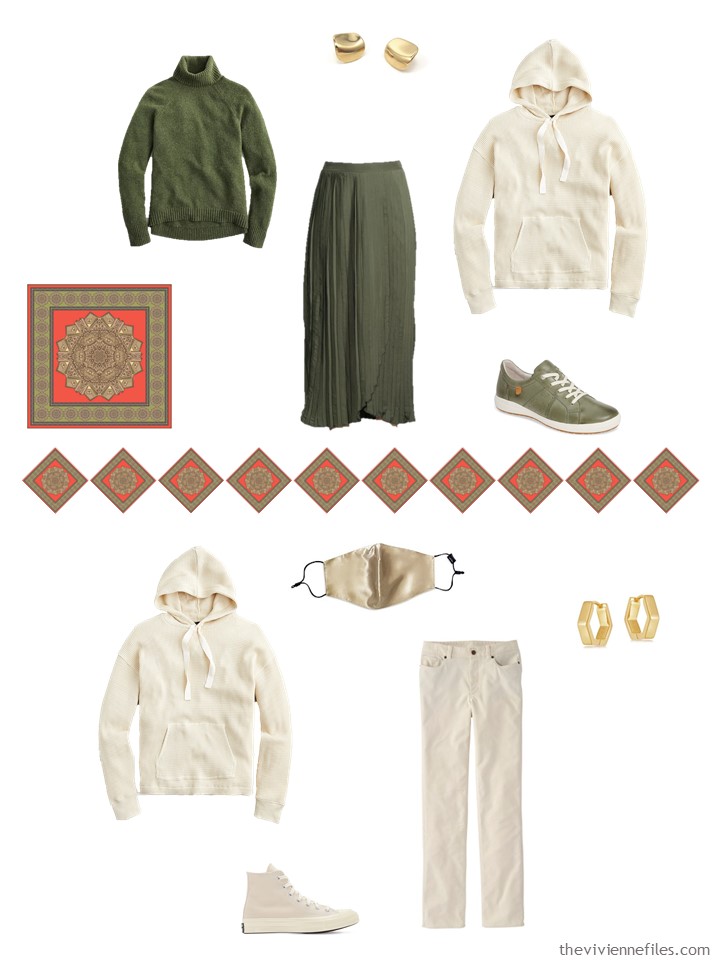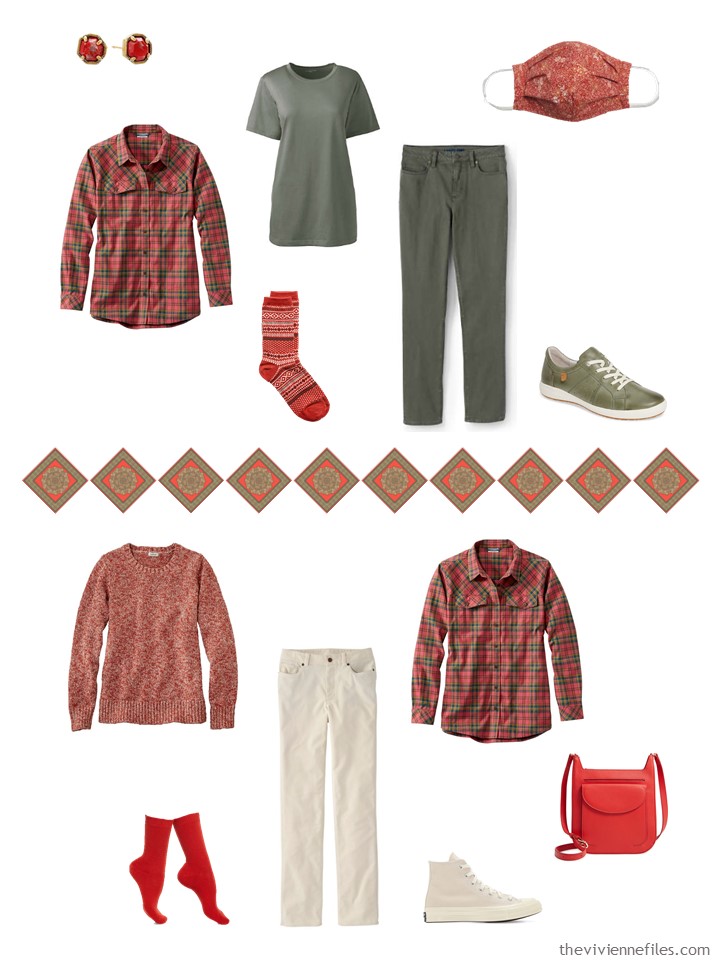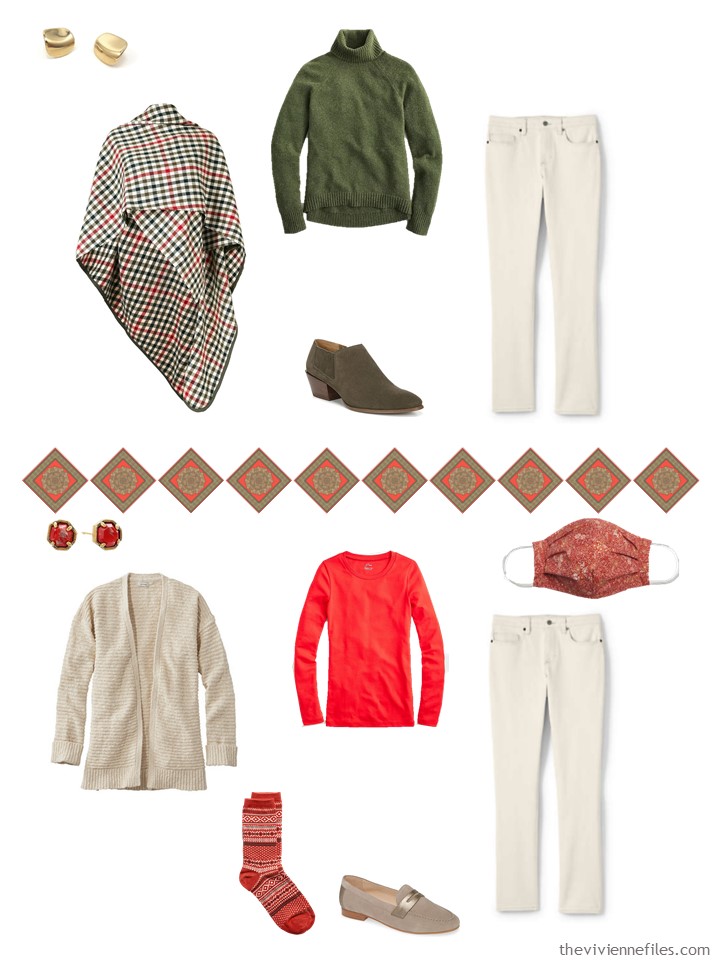 Yep, my favorite colors!
If I had included a button-front cardigan in place of the open-front one, there would be NO "strictly" 2nd layer clothes at all here! And boy oh boy does this heroine have a LOT of pink tops…
And she kinds of likes floral prints, which isn't surprising for someone with a love of pink…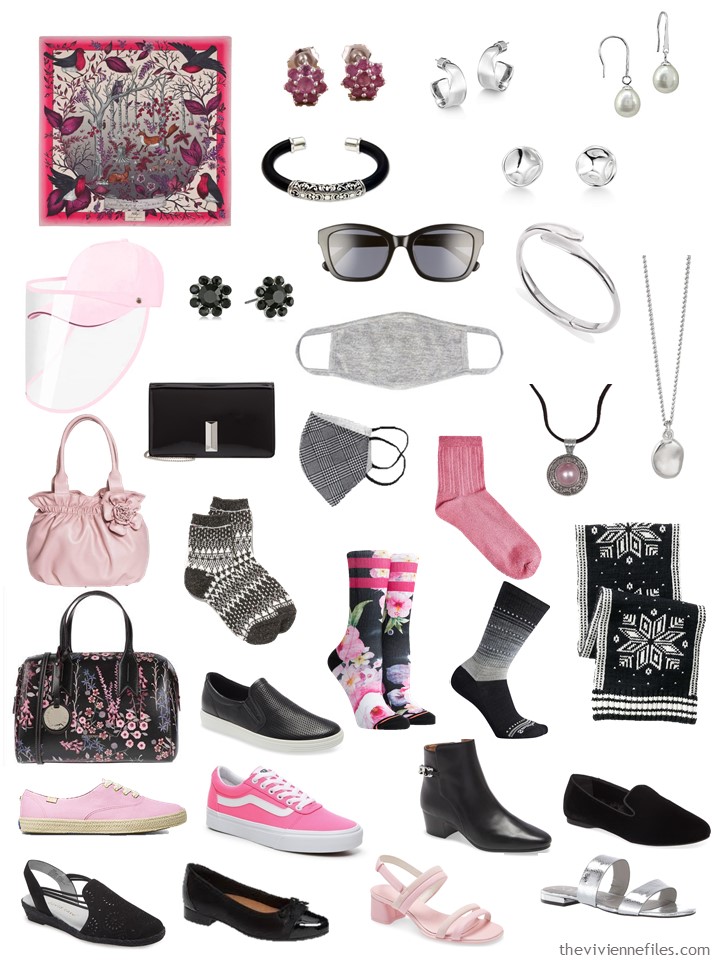 Even with all of those pink tops, this heroine doesn't have a simple pink oxford cotton shirt! and I thought that some grey might be a nice, soft neutral for her to include. It was, after all, in her initial color palette…
So long as she's comfortable wearing charcoal (aka light black!) with black, she will be able to wear her new clothes in lots of different ways: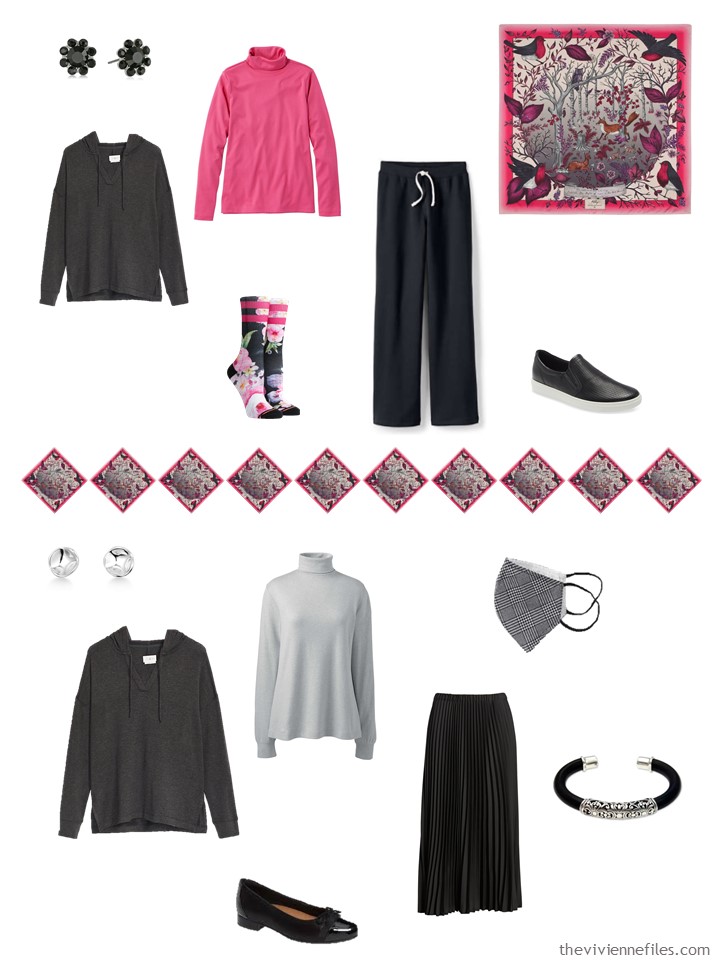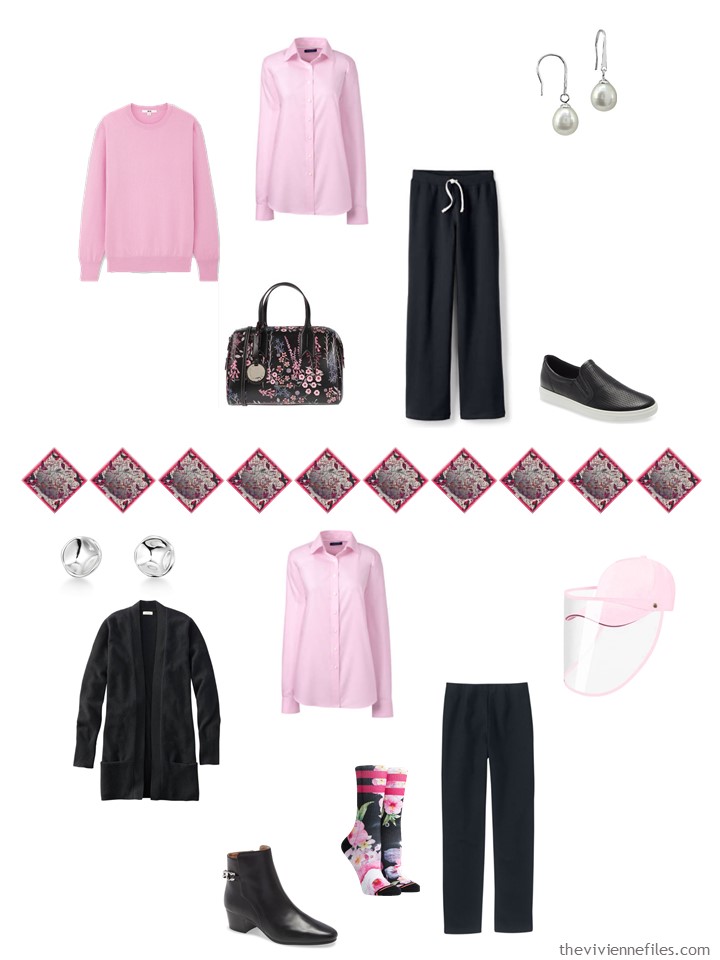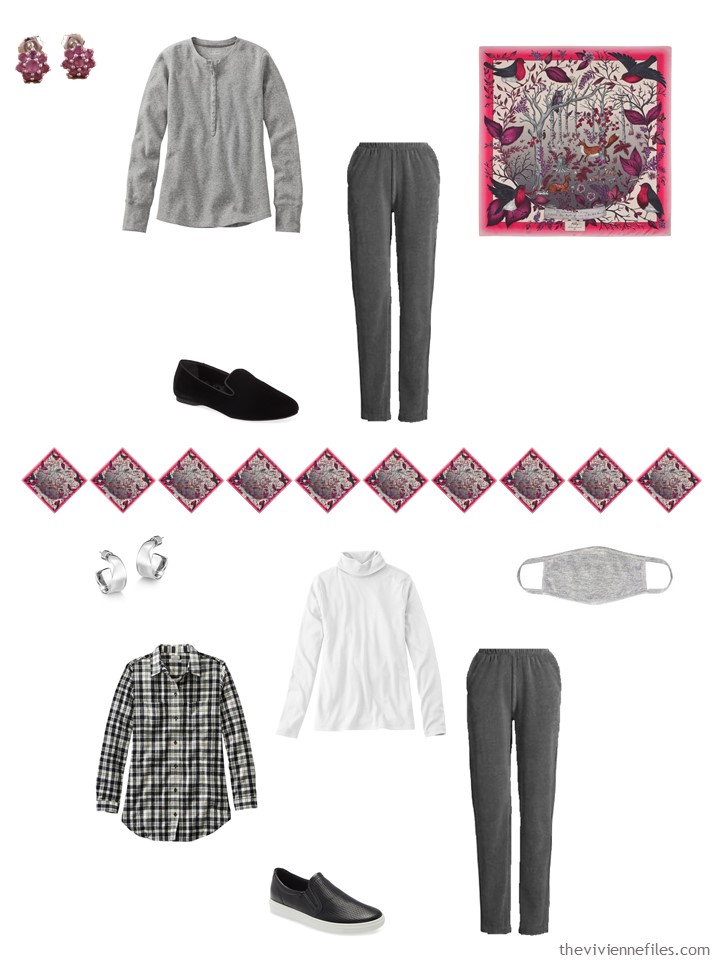 Our final heroine, with our final scarf, has a palette that combines classic neutrals of cream and black with unexpected rust and peach. Unexpected is good, I think!
I really like the way this feels soft without sacrificing a core of a "serious" neutral: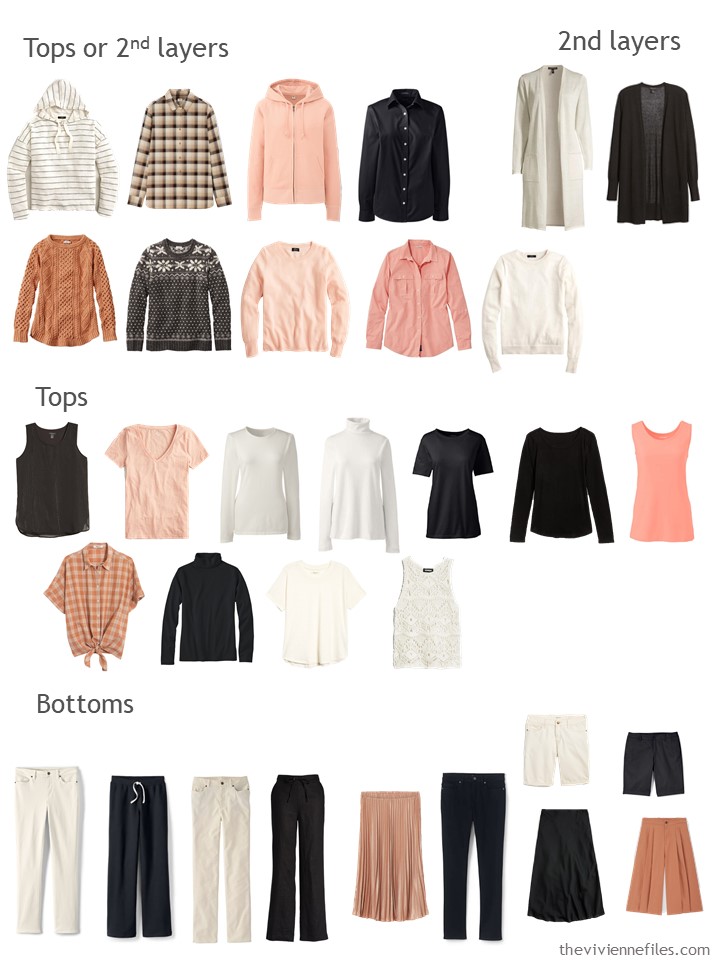 These might be my favorite accessories – black and gold, or pearl and gold… sigh…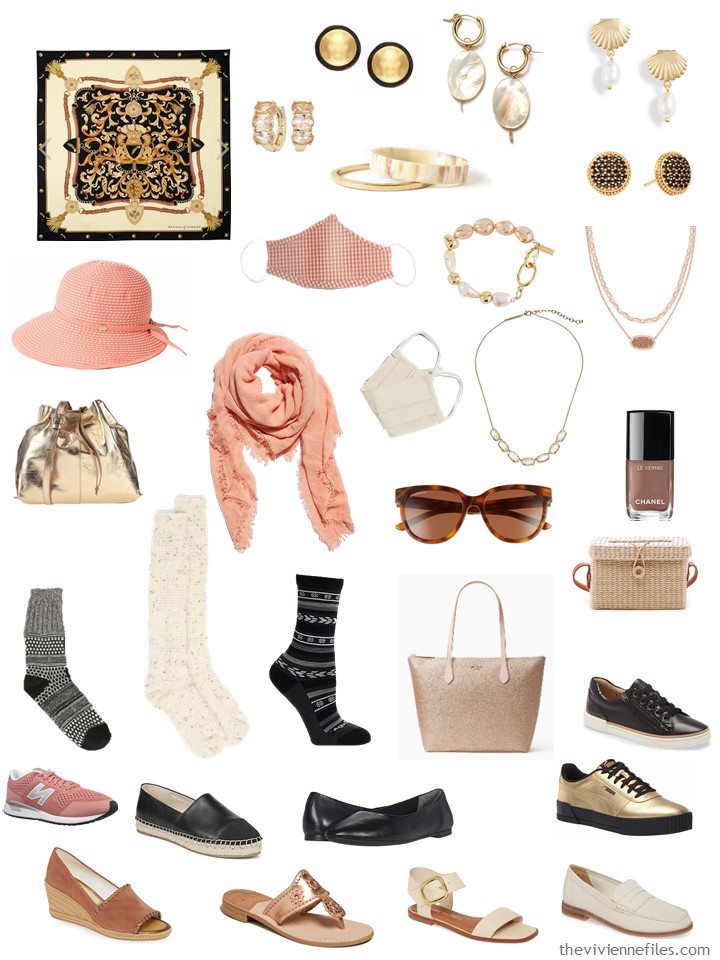 For no good reason, I'm assuming that this heroine lives in New Zealand, and has no constraints at all for being able to go out and about! Or else maybe she already has all of the "staying home" clothes that she needs and she's planning for the future…
I'm so enamored with an ivory corduroy skirt… and these new clothes give her SO many possibilities: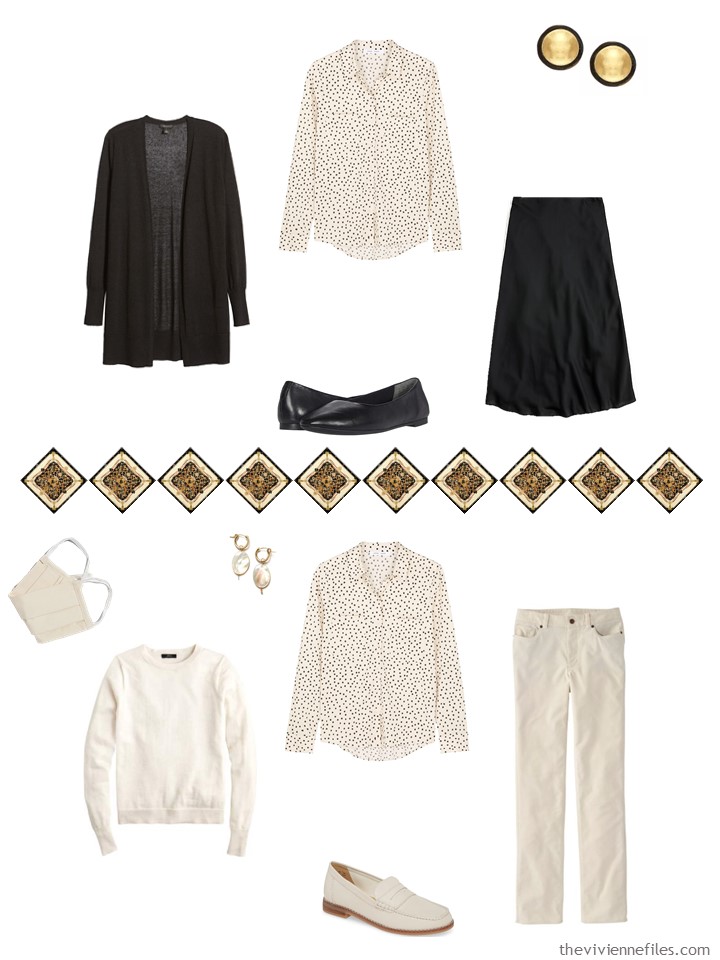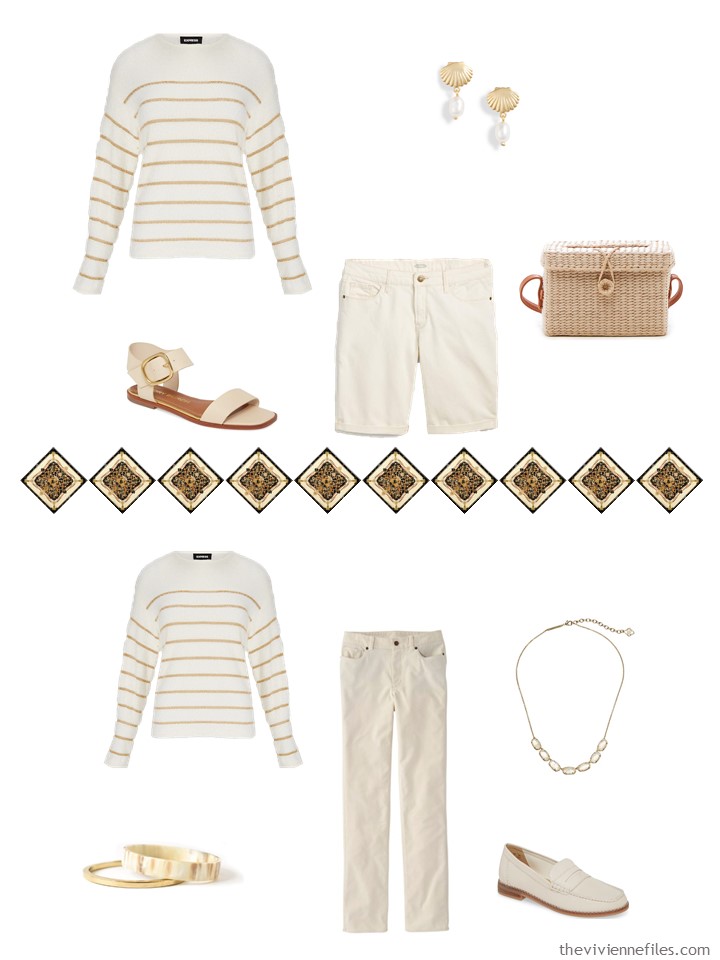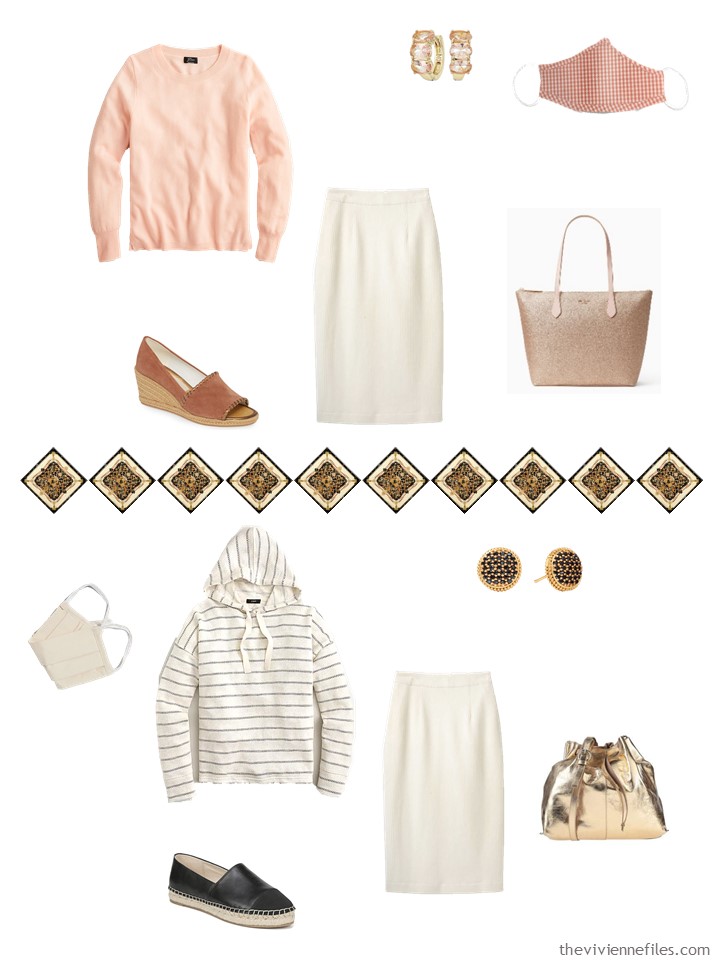 Have your preferences stayed firm throughout the year? I'm true to my black and pink, but I have to admit that if I had the right coloring, I'd probably wear any of these!
NOW I get to pick next year's scarves – I'm thinking of choosing 6 from Echo! What do you think?
love,
Janice
p.s. Random garment endorsement – my mother, who is now in Chicago, is loving Uniqlo fleece tops. They're not at all bulky, VERY warm, and beautifully soft.
p.p.s. Four years ago we did an extensive review of a brown, tan, orange and beige "Start with a Scarf" wardrobe…