November 13, 2020
Friday the 13th, what might go wrong?
She's still craving calm, peace and quiet. There's quite enough upheaval in the world right now, without her adding to it!
So she finds a favorite painting, and isolates a color palette she loves: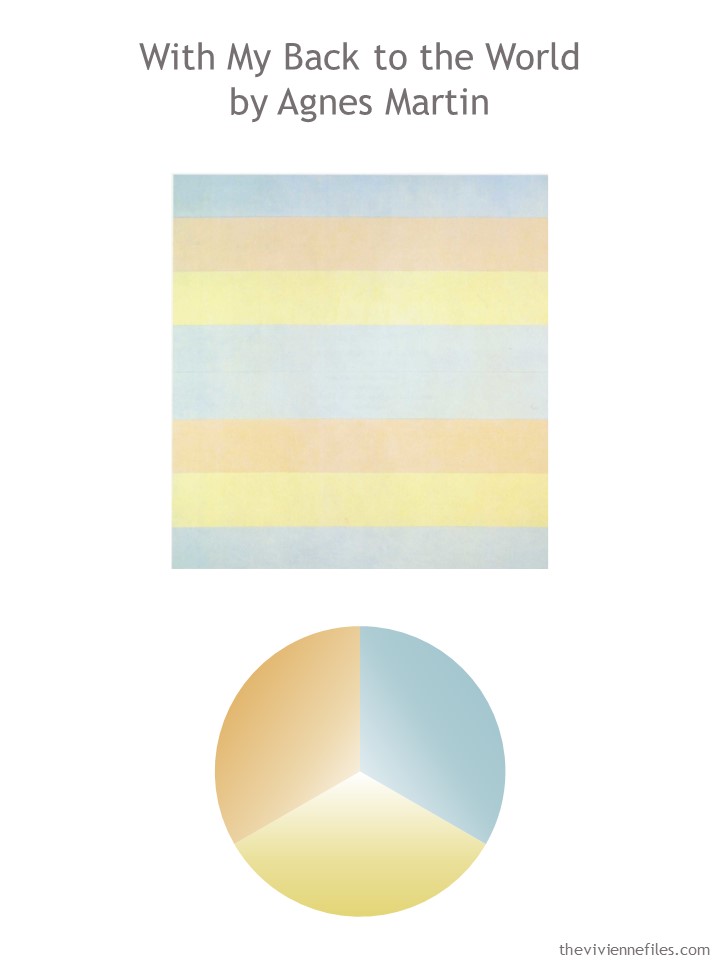 And then she adds to her core Common Wardrobe of grey garments some accent things in each of the 3 colors; her wardrobe for the month looks like this:
In order to keep the peaceful organization of her closet growing and advancing, she decides to focus now on the accessories that she wants to wear with her wardrobe. So she chooses a number of outfits, accessorizes each of them (sort of like playing with dolls!) and then stores away all of the rest of her things for a few weeks.
Let's see!
She didn't do a lot of technical analysis, nor counting of things; she just finished off her outfits with the accessories she would want with them, and then moved on to the next outfit!
If you KNOW you're going to wear your slippers all day, then they get included. These days, we should be honest with ourselves about where we spend our time, and how!
It's not wrong to dress nicely for dinner with your family, is it?
Some days, she's focused on looking bright and snazzy for a video-conference…
Even a soft, warm dress that feels more like a nightgown than a work garment can be "Zoom-appropriate" with some jewelry…
Even if you're home alone all day, earrings can still be worn with gusto!
I've worn earrings every day of quarantine…
Feels like pajamas, but still looks appropriate for work – from the waist up!
Tone-on-tone scarves bring a subtle richness to the simplest outfits…
As she gets to her last outfit, she realizes that she already has enough accessories!
Now she carefully folds scarves, checks jewelry for weak links or loose bits, and looks over all of her shoes and boots for any needed polish or mending:
In a world where so many things are far out of our control, having a tidy, clean, neat, well-mended wardrobe for the near future is a good step toward a feeling of peace…
love,
Janice
p.s. Five years ago, a lovely rose-print scarf inspired a black and pink wardrobe designed to make getting dressed for the holidays less stressful. Remember dressing and going out?