October 26, 2020
If you're not familiar with Fiona Ferris and her books, I strongly recommend that you click on the link below and get to know her!
She's lovely, wise and lady-like, with so much good advice it's amazing. I'm currently working my way through a workshop that she did on writing books, and I get to hear her talk her way through everything – her voice is charming, modulated to an elegant tone, with a New Zealand accent! What's not to love…
But what caught my eye right away in her new book was her idea about organizing a new capsule wardrobe each month to help focus, edit, and enjoy our wardrobes. Her target number is TWENTY-ONE!!!!
(I had to write to her immediately and ask permission to use her idea – and she graciously agreed…)
Twenty-one is a great number – maybe just pick seven 3-piece outfits? I'm sure I'm going to try that…
But to get my head around the number and the idea, I decided to start with my own wardrobe.
First, we have to think!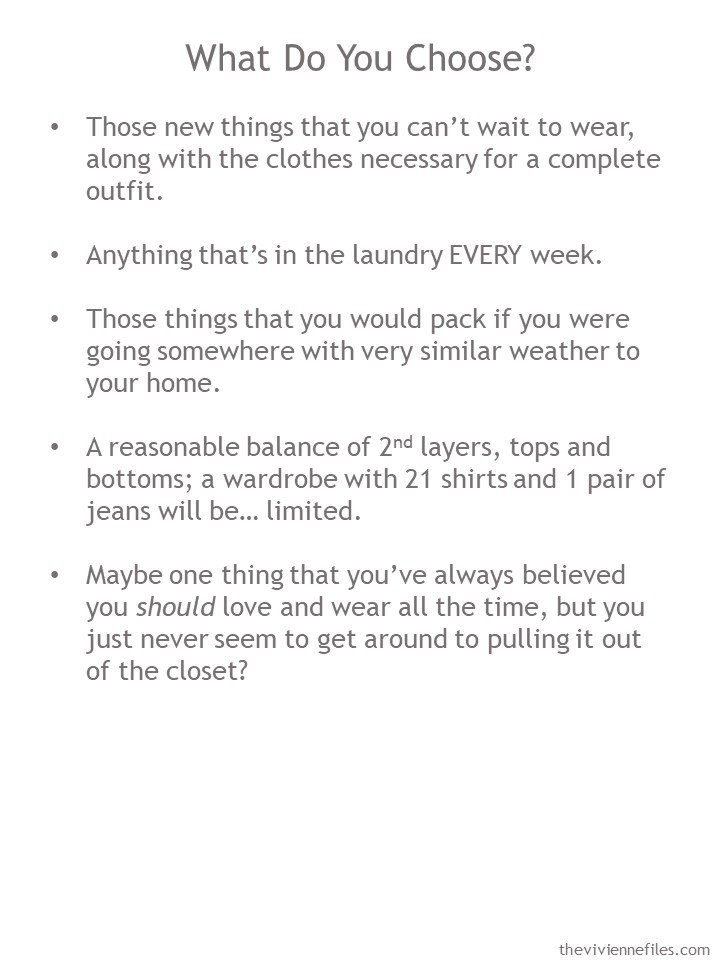 For me, these 5 items are ALWAYS in the laundry, to the point that I actually purchased duplicates of some of them:
WOW that's boring… or as I like to think of it, timelessly versatile!
Next are 4 garments that may not be helpful for many people who are locked in their homes for weeks at a stretch, but I'm including them because I'm the kind of nut-ball who will sit outside with Slim and drink tea in a skirt, even during a pandemic!
I'm still getting adjusted to the idea of a 21-piece capsule wardrobe, so I'm going to pause fairly often and re-assess what I've done. These 9 garments would be pretty good for a travel capsule wardrobe – I would have to have another cardigan, but other than that, this is versatile as heck, and with the right accessories could be good fun!
At this point, I have some things that I REALLY REALLY want to wear… And they bring some color into this neutral wonderland:
These are rare and difficult days for many of us, and I think we have to frankly address the fact that we need to have some relaxed, warm and comfortable clothes for ALL THIS TIME that we're spending at home. Assembling a wardrobe for a "normal" autumn doesn't make any sense this year – ignoring reality won't make us happy with our wardrobes! So I'm definitely looking for warm, soft, and cuddly…
Holy handbags – this is already 17 pieces of clothing! Before I do something really ill-considered with the last 4 things, I'm going to stop (yes, again) and evaluate my situation…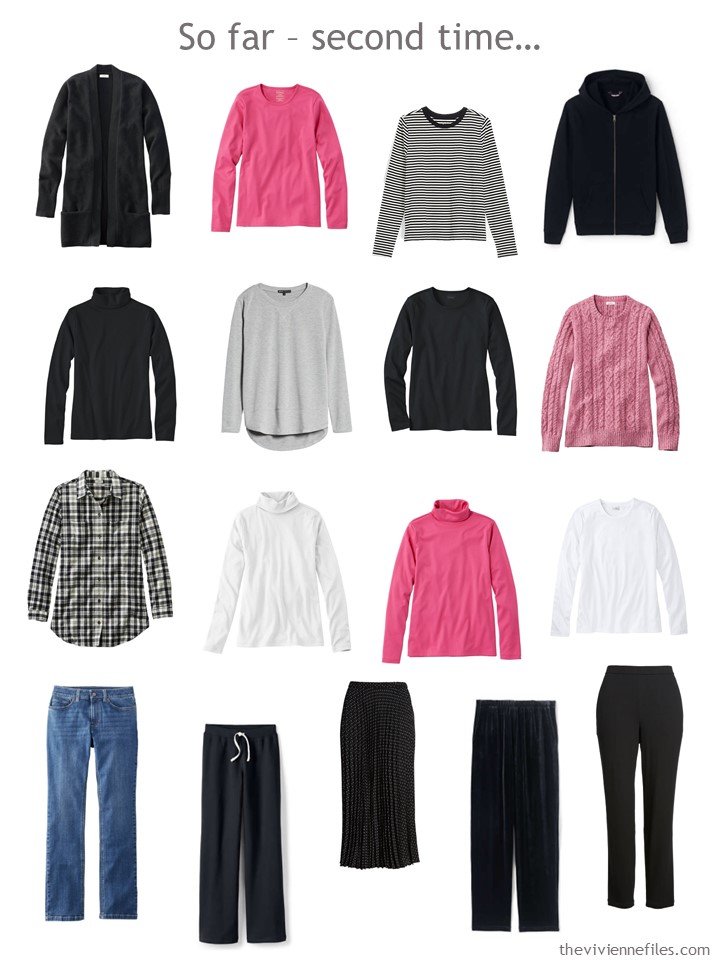 This would be a great travel capsule wardrobe for something like a family visit that combines hanging around the house playing soccer in the back yard, going to a religious service, maybe a meal out…
Let's sort things, and see where I have lead myself: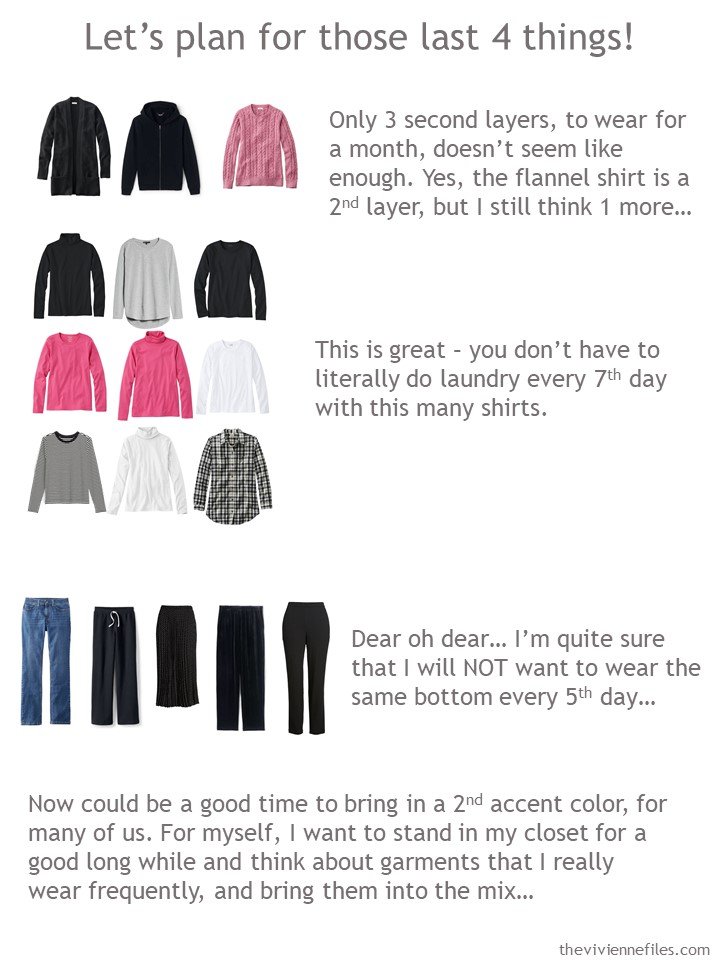 After much thought, this is what I chose:
I've found that a sweatshirt dress is possibly the most lovable of garments. You can, literally, sleep in it if necessary. You can layer it over all kinds of things, too…
For some reason, this seems a LOT bigger than the 17-piece wardrobe. I can't explain it…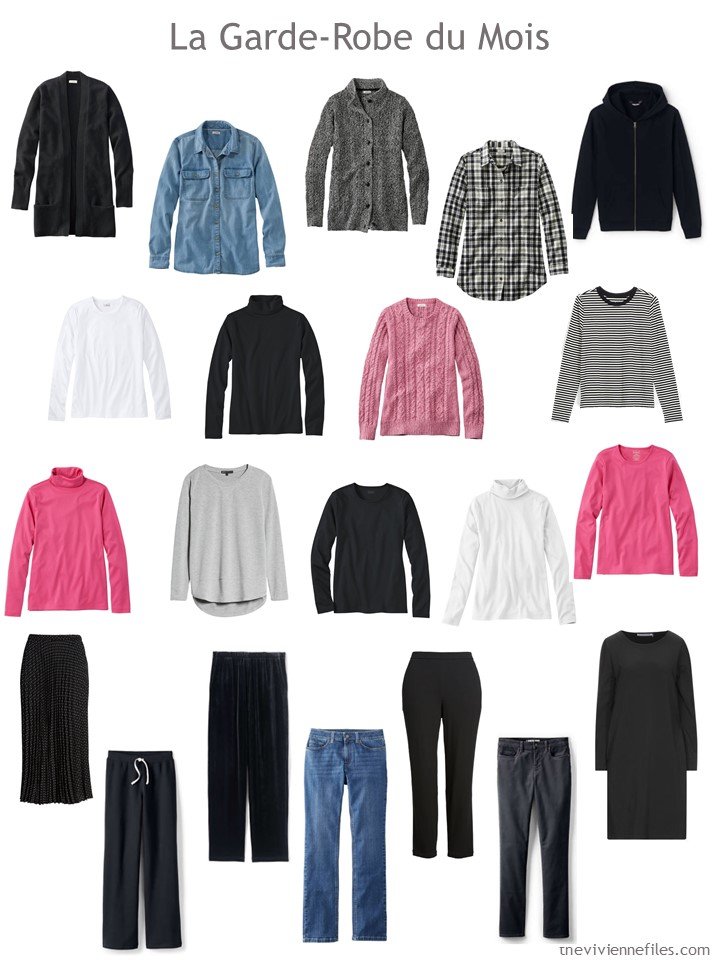 Just in the interest of exhausting the possibilities, a perfectly-chosen 21-piece wardrobe could give you 343 combinations. (that's 7 2nd layers, times 7 tops, times 7 bottoms) The woman who always wears black bottoms, white tops, and colored jackets and cardigans can achieve this, but those of us who mix things up a bit more won't have that many options. But a month is only 31 days at the longest, so I think we're okay…
Here's a few possibilities that jump off of the page at me: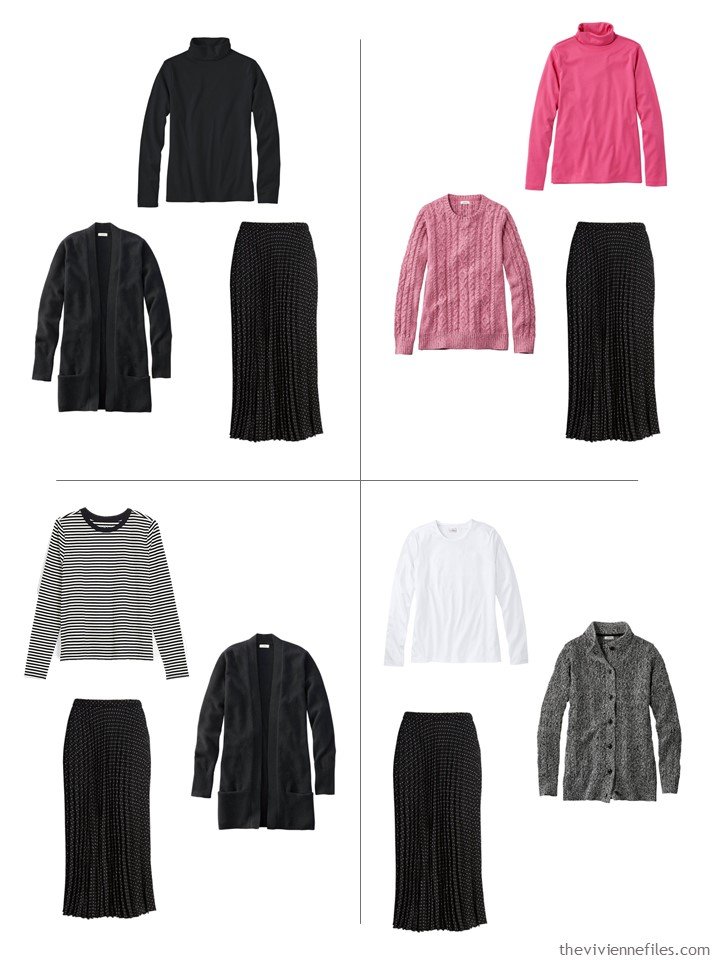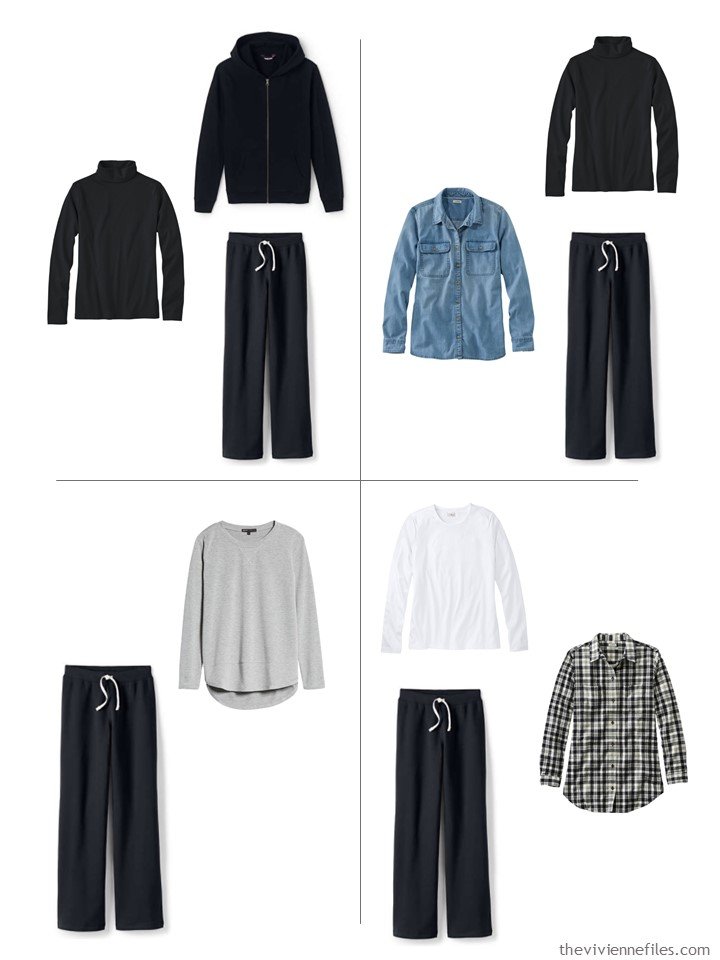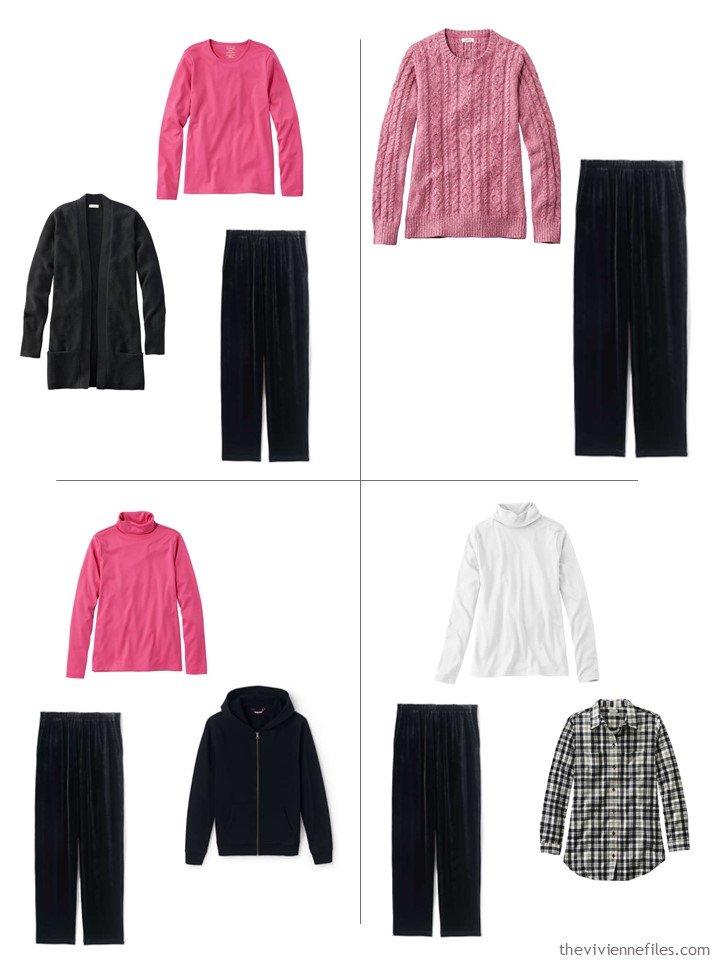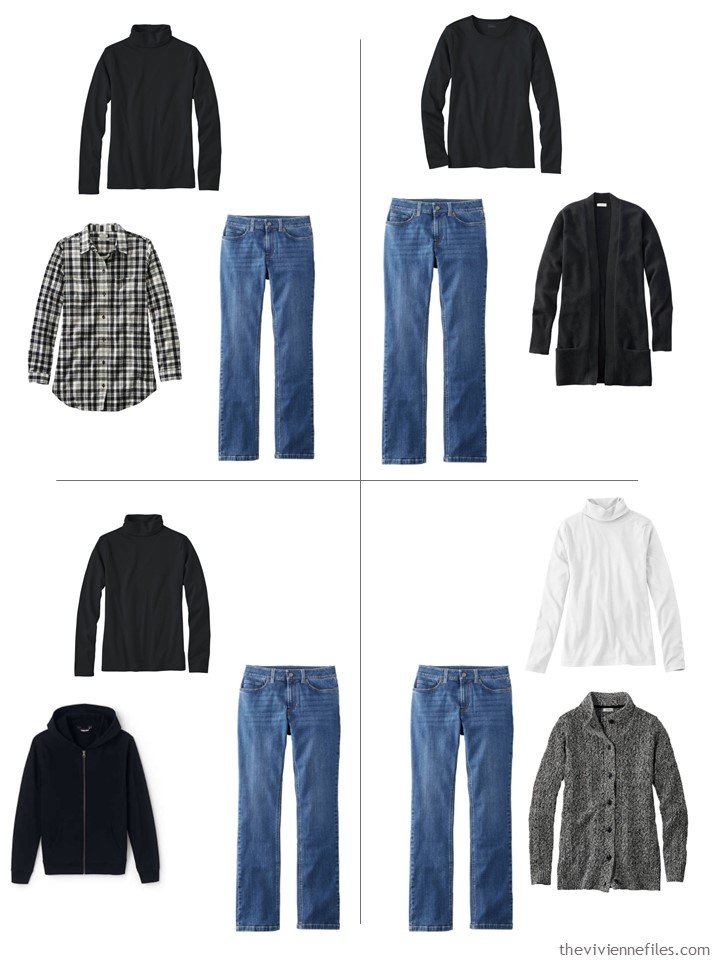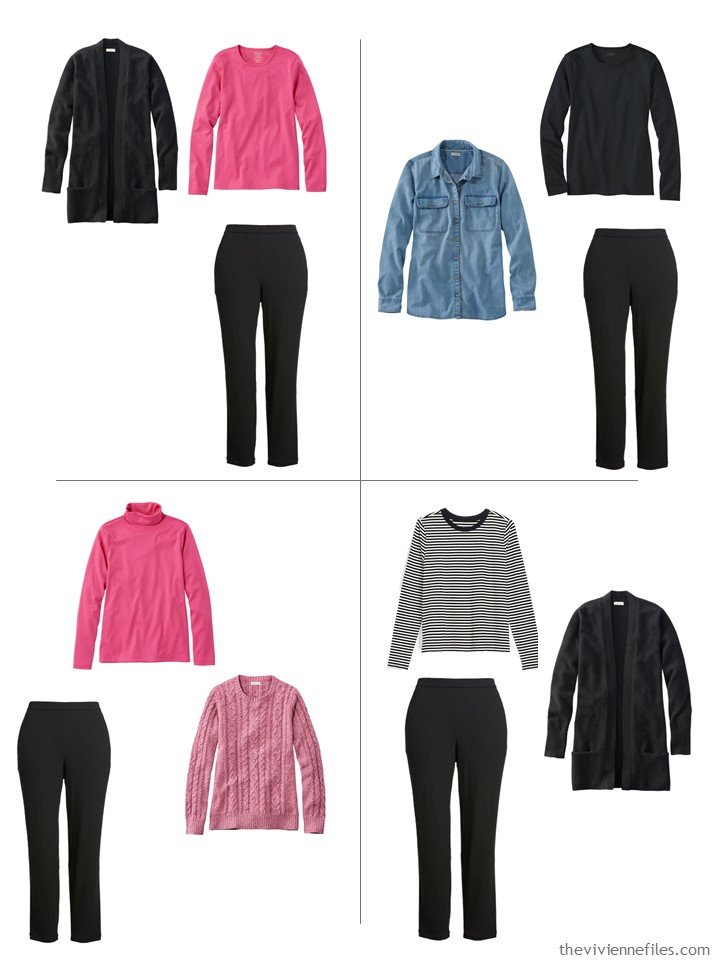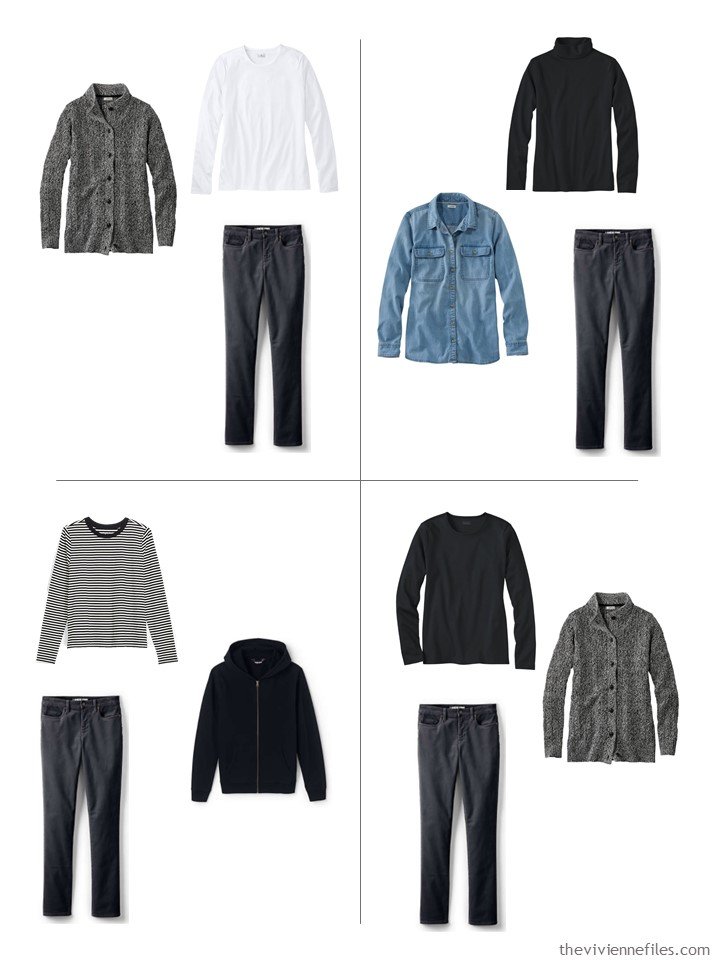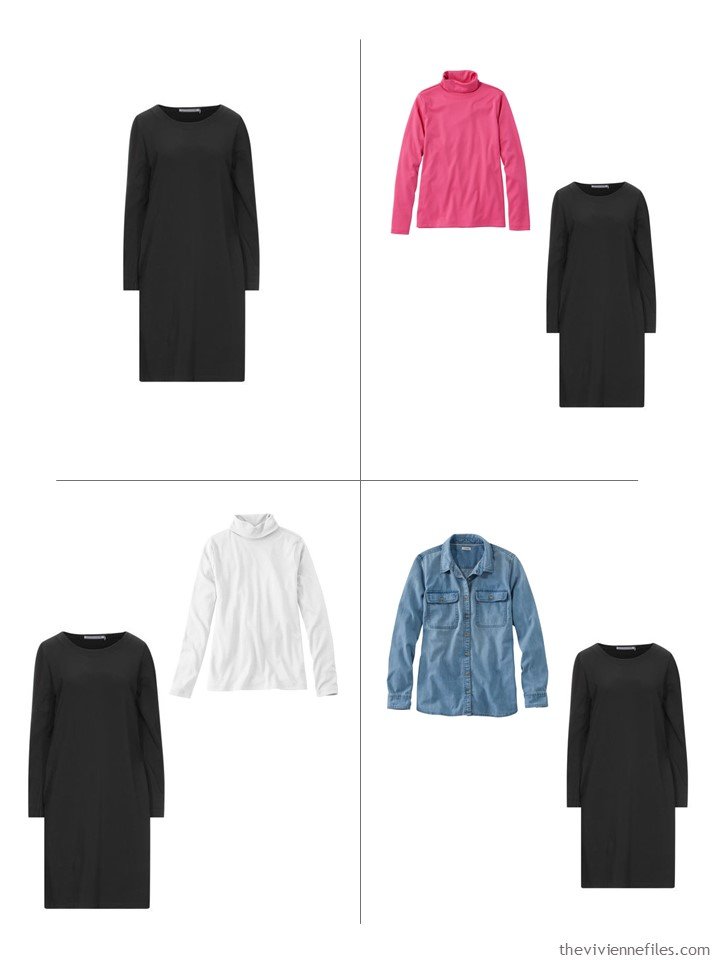 Her other advice around this 21-piece wardrobe is equally good – move everything else OUT OF THE WAY (a couple of good canvas garment bags would be ideal for this) and hang EVERYTHING. Knit things won't stretch out of shape in a week or two…
So I'm going to try this, probably starting mid-November when I'm back from Florida. (oh yes, we're driving down…)
BUT!!!!! Think of this: a 12-piece Common Wardrobe + 5 garments in your 1st accent color + 4 garments in your 2nd accent color!
You're going to see this, starting Wednesday.
Yes, this brings up the question: "Which wardrobe plan do I use? Project 333? A Common Wardrobe? A French 5-Piece Wardrobe? 4 by 4? Whatever's Clean 13?"
Try different ones. Stick with one that you really love and find successful for you. Make up your own system that is used by nobody but you!
There are no rules…
love,
Janice
p.s. Nine years ago (!!!) I was trying to visualize all of the suggestions from the book L'Armoire Ideale by Jeanne-Aurore Colleuille and Laure Gontier; we look at some different ways to wear a simple white shirt!