August 19, 2020
One of you has had a moment of serious whappage, and asked for my opinion…
This is the scarf in question – it's SO pretty that I might be tempted to buy it and figure out how to wear it later; THAT'S not the cleverest way to shop!
Oh my HEART – this scarf screams summer in so many different ways….
Our heroine has been invited to go along with her spouse to a fishing cabin that's walking distance to a very charming little town. While she won't be doing any fishing, she WILL be sitting outdoors reading, walking into town to browse about, and probably doing a bit of walking on the trail around the lake. Sounds lovely, doesn't it?
My approach for her is to assemble 3 little clusters, based on the scarf and its colors. First, white and pastels! I love a good denim skirt for warm weather…
A lightweight pair of long pants, legitimate shoes for long-distance walking, and a 2nd layer that will come in handy for both cool evenings and air-conditioned shops…
Our heroine has been assured that there are VERY cool days at the lake, and that she should bring a couple of sweaters…
If our heroine were only going away for a long weekend, she could just stop now and bring this little travel capsule wardrobe with her:
But I'm not sure – maybe they're going up for a week? How might I augment this very tidy core wardrobe?
Hmm… She doesn't have a solid white top, which always seems essential to me, in warm weather. Maybe a linen tunic?
They WILL be going out to dinner, on the terrace of the nice restaurant in their little neighborhood town. That, to me, suggests that a nice, simple, versatile dress might be a consideration.
And… and… and… maybe some "real" jeans, but in a fun color? Why wouldn't you?
Laundry will be necessary, but if you're hanging out with people who are fishing, you already know that laundry is ESSENTIAL. Nothing quite as nice as clothes that smell of fish…
But this is a pretty ample wardrobe for a lovely week, beside a lake, walking, dining, resting, reading…
How can she wear these lovely things? At least 10 different ways, just off of the top of my fluffy head!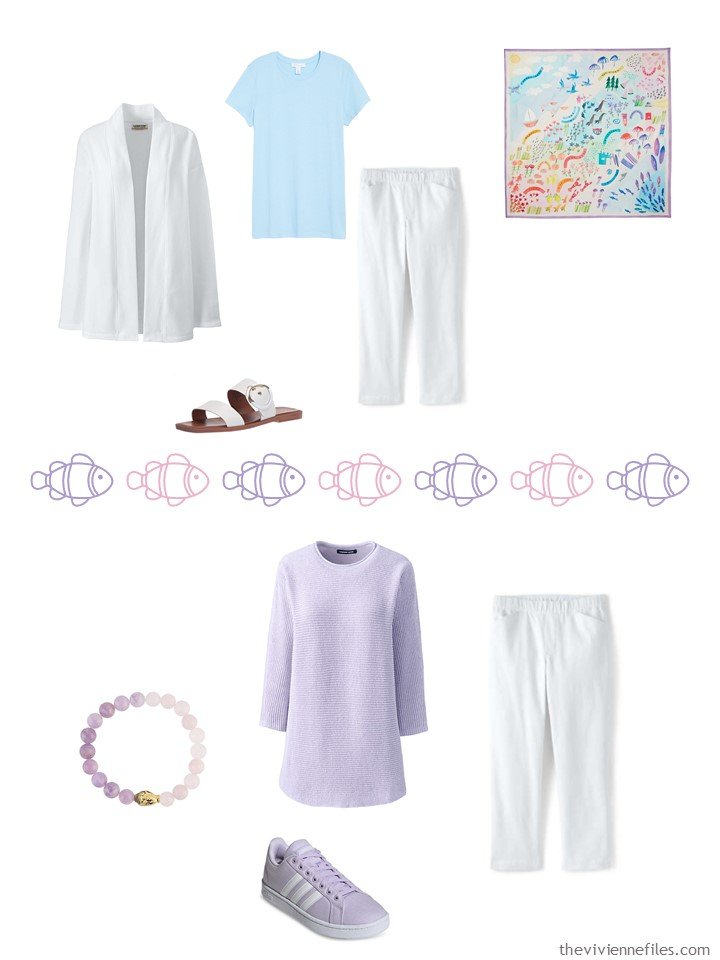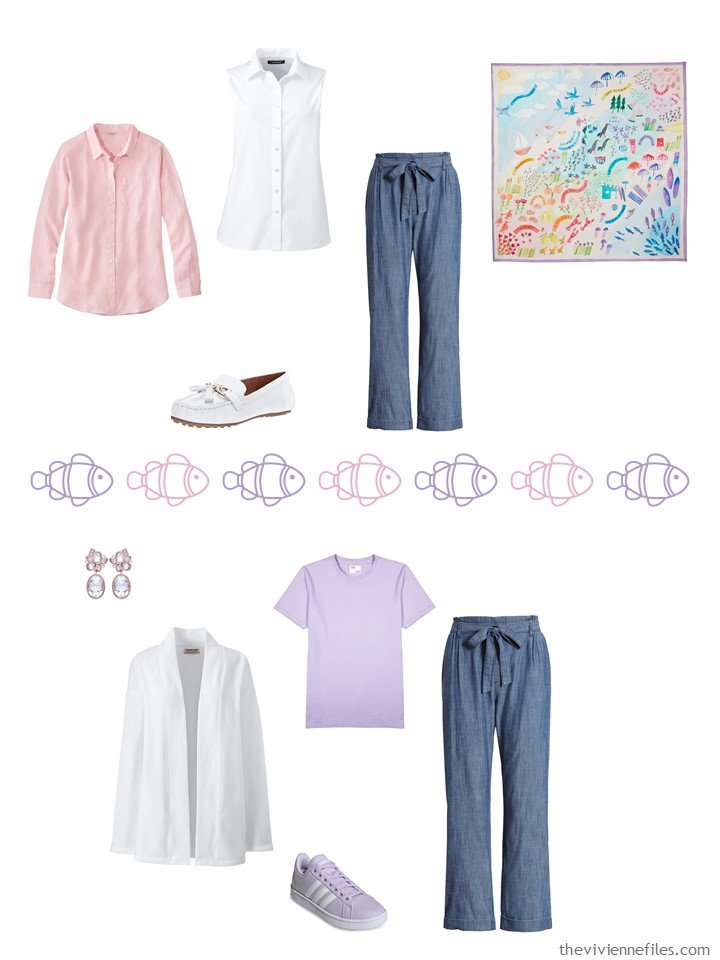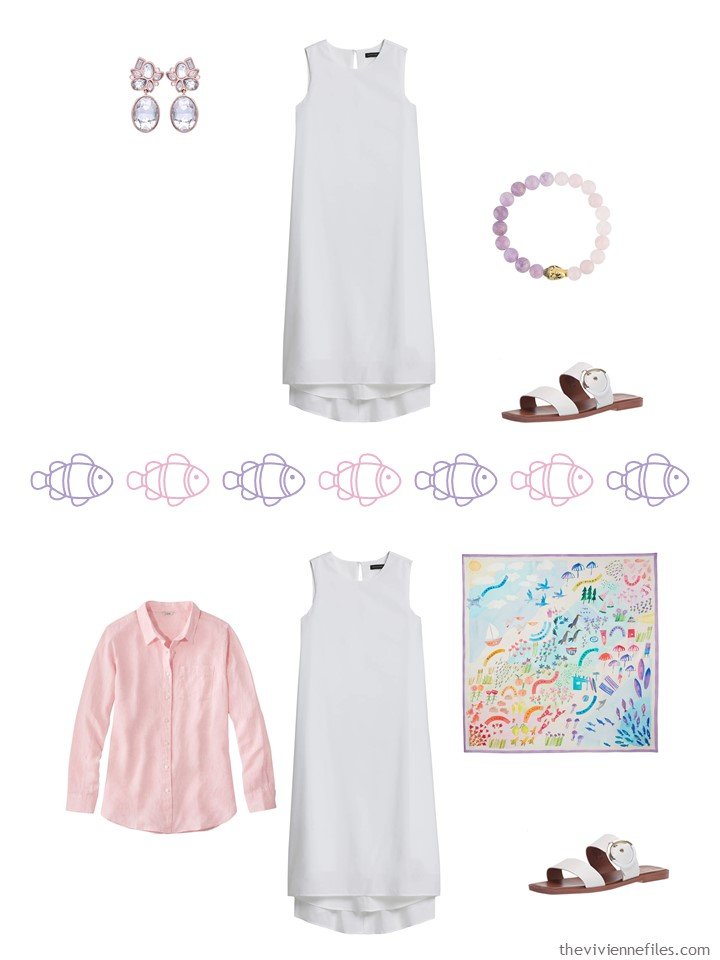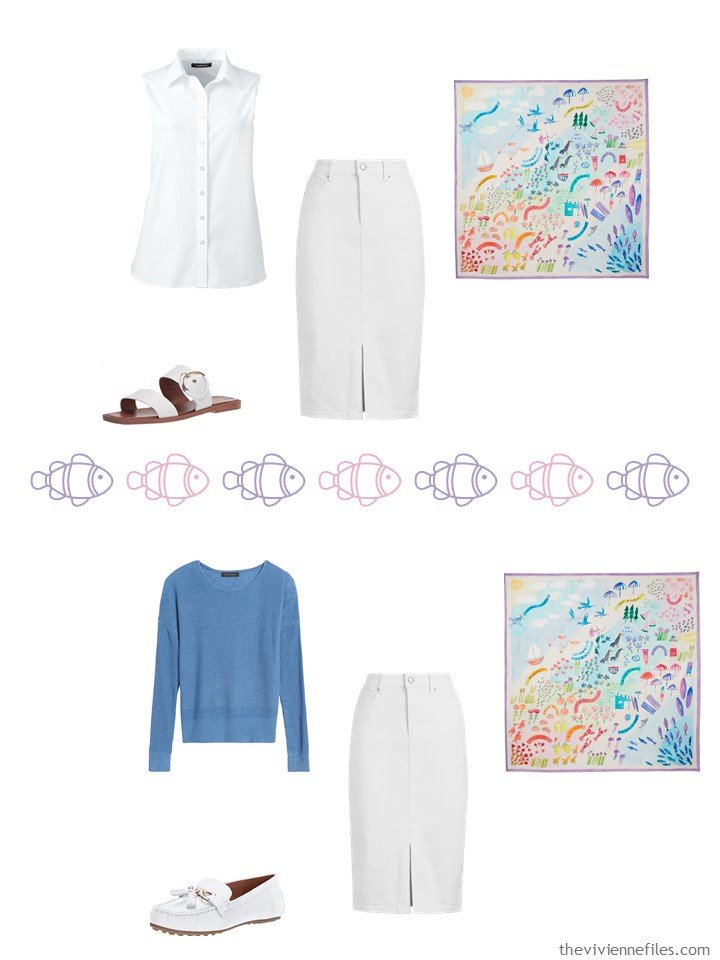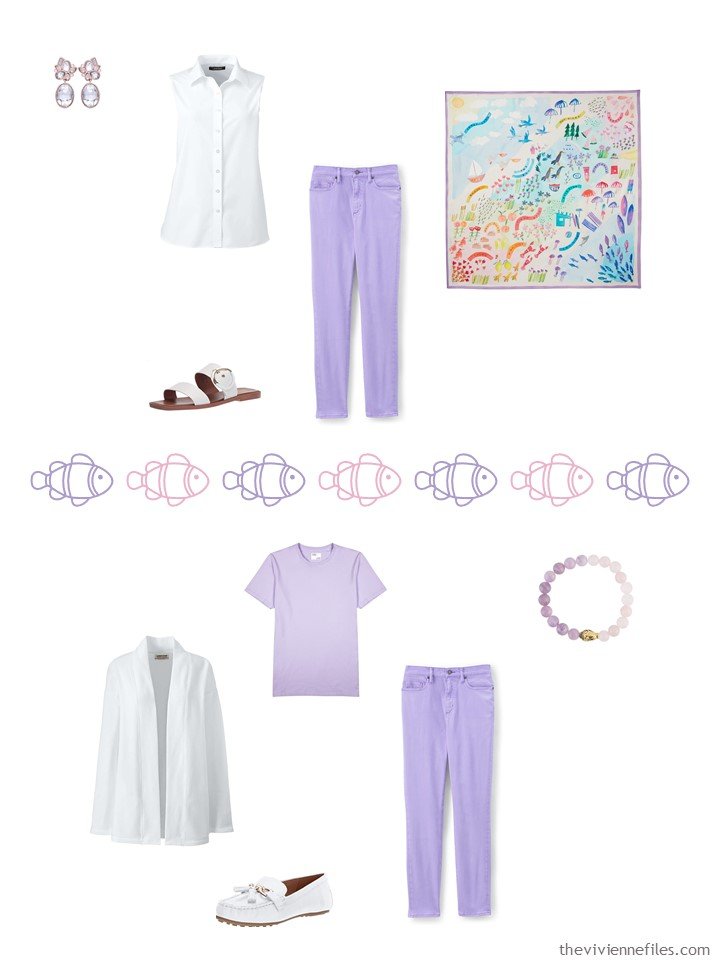 For those of us pretty completely trapped indoors, in a big city, the idea of walking someplace outdoors, quiet, beautiful and a bit remote sounds like heaven…
love,
Janice
p.s. It's not my way to nudge you to buy things, but if this scarf holds real appeal for you, I suggest you order it NOW! It's sold out at Nordstrom, and might quickly sell out at other places. If the link above is sold out, you can try here.
p.p.s. Someone recently posted a link to an absolutely WONDERFUL pair of blue and white shoes – could you please re-post the link? I've quite thoroughly lost it…
p.p.p.s. NINE YEARS AGO!!!! I assembled a black, blue, grey and white wardrobe for one of us… It's still lovely and very appropriate!